Disclosure: this post may contain affiliate links, which means I may make a commission if you decide to make a purchase through one of my links, at no cost to you.
A few weeks ago, I told you that I was going to begin working on a BIG curb appeal project, starting with making over the front lawn. Today, I'm sharing the results of a 3-day grass overhaul project and how we made it happen!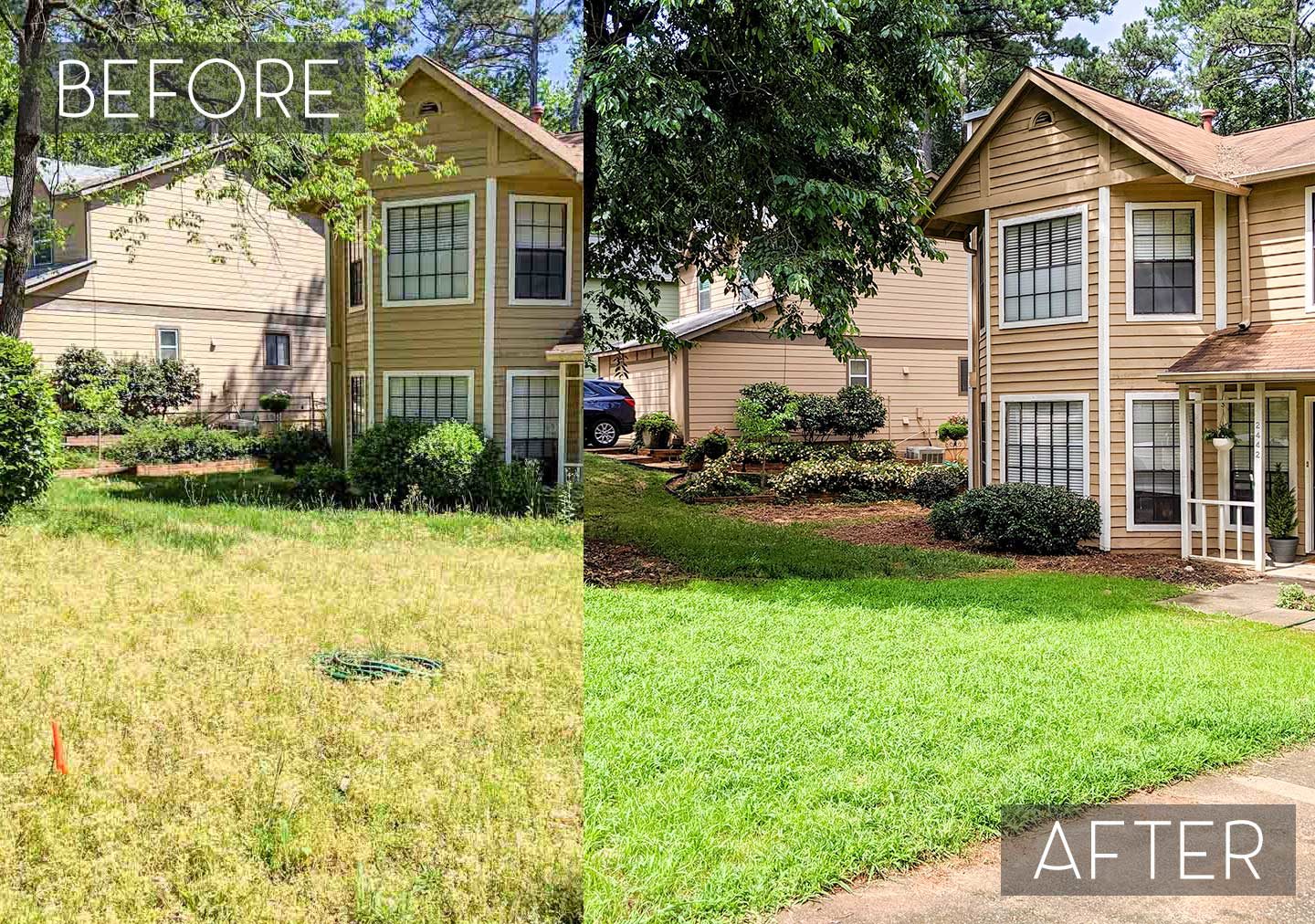 You guys: it happened! K and I have successfully torn up, tilled, raked, graded, fertilized, watered, and REGROWN a brand new lawn in the front yard. And it's all due to a weekend challenge from a new sponsor, Troy-Bilt. We did all the hard work necessary to complete this project in a THREE DAY WEEKEND to prove it could be done, and on budget, which means the Procrastination and Distraction twins have finally lost a round in our ongoing struggle.*
*That still makes the score like 5,491 to 5, but who's counting?
The Troy-Bilt "Flip the Yard" Challenge Rules
Everyone participating has only a $250 Home Depot gift card to spend
You can ONLY buy what you can fit in a cart (or in my case, one of those platform cart beds, because straw)
You can have your pick of Troy-Bilt equipment, but you need to put it to WORK!
You have only 3 days (aka a long weekend) to get it done!
I knew that we'd need time to water the grass seed and monitor the results of all that labor (to make the reveal all the more satisfying). It's been a few weeks now, so I can finally share my fresh green yard with you and all the steps taken to ensure a smooth result.

The product I selected from Troy-Bilt: Mustang Dual Direction Rear-Tine Tiller. It can till in a forward-rotating motion (you'd use this for existing garden beds/soft soil) and counter-rotating (for breaking ground on new lawns/gardens). I do plan on needing both functions, but this weekend project needed mainly counter-rotating for breaking up all the Georgia clay and snapping through underlying root systems.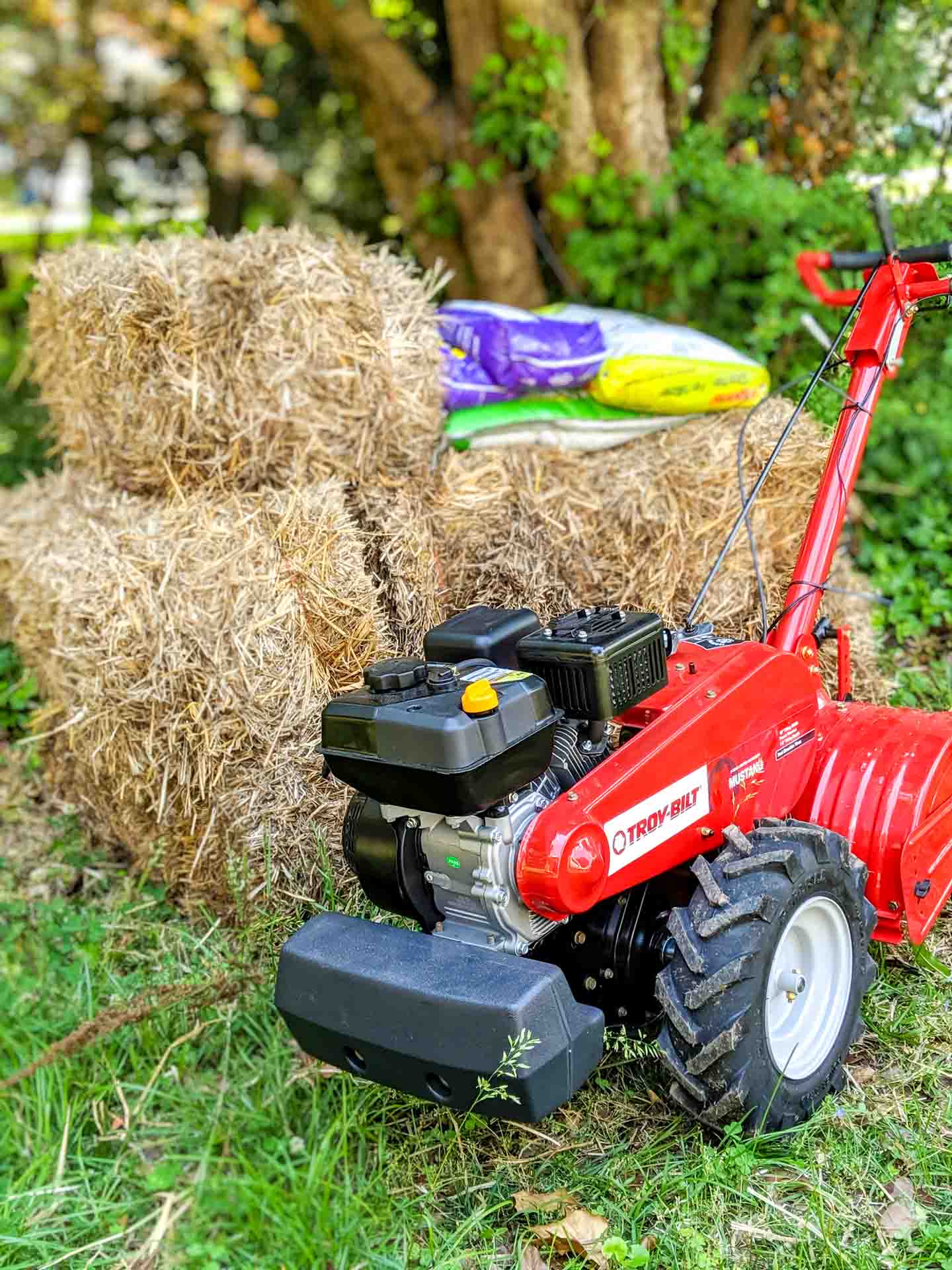 Go big or go home, right? This baby is BIG, and when I get the chance to take on a challenge, I like to go BIG. But it was SO much better to use something large like this for the lawn as opposed to a smaller tiller. I quickly learned when doing my research that the tines on your typical tiller are great for things like small and medium garden beds, but when you're trying to till up THIS MUCH of a yard or establishing a new garden bed (which I'll also be doing this summer), a larger piece of equipment is a must. It saved so much time!
How to Till and Replant a Lawn
Tearing out and regrowing a weed-infested lawn can be a pretty intimidating project. But, it's also very doable, and I'm kind of grateful (in hindsight as I'm typing in an air-conditioned room, of course ?) that we had to follow some ground rules to know for sure. In fact, I found a helpful stat as I was researching:
If your lawn consists of 60% weeds or more, it's generally faster and easier to start over and reseed.
When I read that, it instantly made sense to try things this way and start over. The amount of time and money it would take to get rid of that old lawn, to constantly reseed and mostly lose it to being choked out by weeds, the bare scorched look every time we threw weed killer down (since it would disappear but still come back)… starting over would give us something to fight with. We learned that with the back yard; the mower broke, and the grass was so strong that it choked out the weeds instead!
1. Call 811
I know I've mentioned this before but I'll keep doing it! It's VERY important to contact 811 before digging (by phone or by submitting a request online). Utilities can be buried all over the lawn, so contacting them beforehand let us know where to avoid and double check before digging too deep.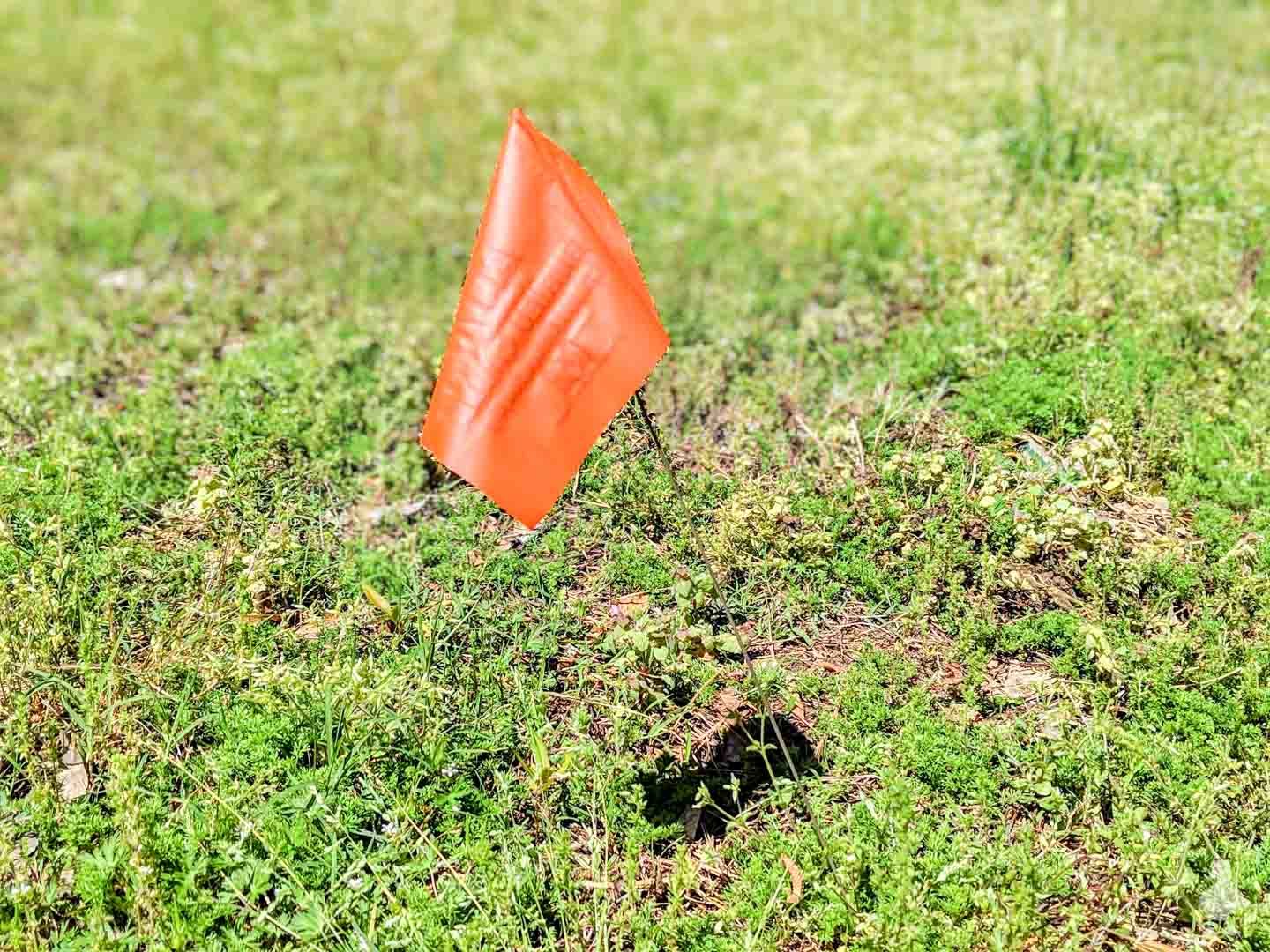 2. Test the soil
Before beginning, we also got a small soil test kit to see what (if any) nutrient deficiencies we needed to correct. Having so many weeds is plenty of evidence on its own that there's something that needs to be balanced out, but knowing what it was led us to the correct fertilizer to put in with the seed.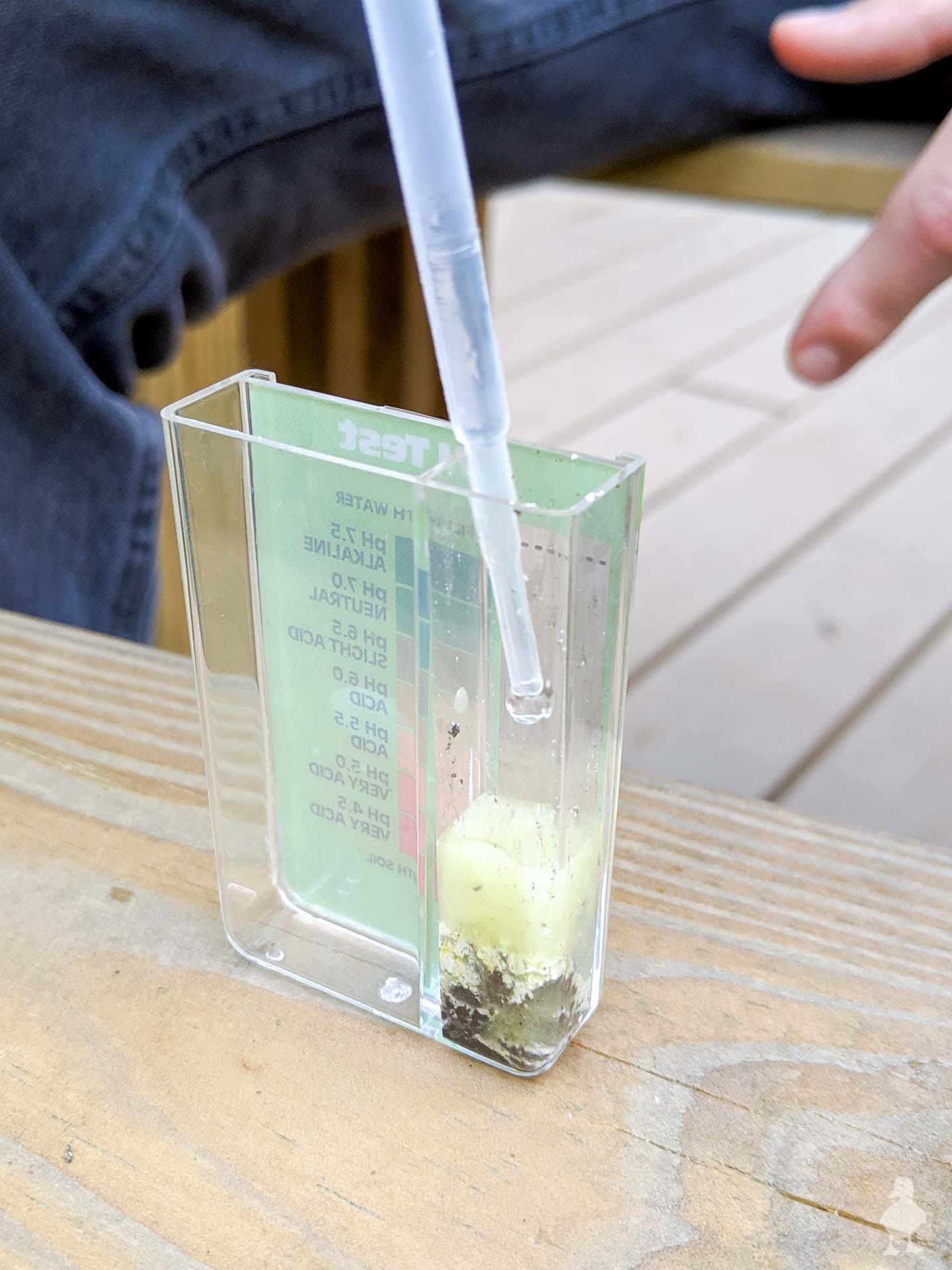 3. Till the yard
As you'll see in my video, most of the work is done (blissfully) by the tiller.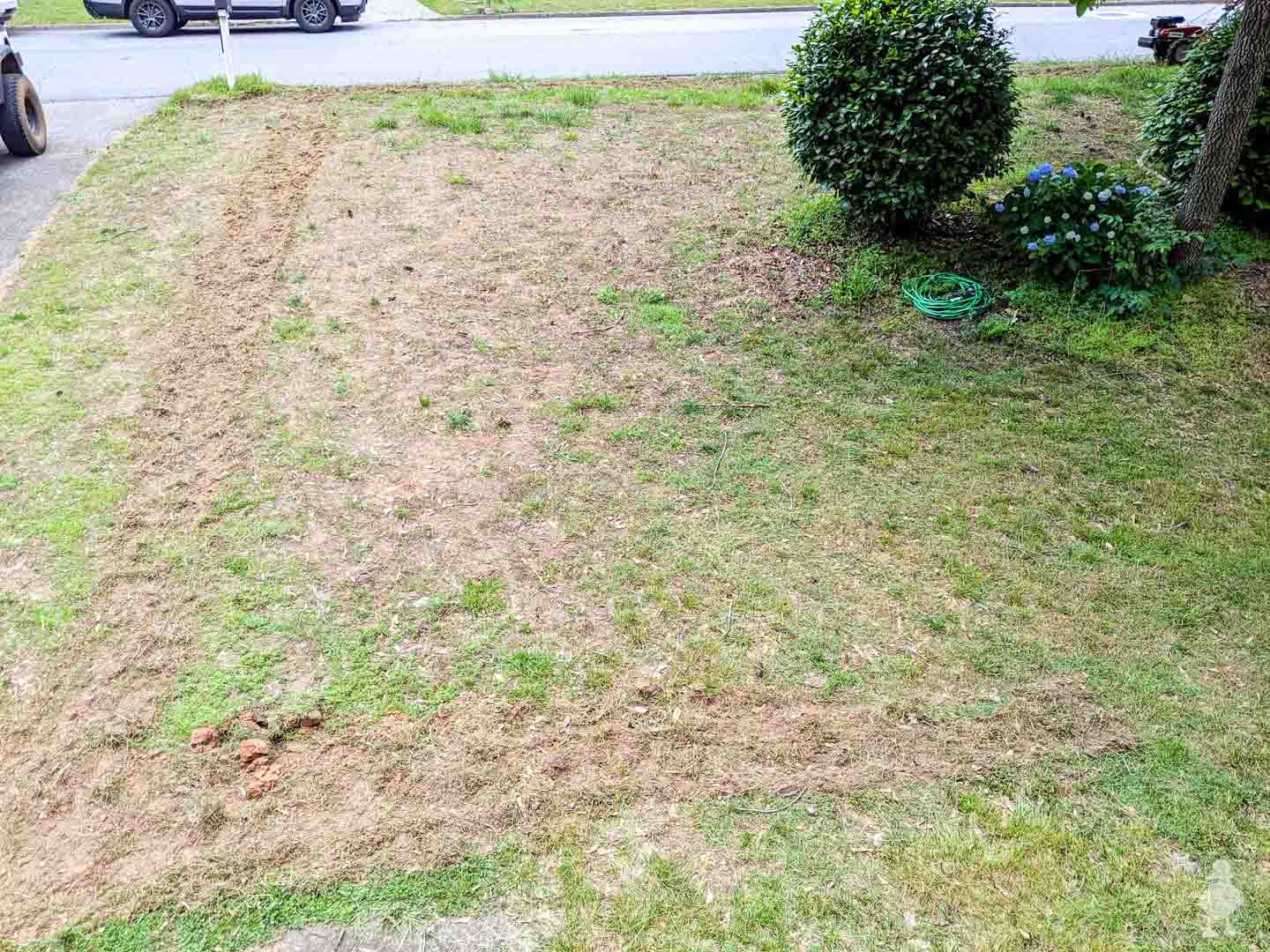 It takes some getting used to, but I tilled the entire yard up and down, then side to side, to make sure we dug every inch up and turned the soil over.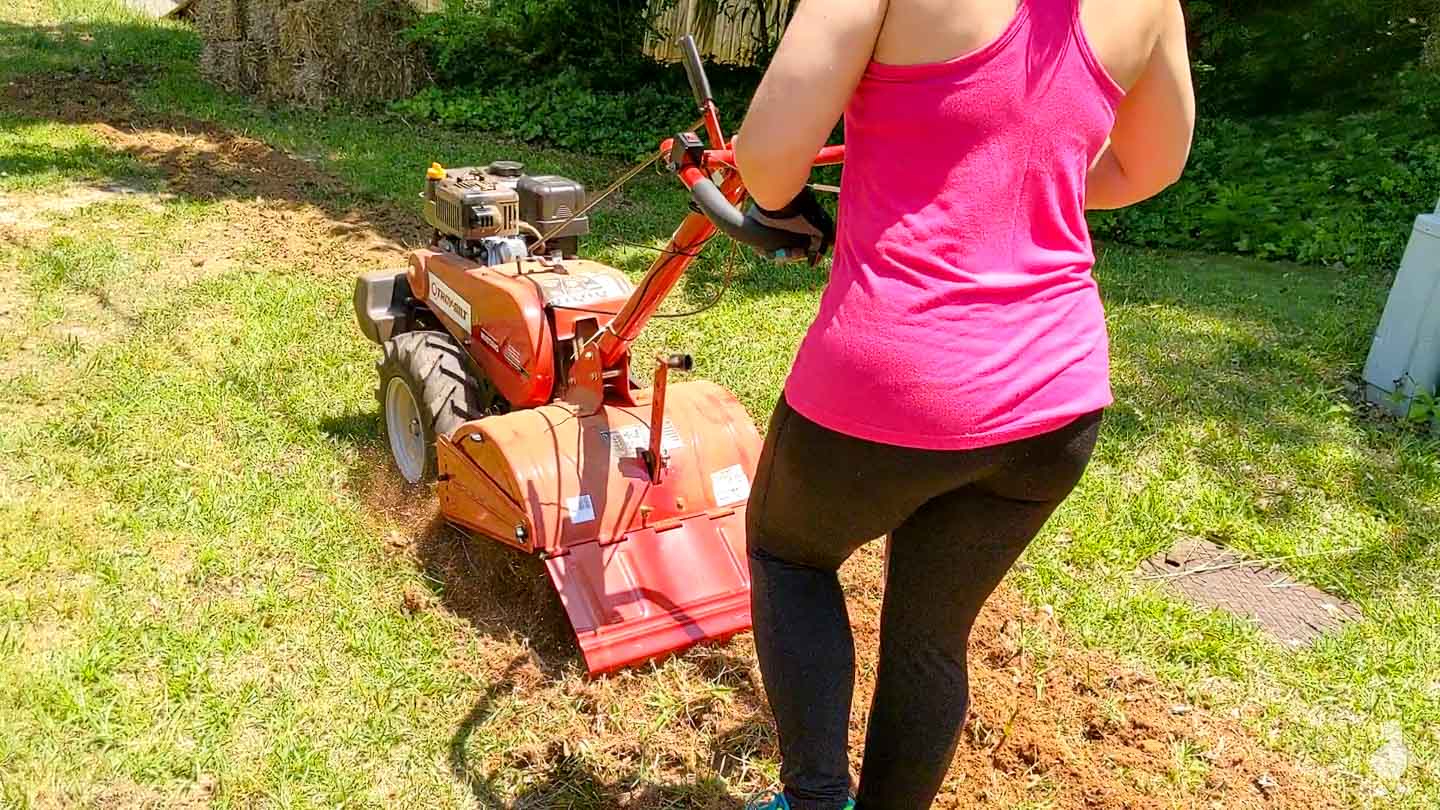 I thought this part was going to be the longest part of the project, but instead it was the fastest!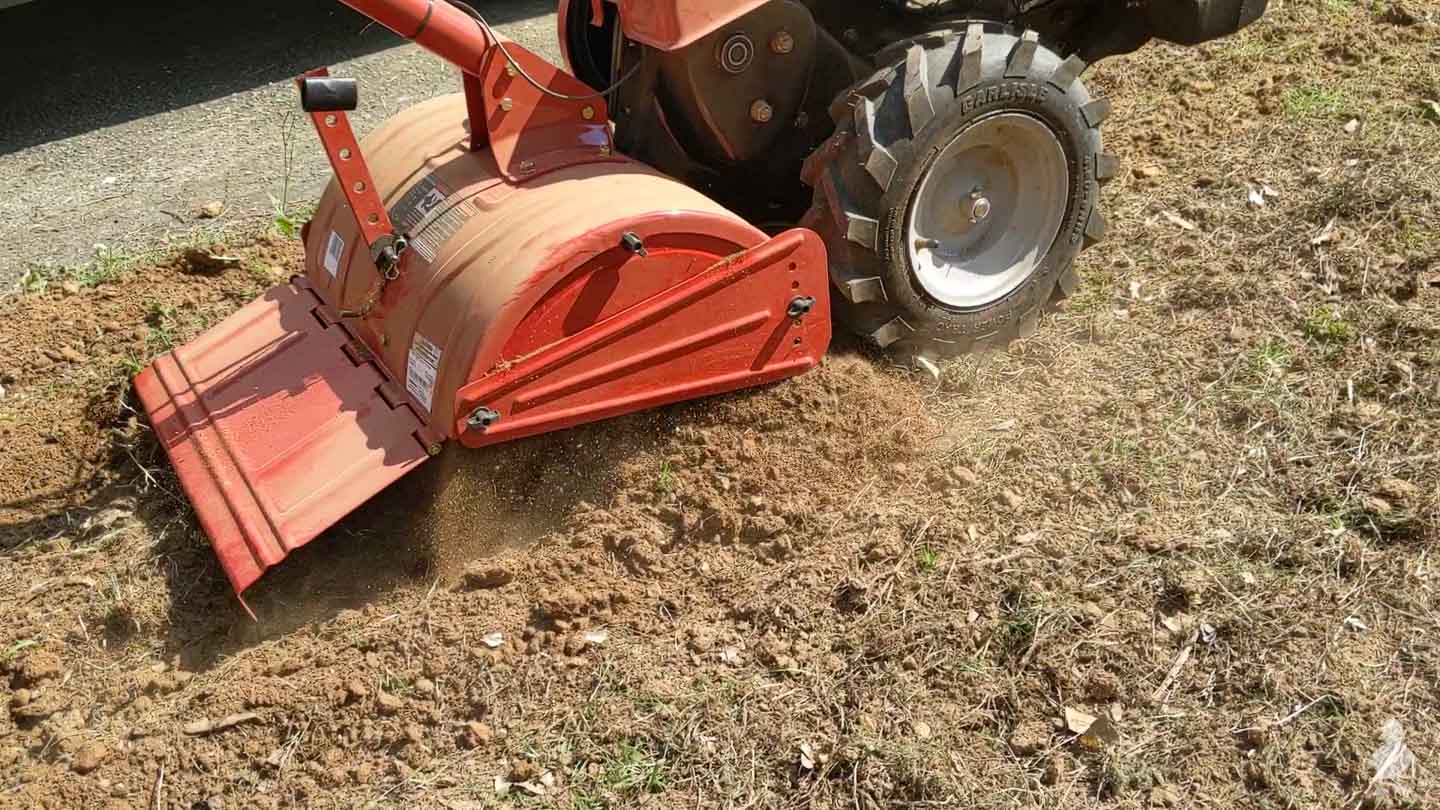 When people say "weekend project", I always assume they mean sure, it theoretically can get done in a weekend — if you work 12-hour days. I love my job, and it's easy for me to get sucked into working all day when I'm accomplishing something. But for someone like K who has another job to do during the week, I feel the pressure to make sure there is a reasonable balance of work and rest (and it helps me check myself on whether or not I can accurately call it a weekend project or not). So, I liked that this machine was powerful enough that we could still wake up at our leisure and quit when we felt tired. It got the job done, but not at the expense of starting Monday like the weekend was totally robbed from us.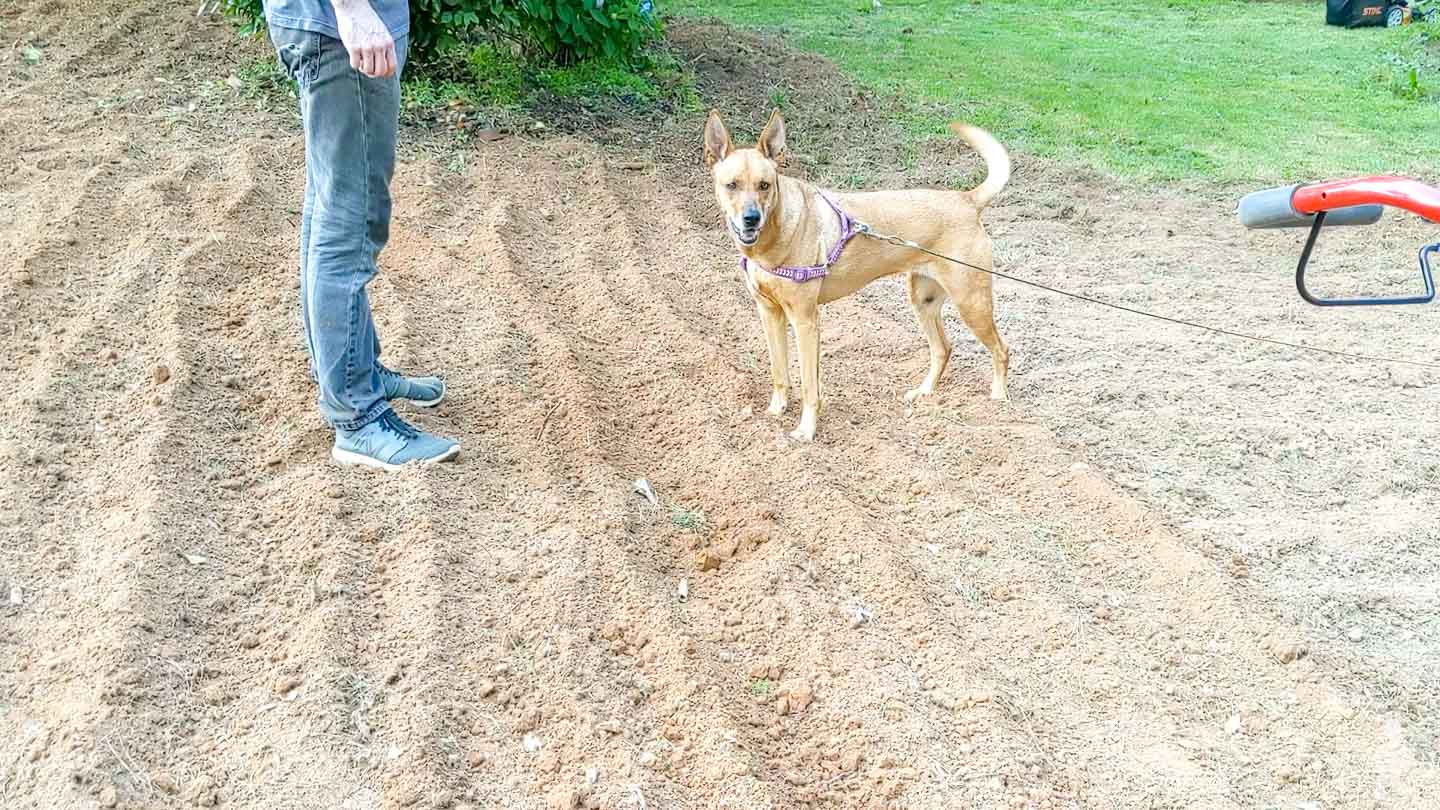 Rake all the weeds
I'd read about one method of putting plastic all over the lawn to kill off all the weeds' root systems and then till it all up, but it was going to take FAR more time than we allotted. Instead, we thought raking everything up would give us a good enough start and not leave our lawn looking like a trash bag for the neighbors. So, we didn't use the plastic method, but we DID take a lot of time to rake out every clump we could manage and smooth all the soil out.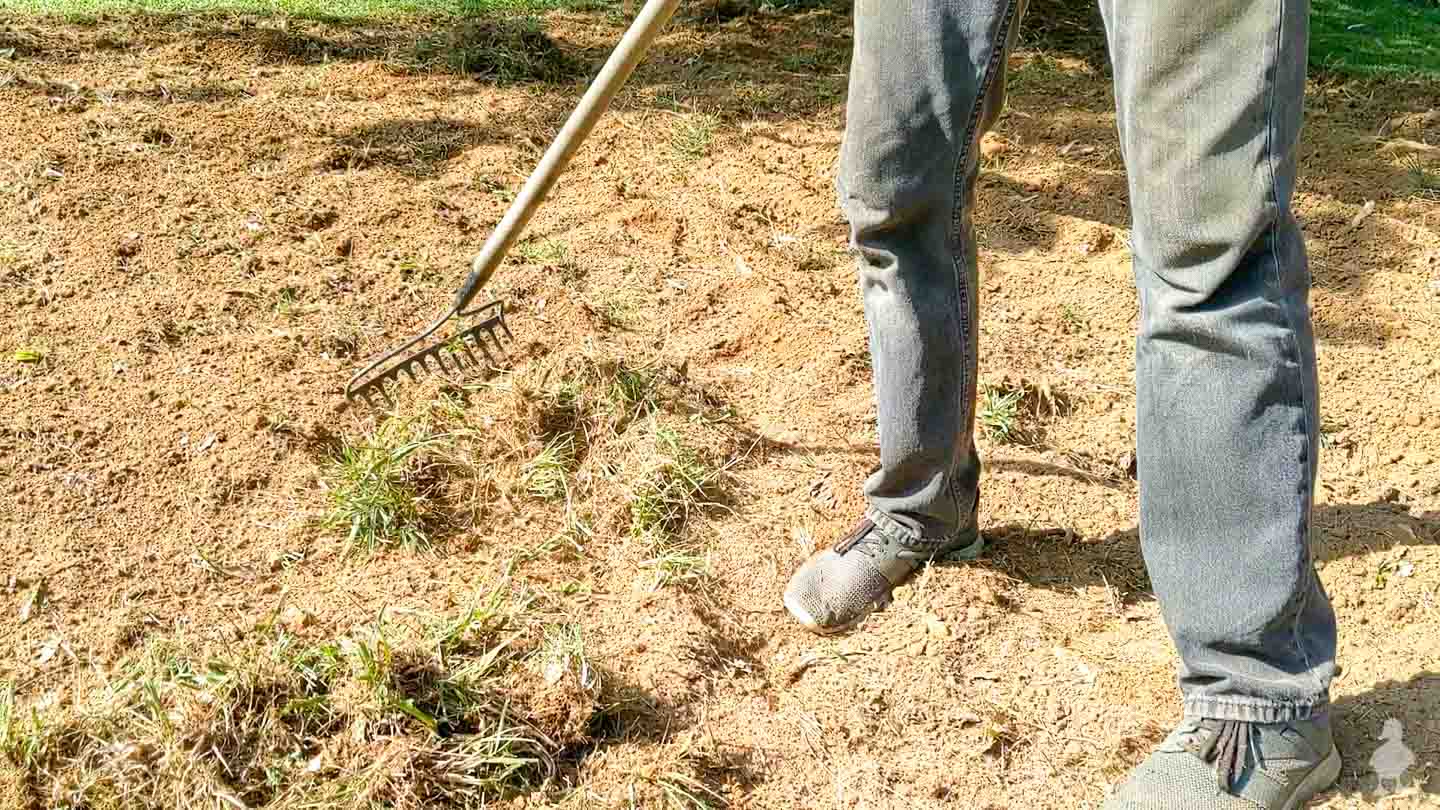 Grade/fix drainage
We noticed that soil tends to flow down and collect at the bottom of the driveway, leaving about a half inch of dirt washing into one spot (which really sucks to step in and I'm often in flip-flops, and Georgia red clay is particularly mucky!). Since we were tilling and raking everything smooth, it only made sense to try to correct this problem while we were at it; the soil was nice and loose and could be shaped much easier to catch water flow and redirect it to the side of the yard.
Add fertilizer
Since we knew about the soil's nutrient deficiencies when we did the soil test, we were able to correct some of this with fertilizer. We used a walk-behind spreader for both spreading fertilizers and seed.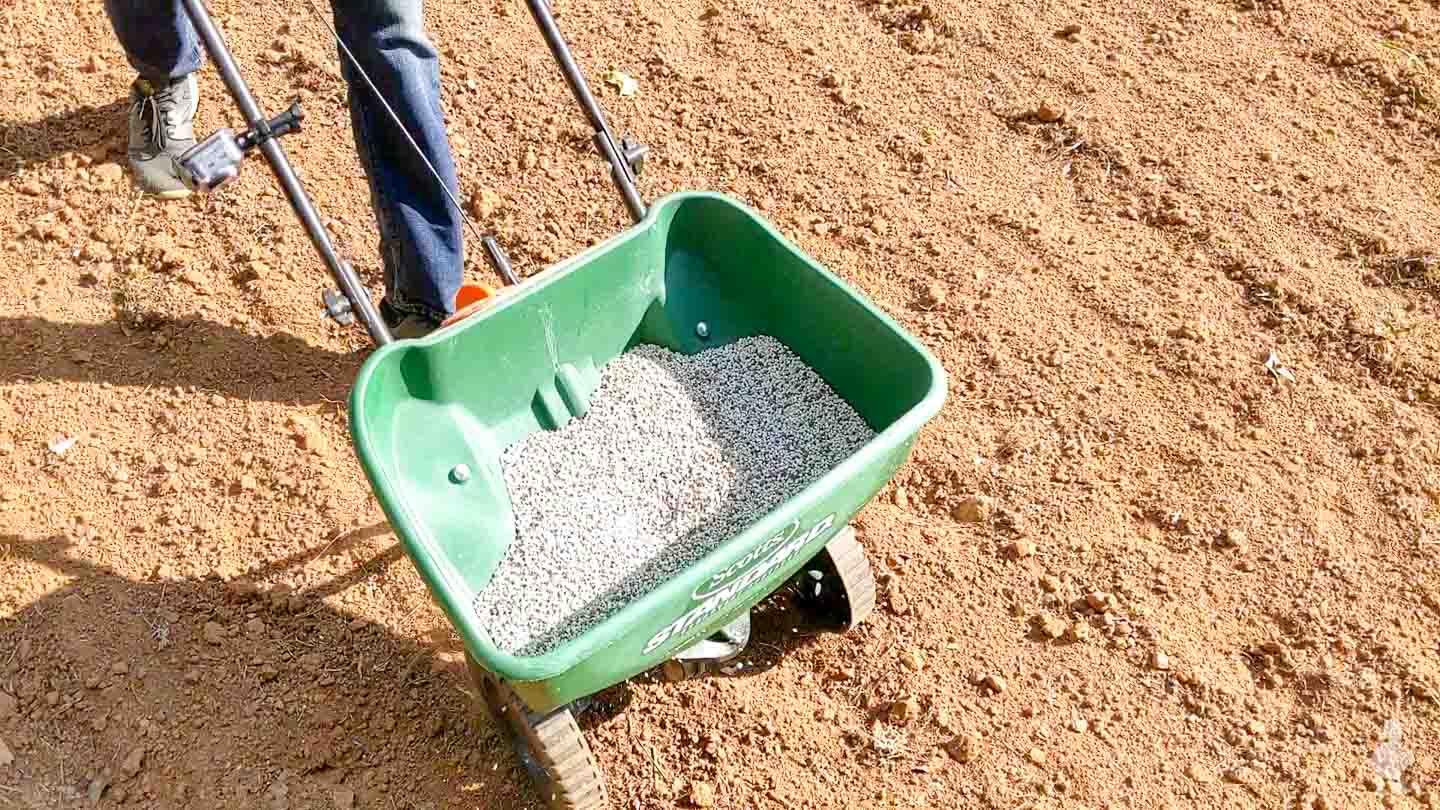 Add a seed combo
Just like with the back yard, we used a combination of two grass seeds: rye, to grow quickly, choke weeds, and help prevent the soil from washing away too much and establish some green ASAP; and fescue, for long-term. We found this to be the combo that worked best for us in our area, so we stuck with it and it worked great!
Spread straw
I've heard that straw (note: not hay, which has seeds in it — this city girl has used the terms interchangeably before and this was pointed out ?) helps keep things from blowing away and prevents the bare dirt from becoming a giant mud pit. So, we spread it out as our last step.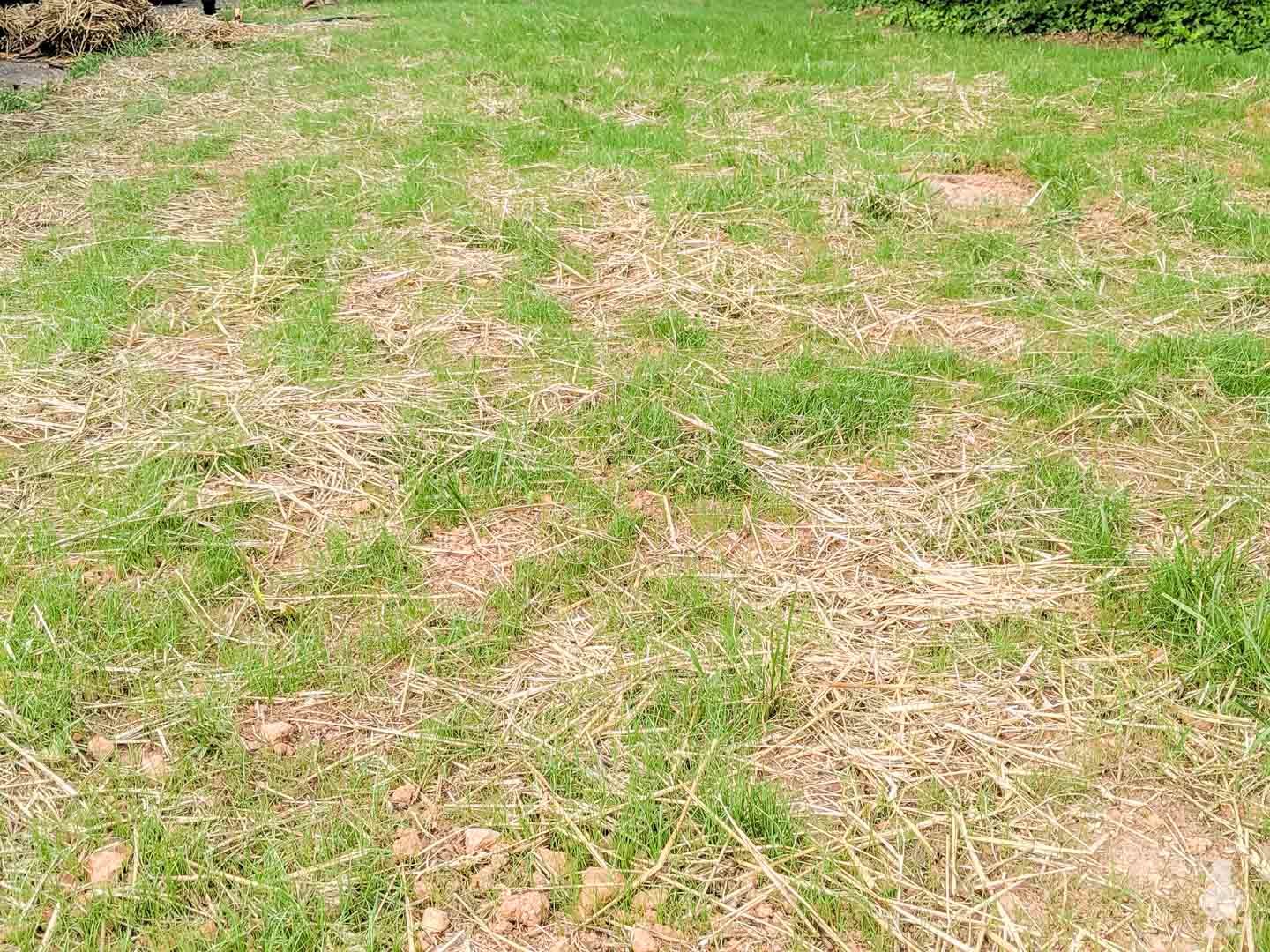 Water, water, water!
I was so READY to be done with everything as soon as the straw went down, but the day wasn't quite over! We had to make sure that the lawn could be well-watered regardless of what Mother Nature had in mind for us (hot and humid but not raining for a few weeks, and then nothing but rain for a week or more). So, out came the sprinklers.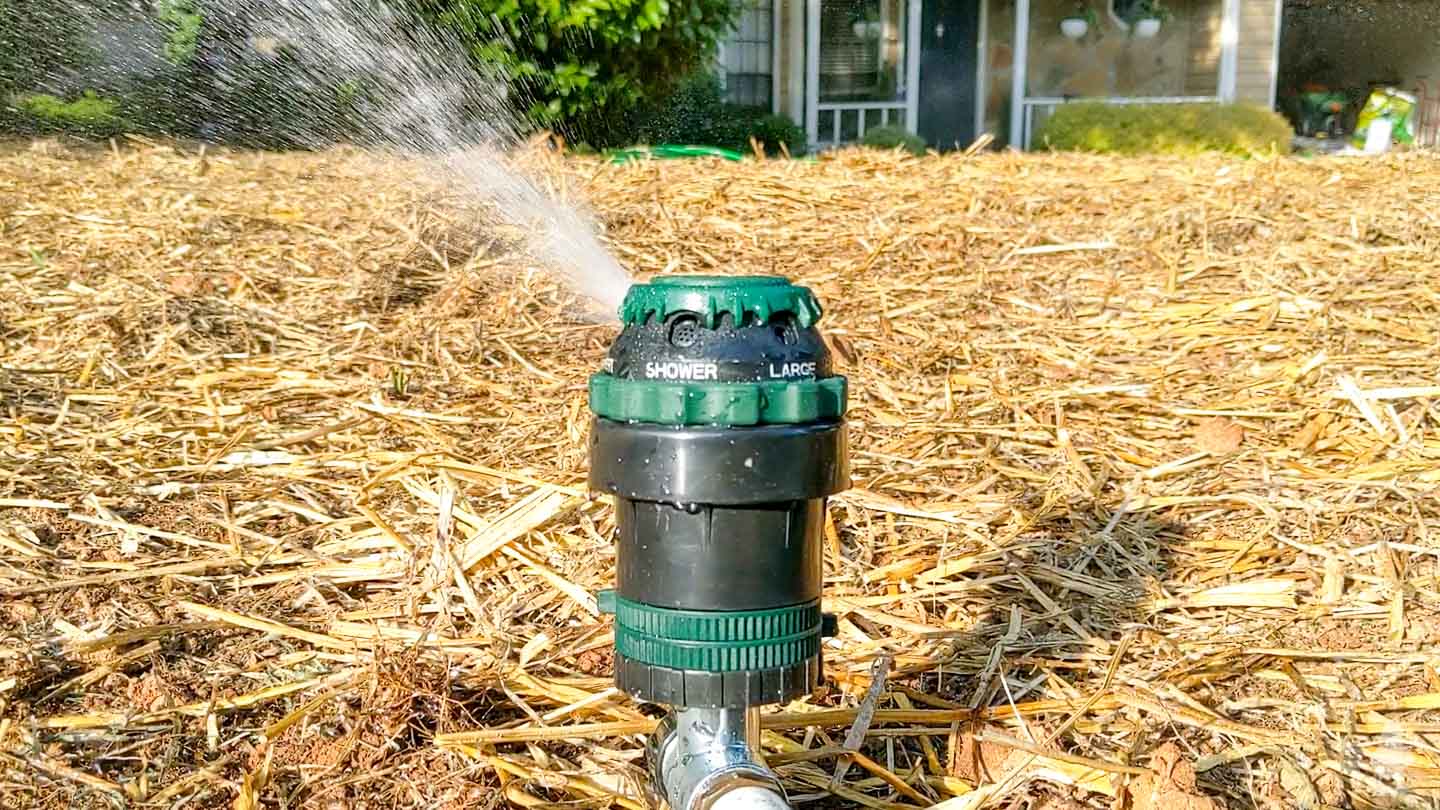 Check out the video
As promised, we took video too! This is a shorter version for now, but I'll add a longer one once I get a chance to do a new voiceover for you! I've got some sneak peeks of some other yard makeover projects in here as well; new landscaping fabric and moving around shrubs are just the tip of the iceberg! (Music credit: Epidemic Sound)
Now, I've told you about my awesome neighbor with the really amazing lawn that puts mine to shame, right? To our surprise, the very next day after we finished this project, he came to us with a homemade sprinkler that reached the corners better than our first setup did. We thanked him with a bottle of tequila.
Are you ready for the green grass? I know I am! Just for the sake of it, here's one more glimpse at the BEFORE…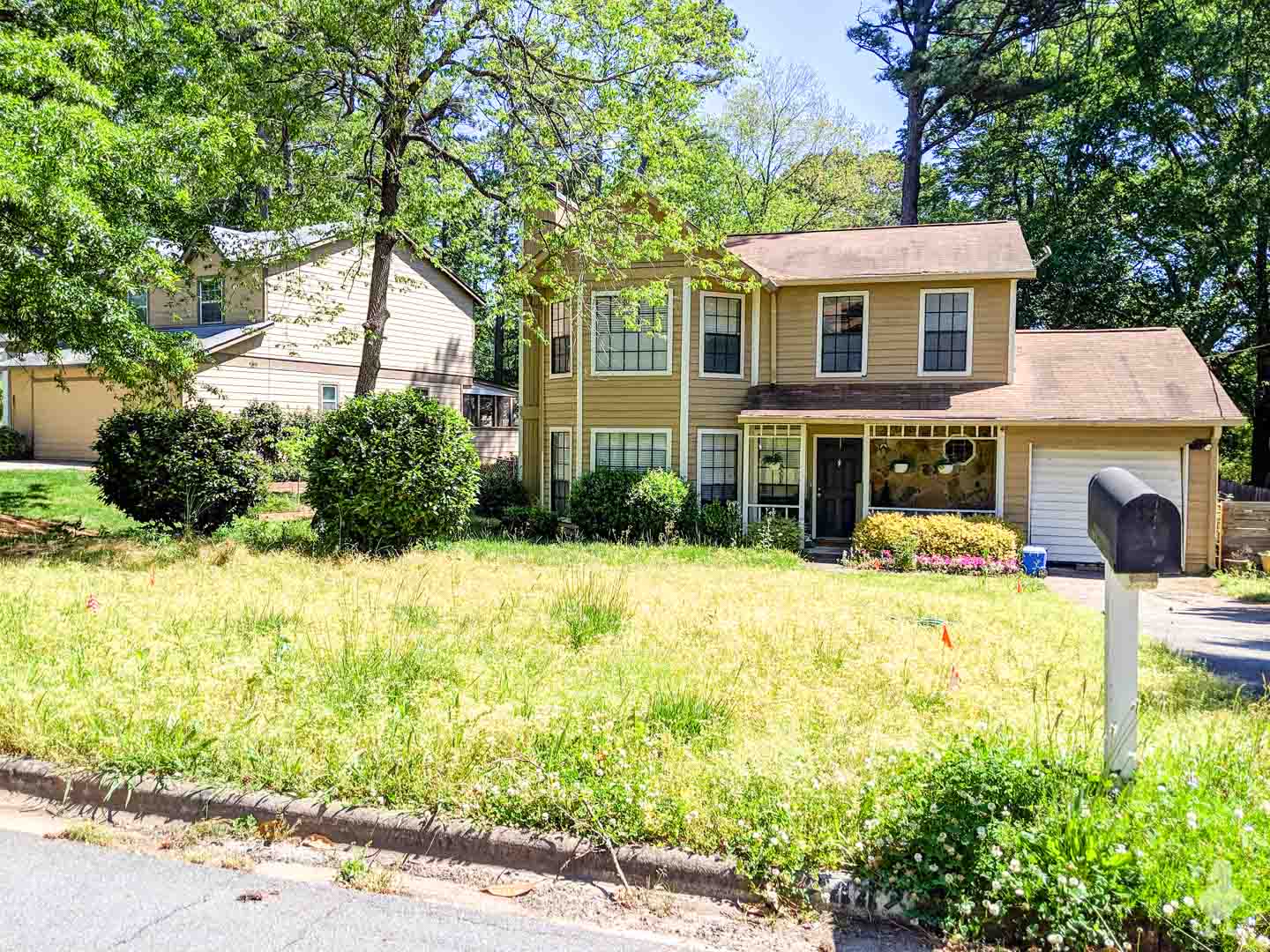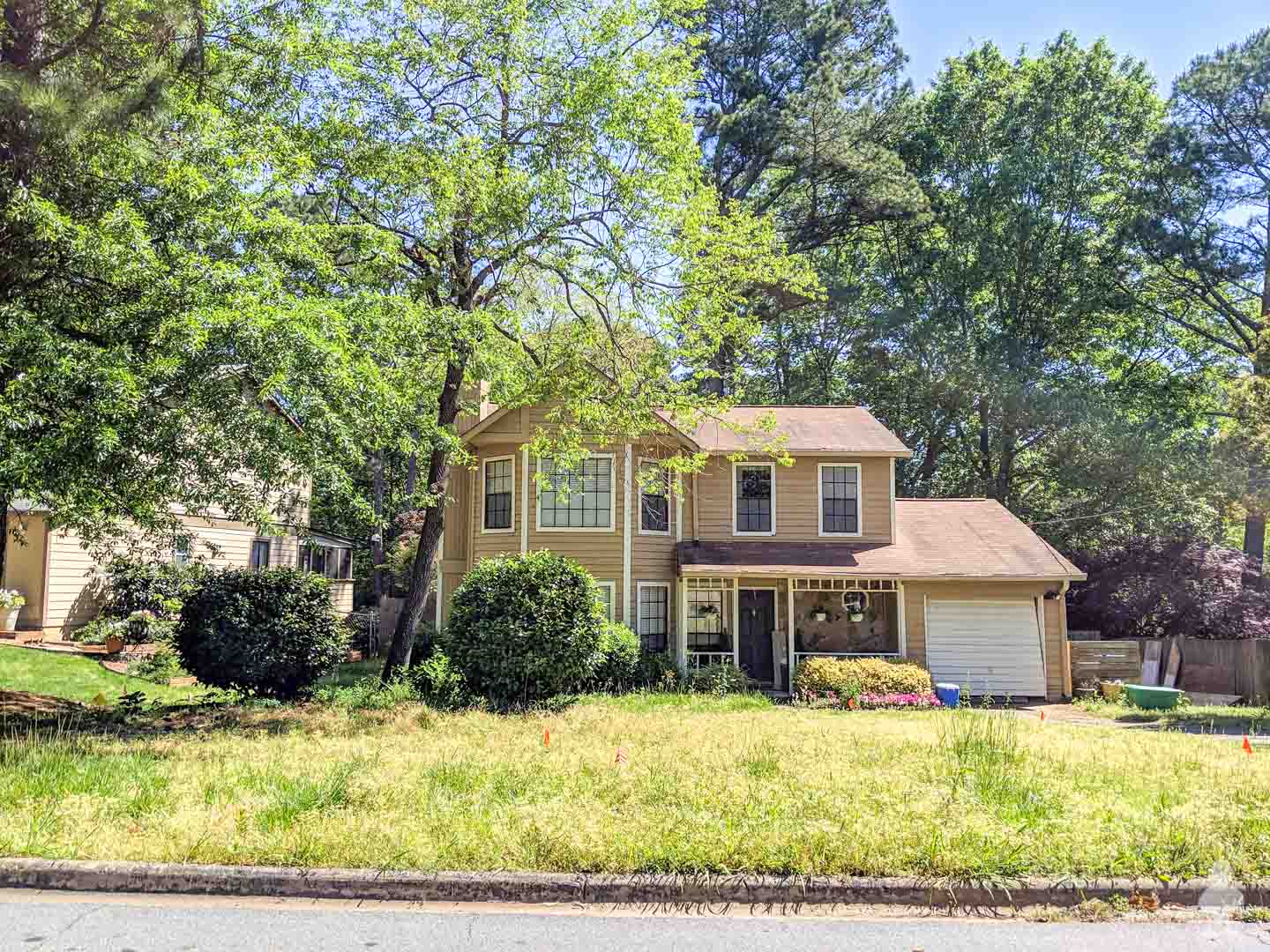 And here's the AFTER!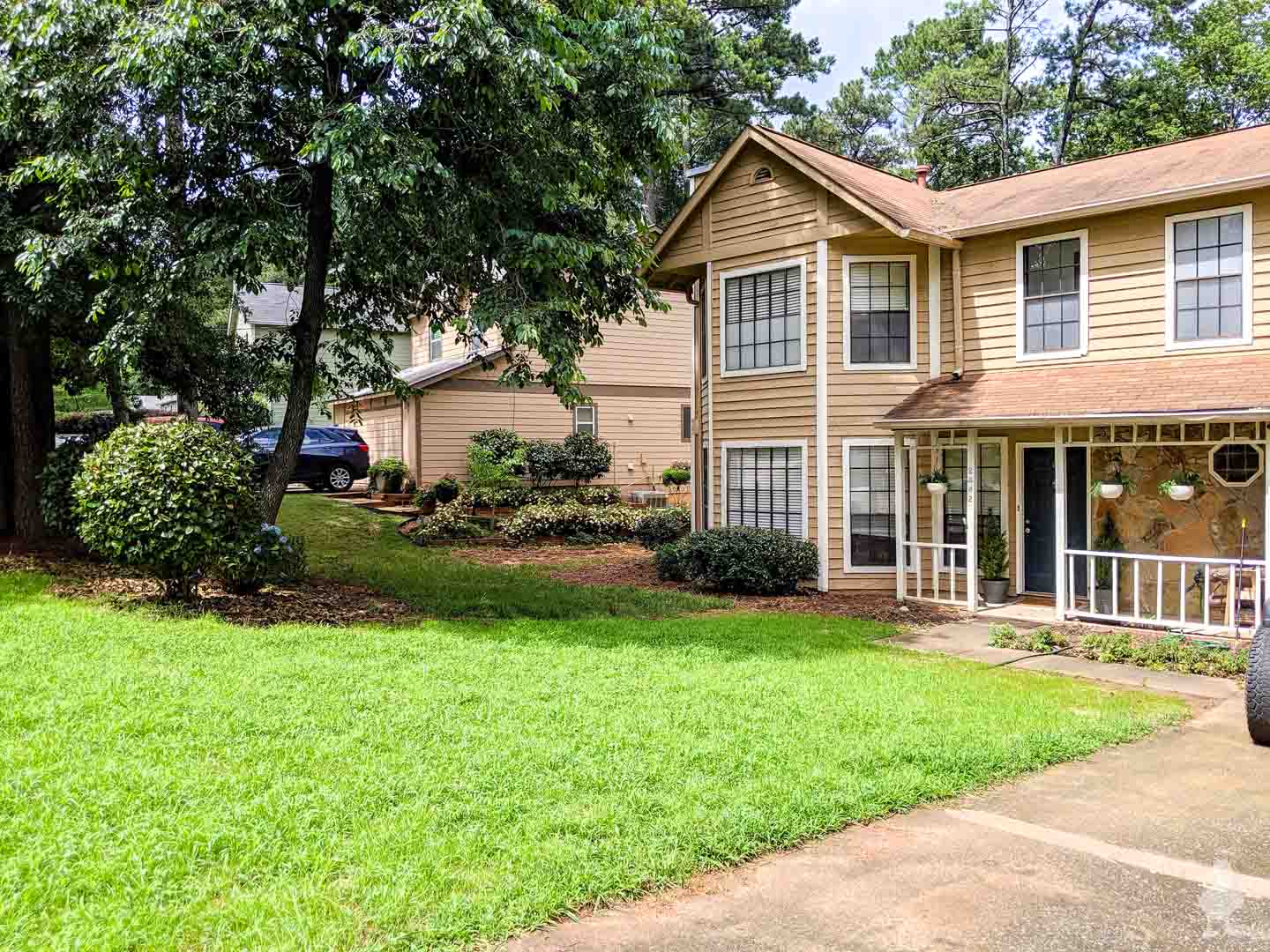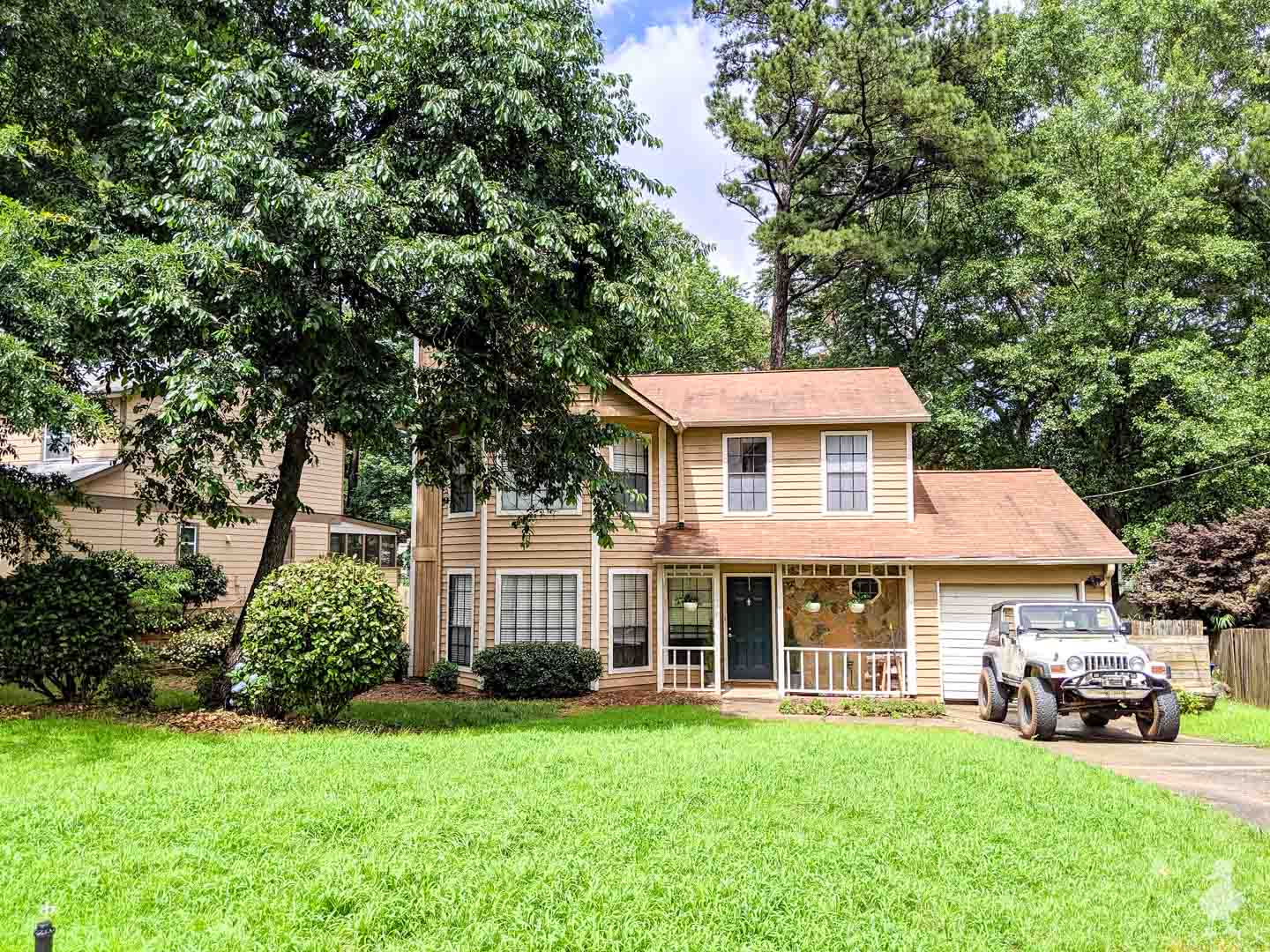 I'm gleefully typing — this project was not only a goal set, but a goal MET. I mean sure, there's more work to do (garden beds, new mailbox area, porch demo, overseeding and ongoing weed care in the fall like we did with the back yard, etc.), but that's always the case around here. And this is one HUGE step in reaching those curb appeal goals. I can actually see the point of all that additional work now and what needs to go where. Here's me, pretending to be a small tree, because I can picture things like that now.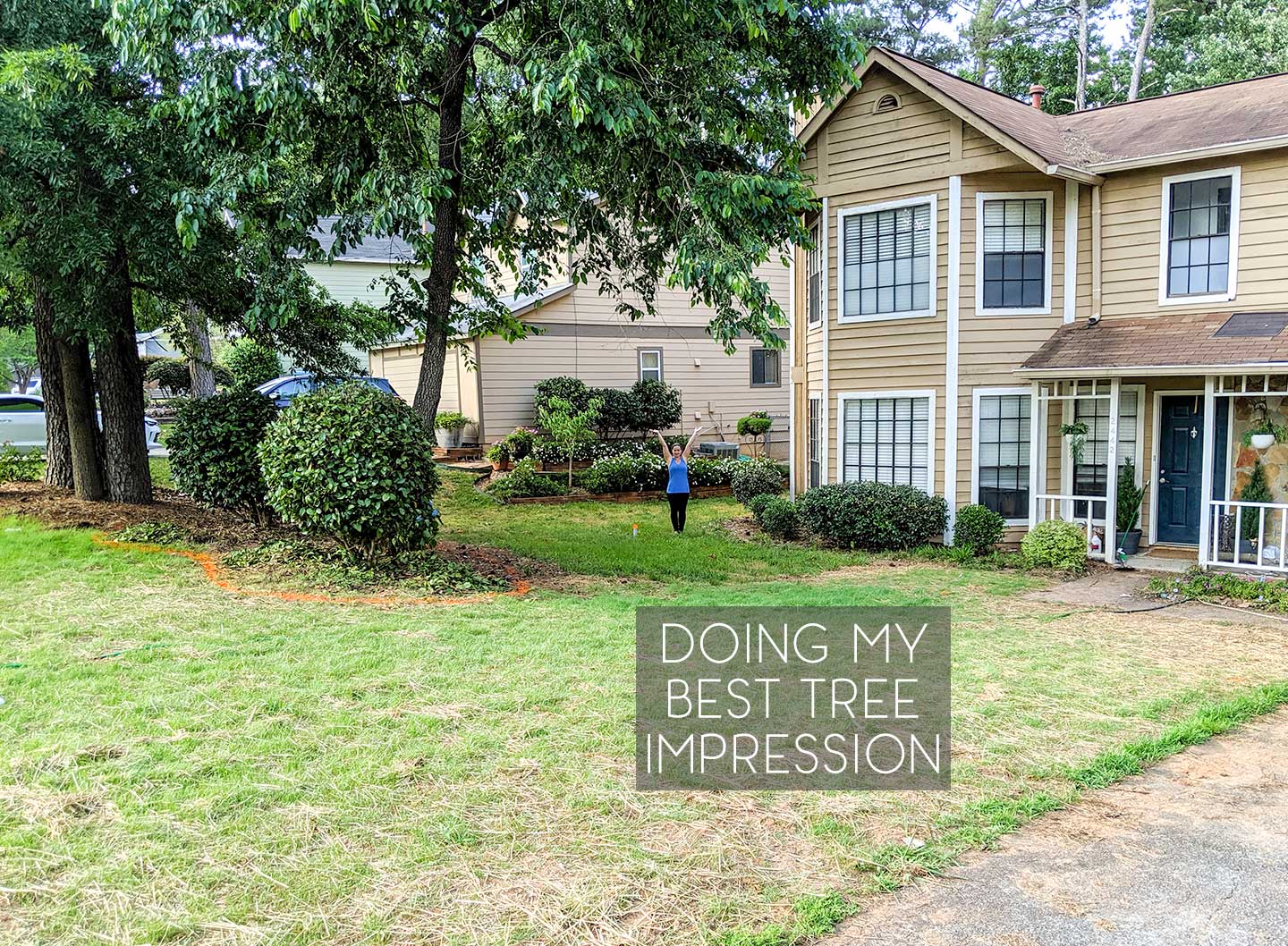 That's my favorite part: whenever a big step like this happens, I can visualize the other projects much easier. That "aha" moment is what makes all the sweat and bug spray worth it!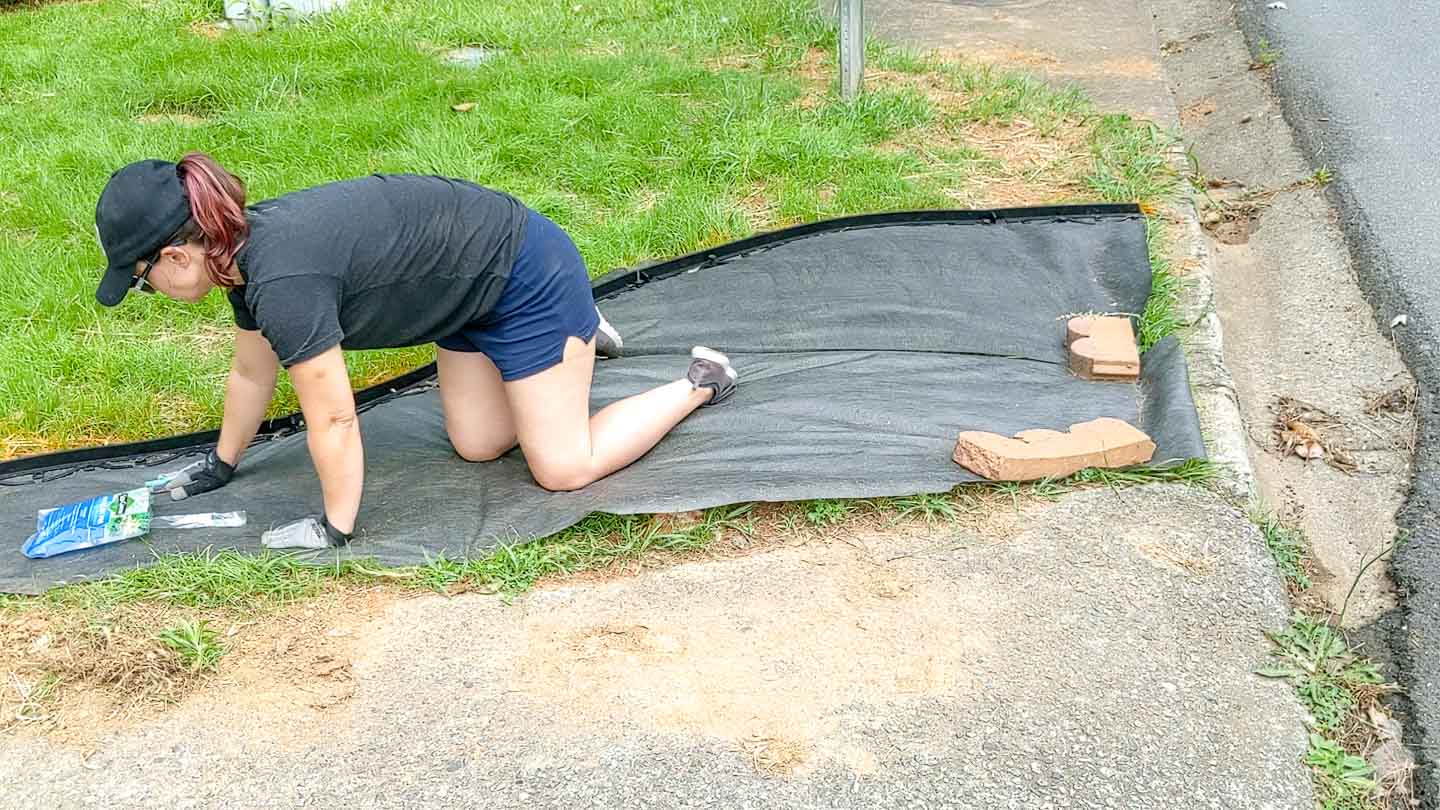 Update: The following spring, we followed through with overseeding and weed maintenance, and here's what it looks like now!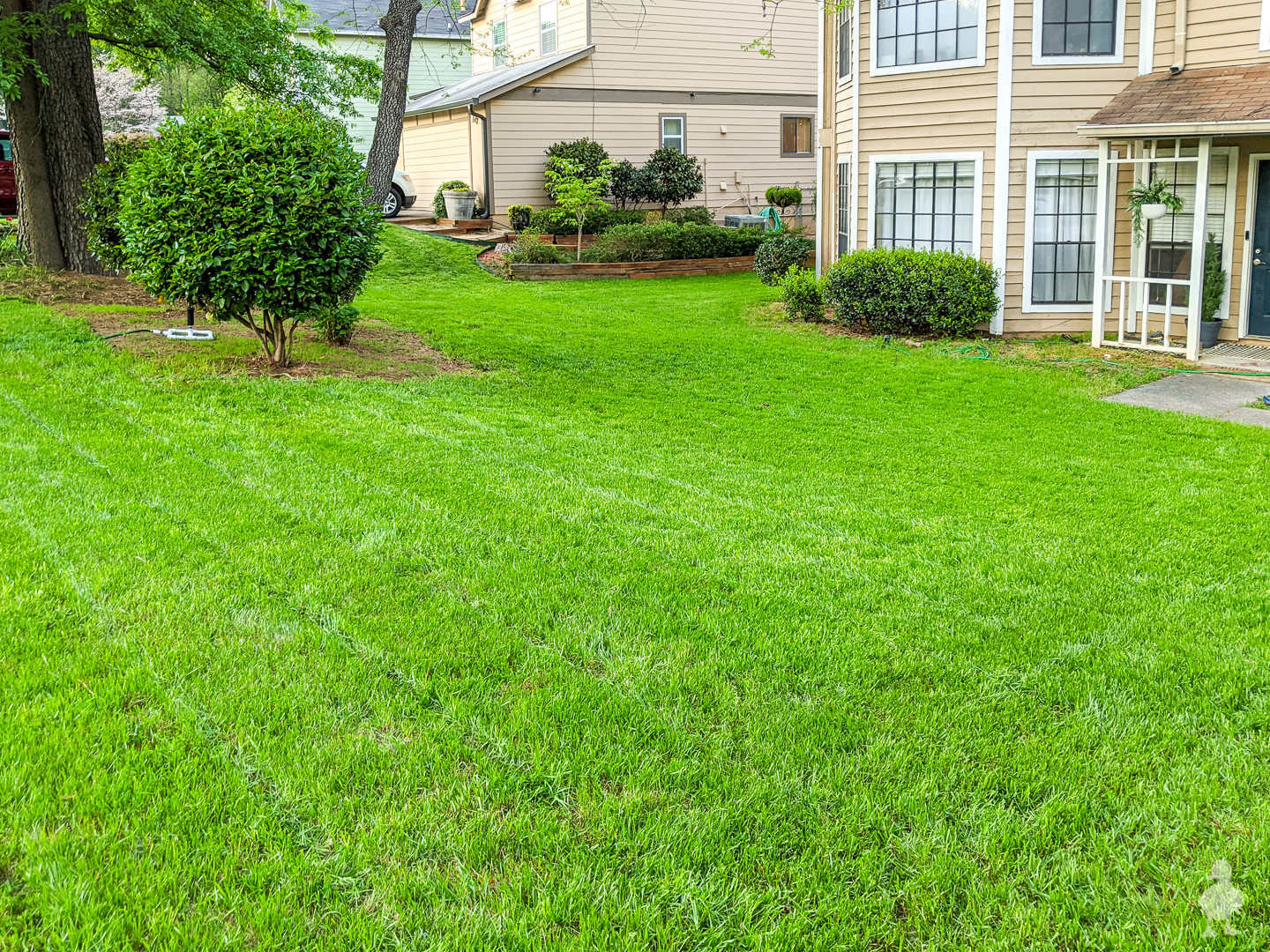 Don't forget to pin it!