Disclosure: this post may contain affiliate links, which means I may make a commission if you decide to make a purchase through one of my links, at no cost to you.
Propagating hydrangeas is incredibly easy to do! If you're looking to turn one hydrangea into multiple, I've got the steps and pics for 3 different methods, starting with how I turned cuttings into new shrubs for the garden.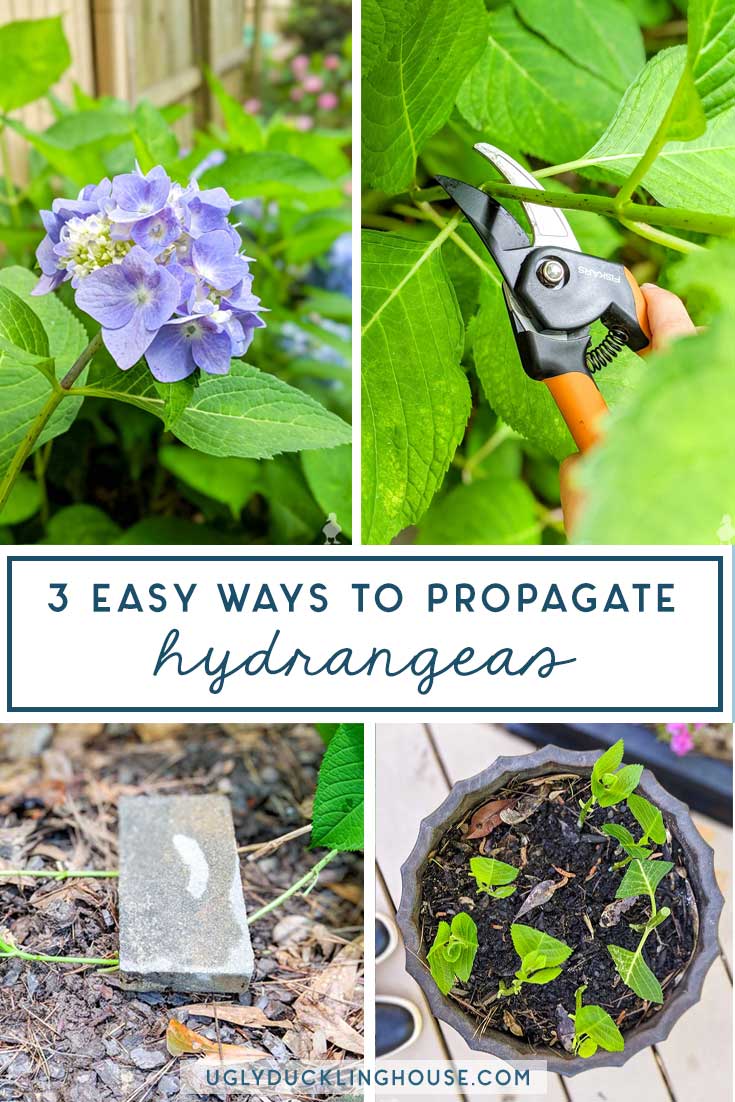 This year, Kyle and I have gone propagation crazy. Wait — let me rephrase that.
Earlier this year, I stuck a branch from my ZZ plant into a little water after it broke off the original plant (clumsy me while painting the master bedroom). I thought, at best, it might propagate like I'd seen on Instagram; if not, no biggie. Over a few weeks of changing out the water regularly, it grew roots!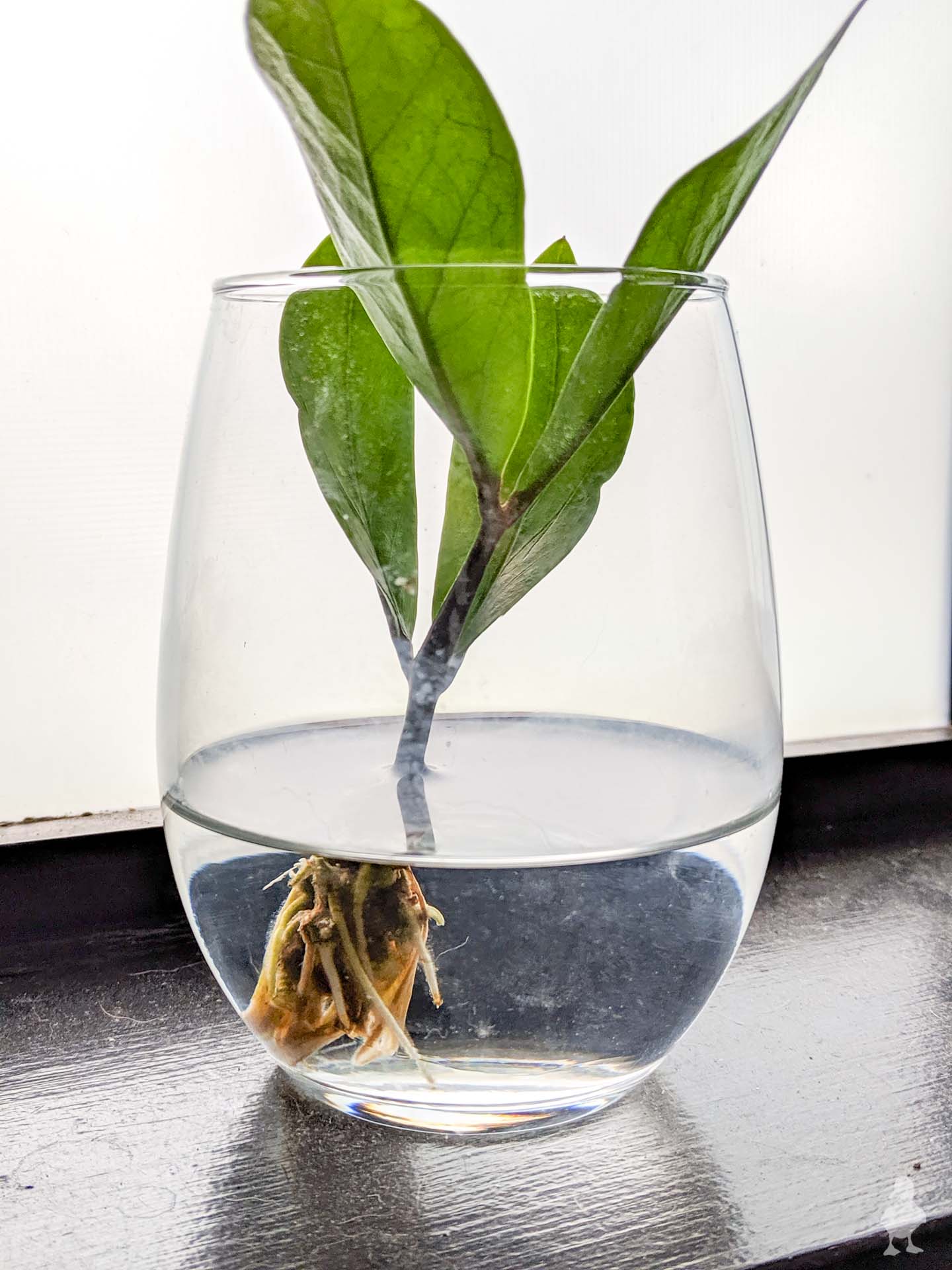 Since spotting that first root, Kyle has been sticking every branch he finds into water now.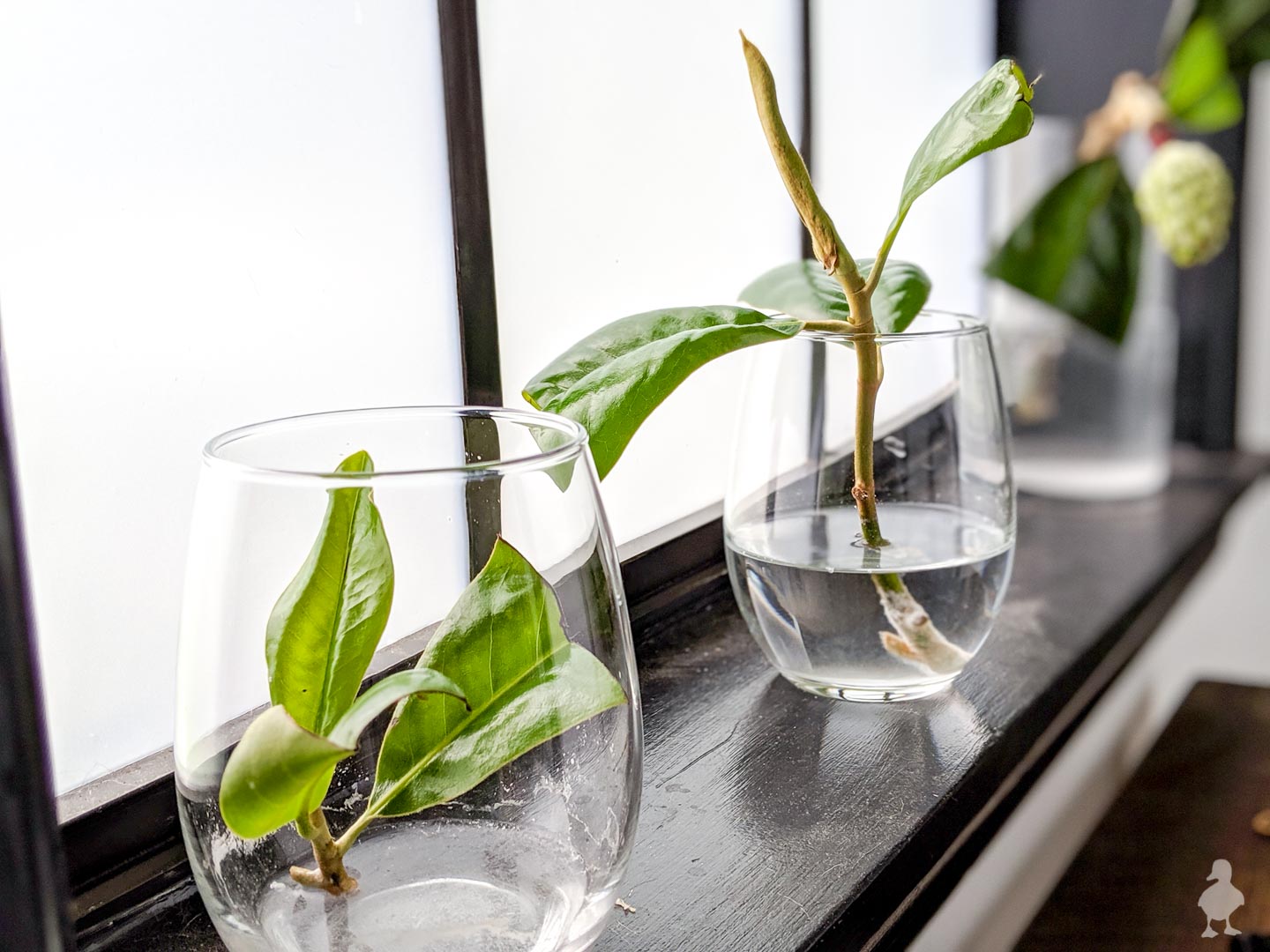 I have created a monster. A very specific, uses-up-all-my-wine-glasses-for-magnolias-and-maples-and-who-knows-what-the-heck-that-one-is? windowsill monster. But, a monster that is eager to grow green things when I like green things isn't really a problem, is it? Especially when I don't have to pay for them… so, I'm choosing to enjoy it! I recently showed him this test tube project from Vintage Revivals, and he's into it. Our own version may be in the works soon.
I'm telling you this merely to introduce why I decided to branch out (ba-dum-tss) by learning how to propagate my hydrangeas this year. Growing new plants has been a frequent topic of conversation, and it's more or less a "I wonder if I can" type of experiment. I had a planter full of potting mix on the deck and had just finished cutting back a bunch of new growth on my hydrangea plants (they are blooming like crazy!!), so rather than using water for this one, I tried dirt and root hormone. And it worked!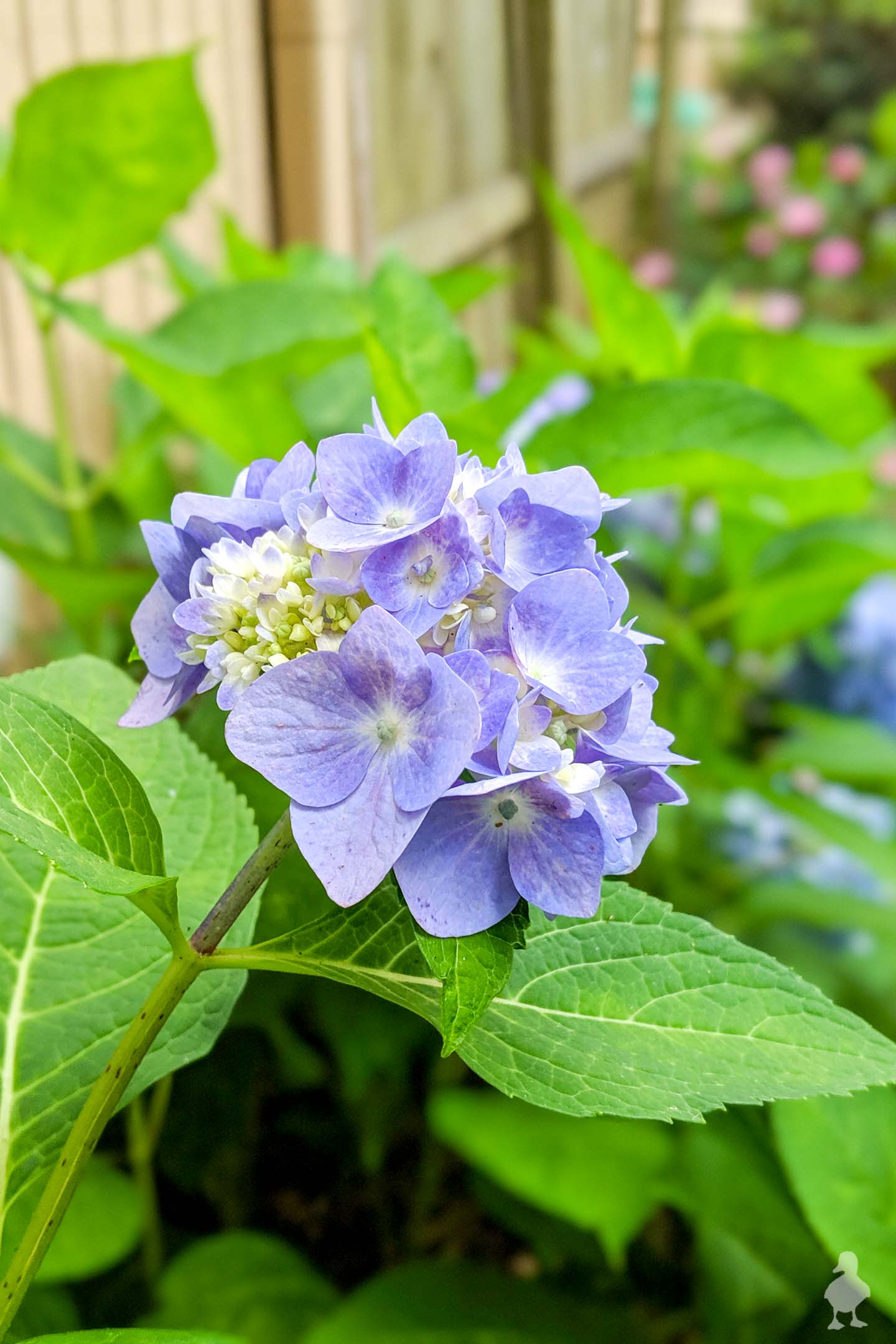 How to Grow New Hydrangeas from Cuttings
1. When should you take cuttings?
Some experts recommend that the best time to take cuttings is in early spring when hydrangeas are beginning to leaf out and growing a lot (which makes sense). Some gardeners swear by rooting them in winter, where they'll grow more resilient roots versus summer (which also makes sense). So, as of now, I have no recommendation as to what time of year is best. I'm simply taking what I cut off from pruning my hydrangeas in spring and late summer and using those cutoffs for propagation. Keep in mind that this is a totally free, no-pressure-needed method, so there's really only upside if they happen to root. Maybe my hydrangeas sense my "root or don't root, I'll just keep trying" attitude and use it as motivation!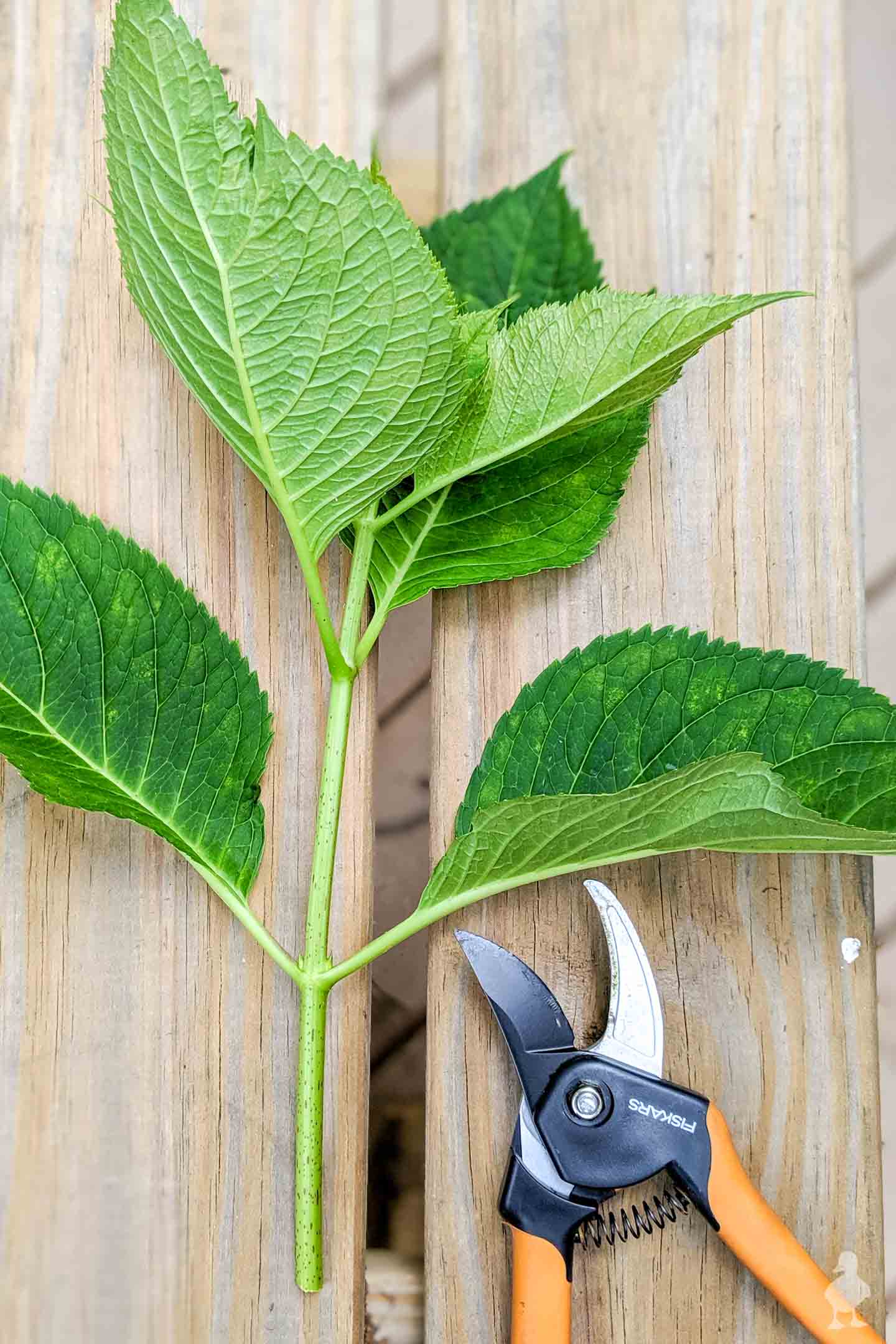 It's also recommended to make cuttings when direct sunlight isn't beating down, such as in the morning/evening and to pot them as soon as possible. If you saw my guide on growing hydrangeas before, you may remember that the stem tends to form a waxy plug when it's cut, so working quickly is best.
2. Where to cut
Most experts seem to recommend making a cutting that has a few leaf nodes on them. Look for a panicle (that's a stem with several branching leaves) that does not have any flower buds. That's where you can see leaves branching off of the main stem. You'll notice little nubs where the leaf meets the stem, aka "nodes".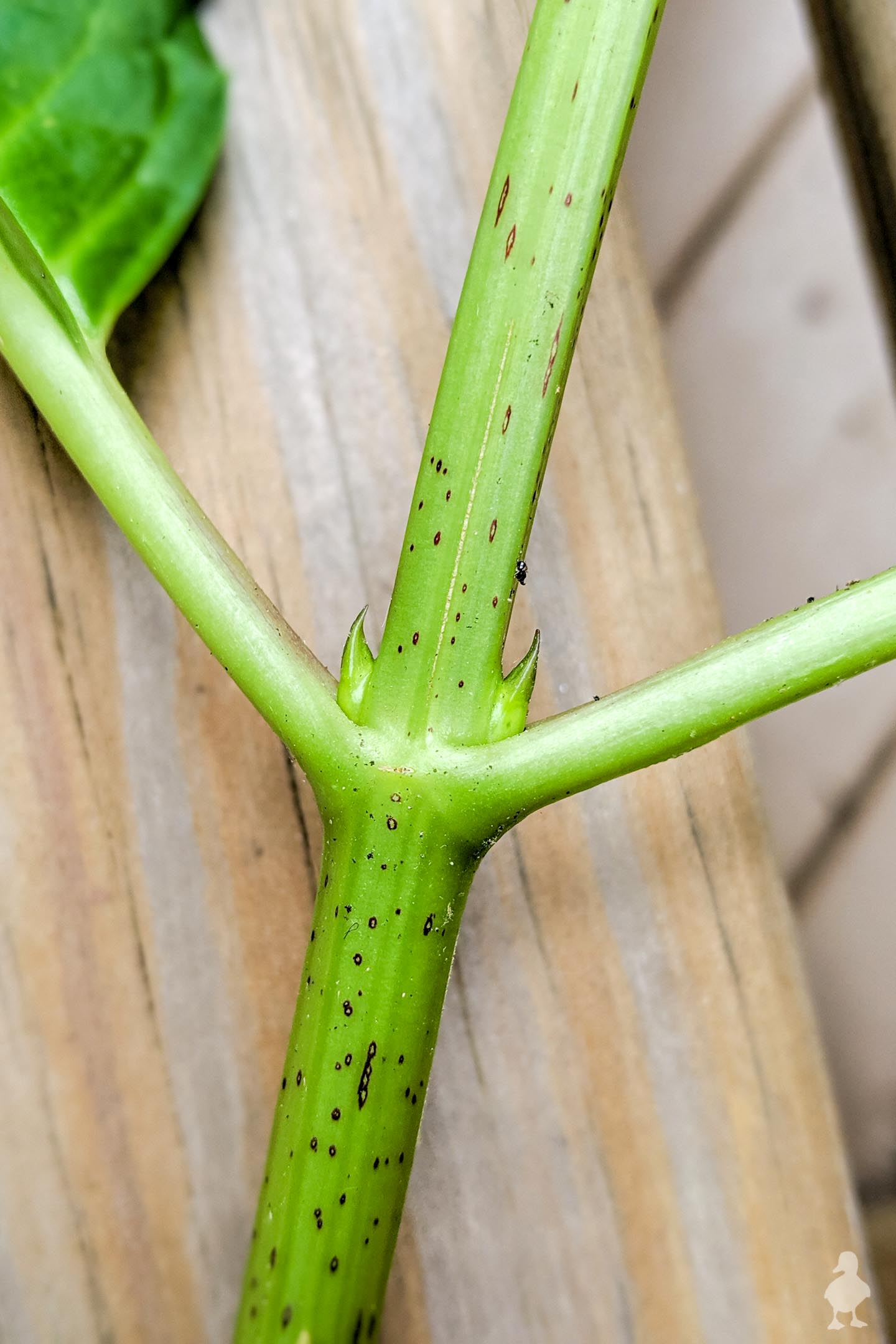 I've been cutting them both above a leaf node and below (or in some cases, cutting a long stem into two separate cuttings), and it really doesn't seem to make much difference as long as enough of the stem is planted in the soil. I DO tend to cut off green stems rather than hardwood cuttings (where the stem has gone through a full season and looks more like a woody stem rather than these green ones, which are more recently grown).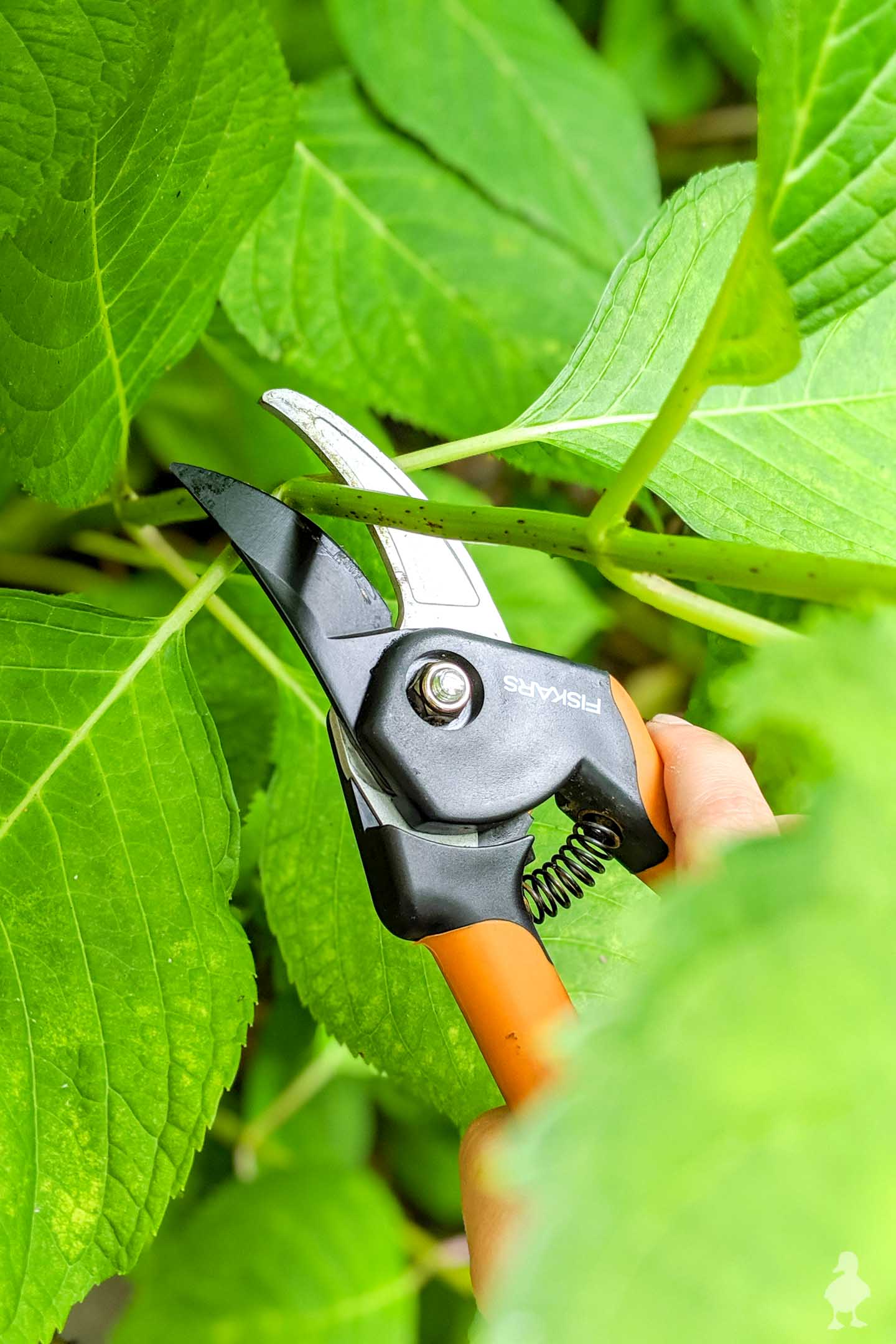 3. Trim down the leaves
On each stem, I nipped off most of the lower leaves, starting at the bottom and working my way up (close to the stem is good, with just a small nub).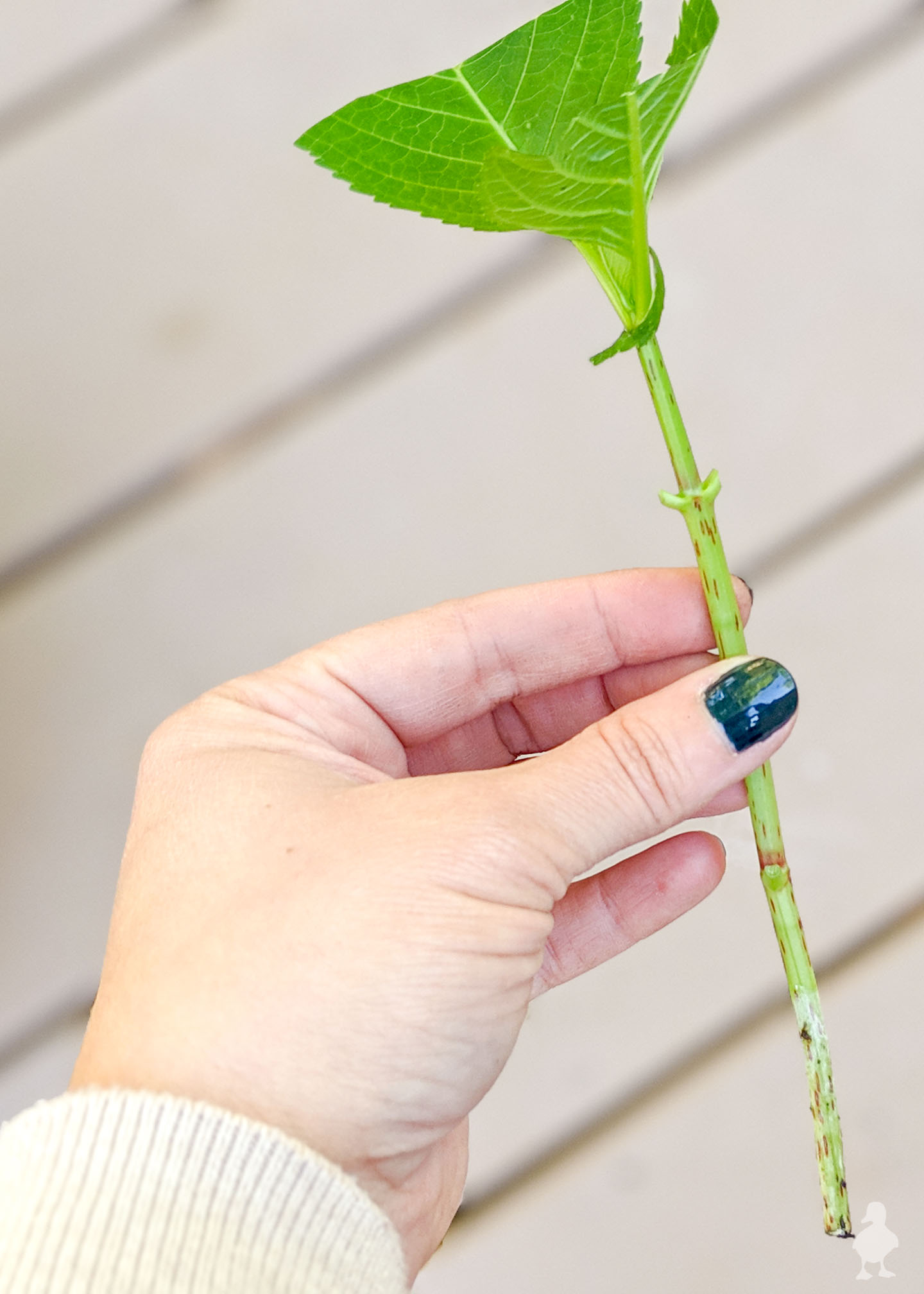 Each set of leaves can be very taxing on a hydrangea stem that doesn't have roots yet (there's no system to get water to the leaves), so I left the last few leaves on top but cut them down to reduce the overall burden for each plant.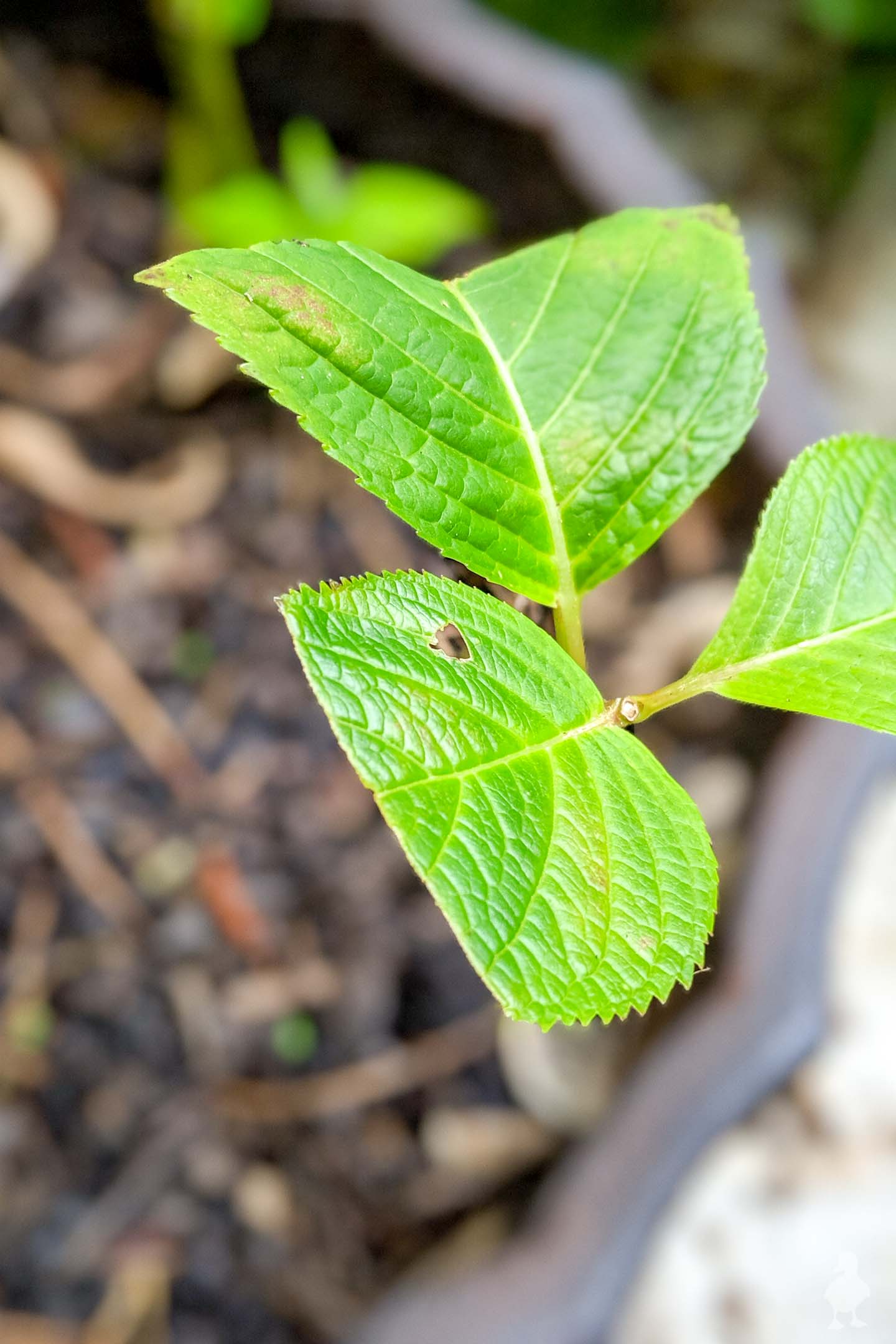 4. Dip in root hormone
I know I'll get a little flak for indiscriminately dipping the cutting directly into the pot of root growth hormone, but meh — I've done it time and time again without issue, and with different plants, and the rooting powder gets everywhere, so I don't like to dump it into a second container if I don't have to.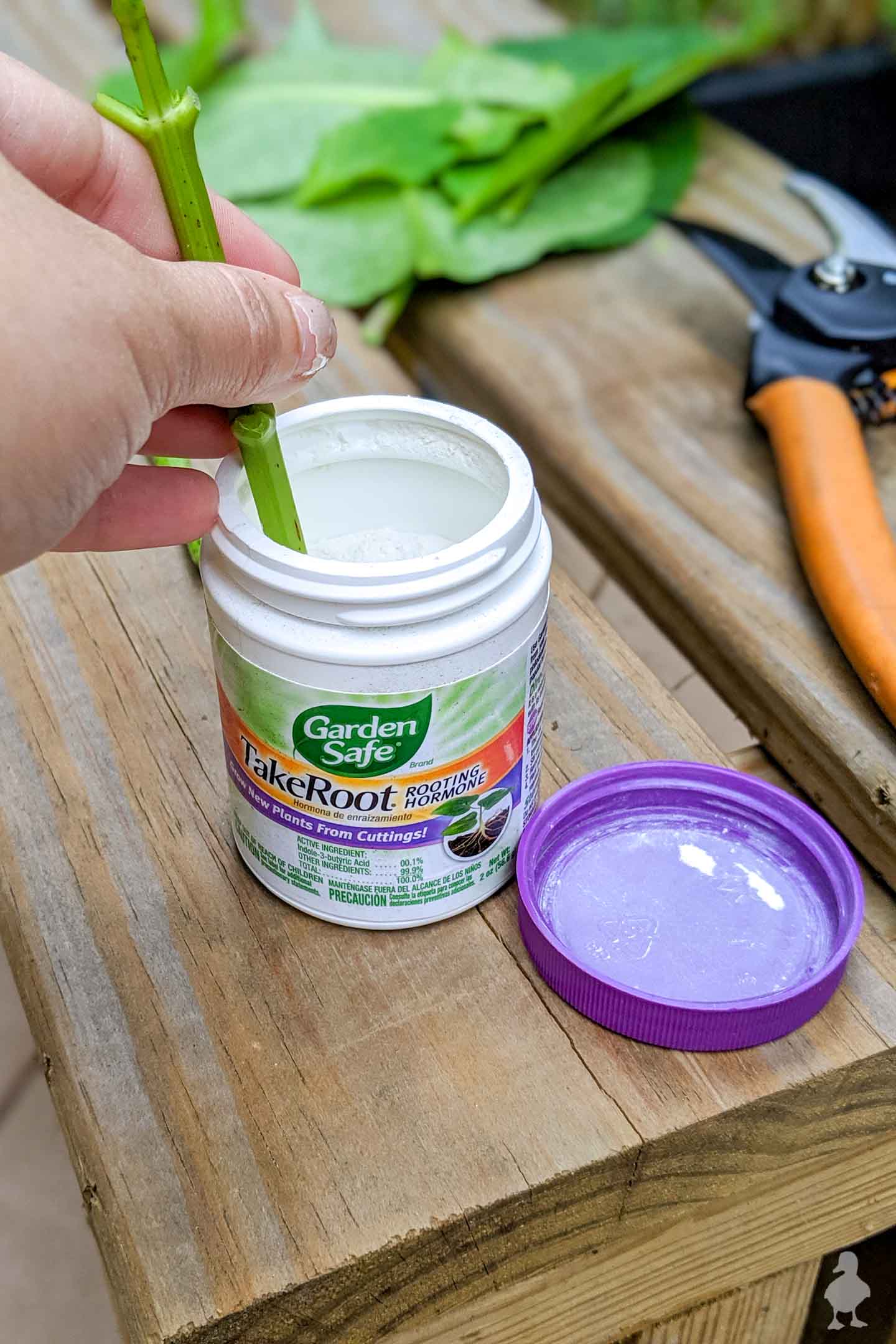 5. Plant the stem cuttings in soil
I didn't replace the soil that was already in the planter before, but it already contained a soil mix that was supposed to be used for container gardening, which turned out to work very well for this. I simply dug a narrow hole and planted each powdered stem, compacting the soil tightly enough that they could stand upright.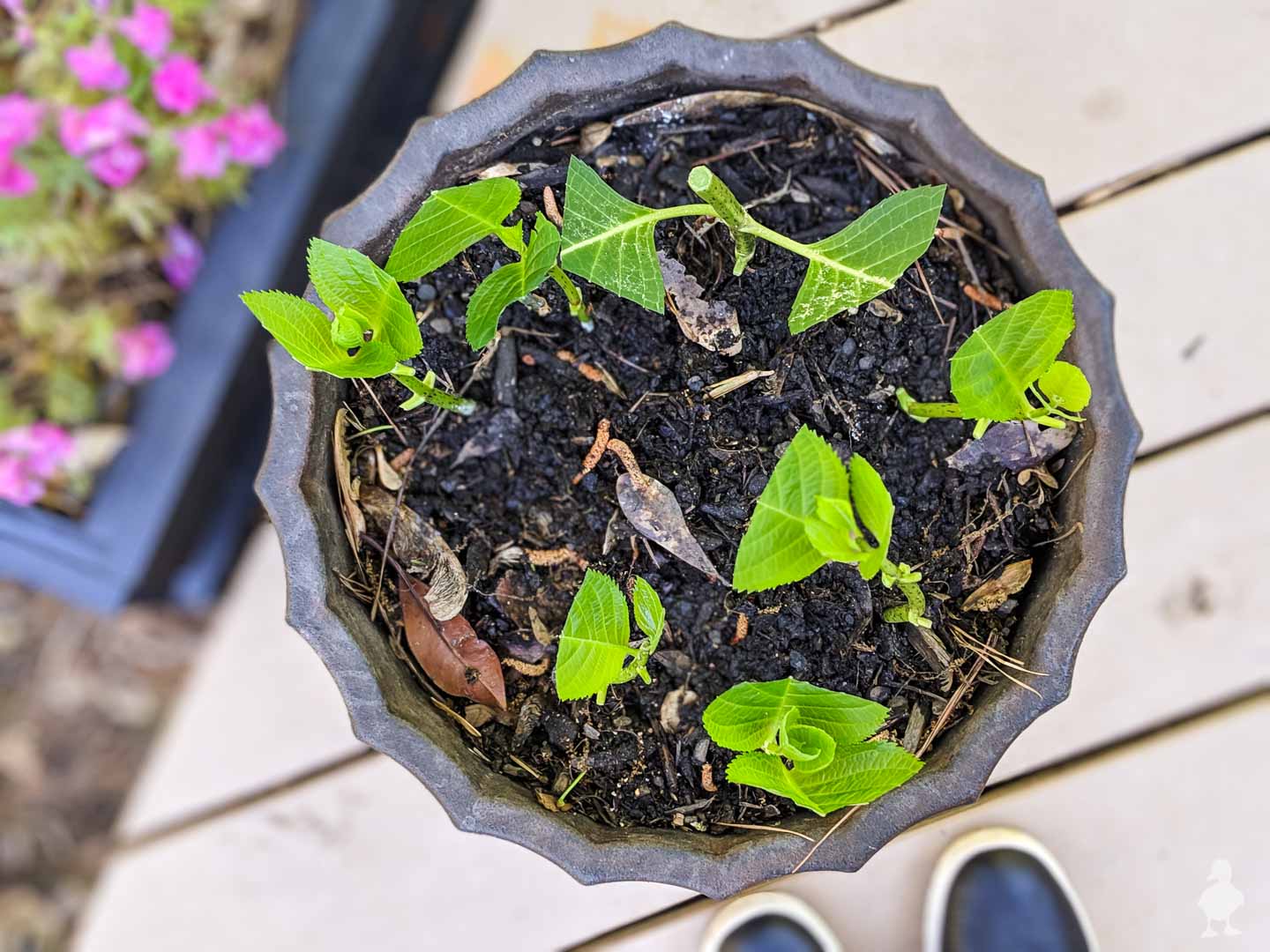 6. Keep it watered
I put the pot directly on the concrete patio, next to my sliding glass door. It's pretty much the same conditions as the other hydrangeas that run along the house (gets the same kind of shade and light at the same time of day as all the other hydrangeas, rain, protection from heat and wind, etc.). It's been an extremely wet summer so far, so I actually haven't had to worry too much about watering. The planter does an extremely good job of keeping moisture without getting soggy (part of the reason I'm using it).
7. Wait patiently, but check in
The last step can be a difficult one at first, but the waiting is probably the toughest part. When I have to wait on things like this, I tend to totally forget (thus why having a planter that did some of the work for me was ideal). After a couple of weeks, it was clear that at least two were taking root (a gentle tug showed resistance, indicating it had roots holding onto the soil). I'm now seeing the one I thought was the least promising grow new leaves, and I'll be replanting them into fresh pots and giving them to family members very soon!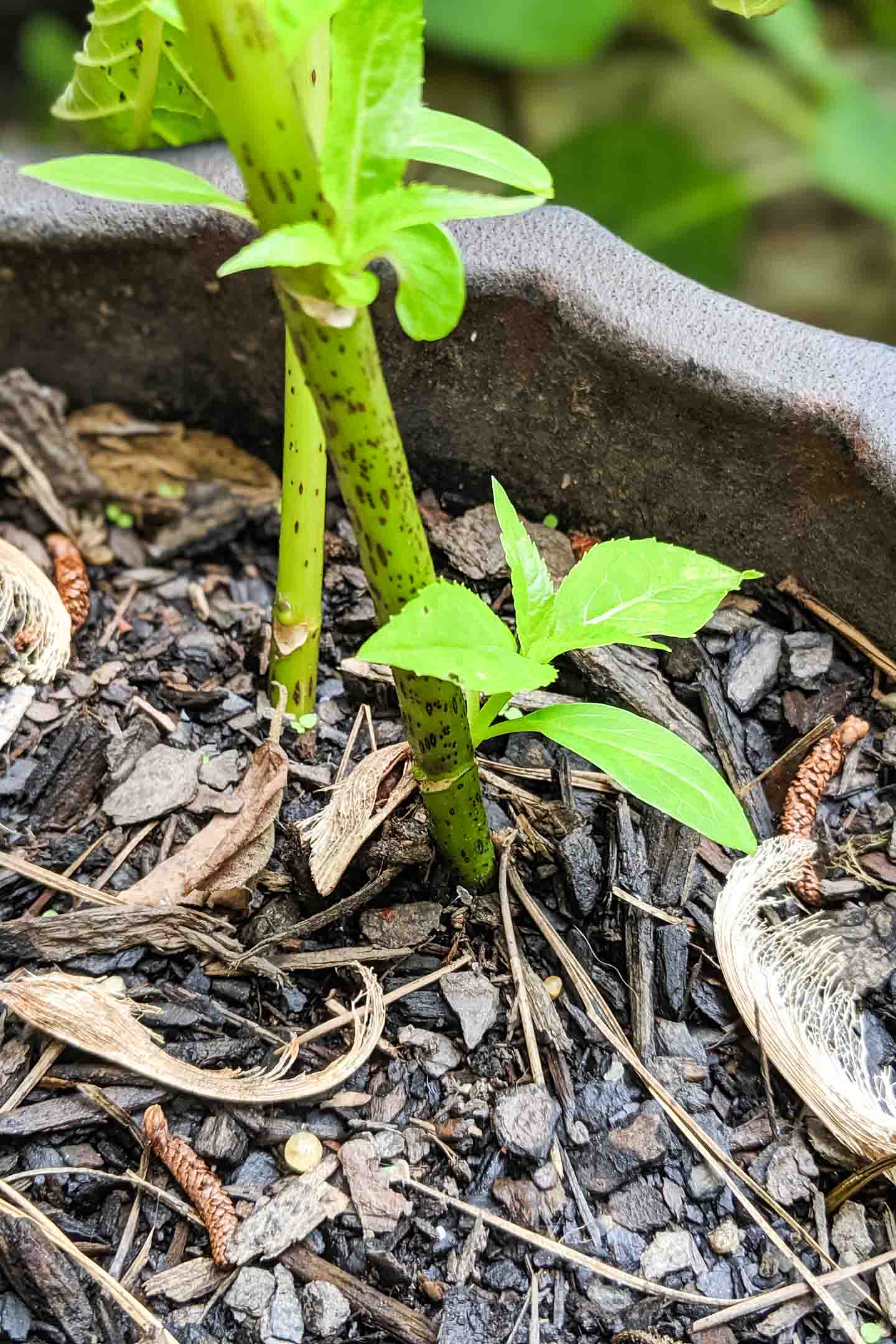 Not bad, IMO. For every new plant I manage to propagate, I save myself a good $15 apiece. Win!
Rooting Hydrangeas from a Bent-Over Branch
My dad prefers this method, so I'm going to include it here. I have a small gap between two of my largest hydrangeas, but the other ones I have along the house are more densely spaced. So, I want to close this gap by rooting a branch into the soil.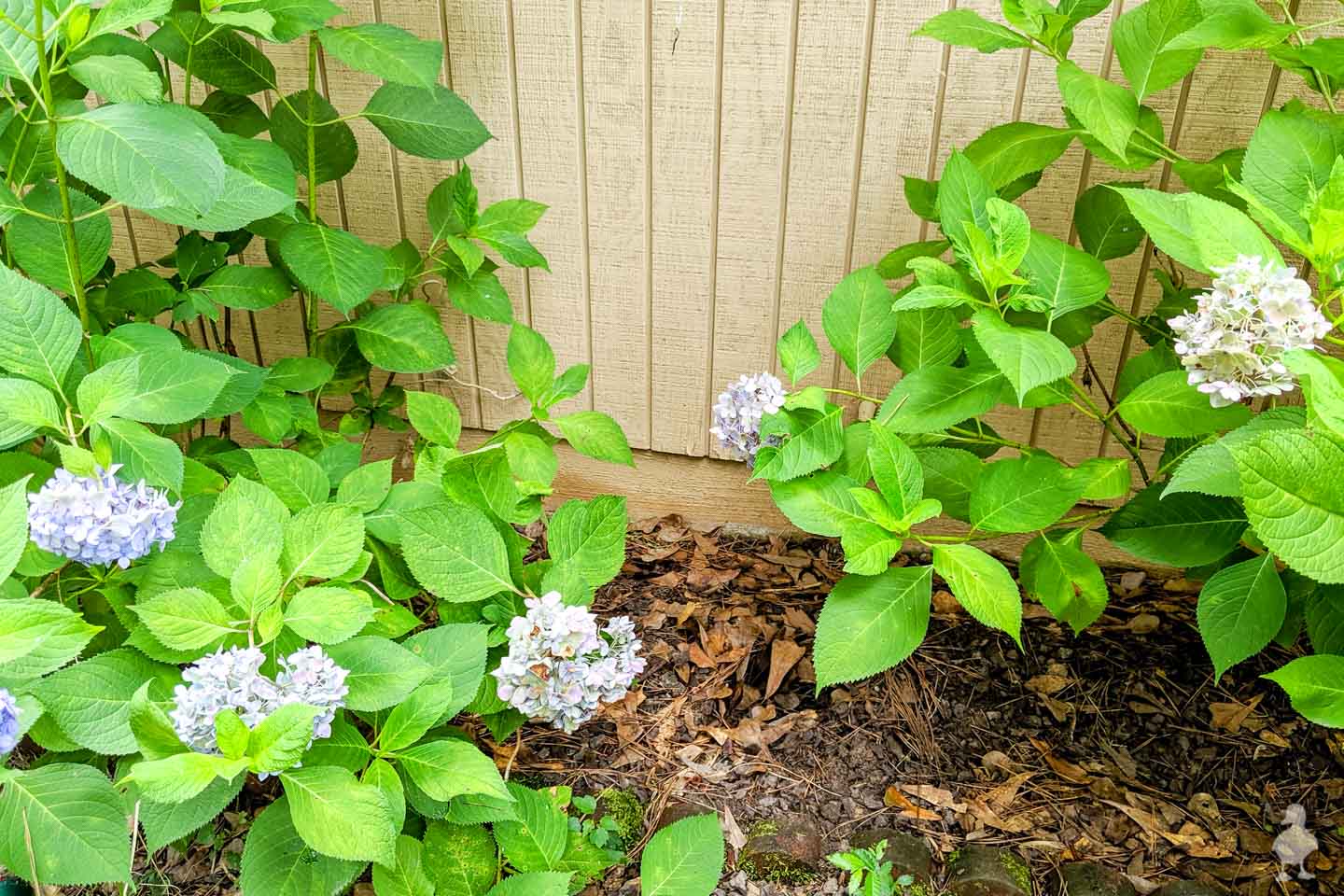 1. Bend a branch to touch the soil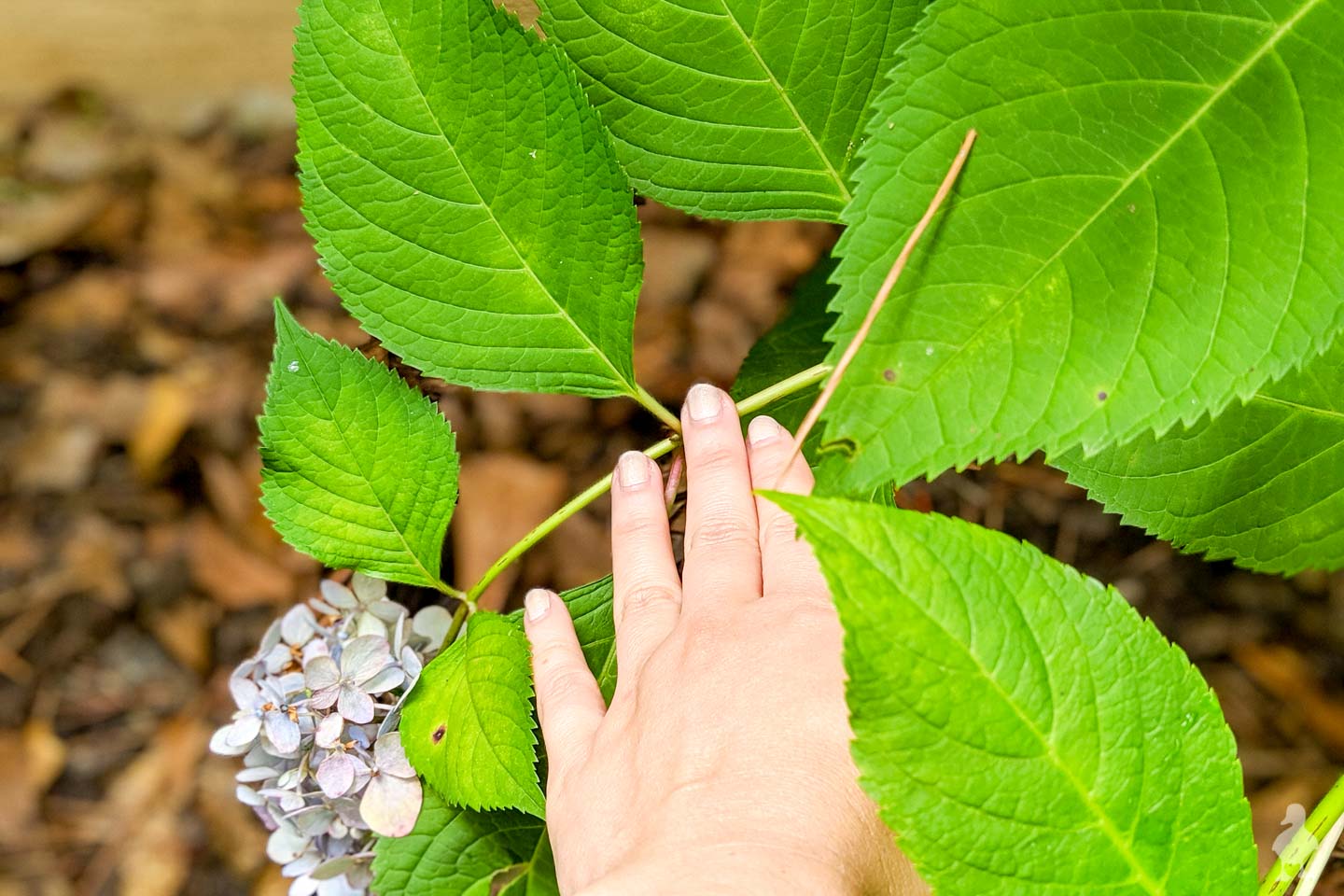 2. Trim off leaves that touch the ground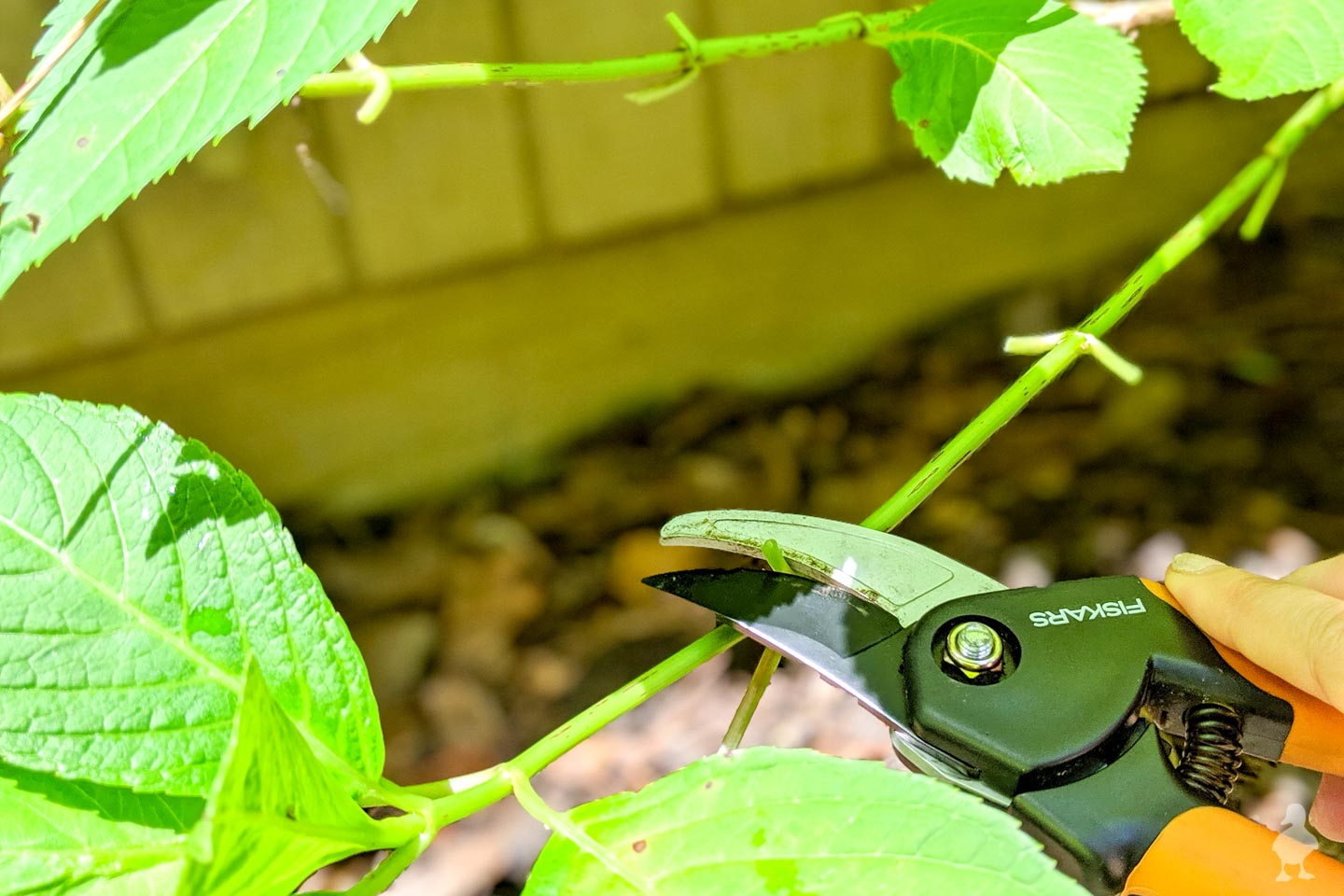 3. Weigh down the branch with something heavy
Stick the branch in the soil a little bit if you can, but stop if it will snap the branch. A brick, a rock, etc. works just fine.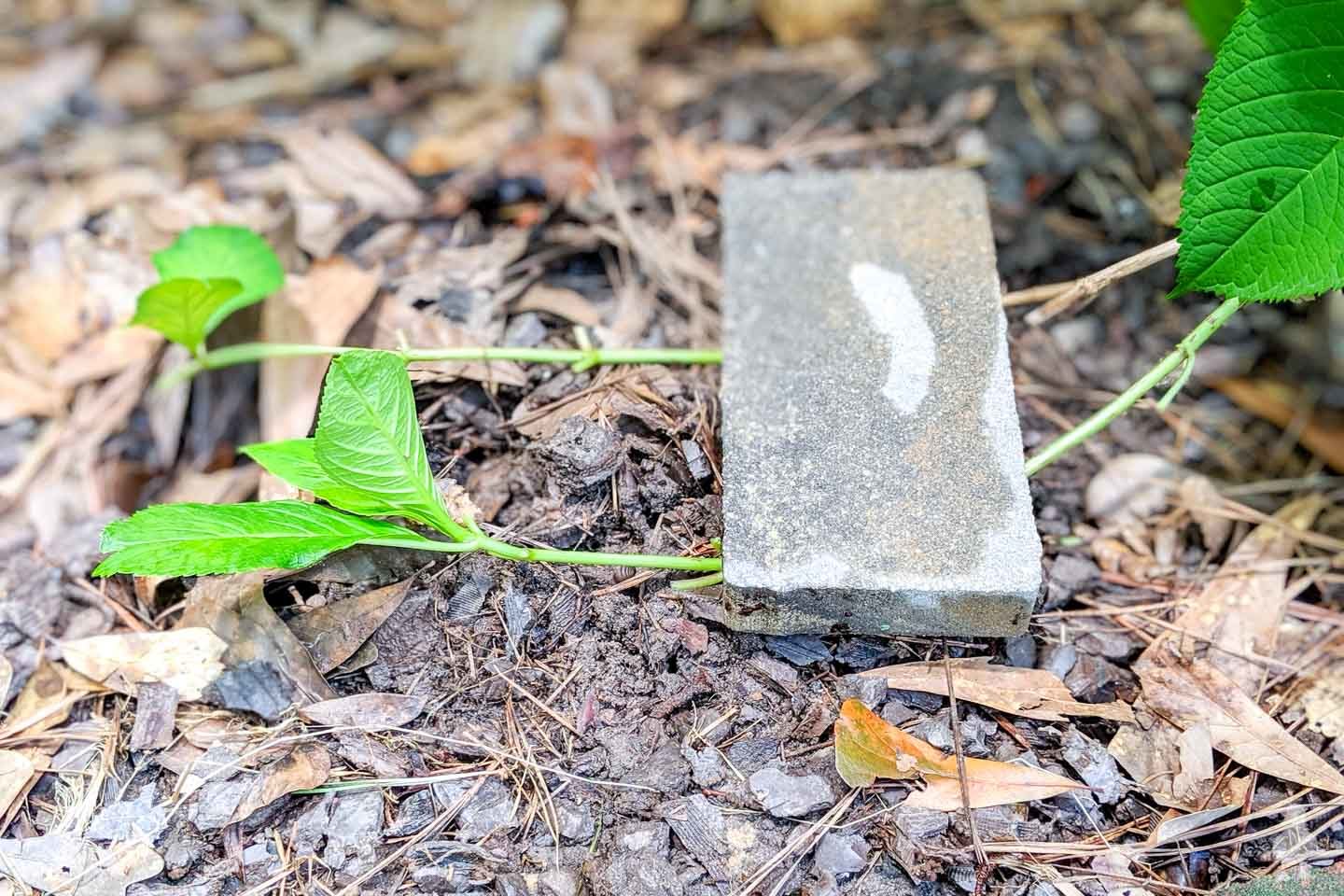 4. Continue to water as normal, but check often
Lift up the weight occasionally to see whether the plant is rooting (give it a slight tug if you aren't sure; if it resists, it's got roots). If it hasn't yet, weigh it down again.
5. Once rooted, clip the branch from the "mother" plant
The "mother" plant will still continue to supply the new branch with nutrients and water, so once it's rooted, clip them apart so the new roots can become 100% of the source for sustaining the new plant. Wait a couple more weeks, and then you can uproot the new plant if you want (if you try to clip it and transplant it at the same time, there's a risk the new roots won't supply enough for the plant yet, so the multi-step process is recommended). I'm planning on keeping the plant in this spot, so I won't do this step myself (unless both branches root, so I'll probably give the second one away or transfer it to the front yard island area with other shrubs).
Hydrangea Water Propagation
Water propagation has been very popular online as of late, and I am kind of excited to try it out on the other plants (I'll continue to share results from the things we propagate… just as soon as I figure out what they all are!). However, according to some of the info I've been reading, water propagation is not advised for hydrangeas in particular — something about creating a weaker root system, where they tend to fail once you transplant them to soil.
However, since I haven't tried it myself yet, I'll also mention that one reader has already commented a few posts back that she's had no problem with it. So, if you try a soil-less method with success, please let me know!
As for the other plants, water propagation is incredibly simple:
Take a small stem cutting
Arrange it in a glass so the stem sits in the water, but the leaves & other parts don't sit in the water (or they'll rot)
Use a clear glass so you can monitor the progress of the root easier
Change out the water every few days
Place in adequate sunlight (we're using the bedroom windowsills that have nice, filtered light thanks to the window film)
Optional: add some liquid/gel/powder rooting hormone
Be patient!
There you have it: 3 methods, but but the bottom line is that hydrangeas are incredibly easy to grow. Have you tried any of these yet? Check out the posts below for even more tips on hydrangeas!
From helping them grow to changing color to making beautiful bouquets, we've got you covered in all things hydrangeas!