Disclosure: this post may contain affiliate links, which means I may make a commission if you decide to make a purchase through one of my links, at no cost to you.
If you're having a summer like mine, you know one thing: it's HOT. Like, crazy, sweat-dripping-down-your-back-after-two-minutes hot. And with these temps, your air conditioner is probably working as hard as ever! There is simply no room for that MVP of summer heat to go on the fritz. So, I'm back today to give you another roundup of my favorite HVAC tips to help you stay cool!
In case you missed it, I shared some of my favorite tips in the first of this 2-part series right here. As much as I enjoy sharing the good, the bad, and the ugly of my DIY adventures (or misadventures!), the HVAC ones have proven to be well worth the time it takes to consult with experts. It leads to fewer stained holes in my living room ceiling! So, when I connected with Trane Residential as a sponsor earlier this year, it felt like the perfect opportunity for a partnership to bring you some quality tips. They have a full resource library on their website, so I'll link to a few of those posts below.
6 More HVAC Do's and Don'ts
1. DO consider a smart thermostat
In 2019, it seems like EVERYthing is being upgraded to "smart" home technology, right? From light switches to voice-activated Christmas trees, some are right for your investment dollars and some are just fun-to-have conveniences. If you've been considering adding smart tech to your home, DO consider a programmable thermostat that can be connected to Wi-Fi. While I absolutely loved the charm of my old thermostat aesthetically, upgrading to a "smart" thermostat where I can control and observe performance from my phone has been a game-changer. Benefits to keep in mind:
It allows me to focus on optimizing the temperature control so we're not heating and cooling the house in a yo-yo pattern (which is just wasted money).
Some thermostats even learn your habits so it can change to optimal temperatures automatically throughout the day.
Smart thermostats like the Trane ComfortLink™ II XL1050 offer real-time diagnostics, meaning that it monitors your HVAC system and will alert your Trane dealer if there is an issue. Dealers can then easily review your information (with your permission) to see how your system is performing.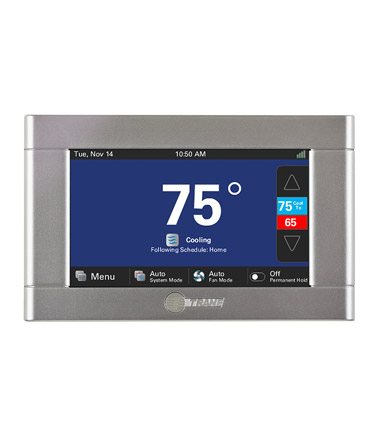 Tip: As far as resale value, the jury is still out on whether it actually increases the value of your home (appraisers don't necessarily take these into consideration), but it can influence buyers if they know the benefits. In a cookie-cutter neighborhood where everything looks the same, knowing one of the houses has something installed that can save them up to 10% per year in heating and cooling costs and adds convenience can make it stand out.
2. DON'T put hot things near your thermostat
I've seen some folks place DIY art or other decorative objects on top of the thermostat to hide it from view, which is fine — as long as it's temperature neutral and allows airflow around the thermostat. But things like lamps, space heaters, and even TVs can increase the heat of the air around it, which isn't ideal for placing near something as temperature-sensitive as a thermostat. Fully enclosing it into a nook without space for air to circulate can also lead it to read a hotter room temp. In either situation, your A/C may run longer when it doesn't have to and can lead to those yo-yo temperature fluctuations I mentioned above. Simply keep that area clear from anything that might affect the sensors inside the unit for best performance. Similarly, if you're trying to decide on placement for a NEW thermostat, don't place it on any wall that will receive direct sunlight (the same principle applies).
3. DO remember these numbers: 78 and 68
You can save more on your heating and cooling bills just by setting your thermostat at optimal temperatures (and yes, things like this have been studied a lot!). You can save as much as 10% per year in heating and cooling costs by turning thermostats up or down (up in summer, down in winter) 7 – 10 degrees Fahrenheit for eight hours a day (such as when you're at work). The U.S. Department of Energy recommends aiming for these two magic numbers when you're home: 78 for summer, and 68 for winter.
4. DO consider window film and ceiling fans
Older homes can be especially drafty, and it's not uncommon to hear someone suggest keeping the blinds and curtains closed to decrease the windows absorbing the sun's rays and transferring that heat into the home. While I get that, and can even appreciate that advice… I also love my light-filled home!
As an alternative, you can also consider adding heat control window film to those afternoon-sun-facing rooms. I've installed window film myself and can say it's very DIY-friendly! Be sure to check the labels to make sure it helps with UV blocking/filtering (some are purely decorative).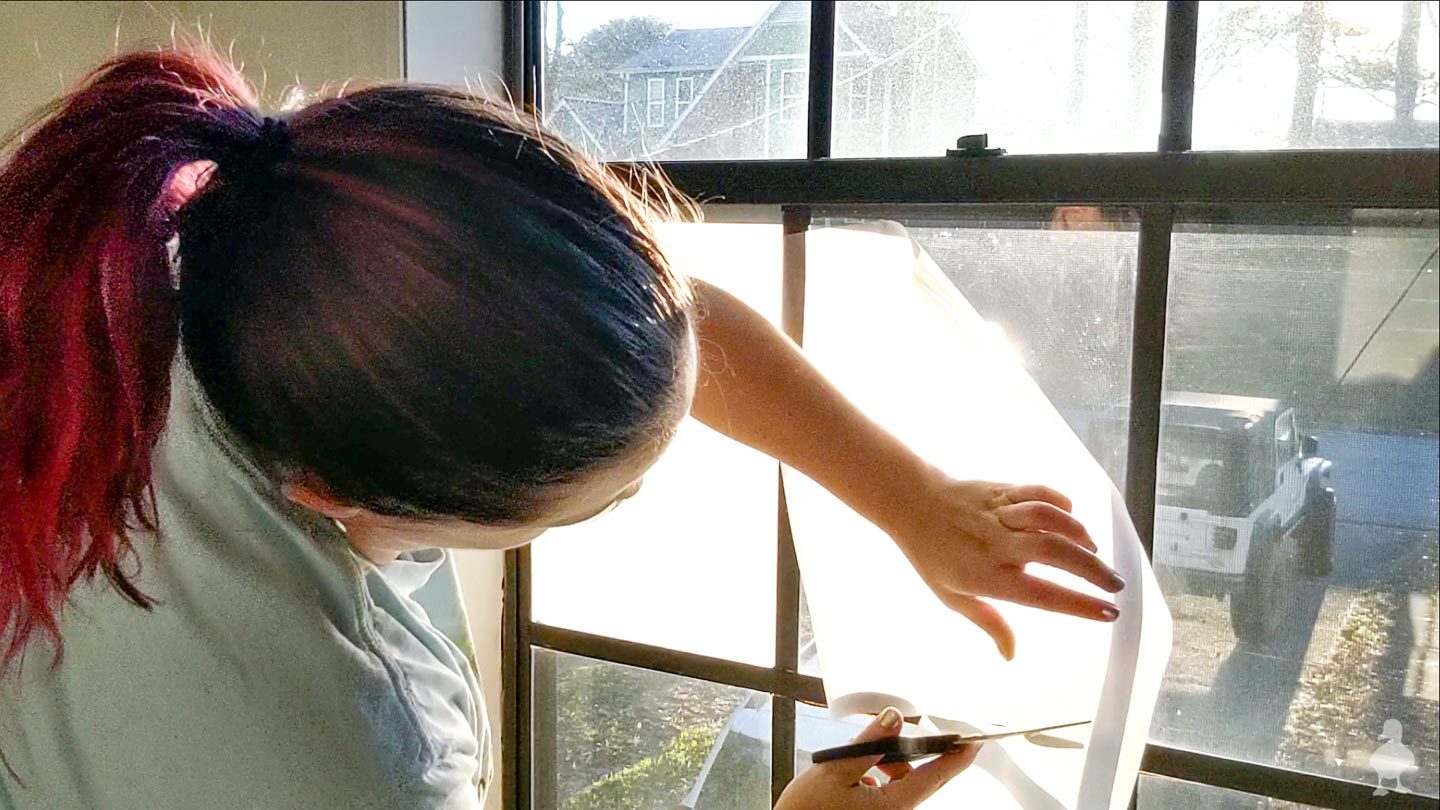 In rooms that get abnormally hot compared to other rooms in the house, I like to add an Energy Star rated ceiling fan. That way I'm not spending more money just to cool one particular room. My primary bedroom is one such room, both because it has more windows that face the sun at the hottest time of the day, and it's also one of the biggest.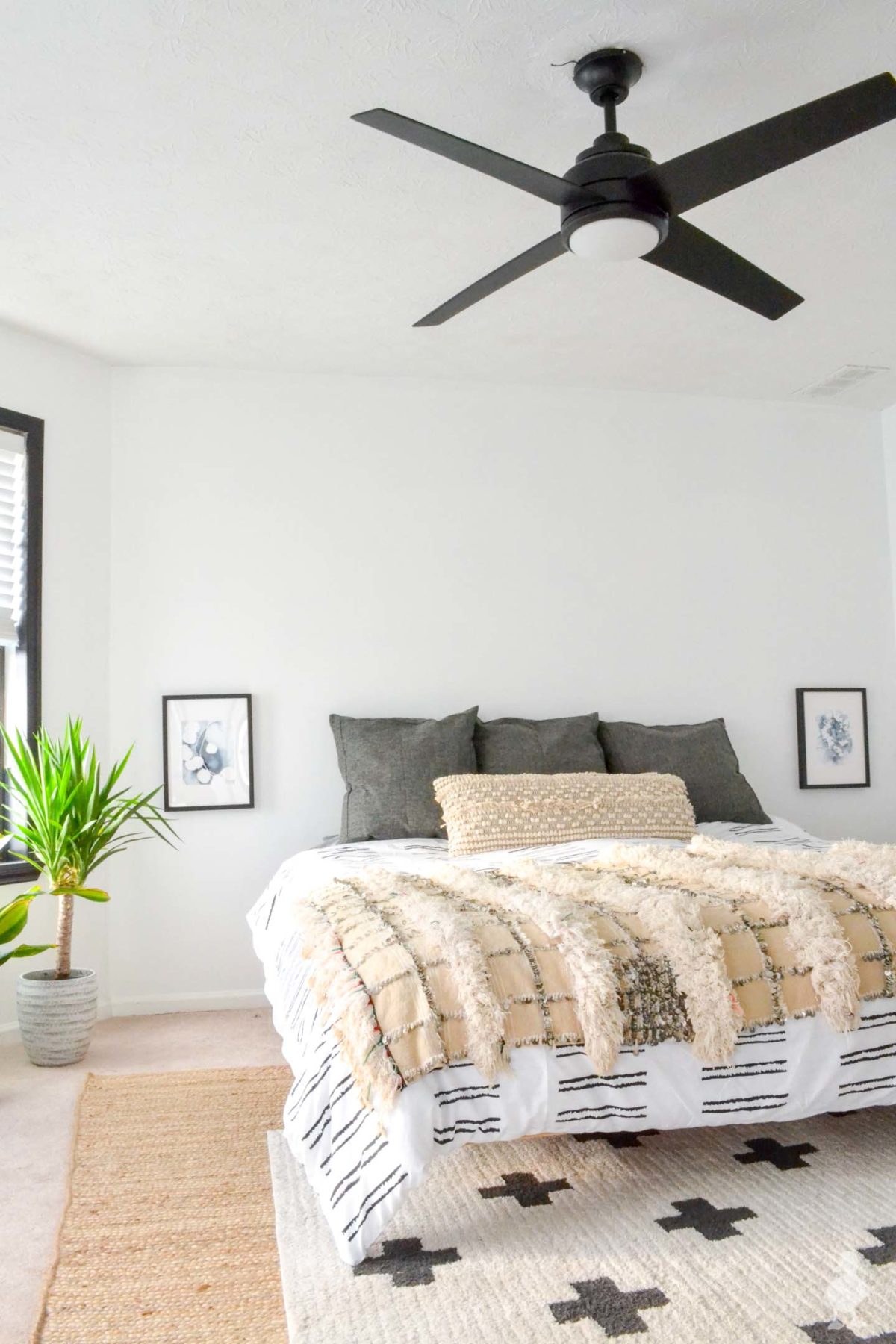 Tip #1: Be sure to measure the size of your room so that you pick an appropriately-sized ceiling fan. One that is too small for the space really won't help temperature control much!
Tip #2: Turn ceiling fans clockwise in the winter, and counter-clockwise in the summer. Doing so pushes the air in different directions (the cool air will flow down into the room when the blades turn counter-clockwise, which cools down the room). A ceiling fan can help a room feel as much as 10 degrees cooler in the summer!
Key takeaway: Science is fun. And useful.
5. DON'T block air vents
I feel like this one happens by accident a LOT! But if you have air vents on the floors or walls around your home, there's an opportunity for you to stick furniture in front of them (or other decor). And now, oops — you've blocked air flow and decreased the circulation of air around the home. It can not only affect the temps in these rooms, but it can lead to the air feeling stale. Keep those areas clear and the vents clean for optimal performance.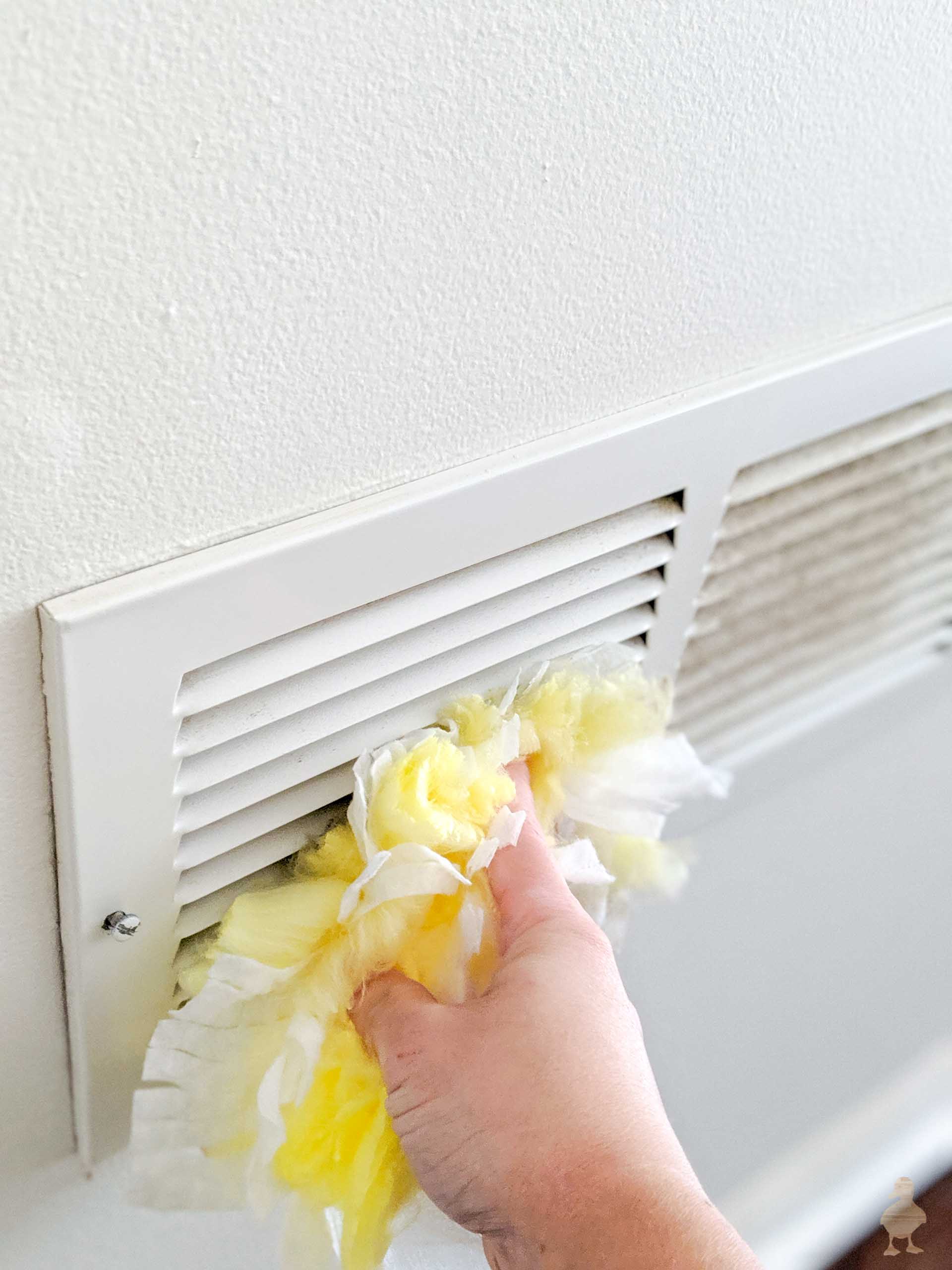 H/T to Trane for this tidy reminder to go around the home and check this myself! I laughed when I barely had to look around for an example.
6. DO check the condensation line for clogs
The condensation line of your HVAC unit is probably something you pay no mind to under most circumstances, but as I've learned (the hard way), it is an extremely important part of your A/C! This line is meant to remove moisture and done using a small drain pipe. Underneath the indoor unit of your HVAC is a drip pan that is meant to catch the water that is normally supposed to flow out of your home and through the condensation line. If you see water in this drip pan, it can indicate a clogged line (caused by things like bug nests, algae, etc.). You can also check the exterior of your home where the other end of the condensation line exits the house (near the condensing unit). There is usually a visible drip when the unit is running (if not, that doesn't necessarily mean there's a problem, but it could).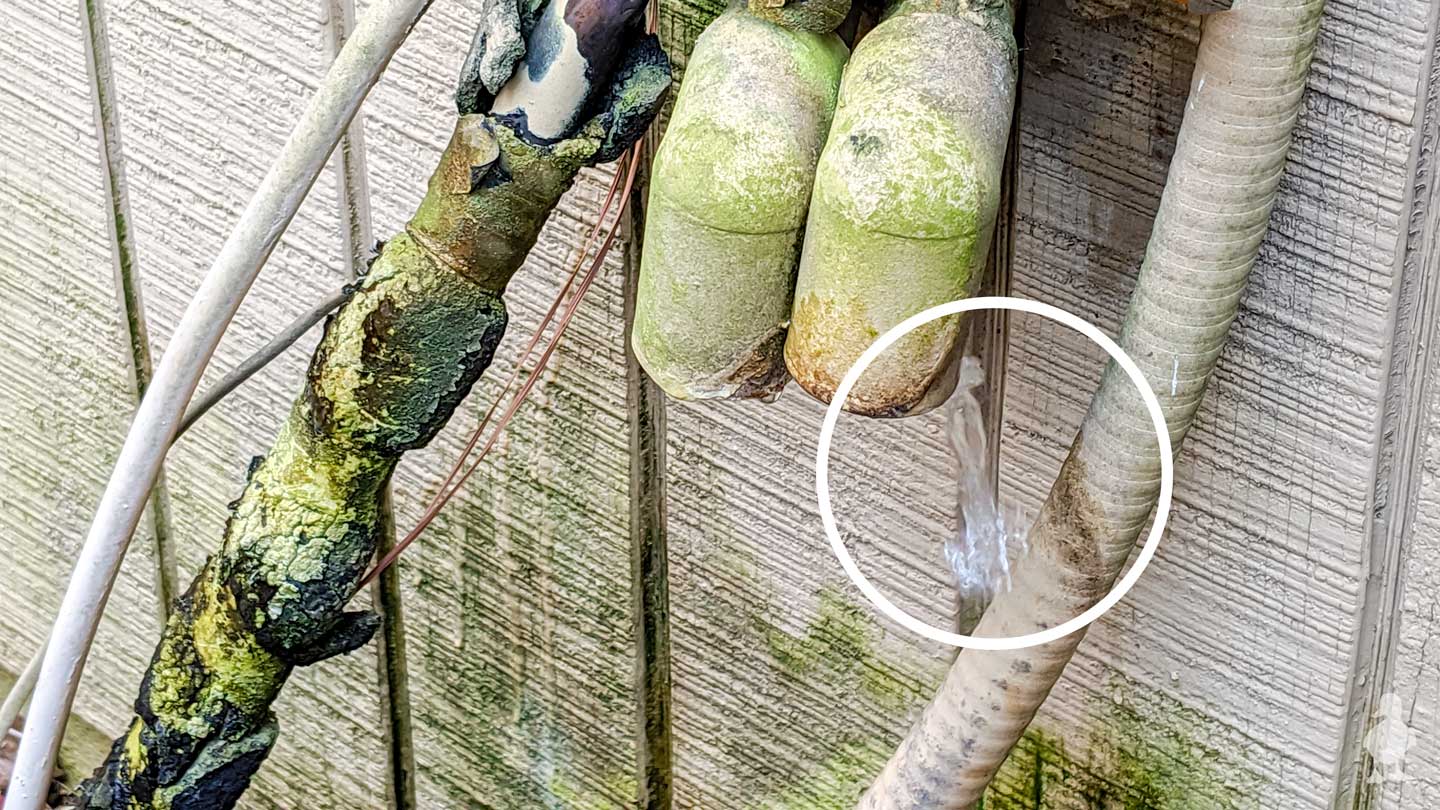 If the line is clogged, hook up your shop vac to the end of the condensation line on the outside of your home to clear it. If that doesn't do the job, it's time to call a pro. You can easily locate a local Trane Comfort Specialist in your area through their website.
That'll do it for this post! But seriously, there are TONS of useful A/C tips, so I could go on and on! But if you're still itching to have some of your air conditioning questions answered, feel free to ask below or check out the Trane website for more resources on the topic (like this one!).
Don't forget to pin!