Disclosure: this post may contain affiliate links, which means I may make a commission if you decide to make a purchase through one of my links, at no cost to you.
This post may contain affiliate links. This won't change your price, but may share some commission. Read my full disclosure here.
My new bathroom decor has a few tricks up its sleeve. This decorative vase serves as a bathroom deodorizer and aromatherapy in one! The hidden drawer at the back holds odor-absorbing baking soda while the top has an aromatherapy eucalyptus "bath bouquet" for the shower. Read on to learn how I made it!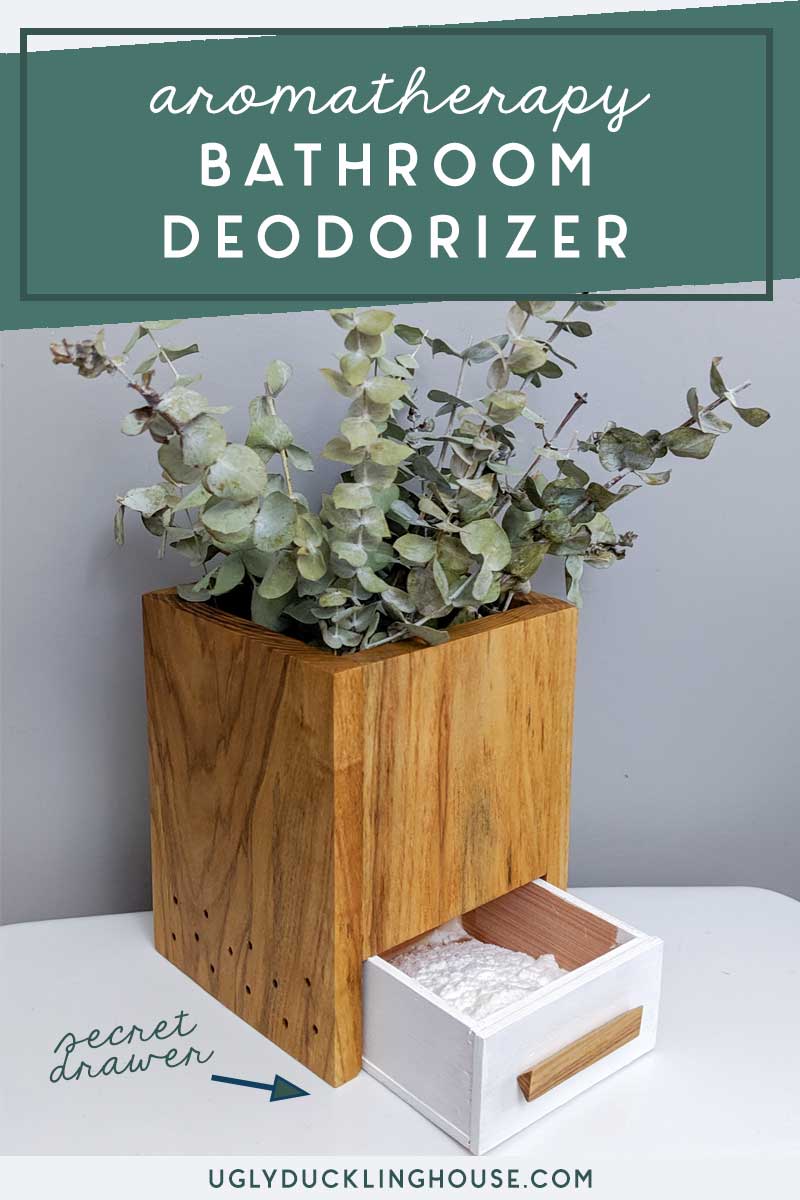 You know when you spontaneously get an idea but are already working on 4 other things? And yet, still, decide to start another project? That's what I found myself doing this month. I was originally planning to skip this month's DIY challenge (the blog hop where I made things like this and this), which was to make something that served more than one purpose. Then, barely few days ago, I found myself squinting a little too hard at a piece of ash that I've been holding on to for over a year. And, here I am. Juuuuust under the wire to show you some finished pictures and tell you how it came together!
I'd like to mention too that THIS project is the one that finally finished off the blade that came with my Dewalt miter saw! It gave up, quite literally, during one of my cuts over the last week. Normally, a blade is supposed to have little teeth that do the cutting. Mine was worn down to barely a nub, which means I will probably be shamed by the woodworking community for admitting it. But, I hope there's at least one DIYer who can relate. ?
How to Make This Bathroom Deodorizer
Tools & Supplies:
1/2″ x 2ft board
1/8″ luan (sanded plywood)
clamps
white paint
finishing oil
eucalyptus (dried or fresh)
twine (or rubber band)
1. Cut all sides
I've been holding onto a small piece of ash for a long time. I picked it up having no idea of what I wanted to use it for, but loved the grain and decided that I would eventually figure out a project for it. Since I rarely work with anything other than what I can typically buy at the home improvement store (pine, poplar, red oak), this was a real treat. It makes me excited to keep trying to work with new species, even though the lumber yard is a much longer drive! Perhaps this will be the year I start making that a regular thing (after we put the lumber rack back up — which btw we also made some garage workshop progress over the weekend! More on that soon).
I didn't really have a set plan in place for this project before I began. So, I started by cutting the first 3 sides from my board, knowing that would leave the back side short. 6.5″ in length looked about right.
2. Miter corners
I debated for a bit if I wanted to risk trying to cut miters on the front two corners or not. It was also a challenge since these pieces were small, and I wanted to protect my fingers (I find the 45 bevel to be less comfortable of a cut to make than a simple cross cut, so I take extra steps to make sure I can keep a secure hold on the board while cutting but also not get my fingers too close to the blade).
It's probably not the most conventional way to do it, but I found that if I used some double-sided tape to attach my smaller pieces to a larger block of scrap wood, I could make the miter cuts comfortably. I also used painter's tape underneath so I could peel the double-sided tape back off after cutting (like I did with my DIY puzzle).
3. Glue and clamp
The mitered corners needed to be held just so, so I again used painter's tape to hold all 3 sides together while gluing.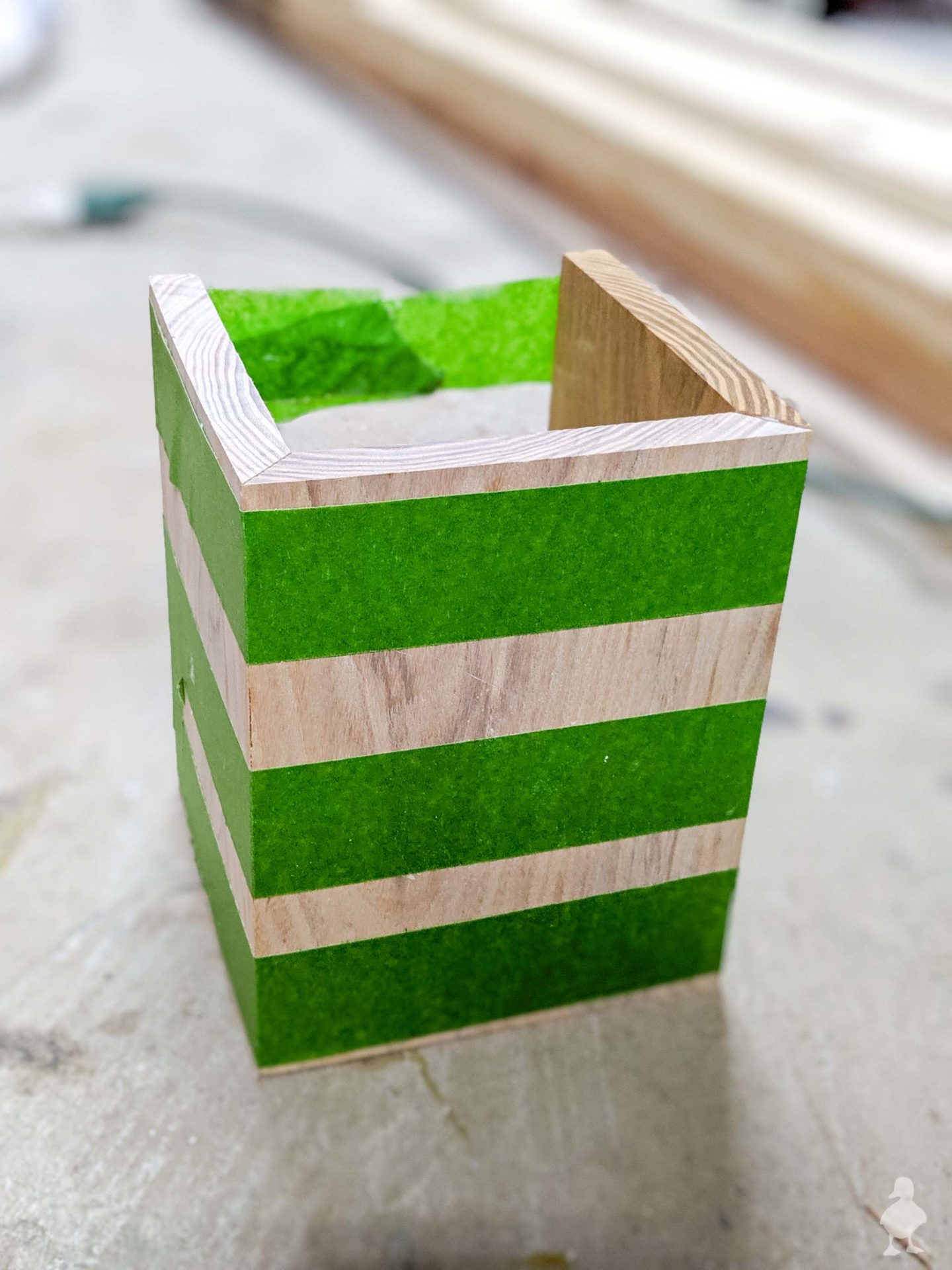 I cut and glued the back piece after the first 3 were already dry because I worried that the use of the clamps on the back would make the mitered corners become misaligned or create a gap.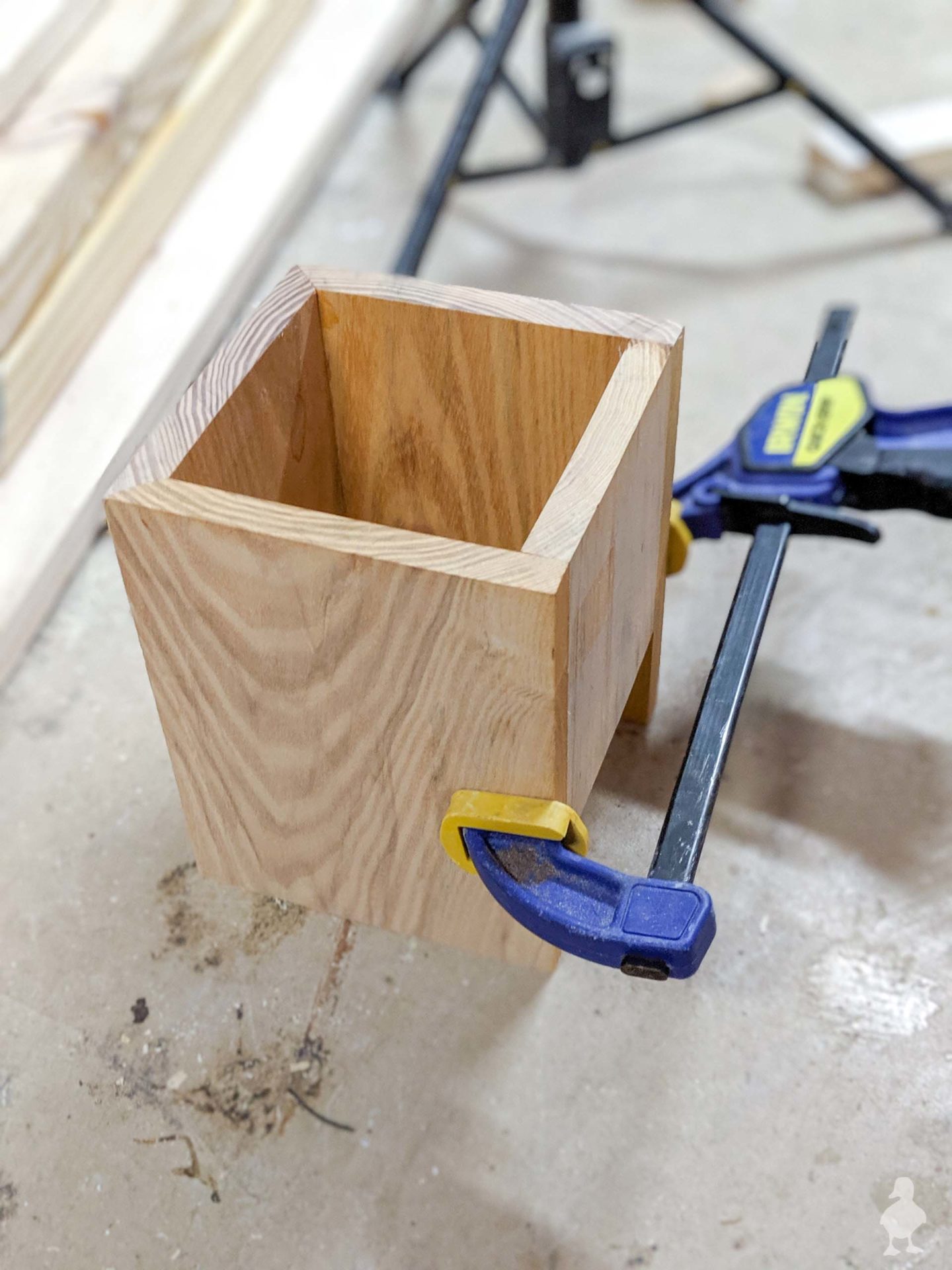 4. Create a small drawer
With the top area complete, I turned my focus to the bottom area. I wanted a petite little drawer that could slide out and be filled with baking soda as needed. I had lots of scrap luan in the shed, so this was easy to whip together. I made the box a little small so it could slide in and out easily, and glued on an additional front piece that I painted white.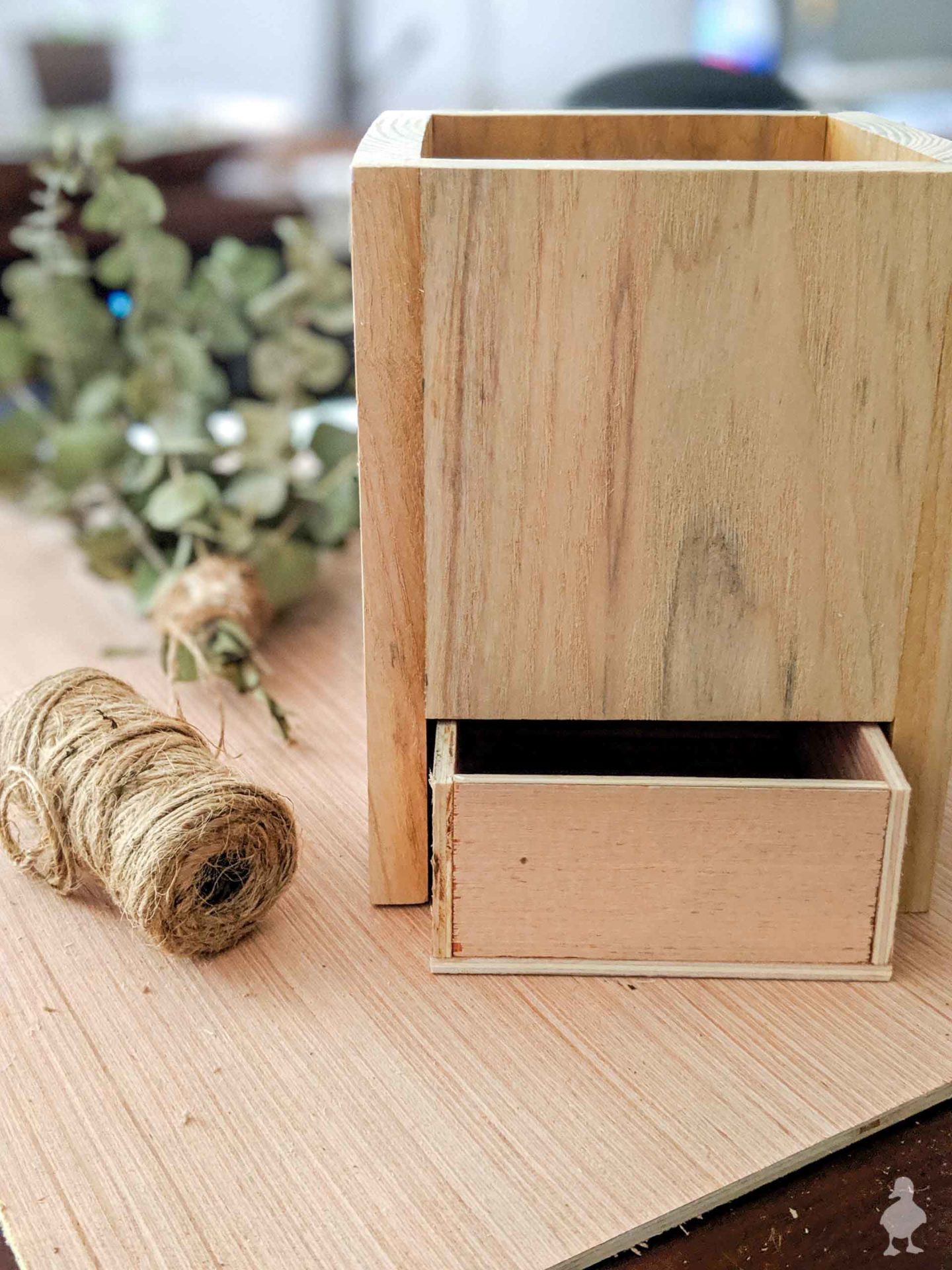 The little handle is actually the scrap of one of those 45-degree mitered cuts I shaved off in an earlier step! I sanded the corner down so that it made a flat surface for gluing.
5. Glue in bottom of vase
Would we call it a false bottom? I guess not really. But I also cut a piece of luan to the size of the square hole and glued it at the same height where the back piece ended. It's hard to explain, but I used some extra pieces of scrap to essentially glue the bottom to the sides from the inside (one side is glued to the bottom, the other side is glued to the vase). I did this from the inside instead of the bottom because I didn't want any support to interfere with the drawer. If I'd made plans before winging all of this, I might have tried to create a slot for the drawer bottom using my miter saw (cutting a small channel for the bottom to sit in and glued the sides around it as part of the taping/clamping steps).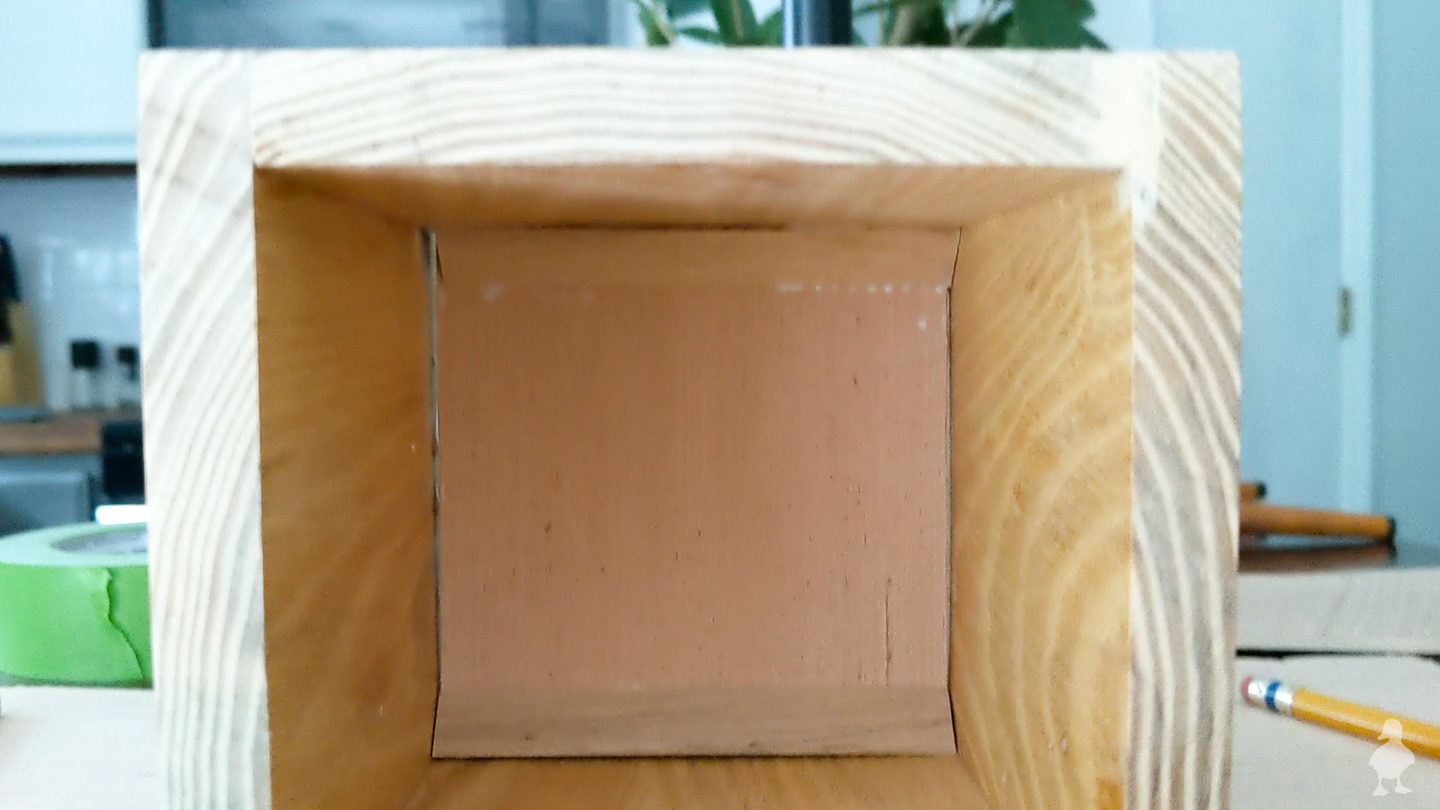 I wasn't worried about any possible gaps (the ash was ever so slightly bowed) because it won't need to hold liquid, but I suppose if you were to use the top as a planter or anything similar (which I temporarily considered and would also be really neat to try), the bottom should be caulked or sealed on the inside.
6. Drill holes
Since the bottom could benefit from a little extra air flow with the baking soda, I drilled decorative holes in a random pattern all along the bottom.
7. Finish
I sanded up to 320-grit to get the exterior nice and smooth (it felt SO good) before oiling up with some Simple Finish (this is where I wore gloves so I could handle the whole piece to oil and wipe off at one time). I also did the same to the tiny handle on the back before gluing it in place.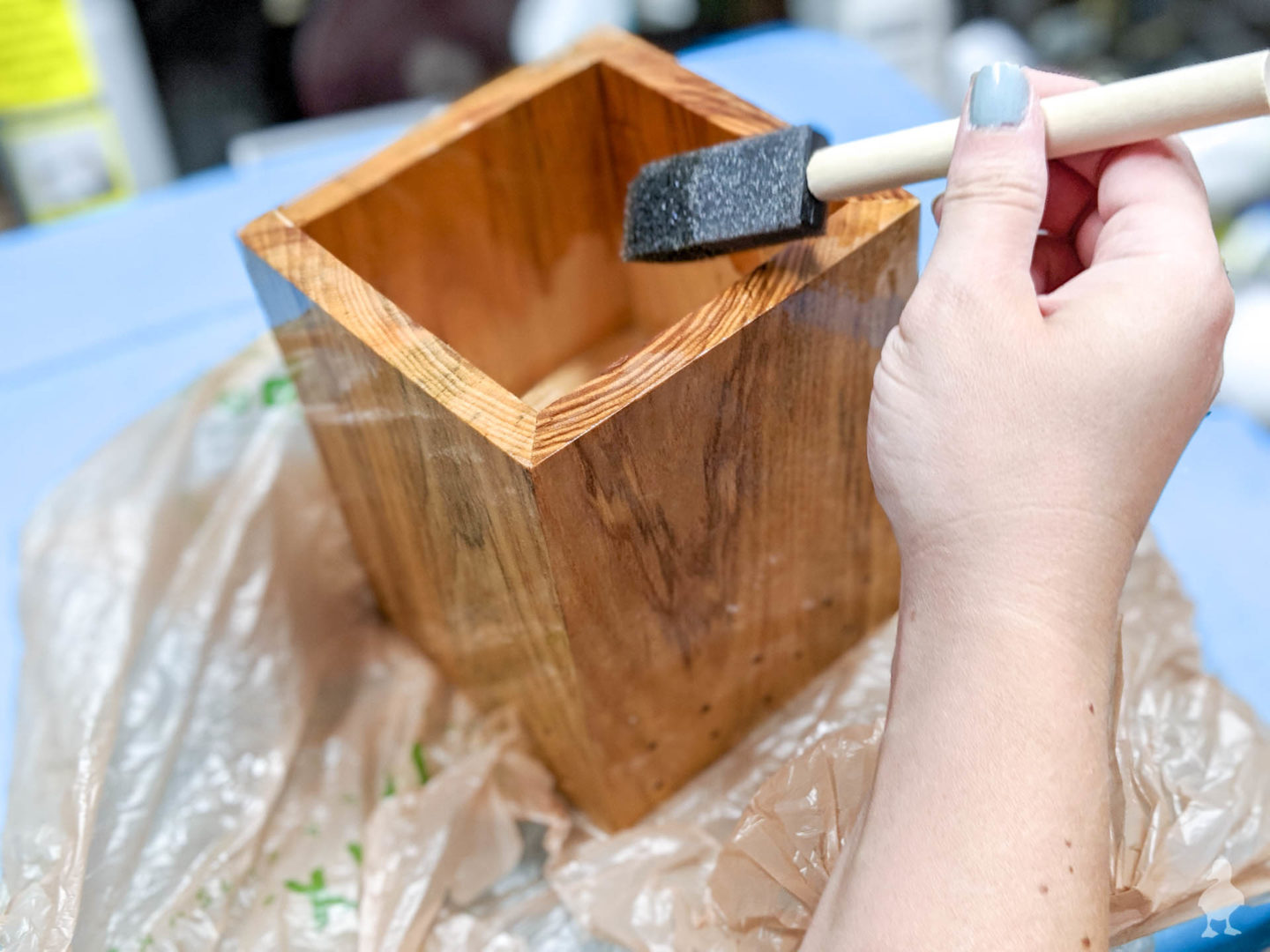 8. Fill bottom section
I was a little worried during the design process if the drawer could hold enough baking soda to be at all effective, but it can actually hold a lot more than I thought! I added a few drops of eucalyptus essential oil as well (this is my first time using it, so I just know that now I'm going to be bombarded with spammy emails once this post goes out, ha!).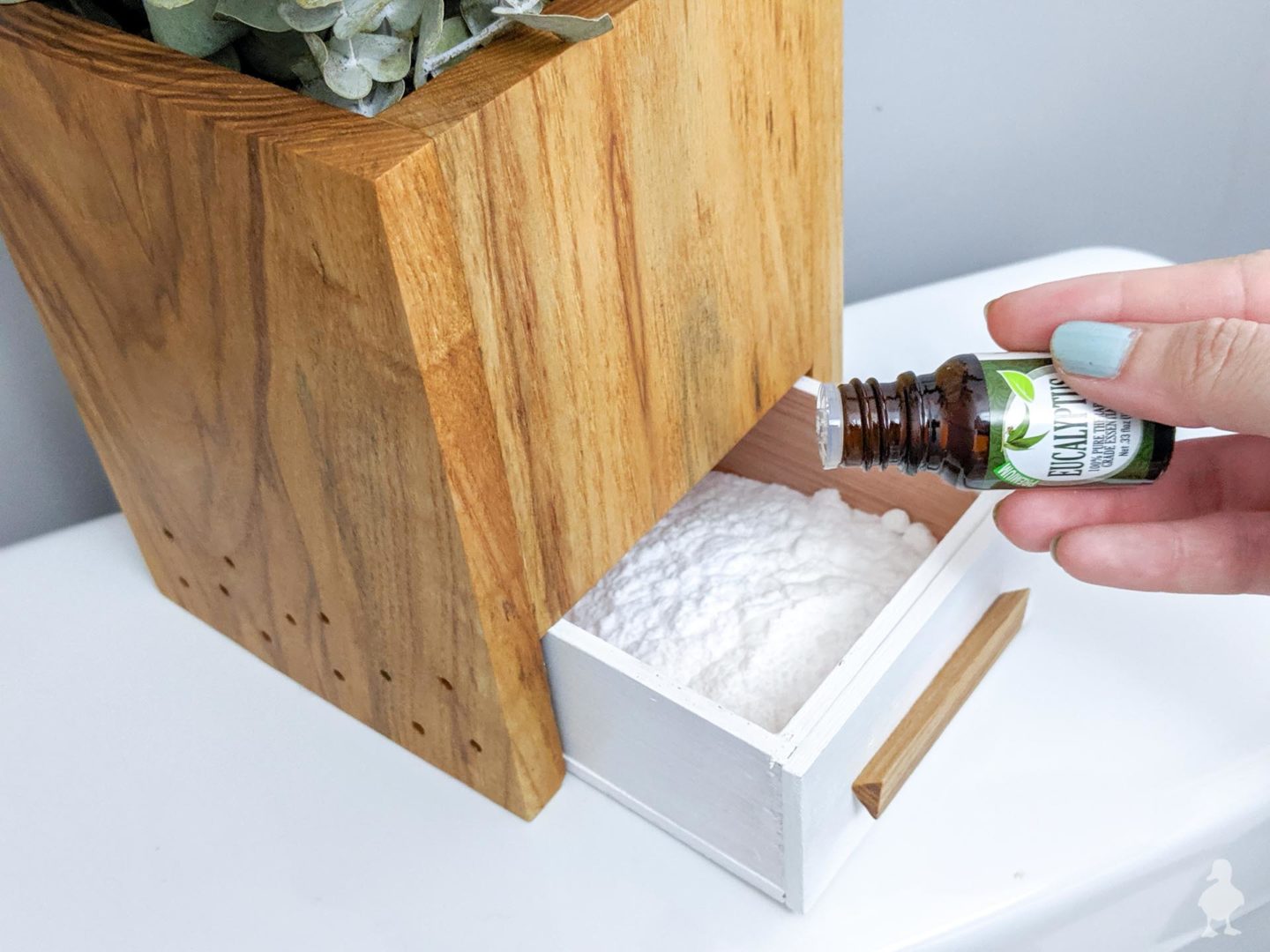 9. Create the eucalyptus bath bouquet
I read about this trend of using fresh eucalyptus "bath bouquets" in the shower and wanted to give it a try! People have been hanging eucalyptus bundles from their showerheads to release the fragrance using shower steam. It seemed like a fun aromatherapy experiment, and I LOVE the smell of eucalyptus. It's one of my favorites. But, since I was already pushing it as far as side project time goes and didn't have it in me to run out for a fresh bunch of greenery (I like to get mine at Trader Joes for cheap, just FYI — there are lots of ways to use it to instantly perk up decor!), I just made a bundle from some dried eucalyptus I already had. I wrapped the bunch in twine and knotted a little loop (so it could hang off the shower head), added a dab of glue, and added a few more drops of essential oil to make the smell stronger when in the shower.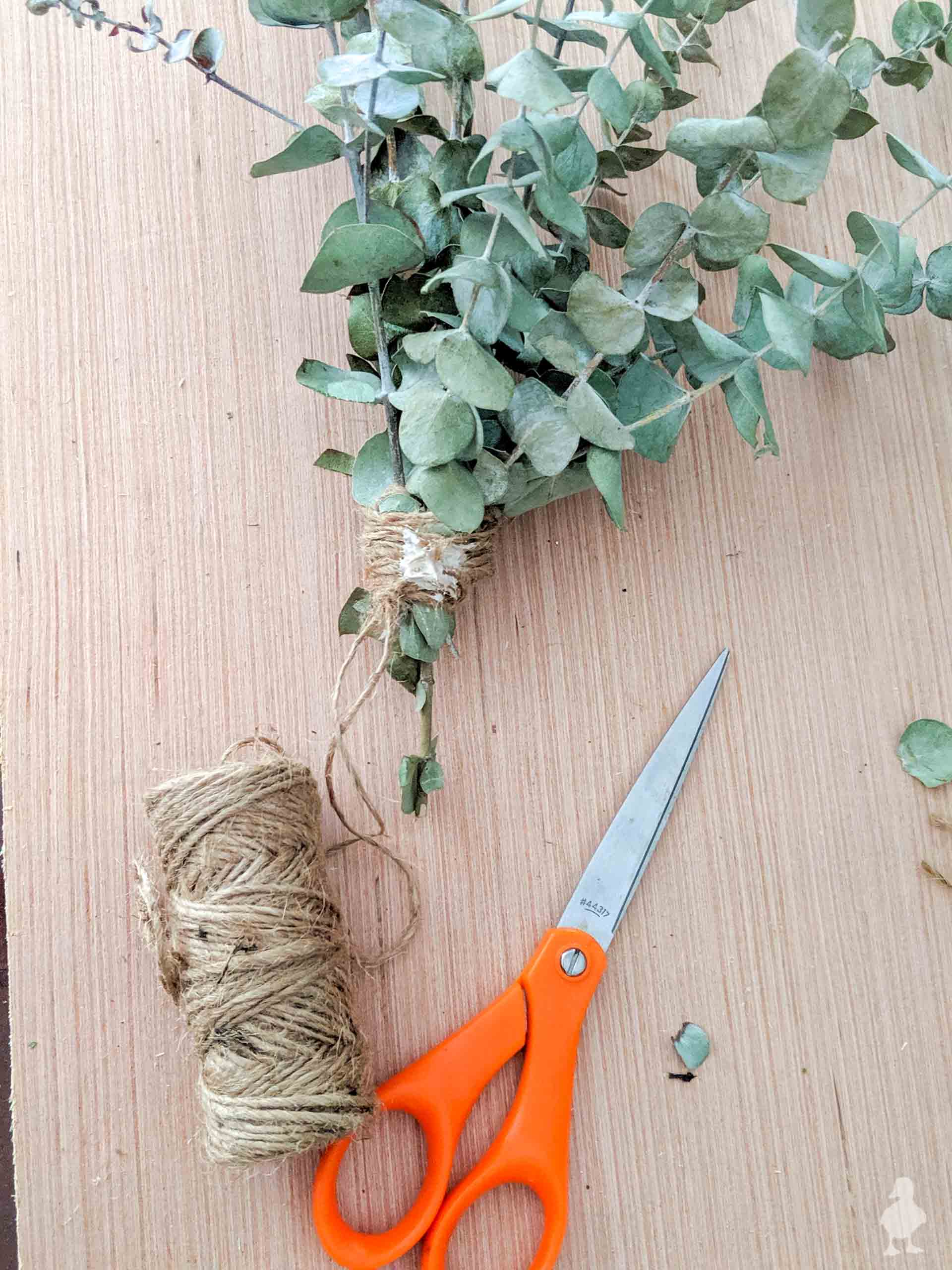 I hope it works! If not, I'll toss it and get the real deal and turn the top area into a planter (after sealing it better). Or, I'll do what's lazier: I'll keep the bunch as is and use it as decor for the vase only.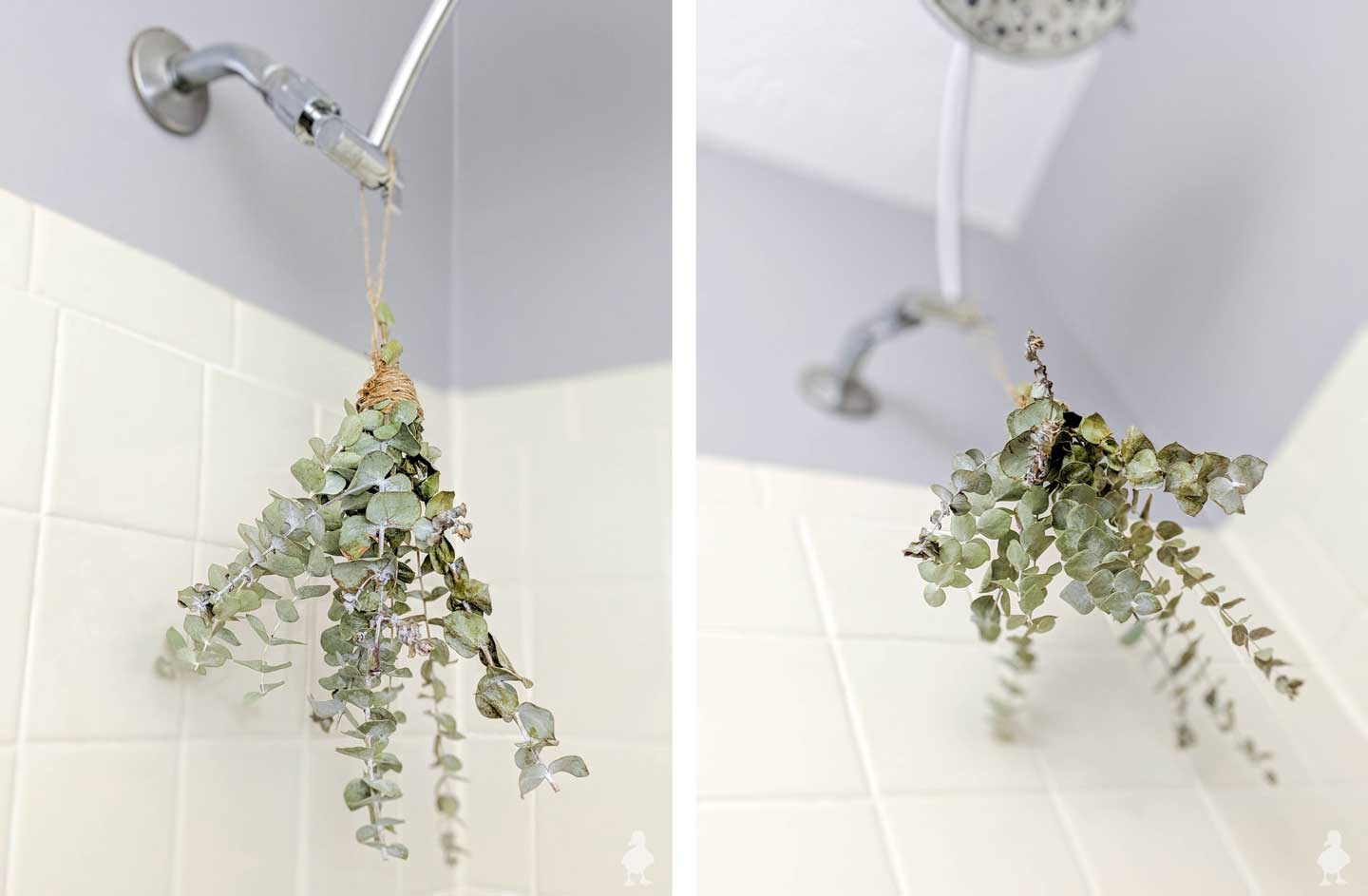 So, there you have it as my "multi-purpose" idea this month! I think the deodorizer/aromatherapy combo is a pretty good one when it can take up very little space and show off some downright sexy wood grain. :) (Also, did you catch my use of "piece of ash" earlier? I got a little chuckle at that.)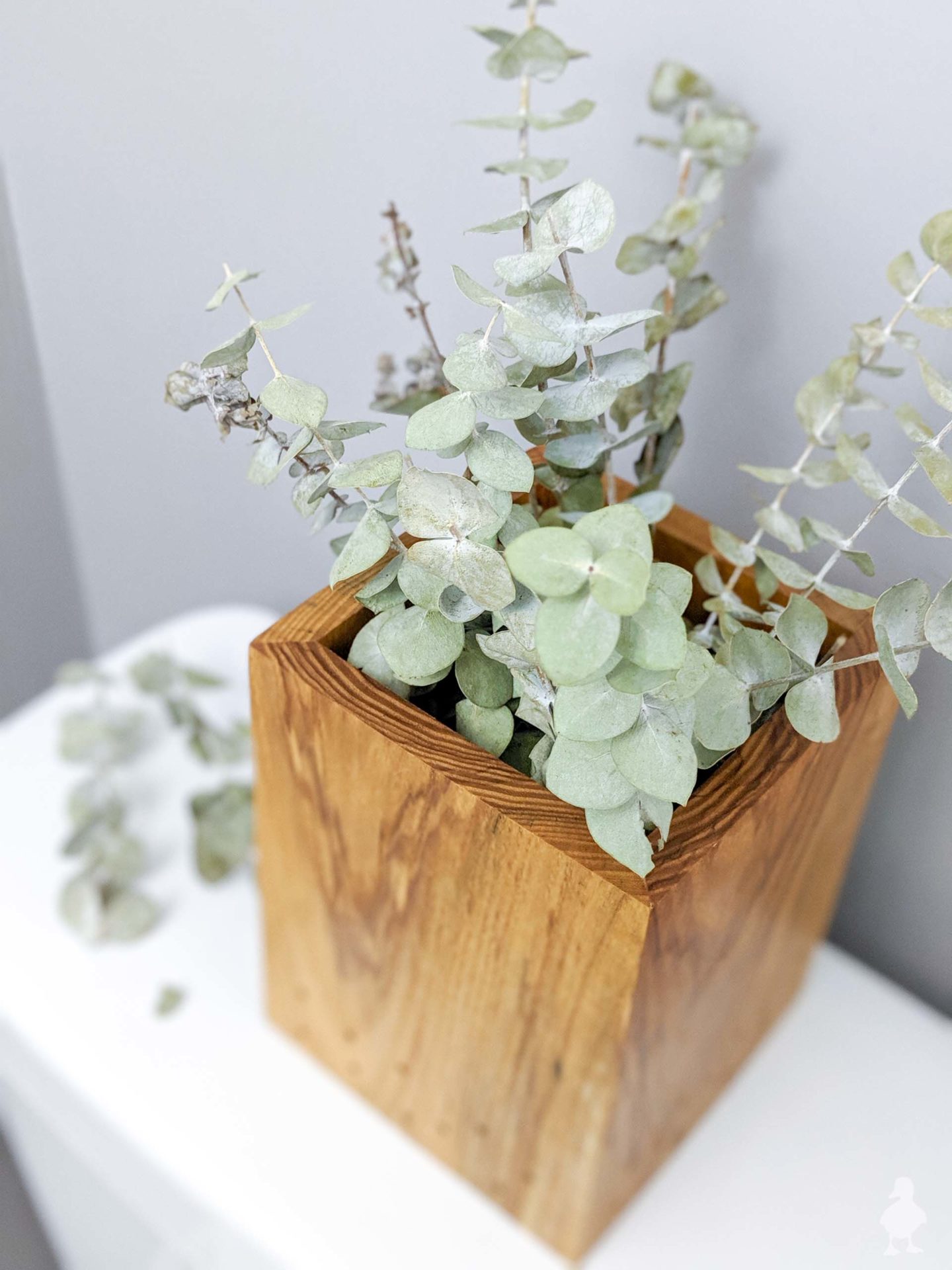 I also made some simplified plans (removing the 45-degree cuts) if you want to use them! I also have an update about the house in general coming this week!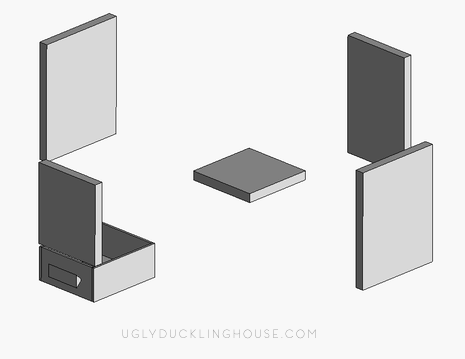 And, like I said before: this was part of the August DIY challenge, which means there are a few more multi-purpose projects that you can check out today! Don't forget to hop over and leave a comment (and of course, add the best ones to your to-do list, which I'm sure is just as long as mine):
Ugly Duckling House (that's HERE!)
Don't forget to pin!