Disclosure: this post may contain affiliate links, which means I may make a commission if you decide to make a purchase through one of my links, at no cost to you.
Hi everyone! Intense week coming up for me, with LOTS of updates to share. But first, I just wanted to let you know that my little stint on SheKnowsTV's Homestretch is up!
At the end of August, I was flown out to Arizona to help make over the (TINY) laundry closet room of a fantastic couple named Heidi and Jon (several photos courtesy of SheKnows). The first day, Heidi invited me to stay after filming while she made beer cupcakes. Those producers really couldn't have picked a better pair for me to design for.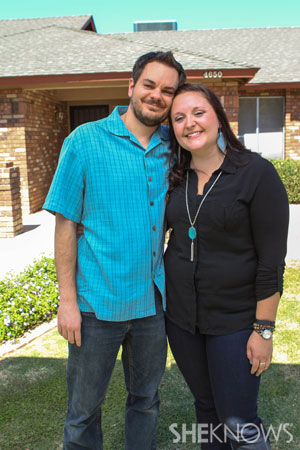 The show's producers gave me quite the challenge: make over the room in 2 days, with a $2,000 budget, AND we'd be competing against another couple and their own DIY designer. Until just a few days before I flew out, I had no idea the other designer was Sandra from Sawdust Girl. It was a welcome surprise, and I knew that she was going to make her room AMAZING, so I'd have to step my game up.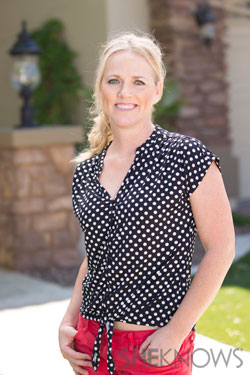 Here's a simple shot of what my room looked like before:
And a hint at what it looked like after:
You can catch all five episodes (they're really more like 5-minute webisodes) here: SheKnows TV: Homestretch Season 7
I'm still hoping for a few more pictures before I write a full recap post – I didn't get much of a chance to take photos myself (far too preoccupied trying to get an entire room redone in a 2-day sprint while filming, which was SO much more difficult than I thought), so I've asked their staff to share a few of the behind-the-scenes photos with me to give you a more realistic idea of what the whole thing was like.
OH, and one VERY important piece: I need your vote. Part of the competition is to find out which room you folks liked better (I think the homeowners win a gift card for their new rooms). If you can't watch the full episodes, you can still see before and after photos embedded in a photo gallery beneath the video screen on the SheKnows.com site.
Hope you guys like it! My first ever experience on camera, and there were LOTS of emotional ups and downs. Can't wait to share the full story.