Disclosure: this post may contain affiliate links, which means I may make a commission if you decide to make a purchase through one of my links, at no cost to you.
Learn how to make a ring-shaped, DIY cement candleholder in no time at all!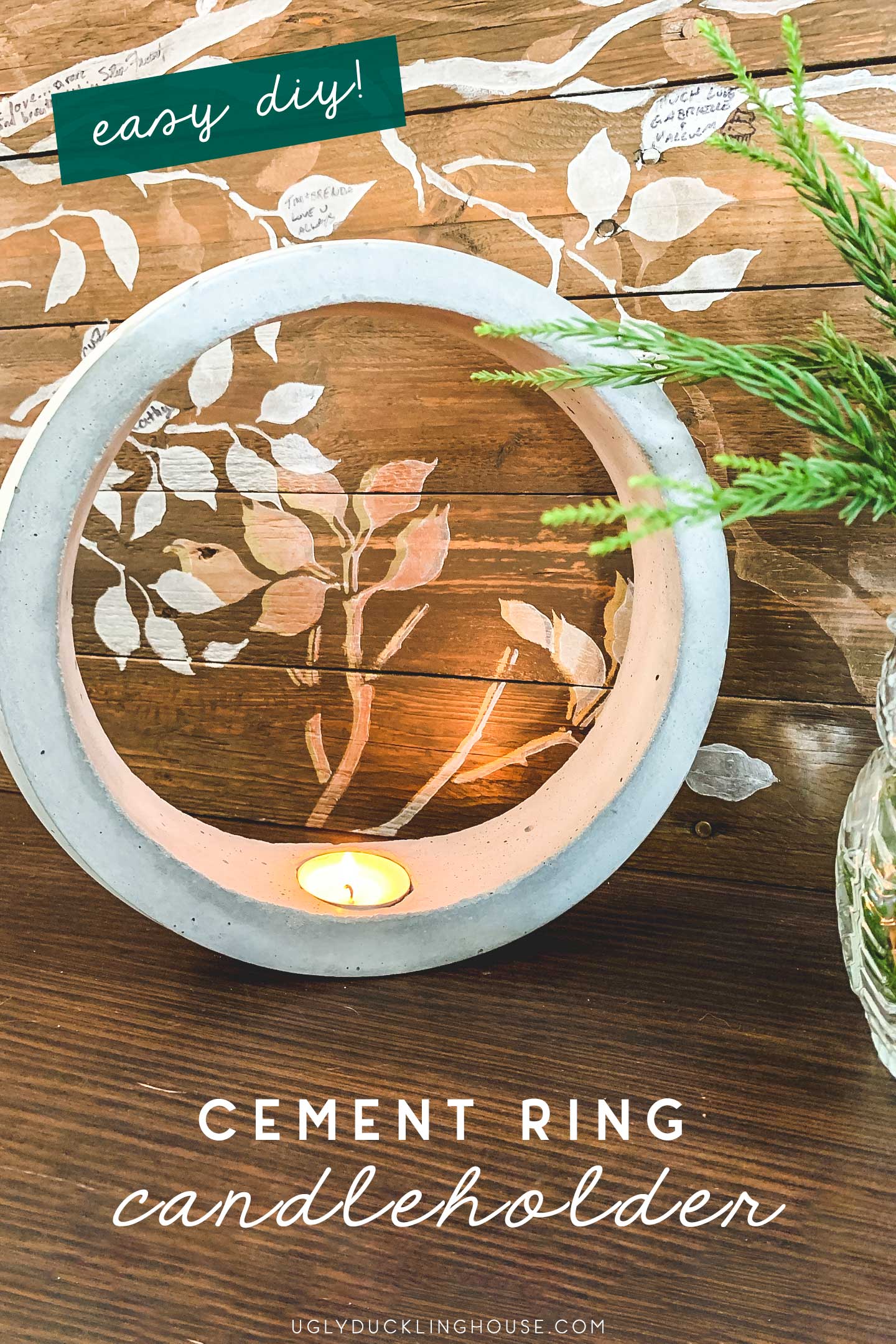 Hi, friends! As you guys know, I have been hand-selecting and introducing some new bloggers to you over the last couple of years that I think you guys might like to see. I'm introducing you to a new one today with this project, and I hope you'll give her a warm welcome! Ellen and I first met last year at a conference, and it turns out that she lives not too far from me. I offered her a spot here on the blog to share a few of her DIYs after seeing her clever concrete projects on Instagram — I've been wanting to experiment more with this medium as you've already seen, so she seemed like a great fit. You can find out more about my contributors here in case you're curious in general, but the idea is just to give newbie bloggers a chance to get themselves out there, similar to how I got started when I was new to blogging (back when guest posting and blog swapping was all the rage). Ellen will be stopping by from time to time with her unique lessons on concrete, cement, and planter projects, and I can't wait to see what she comes up with next!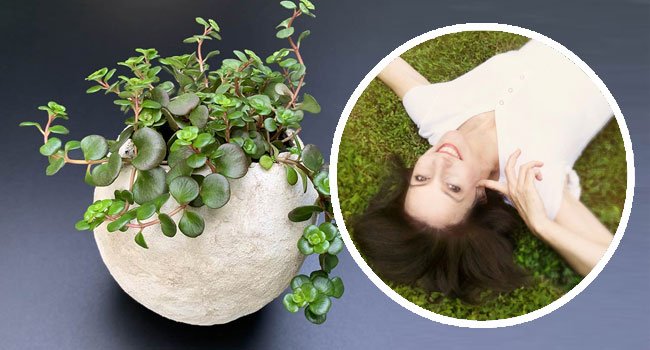 Hi everyone! I'm Ellen from Artsy Pretty Plants. This DIY cement candleholder in the shape of a ring is my first project for Ugly Duckling House, and I'm really excited to be here to share some of my projects with you!
For a little bit of background, I thought I'd start off with providing a few answers to some common questions on concrete and cement DIY to get you started before we dive into the project tutorial, along with some info about me!
My husband and I moved into a new place this year. Since I have moved so many times in my adult life (count it — like 19 times!), I have gotten into the habit of not hanging on to decorative items. My place now is larger and looks kinda desolate without some decorative elements. So, I came up with this homemade cement candleholder that I think has a nice dramatic effect.
This is also the first cement project where I've made interior decor. If you'd like to check out a couple of my other cement projects, take a look at my Modern Concrete Planters and also my unique Cement Balloon Planter project.
A Few DIY Concrete Project Basics
If you haven't made a concrete or cement crafts project yet, then you'll probably be surprised that it's easier than you'd think.
What's the difference between concrete and cement?
Cement is basically a paste that binds different aggregates together. It can be made up of clay, gypsum, shale, and silica. Concrete is made up of cement, along with aggregates such as sand, stone, gravel, peat moss — pretty much anything you can think off can be used! So, you can't have concrete without cement, but you can have cement without concrete.
For crafts purposes, I generally prefer smoother-looking finished pieces, so I tend to use cement the majority of the time.
Common Concrete Supplies
I have detailed all the materials for this candleholder project below this section, but I also wanted to give you a list of the basic supplies you will use for most concrete projects. These are items I always like to keep on hand.
Bag of cement or concrete
Disposable cup
Disposable bowl
Plastic grocery bag
220 grit sanding block
Weights of some type — sand or rocks
Safety glasses — sealed is better
I hope you enjoy making this project! Let me know in the comments section at the bottom if you have any questions.
How to make a DIY cement candleholder in a modern ring-shape!
Difficulty — Easy
Materials & Tools for DIY Cement Candleholder
2 Round cake molds – the 3 pack has correct sizes (7″ and 9″)
Disposable cup
Disposable bowl
Plastic grocery bag
Safety Glasses (sealed is better)
Multi-purpose sand
220 grit sanding block
Flat-head pin
Pen or marker
T square or speed square
(2) Tealight candles
Packing tape
2" x 2" piece of screen or wire mesh
Scissors
Needle-nose pliers
Rigid board — any type, used for vibrating (plywood board or cutting board, etc)
Weights approx. 4″ to 6" wide (I used thick tiles)
A heavy, flat object (this is for flattening the bottom of the candle so it doesn't roll; I used the thick tiles, but something heavier — like a brick — is better)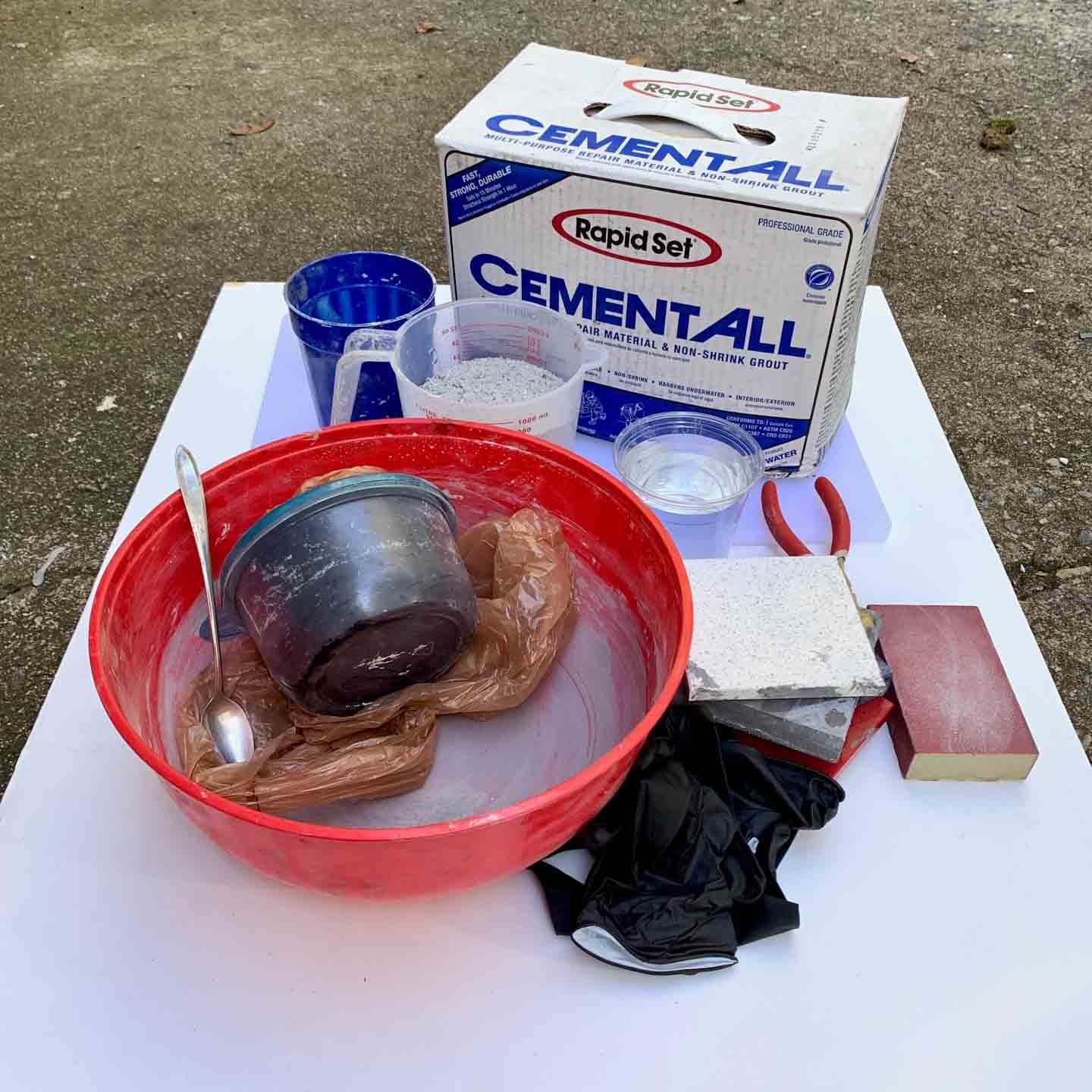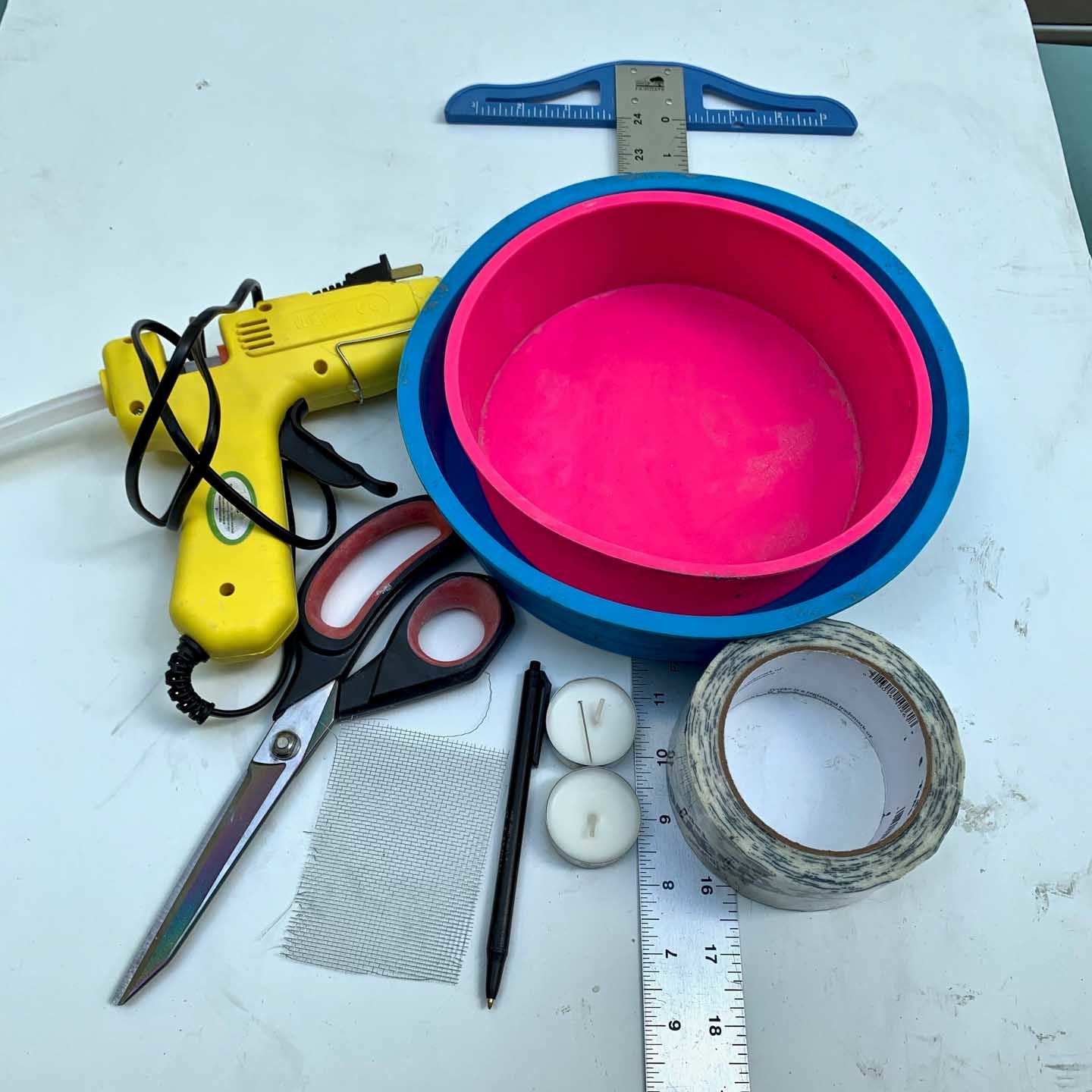 Step 1 | Prep The Silicone Molds For The Cement
These silicone molds will give the cement a nice shiny look. Rinse the molds out with water to remove any dust or debris. Just shake them after rinsing and don't use a towel to dry them (because that could leave behind lint); let them air dry.
Step 2 | Tape The Tealight Candle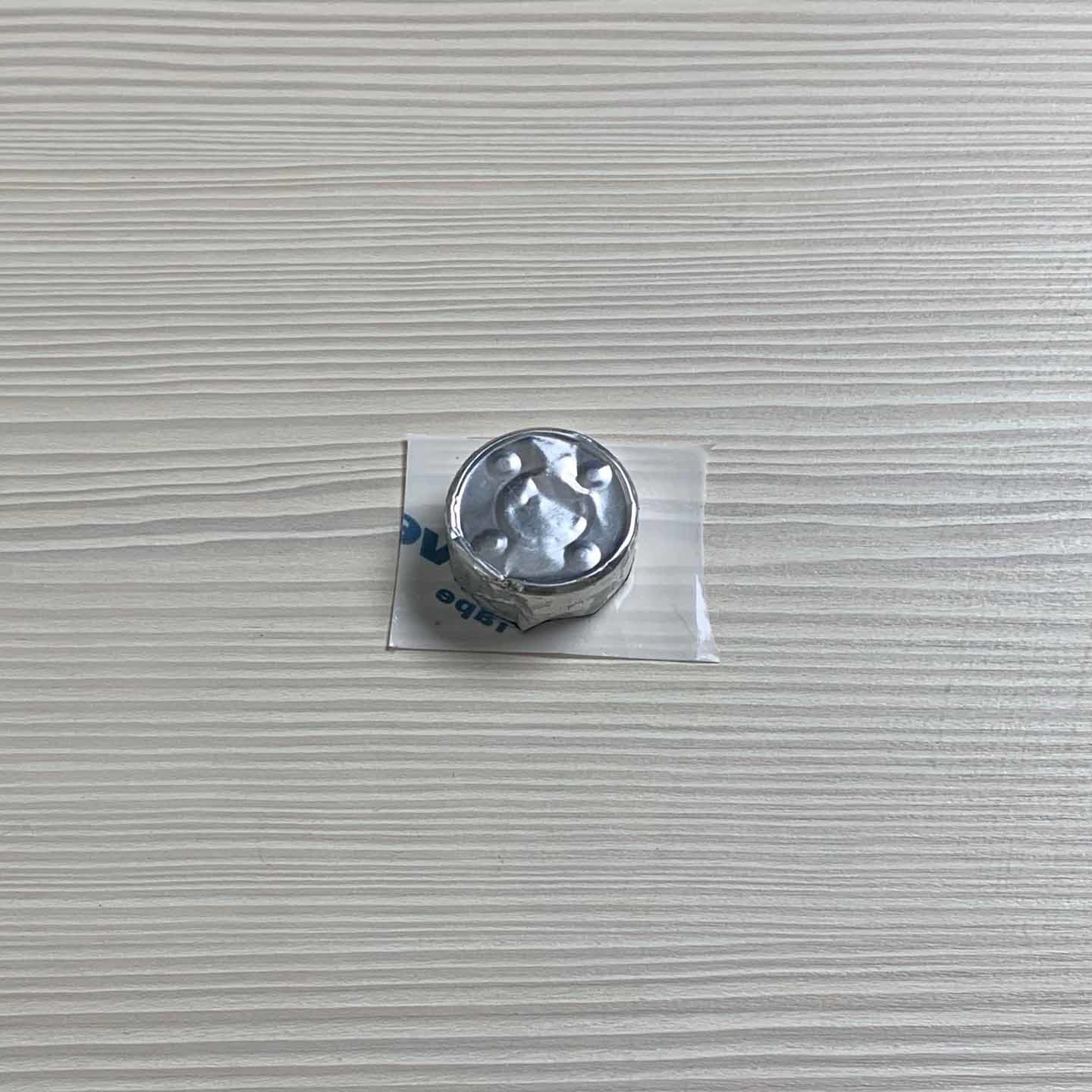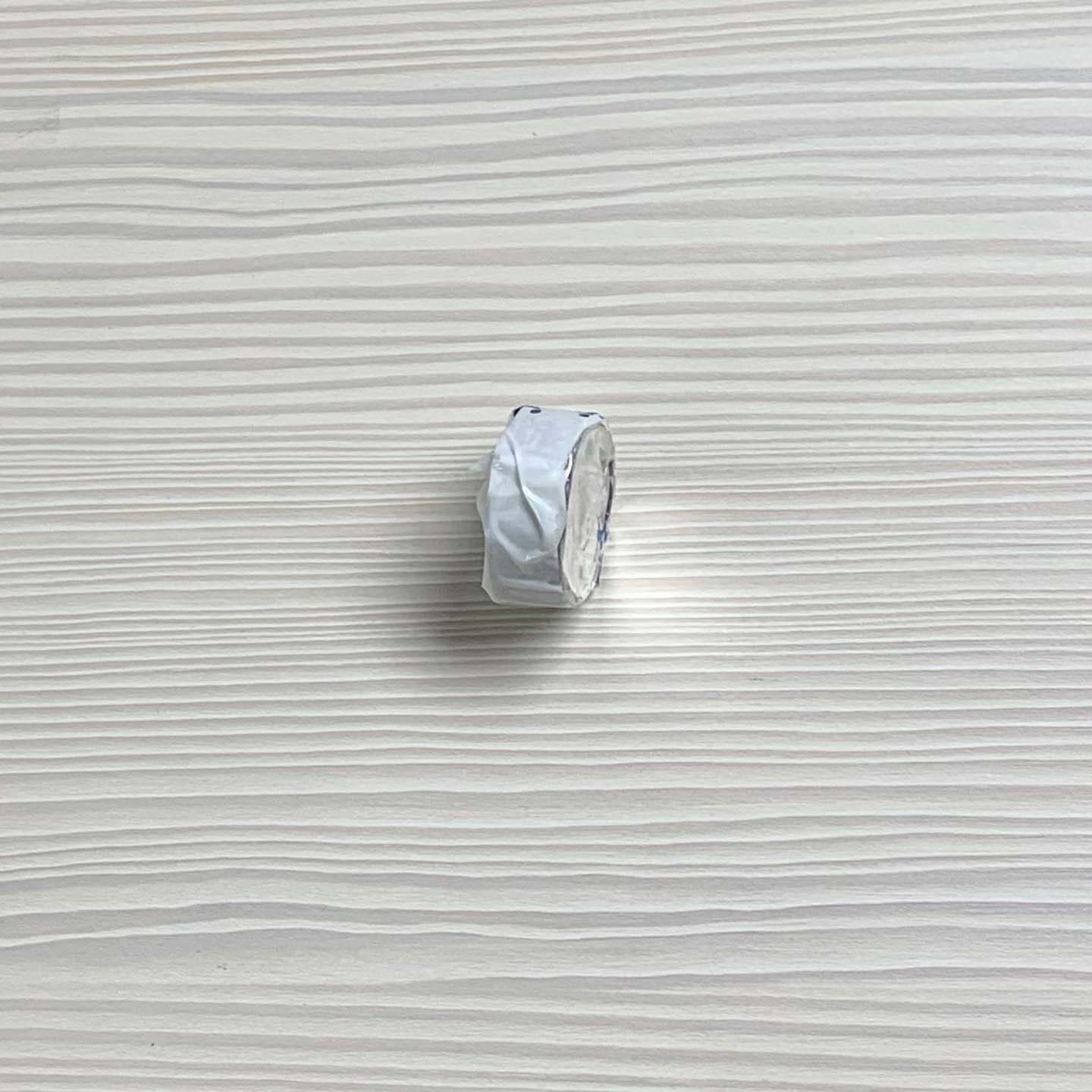 Remove the candle from the tealight holder, and then tape the opening and the sides with the packing tape, but leave the bottom un-taped. *Be careful not to smush the candle holder or you won't be able to get the candle inserted when you finish. Trim off any excess.
Step 3 | Mark The Center Points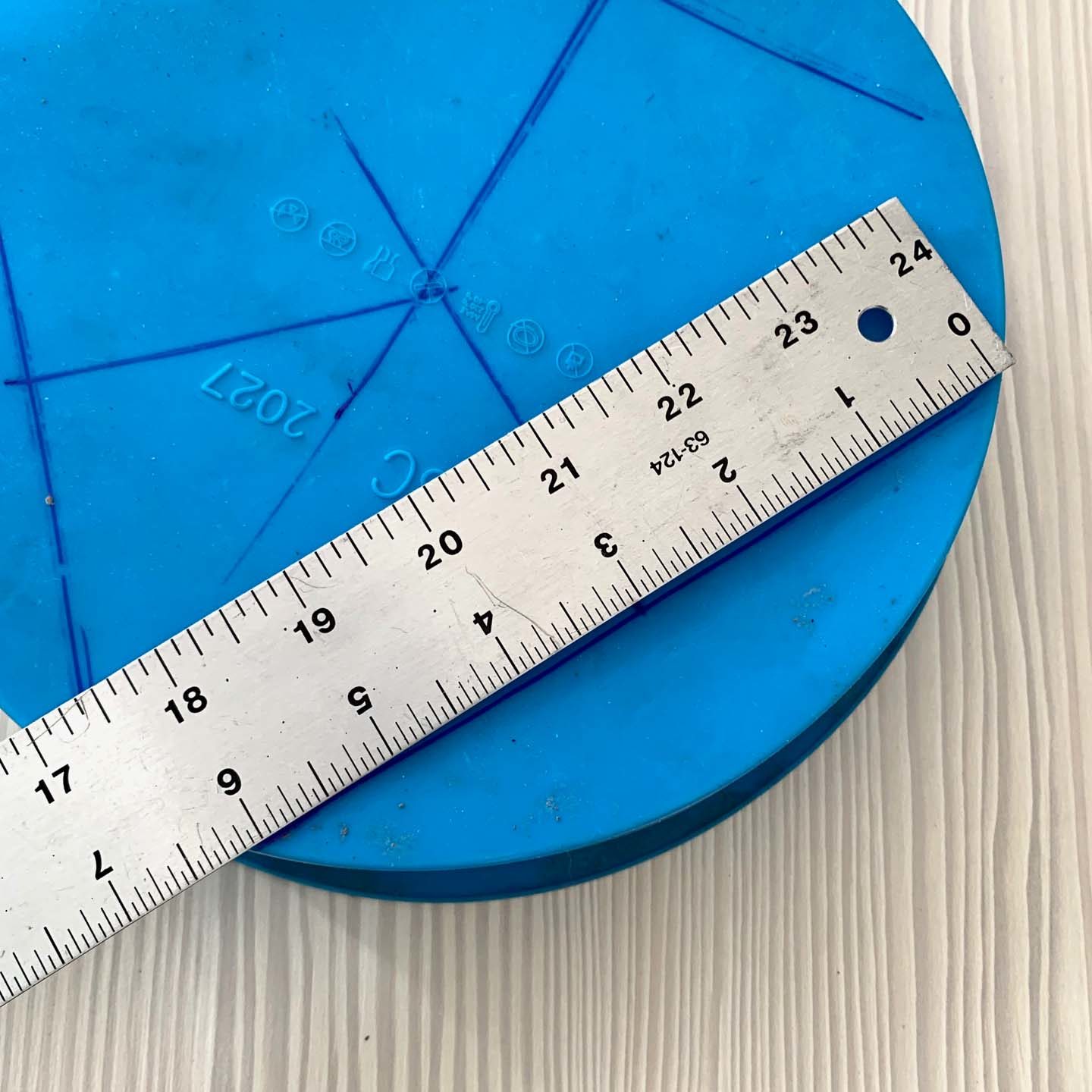 Heat up the hot glue gun to high while at this step, so it will be nice and hot for the next step.
Find the center of each mold by measuring 3 sides of the circle. My measurements were 6 inches, so I then marked the center of each at 3". Do this two more times, each at fairly opposite points so you have 3 locations.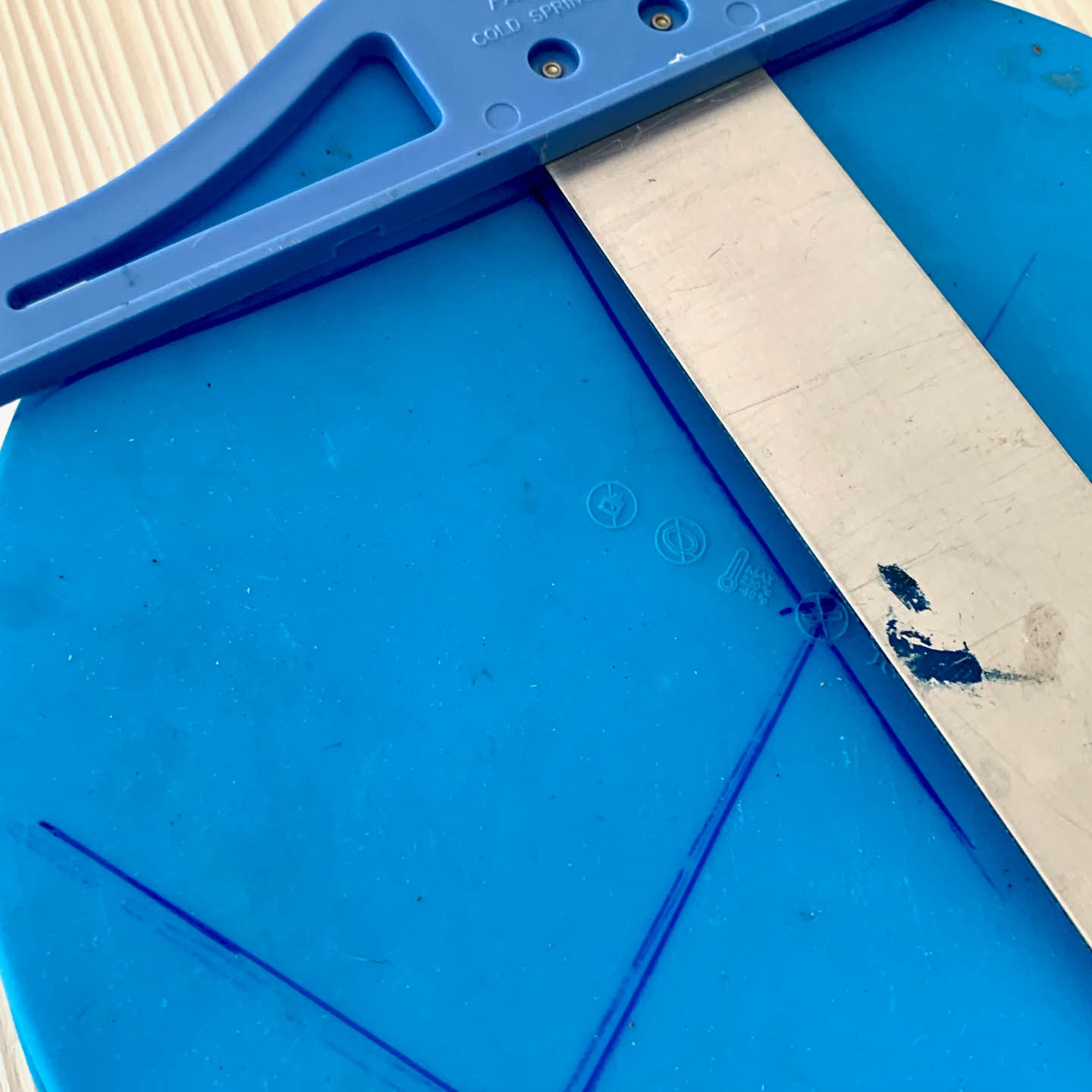 Next, take the T-square and draw a line from the midpoint you marked so that they each intersect in the center. Now repeat with the second mold.
Step 4 | Glue The Candle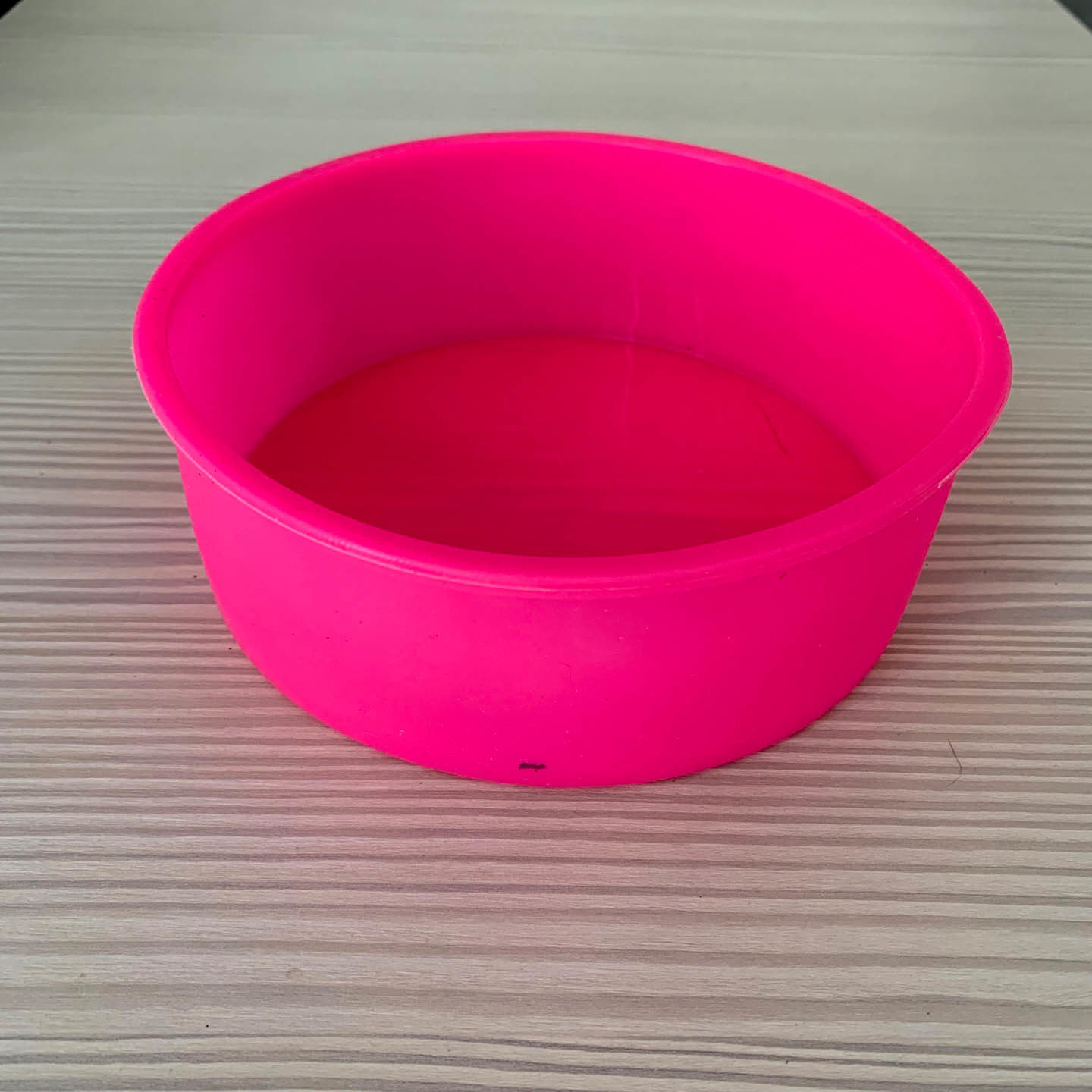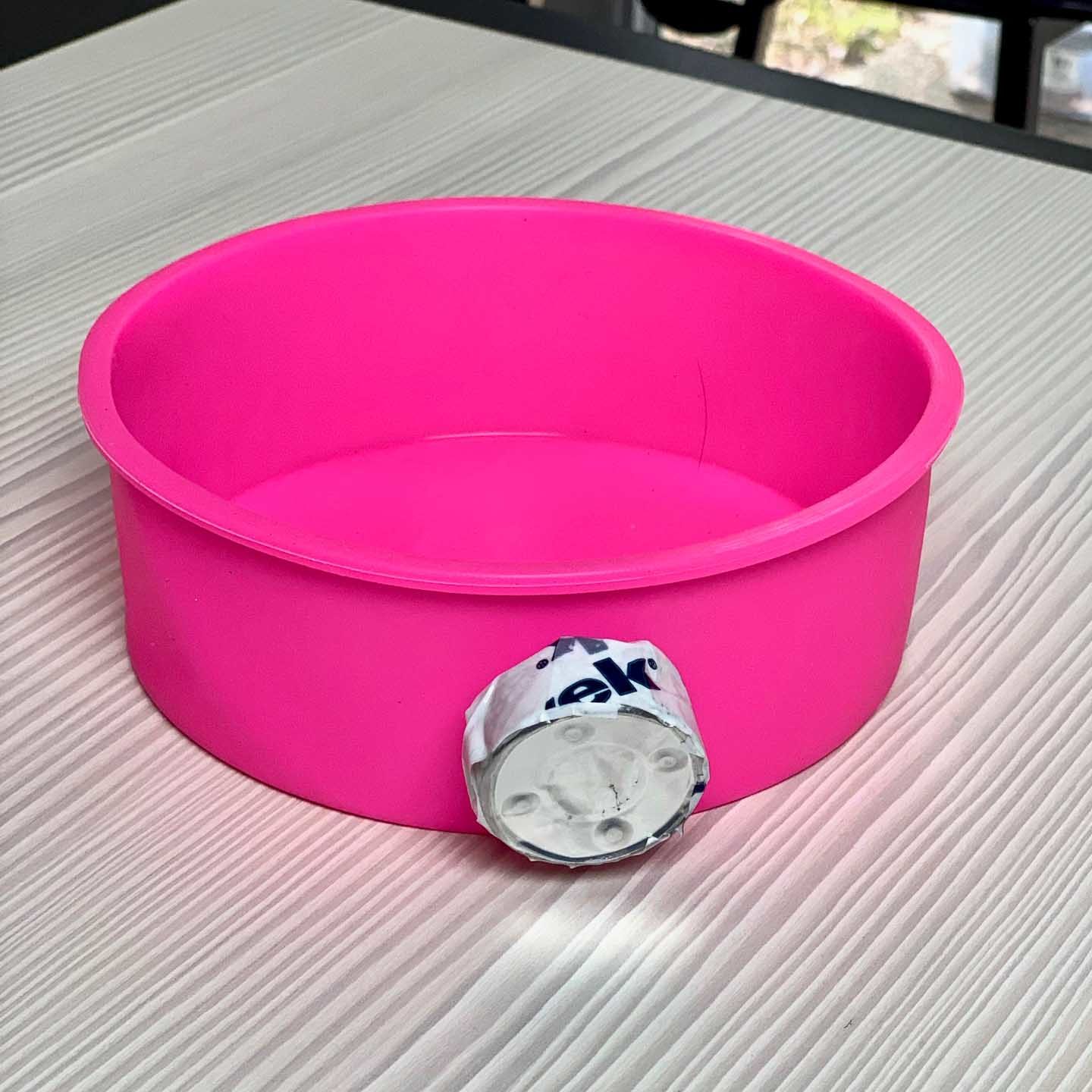 Mark a line from the bottom of the inner mold at ¼". This is where you will place the tealight holder. You'll need that ¼" of cement buffer to keep the edges around the candle from cracking.
Using the hot glue gun, glue the taped (previously open) end of the tealight candleholder to the inner mold, lining it up with the ¼" mark. Hot glue- like any glue, doesn't want to stick to silicone, so confirm you have the gun on the high setting. If you have trouble with it sticking, it might help to take a thumbtack and stick it into the candle from the outside.
Add the glue around the outside edge of the taped candle and work your way inward. Then press the candle up against the mark and hold.
Step 5 | Combine The Silicone Molds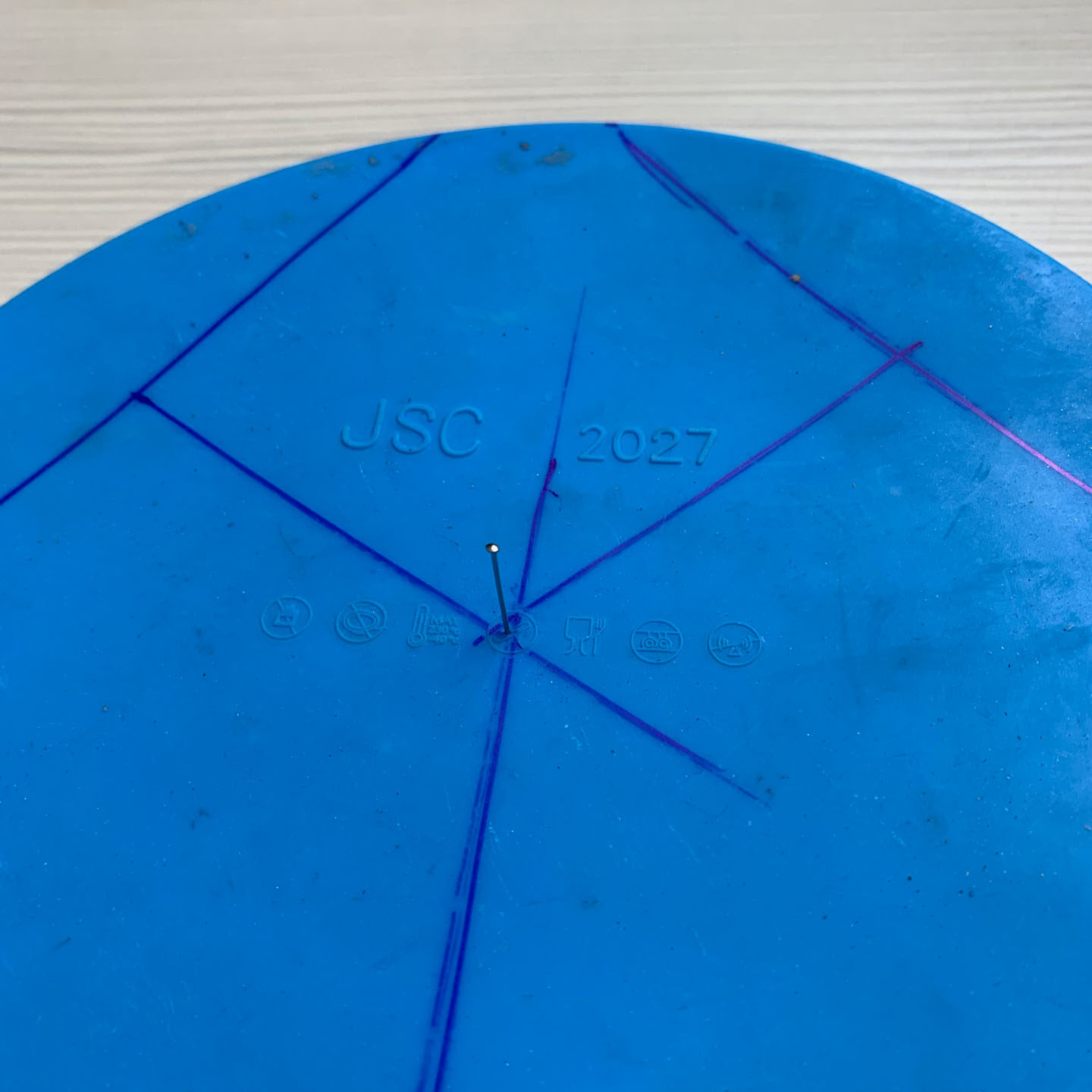 Next, go back to the two molds and take the headpin and push it through the bottom of the larger (outer) mold where you marked the center point.
Now carefully take the second mold — be sure not to bend it where the candle holder is glued — and then push the pin through the bottom of that one.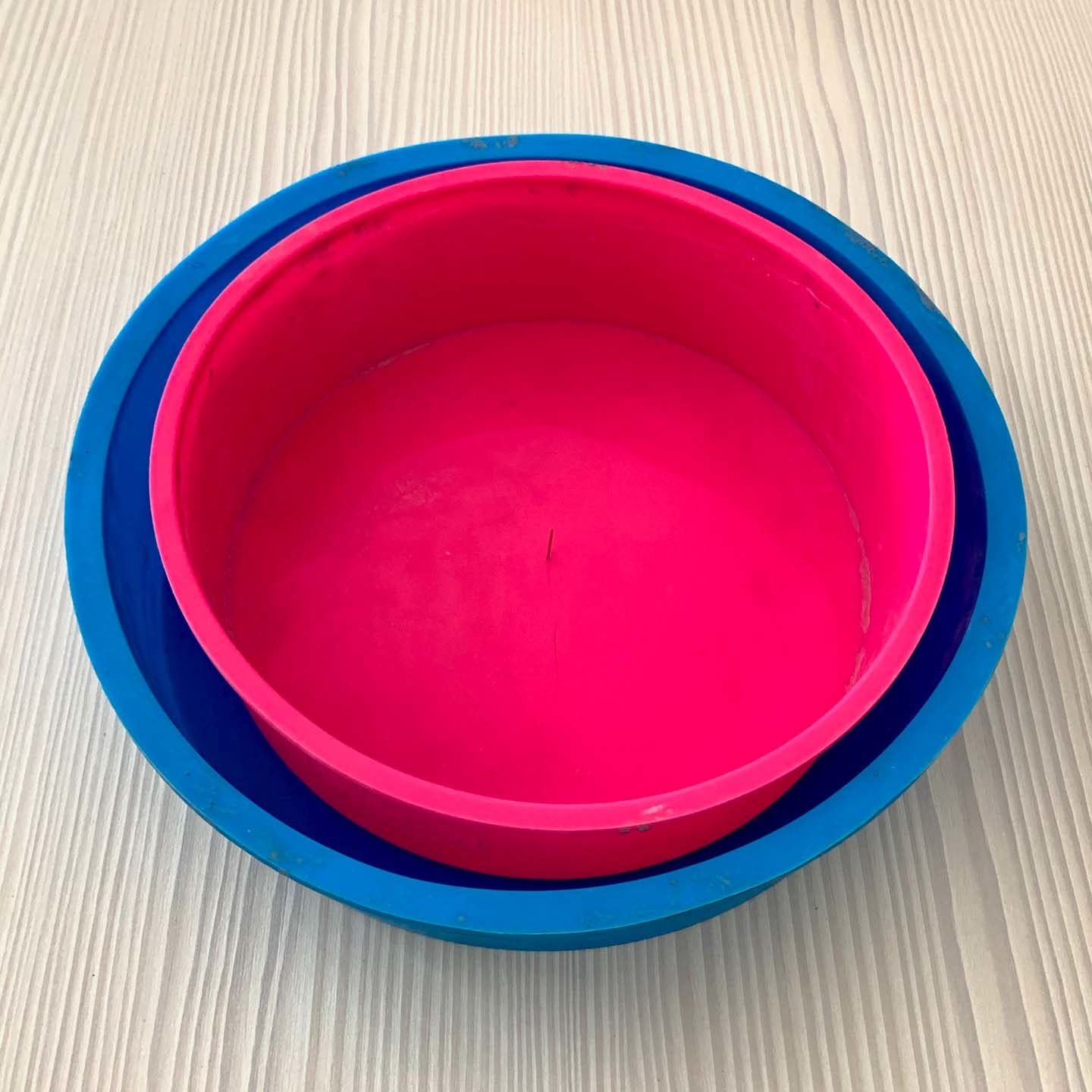 Step 6 | Reinforce The Tealight Bottom: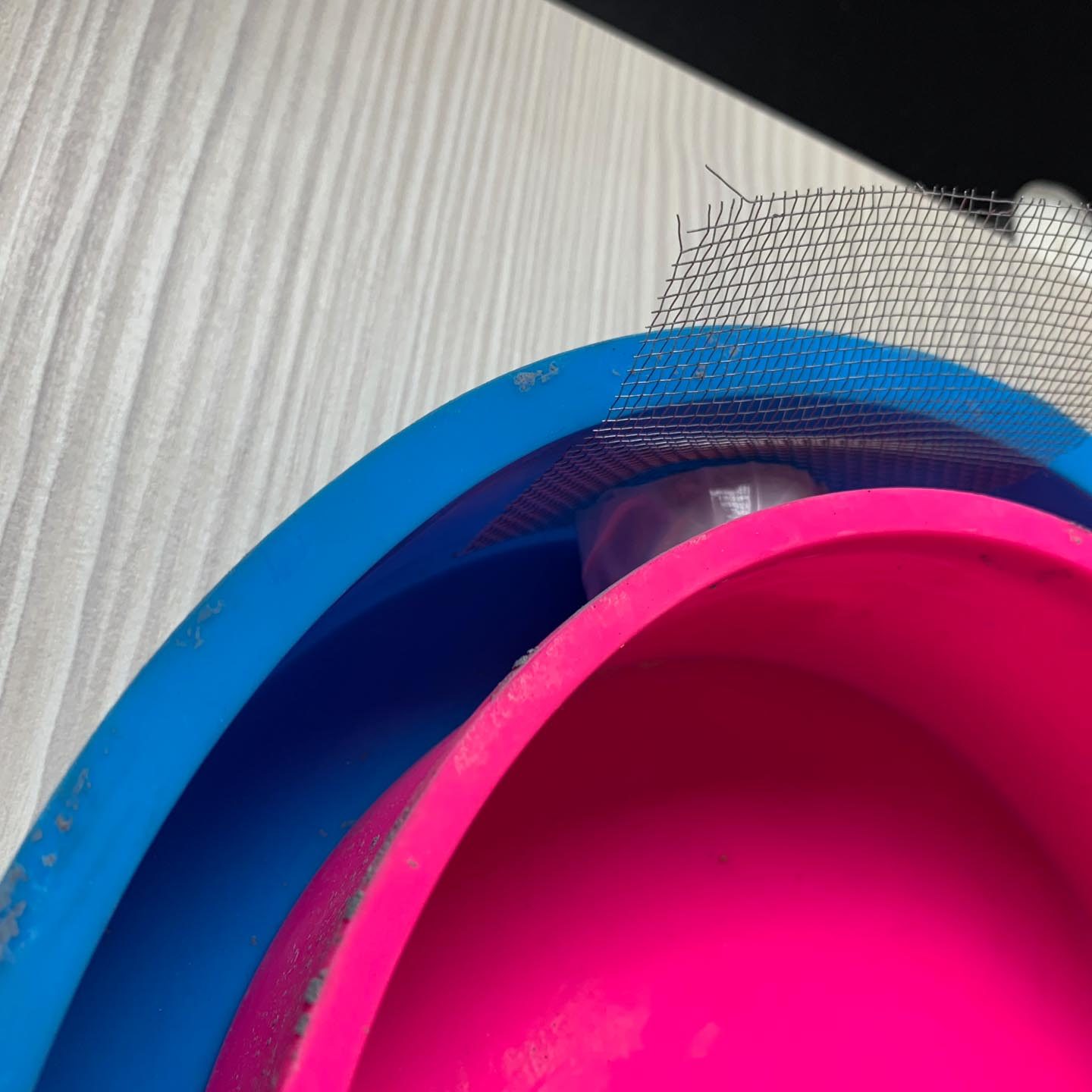 When I made the first version of this, I used a smaller inner mold, which made the ring thicker than I wanted. The inner mold size I used this time was a little larger, which gave me the thinner ring sides I wanted, but the bottom of the candle would barely be covered with cement and I was concerned it would fall through.
In order to avoid this, take the piece of screen or mesh material and cut it about 2" wide and about 2 ½" high. Place this at the bottom of the tealight- against the side of the inner mold. Make sure you don't push it down so far that it touches the bottom of the outer mold because you don't want the screen poking out the front side of the candle ring.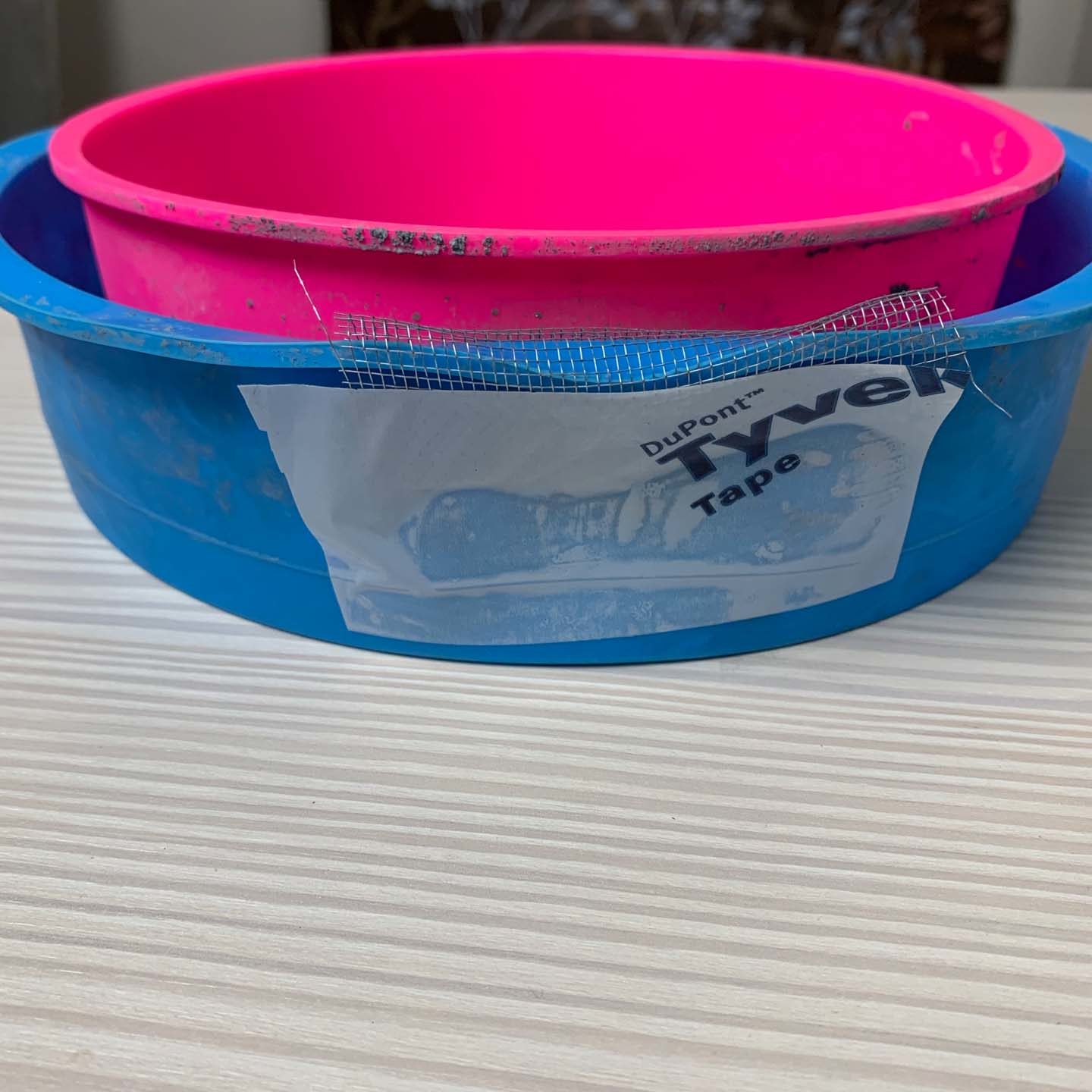 Now just bend the screen over the edge and tape it into place.
Step 8 | Prep The Mold For The Cement Pour: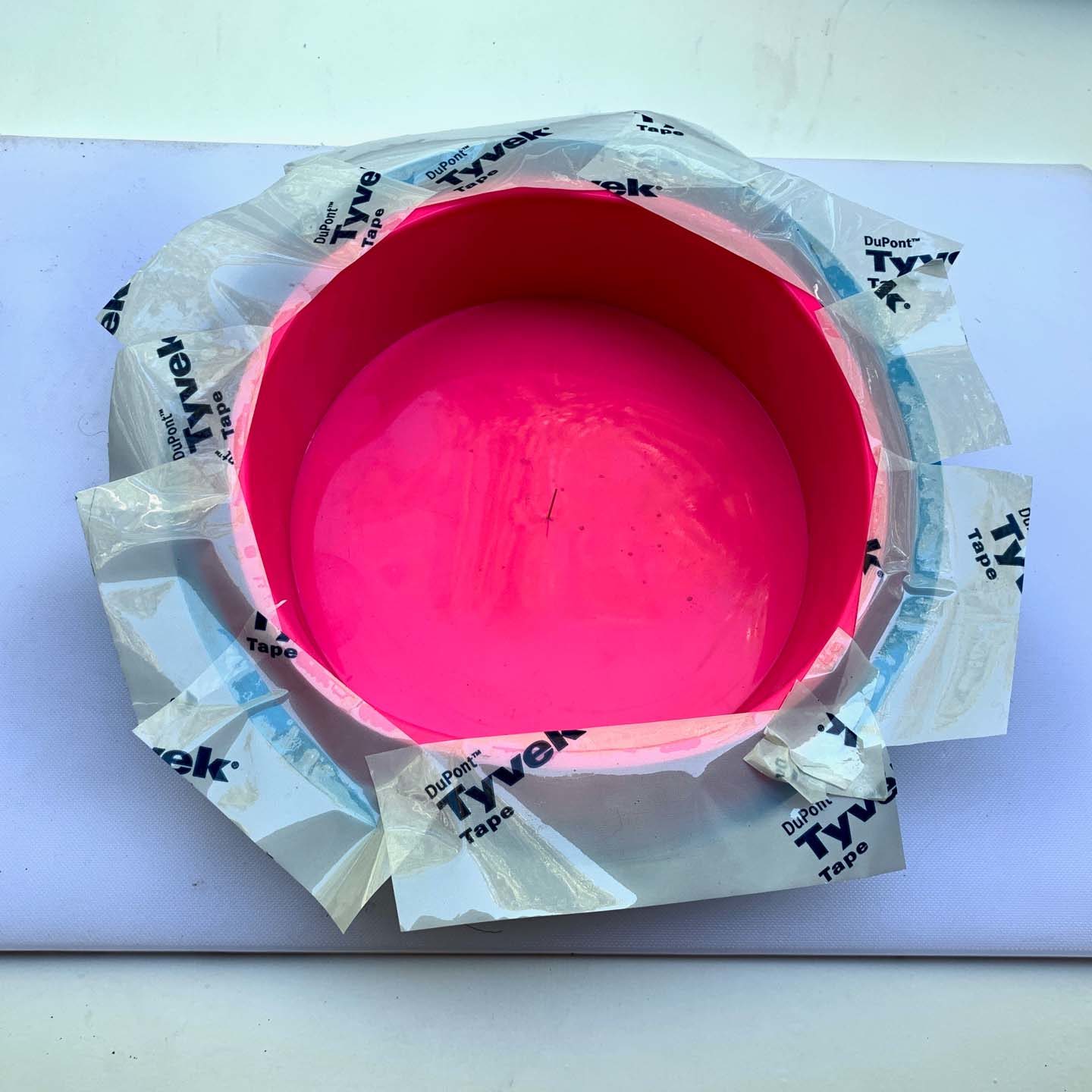 First, tape off the space between the two molds. This will keep sand from getting inside and adding unwanted texture to your cement candleholder.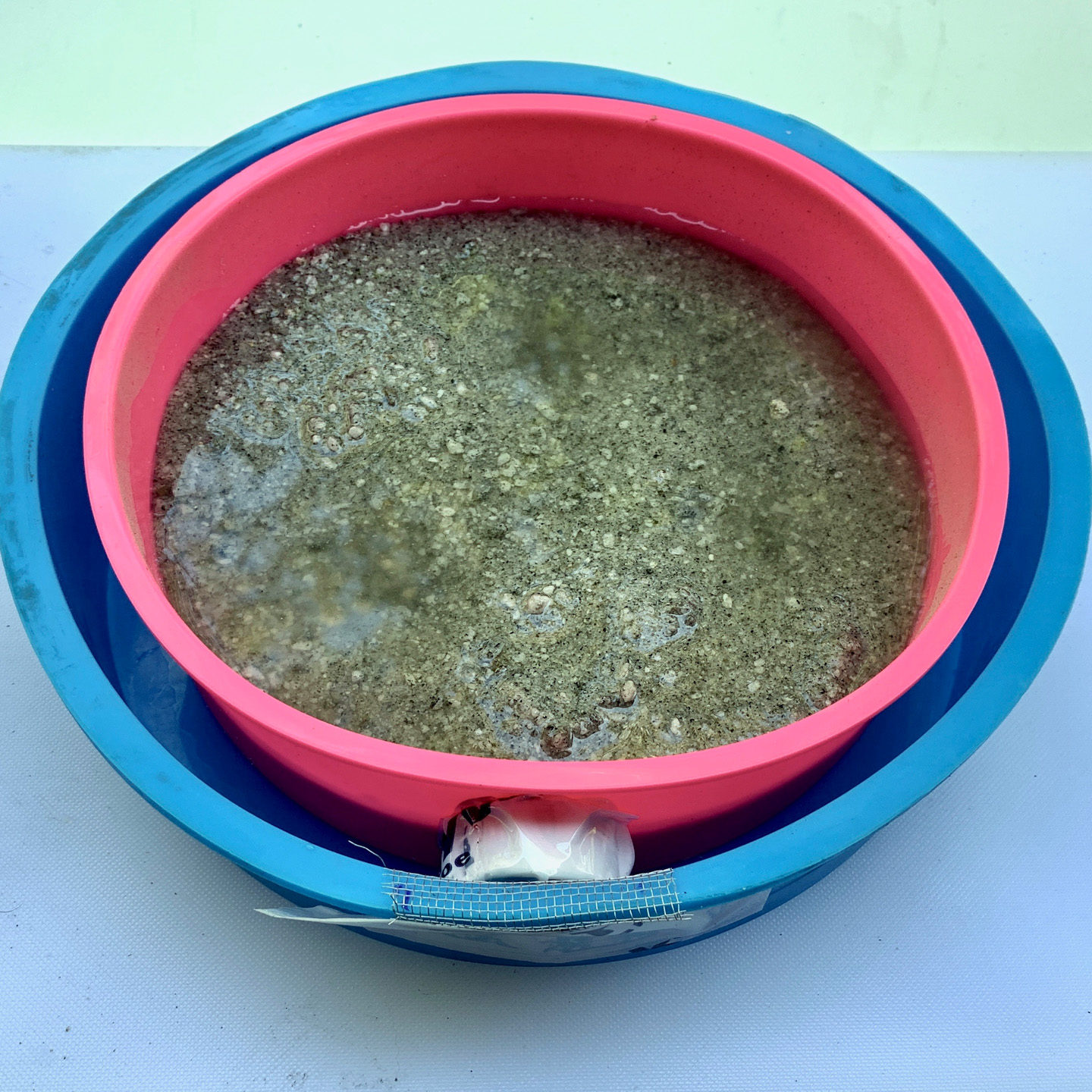 Next, secure the inner mold so it doesn't shift. Start by pouring in enough sand to make that inner mold about 2/3 full and then add water. You can let this go to the top, so add more sand if necessary.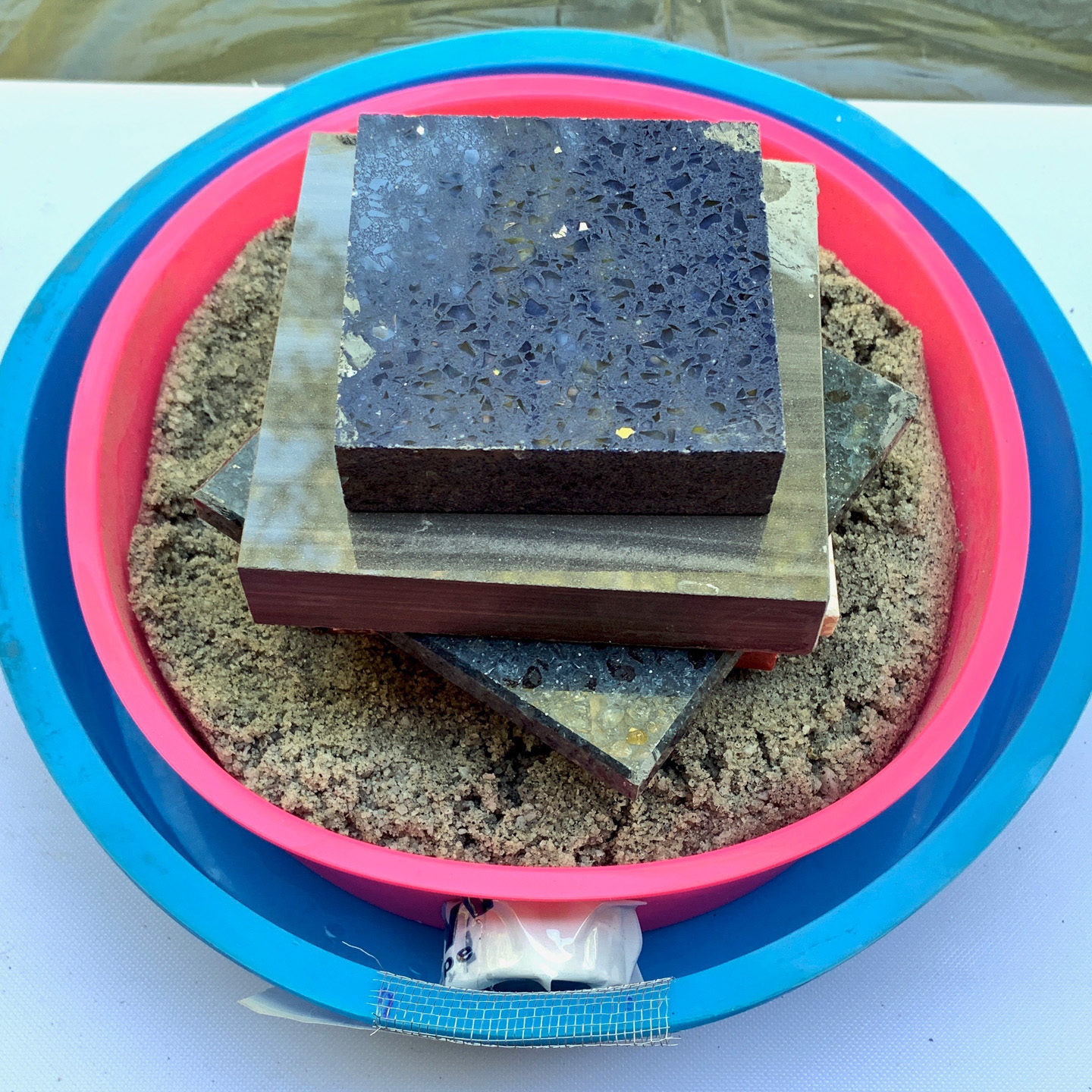 Next, add some weights to the top. The idea here is that you don't want cement getting under the inner mold and the sand and extra weights will hold the mold in place.
Step 9 | Mix The Cement And Charcoal Pigment For The DIY Cement Candleholder:
* Get your heavy flat weight ready before mixing the cement. This is what will give you a flat bottom so the candle doesn't roll.
* Warning — the charcoal pigment is really messy! You may want to put a drop cloth or garbage bag on your workspace to protect it.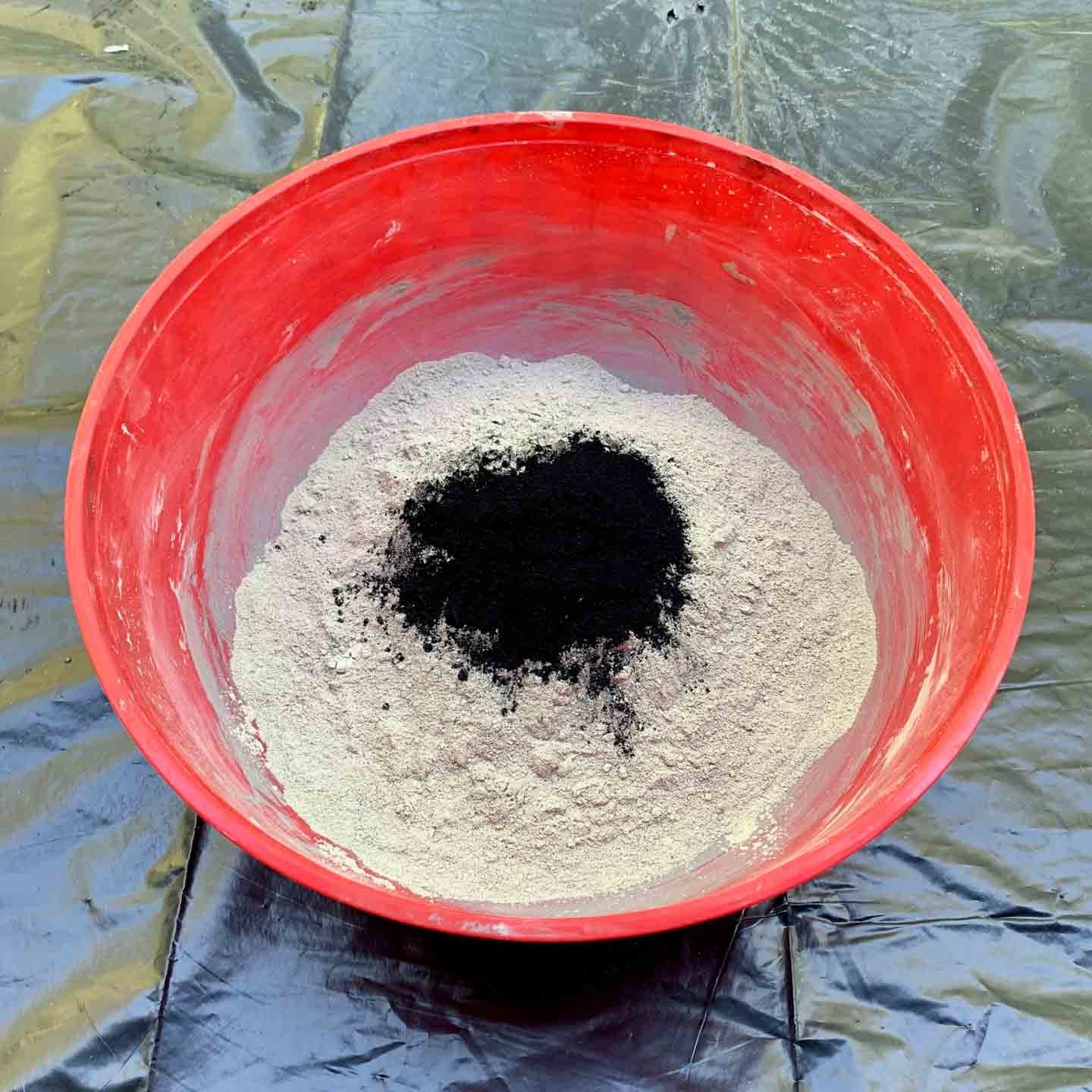 Start mixing the cement by scooping 2 ½ cups full of the dry cement into the disposable bowl. This will probably be more than you need, but it's better to err on the safe side because if you run short while pouring, you will have to make more and it's difficult to get the cement the same color as the first pour.
Now add 3 heaping teaspoons full of the charcoal pigment and mix well. Once it is mixed, then slowly add water and start mixing, adding more water as you go.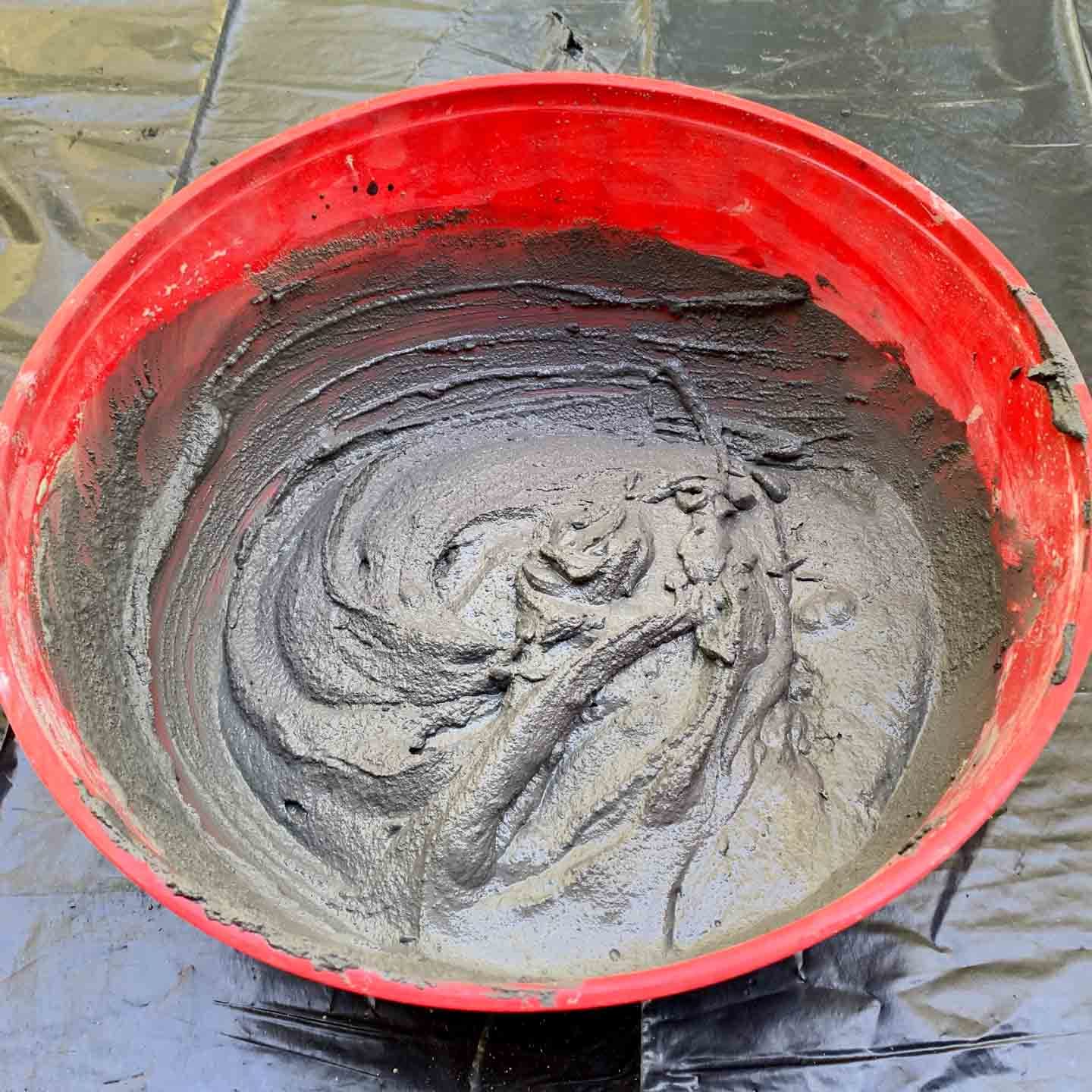 Pour or scoop the cement into the mold until it is full, ensuring the candle is fully immersed. You will probably have to peel back the edges of the outer mold to be able to get the cement in between the two molds.
Once you have it in between the molds, smooth it a little with your finger. Use the plastic bag for dumping any excess cement you have.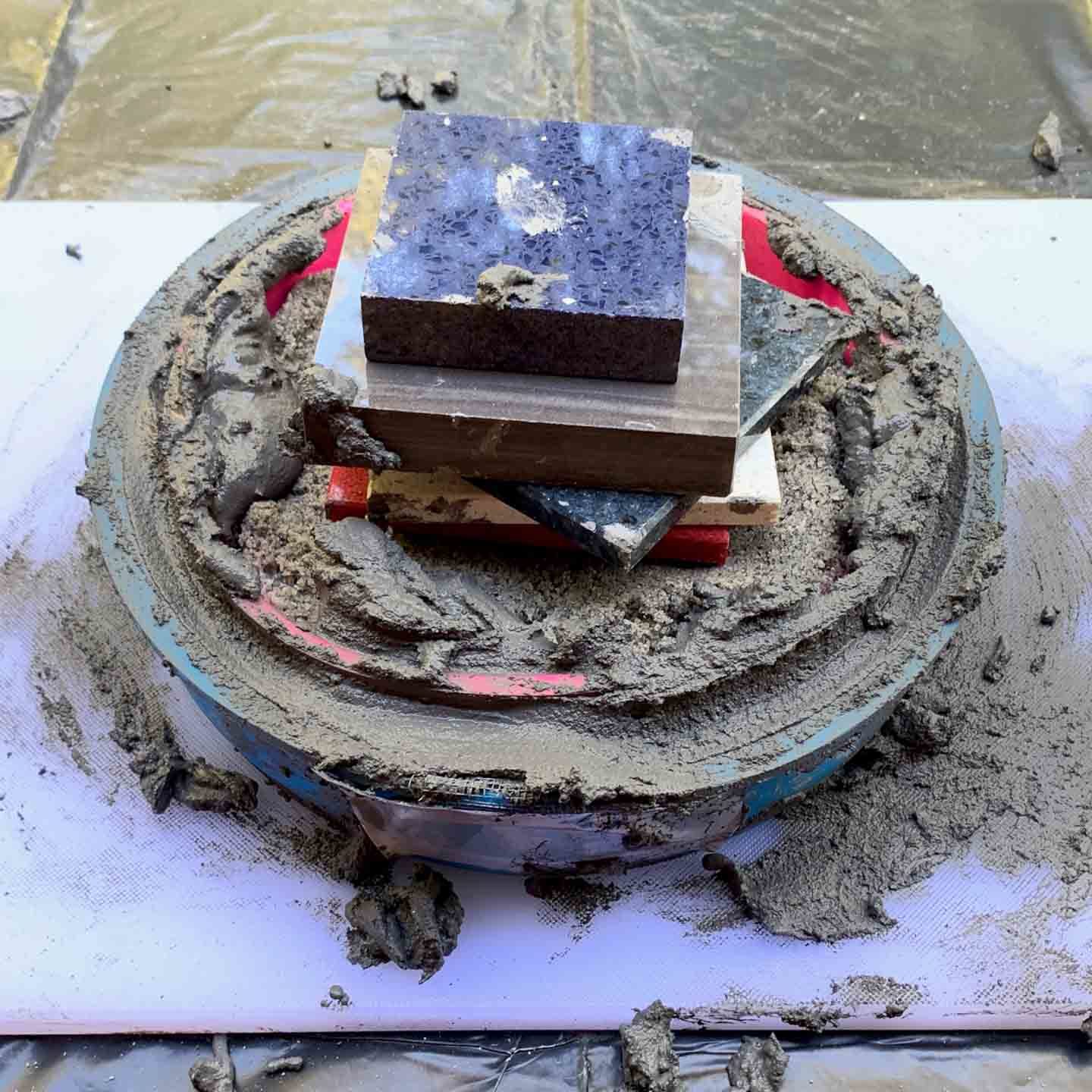 Lift up the board with one hand, keep the other on top of the weights and molds and shake and vibrate and tap to get the cement to settle and air bubbles to release.
Don't tap it too hard or the inner mold will lift from the outer mold and some cement will get underneath. You will see in the next step, I did get some cement underneath, but it came off easily.
I did this tapping and vibrating for at least a couple of minutes and scooped up the overflow of cement with my finger to make the top smooth. Then I shook it a few more times until it looked smooth and fairly level.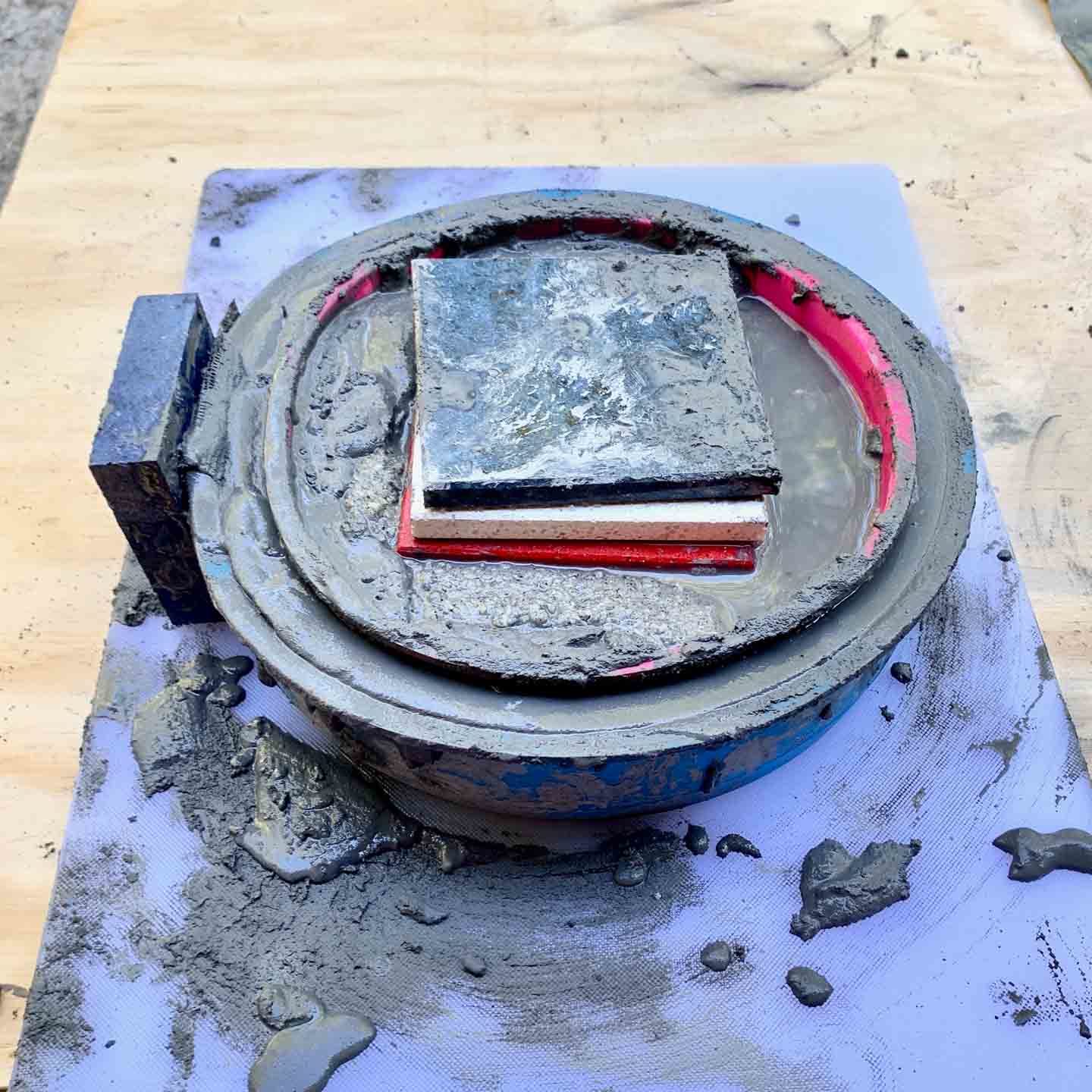 Take a flat, heavy weight and push it up against the side of the outer mold, where the candle is so that it creates a flat bottom. If you don't have a substantially heavy weight, you may need to hold it there for about five minutes, which is what I needed to do.
Step 10 | Curing The Cement: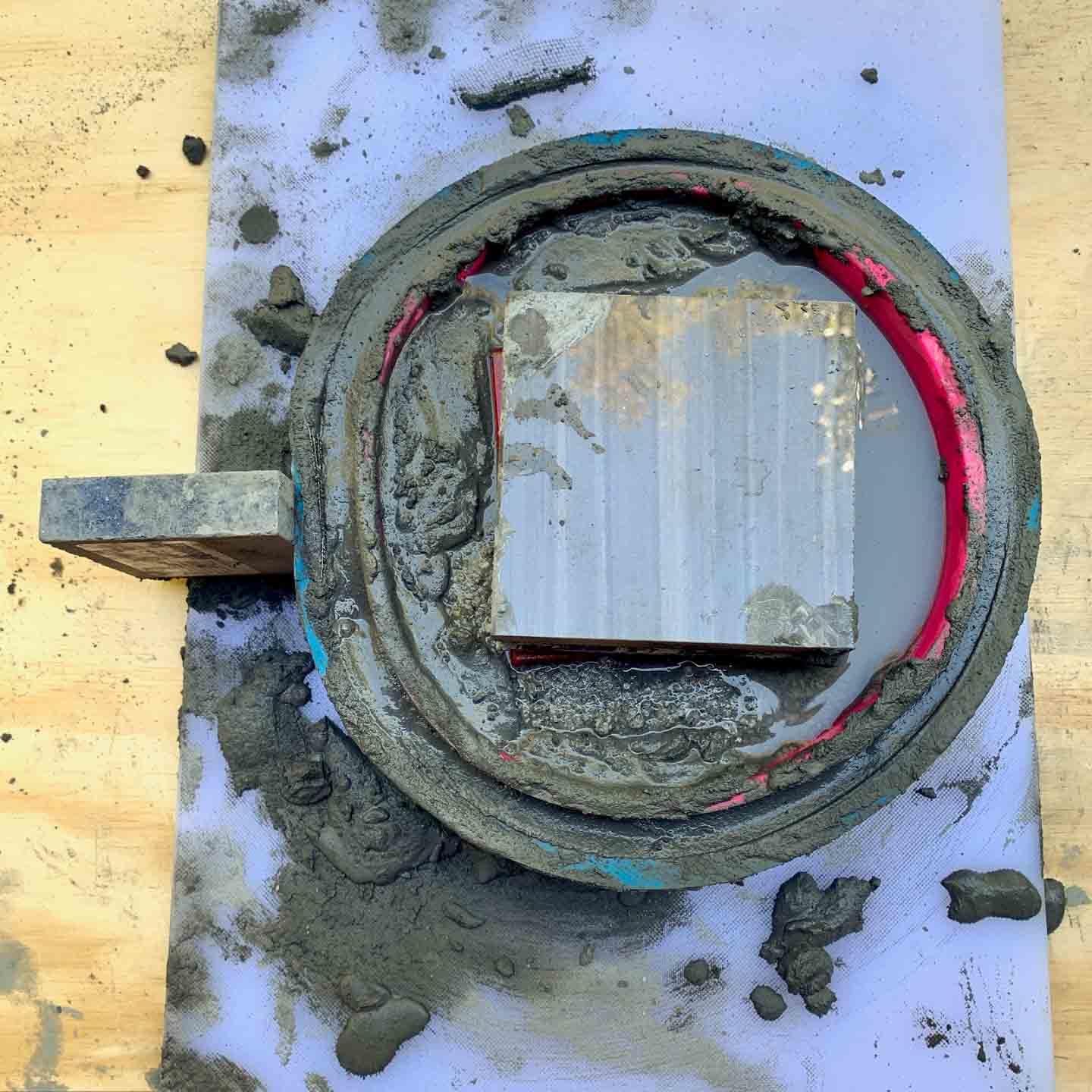 If you want the DIY cement candle to be shiny, let it sit overnight. If you are going for a matte look, let it cure at least 5 hours — but not much longer than that. The cement should be cool to the touch. If it is still even a little warm, then it is too soon to de-mold.
The time to cure will depend on humidity, temperature and airflow. If the cement comes out shiny anyway, and you wanted it matte, you can just sand it. That will remove the sheen.
Step 11 | Demold The DIY Cement Candleholder: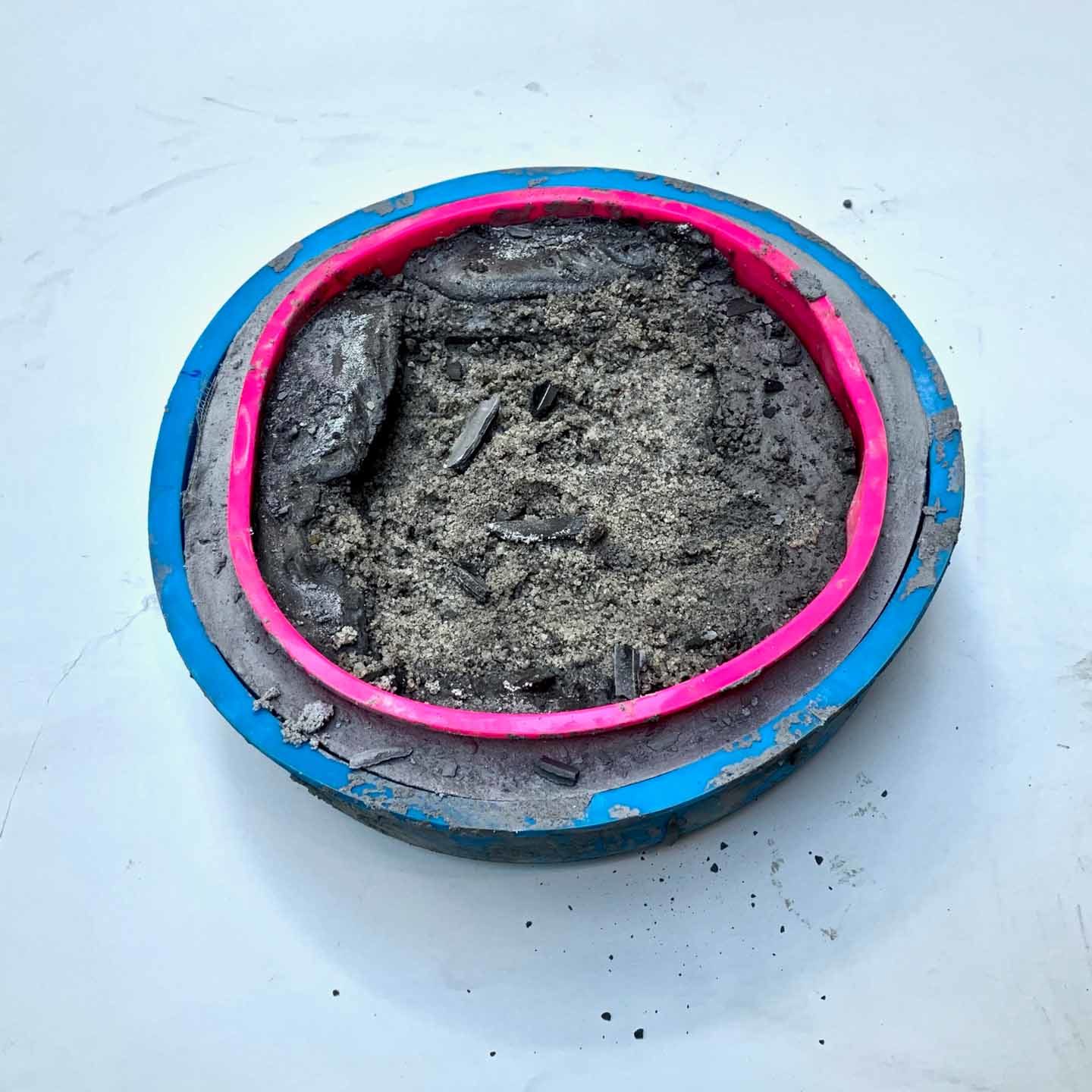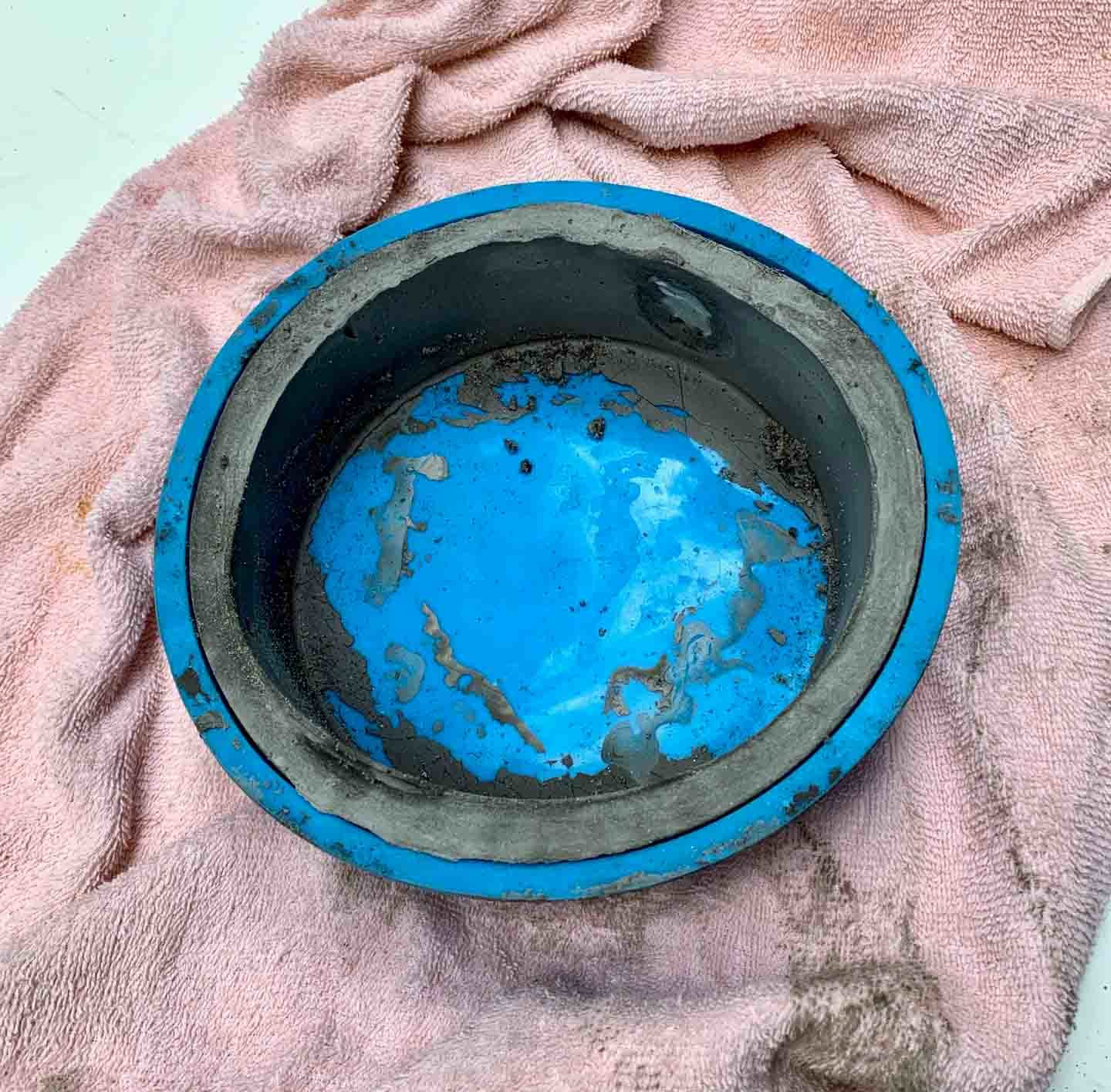 When the cement is fully cured, take a towel and place it underneath the cement to cushion it while demolding. First remove the inner mold, and then press the cement out of the outer mold.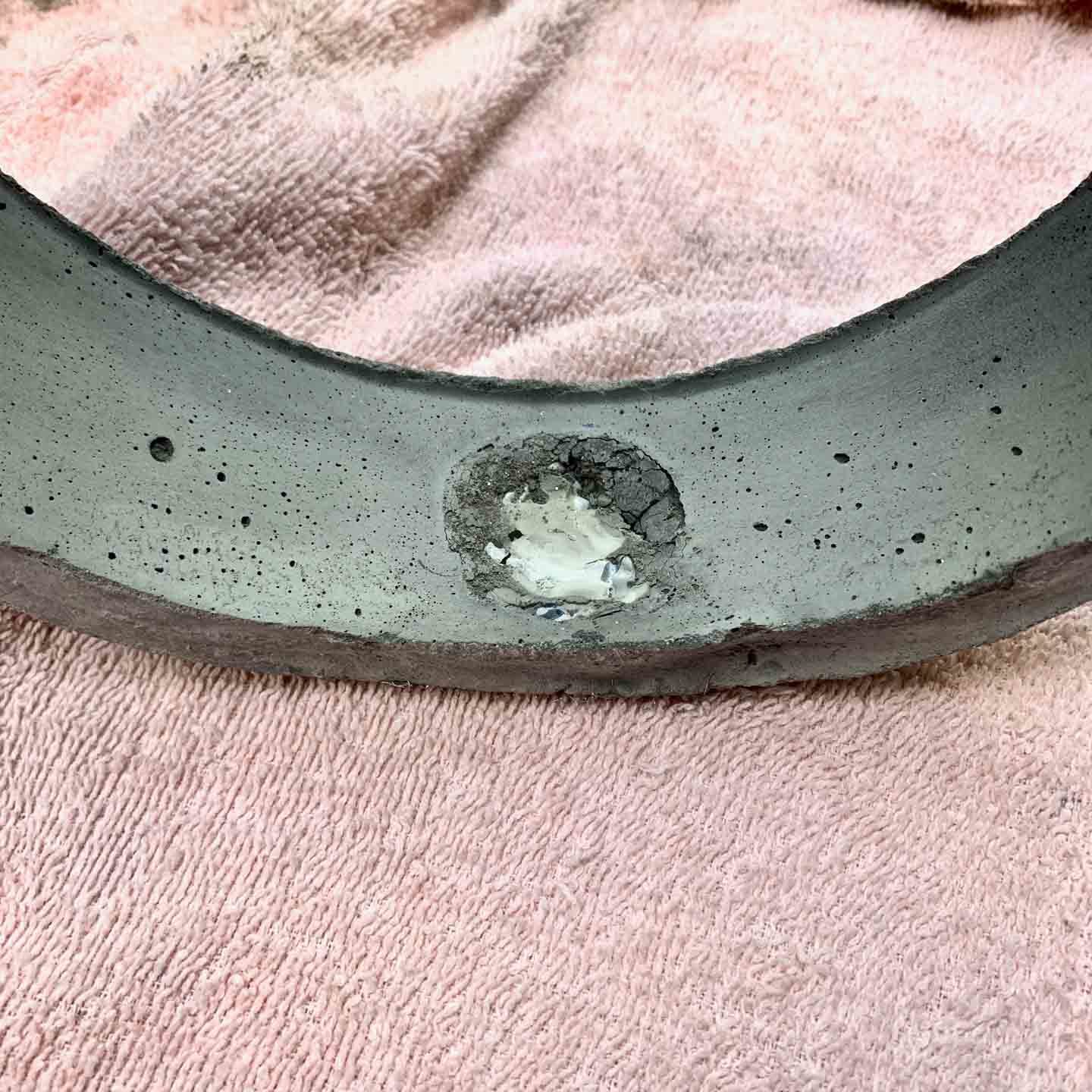 Using the needle-nose pliers, pull out the taped candle. You may need to dig it out a bit.
Tip: If you have remaining hot glue on the cement, you can remove it by dabbing a little rubbing alcohol on it. It will help shrink it and make it easier to pull out.
Step 12 | Finishing:
Sand any rough edges on the DIY cement candle holder using the 220-grit sanding block. Don't sand the shiny parts of the ring unless you want it matte. When finished, insert the remaining tealight candle into the holder.