Disclosure: this post may contain affiliate links, which means I may make a commission if you decide to make a purchase through one of my links, at no cost to you.
Every month, I'm sharing new cross stitch patterns! For this month's feature, I created a "camping under the stars" design — something that would look great when used with a dark fabric.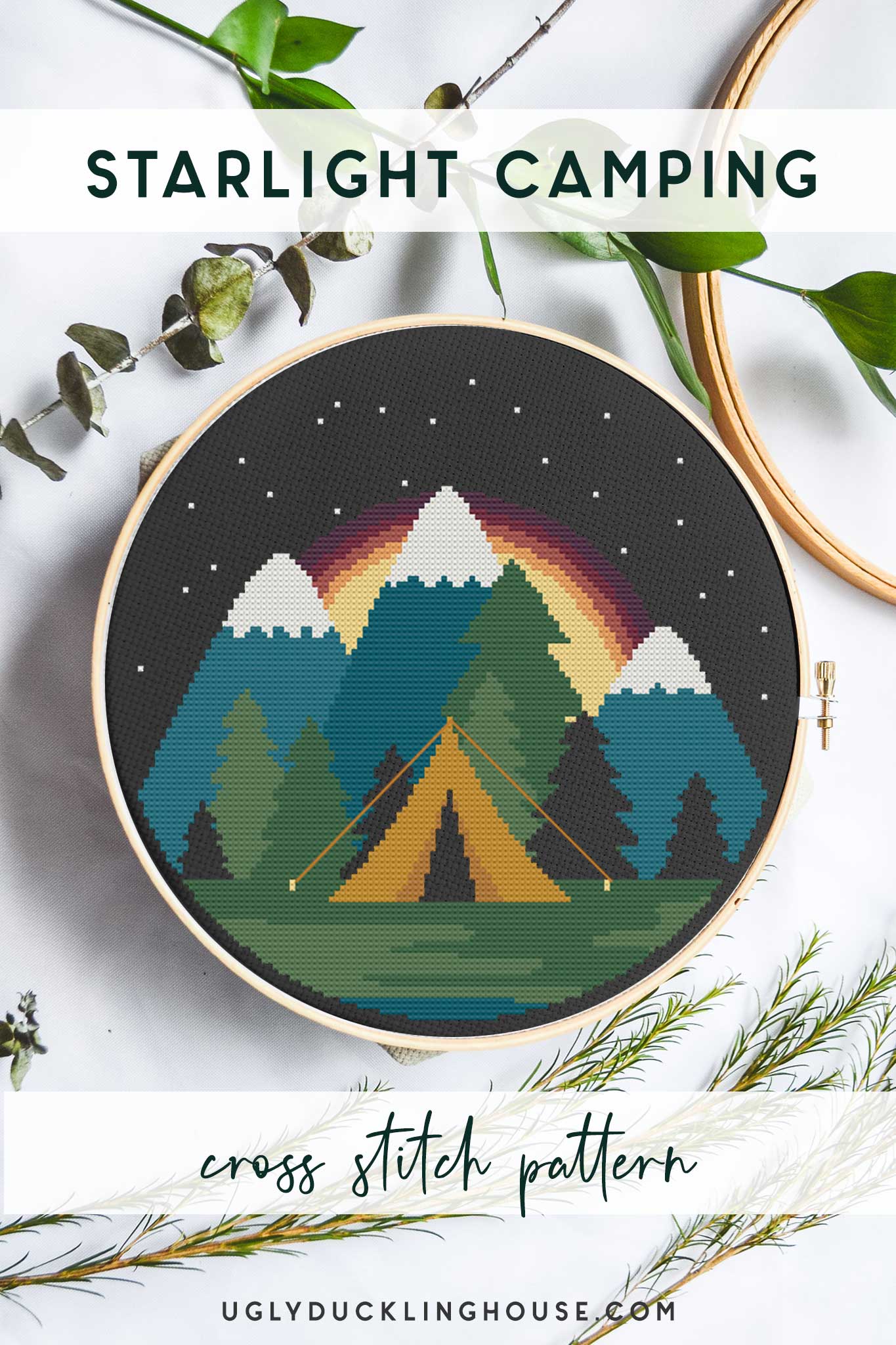 I don't know if it's summer, pregnancy, quarantine, or all of the above, but lately, the days blur together so much! I'll be hitting my third trimester as of this week, so I suppose the fatigue and "pregnancy brain" is to be expected. But I find pattern creation to be a pretty calming activity — especially when the subject matter (like this camping scene) inspires me to look forward to future camping adventures with Ruby. So, in between trying to work on the guest room and nursery projects, I've been creating some new patterns!
About This Nighttime Camping Cross Stitch Pattern
Designed for 16 count Aida
Full counted cross stitches only
DMC floss colors: 13
Size: approximately 7.8 in. x 7.8 in.
Remember: you can always use a higher count fabric (such as 18, 22, etc.) to make the design smaller!
Also: if you tune in on the 1st of each month and the post reminder for the new pattern isn't up yet, you should STILL check the library anyway. I typically update the link by midnight on the first (and sometimes early) before I finish writing the post. So, even if it takes me longer to publish the actual post (like this month), those of you who have already subscribed will have access regardless!
Speaking of new patterns, I've been on a little bit of a spree to create more lately. When it's time to make them (a few times per year), I often sit down and create 7-10 of them at a time, simply because it's fun. But that's obviously almost an entire year's patterns to create at one time, so I list all the others I make in my Etsy shop. One follower this past month reached out and kindly asked me to make more food-inspired patterns and list them, so I wound up adding a few, and I have a few I'm finishing up as we speak. I made a few with this really fun font I found that's super colorful too! Here is a sample:

Basically, even though I only release one per month for free, you can still get access to all of the others by going directly to my store. This also means early access to patterns that I have scheduled to be released in the future (such as if you see the sneak peek of the Christmas one for 2020 and decide you want to complete that in advance). Update: I've created a membership program! You can get the details and join here.
Don't forget to pin this if you like it, and feel free to hit up the rest of the cross stitch library to see sneak peeks of other 2020 patterns coming up! I also included a BONUS one this month for those of you who attended the Workbench Conference (I had so much fun seeing some of you guys there!).
I'd love to hear suggestions on new patterns that you'd like to see, so you can leave a comment here or on Instagram (be sure to tag me if you create one of my patterns, too!). Enjoy!
pattern time limit
Patterns are available for free for a limited time to make room for new designs. To get access to the entire archive and lots more patterns, check out our membership site, NeedleSpark!
Check out the library to get access to currently available patterns and see previews of future releases!