Disclosure: this post may contain affiliate links, which means I may make a commission if you decide to make a purchase through one of my links, at no cost to you.
This post may contain affiliate links. This won't change your price, but may share some commission. Read my full disclosure here.
Our platform bed in the primary bedroom is designed to give the illusion that it's floating off the ground. In this post, I'm covering the build and sharing the free DIY woodworking plans (king, queen, full available; california king & twin coming soon!).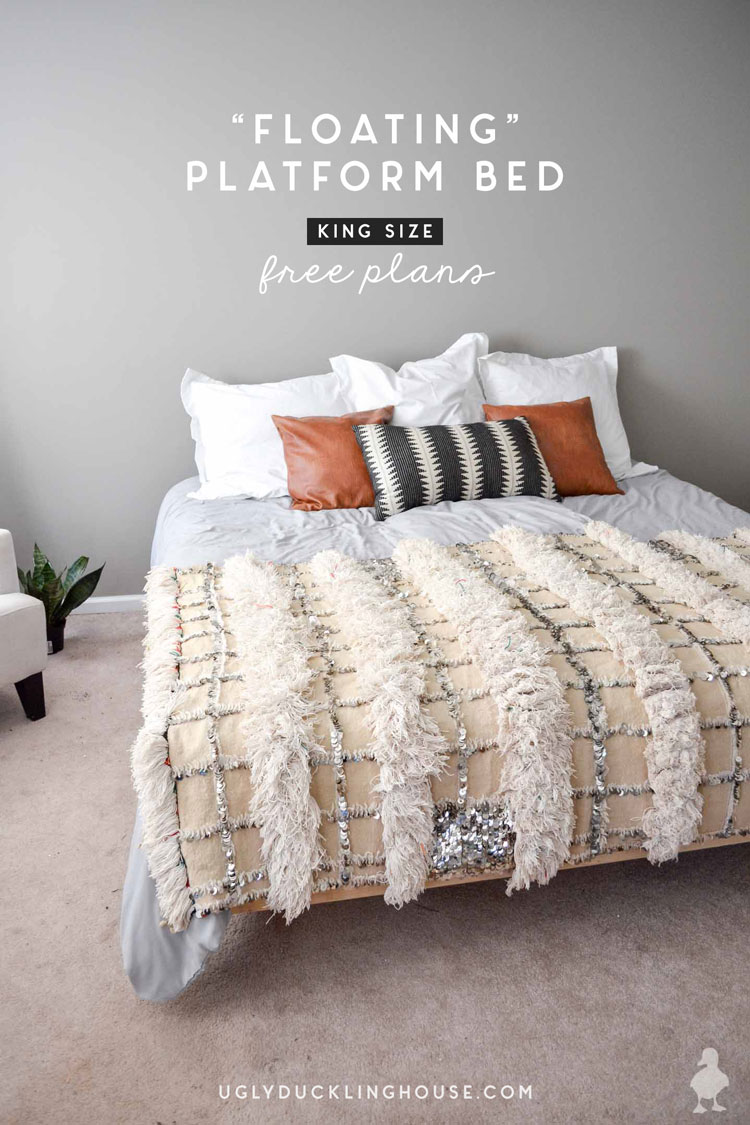 Alrighty; this post has been a long time coming! For several months, I've been promising some king size floating bed frame plans for the bed that K and I built together. I figure that with the new paint, new rugs, new fabrics, and other new things I'll be updating you about in the primary bedroom, I should go ahead and provide these plans so you can follow along in a (semi-)chronological order!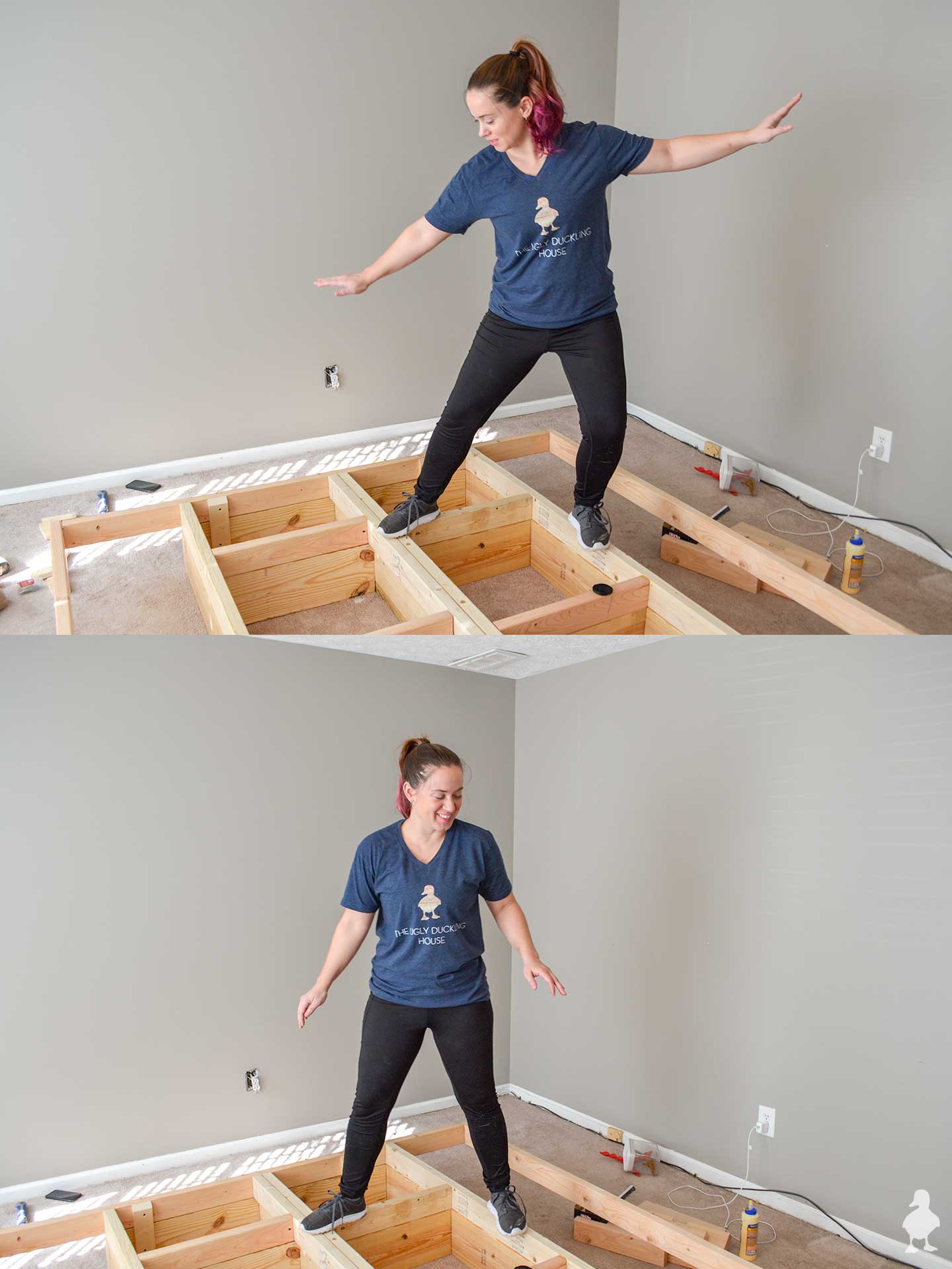 I'm kind of glad I didn't share these right away. Building furniture is still a pretty new concept to me, as well as sharing plans for them (building furniture feels more like a luxury when your budget is almost exclusively tied up in home repair for a long time, so I feel like this is something I'm finally more free to explore). It's also a confidence thing; since it's been nearly a year that we've been sleeping on it, I can now vouch for the two dogs and two people who consider it a fantastic upgrade from the (crowded) queen-sized bed we got rid of. I also love it far more than any MDF or particleboard furniture we could have picked up on Amazon because it's solid wood and we made it custom for us!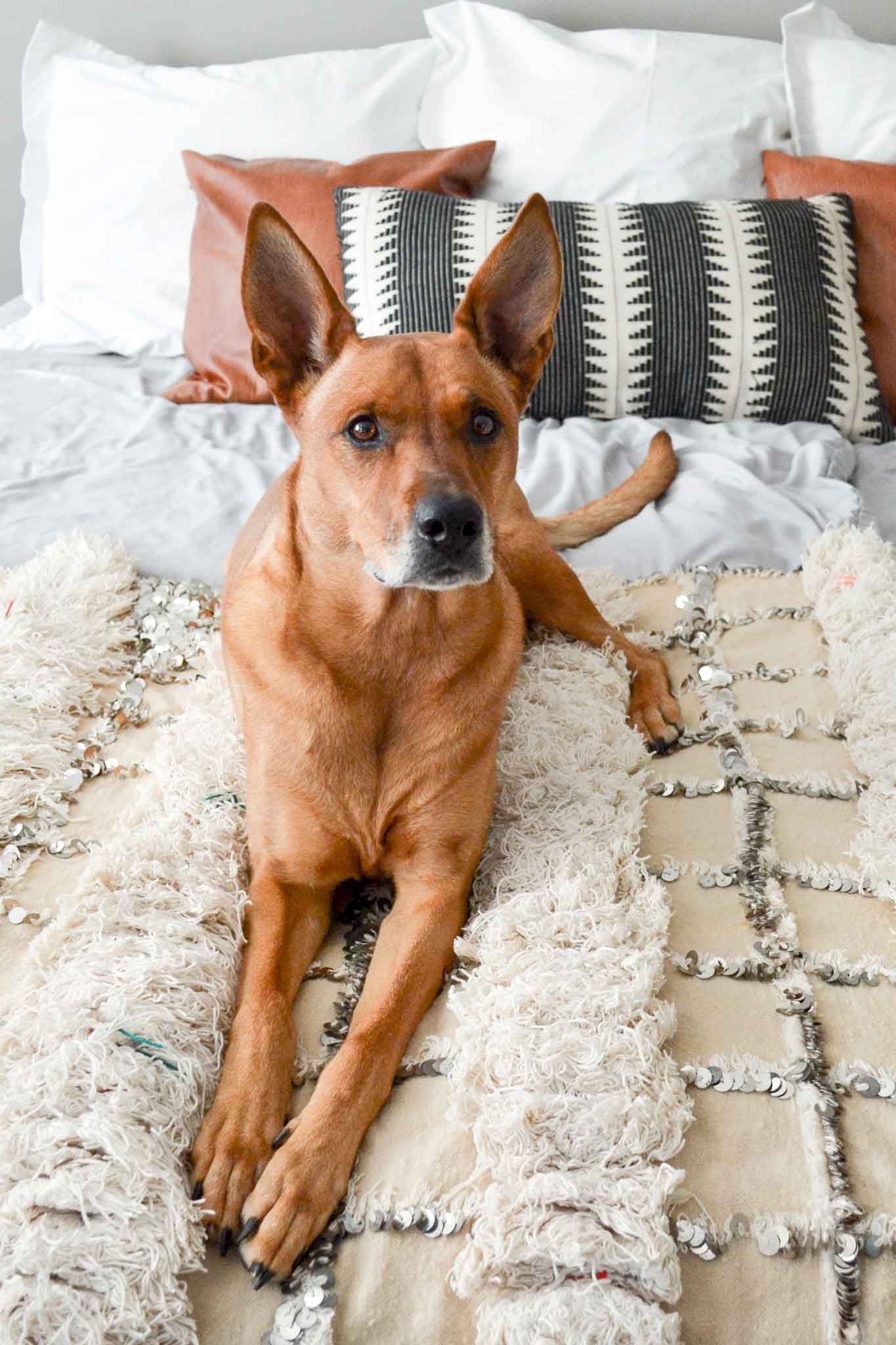 I should add that, I don't consider the design to be breaking any kind of bed design mold (what an odd concept to suddenly think about!). In fact, in hindsight, I would go back and turn the base into drawers for some under bed storage space (and may still do that someday, too). But what I like about it is that we worked together on the build, the design, and the video. I suppose in that way, it counts as our first big build that we completed together. I can both appreciate the accomplishment while noting that extra storage drawers so that these compartments don't go unused would be nice too!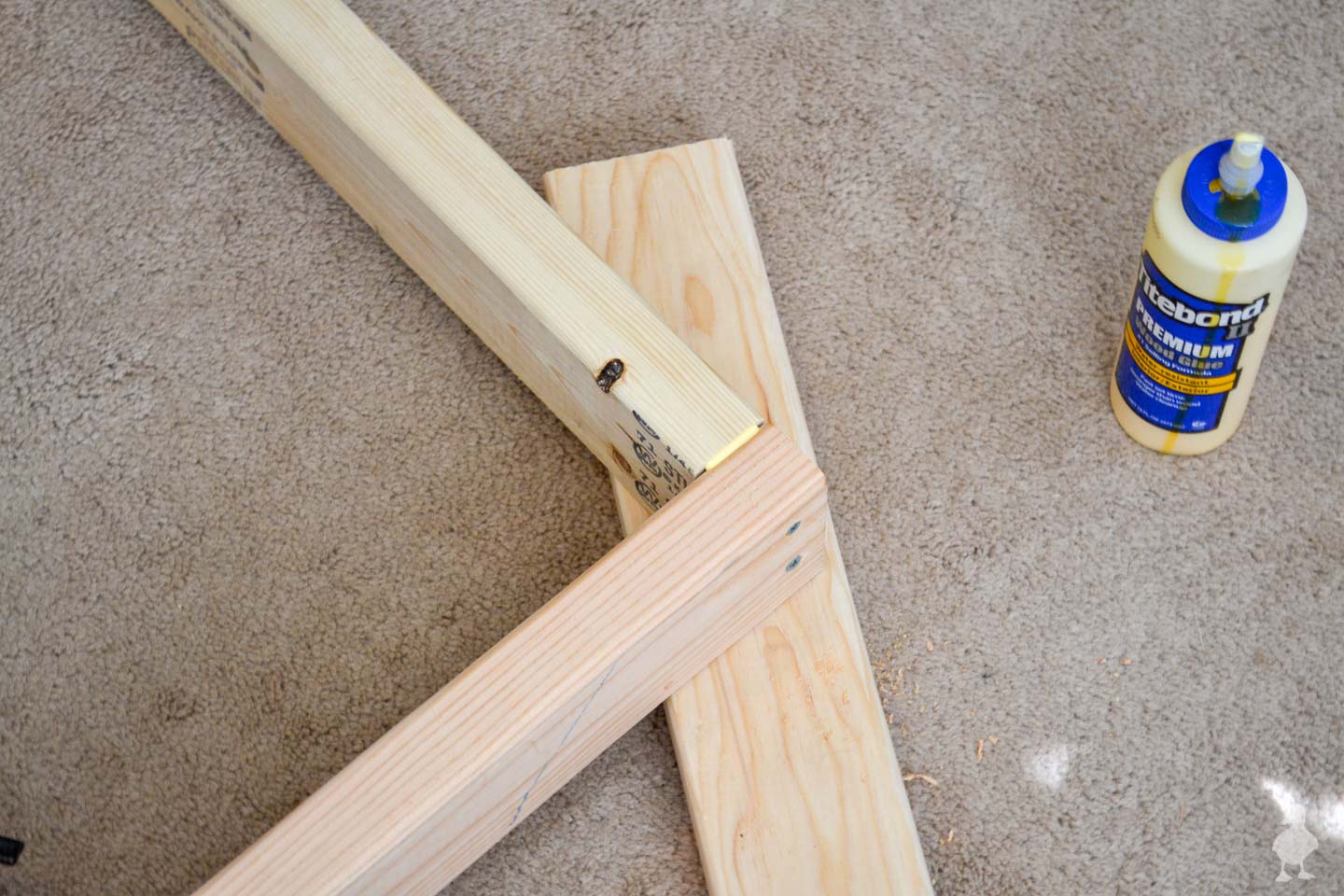 DIY Floating Platform Bed
Materials:

I'm sharing with you the order in which I built everything, but each of the 3 main sections (base, platform, slats) are kind of their own separate building projects, so I feel like the base OR the bed slats can be built first. It definitely helps to build the base (#2) before the platform (#3) to make sure everything lines up. Cost: $160, but I think that cost may drop if you used plywood and ripped it down instead of 1x3s for the bed slats.
UPDATES:
Full and queen sizes plans are also available, and by popular demand, twin size and california king are on the way as well!
I've gotten lots of questions about where the cut list is; it's IN THE PLANS! They're available in the PDF download where all the full diagrams, cut list, instructions, etc. are (about 11 pages of info). To access them, you just need to head over to my woodworking plans library and follow the info on the page.
1. Build the Bed Slats (x2)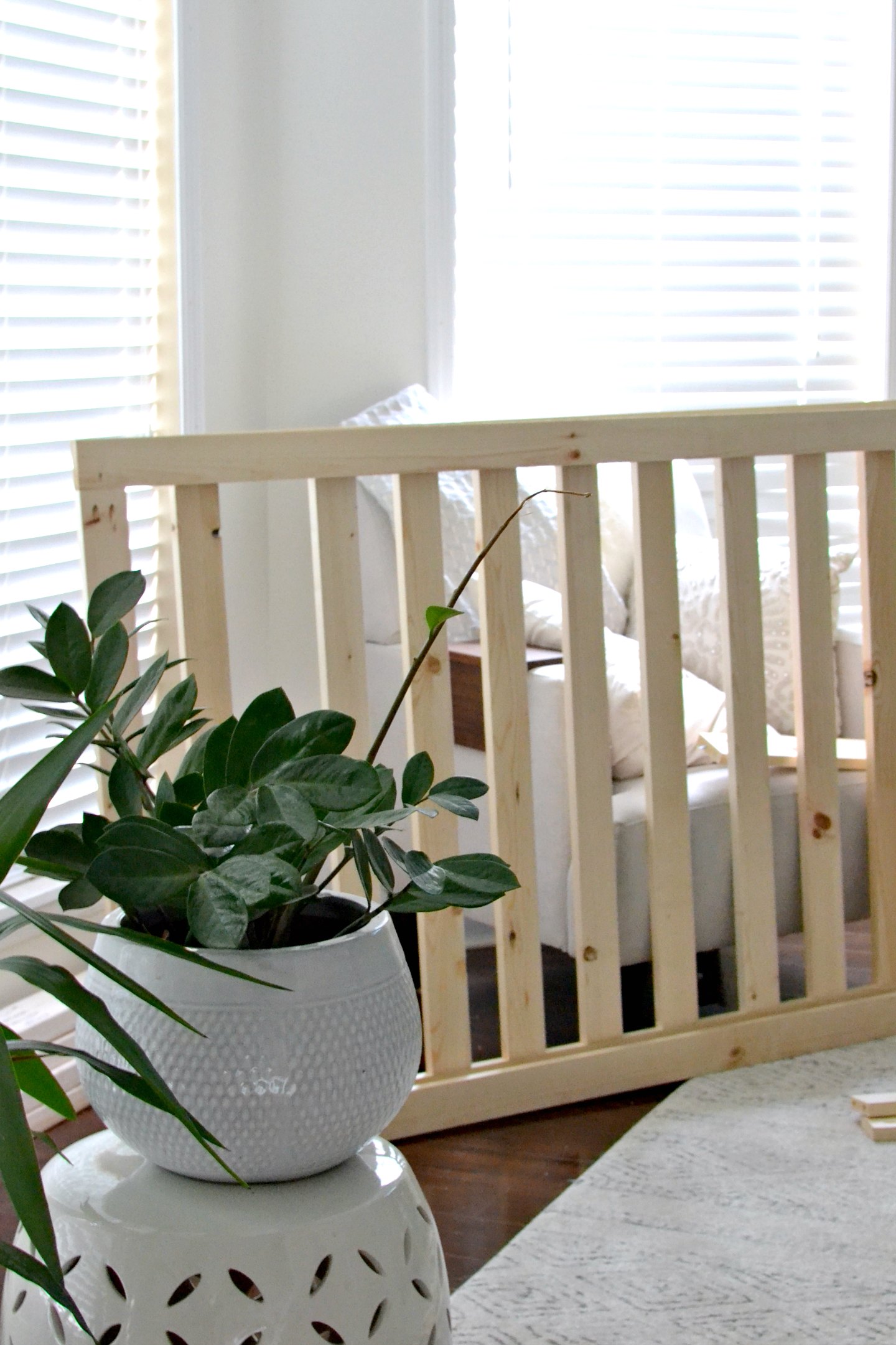 GIFs are becoming my favorite way to demonstrate these assemblies. But basically, I used my Kreg Jig to create a simple frame and then filled it in with slats. As you'll see in the video, I have ZERO shits about the proper spacing of these slats during the actual execution. It hasn't appeared to result in any dire consequences for K and me in this last year, but for the sake of your back, I'm still going to recommend evenly spacing things out as the plans show.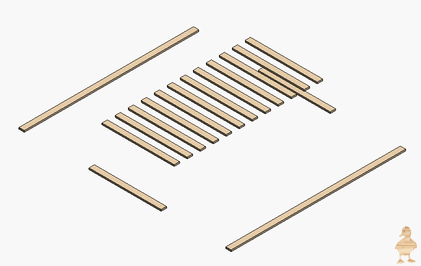 Our memory foam mattress rests directly on these bed slats, so there is no need for a box spring and allows the bed to look sleek and low profile!
2. Build the Base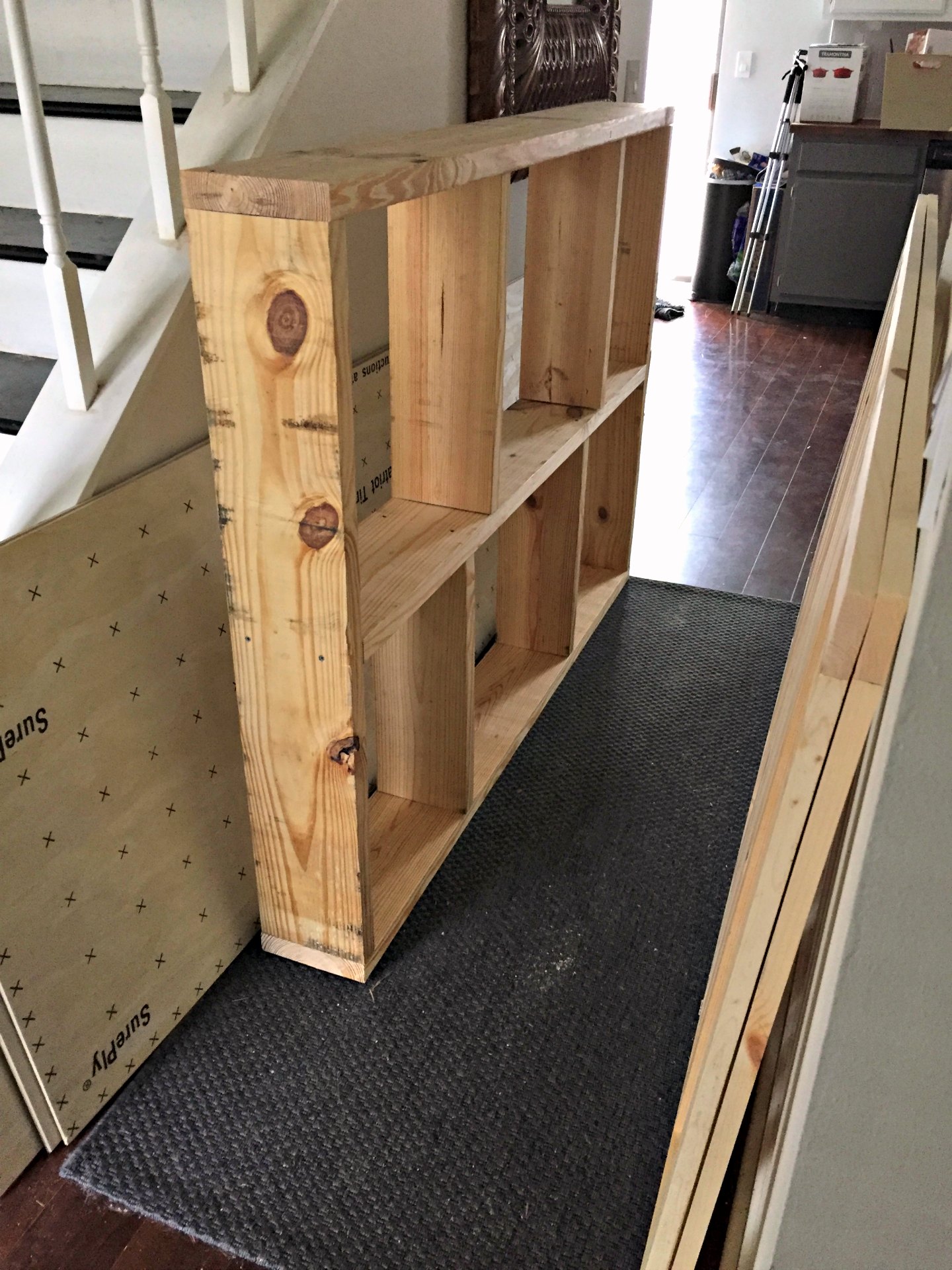 The base came together so easy and quick one night… that I didn't turn on the video camera! While I've certainly gotten better about that in this last year, this was the first project where it occurred to me HALFWAY that it would be good for a video. Oh well. It was also right around the time I was building the Rust-Oleum booth for the first WorkbenchCon, so it's safe to say I was pretty distracted (WBC 2019 is happening again THIS WEEK, and I'm teaching a class this time! Many of you know how nervous I get with public speaking, so wish me luck!*).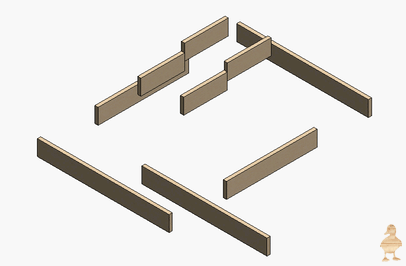 3. Build the Floating Bed Frame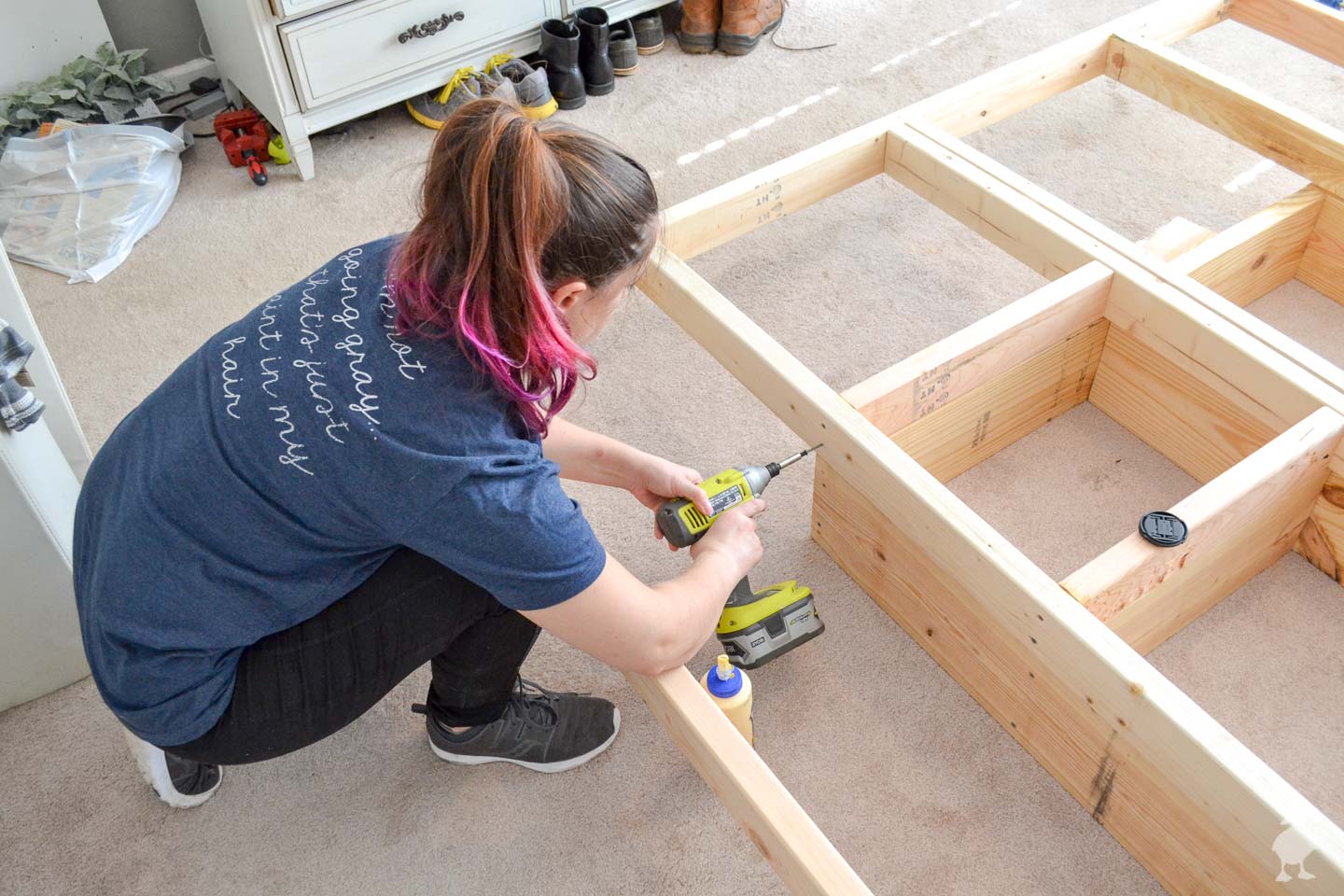 With the base built, K and I built the outer frame of the platform section, added two more supports down the middle (so that it can fully support the bed slats on all 4 sides), and then began assembling the rest of the platform on top of the base. This helped us to make sure that the additional supports that overlapped the base could line up and be fully supported by the 2x8s underneath.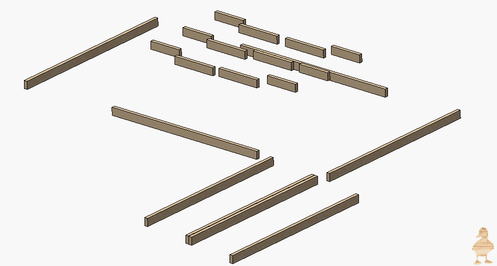 In my supplies list, I'm recommending that you use self-tapping screws. I'm doing that because we were pre-drilling everything before gluing and screwing together, and that is basically double the work.

We also screwed some of the middle supports at an angle (since the middle of the platform is doubled 2x4s, it was too thick for the screws we had).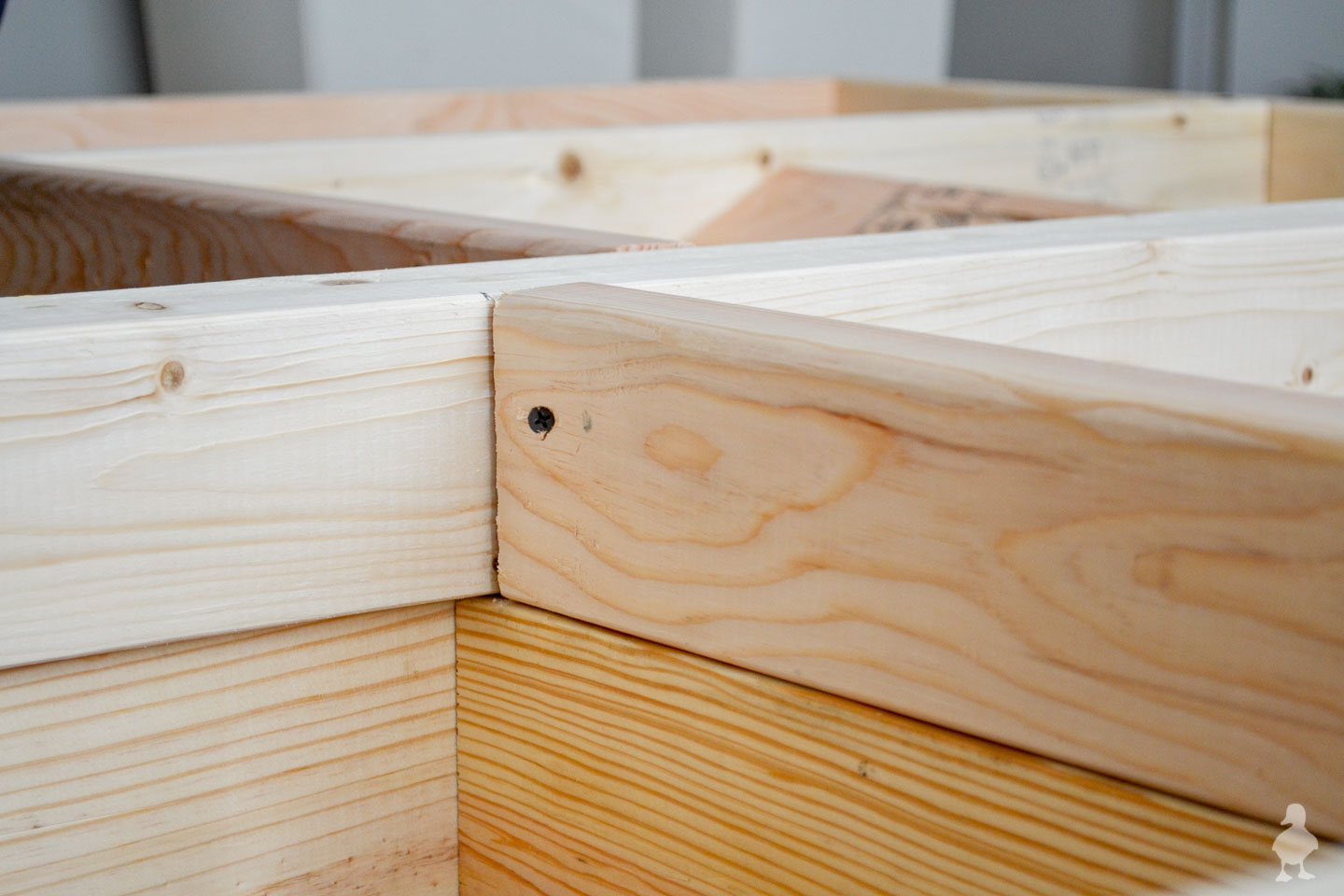 If you're pre-drilling like we did, remember to start at a more perpendicular angle to engage the drill bit and then move to more of an angle (this is to prevent the bit from slipping and/or breaking).

4. Assemble
We designed this bed to be in 3 main sections so that if we ever needed to move, we can disassemble and transport. To connect the platform and base, we relied on scraps (don't glue these so that you can unscrew later when needed!). This just made sure that the platform would never slide off. (Note: because these are made from scraps and your scraps may vary, these are not specified in the plans or cut list.)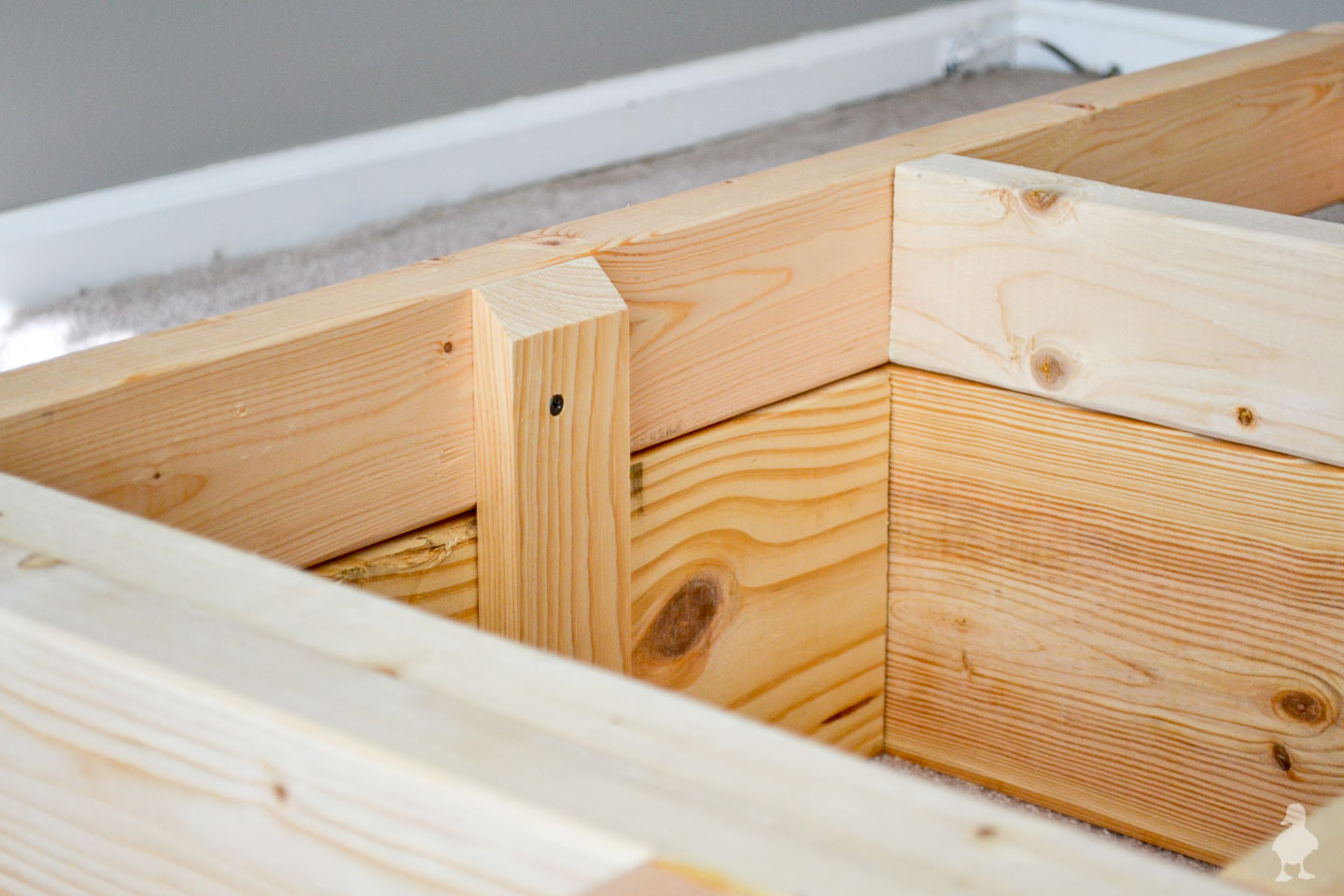 Once the platform bed frame and base were connected, we added the slats on top with more screws. The entire bed can move in one solid piece at this point, which you guys may have noticed when we bought and layered the new rugs.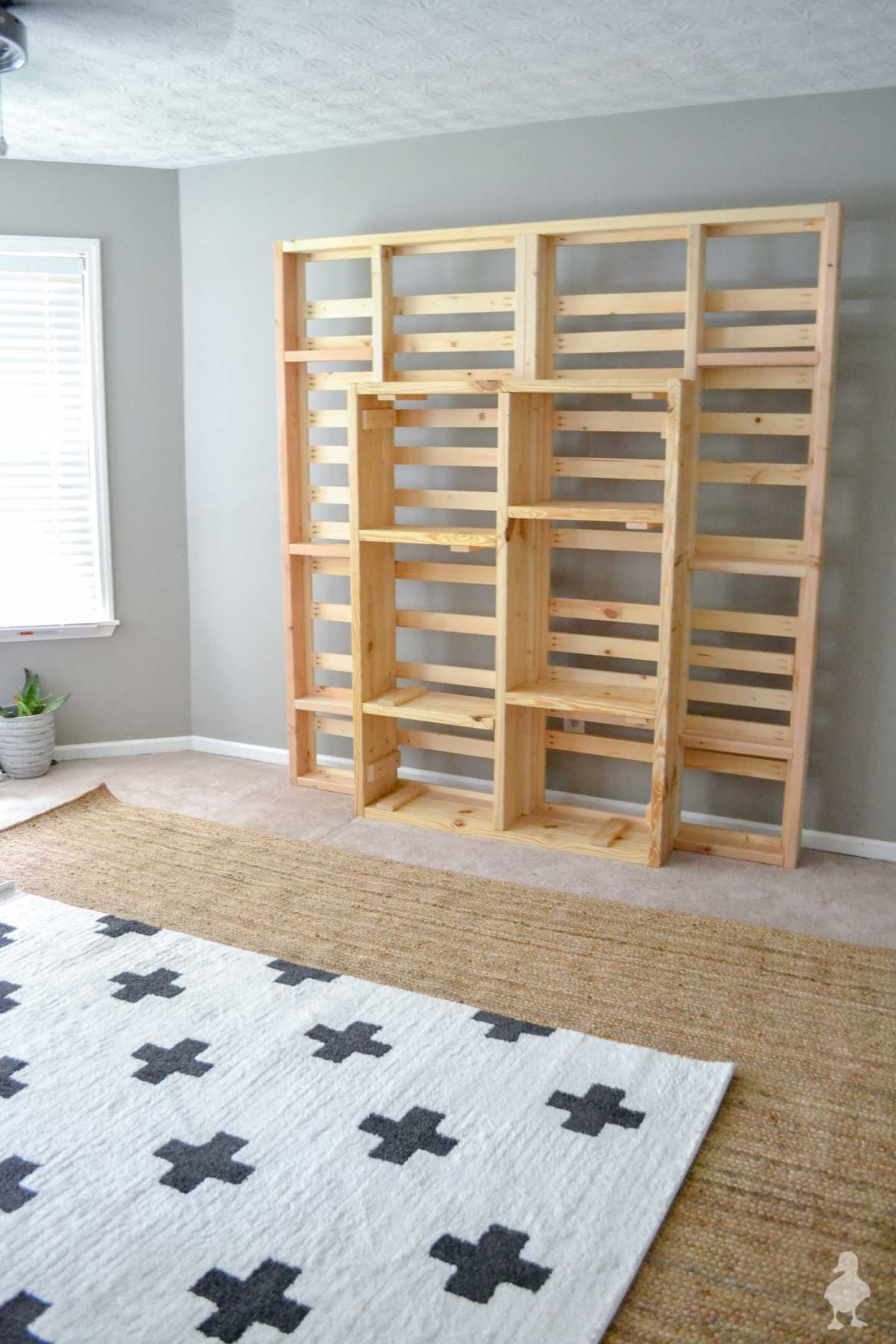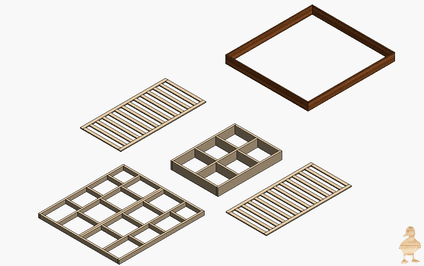 Bear with me on the "final" shot of this bed. I'm working on it. As with most situations when you upgrade the size of the bed, the bedding has to be upgraded as well. The existing mattress/sheets/etc. came from K's old place, and it is all very bachelor-life (none of it matches, it's all picked for comfort or convenience but never style, and almost all of it will have to be phased out as it *ahem* falls apart). So, I grabbed a few smaller pillows and blankets of my own and FINALLY got to bring out the handira I've had stored in my closet these last few years (a handira is a Moroccan wedding blanket — a very early splurge of mine I ordered from Marrakesh when I first bought my house and I still love it sooo much).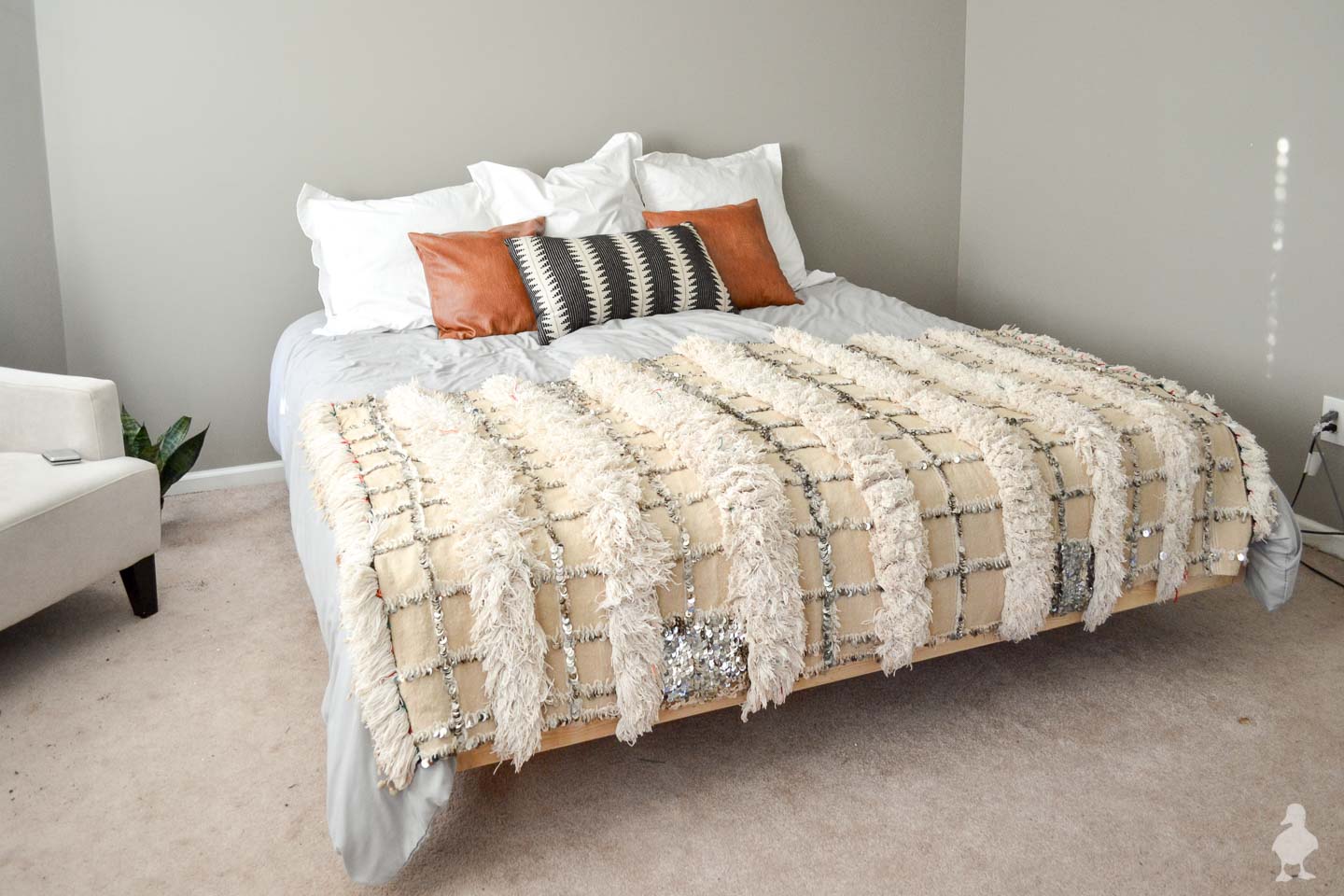 For the sake of making the bed look even better, I had a little fur-model step in to help. ;)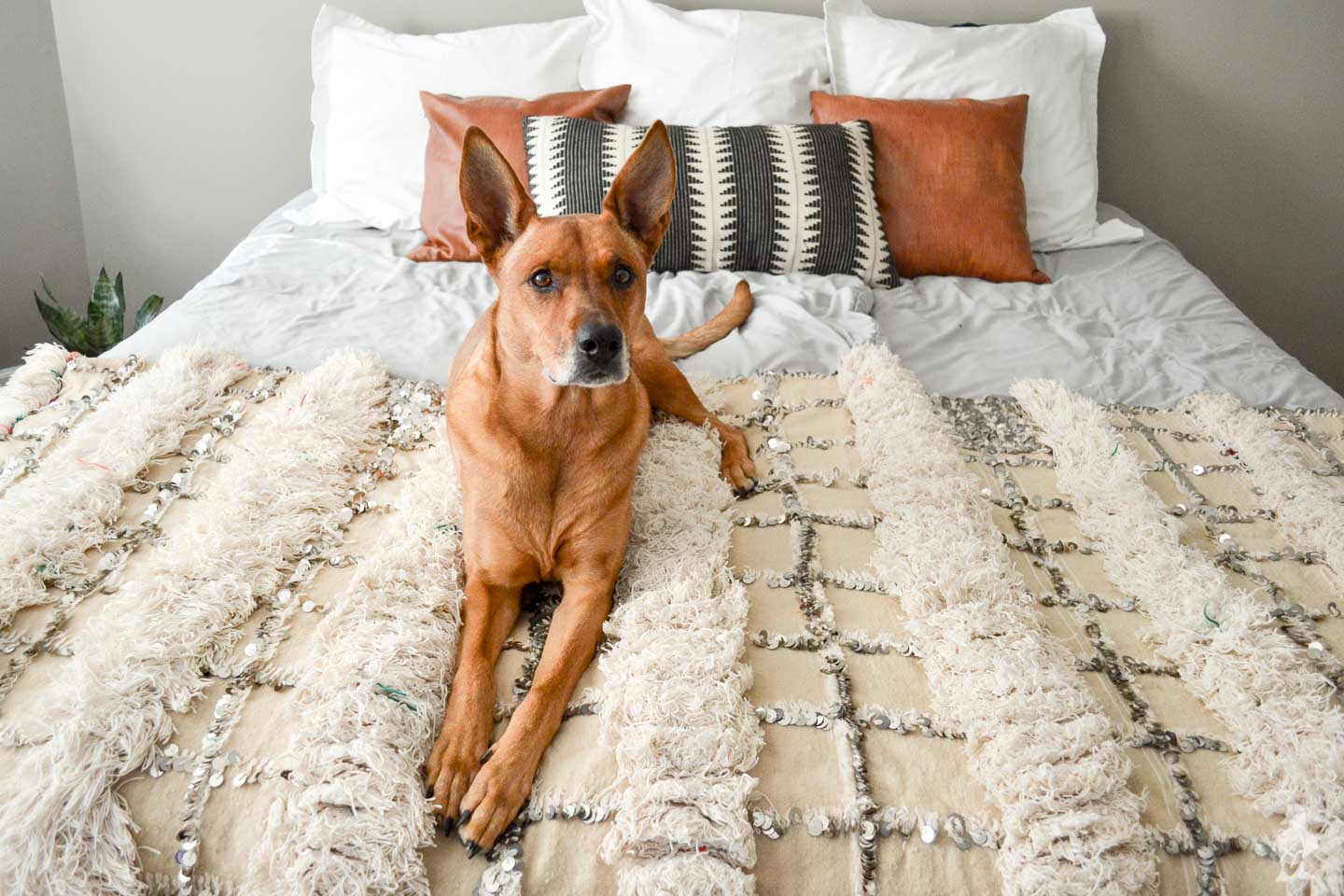 5-6. Headboard & Wrap
This is the part where we stopped because I have REALLY wanted to do a live edge headboard to finish things off. I still want to do that, but buying a large slab of wood as big as I want (basically to stretch across the wall!) is going to be VERY expensive, and I have a table saw I'm saving up for first.
As you guys saw last fall though, I'm thinking that we might be able to source our own wood slab thanks to K's family property. Update: we wound up doing this, but with a neighbor's cut tree! While the idea of learning how to create our own Alaskan chainsaw mill or find a portable mill to do it for us, that still requires drying-out time, which still means a lot of waiting.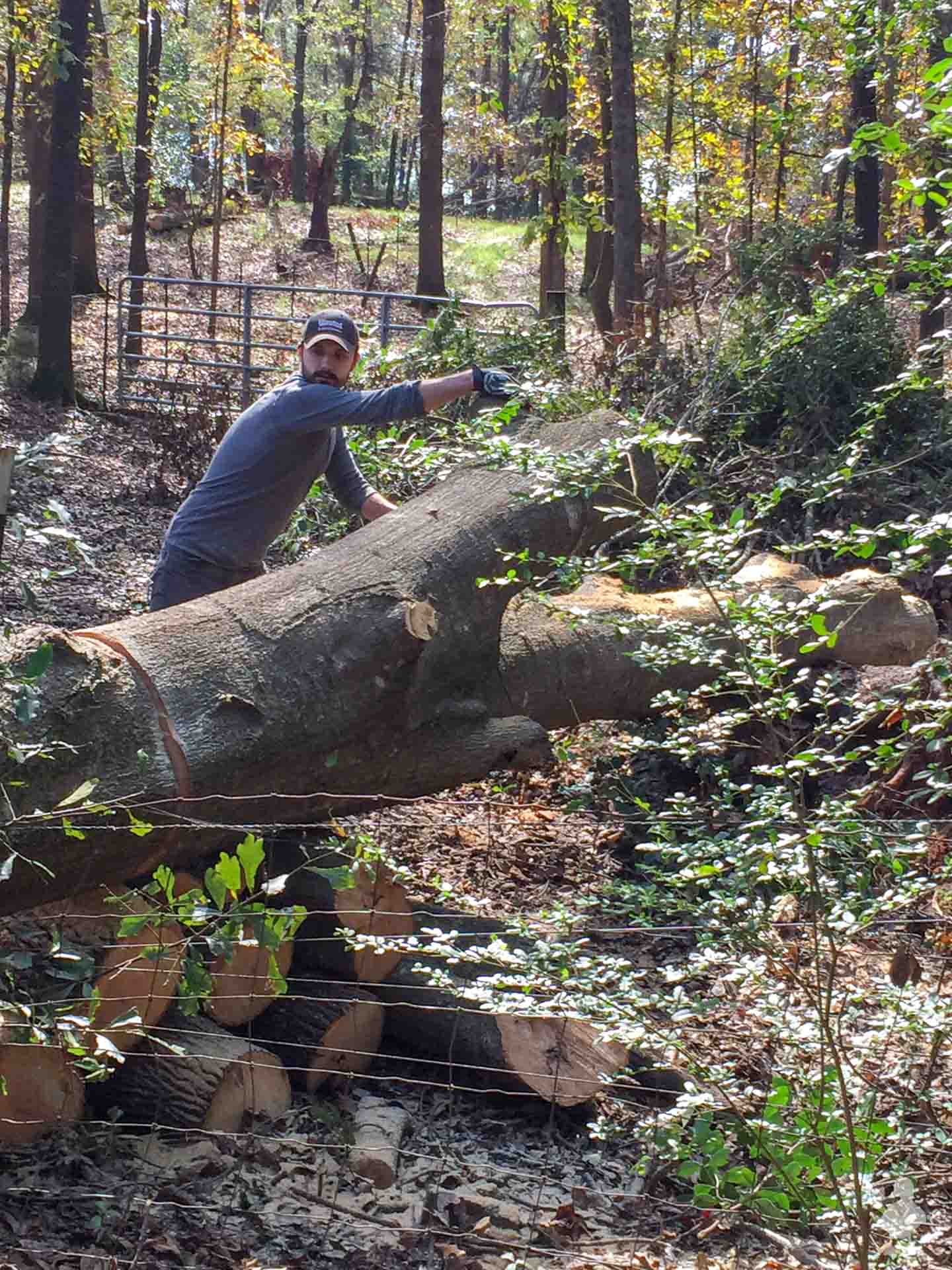 That leads me to door number three — at least, temporarily — coming up with another headboard idea to serve us well in the interim. For that, I'm thinking of carving up my own headboard using some of the angle grinder carving skills I picked up last year (I'm actually planning on a LOT of carving projects this year, but that's for other posts entirely). I'm considering a faux live edge, a totally custom carving, or even plywood. The possibilities are pretty awesome, but the more I think about it, the more I think I may even create something I love too much to change. Which would be an awesome happy ending (and considerably cheaper).
In addition to the headboard, I also need to wrap the still-exposed part of the bed platform in a finished wood of some kind to dress it up a bit (which you can see in the GIF assembly above). For the mockup, I chose walnut as it's one of my favorite species, but I ultimately want to match the wood ot the headboard, so that has to be finalized first. There are so many beautiful kinds of wood that I've never worked with before, so a lot of them are on the table. To see the full mood board breakdown, check out this post.
So, that's where we stand as of today. There will definitely be more pics of this same angle of the room coming soon because of the new paint (feature wall!), art (hung!), bedding (delivered!), and more, so expect to see that very soon. It's always so hard to figure out stopping-off points when in the middle of a room renovation because nothing feels done enough… but if I consider that we've been sleeping on this "new" bed for almost a year now and we still haven't finished the headboard situation, it's as good of a place as any to share. I honestly can't wait until that feature wall is in and things really start to take off! More soon.
Frequently Asked Questions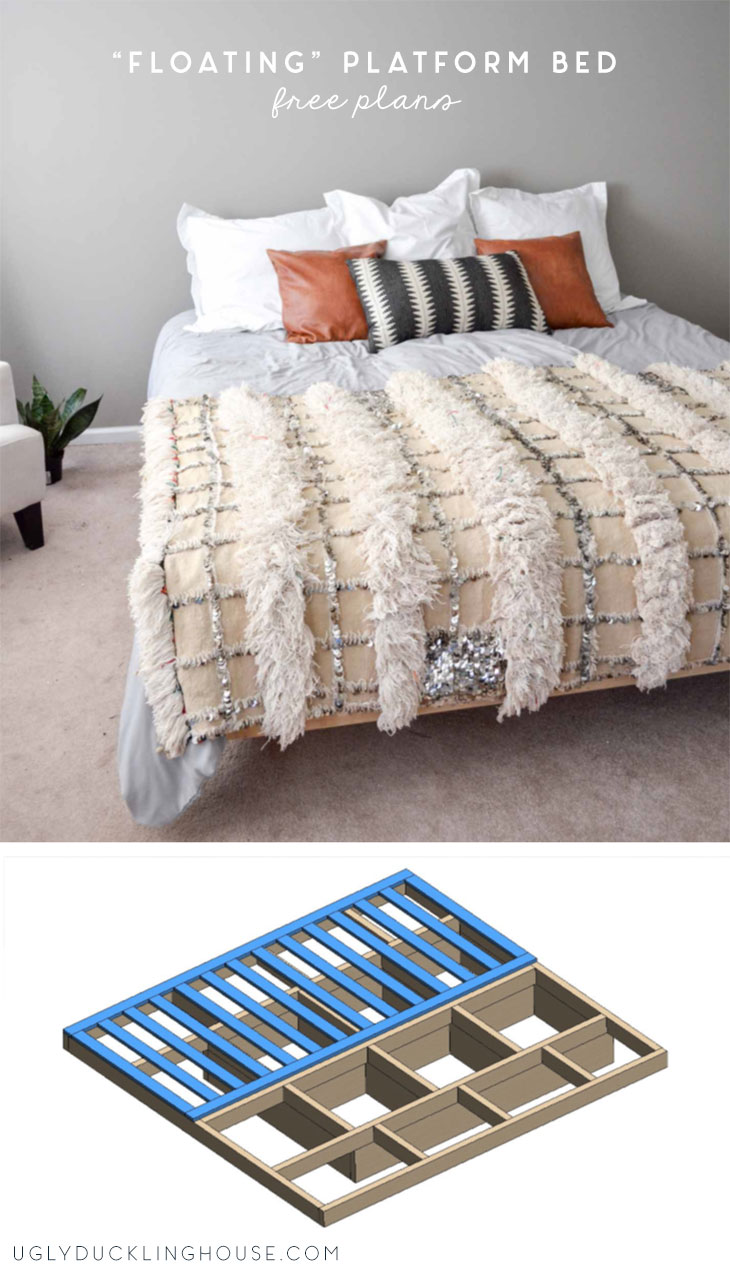 And one more update since it's been a few years since this post first went up: we built an entire feature wall around this bed and I love it even more! It's a slat wall with a bump-out shelf, hidden drawers that pull out under the nightstands, and lots of smart home features (voice-enabled light fixtures, wireless charging, a backup power surge protector for storms so our laptops don't get fried, etc.). You can check out that build and the YouTube video right here!