Disclosure: this post may contain affiliate links, which means I may make a commission if you decide to make a purchase through one of my links, at no cost to you.
This one will be a relatively short post, because it's only about a mirror. But as far as mirrors go, it's pretty damn big! Check out the newest hallway addition:
I bought this square peacock mirror a while ago on sale at Homegoods — $89, I think? For months years, I've planned on putting it in the dining room (?), in the living room (?), and other places. But I could never seem to pull the trigger. I kept thinking and re-thinking its placement.
That is, until this weekend, when I finally decided it's best to be completely oversized in the hallway between the front door and the kitchen. Given its size (over 30 inches), it doesn't seem like it should go here, and yet, it works!
I tend to do this with big statement pieces. I bought it not long after "peacock" and "honeycomb" mirrors were big trend (for years, they seemed to be everywhere — Restoration Hardware, Pier One, Ballard Designs, Pottery Barn, etc.). It happened to be a trend that I actually really liked, even though I sometimes hate it when I think something is a little too popular. Here is a great example of one in a home that was styled really well, and this one too.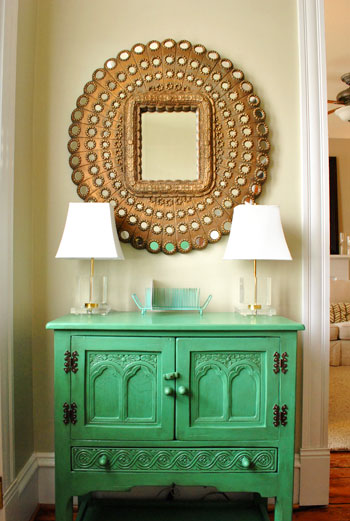 Similar mirrors
*this post contains affiliate links*

(if you can't see the widget above, you might have to click over to the actual post on the blog)
But, I do like ornate mirrors (and things with a touch of Moroccan influence). Even though I thought this particular trend looked amazing in all of the blog posts I was seeing using them, I knew that in time, my overexposure to one that looked exactly like all of the ones I'd been seeing would probably make me not like it as much (when you're a DIY/design blogger, you tend to gobble up trends like you're on a fad diet through the sheer amount of posts you read on a regular basis, which gives you design fatigue after a while). I spotted this one, which matched well with both the parts that I liked about the trend and the fact that it was just different enough to be something I hadn't seen yet — score!
With all of the arguments not to buy in my head, it was one of those "it's heavily discounted, I really like it, I'll probably regret not buying it more, and if I grow out of it, I can always sell it" justification situations, and I found myself taking it home. Does Homegoods have some kind of special oxygen pumping into their store, like casinos? It's a Homegoods marketing scheme.
Then, I kept moving it from room to room, because I kept changing my mind — never hanging it.
Sometimes, all you need to finally do something is to run out of excuses not to do it right now. I was basically trying to give myself the choice to either finally find somewhere to put it, or accept defeat and sell it to some adultier adult who might actually hang it on the wall. And wouldn't you know it? Procrastination had finally run its course. The choice became crystal clear.
I took a few monkey hooks, measured out the wall, and popped the mirror in place (seriously, if this description sounds at all like you, get yourself some of these things… these are the exact hooks you need that will remove that last I-dont-have-the-right-screw excuse — and here is a post on how to use 'em, how to determine placement on the wall, etc.). Now that I'm walking past it every day instead of stashing it in a corner to hang "later," it feels new again!
I'm probably the queen of procrastination, but I'm curious to see how many of you guys have done something similar with decor. What's the longest you've ever held onto something before finally putting/hanging it in your house?