Disclosure: this post may contain affiliate links, which means I may make a commission if you decide to make a purchase through one of my links, at no cost to you.
This post may contain affiliate links. This won't change your price, but may share some commission. Read my full disclosure here.
I've got some great new U-shaped "floating" shelves in my half bath, and I'll show you how to make 'em!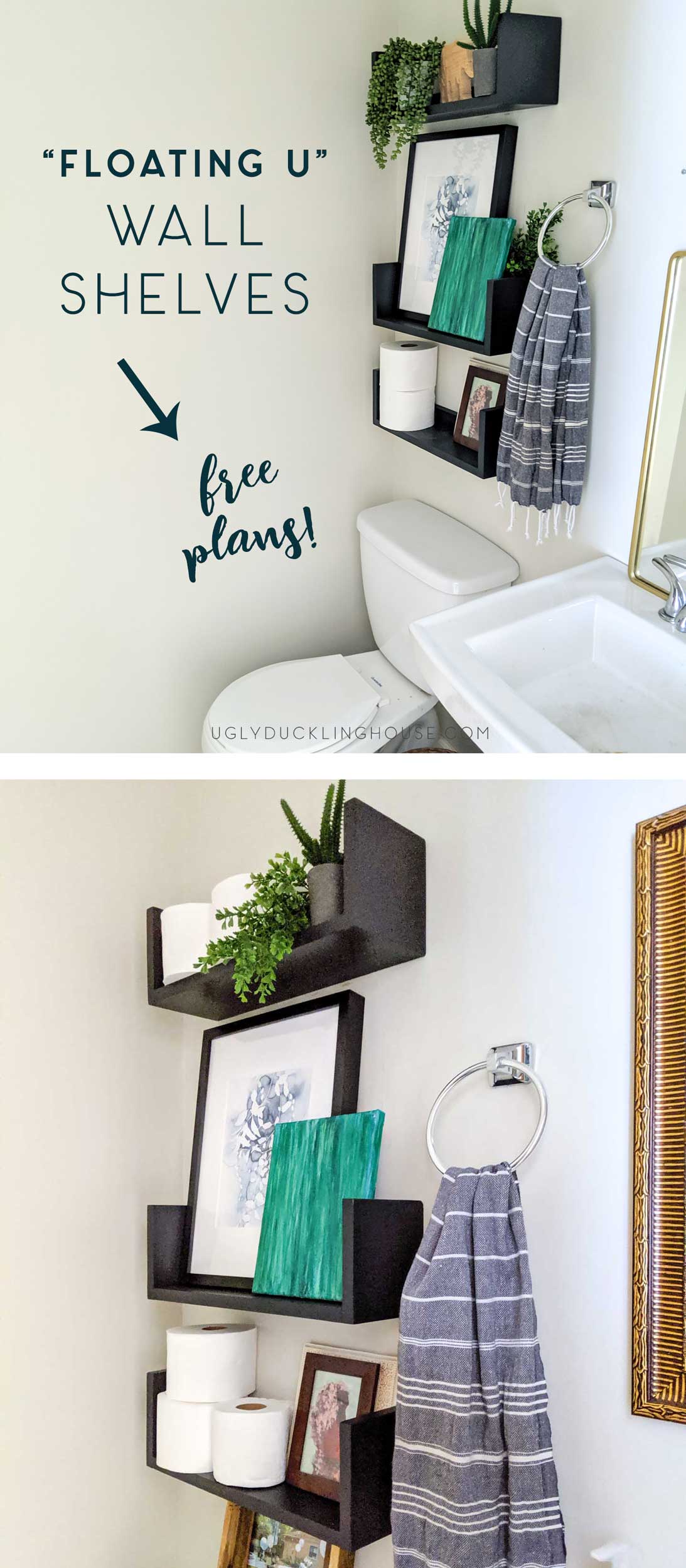 Today, I'm showing you a room I haven't shared much on the blog (and not for a LONG time!)… my downstairs half bath, just off the main hallway.
For the longest time, I've had a dinky little cabinet to serve as storage in this room. It didn't really suit the wall space, but it was better than nothing. Because of the pedestal sink (something my uncle installed for me not long after moving in), I haven't really given much thought to what else I might do in here. I always knew the cabinet was too small, but it's only recently that I felt compelled to DO something about it.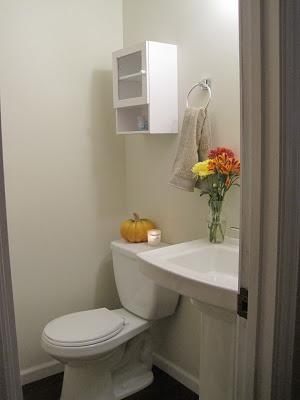 In about an afternoon (plus a few more for spraying on paint), I got rid of the dumb little cabinet and constructed these great little black wall shelves that hold essentials and add some art to the half bath. It's been a few months since I added them, but I think I got my original inspiration after seeing a photo at West Elm and thought, "I can make that from my scrap boards!" So that's exactly what I did. 😊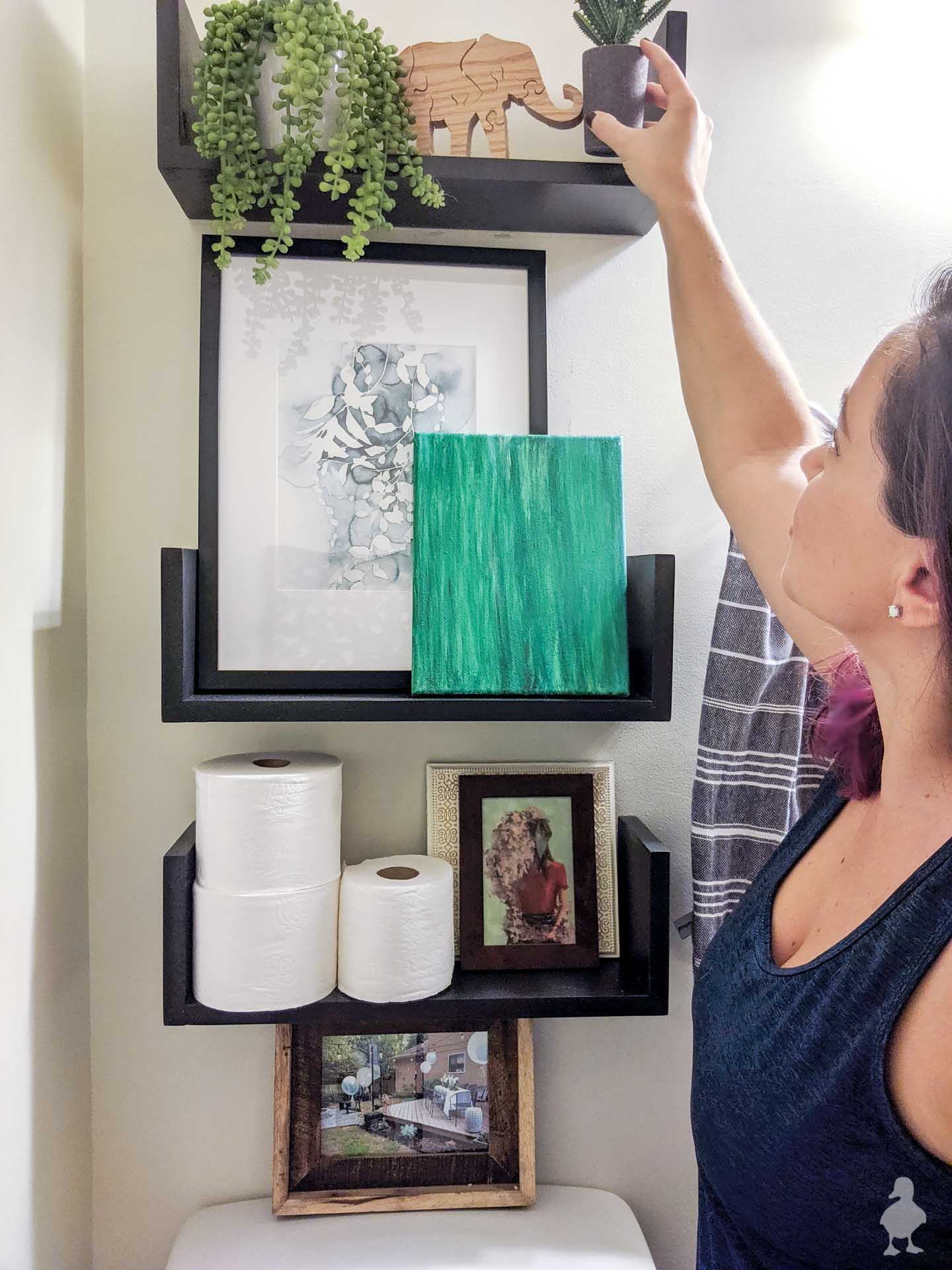 This room is awaiting a larger makeover — color, pattern, a new mirror, and other upgrades — but I am so glad I started with these to save me an organizational headache while the room waits on my to-do list!
How to Make These "Floating U" Shelves
Even though these are really simple shelves, I have included the step by step instructions as well as a video and links to the plans below.
Materials & Tools (makes 3 shelves)

**If you have a table saw or circular saw with a track guide, you can also rip down one 1x8x8ft board into 5-1/2″ wide, 1-1/2″ wide, and use the remaining strip to serve as the front lip of the shelf; this is cheaper than buying 3 different wooden planks, but it requires a little more work.

You could also potentially make these using 3/4″ thick plywood and cut to the same dimensions as found in my plans. For those, I would also recommend possibly using edge banding if you're planning on going with a stained wood look.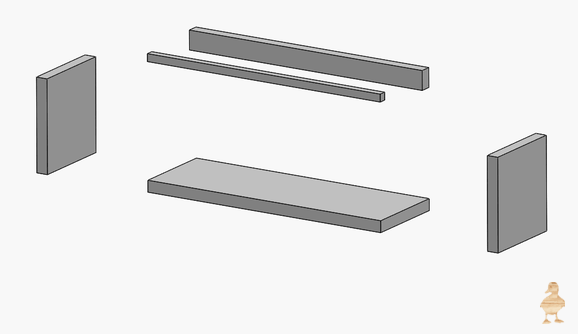 Time needed: 45 minutes
This U-shaped floating shelving takes so little time to make! You can do the bulk of the work in a single day, allowing for dry time (paint/stain) before hanging.
Cut bottom, sides, and back

I LOVE my miter saw. It helps me make so many projects! These are simple cross cuts (cutting across the board at a right angle). You can actually make the shelves longer or shorter to fit your space — the 6-inch sides stay the same regardless, but the bottom, back piece, and optional front lip should all be the same length. I made each of mine 18 inches wide.

Glue and clamp

You can pretty much make these in a variety of orders (add back first, then sides; add one side, then back, then other side, & so on) but I find the easiest way is to add the back and then both sides. I whipped these up very quickly with glue (and now that I have my pin nailer, I'd add those too). I have had these shelves installed for several months now without issue, but if you prefer to add fasteners to hold more weight (such as with pocket holes & wood screws), do what you think is best.

3. Add front lip (optional)

I didn't want a lip for my bathroom, but I have been thinking of building these for another spot in the house which would need a front lip to keep items from slipping off, so I made my plans to include a front lip. So far, none of my art or other items have been a problem with slipping forward.

Fill all knots and seams with wood filler

I wanted these to look super seamless, so I filled everything with wood filler (including the bottom) so that none of them would show once painted. Sand to prep for paint.

Paint

I painted the shelves outside in my spray tent with my paint sprayer, which made getting a nice, smooth coat really easy! Color is SW Tricorn Black.

Hang

To hang, I marked several level lines on the wall to line up to the bottom of each shelf and went from the bottom up. I then drilled through the shelf with a small drill bit just enough to leave a mark on the drywall, which is where I hammered in a heavy-duty wall anchor. To make sure the head of the screw couldn't be seen when screwed into the shelf, I took a larger drill bit to create a small recess so that the screw head could sink into the back support (and not stick out). This is me being very nitpicky because you pretty much don't see the back of the shelf AT ALL because art and other items make the entire back piece disappear once you put things on the new shelf!
And done! I'm probably going to keep swapping a few home decor items around on these shelves until I finish the rest of the room makeover, but I'm loving having my Granny's green painting in here and the black frames as the accent color. I think I'll use both as inspiration for the rest of the room.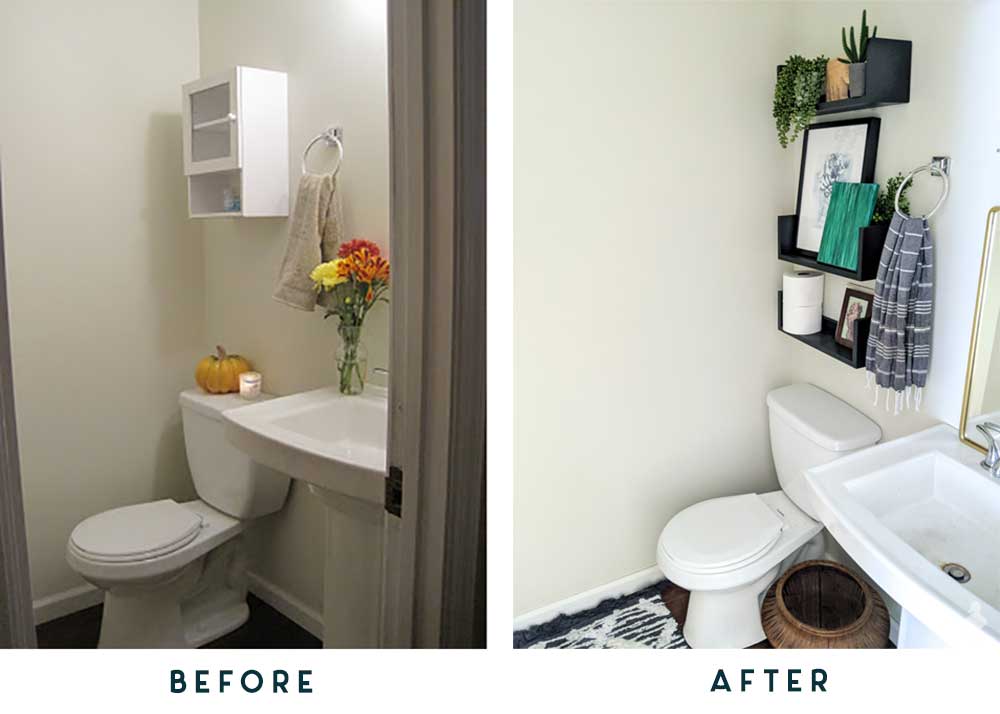 I may get asked this question (just because I get asked every time I talk about shelves): I did not weight-test these. I hung them, added the art & other decoration I wanted to put on each shelf, and called it a day. I understand the desire for an answer to the question (your needs may differ from mine and you're just wondering how many heavy things it can hold — totally reasonable!), but I simply build for my own needs. If they don't fall down, I consider it sufficient quality control for my personal weight requirements. I use the same wall anchors (linked in the materials list) for most of my projects because they're heavy-duty and can hold more weight than I typically need, so I'm happy with how it turned out!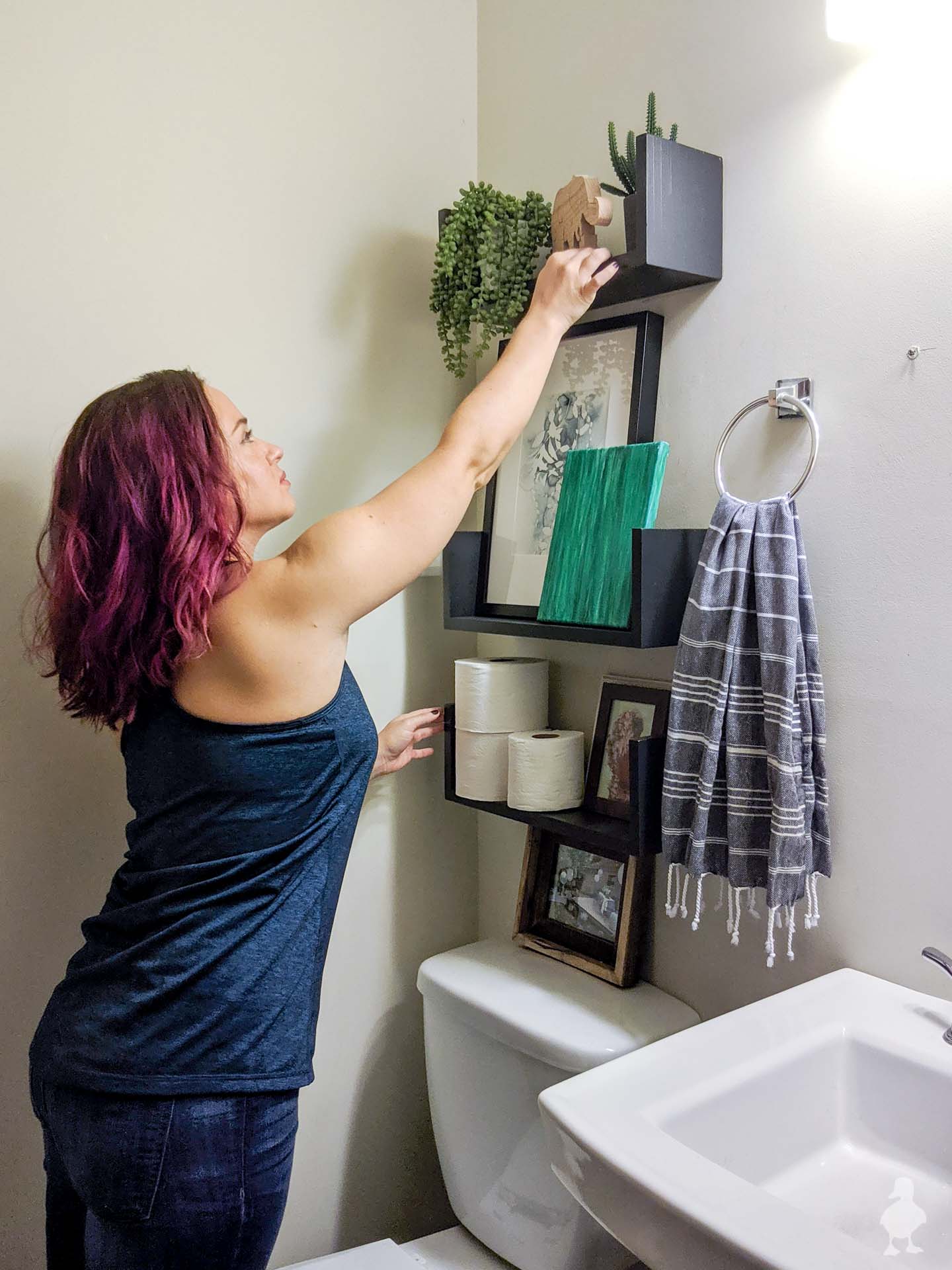 While you're at it…
I'm sharing this project today as part of a January organization challenge hosted by Katie at Addicted 2 DIY! If you're looking for other great organization ideas this time of year (aren't we all), then check out the links below for more step by step tutorials and let them know I sent ya!
More DIY Shelf Ideas
Don't forget to pin!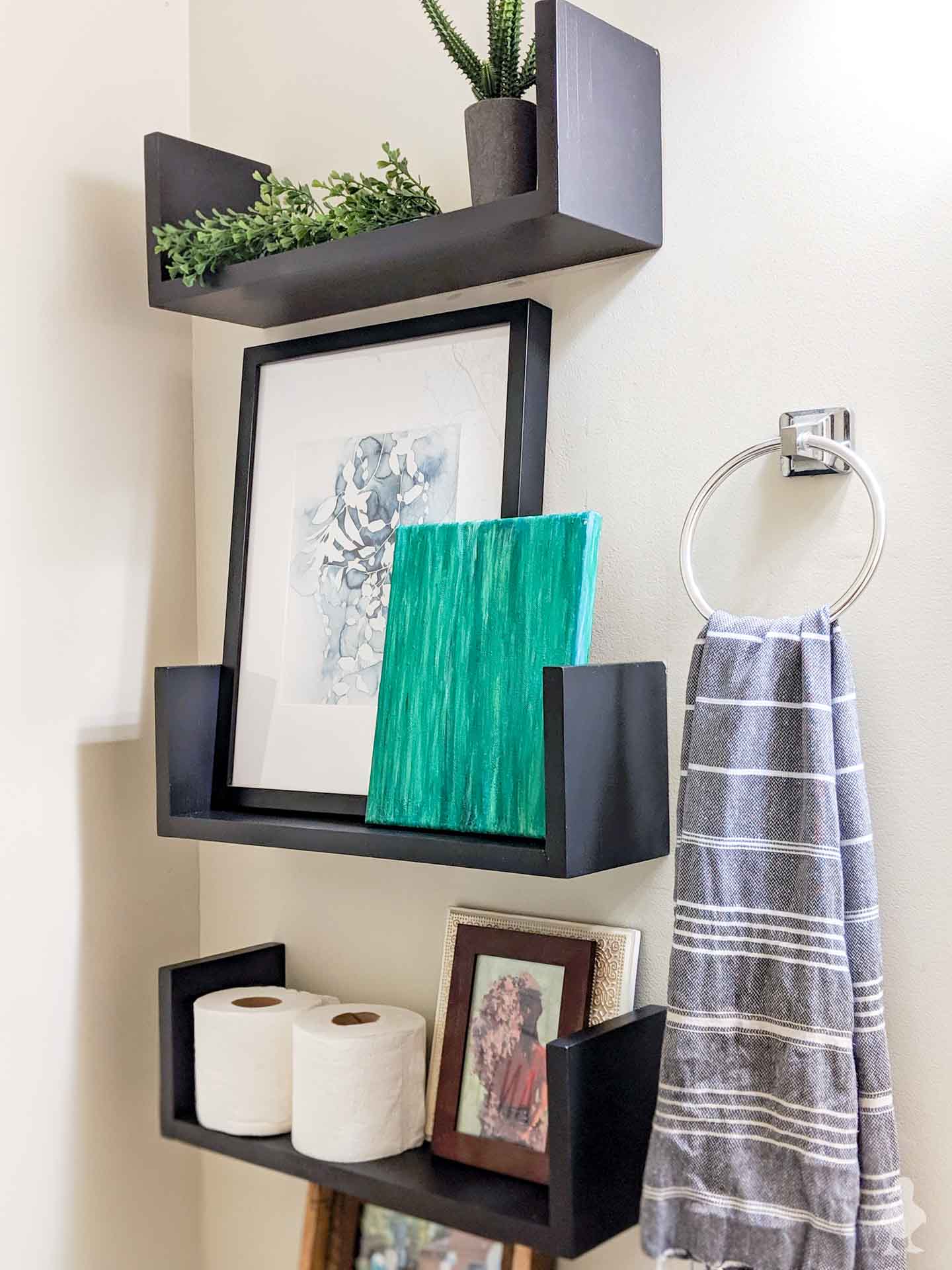 Don't let those cutoffs from bigger woodworking projects and home DIYs go to waste! Here are tons of ideas on how to reuse the scrap — you can make gifts, décor, and more!