Disclosure: this post may contain affiliate links, which means I may make a commission if you decide to make a purchase through one of my links, at no cost to you.
This pink and blue goldfish pattern may not be the color scheme you think of when you hear "goldfish", but why not have a little fun with it, right?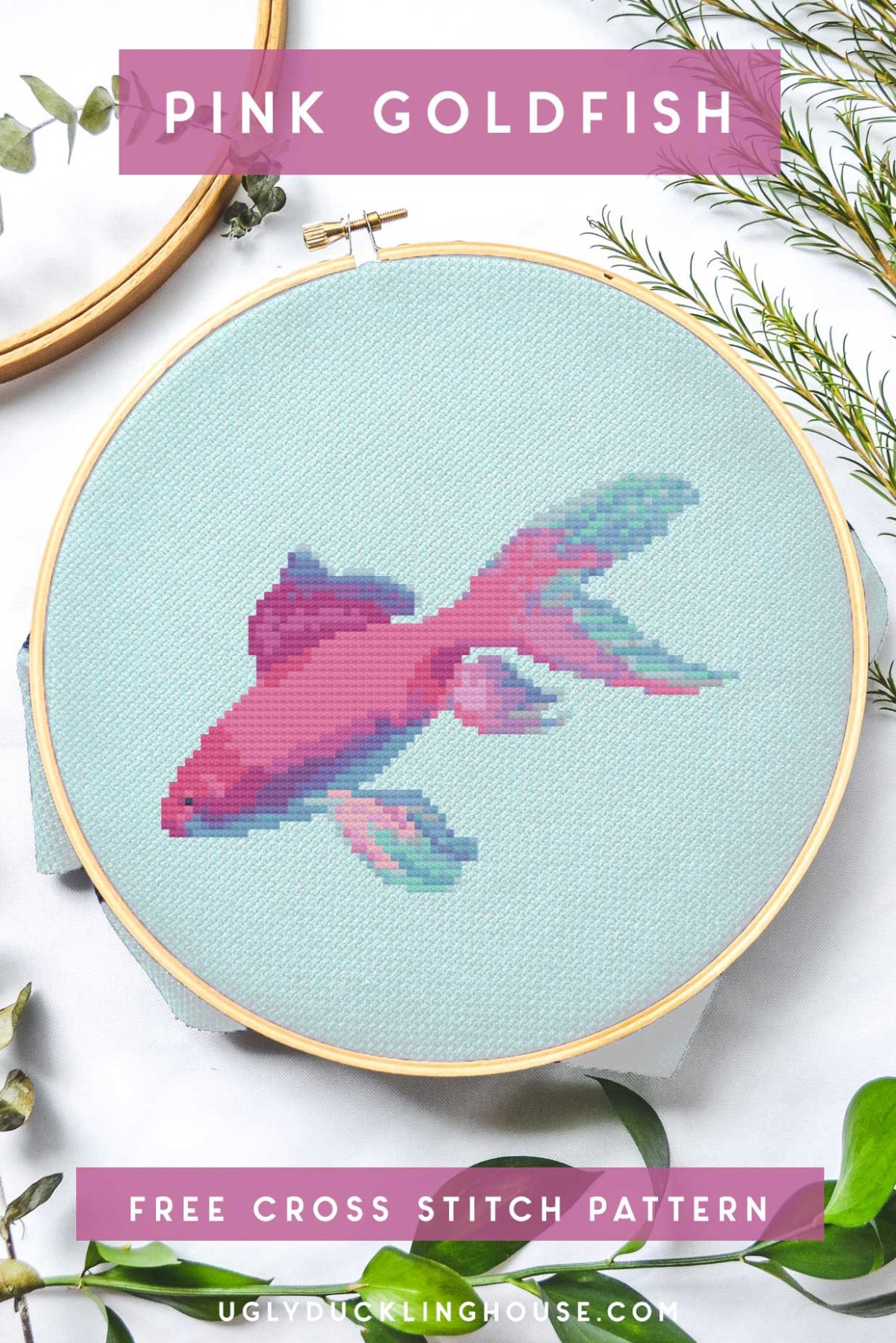 It's the first of the month again, so you know what that means! Another FREE cross stitch pattern.
Have you ever had a fish as a pet? Back in the days before my blog when I worked at an actual office, I was able to keep one as an office pet. He was a colorful Betta with a lot of personality and flair; I named him Paolo. He kept me company for a little over 3 years, and I was pretty bummed when he finally died. I never got another fish, but I do remember him very fondly! I love it when little animals have attitude (and clearly, Paolo was not my last encounter with that).
Why would I bring that up? Honestly, meh. This post is about a fish, and cross stitch, and a new pattern that's now free for you guys to download. But instead of your typical "gold" goldfish, I decided to make up my own coloring and added a little flair — kind of like Paolo used to have (he was red though). I think it would make a great piece in a kid's room, but it could also fill in an eclectic gallery wall that's just needing a little something-something.
archived
this pattern is now available through our sister site
Become a member today and save 25% with code ARCHIVE25
About this Pink Goldfish Cross Stitch Pattern
Designed for 14 count Aida
Full counted cross stitches only
DMC floss colors: 20
Size: approximately 5.5 in. x 4 in.
I haven't made this one myself yet (I'm actually working backward trying to finish my 2019 Christmas one early so I can make a DIY video and tutorial for you — a few folks have asked for a beginner cross stitch lesson and I love how colorful the Christmas one will be!).
How to get the pattern: You can get all of my free downloadable patterns by going to my Cross Stitch Patterns Library and entering your info. Once you confirm your subscription, return to the library and use the same info you entered as your login:
Don't forget to pin, and if you make this pattern (or any of the others I've shared), please tag me on Instagram @uglyducklingDIY so I can see your finished piece! If you have ideas for new patterns, let me know. I've pretty much got all of 2019 slated for release at this point, so you can make suggestions for 2020 ideas and see any of the rest of the year's sneak peeks over in the library too.
Happy stitching!
pattern time limit
Patterns are available for free for a limited time to make room for new designs. To get access to the entire archive and lots more patterns, check out our membership site, NeedleSpark!
Check out the library to get access to currently available patterns and see previews of future releases!