We are slowly winning our war with our backyard ivy.
Just a few weeks ago, I posted a few pictures of what our ivy looked like before Scott attacked the vines with some heavy duty clippers:
After Scott cut about three feet of space from each of the ivy-laden trees, we noticed that the leaves were starting to turn brown almost immediately. But, without a two-pronged approach of cutting back plus chemical treatment, we were told that getting rid of the ivy for good could take two years.
Cutting down the vines from the trees would kill the ivy creeping up the trunks, but it wasn't going to stop the ivy on the ground. So, we treated the surrounding area with an herbicide specifically made for ivy (by the way, I really love the word herbicide; I'm effectively murdering my plants, which is kind of funny to me).
My research (i.e. Google) indicated that two major ingredients in herbicides help kill the ivy off: Triclopyr (for the tree ivy) and Glyphosate (most effective on ground cover). I found both ingredients in Round Up Poison Ivy Plus Tough Brush Killer at my local Blue (Orange should have it too).
The results thus far after one treatment look like this:
After
As a word of caution, this weed killer seems to be a very effective general plant killer. If you have surrounding plants that you don't want to die, I suggest replanting them elsewhere. This isn't much of a concern for me (the ivy is pretty much choking off everything in its path, so it's a loss I'm already expecting), but you will see your plants quickly die if this stuff comes anywhere near it.
The instructions for application suggest that it's best to apply during the growing season (summer months) every two to three weeks. Also, it is normal to see fresh little green buds popping up after treatment (new growth to counter the older greenery dying). Because these leaves are not yet coated in a waxy film like the older leaves, a quick squirt of the Round Up will have them shriveling away in no time.
I'll keep you posted after our second treatment to show you progress (if any). I'm hopeful after seeing the first treatment's effectiveness that we can get rid of this ivy quickly and reclaim our back yard. One season vs. two years? How cool is that?


(linking to)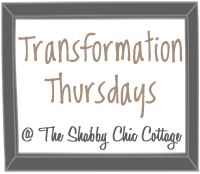 While every effort has been made to ensure the accuracy & effectiveness of the information displayed on this website, The Ugly Duckling House is for entertainment purposes only. All tutorials and demonstrations are not intended to be professional advice (nor substitute as such), and I make no guarantees as to the procedures and information here. Creating with my suggested methods, materials, and tools is under your own risk. Please ensure you are following proper guidelines with anything used, and seek professional advice if you don't know how to do something! Read my complete disclosure here.