Disclosure: this post may contain affiliate links, which means I may make a commission if you decide to make a purchase through one of my links, at no cost to you.
Ramping up for another exam week (yes, they really are as frequent as they seem – I'm already counting down the days until this mini-mester is over and I can have a normal life again).
I'm spending any free DIY time to work on the staircase (new update on that tomorrow for Dueling DIY Tuesday), and a few scattered plans like my fun little light fixture project. Last time I posted about it, I'd only collected a handful of supplies (though to be fair, I did buy out the store's entire quantity, they just didn't have enough to complete it).
By the way, did you know that hardware stores have all sorts of light fixture adapters? Ones that turn a plug into a light, or a light into a plug, or both? There's an entire aisle of this stuff at HD. I'll admit I geeked out a little bit when I saw all of my options. I'll never be without an extra light source ever again. But for this project, I stuck to socket adapters that split one socket into two (the Y-shaped pieces you see in the photo) and socket extenders (the black pieces) to keep things from being too uniform. After another trip to pick up a few more, the fixture is taking shape:
The temps here in Georgia are a little unpredictable lately (warm, then freezing, then springlike again), so I'll be waiting for another month or so before giving this fixture a coat of paint. Until then, I'll be playing with the various twists, removing, adding, etc. to see which way I'll want each bulb pointing. You can't really see it now (cough cough hot mess cough), but when it's all painted in one solid color, it's going to look kind of like coral. It's one of those things were I think it's going to look worse before it looks better. To give you some idea, here's a shot of the original inspiration: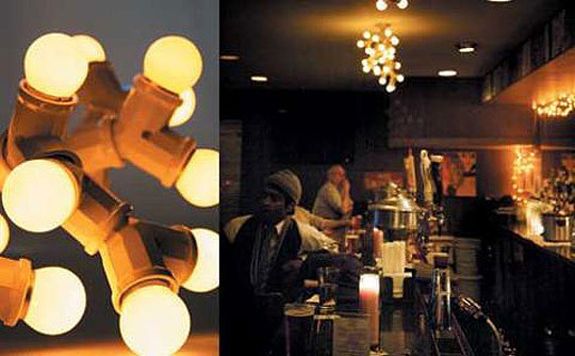 Be honest, is anyone surprised that it's from a bar, and that I want to put something from a bar in my house? Yeah, didn't think so.

(By the way, I announced the winner of the Ryobi giveaway – head back over to that post for the winner!)