Disclosure: this post may contain affiliate links, which means I may make a commission if you decide to make a purchase through one of my links, at no cost to you.
This post may contain affiliate links. This won't change your price, but may share some commission. Read my full disclosure here.
Hi everyone!
Thanks again for the turnout for the Kreg Jig giveaway (by the way, the winner is now posted. So head over to that post to see if it's you!).
I'm also guest posting over at One Project Closer today. Yes – an actual finished project. It may or may not be for a room I can't even use yet. Here's a sneak peek: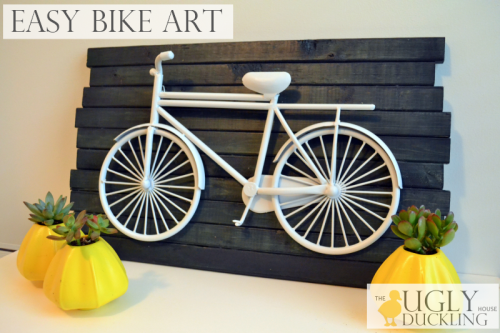 Head on over to One Project Closer for all the details on how I made my bike art. I'm also planning to participate in the Atlanta I Love Thrifting Day with Rhoda from Southern Hospitality this weekend. Here's hoping I get some great finds. Anyone else planning on going?
Happy weekend!
___________________________________________________________