Disclosure: this post may contain affiliate links, which means I may make a commission if you decide to make a purchase through one of my links, at no cost to you.
Between the replanting of the front lawn and other exterior upgrades, my mind has been on curb appeal this year. So, when a potential sponsor came along with the (possible) opportunity to repaint the house, I started daydreaming. Below, I show you all the options I considered and my favorites!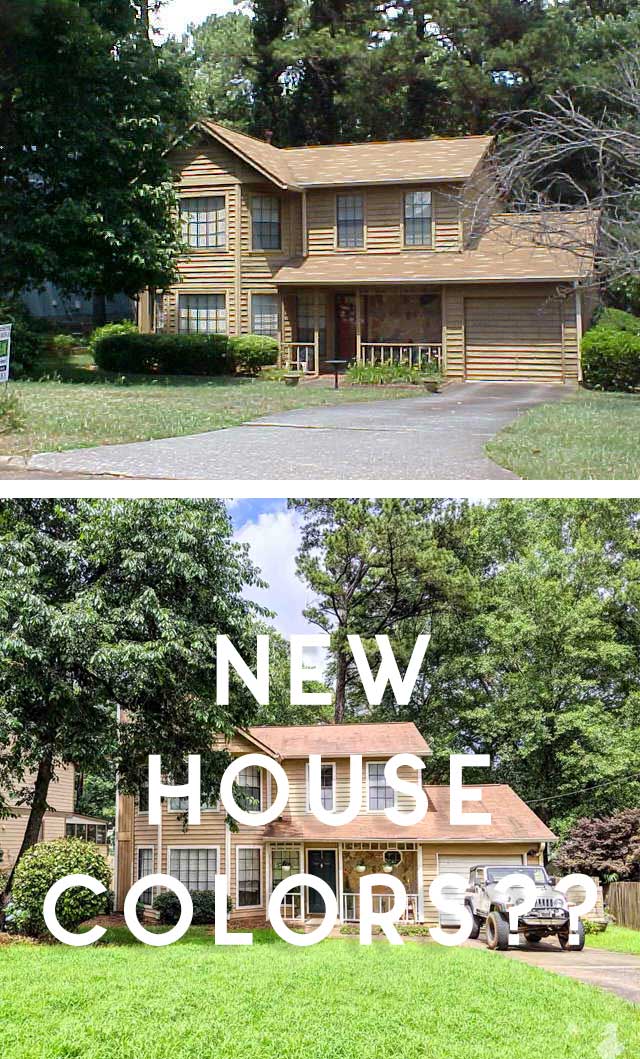 It's probably no surprise to any of you who have been reading this blog for long enough, but I typically partner with sponsors for my bigger DIYs or higher-budget projects. When it's the exact right fit, the clouds part, I make it a priority, and I get something done on a deadline. For a procrastinator like myself, that last part can be pretty crucial in terms of priority-making; I never fail to add to my to-do list faster than I can cross things off!
Of course, not all partnerships become a reality, and that's generally what goes on behind the scenes daily — figuring out what works, what doesn't, contract negotiations, calendar planning, etc. (and all of this is on top of the physical labor of getting them done and creating the tutorials out of it). As you might imagine (and like any other business), there are plenty of things that almost work but then don't. I don't mean that as a complaint, either; the back and forth takes long enough that I get a really good idea of the kind of partners I prefer to work with. It leaves room for SO much potential and gets me to set some pretty big goals, and it always keeps things interesting (some of the requests I get are really quite nutty).
Not long ago, a potential sponsor pitched an idea for their services that began a conversation about one of my biggest to-do items that I haven't been able to complete: the exterior house paint. The back and forth happened as it usually does, and ultimately, the partnership just wasn't feasible. However, I had all of these Photoshopped pics I made while considering it, and I got excited at the lingering possibilities. Why hadn't I finished this yet? What caused all the prior starts and stops? How awesome would the house look with this and that and oooh, what about this??? I think most homeowners have experienced that kind of thought train before! It just goes to show that inspiration can spark from anywhere.
As of right now, there are no current plans to paint the house, but the wheels have started turning again on when we might. And how much we would DIY to make that happen. So, since I just so happen to have a bunch of Photoshopped pics of new paint and trim colors, why not share it, right?
The current house colors
I have to go all the way back to 2010 for this backstory, so I don't imagine most of you will know the history. The house needed some quick repairs and new paint when I bought it, so I picked the existing color not long after moving in. It was just a few shades lighter and warmer than the previous owner's brown-on-brown cedar siding, and I convinced myself that adding cream trim could make it a little more cheerful without being as big of a job as changing the entire look. A family friend did all of the spray work while I got to work on the trim section by section.
It wasn't necessarily bad, but I thought painting the house an entirely new color would take a lot more work, involve hiring pros (which I couldn't afford), and I wasn't willing to put in the extra time. That first year was packed with a LOT of ups and downs and a razor-thin budget, so I made the best decision I think I could have at the time. I lost steam on the project because I also began grad school and I realized that I would have to be on a ladder with no one around to dial 9-1-1. ?
Fast forward to now, and it's pretty clear to me that not being head over heels with the house color is probably one of the reasons why I could never finish it. Despite a number of "I'm going to finally get this done" attempts over the years, I just kept losing my motivation every time. And, even though browns are making a comeback, it isn't the color I would choose today.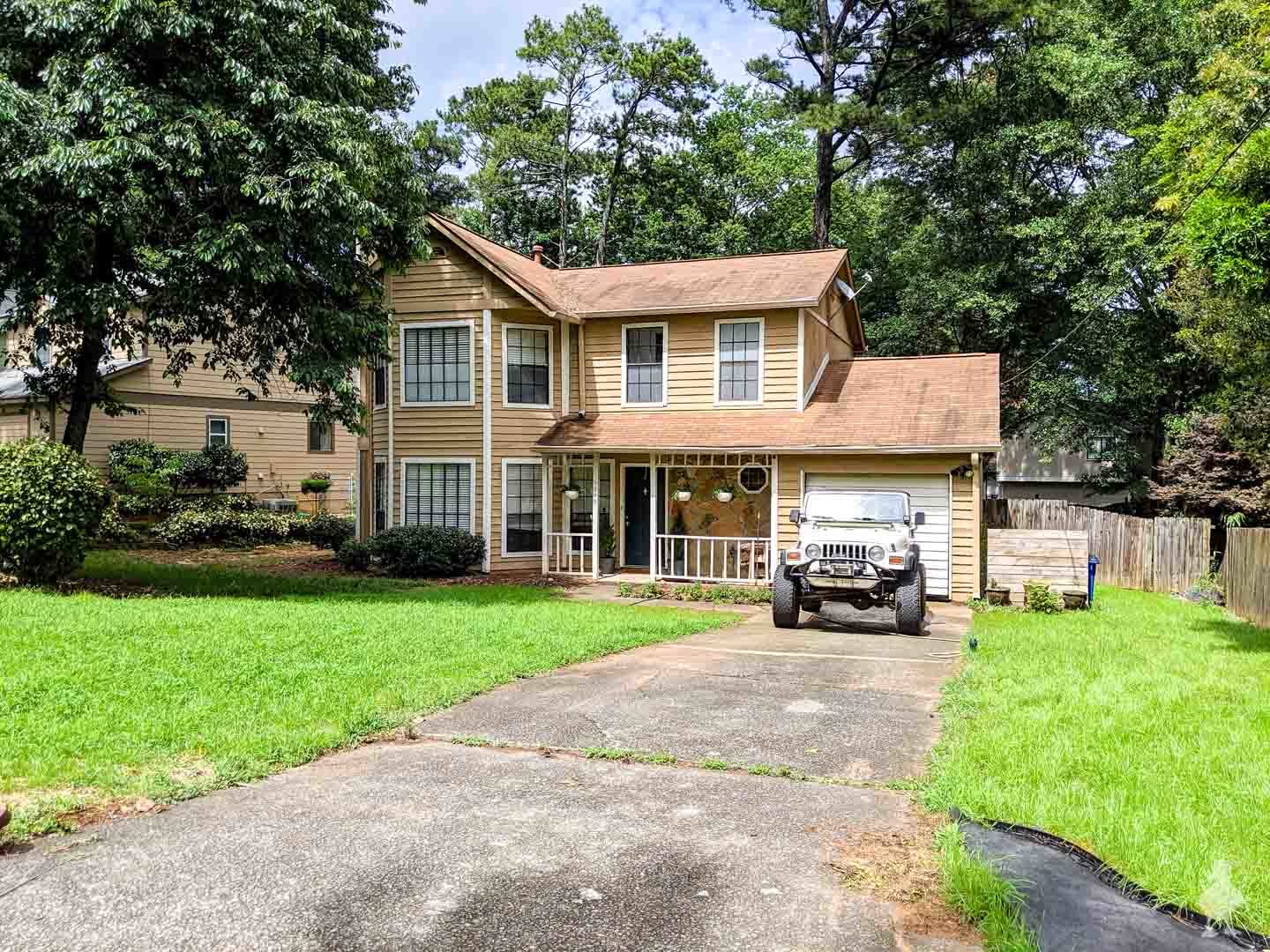 I floated the idea on my Instagram a few weeks ago to get some color suggestions (to see if there were any I hadn't thought of on my own), and it got a surprising amount of responses. There were some REALLY strong opinions, which I loved! Brace yourselves for a lot of demonstrations of my really bad Photoshopping skills. ?
New House Paint Color Options
When it comes to choosing a new siding color, trim color, door color, etc., there are lots of things to think about. Things I am choosing to work with/around, things I'm considering changing in addition to the house colors, and the house color options themselves!
Things I'd choose to work with
Limitations are the first thing to consider. What other elements can I live with vs. the expense (labor or actual dollars) of changing? While it can seem like a setback, these limitation rules can actually help. Some colors just don't work with what I've got, so that makes deciding a little simpler. If every option was on the table, it would make every little detail that much harder to choose!
The roof
When I asked for color suggestions on Instagram, the first thing I mentioned was to consider the roof color first. These are reddish-brown asphalt shingles and seem to be in good shape (it could use a cleaning, but it's not leaking and had been replaced by the previous owner not long before I bought the house). I also don't want to paint it, even though roof painting products are available and have had decent reviews per my research. As much as I'd probably prefer a gray roof, it's too much work to change the entire house at once and the shed roof (which I deliberately matched to the reddish-brown shingles on the house).
Black accents in the back yard
I've got a strong love for Tricorn Black paint as an accent color, both in the primary bedroom and the exterior (the light pole planters, Adirondack chairs, garden bench seats, etc.). I want to leave all of those the same/painted black. I'll be painting my new outdoor chairs black as well (with creamy white cushions). I'm considering bringing that color to the front as well on things like the gutters (I'll show you that below), the little screen I built for the trash cans, and possibly the front door and mailbox.
The siding
I have cedar siding. Like most wood products, that means there's some maintenance and repairs involved, which I have done before (caulking, insulating, replacing damage around the chimney, etc.). Previously, the color was painted on, so I'm sticking with painting vs. staining. The siding type does factor in a little with color choice because the shadows of the rough surface texture of cedar vs. your typical smooth texture of other kinds of siding can make brand new paint look like it's peeling (I can't quite explain it, but certain colors can create a lot of shadows against the house and look dull — my neighbor just finished painting theirs a dark gray-blue and it still looks like it could use new paint).
Neighbor house colors
My neighborhood has a huge mix of house colors, so I think if my house is too matchy-matchy to an immediate neighbor, it would look odd. So, there are certain color combos I probably won't choose, even if they were a good fit. Currently, a neighbor has a gray house with bright red trim, a pale yellow house with white trim, a white house with gray trim (very farmhouse-y), and a tan house with brown trim (almost the same color as my house but darker trim vs. lighter).
Things I'm removing/adding
Although many of these ideas are already on my to-do list, I wanted to mention them here since they can make a difference in planning for the right color. For example, plants can add some balance, but I wouldn't necessarily want to put them in before painting the siding (it would just be easier and less overspray).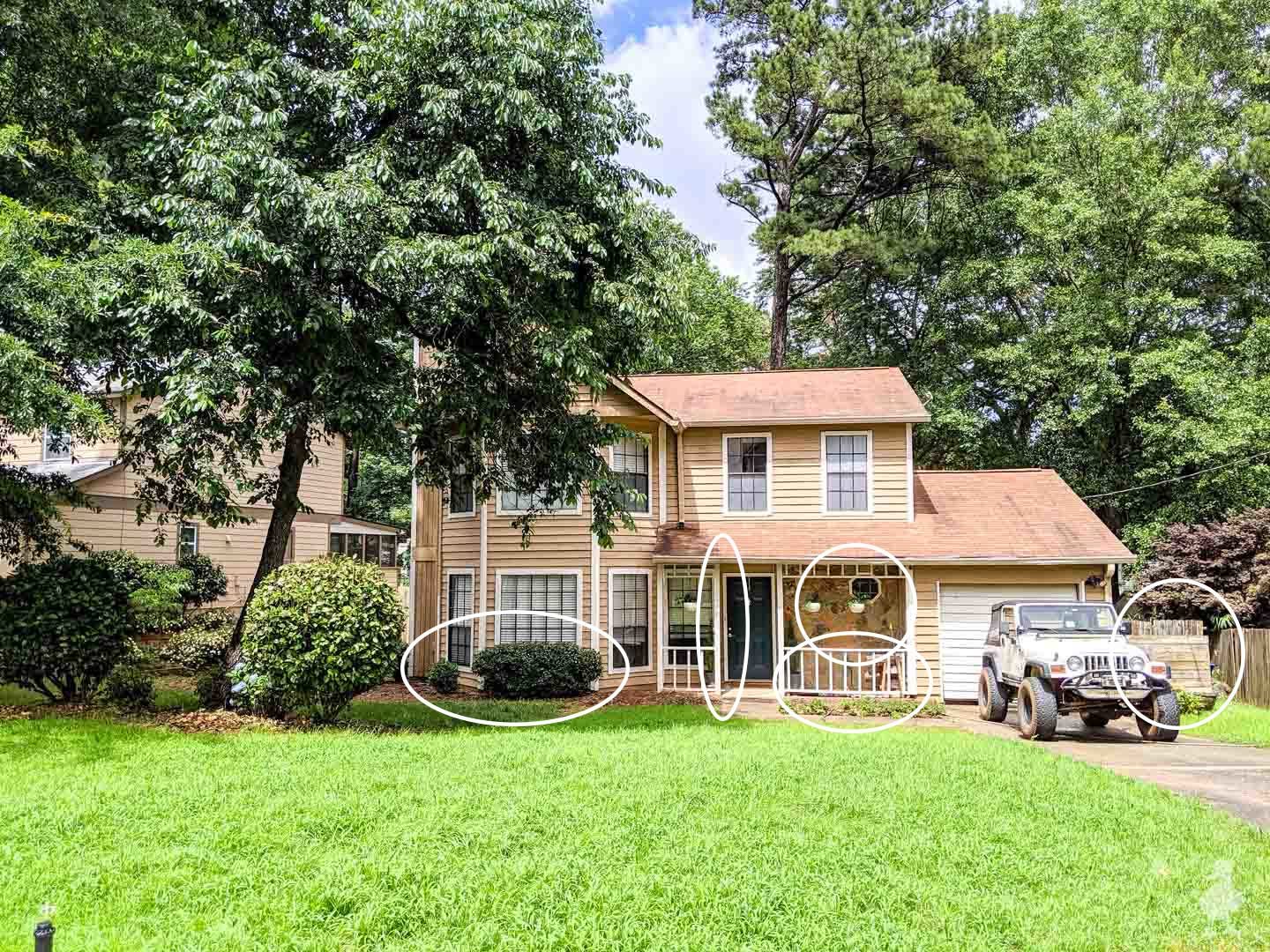 Remove: The porch balusters
I think removing the rotting porch balusters will open up the porch considerably. After ripping out the front bushes, I like the idea of making it open with low ground cover flowers and new chairs (a DIY design or a porch swing that looks out toward the road). The front porch is just a slab that is barely a single step above the ground, so I'm not worried about railing safety issues if removed.
Add: Thicker columns
I am DEFINITELY going to add some thickness to these front columns. Originally, I was thinking they would match trim color, but I am now loving the idea of wrapping these columns in cedar with some of these new color ideas!
Add: New landscaping
I'll save this bit to the end, but I'm thinking of adding some cypress (such as blue point juniper) that can grow just a little past the first floor and some hostas in some of the mixed light/shady areas. I have a few hostas that are already growing strong that I think I can divide, so I think I can do this while still sticking to a reasonable budget.
Add: Limewashing the stone?
The front stone facade is very orange with gray and beige tones mixed in. It's not my favorite, but it's hard to go back once it's been painted! So, I'm considering a limewash on some of these color options. It will allow some of the stone color to peek out without covering it completely. Since my living room fireplace has the same stone, I think I'm going to try it on the interior first!
House and Trim Colors
I began with a black trash bin fence and door as a base, as well as removing the balusters and continuing the existing cream trim (I actually really like the cream color and think it plays well with most of these colors!).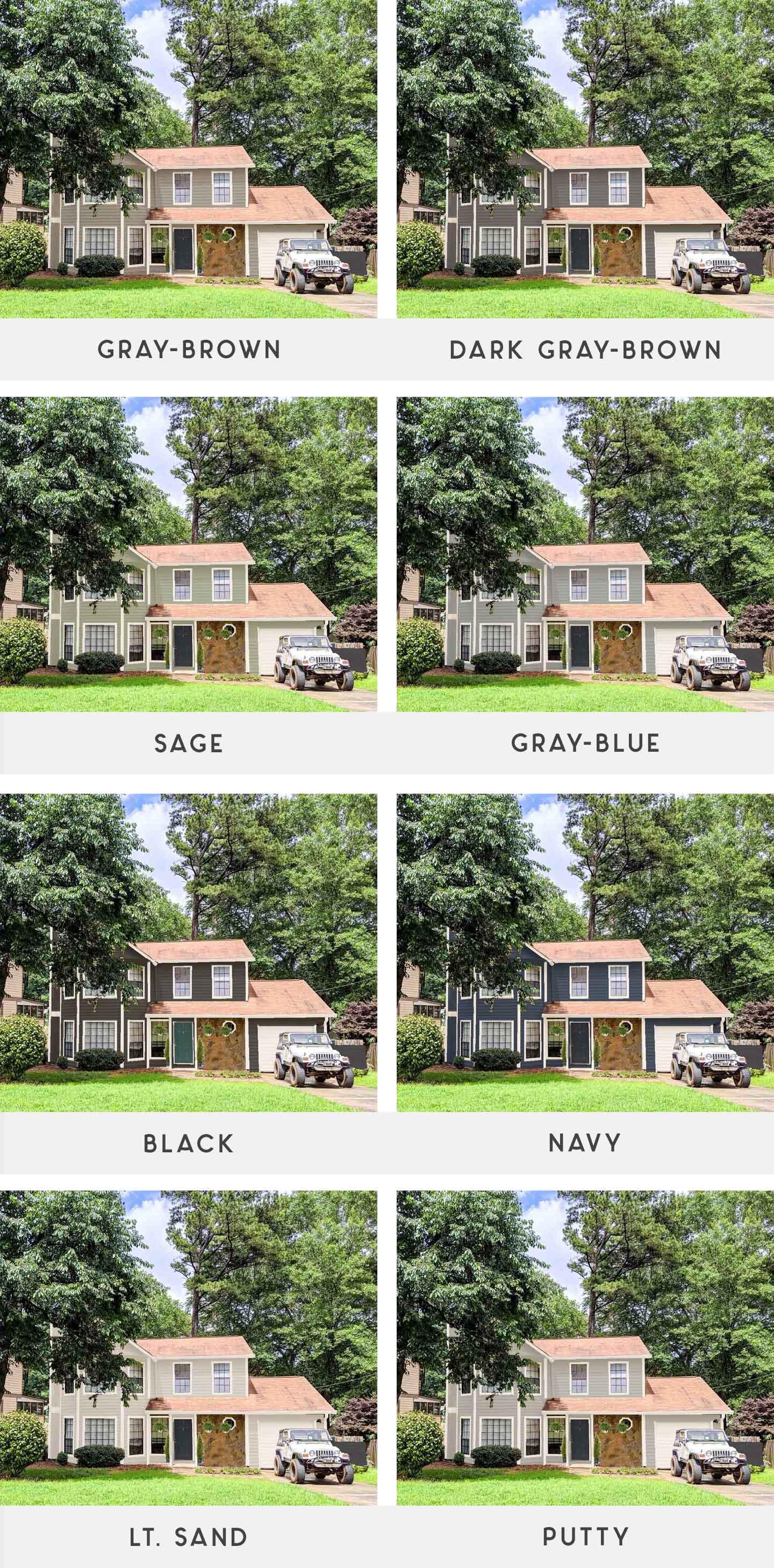 Because the roof color has red undertones, it seems like the best fit is to use a color with similar warm undertones (like the brown) or the opposite on the color wheel (like dark blue). The roof looks pretty bright in this photo because I took it on a really sunny day when I was trying to show off the new grass, but you can see in the other photos above a more realistic reddish-brown like it does in person.
My Favorites
The colors I liked most were the navy/cream, the putty/cream combos with black gutters, and the sage/cream. Once I added the cedar columns, the new plants, and the limewash, things really started cookin'! I played around a little more to try out a few combos (different trim colors, for example), and to make the roof look more realistic.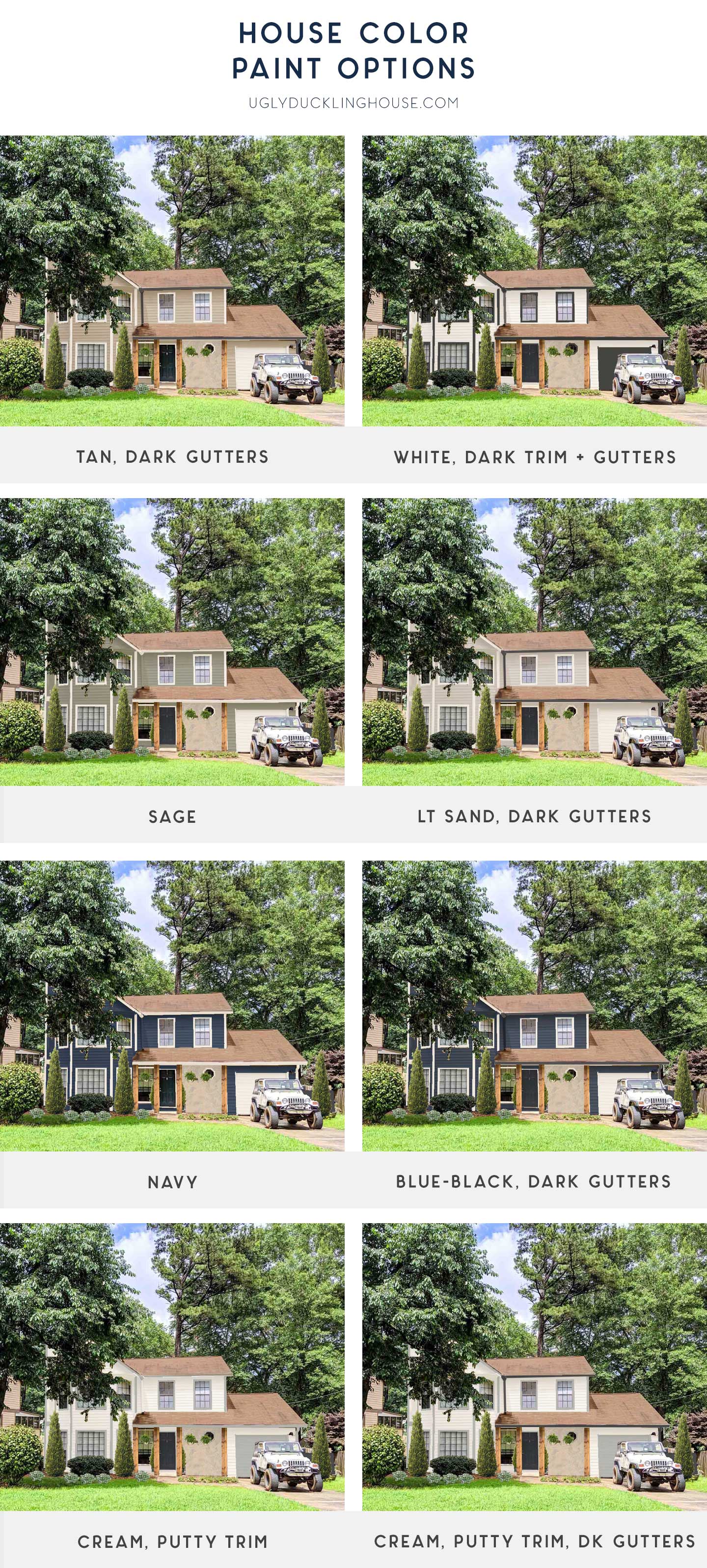 I wasn't expecting I'd like the dark gutters as much as I do, but they really seem to play off the other black accents and the black window panes. And the cedar column idea makes me swoon! I like how it brings the reddish tones down and really pops against some of these paint colors.
When I look at these, I still see a big blank space in the middle (where the balusters are currently), but it's only because I think it would be pain in the ass to add little chairs or a swing in there for the visual. I also don't yet know what flowers to plant in that larger garden bed when we expand it around the front walk. But those ideas are in my head as well!
So, what's next?
While I don't think painting the house will become a reality in 2019, lots of these elements have been discussed at the UDH in the last month, especially in terms of what can be DIY'd versus what would just be easier to hire out. I'm certain one day soon, you'll see me ripping into those balusters! I've been tempted just about every day, but I try to remember that I have about 6 other projects I'm trying to finish before the holiday season. Still, the idea of painting the house has been on my mind enough to give me the "this is probably going to happen" vibe, so I'm currently shopping out a few quotes and keeping an eye out for plant deals. And research. Lots of research!
At any rate, I think this is giving us the opportunity to come up with a game plan for DIYing and the amount of prep work we need to do first.
In the meantime, I'd love to have you weigh in. Which color was your favorite? If I wrap the front columns, would you match them to the trim or add some cedar? Any colors you were hoping to see but didn't?