This post may contain affiliate links. This won't change your price, but may share some commission. Read my full disclosure here.
For the last eight months, our dining room has mostly served as vacant space to be used whenever Scott has extra beer samples and the garage is full. Since he's usually on the road for his job, it's a bit difficult to find adequate storage space whilst in the middle of the flooring install, and our one-car garage is where we have set up the workstand and saws.
However, thanks to the pressure of par-tay (housewarming in less than a month), the time had come to create a dining room table suitable for future entertainment needs.
Problem solved. This beauty is a simple, classic table that will look gorgeous in our small dining room, and the extra leaf will allow for 2 additional seats. And for $250? Sold. Just like our new living room chairs, this pretty lady will be ready to pick up on Saturday.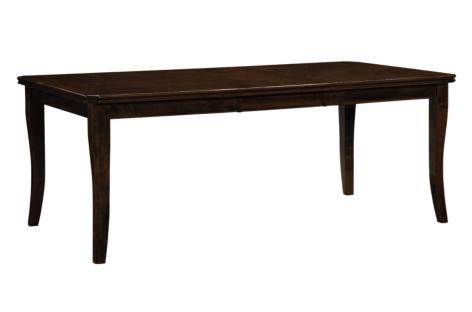 Detail view:
My plan is to combine the table with upholstered chairs on both ends and one side, then find a casual bench for the other side of the table à la the photo below:
Thoughts?
While every effort has been made to ensure the accuracy & effectiveness of the information displayed on this website, The Ugly Duckling House is for entertainment purposes only. All tutorials and demonstrations are not intended to be professional advice (nor substitute as such), and I make no guarantees as to the procedures and information here. Creating with my suggested methods, materials, and tools is under your own risk. Please ensure you are following proper guidelines with anything used, and seek professional advice if you don't know how to do something! Read my complete disclosure here.