Disclosure: this post may contain affiliate links, which means I may make a commission if you decide to make a purchase through one of my links, at no cost to you.
(Sorry about the funky title, I've got Glee on the brain)
When was the last time you saw an inspiration pic, and your brain screamed at you? I can remember when it squealed at me, but when I saw the below pic, my internal voice (quite loudly) shouted, "(first , then) I need THOSE!!!"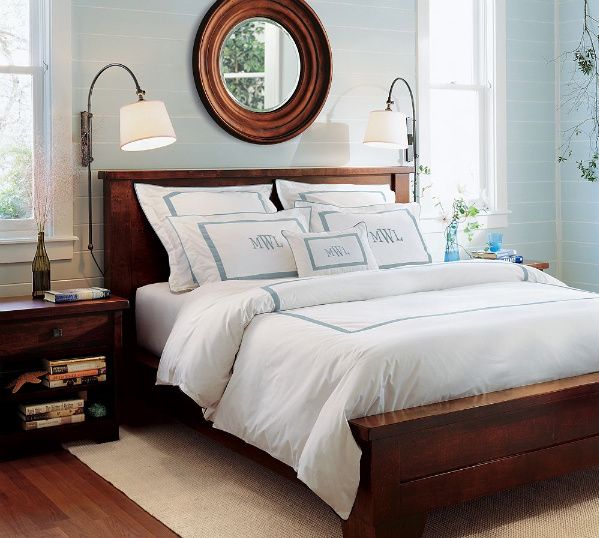 Makes a grown

wo

man cry (tee hee).

Case in point: I need (not want – "want" is such a wimpy word in this case) these wall lamps for my primary bedroom. I spotted this Pottery Barn pic on TLC and immediately turned into a four-year-old ("I wannit, I wannit, I WANNIT!!")… cue pout, arms crossed.
Our nightly habits mostly consist of watching DVR'd episodes of Futurama and South Park (there are few shows we can agree on watching – I like trashy VH1, he likes ESPN, and around we go), but on occasion, we enjoy reading the latest fiction or working on our laptops (I blog, he writes articles for his fantasy football "league-thingy"). So, it would be nice to have soft lighting on each side of the bed that doesn't also take up valuable real estate on our nightstands.
Lamps like these that attach to the wall solves the space issue, provides extra light, and unlike similar versions, doesn't make it obvious that there are cords running down to the plug. In a word, perfect.
What have you had your eye on lately? Are you hunting for just the right light, like me, or is there something else at the top of your shopping list?