Disclosure: this post may contain affiliate links, which means I may make a commission if you decide to make a purchase through one of my links, at no cost to you.
It's finally here! The big-brain list of tips and techniques that I've learned over nearly a decade of blogging (and painting a LOT of walls) to get a better paint job on your walls, trim, and more!
Growing up, there was no such thing as hiring a professional painter to paint our interior walls and trim; it was always DIY. I learned to paint by helping my mom match wallpaper samples to paint samples, how to avoid painting our original stained trim (painting it was a no-no in our home), the value of removing wallpaper instead of painting over it (our powder room was evidence of when the lazy approach just isn't worth it), and more. I even remember once painting "hi mom" with a roller in our hallway (thinking I was doing something cute, pfft) and immediately getting scolded that it might show up in the finish. Had I known these tips below back then, I probably would have tried a different prank! ;)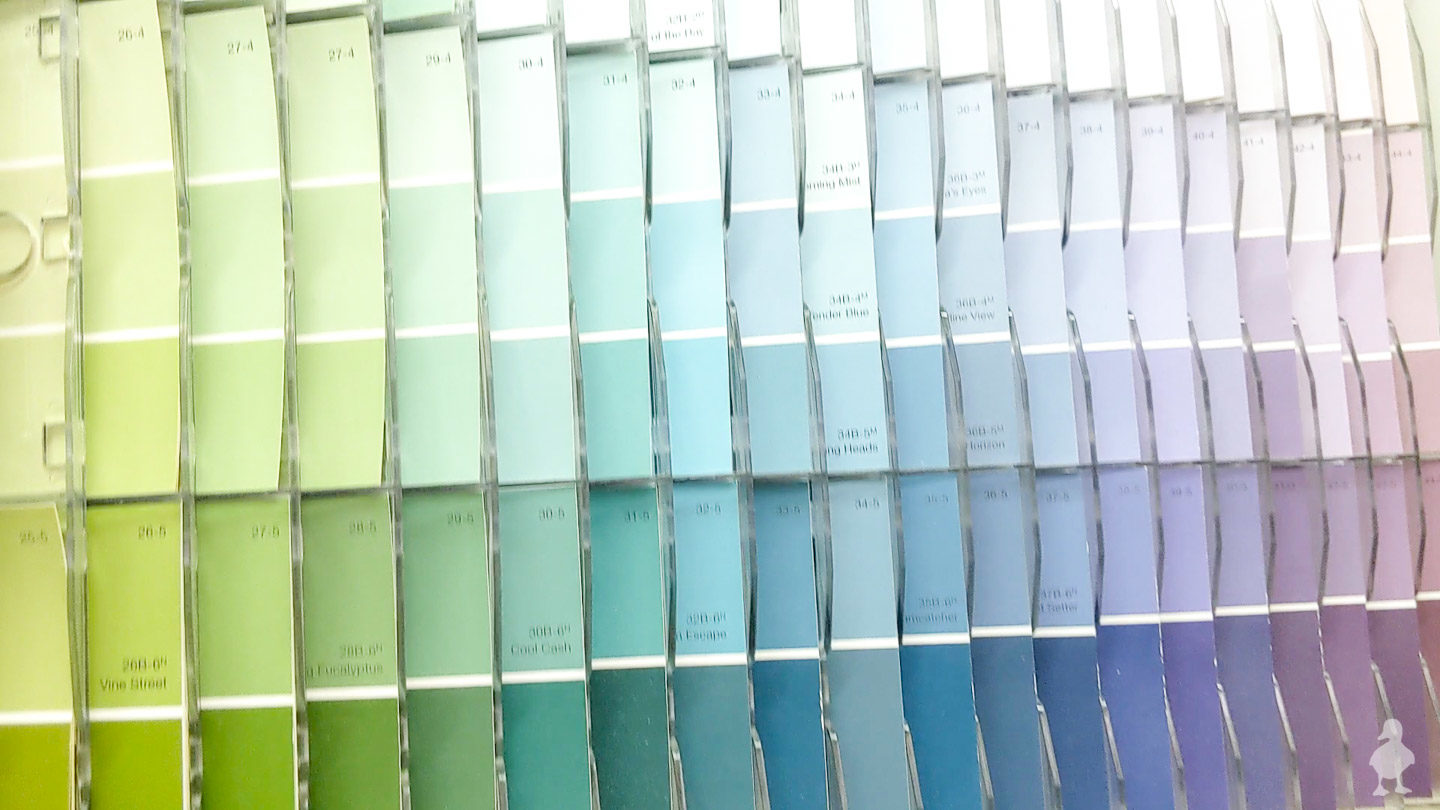 The value of a better paint job
Painting is seen as a beginner-level project in DIY. But much like any other type of skill, there is always room for improvement. After all, pros are pros after honing their skills into a finely-tuned process. Now that I have my own home and a LOT more practice, I've learned to paint better, more efficiently, and with better techniques.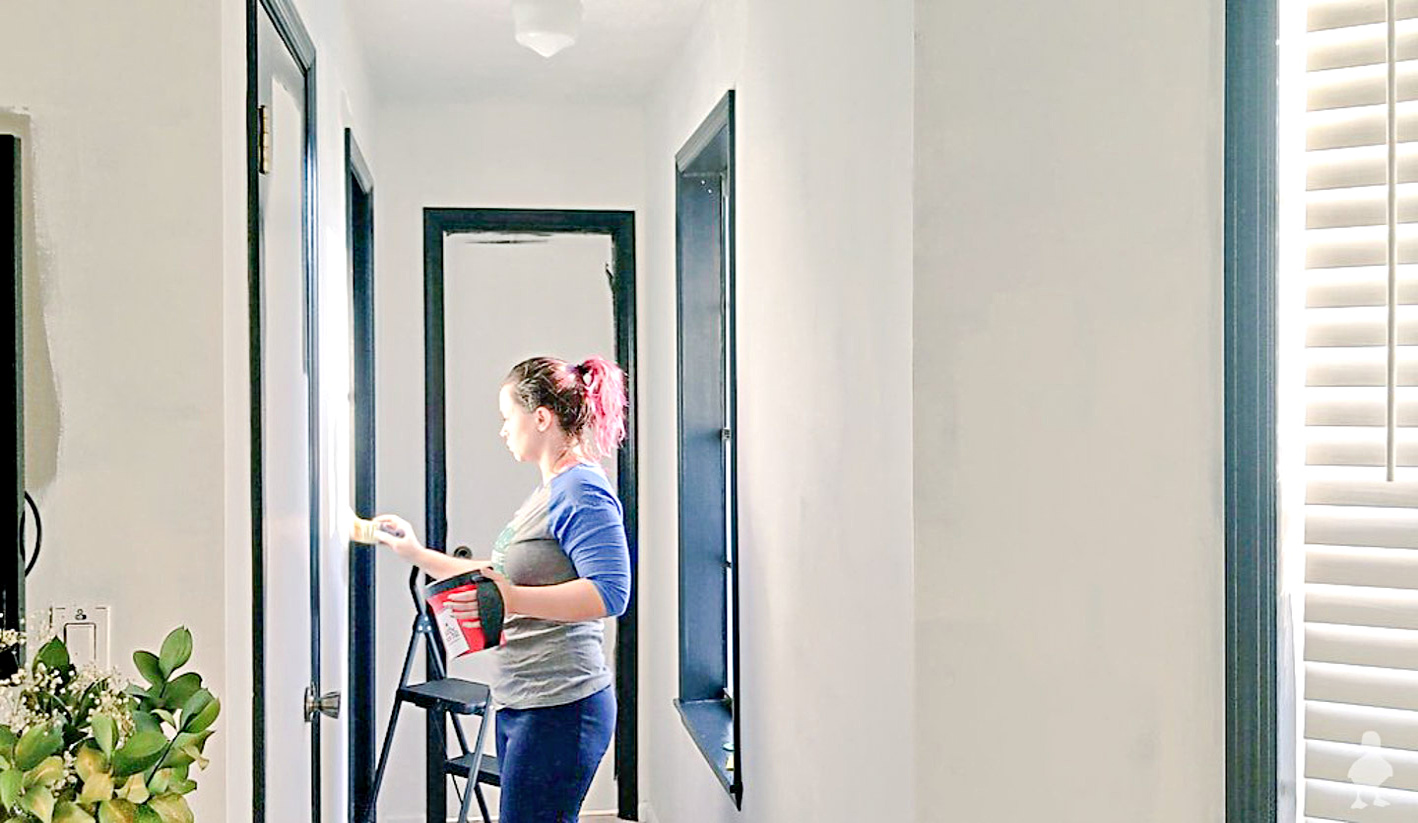 Whether you're new to the DIY world or a seasoned homeowner, I still want to welcome you to read through these (and do please leave a comment if you picked up something helpful you didn't know before or one of your own tips!). I wrote this guide broadly, on purpose, because I want to enable you to make virtually any painting project better. I suppose waiting as long as I have to FINALLY get this guide up for you guys is way overdue, but better late than never! Let's get on with Painting 101 Basics!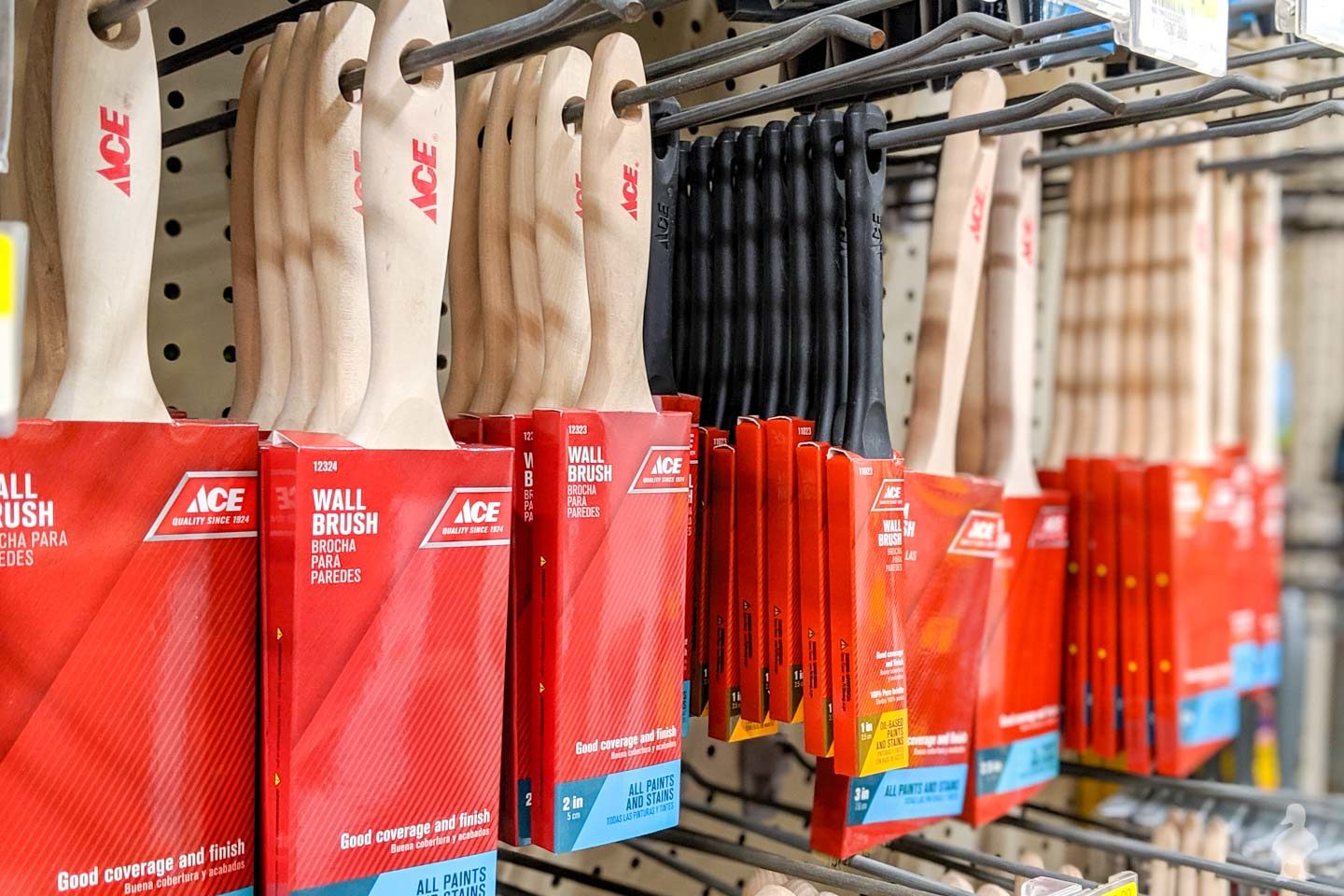 Your DIY Guide to Paint Like a Pro
Choose the right sheen
Getting the right paint isn't just about the color or buying enough of it to cover your walls; it also involves the right finish or "sheen", which can make or break your overall happiness and performance with your paint. You may even be experienced with buying flat/eggshell paint for your walls and semi-gloss for your trim as a rule of thumb, but have you ever known why? Each level (flat, eggshell, satin, semi-gloss, high gloss) reflects a different level of light, ranging from the most matte (flat or flat enamel) to the highest shine (high gloss). There are pros and cons to each. The more reflective the finish, the more "glam" it can look (especially to highlight architectural details like molding), and higher sheens tend to be more resistant to dirt, stain, and dings; it's why you'll see glossier paints in high-traffic areas like hallways, bathrooms, and kitchens. THE DOWNSIDE: gloss also shows every little imperfection, so flatter paints are much friendlier to old walls that have been patched a lot (like mine). It also can take more coats and patience to get the paint to not show brush strokes. My personal favorite finish for walls is "flat enamel", which isn't always available in all paint lines — it's is halfway between flat and eggshell and has just enough sheen to be easier to clean. Many paint manufacturers have also put more effort into making flatter paints easier to clean, and things like magic erasers virtually eliminate most scuff marks. For trim and doors, I stick with semi-gloss except for the front door (high gloss).
Have paint shaken at the store
It's a given that buying a new can of mixed paint is shaken to create the paint color, but even if you're buying a color straight off the shelf without mixing (such as pure white, which I often do), ask the store to shake it up for you before taking it home. This redistributes any tints in the paint and blends any separation that occurred from the paint sitting on the shelf. Always take the time to stir it up when at home before use, too!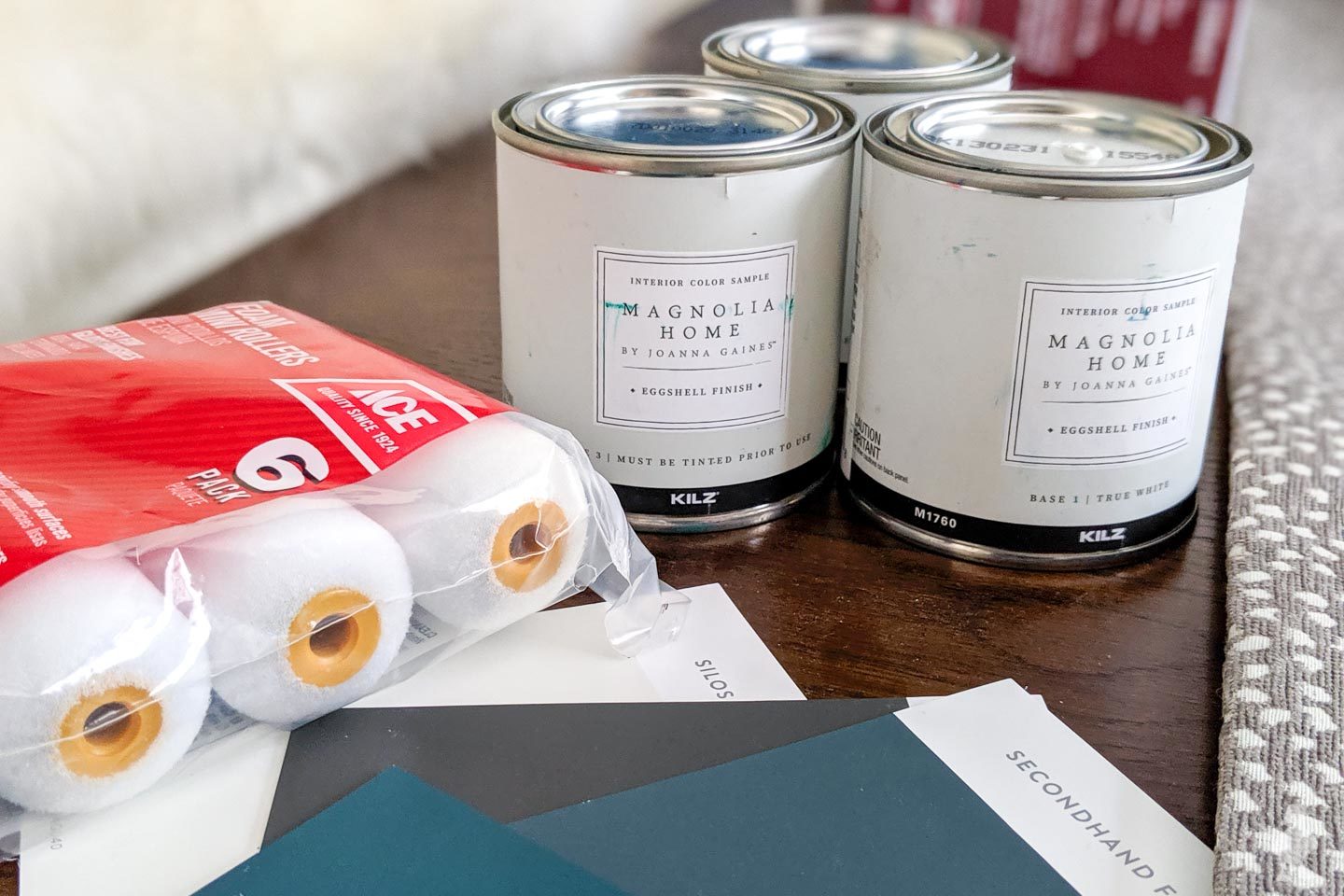 ALWAYS test paint samples
It can seem like a waste of time and money to buy a bunch of little test pots, take them home, and try them out before going back to the store for the gallon of paint you want. I get that. But the more walls I paint, the more likely I am to grab test pots and try out paint before going for the gallon-sized expense. Unless it's a tried and true color you know you love and have used in your home before, you never quite know what the light in your home will emphasize. I've seen whites that other bloggers swear by and it's been too yellow, black that turns navy, and grays turn purple. I also tend to feel buyer's remorse when I see someone use a paint color I think looks beautiful but haven't compared. Knowing and being more confident in your color choice is better than spending years staring at walls you're only "meh" about!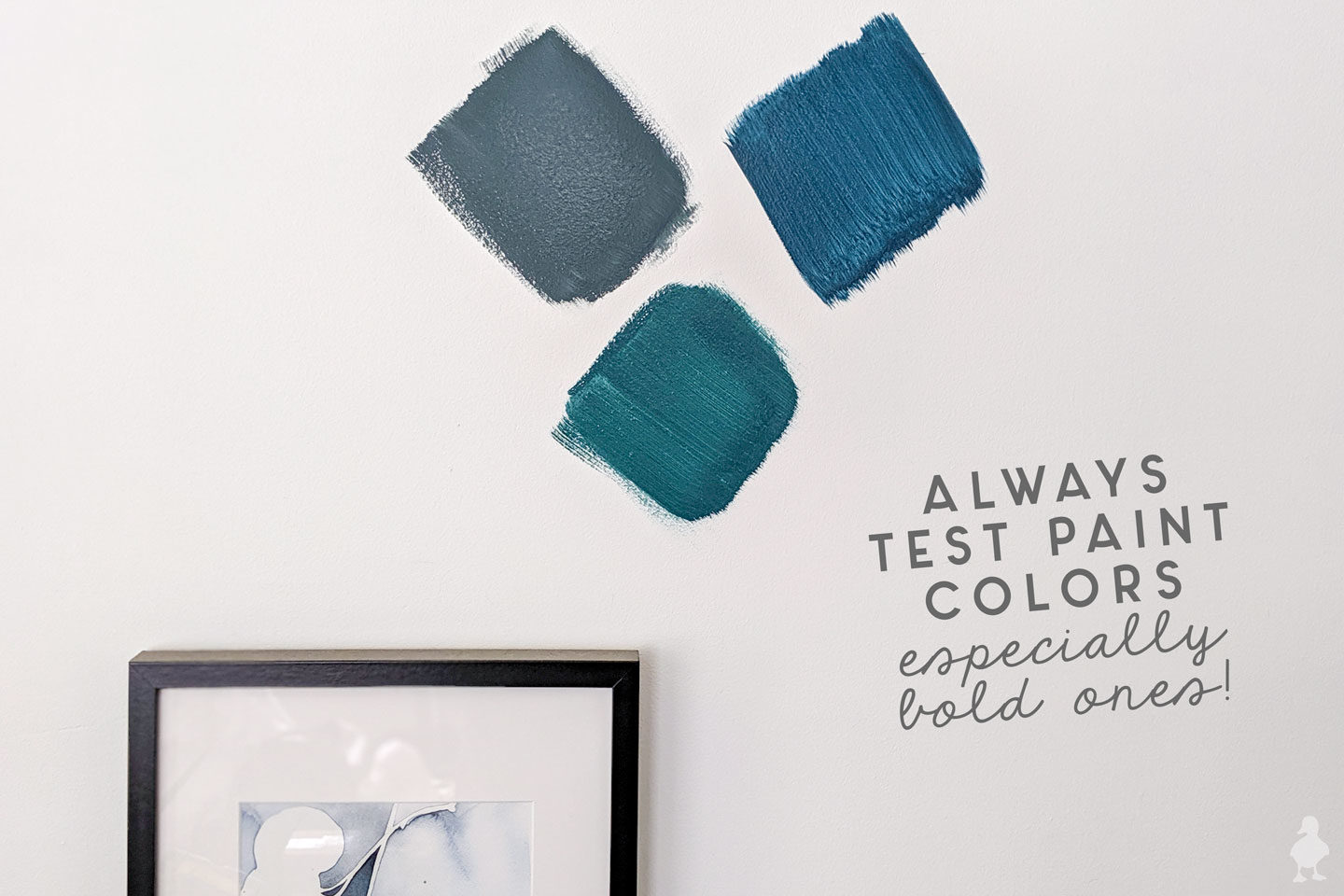 Try a hint of gray or beige
I picked up this tip early on in my blogging days, and it's been SO valuable! It's fun to go bold with color like I did with my dining room. But if you're normally a neutral person and haven't tried it out before, you may be in for a shock with a vibrant hue that the color is too saturated when you finally get it on the wall (small swatches look great, but on a huge area like a wall, it can quickly become too much!). If that happens, you've doubled your cost in paint to change the color and/or cringing at the thought of trying again. If you're on the fence, try to look for the same color, but with a hint of gray or beige in the tint. That step-down approach makes a world of difference and makes it blend in a little better with more neutral rooms nearby. The Magnolia Home paint line at Ace Hardware is brand new to me, and I loved that many of their colorful tones are a perfect embodiment of this tip! I took a few test pots home to try out for my primary bedroom feature wall (Secondhand Find & Weekend).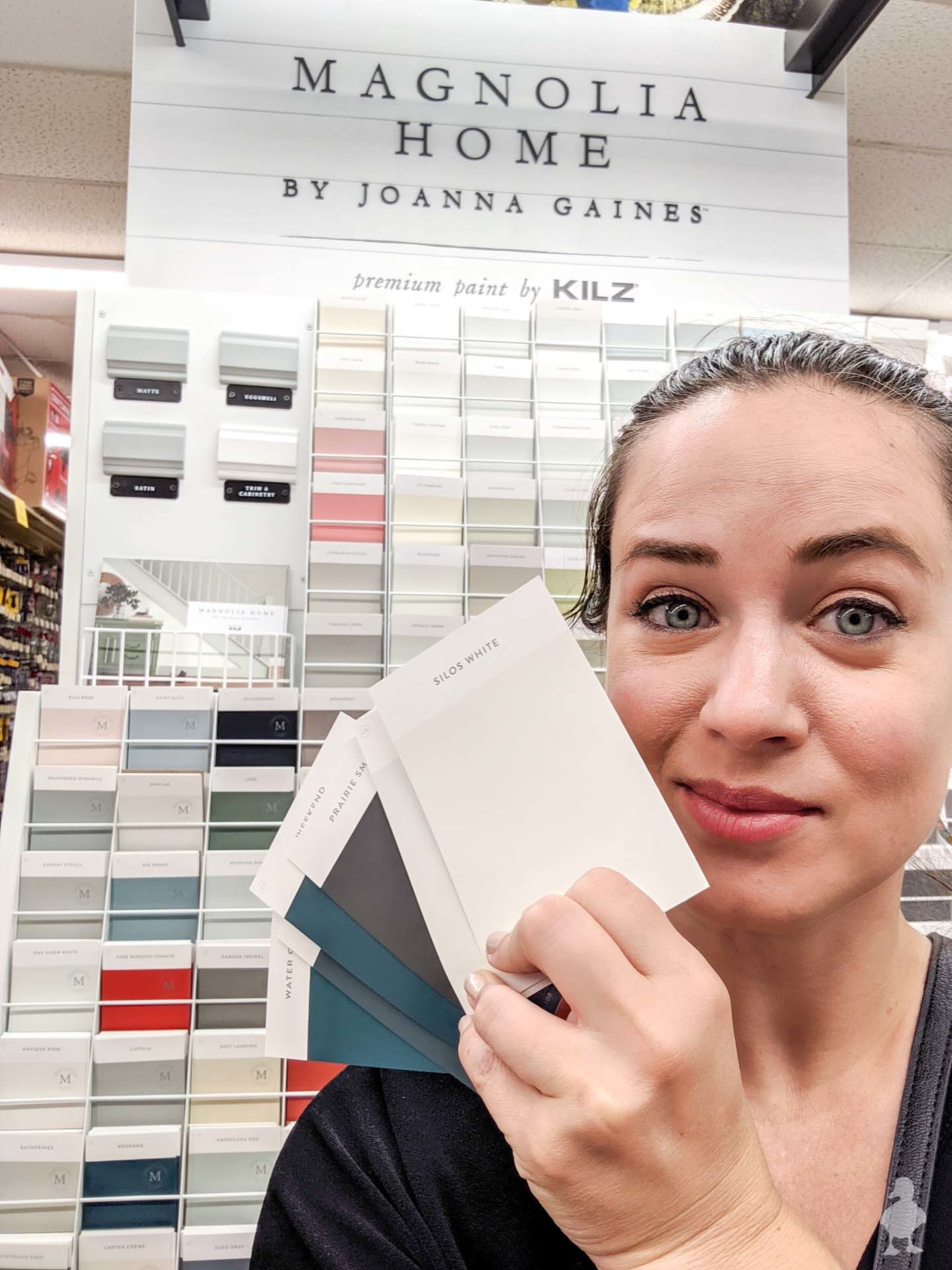 Patch, sand, prime, and clean walls
Clean walls are smooth walls! Since we've already established that paint shows imperfections with ease, choosing not to patch and sand walls is a gamble on your paint job that you'll lose 99% of the time (speaking from experience — all that effort I put into repairing my walls after removing wallpaper years ago was never wasted!). On my recent trip to Ace Hardware for supplies, I found a nifty Patch-n-Paint product that not only fills in holes, but it has a spatula tool on the end to smooth out the repair before it dries, and the formula doesn't require additional priming. If I weren't using a product like this, I would use my grandfather's old trick: a slightly damp sponge will smooth the hole before it dries, and virtually eliminate the need for sanding!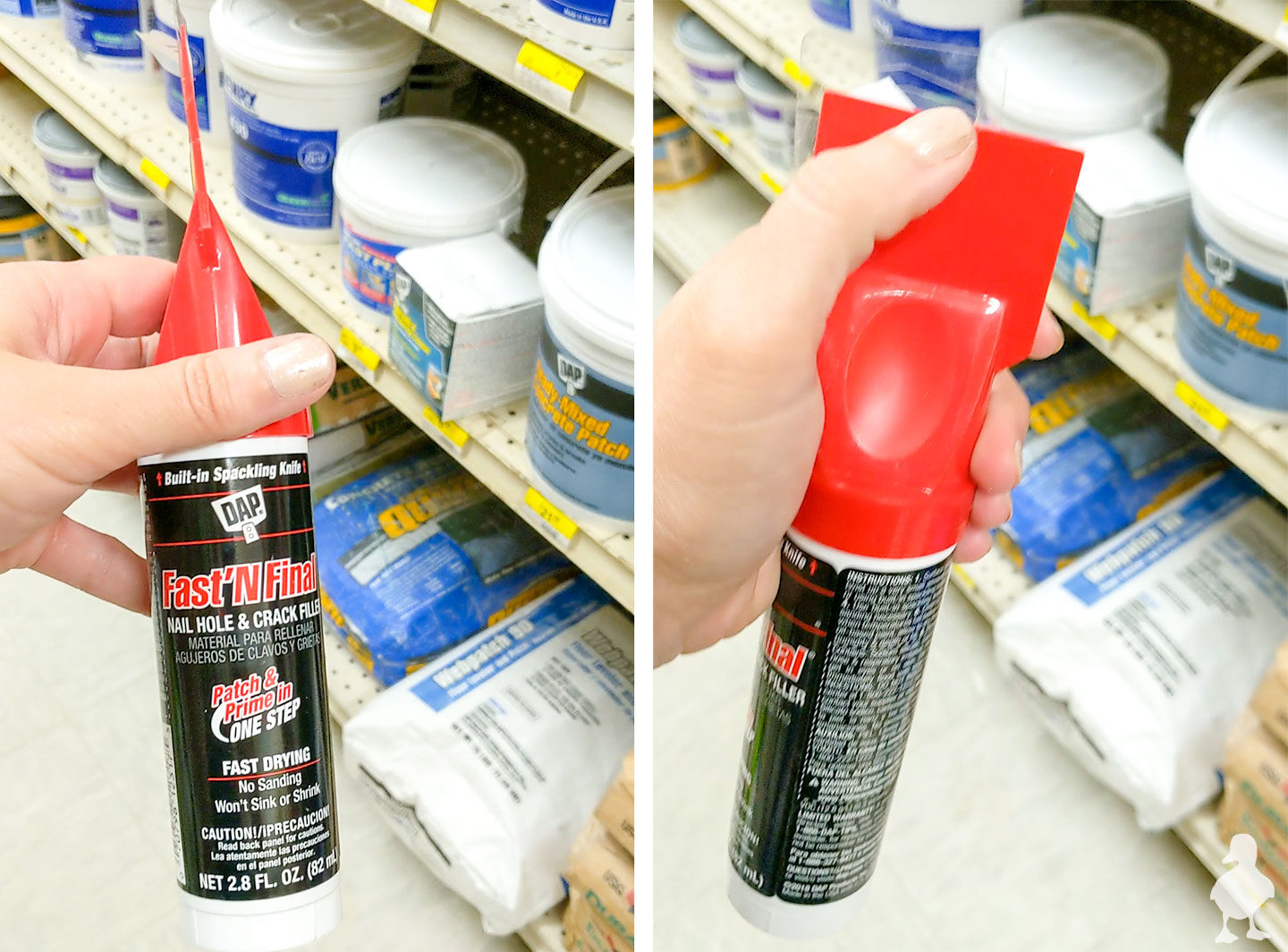 Speaking of priming, if you are making a drastic color change on your walls, I've found it's faster and cheaper to prime the walls (have the primer tinted to match the new paint color) — the primer will guarantee fewer coats, and a gallon of tinted primer is cheaper than a gallon of paint.
Cutting in
I've got a separate tutorial I've posted before about "cutting in", but this is simply the term used for painting the edges of walls (corners, around trim, up to the ceiling, etc.) where a roller just doesn't work well. Learning to paint walls without painter's tape can take a little time to learn, but pushing the paint into these edges has been one of the best things I've learned since I began blogging! It saves me time (no time spent taping), money (no money spent on tape), and gets me a better result, especially with uneven old walls where trim/ceilings/corners are never truly straight. I've learned that using the right brush that fits in your hand well is KEY for control, and I highly recommend a short-handled, angled brush with a rubber grip. This Wooster one, pictured, is my absolute FAVORITE one, and is available at your local Ace Hardware. Tip within a tip: when dipping the paintbrush into the paint, never dip more than halfway (don't dip all the way to the metal part of the handle; it gets gunky and makes drips more common, plus it's harder to clean up after).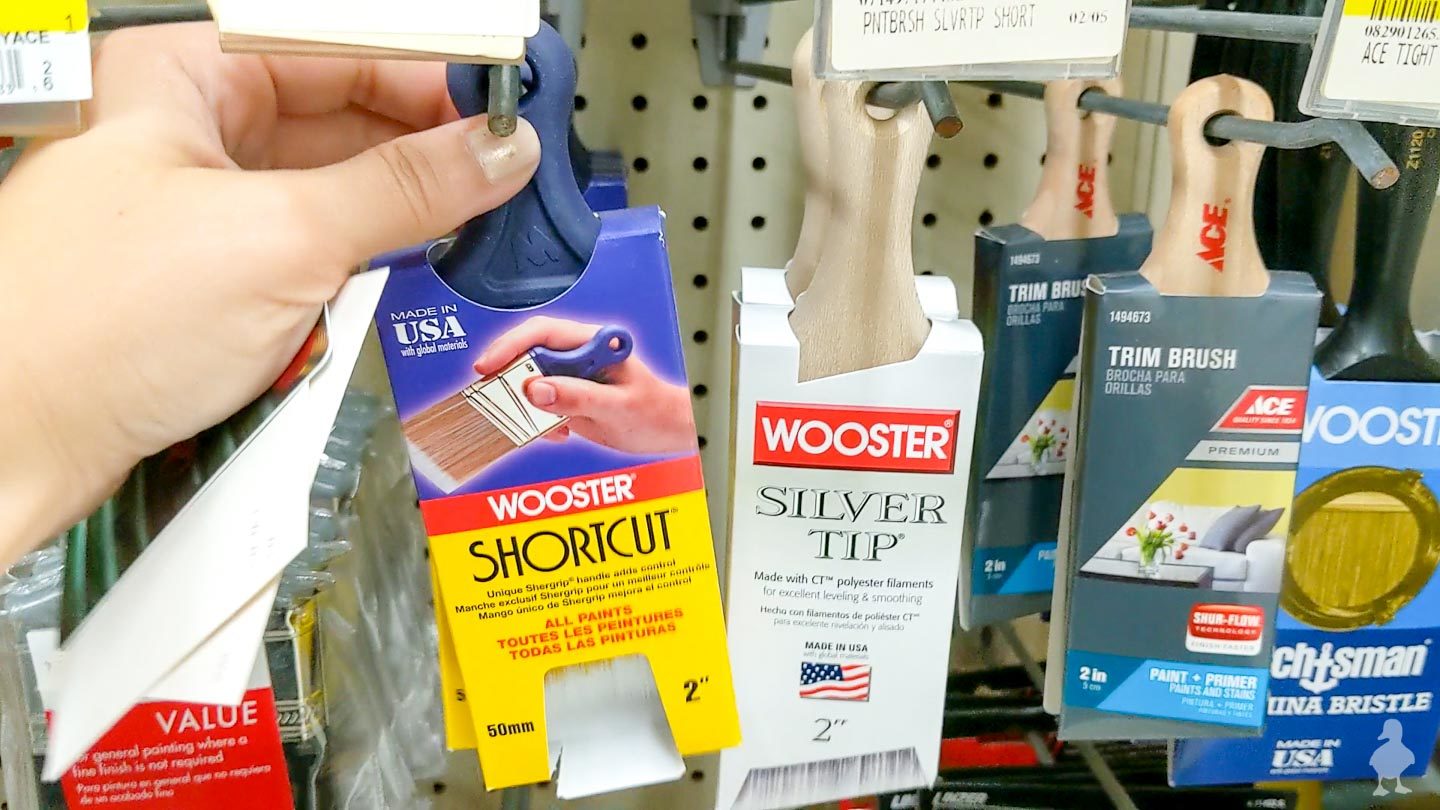 Pour paint into a secondary container
Dipping the paintbrush directly into the original can of paint can easily contaminate it (think pet hair, dust, that one corner of the wall you were sure you cleaned but somehow still has a cobweb after swiping the brush through, etc.). So, it's better to pour the paint you need for your project into a secondary container, such as a roller tray or handheld container. I personally love Handy Paint Pails (also available at Ace!) for this purpose. They have a handle and magnet to attach the brush to (convenient when getting up and down a ladder) as well as disposable liners.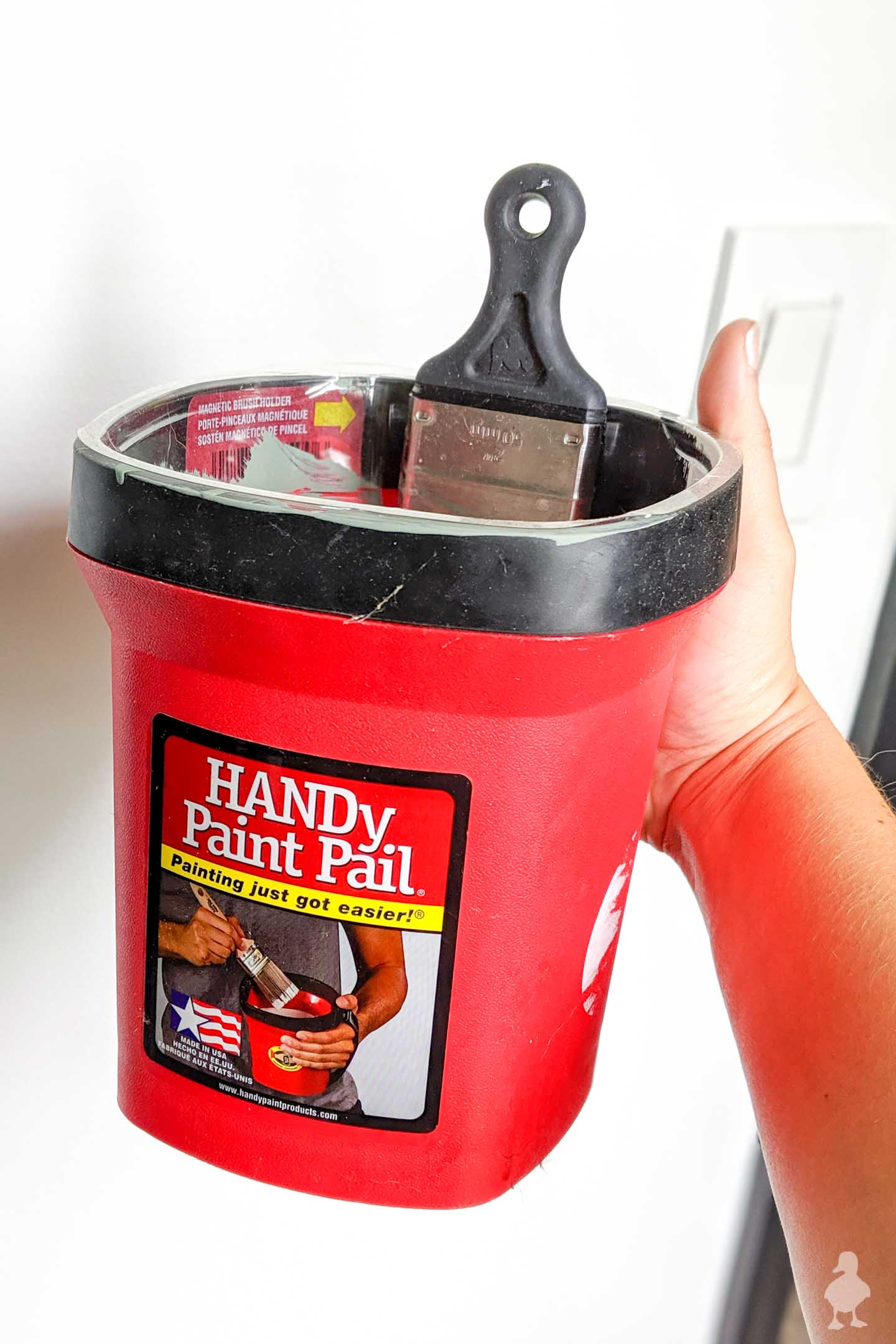 De-lint the roller
When you've done all that prep work from tip #5, you want to make sure nothing winds up in your paint. When using a brand new roller cover, wrap some tape around the entire thing and then peel it off to remove any excess lint on the roller. That way, it doesn't wind up in your paint job or on your walls.
Roll paint in a W shape
Working in 5 to 10-foot sections, make a W or N shape when painting the wall with your roller. This ensures that the area you're painting stays wet and that you don't accidentally back-roll over an area that's already started drying (which can make your paint job look stripey, especially with higher sheens of paint, called "flashing"). This is one of the reasons why I strive to paint walls, not rooms, in a set amount of time. Paint looks best when you create one continuous wet edge, let it dry, and then add a second coat.
Use a foam roller for cabinets and doors
As with most DIY, the right tools for the job are key to getting professional-looking results. On things like doors and cabinets, I use a foam roller more often than not (I sometimes use a paint sprayer for outdoor paint jobs, but I prefer to paint interior doors without taking them off of their hinges to avoid the prep work). I still de-lint the foam (tip #7) as I would with a regular roller cover, but consider this a tip within a tip: invest in good quality foam rollers if you're going to also de-lint them. Cheap foam rollers will fall apart if you stick tape to them!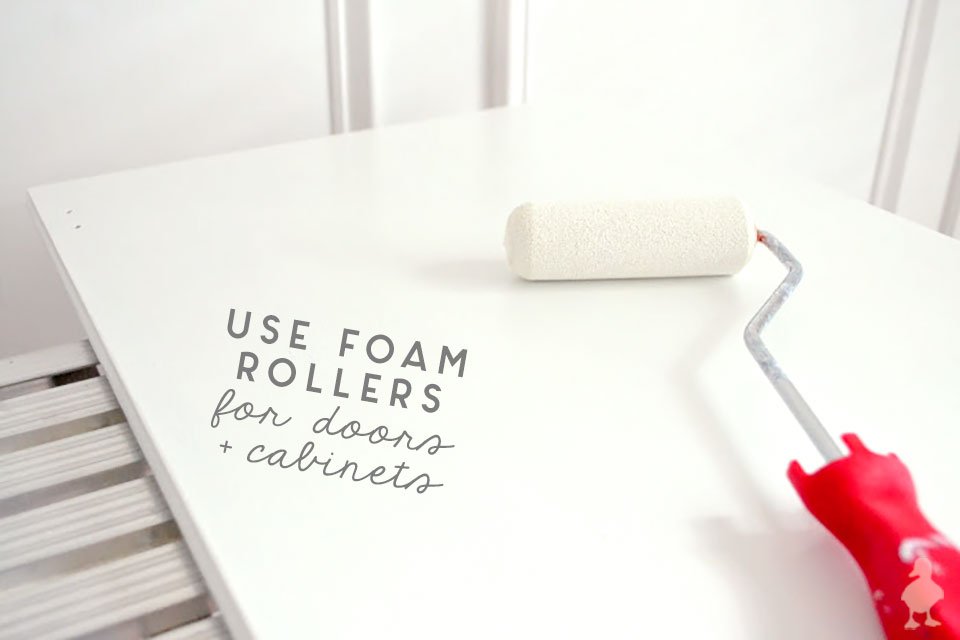 There you have it! My top 10 tips. I know that I have a few more sitting at the top of my mind right now (and I even threw in a few smaller ones inside these 10), but I like a nice, round number to start with, so we'll stick with 10 for now! I'm sure if you come back in 6 months or a year, I'll have even more added to this list for you. And if you feel like adding your own, please feel free to share your favorites in the comments below. I love learning new things from you guys!

Don't forget to pin this post to save for later!