Disclosure: this post may contain affiliate links, which means I may make a commission if you decide to make a purchase through one of my links, at no cost to you.
At the very end of last summer, I wrote a small "pup-date" to share a few stories with you about Charlie and Stella since they moved in together. A lot of you guys LOVED it and asked for more. So, I'm here to give you another!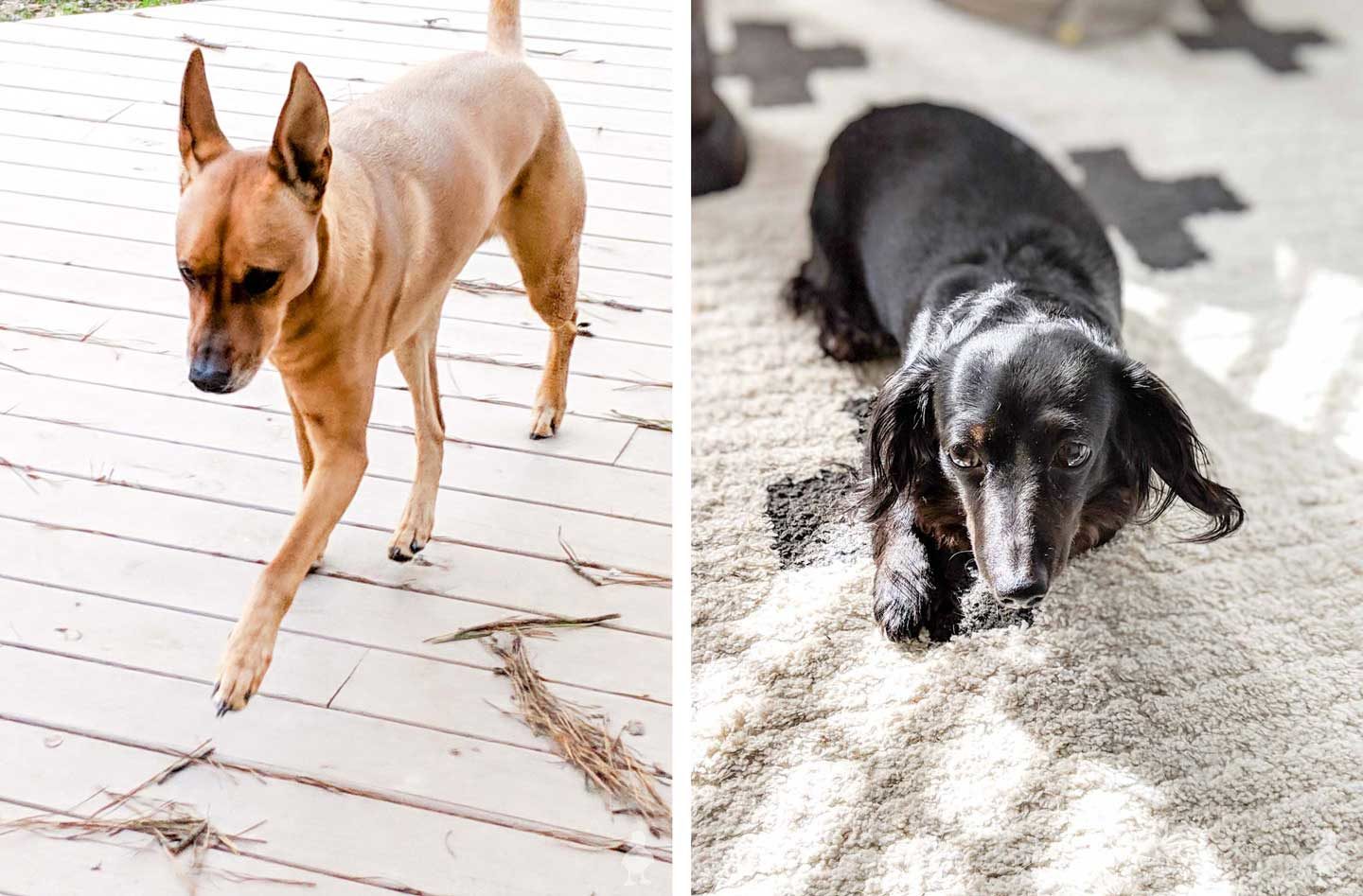 This post is sponsored by my friends at Swiffer and Febreze. As many of you know, I've worked with Swiffer for several years to help speed up my cleaning routine, and I am very grateful for their support. Their products are perfect for my busy working schedule!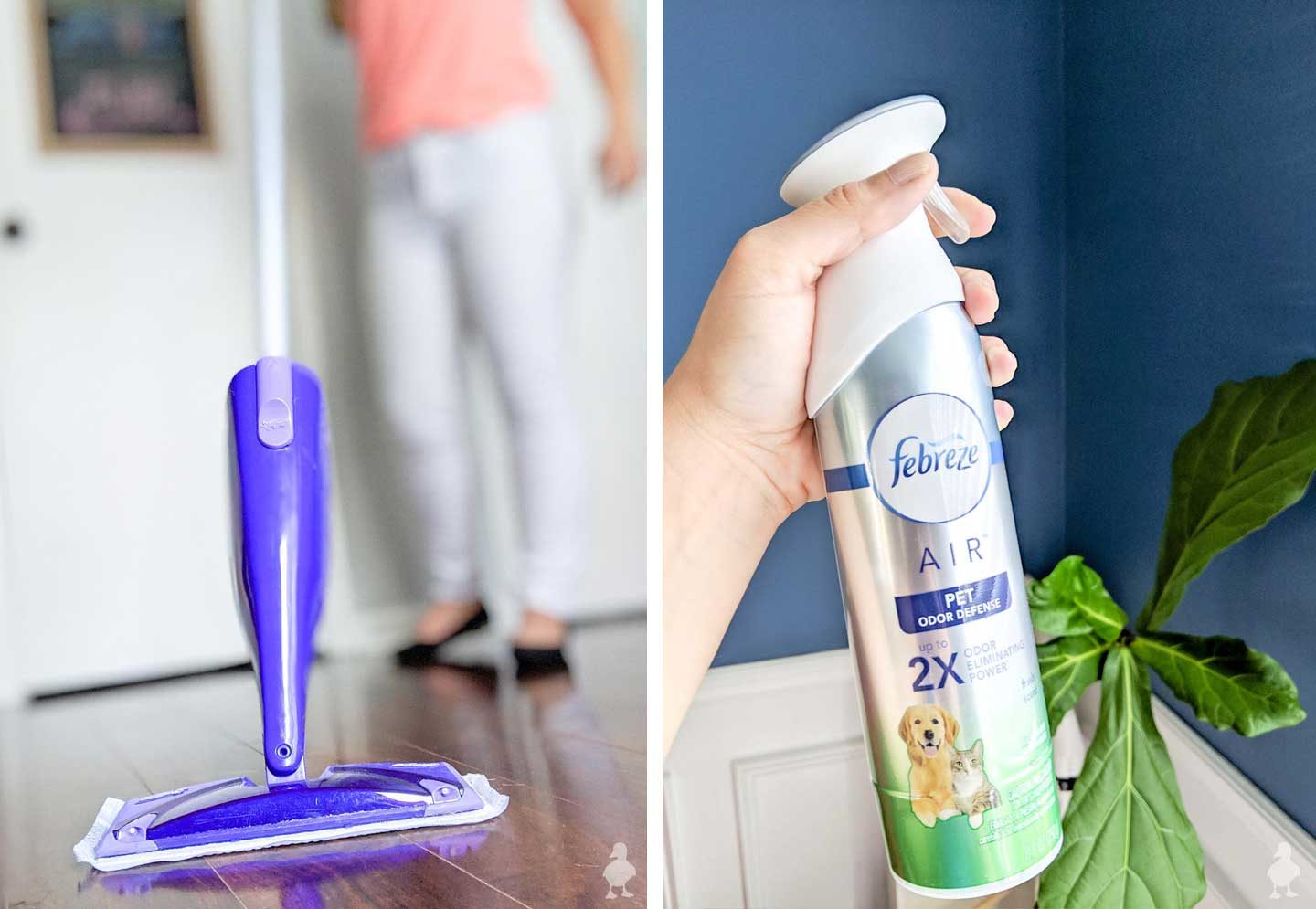 When I first thought I about writing this post, I was going to keep it focused on the dogs alone. However, I quickly realized that a lot of my stories about them involve our routines, which are directly impacted by the fact that I work from home and how we've learned to make that work best for us. I know some of you guys are curious about that, too, so here you go!
Working from Home: the Ups and the Downs
Ok, so working from home: it's great, right? Most people say that, but it has its downsides, too. It seems like more and more people telecommute these days, so I know lots of friends who have a love-hate relationship with it. On the one hand, you don't have to get out of your pajamas, you never get stuck in a traffic jam, you can take breaks with no shame when needed, and lots of other benefits. It's rarely boring or even "routine" in the strictest sense, since the day to day tasks of running a DIY blog can be labor-intensive, filled with phone calls, or computer work (emails/writing/editing/continuing education).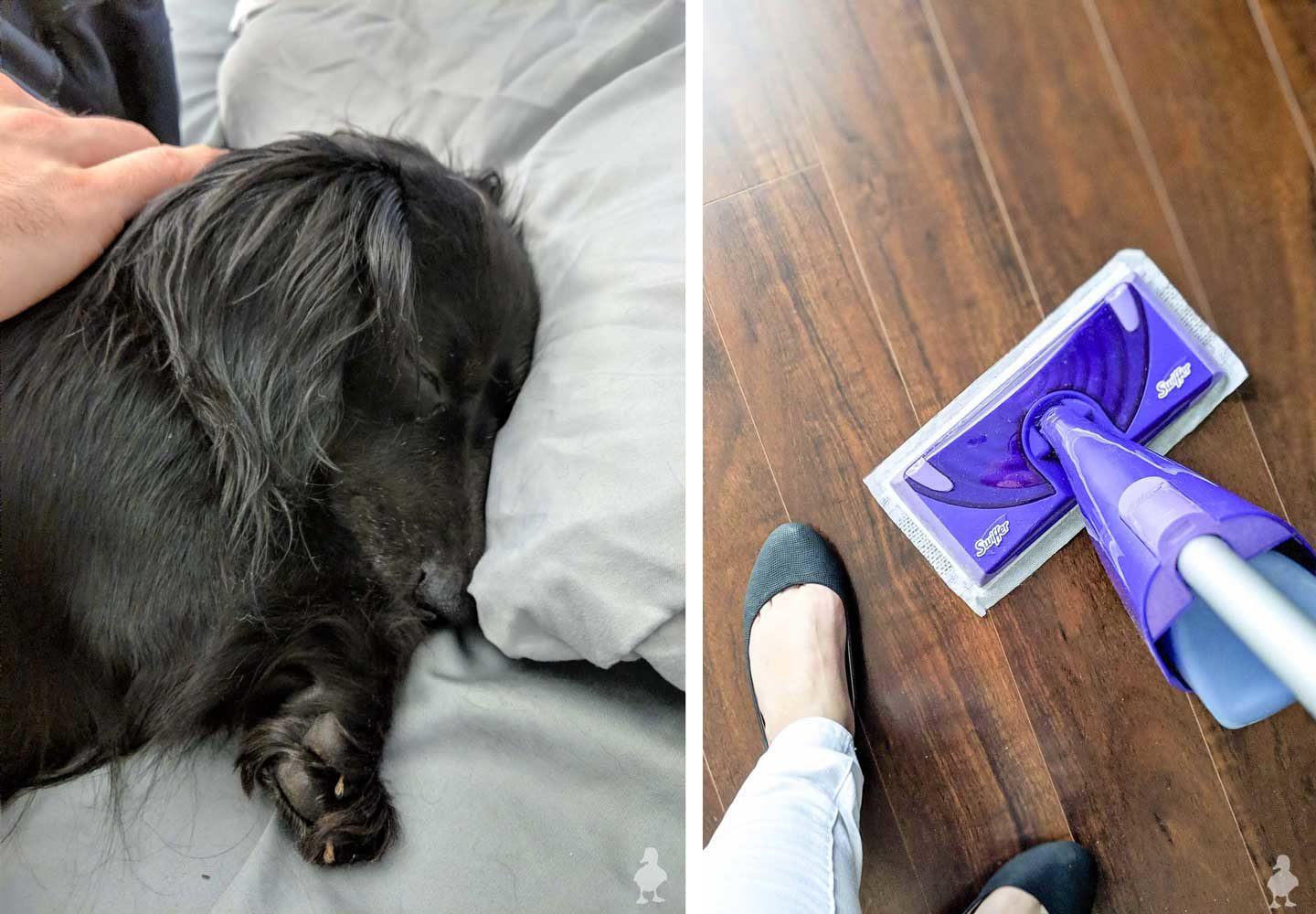 The downsides are basically the other side of that same coin: there are lots more distractions than an office, the lines between "work time" and "home time" blur (I work a LOT of hours because of that alone… I need to be more dedicated about shutting "off," but it's hard to do!), and it takes a lot of self-discipline to stay on task and get the job done. The fact that there's no true routine can add to one's stress or anxiety if you're the type who can't sleep if they think they've forgotten something (coughmecough). And, as I've learned ever since K moved in, my office (aka the house) is now a shared space that takes consideration in ways it didn't before!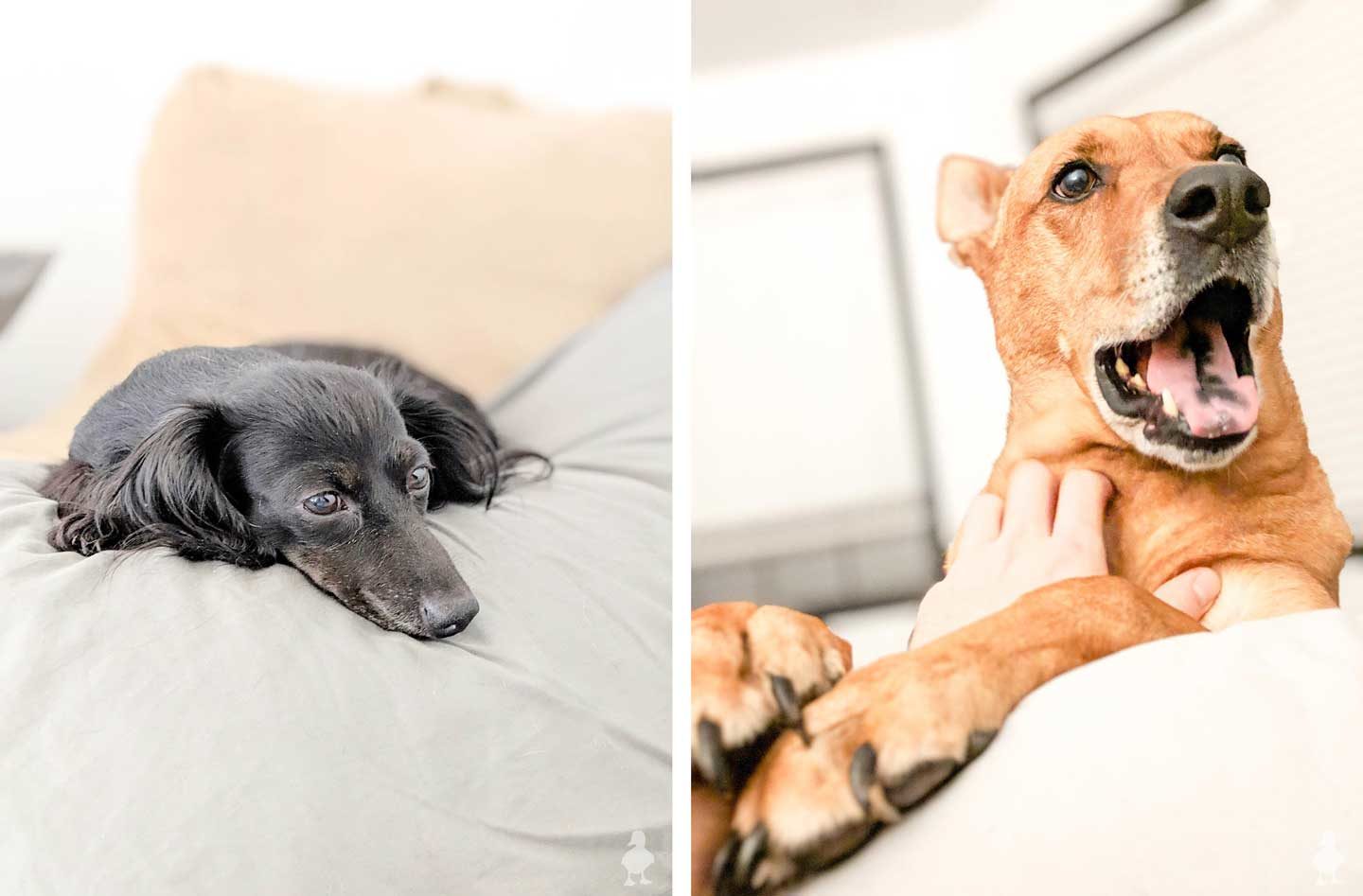 I'm a night owl and have regular sleep issues, so I sleep in most mornings and work a long day that can be any combination of computer time, project time (loud tool use or odors like painting), and phone calls. When he walks in the door in the afternoon (which varies day to day as to the precise time), the dogs get massively hyper and the crazy gets turned up to 11. He wants to relax, call his family, and decompress. Instead, I'm usually in the middle of my workday around this time. We haven't gotten it 100% perfect, but we do try to accommodate each other; we've had a number of talks that have helped him realize that he's basically walking into my shop/office, so I cannot/am not willing to stop what I'm doing, but he also needs space and a break so he can take a quick nap and then join me in my projects if I need the assist. The more he gets involved with the blog (he's coming to Haven to learn more!), the more adapting we'll do.
The Pups + Working from Home
Charlie and Stella are part of the "distraction" of working from home, too. But, I don't see it as a negative thing, really. Whether I'm trying to get some writing done or working on a home project, the pups are simply part of my daily routine, and it's pretty much impossible to avoid working them into every task. They'll follow me outside, into the garage (if I let them), try to share my lunch, and have taken it upon themselves to be Head of Security (ALARM! BARK BARK BARK!). They will nap right next to me on the couch if I'm drowning in emails and I can't get away from the computer. But if my day is full of DIY, they're usually off doing their own thing and regularly stopping in to supervise (I love that I've been adding video to my posts because whenever my footage shows I was very focused on the task, I notice during the edit how much they came by to check in!).
As much as that might seem like a regular interruption (and let's face it — that's a given), I love working from home and having them around. We have a wonderfully sweet connection in a million different ways from our interactions all day long that K just simply doesn't get to be involved in. It's ours alone.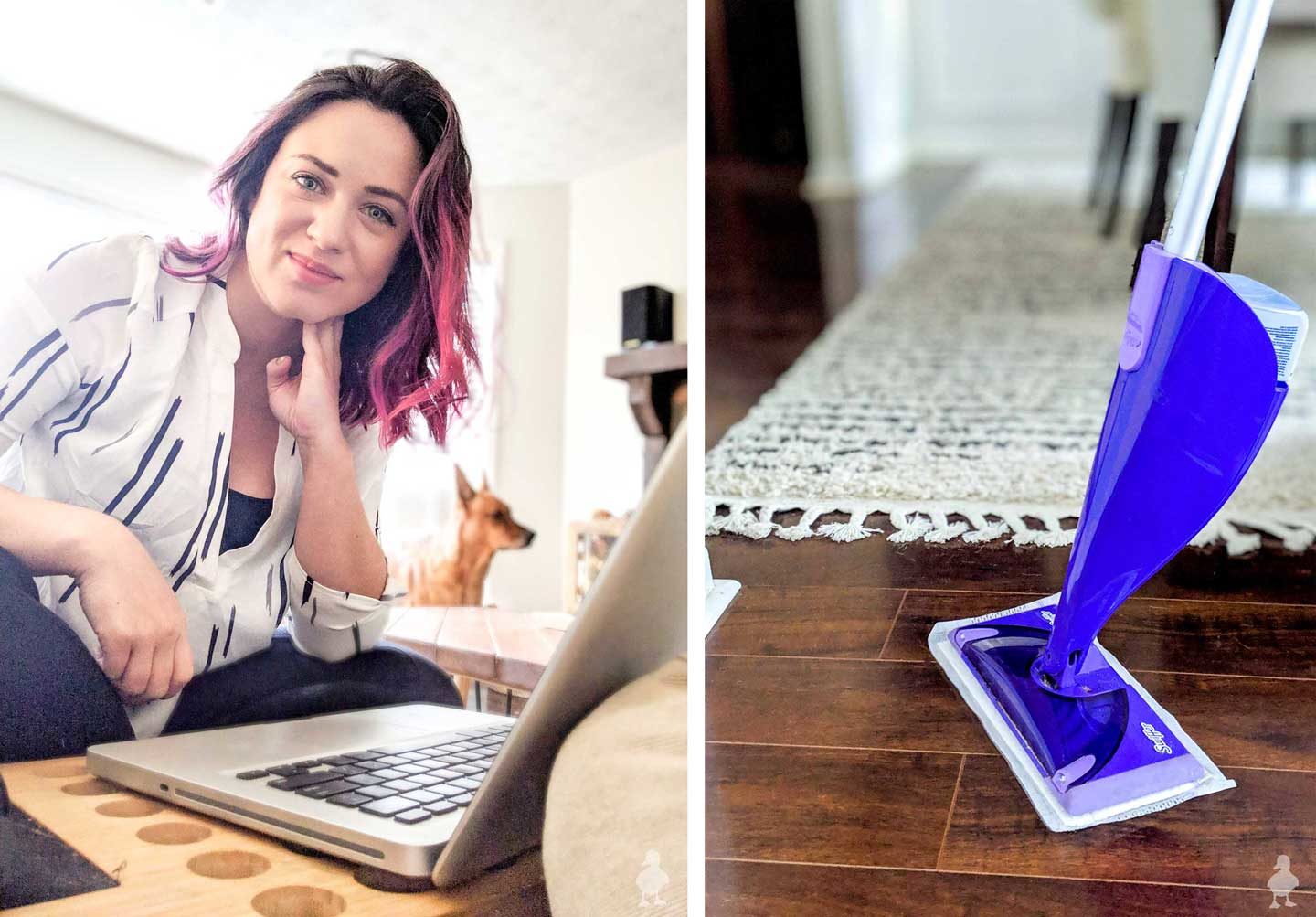 As you can imagine, that also means dealing with lots of crumbs, shedding, tracking in dirt, smells (why does Stella have gas on every conference call?!?), and other pet upkeep that I have to work into my "work" schedule. And that's why my partnership with Swiffer and Febreze simply works; they really make things easier to stay on the job without bogging down my day with cleaning.
Quick Cleaning While Working from Home
For dirt/mud:
Swiffer WetJet, all the way. I can't emphasize how little time (or patience) I have for cleaning that isn't fast. But ALL DAY LONG, Charlie and Stella love going outside to the back yard. And then back in. And out again. Stella loves to dig in the garden beds (we're hoping to tackle that issue later this summer with a project she can't climb into — she's wrecked them and we need to overhaul!). Charlie just likes to sit and look out over her domain. She began this habit last summer after we finished building the deck and shed, and she may even believe we built both for her.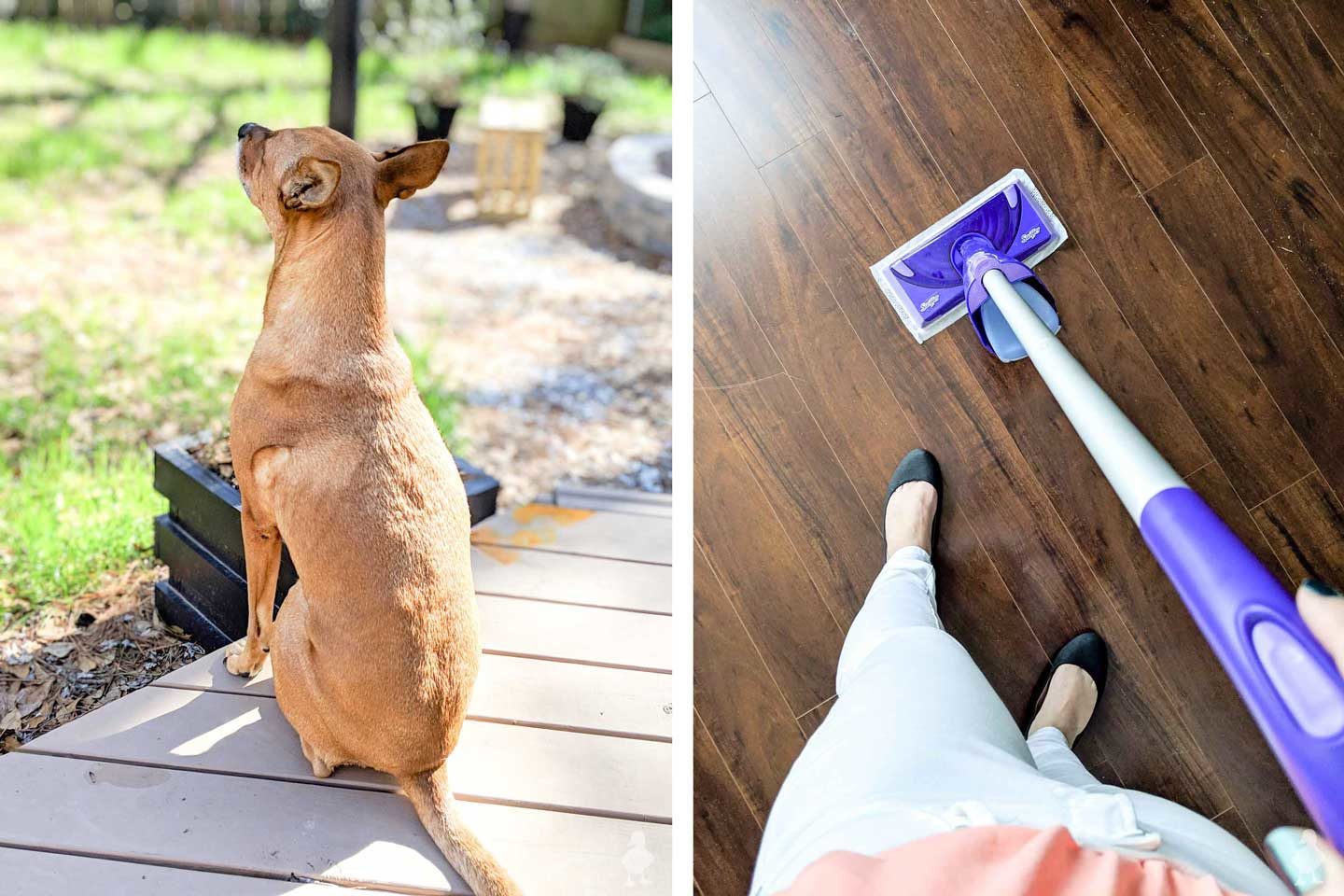 Whenever they come in, I can pull out the WetJet and trap and lock away the dirt in minutes. Pretty simple, so there's no sweating the mess. The new Pet refills have Febreze Odor Defense too, so it's built right into the cleanup.
For odor
Febreze! It's safe for pets and takes care of the FUNK that Charlie carries in with her after an afternoon of baking in the sun. They both love sun spots, and Charlie's habit is to run directly into the house and plop herself on the sectional before anyone else can steal a spot (if you get up to the bathroom, she does NOT believe in saved seats). If she's been out in the sun, I don't want that sweaty dog smell in my couch or rugs (and it doesn't make me very pleasant when I'm drafting emails, either ?). A few quick sprays of Febreze Fabric on the couch and Febreze Air Pet Odor Eliminator in the air, and it's gone.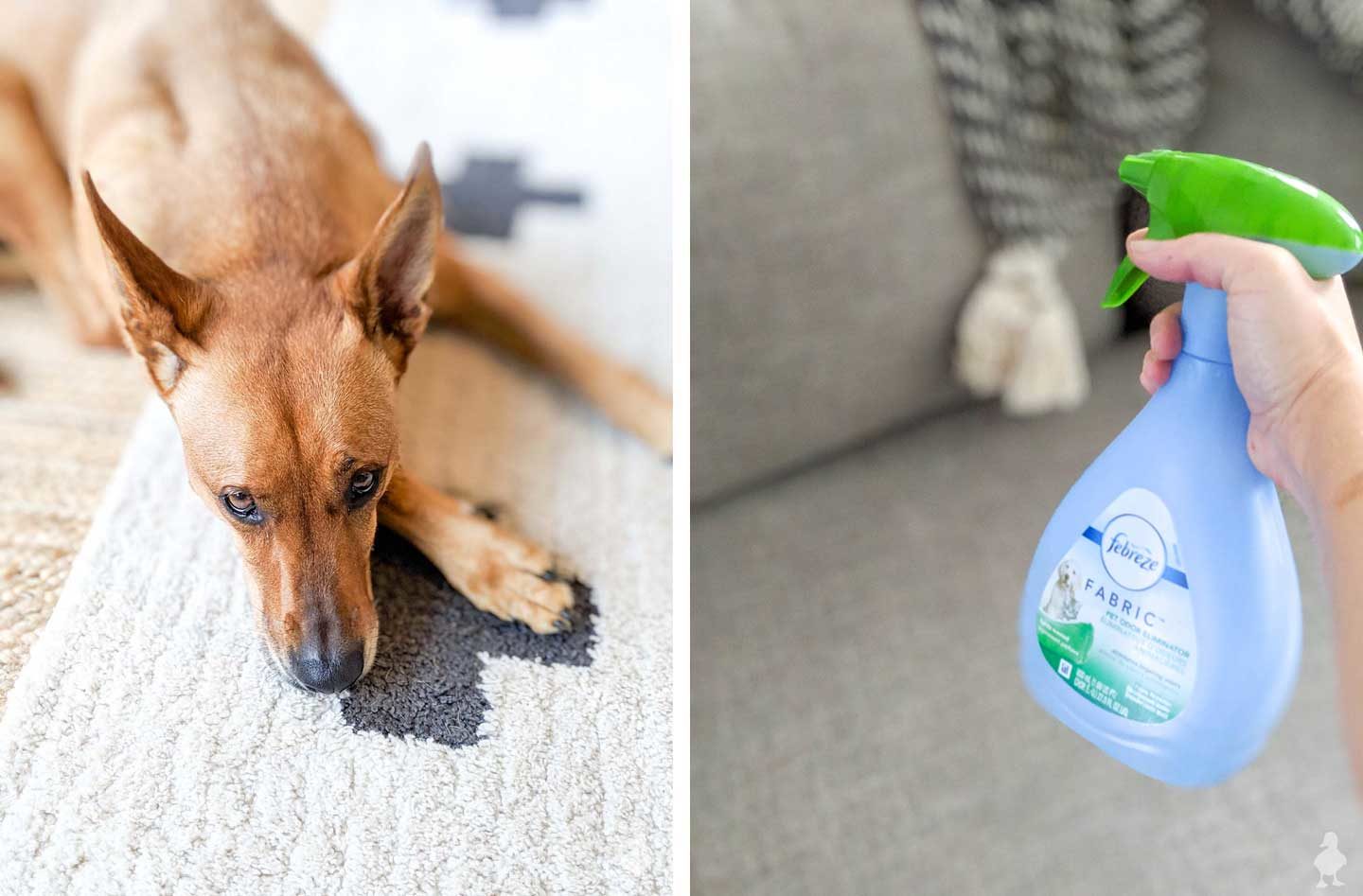 When the Day is Done
When I'm finally done with the work day (for a few hours, at least — I usually pick the laptop back up when everyone's in bed and I can't sleep again), it's time for dinner, TV time, and nightly walks. It's during this time that things like the dishes, laundry, and other cleaning takes place. About once a week, we try to use the Swiffer dry cloths on the staircase to pick up the shedding.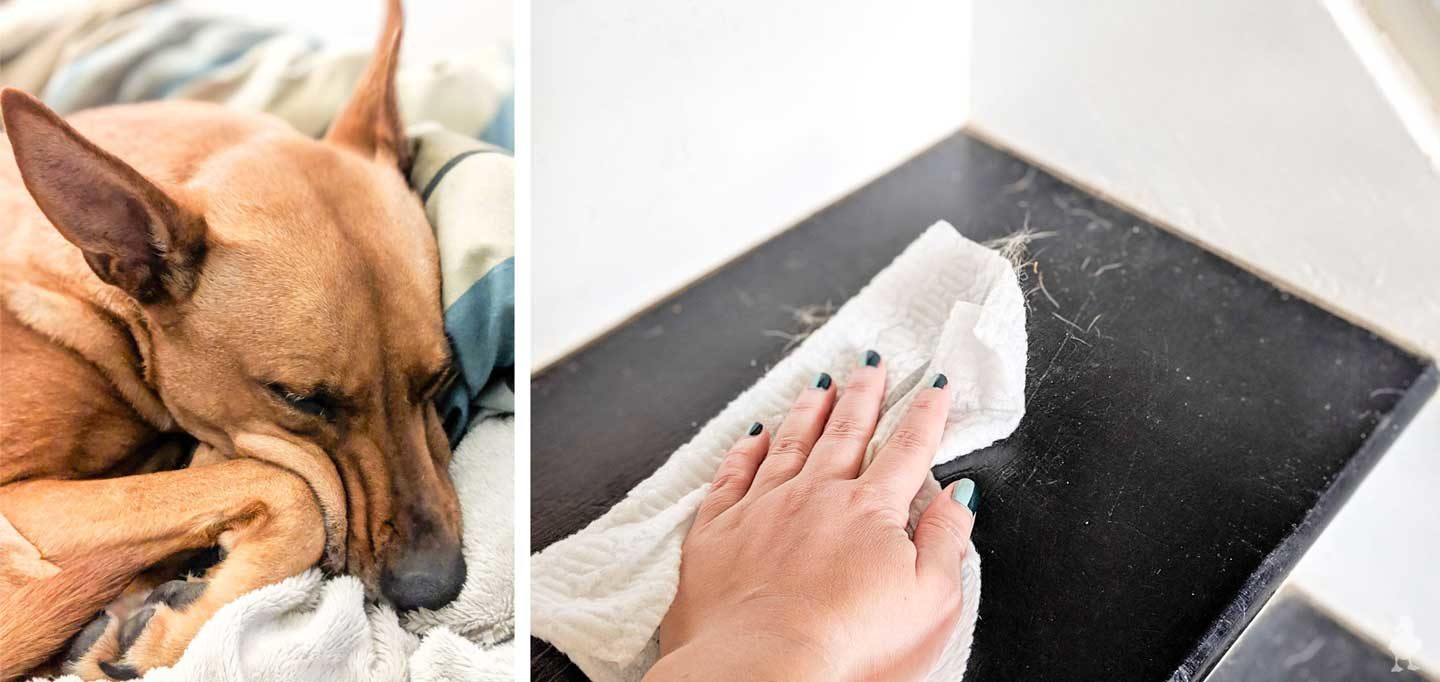 Stella has started playing a new game when we get back home after our nightly walk. She lets you get close to her like you're going to pick her up to take her upstairs to bed, but instead, she'll zoom into the kitchen, out of your reach… then through the dining room and living room, looping back to the staircase. If you play into it, she'll go 2 or 3 laps before you "catch" her ?.
It's the cutest thing, especially because Charlie does not care about this game at all and wants nothing more at the end of her walk to eat, and her food bowl is directly in the path. So she'll actively block Stella's zoom into the kitchen with her big fat butt in the middle of the hallway. Stella gets super disappointed at this, so we'll wait until Charlie moves to continue the chase, rather than catch her before she's ready.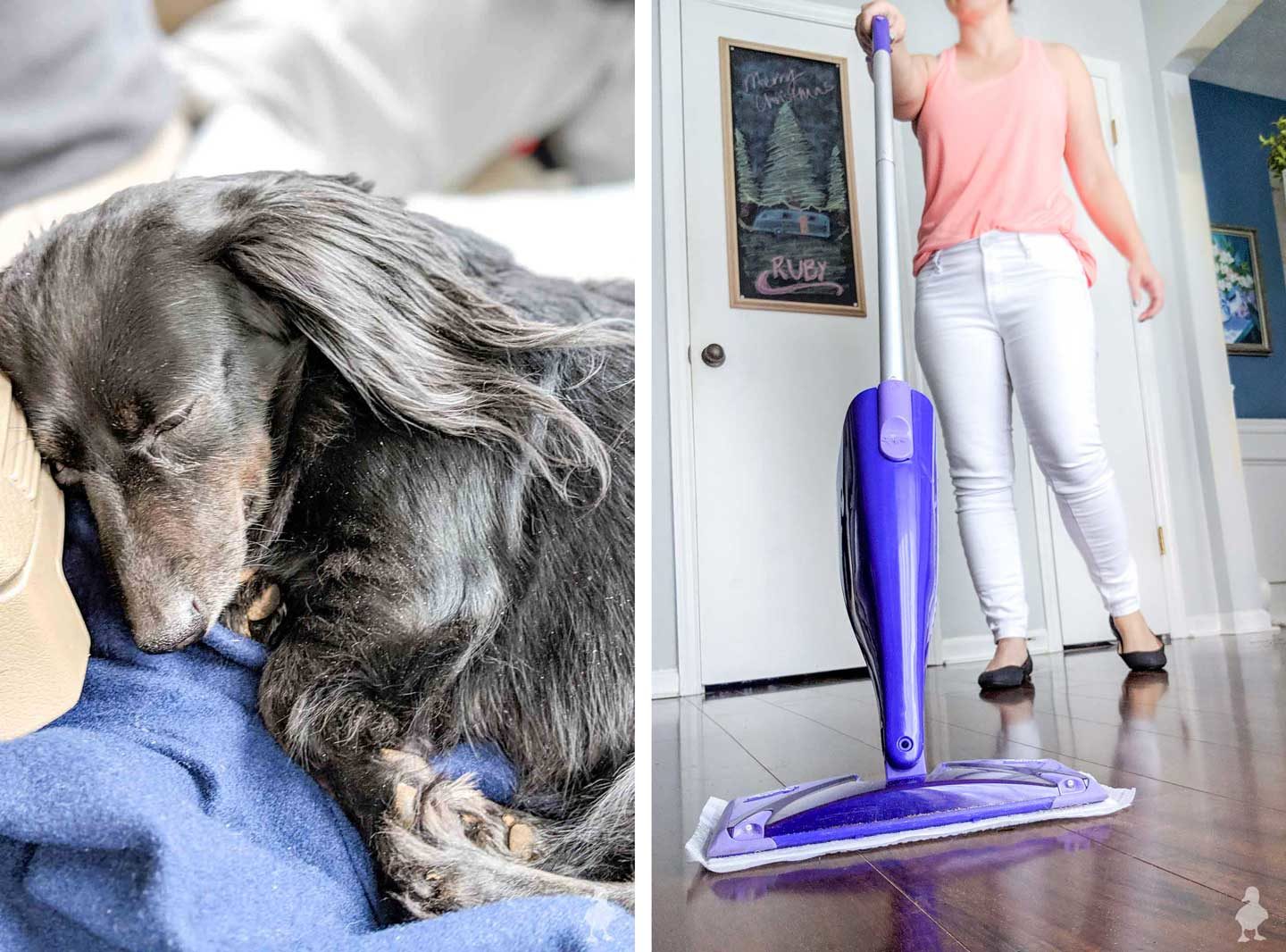 So, there you have it. A few more peeks into our day at the UDH. Really, it's mostly an excuse to share pics and video of the pups under the guise of normal post structure ?, but I'm doing it for future me, who will be glad I wrote down the little stories of these two wonderful dogs and how much they enriched our lives.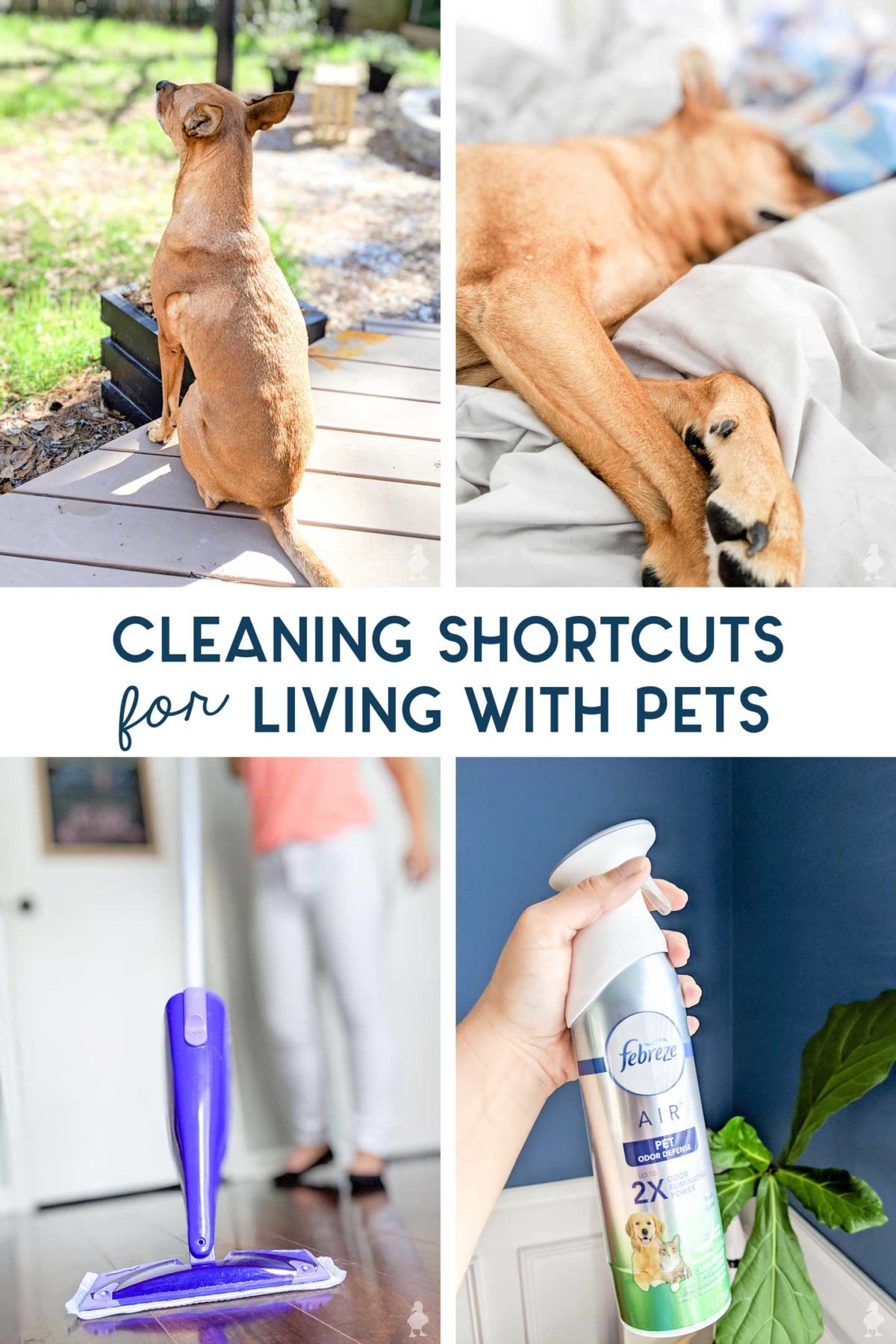 Your turn! I'd love to hear a cute story about your pups (be it work-related, their habits, or cleaning up after them). Leave one in the comments!