Disclosure: this post may contain affiliate links, which means I may make a commission if you decide to make a purchase through one of my links, at no cost to you.
This post may contain affiliate links. This won't change your price, but may share some commission. Read my full disclosure here.
Organize your must-have desktop items — even a tape measure! — with this beautiful organizer and get the free plans.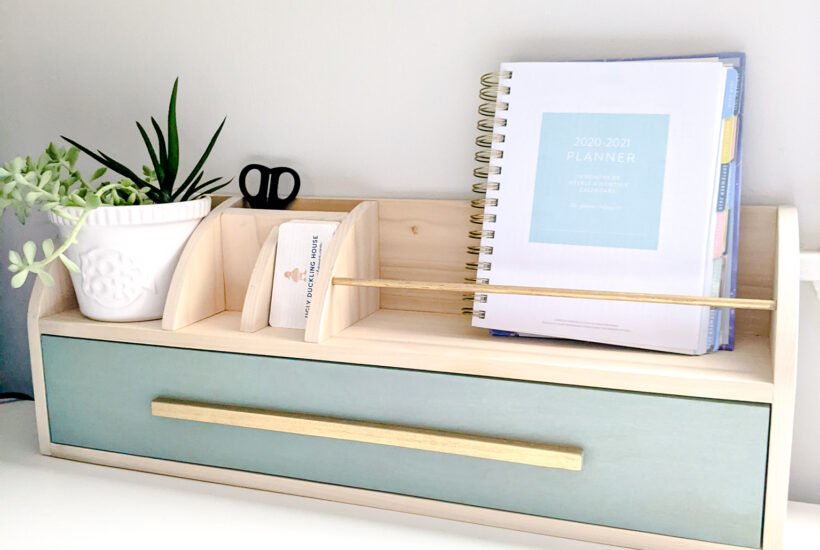 January is one of those months where people all over seem to shout into the air: ugh, I am SO disorganized! So, I figured: when every little bit counts, some of you guys may want to make this for your desk clutter. It's an easy build, but I've got FREE PLANS to help you organize a desk near you (it's been a minute since I offered new plans, so hopefully this is a sign of more to come in 2021!).
This post is sponsored by Minwax. All thoughts written here are 100% my own.
These days, I try to include a video with my tutorials whenever possible, just in case it helps visualize the project a little better. You can check that out below or on my Instagram.

How to Make This Simple DIY Desk Organizer
Measuring at only 5-1/2″ deep, this organizer can pack quite a lot! For full measurements and instructions, you'll need to download the free plans.
Cost: about $12 for the poplar — I usually have most other materials, so I bought the "pretty" wood on the outside and used scrap for the inner drawer.
1. Cut and assemble the drawer
The materials list suggests using all the same wood for this project, but I still tried to use scrap wood where I could, such as the drawer (since it's all hidden from the outside, it's a perfect spot to not need every piece to match). I cut the drawer first since I knew I wanted to use up scrap, but you can of course make the drawer after the outer organizer (there's some space both at the top and back of the drawer, so you could potentially make the drawer slightly bigger than the plans if you wanted to).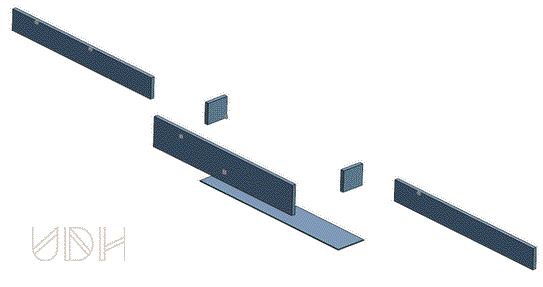 2. Glue up the back piece
The widest 1/2″ boards I could find at the big box store nearby was 6″ wide (remember: this is the nominal size; the actual width of the board is 5-1/2″). Since I needed 9″ for the back, I had to glue it up using clamps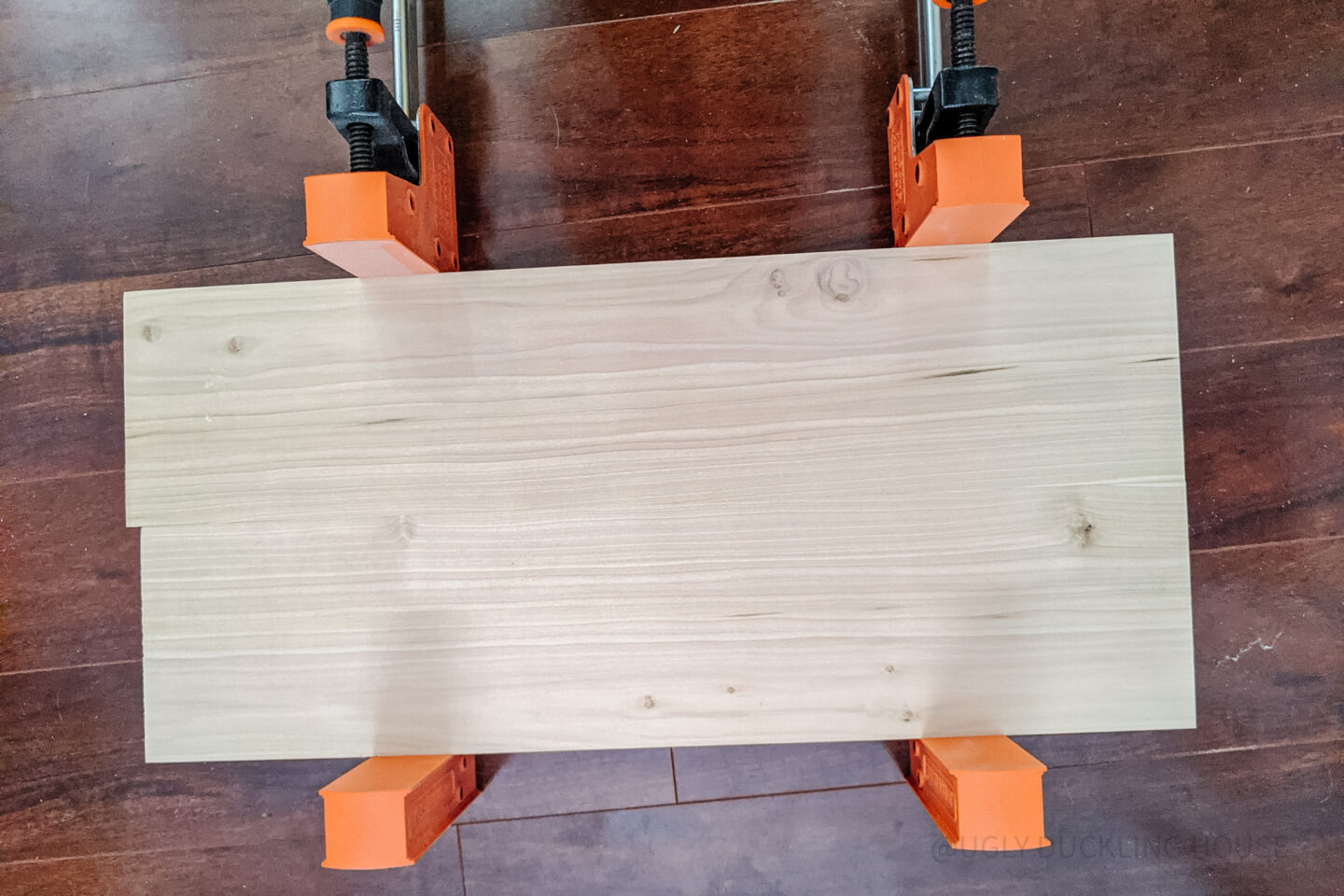 3. Cut all other pieces
Following the plans, cut the sides, shelf, bottom, dividers, and drawer face (I don't have a table saw and cut everything on my miter saw, but I recommend using one if you do because these pieces are a little long. A circular saw can also work, but again I just think it would be easiest on a table saw.).
4. Draw and cut curve shape
I wanted this organizer to have a matching curved shape along the sides and dividers. So, I sketched the first curve, cut and shaped it with my sander, and then used this shape to trace and cut out the rest of the pieces.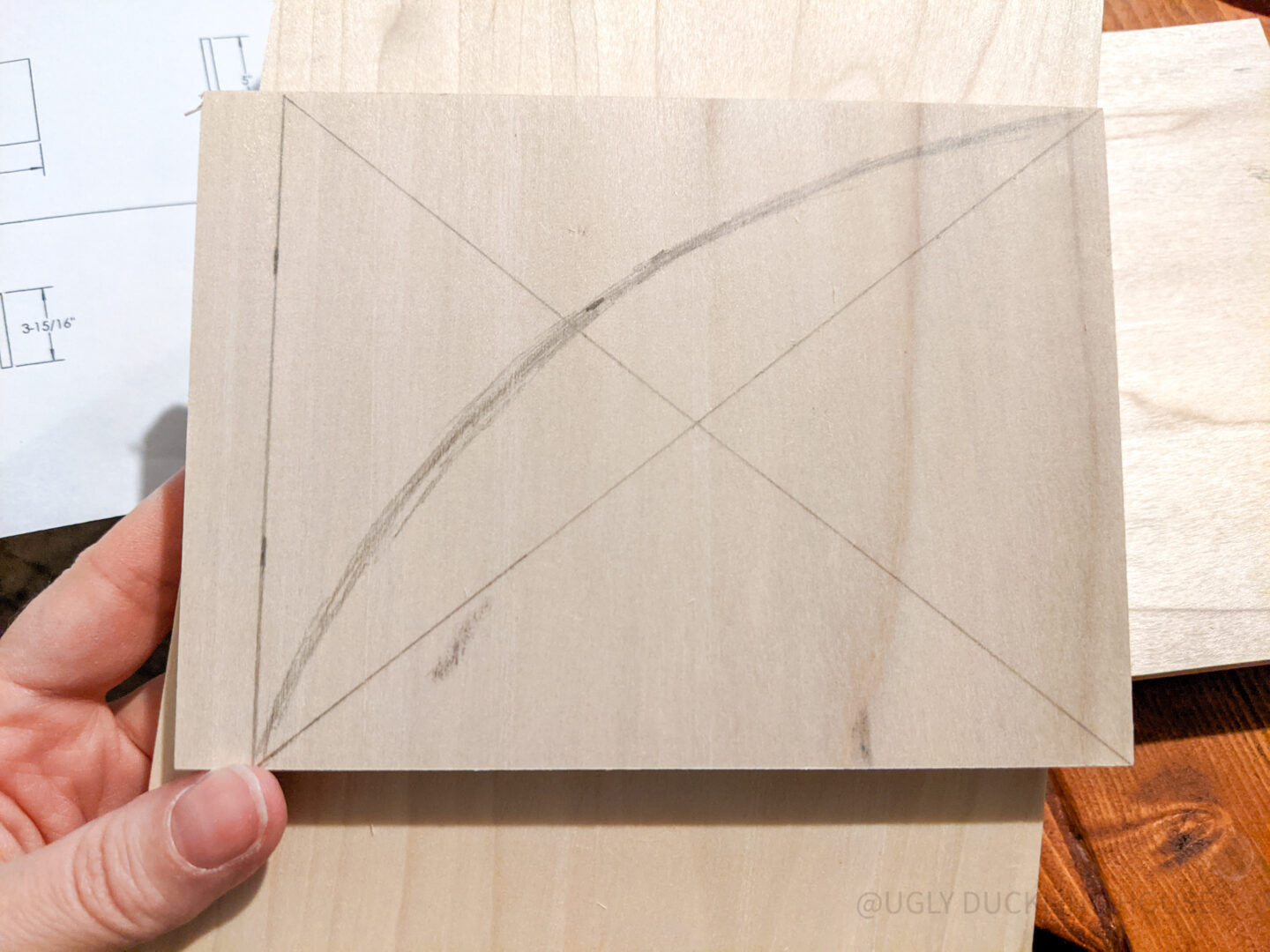 5. Assemble organizer
With all the pieces cut for the outer sections (minus the drawer face), I glued and nailed everything together.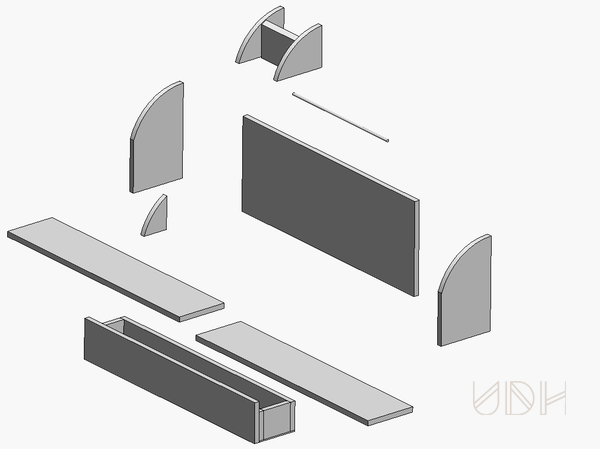 6. Stain and attach drawer face
I stained the drawer face with the Minwax Water-Based Solid Color Stain in 2021 Color of the Year, Vintage Blue! Solid stain shows just a small amount of wood grain peeking through the color, which was a nice little accent for this project. It also applies super fast (one of the reasons I've been using it so frequently). Swipe on, wipe off, done! To I then used a few business cards to help evenly space the gap on all sides of the drawer face before attaching to the front of the inner box of the drawer.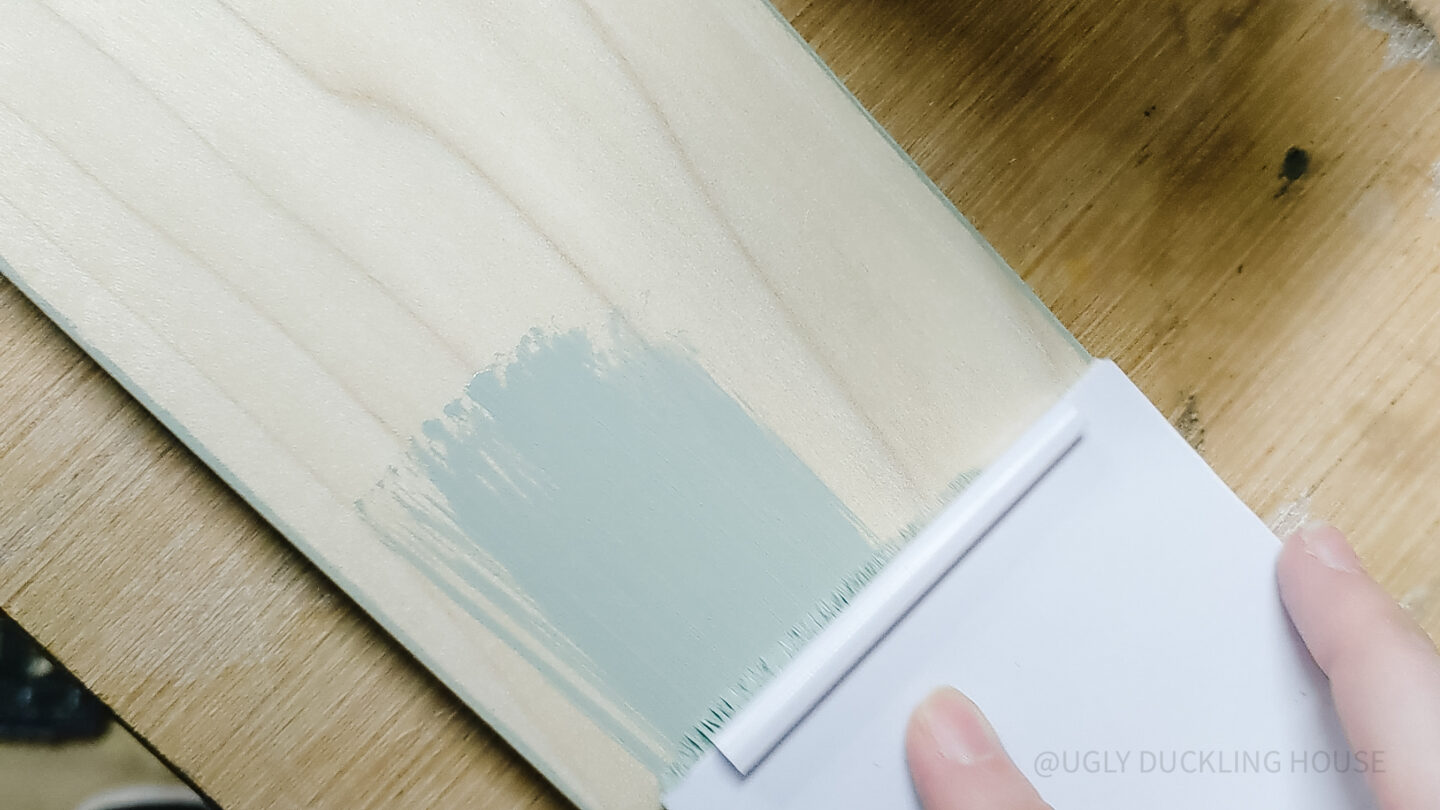 7. Spray paint accent pieces
With a scrap piece of leftover material and a 1/4″ wooden dowel, I spray painted the handle and small bar that's used in the upper area to hold papers. I love the way the gold pops against the wood and stain! After they dried, I installed them in the top section and on the drawer face (I was careful to only use nails in the middle of the drawer face so the gold handle would hide any blemishes).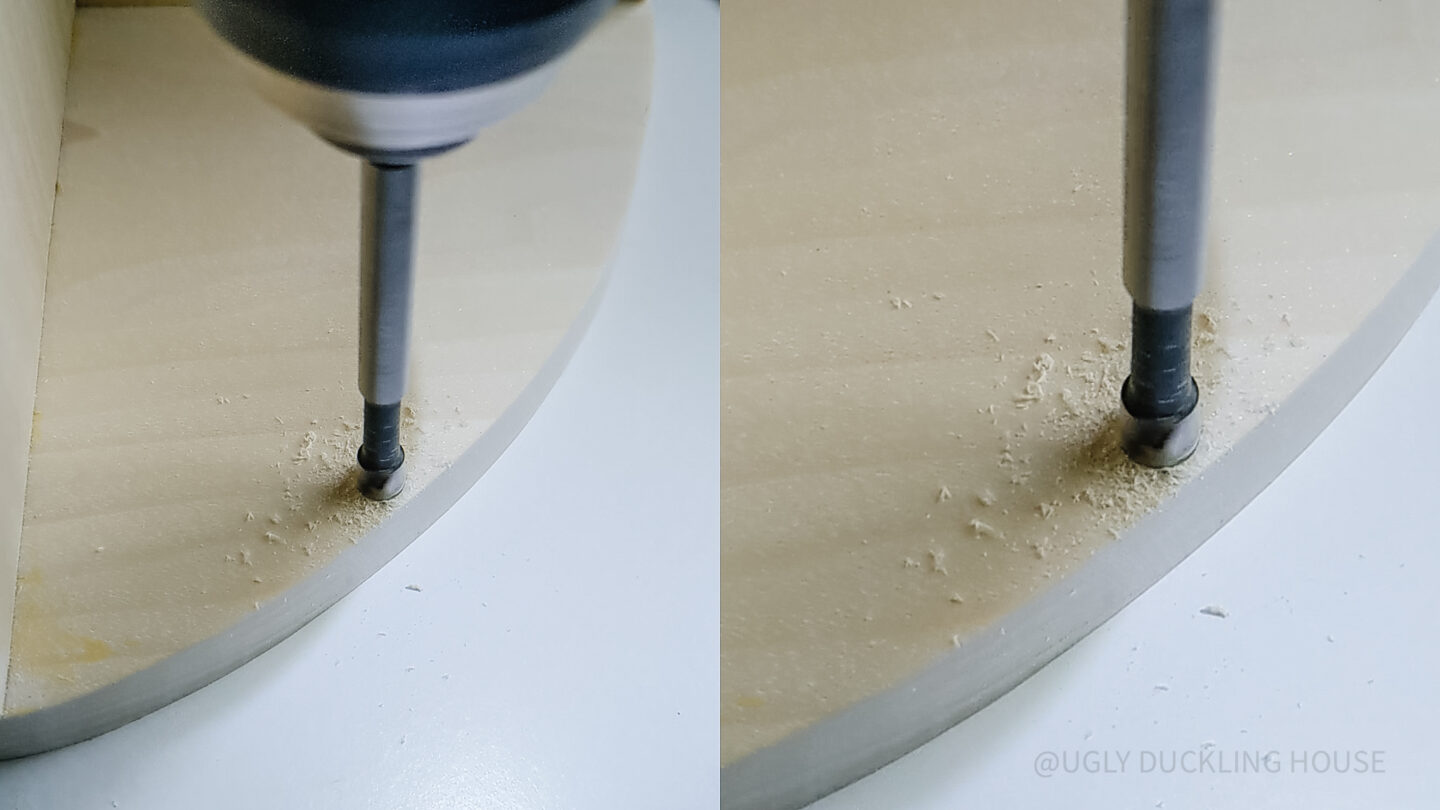 I, for one, like the idea of having a place for a little plant pot on the end, but I tried to think of a variety of options when designing. For example, instead of the plant pot, you could add a pencil cup to the left side while the back narrow slot (where I put pencils and a pair of scissors) can be used for envelopes. The narrow spots in front where I have my business cards can be used for things like Post-Its, or you can add a little bar or mesh to hold other items that you're afraid will fall without the added support (paperclips, perhaps?). Then, of course, there's the drawer for hiding things that aren't so photogenic (extra charging cords, for example).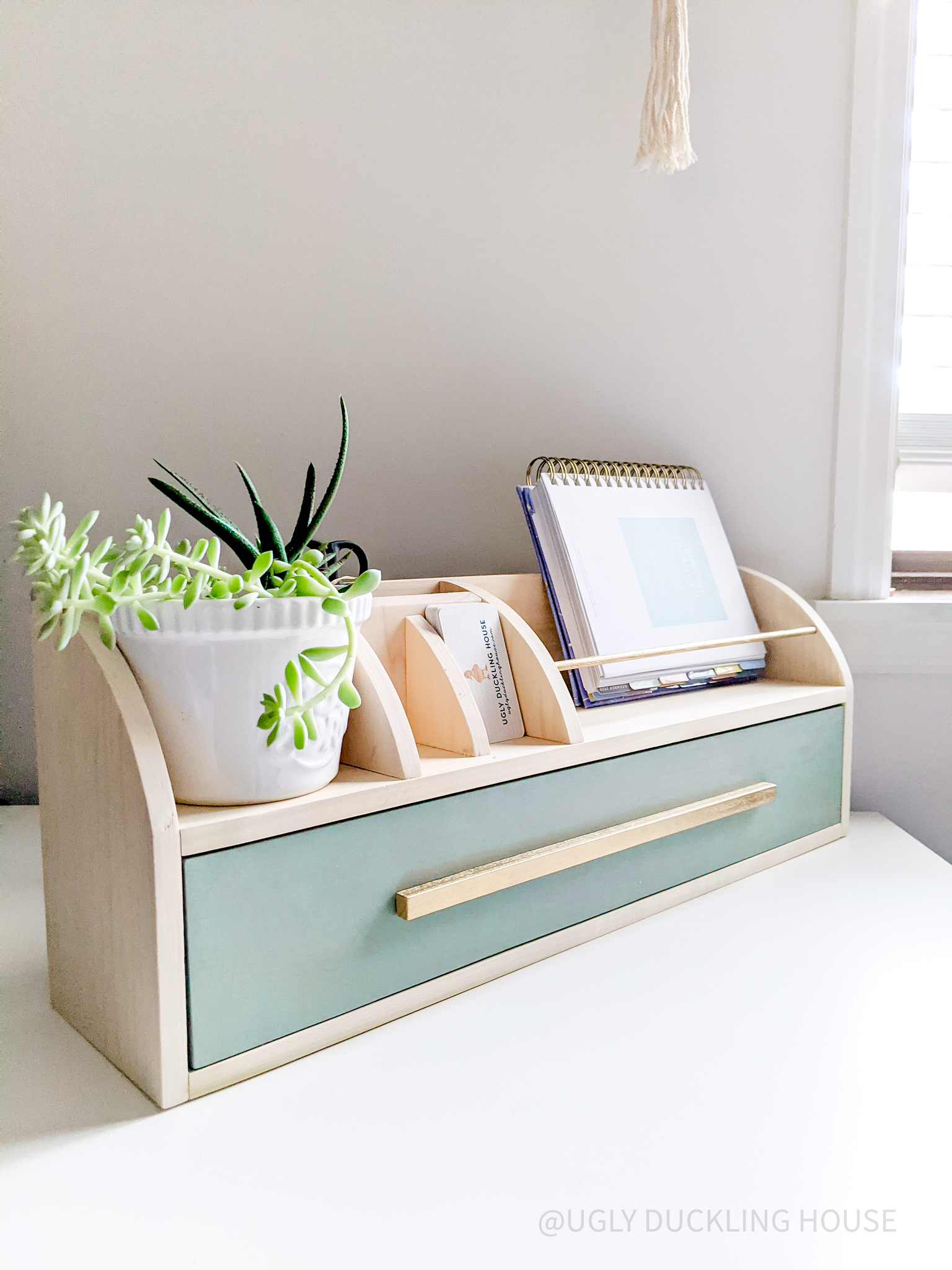 Overall, I hope it helps a few folks with their organizational challenges, especially with so many more folks working from home! Enjoy. :)
Don't forget to pin it!