Disclosure: this post may contain affiliate links, which means I may make a commission if you decide to make a purchase through one of my links, at no cost to you.
This post may contain affiliate links. This won't change your price, but may share some commission. Read my full disclosure here.
Here's how to make house numbers more visible (especially at night!) with this FREE DIY sign using offcuts from the scrap wood pile and a scroll saw.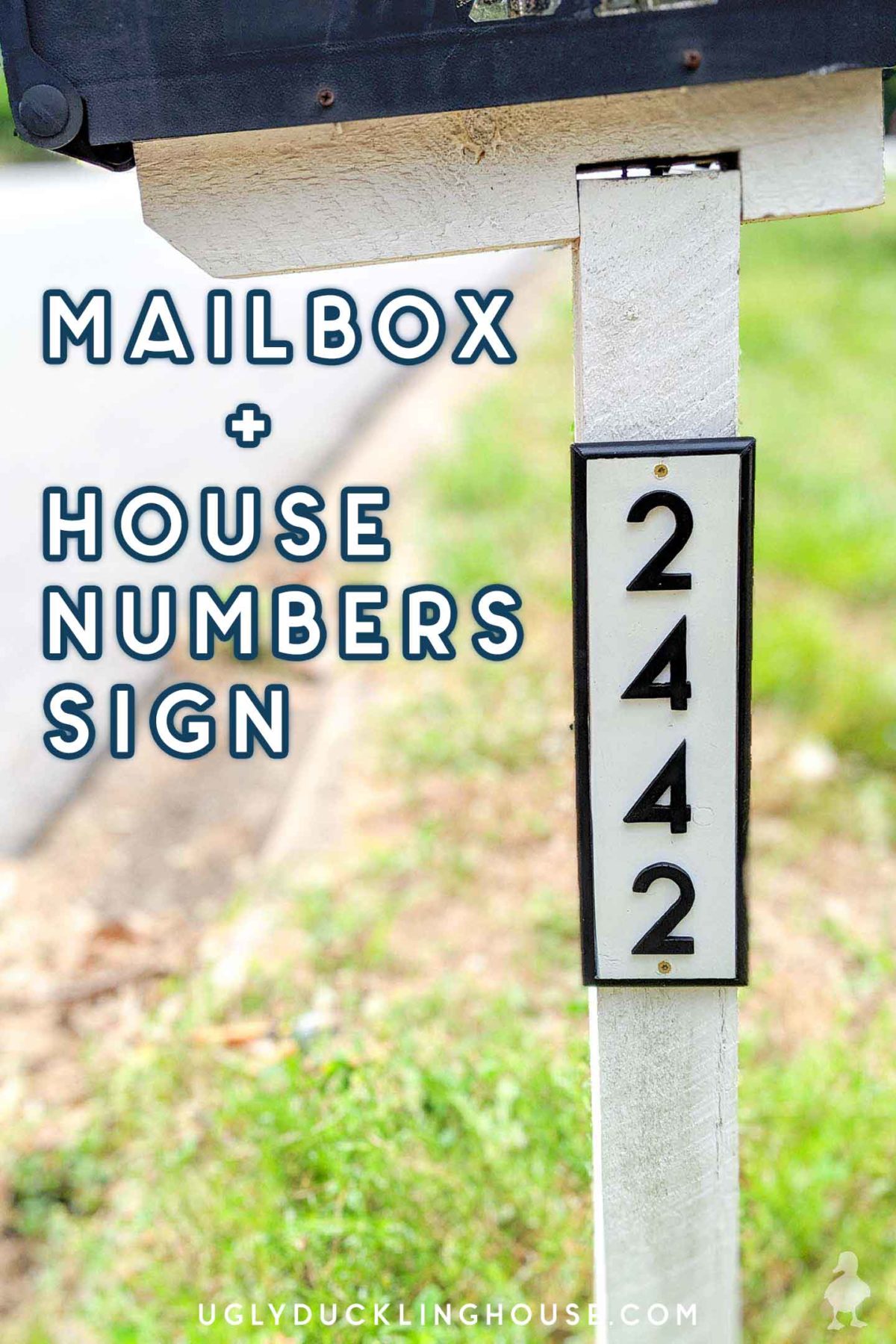 I know this is going to sound very "typical lazy Millenial blah blah blah" to say, but at the UDH, we order food out a lot.
Like, a lot.
I could blame K, and say that before he and I lived together, I didn't order out as much as we do now. But I still ordered out often enough that the pizza guys knew my house.
Together — and fueled by a lack of energy while building things like sheds and decks — we made the switch to food delivery apps. Which is so much better and so much worse, because we can have all sorts of our favorite foods available and not have to shift our focus to dirty dishes and food prep. Whatever we're in the mood for, it's there.
We are SLOWLY getting better (especially in summer now that we're growing veggies from the garden beds I built last year). But between my running a business and him coming home after work to sometimes get involved in my projects, we still get food delivered on a semi-regular basis. And, we get all sorts of other things delivered, too: dog food, cleaning supplies, clothes, and more.
I guess what I'm saying is, this DIY mailbox numbers sign project is directly inspired by these habits. I don't know what it is about our neighborhood (it even has our address numbers sprayed on the road), but even our postal service carrier gets the mail screwed up a lot! The unfortunate random delivery person just doesn't stand much of a chance. I tried adding some cheap reflective stickers to my mailbox last year, but they faded fast and just weren't worth trying again. So, I've made a better fix with just a little scrap wood. Which means my upgrade was totally FREE!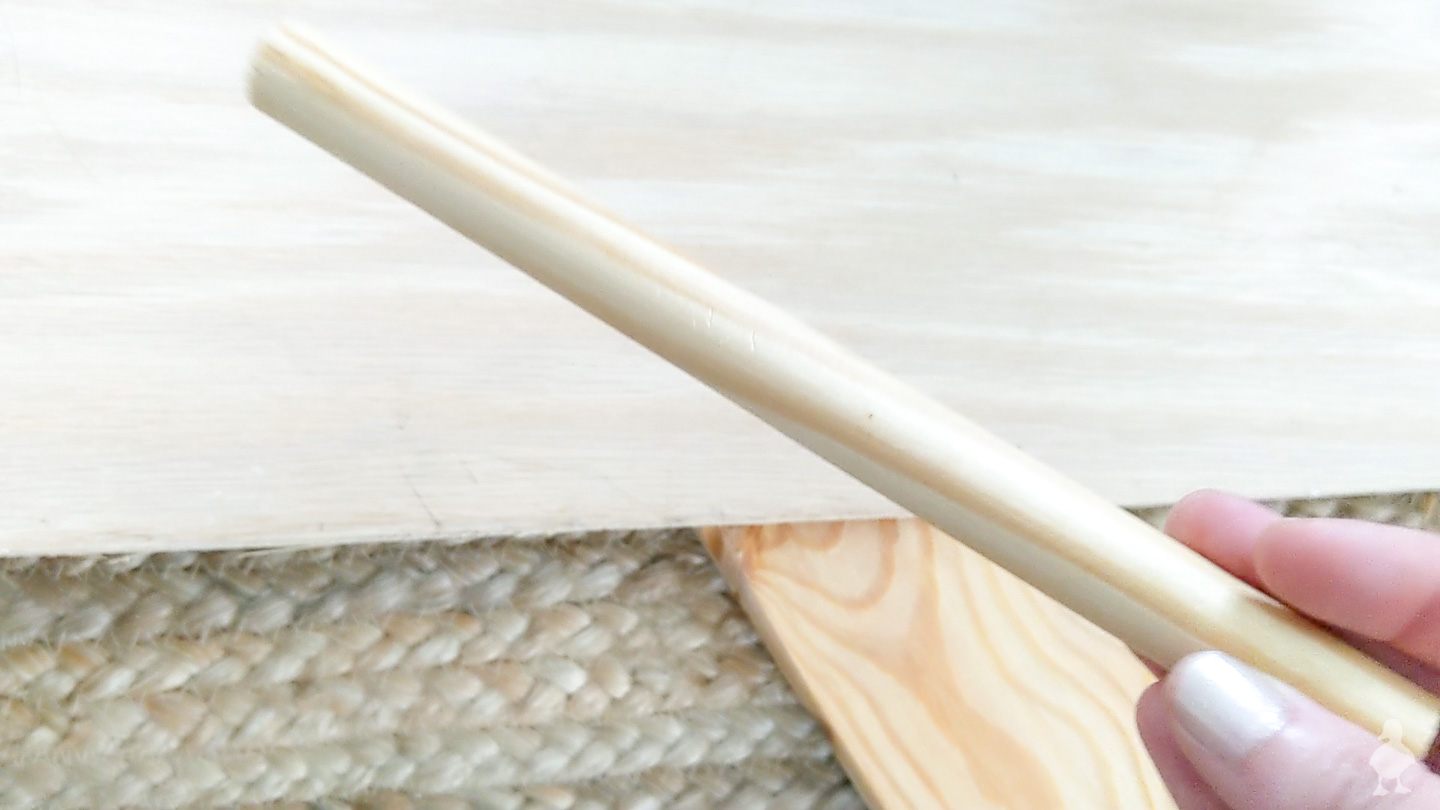 It also means that, rather than prepare a meal yesterday afternoon, I made something for the house instead. Power tools: the best enabler ever.
DIY Wooden Address Plaque
To make this, you will need (or similar):
1/4″ scrap plywood
approx. 12 inches of scrap 1×4
trim of the same thickness as the back of the sign (I used scrap pieces from the trim I'm using to upgrade my master bedroom doors — that DIY will be coming soon!)
printer & printer paper
spar urethane (a good outdoor sealant to protect from sun/moisture)

Watch the video
Create numbers template
I created a quick visual guide in Photoshop the size of a standard 8-1/2×11 piece of printer paper. Since I didn't want to waste the ink, I changed the lettering to grayscale and kept it light.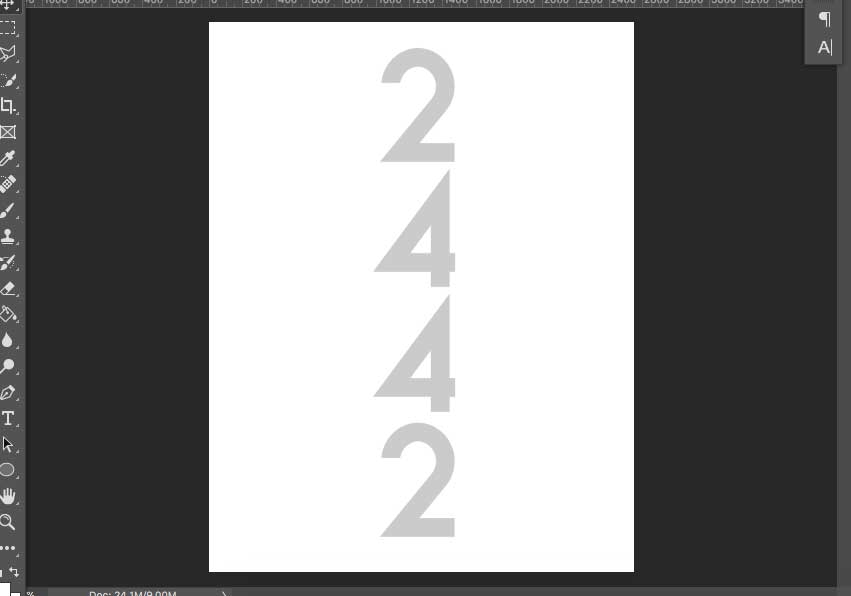 Cut plaque to size
Next, I raided my scrap wood pile to find pieces for everything and found the closest match to the width of the trim I wanted to use. This wood is actually left from taking a part an old bed frame (I used the same slats last year to create a small wood screen near my grill in the back yard!).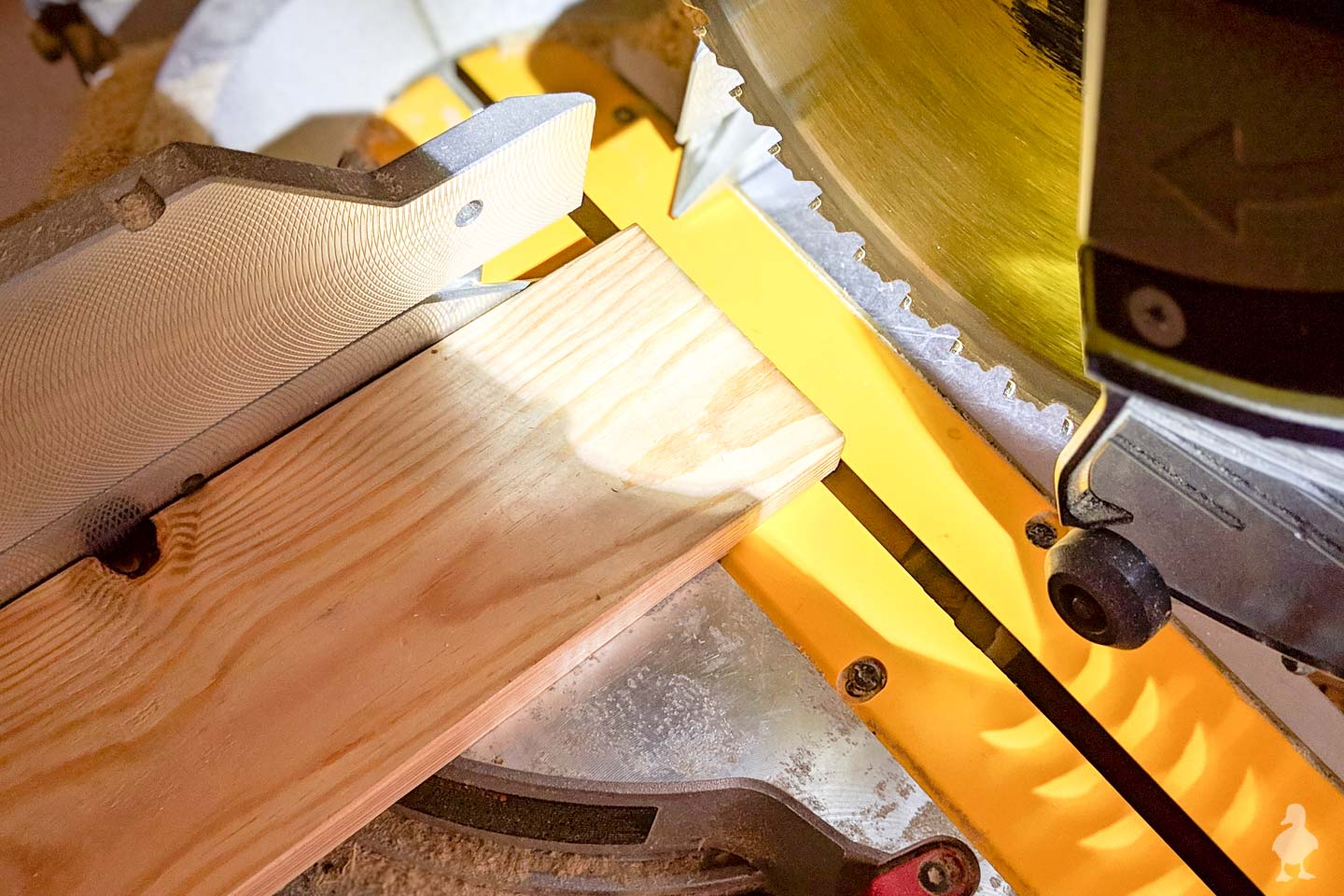 Tape, spray, and attach template
Just as I showed you in the last scroll saw project, I've found that I really like using painter's tape on the wood before the template is glued on. It makes peeling the paper from the template off MUCH easier once things are cut out!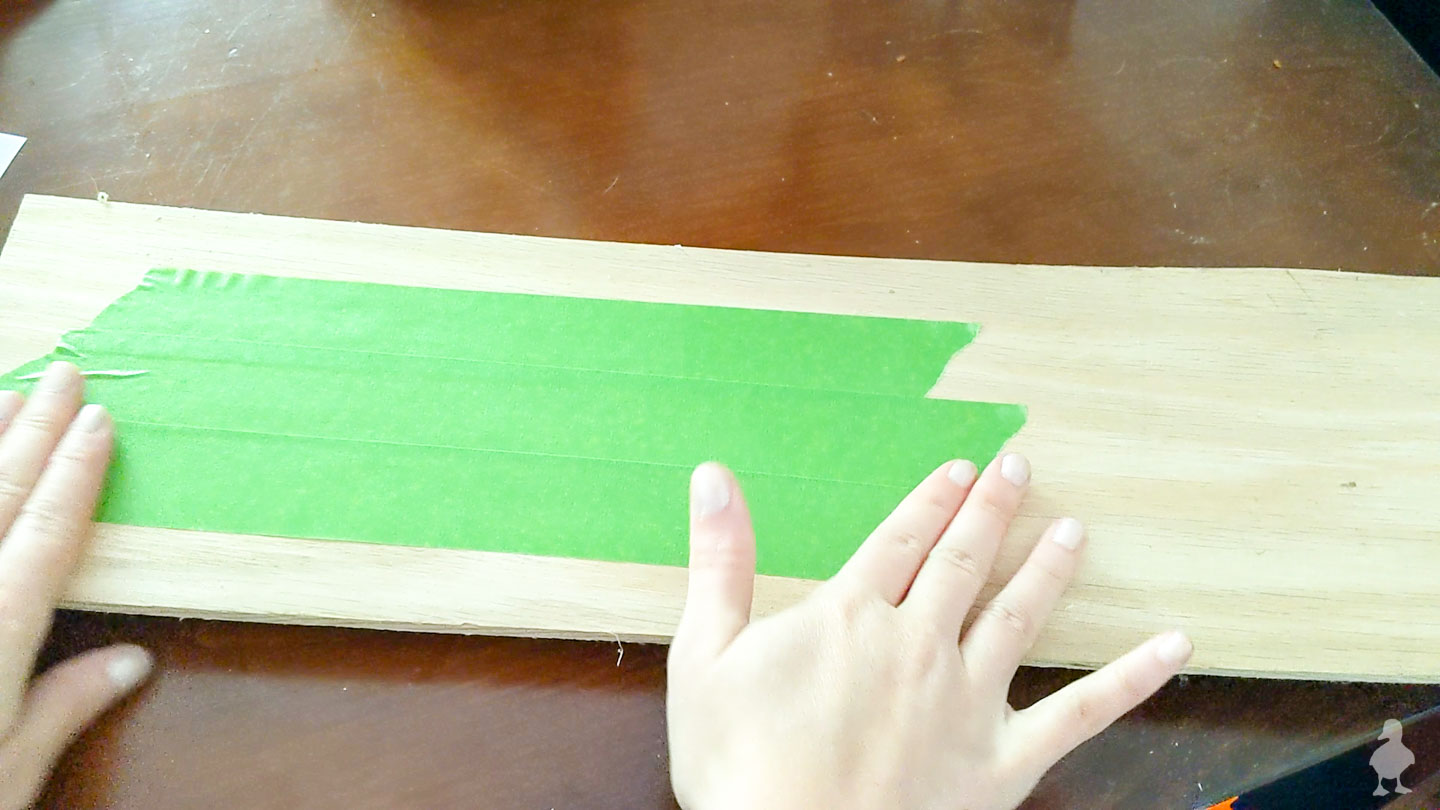 In this case, it was a 1/4″ piece of oak plywood scrap. I used spray adhesive and glued the template onto the tape.
Note: I took a little extra video and photos during this project that you won't see yet, but if you're interested, I'll be writing a post about scroll saw basics and general beginner tips. So if you've been nervous to try it, pin this project for later and I'll link back to it once that post goes live!
Pre-drill holes & make straight cuts
In general, you should start with the small cutout areas before cutting outlines. In this case, that's the hole in each of the "4"s. To create an access point, I pre-drilled a hole into each part of the template, large enough for the small scroll saw blade to fit.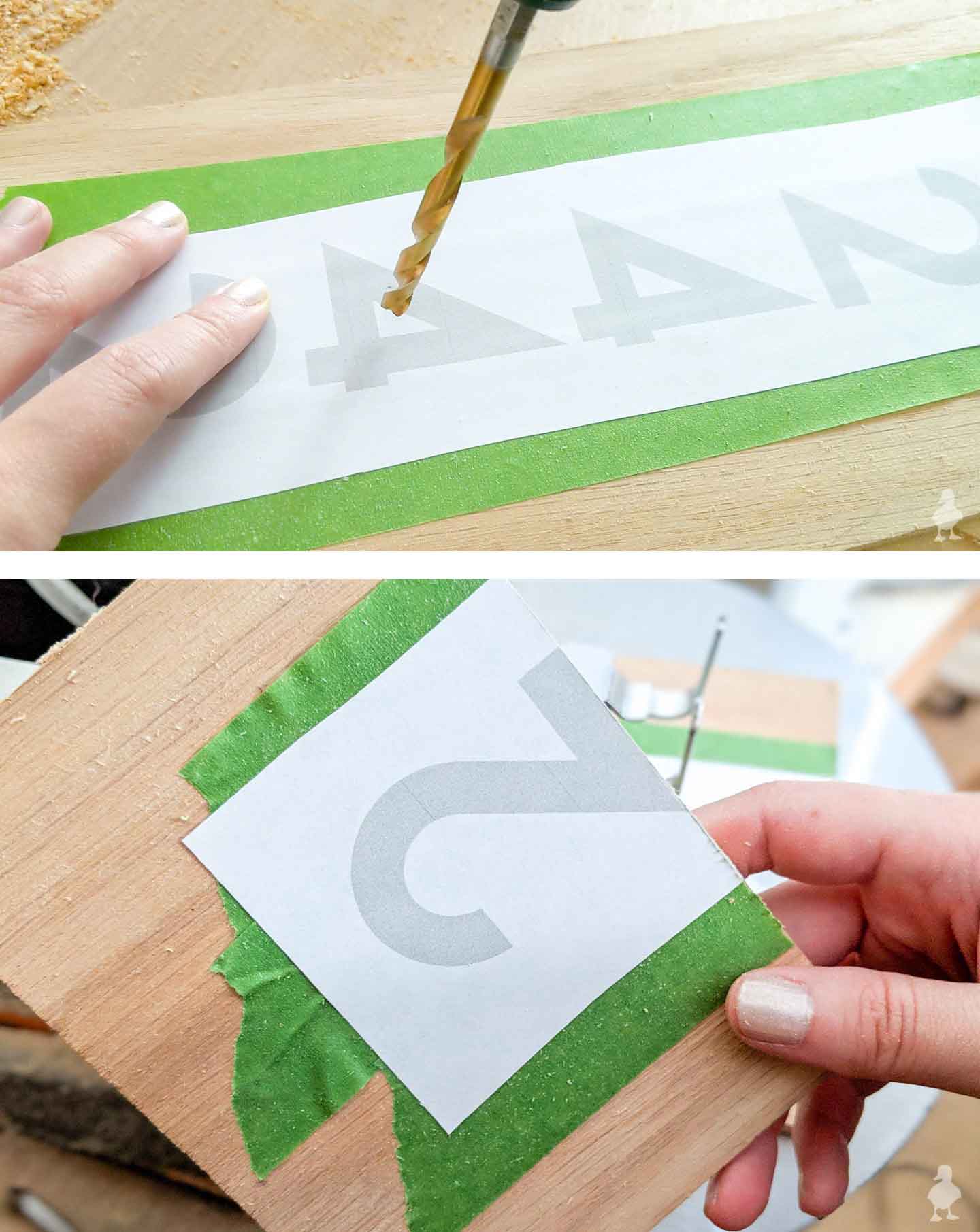 As for the straight edges of the 2's, I figured the blade on my miter saw would give a less wonky cut than me trying to do a straight line on the scroll saw. So, I cut them separately. This was also convenient in that it shortened the overall piece for the scroll saw (there's only so much room that the wood can spin before an edge runs into the arm of the saw itself, so there's kind of a balancing act for making sure the piece is both small and large enough to manipulate easily).
Scroll each number
I cut the holes in each 4 first, then the rest of the number outlines.
Cut the trim to create a frame
I didn't trust that my miter saw could cut such small pieces cleanly, so I relied on a miter box to cut each corner at a 45-degree angle (to make the black frame around the white background piece of the sign).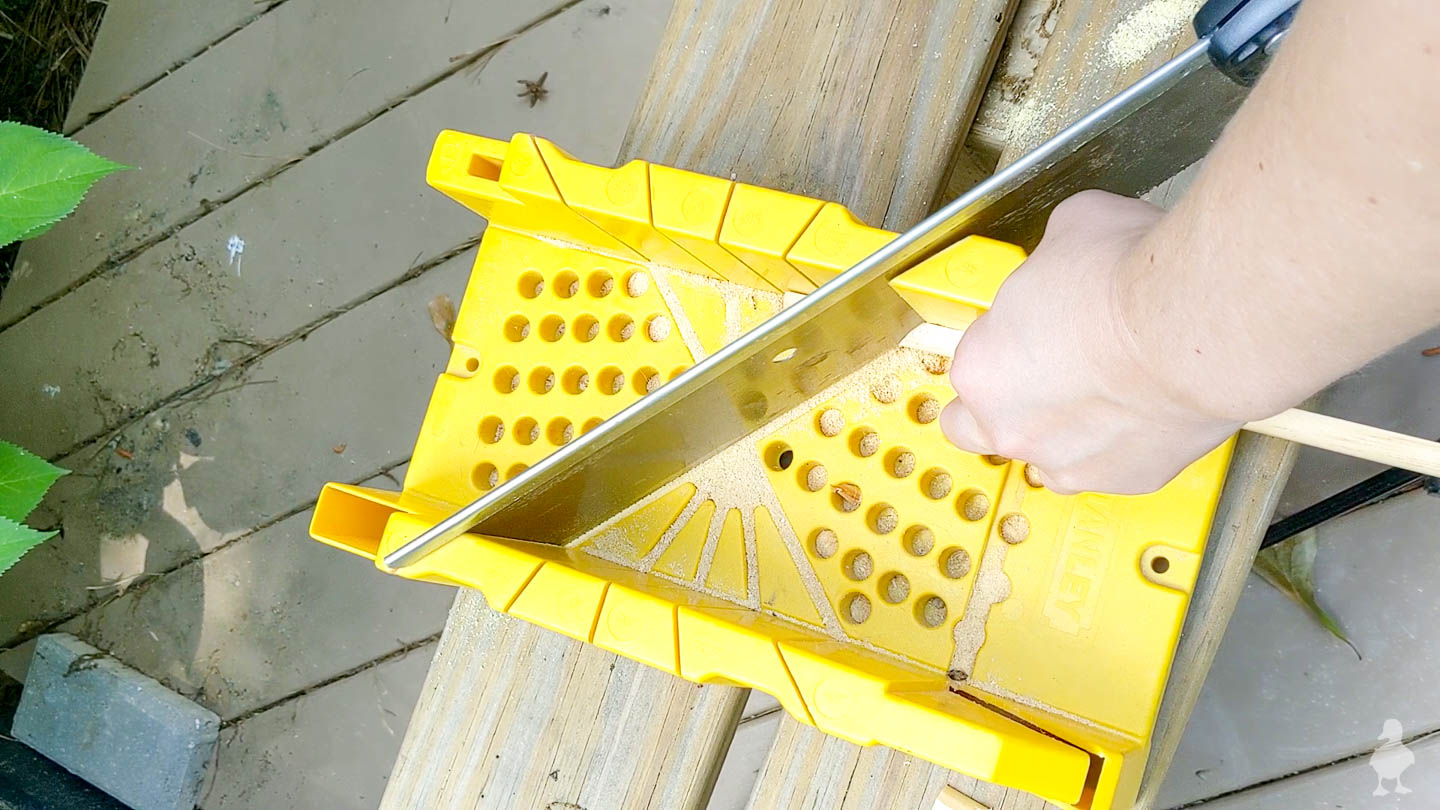 Paint all pieces
White spray paint for the back, black spray paint for the numbers and trim.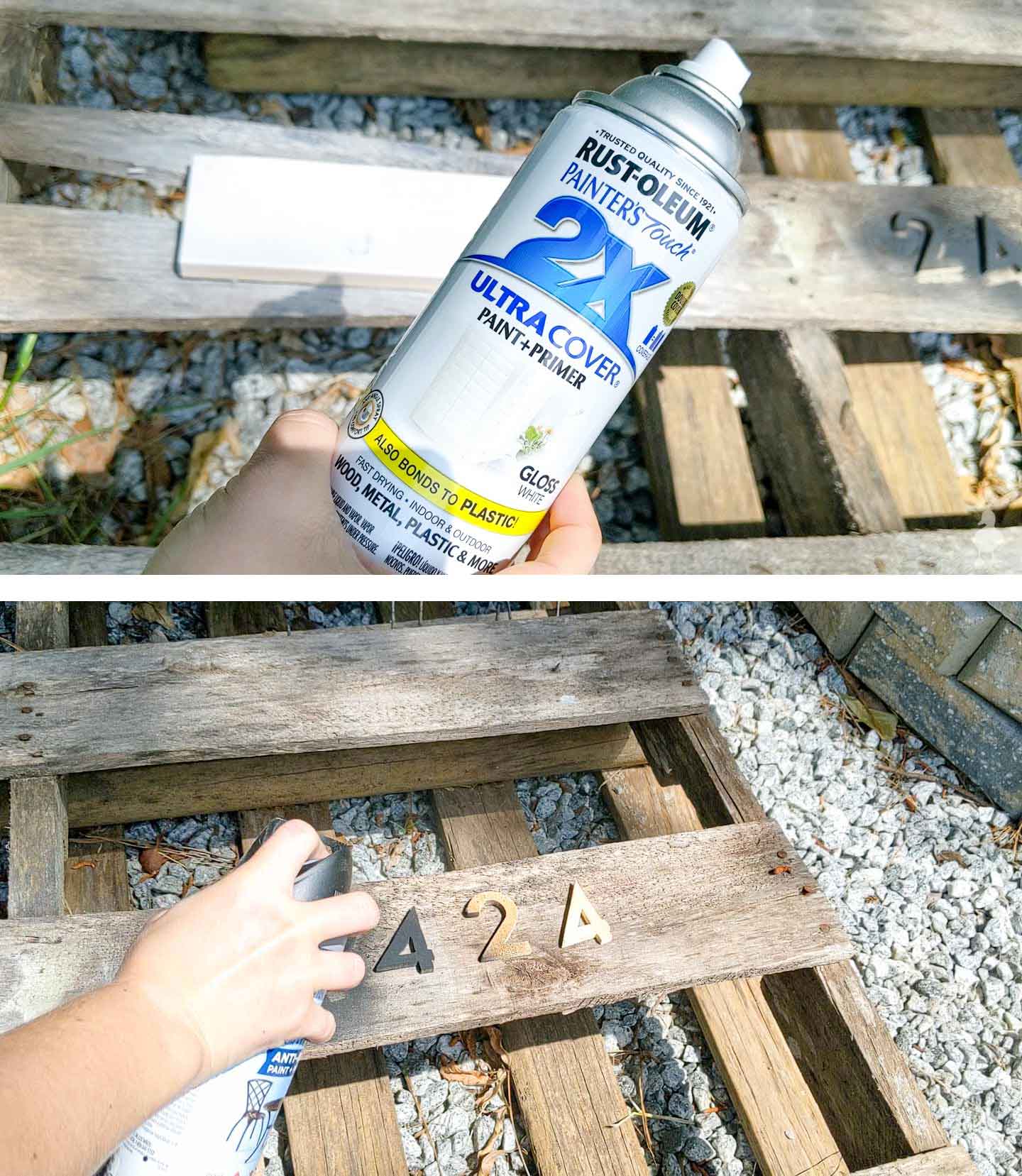 I prefer the 2X spray paint from Rust-Oleum because it dries quickly on projects like these.
Assemble and glue
Since there were a few touch-ups needed when gluing things together, I used more painter's tape to protect the white from the black paint areas (I still haven't mastered the art of perfectly mitered corners, but it was nothing a little wood filler couldn't fix).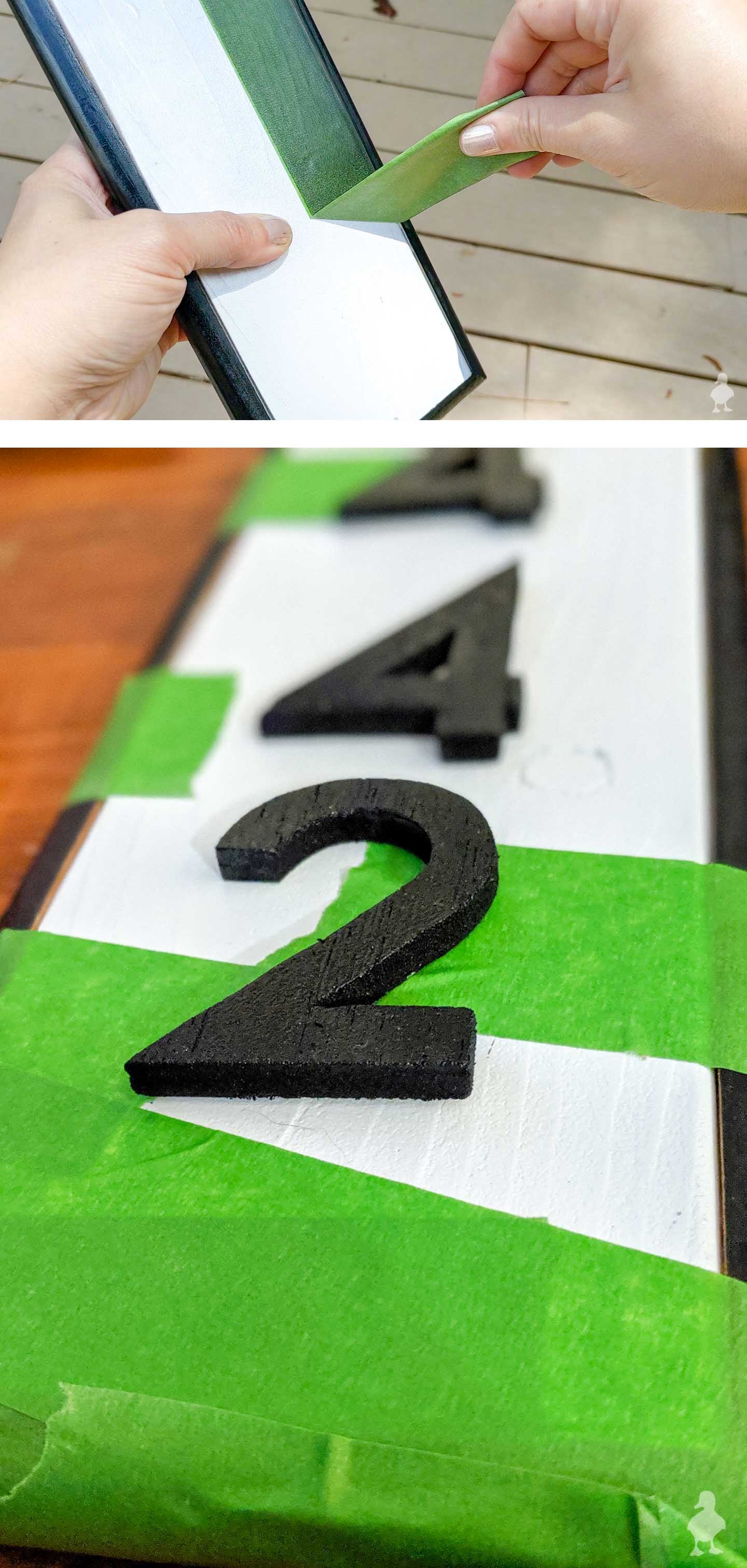 I also used the tape as a clamp setup (to squeeze the trim onto the white background piece until the glue was dry).
Install
After all the paint was dry, I gave it a few coats of spar urethane spray to protect the wood from the elements. Then, I installed the new sign with outdoor screws and called it a day!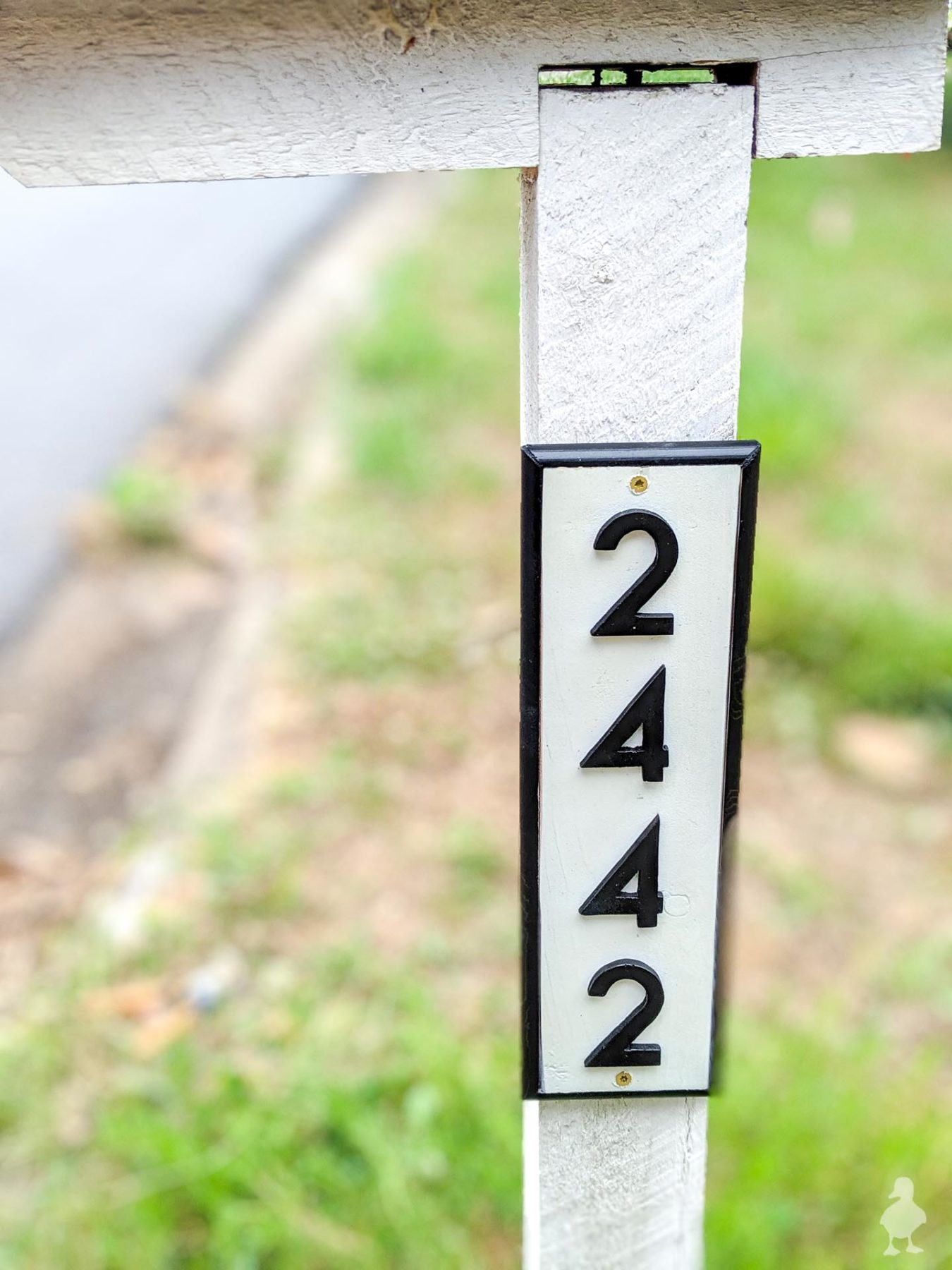 It's only a small change, and the mailbox area is going to undergo renovations along with the rest of the yard overhaul this month. But, I think it's a significant step in the right direction! The heavy contrast is SO easy to spot at night.
I'm going to make a second matching sign for the opposite side of the mailbox post (my road has a cul-de-sac, so this direction was the most important to install, but I might as well in case someone turns around and comes from the other side). The last few years of the mail carrier yanking on the post seems like it's also destabilized the whole thing (you'll see the wobbling in the video), so more sprucing is in store very soon, along with a whole new garden bed design to add some balance to the driveway.
That post should be ready for you to take a nice long peek at in early June once the video is finished editing (there will be a Live Q&A on Instagram as well; one of the better things about my sponsored projects is that it holds me far more accountable to deadlines than just myself!). You won't want to miss that one — I expect BIG changes!
Don't forget to pin!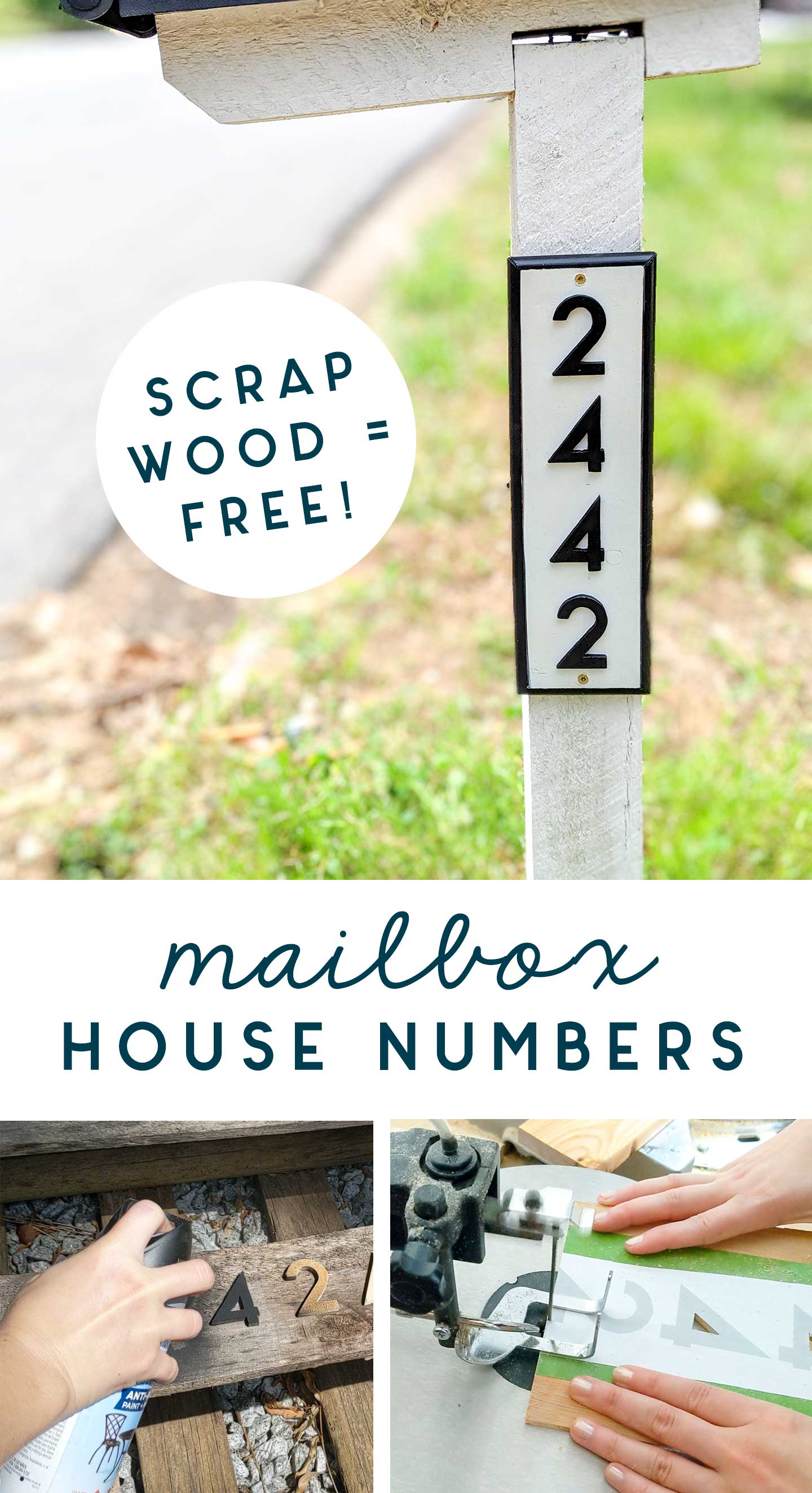 Don't let those cutoffs from bigger woodworking projects and home DIYs go to waste! Here are tons of ideas on how to reuse the scrap — you can make gifts, décor, and more!