Disclosure: this post may contain affiliate links, which means I may make a commission if you decide to make a purchase through one of my links, at no cost to you.
After trying multiple options for how to neatly fold and store opened bags, I finally found a hack that works for large bags of fertilizer, potting soil, and leftover grass seed for the shed.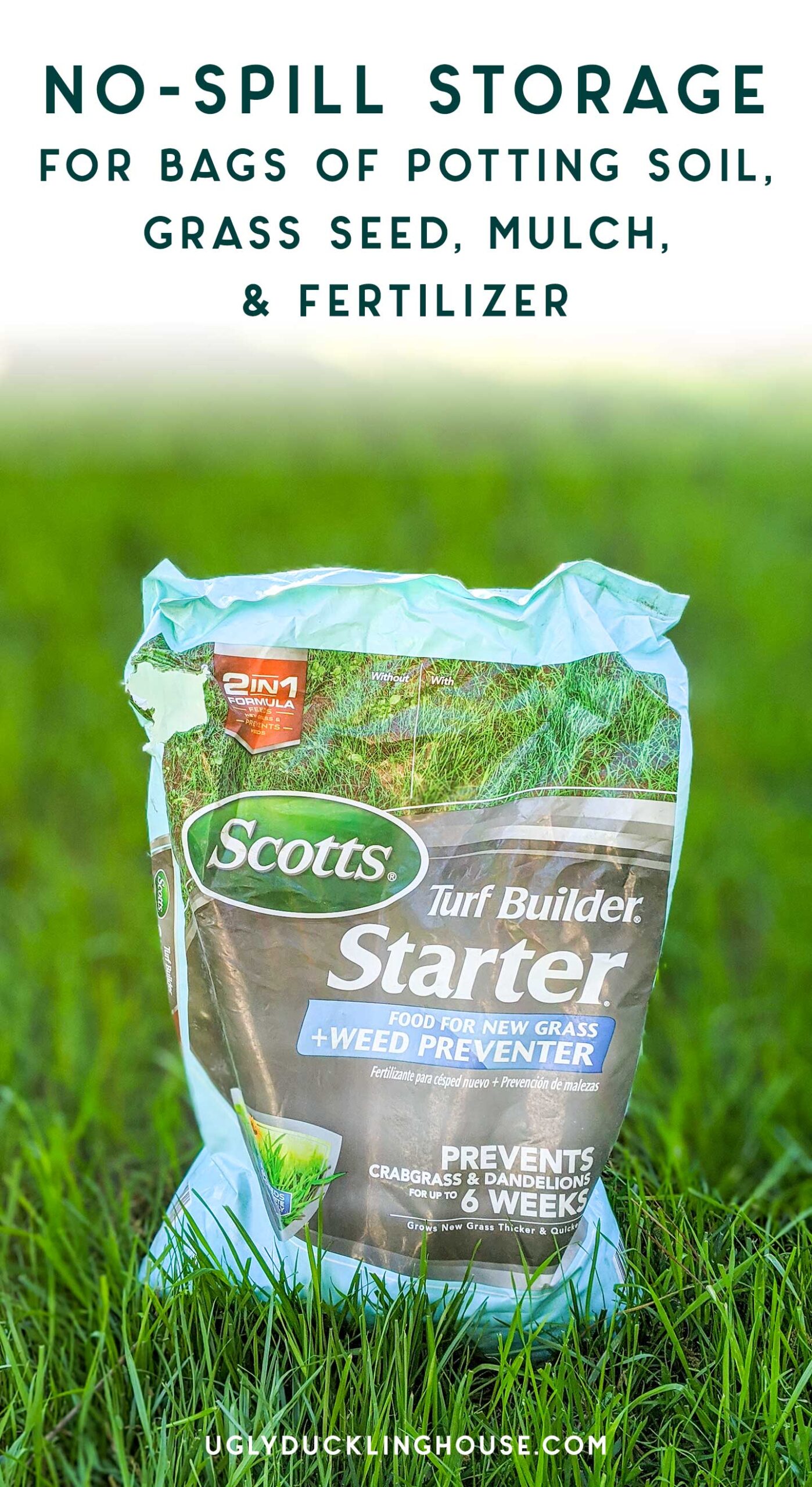 You know those viral videos of nifty tricks for putting away chip bags without storage clips? Recently, I decided to try a new method for mine. When I found it worked (and I could remember all the steps without forgetting or starting over), I decided to attempt it on the bags I have the most of and the most trouble with — large, bulky bags of mulch, soil, grass seed, weed preventer, and fertilizer. I never seem to totally use ALL of whatever is inside of these bags in a single use, so I often need to store part of their contents in the shed until the next month or over the winter. And then, I forget that they're open while looking for something else, and they spill. So frustrating!
After trying this method, I'm so glad I found one that WORKED — and without needing to purchase extra bags, plastic closures, or storage containers. If videos are your thing, I've got a demo for you directly below. But if not, the step by step is also included further in your scroll. Check 'em out:
Check out the video below:
help me reach 25k!
How to Neatly Fold Potting Soil Bags for Long-Term, No-Spill Storage!
Time needed: 2 minutes
This nifty trick prevents spillage of half-used bags of garden soil, fertilizer, grass seed, etc. that you might have in your shed. No tools requried and FREE!
Fold the top of the bag like a paper airplane.

Shake the soil/seed down so that the top area is clear for folding. Fold the top two corners down toward the center and middle of the bag, sort of like the corners of a paper airplane.

Roll 2-3x up from the bottom.

With the corners of the bag now in the center, roll up from that point about 2-3x.

Tuck the top under the rolled-up part.

You may notice some air in the bag at this point, so try to squeeze that out if you can. When you folded the corners down in step 1, it formed a point. Tuck that point under the part you rolled up in step 2 and continue rolling until it's completely tucked under.

Roll down as far as you can, squeezing air out.

If you didn't notice any air before, there's a good chance you will at this point. Squeeze all that air out as you continue to roll all the way down until there's no empty bag left.

Store for later use.

This method leaves me with a tight enough seal that I can turn the bag upside down and nothing spills out! Now, I can store all of these bags in a spot in the shed and not worry about cleaning up spills when I forget they're there.
I've seen other ways to fold bags — mostly for storing half-eaten bags of chips in the pantry — but none of those methods have worked as well as this one for larger bags like these.
Have you found a method you like to use? I'm not saying I'll try it (because this one works for me so well, why fix what's not broken? 😌), but I'd still like to hear your method!
Don't forget to pin it!