Disclosure: this post may contain affiliate links, which means I may make a commission if you decide to make a purchase through one of my links, at no cost to you.
This post may contain affiliate links. This won't change your price, but may share some commission. Read my full disclosure here.
Custom carvings on small wood pieces are my newest obsession, so I made these hex planters with unique carved designs. Thanks to the #BuildatHome challenge, I also made these great little plant stands! Get the how-to and video below!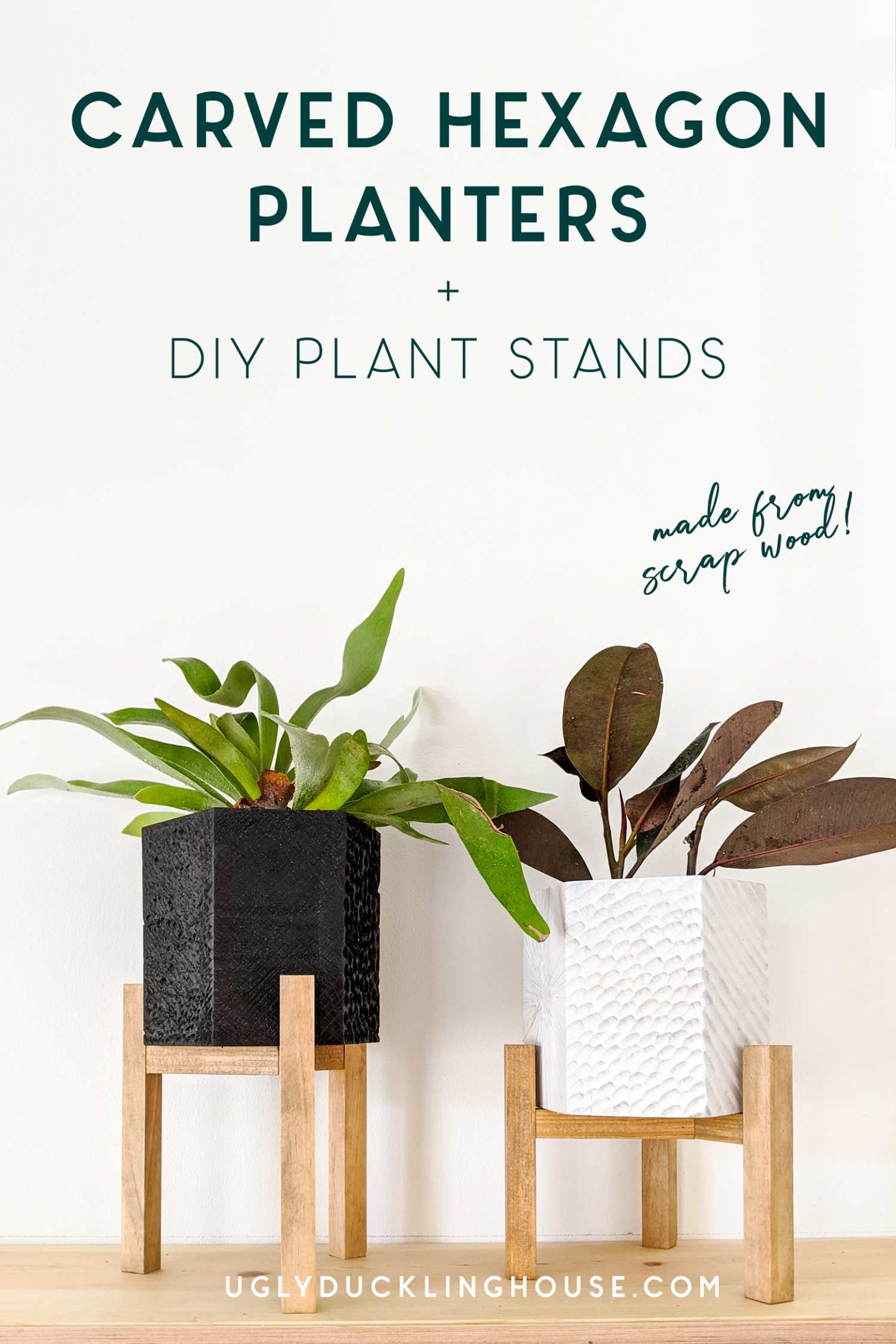 As is the new normal around here, you can learn by watching the timelapse video of this project below, or keep scrolling for the full materials list and step by step instructions. Sorry, but it looks like some of the initial footage I took of this project may be lost (one of my biggest fears!)! I plan to recreate it for the full YouTube video down the road as soon as I can get another 1/2″ board, but you can enjoy most of it for now. Updated with new video that's also now on YouTube! Plans coming soon for both projects, too!
help me reach 25k!

How to Make these Carved Wooden Planters
These were so much fun to do! I decided to make one white (with spray paint) and one dark (with ebony stain) because I couldn't figure out which I'd like best! I still can't.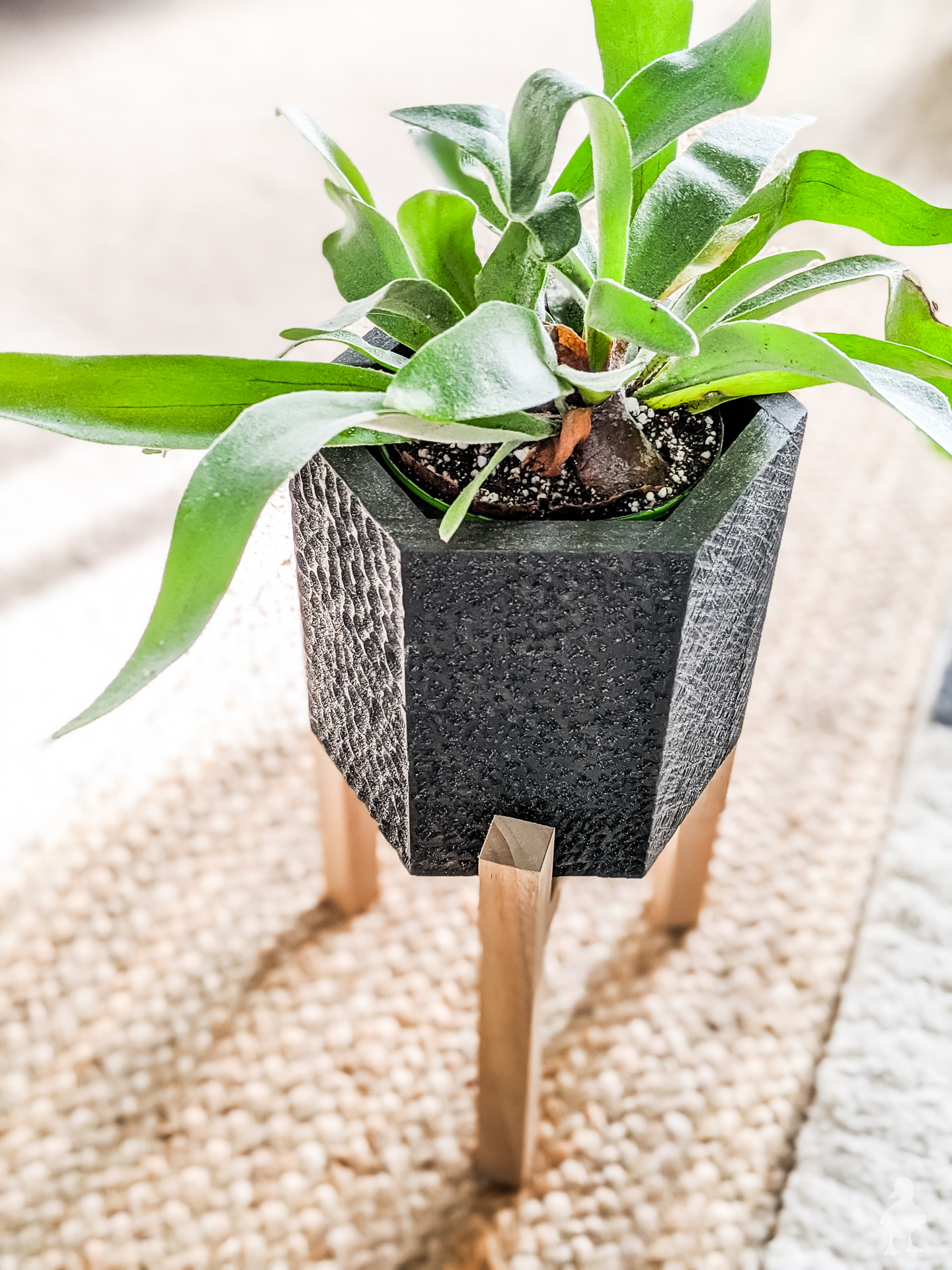 But I think the dark stain is something I'll definitely do again because it makes the texture look so interesting. Plus, it helps hide some of the burned texture that sometimes happens using some of the carving bits (I'm still working on my technique to minimize that too, but each new bit is a learning experience as well!). If you're nervous about making textures, try it on a scrap piece first so you know how much pressure to use, the pattern you want to repeat, etc.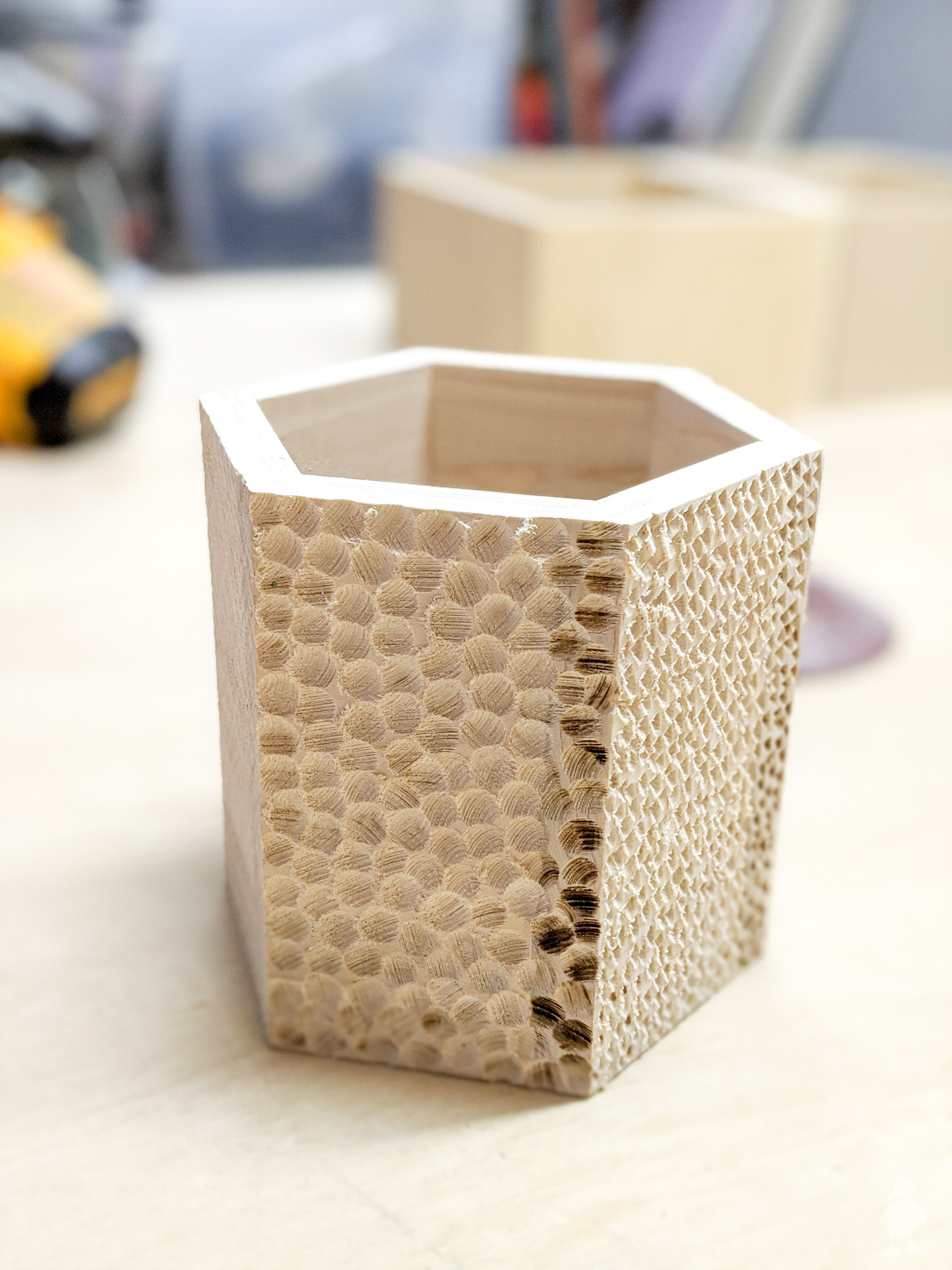 Set your miter saw to 30°. Cut 6 pieces of the 1/2″ thick wood to 3″ each (each piece will look like a trapezoid shape, and the longest side is 3″).
Using wood glue and a nail gun to help set them, tack all 6 sides together in a spiral shape (the narrow side facing out) to form a hexagon. Let the glue dry and fully cure before carving.
Fill and sand each side smooth.
Clamp the hexagon to a flat surface that you can move around easily. Using a Dremel or die grinder (or both), carve textures into all 6 sides. Experiment! Have fun!
Trace the bottom of the hex shape onto a piece of scrap wood. Mark one edge on the inside of the planter and the corresponding side on the bottom so that you know how to fit them back together for gluing. Cut out the shape on the miter saw and glue/tack into place.
Sand, then stain or paint.
Coat the inside with sealer (I used Garden Seal).
Fit the planter with a plastic liner (I used this to catch excess water spill and these for the plant but cut the tiny lip off the top so it fit better).
If the inner planter is too short, add some scrap wood in the bottom of the planter to help stabilize it.
Place on plant stands (optional, but also fun to make below!).
How to Make these Triangle Plant Stands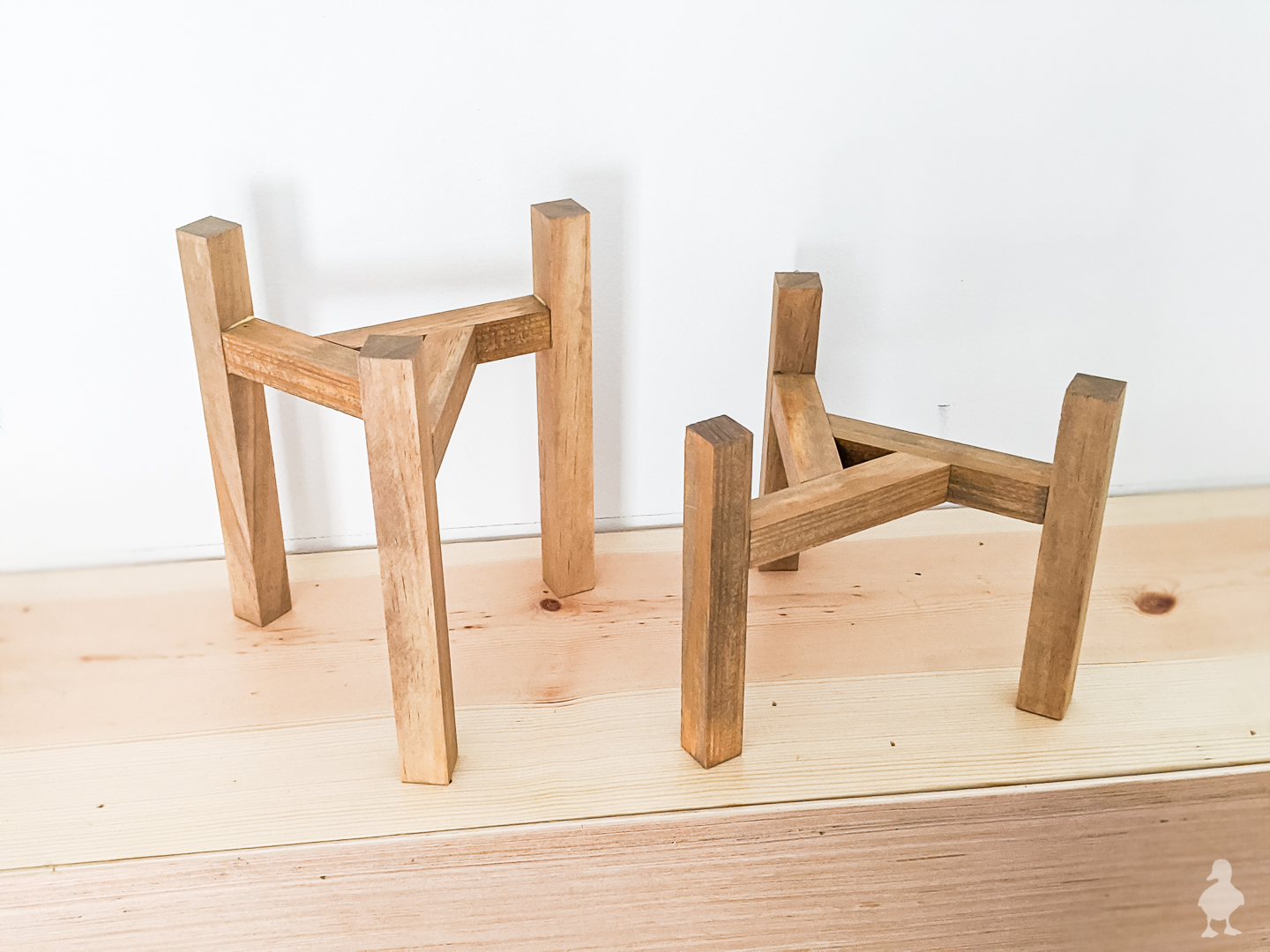 I had already been working on the planters when Sam from DIY Huntress reached out about a #BuildatHome challenge for a bunch of us bloggers/YouTubers. Basically, the idea was that since we're all at home with varying piles of scrap wood, we could try to make something out of what we already have with NO venturing out to stores for supplies. Use-what-you-got is a GREAT exercise if you're stumped creatively, so I highly recommend giving it a try the next time you're feeling uninspired! I spent a few days brainstorming other scrap wood ideas — all of which wound up taking longer than the time I had to finish, so more on those later 😂 — and I came up with this idea in one day using a square one-inch dowel!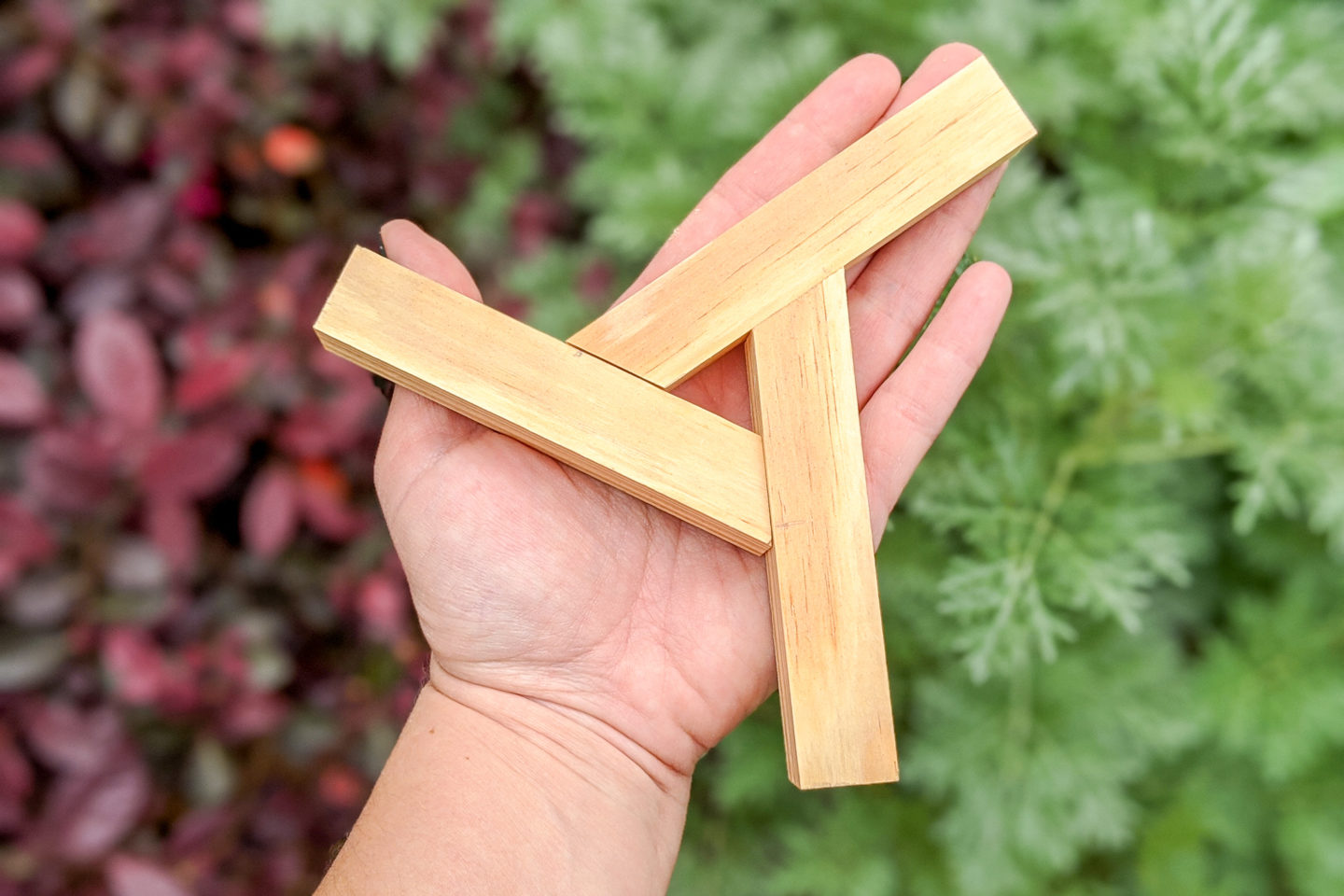 I honestly did NO measuring to make these! I eyeballed the first piece using the bottom of the planter as my guide for the length of the underside. I assumed that I needed to cut each piece at a 30-degree angle and see how they fit together (you can adjust the triangle of the center to be larger or smaller, which increases or decreases the total size of the planter bottom/support).
Cut 3 pieces of wooden dowel to the same length with one end at a 30° angle.
Cut 3 pieces to the same length for each leg (you can obviously make these taller or shorter to your liking!).
I decided to sand and stain each piece before gluing up (don't stain the ends of the angled pieces so that the glue sets better).
Glue the angled pieces together in a triangular spiral shape, like the photo below. Make adjustments to the overall size (shrink/widen the center triangle) before tacking a few nails in to hold in place as the glue dries.
Add the legs with glue and tack with a nail gun. Again, no measuring! I marked a spot where I thought they would look good and made sure they were all the same length so the planter would not wobble.
As you'll probably see in the video and pictures, my no-measure approach does NOT mean that the planter is super snug on the planters, but that also isn't a huge deal to me. I could have made that a priority and made it more exact, but a little slackness didn't change the overall look enough to bother me. I also know I can reuse these plant stands on other planters of different sizes in the future!
I'll be adding plans for both of these soon (hopefully over the weekend — we're making HUGE progress on the guest bedroom and primary bedroom closet designs so I'm eager to jump from this project onto those before we lose steam). Once these two free plans are uploaded to my plans library, I'll add the links here! In the meantime, you can check out other ideas from the #BuildatHome challenge on the links below… some of these might be entirely new accounts to you (I haven't done a challenge with some of these folks before, so I hope you find some new inspo!).
Don't forget to pin it!