Disclosure: this post may contain affiliate links, which means I may make a commission if you decide to make a purchase through one of my links, at no cost to you.
Take a look at where we're at with the 5 biggest things on the to-do list right now!
You long-time readers already know the drill: I'm never doing just ONE project. It's not just that I get bored; delays with one project inevitably happen. So rather than stay stuck, I skip over to something else that keeps my mojo going and my spirits up. Also, there's often a sponsored project or two that can't be revealed quite yet, leading to a sort of holding pattern until they're ready for release. I'm in sort of one of those "limbo" spaces right now — and counting down to when the baby is due, which is making me anxious. To sort of expel some of that restless energy, I thought I'd highlight and preview the top 5 things we've got going on!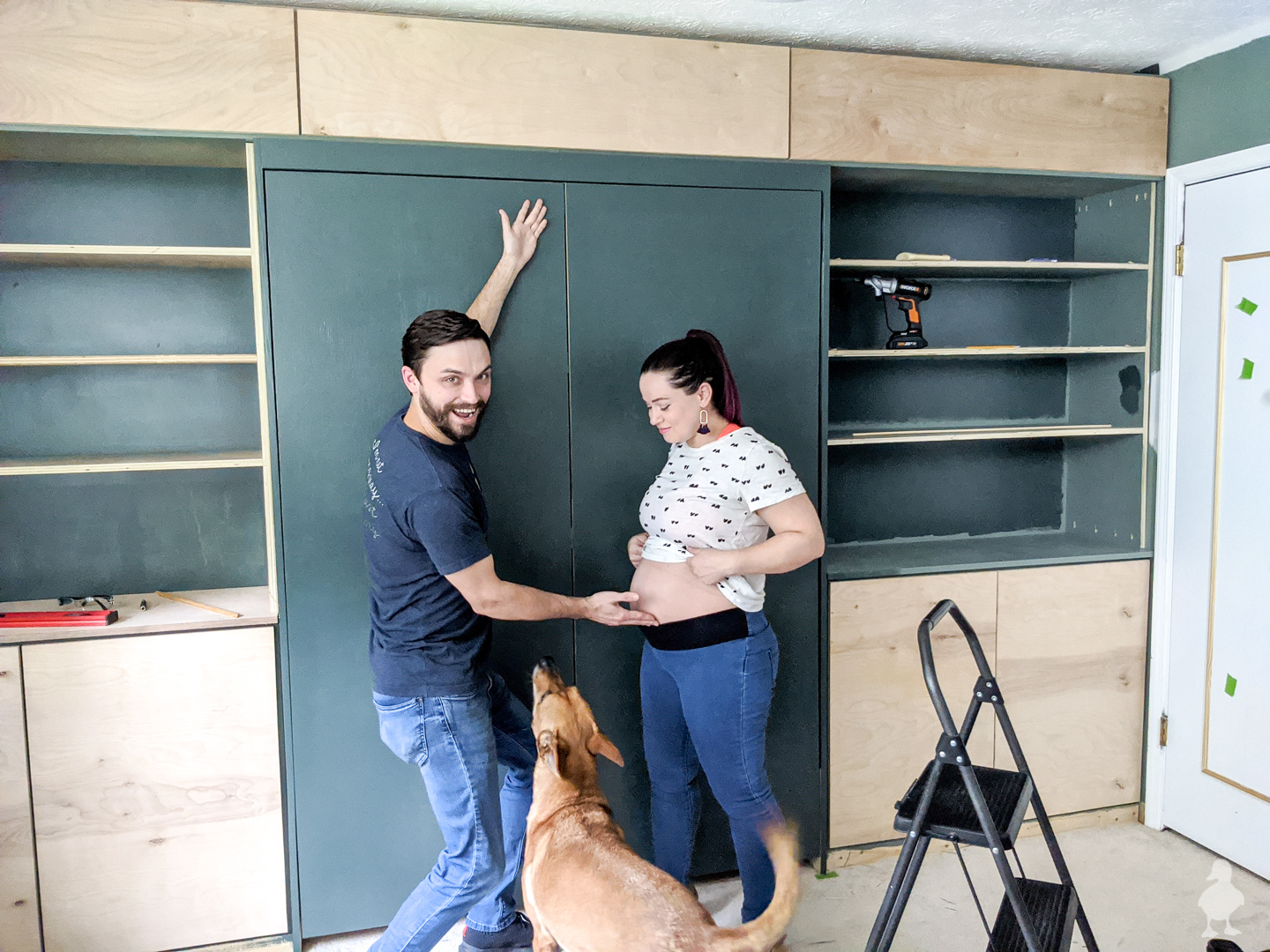 Speaking of baby: our November 5th due date is SO CLOSE, you guys! How does a pandemic drag on sooooo slowly, but the speed in which we are counting down to a little human is creating a giant whooshing sound as it flies past my ears???
Time isn't real. That's the only logical conclusion.
I think I feel so rushed because everything BABY is 8,452 little different decisions to make, right down to the tiniest detail. We need a whole room's worth of furniture and the things that go with that furniture (crib! crib mattress! crib sheet! etc. etc.), daily vitamins and medicine reminders (I'll get into that in the pregnancy recap post), the clothes, the photos, the birth plan, the doctor's appointments, the daily kick counts, finding a pediatrician… it's just a LOT on my mind!
Unlike your typical DIY deadline, this one is pretty inflexible (I think the baby would be an even bigger critic than the trolliest of internet trolls if I were to let him get to his first birthday without his own room 😂). The good news is that we're making some really great progress, but progress is totally scattered based of what's dry, parts we have ready, etc. It makes things feel awkward to have so much change but nothing finished. To hold myself accountable, I'm writing out my to-do list here for all to see!
Top 5 To-Dos
1. The Nursery, Duh
I'm planning on the baby to be in a bassinet in our bedroom for a bit, so technically this isn't something we desperately need done by the due date. Still, we are striving to get the new drywall finished this weekend and begin painting. It's a tall order, but it will go a long way to feeling "ready" because we're keeping lots of things boxed up until all the dust is cleared.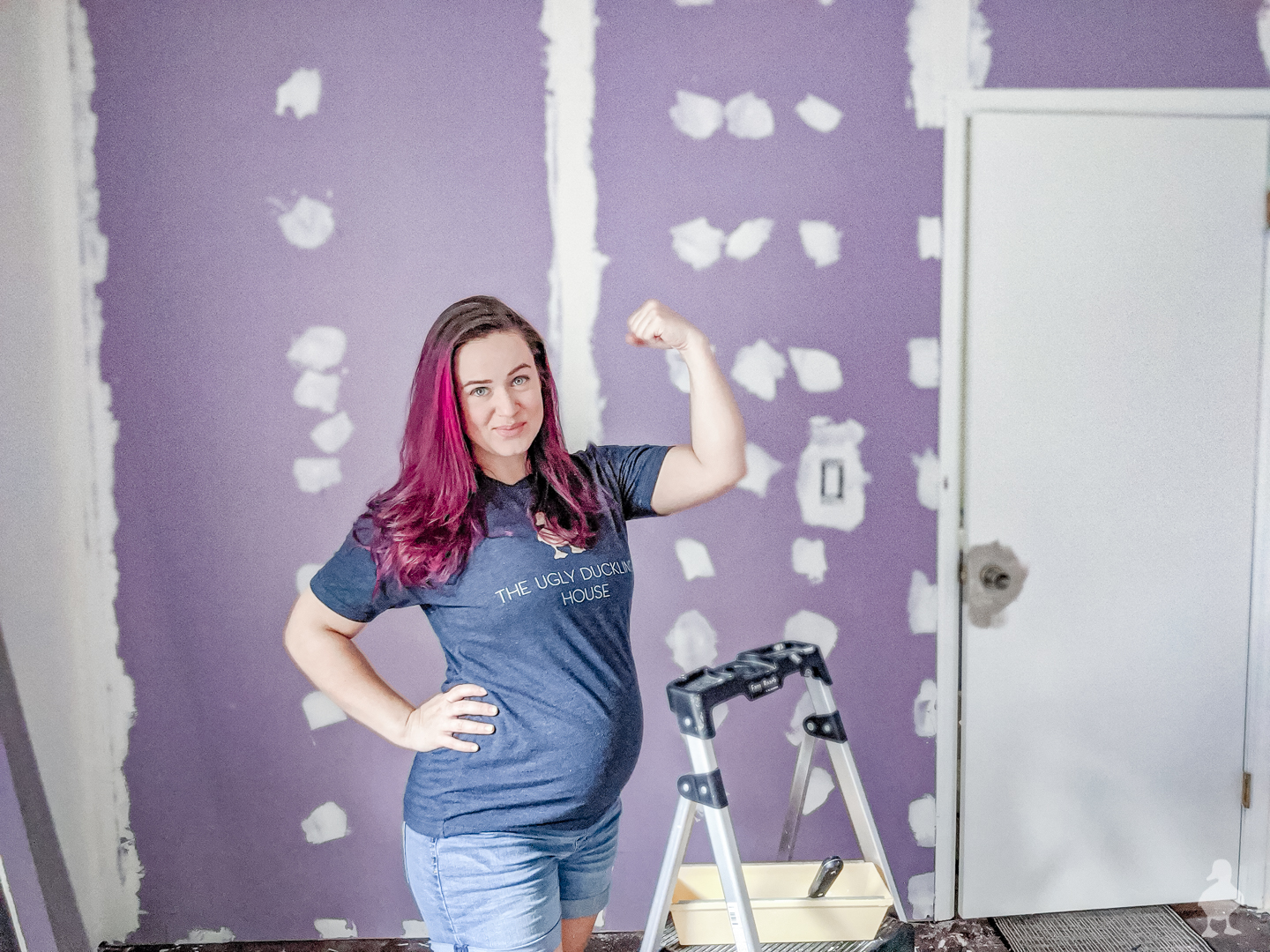 2. The Guest Bedroom
K's office is directly across the hall from the new nursery (aka my old office), separated by the guest bathroom (which thankfully, I already updated earlier this year!). K's office also serves as our guest bedroom, where we installed a Murphy bed and have been slowly knocking out the built-ins that surround the bed space. I've lined up a sponsor on this project to make me a little more accountable so that I can get a few things done this month/next month… really looking forward to this reveal though.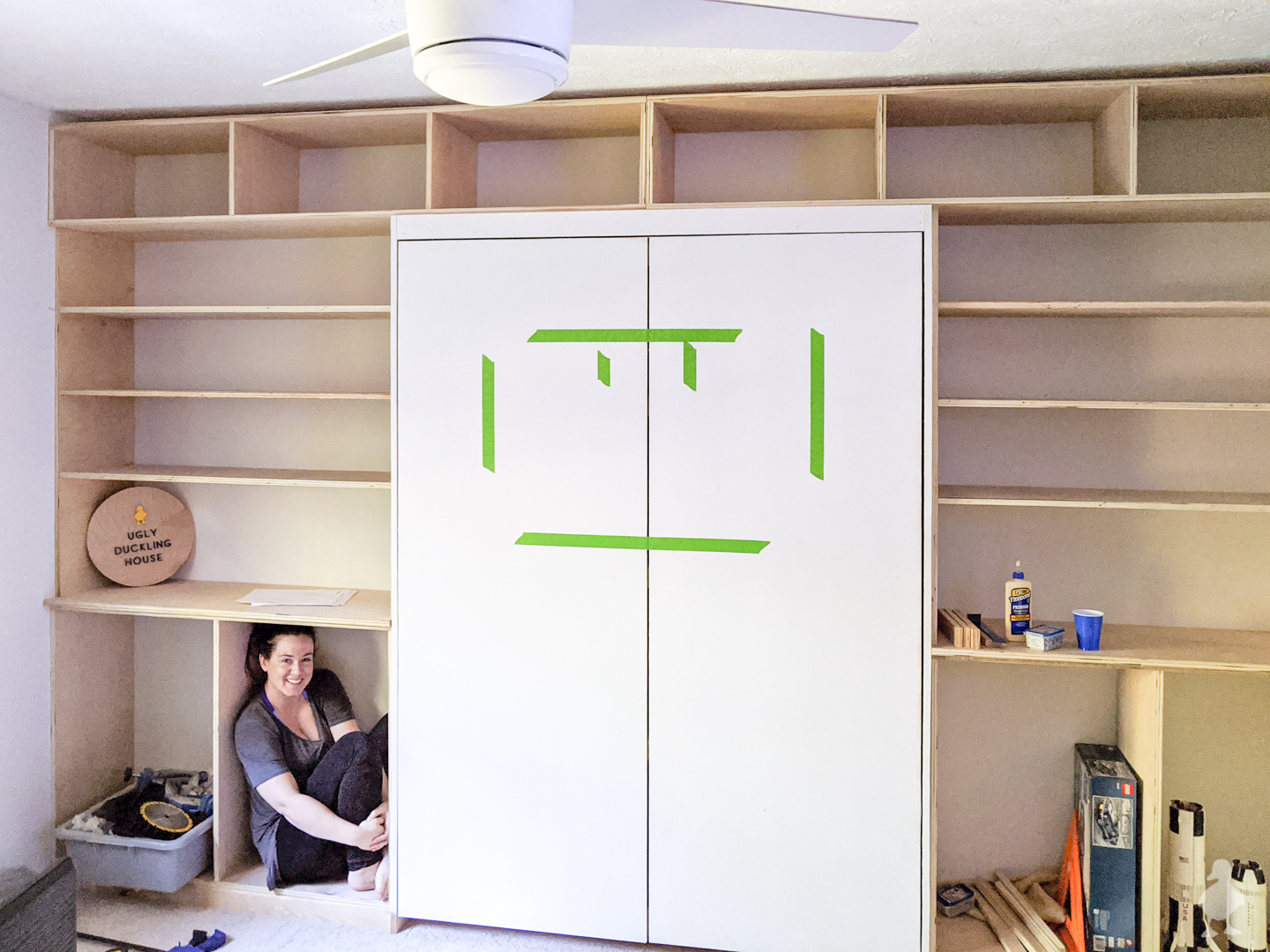 This project is also a big deal for K — he not only did all of the 3D models of what the built-ins would look like, but his parents are planning to quarantine before the baby so that they can stay with us for a bit. We completed the Murphy bed so long ago that the idea of getting all of those video edits done is going to be quite the accomplishment when it's ready to post!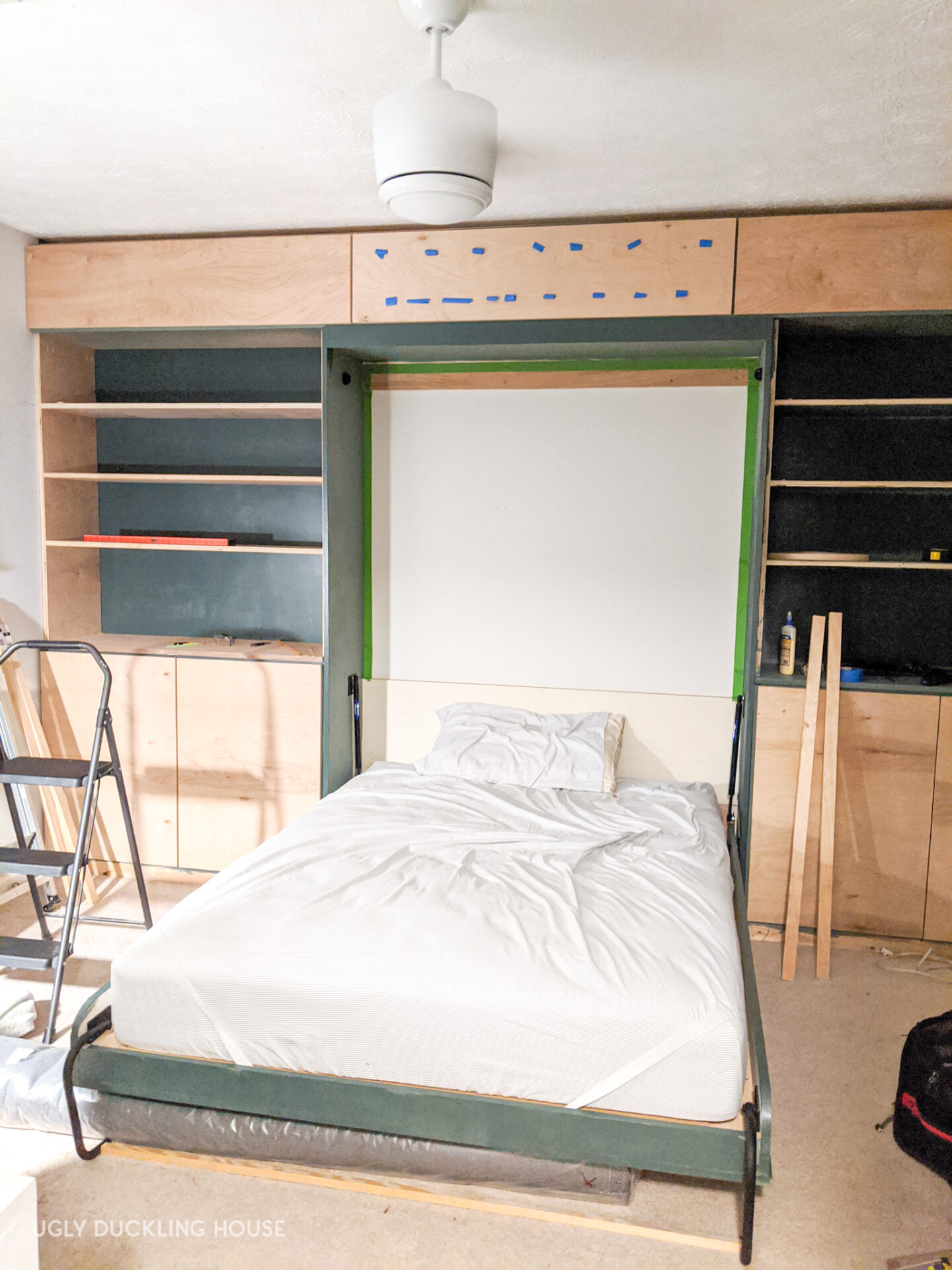 In case you were wondering about the mixed greens: originally, I thought it would look really nice to paint the built-ins the medium green wall color I picked out when I did the Dueling DIY battle for this room. Unfortunately, the color was mixed too blue, so I've been treating it as a sort of primer to avoid having to buy more paint. Ultimately, I decided to pivot to a darker green (Magnolia Home 1905 Green) and paint the rest of the walls back to a creamy white to bring in more light. It will be the first time I do an indoor spray, so I'm a little nervous with all the prep that entails (but soooo excited about that reveal).
3. Interior Doors
I am SO CLOSE to being able to share this project, I almost can't stand it! I shared a brief tutorial of this on Instagram, but a more complete version with pictures and video is coming to the blog soon. After staring at these flat panel hollow core doors for many years, I'm adding trim and changing up the color for all the interior doors. The ones in the bedroom are Tricorn Black…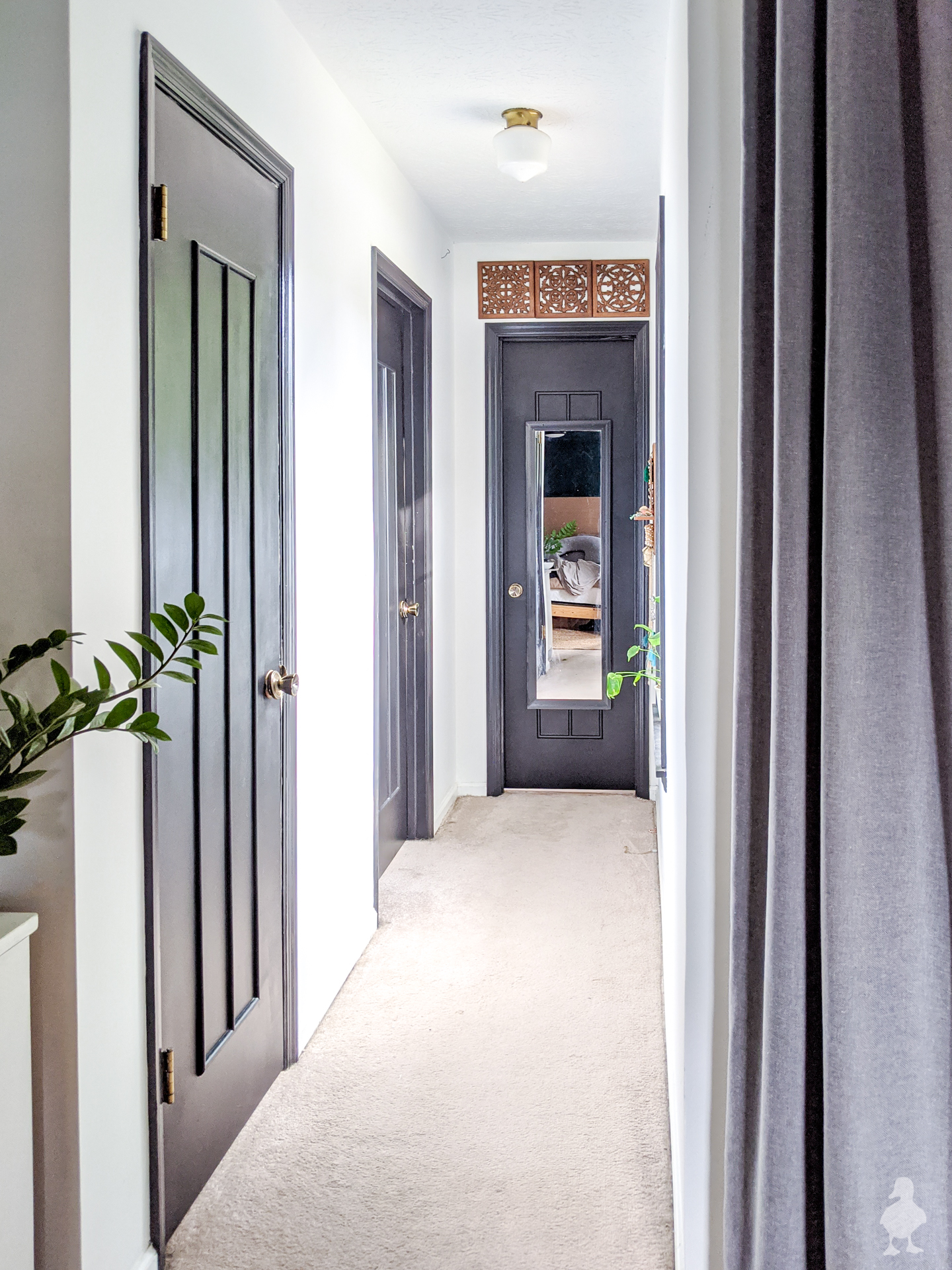 But the ones in the rest of the house are going to be a muted, warm gray. I am absolutely LOVING this color (Rockport Gray HC 105 Benjamin Moore). It seems to magically fit with every other color I've picked out for rooms in the house (and thus some confidence it will be equally good for future color changes).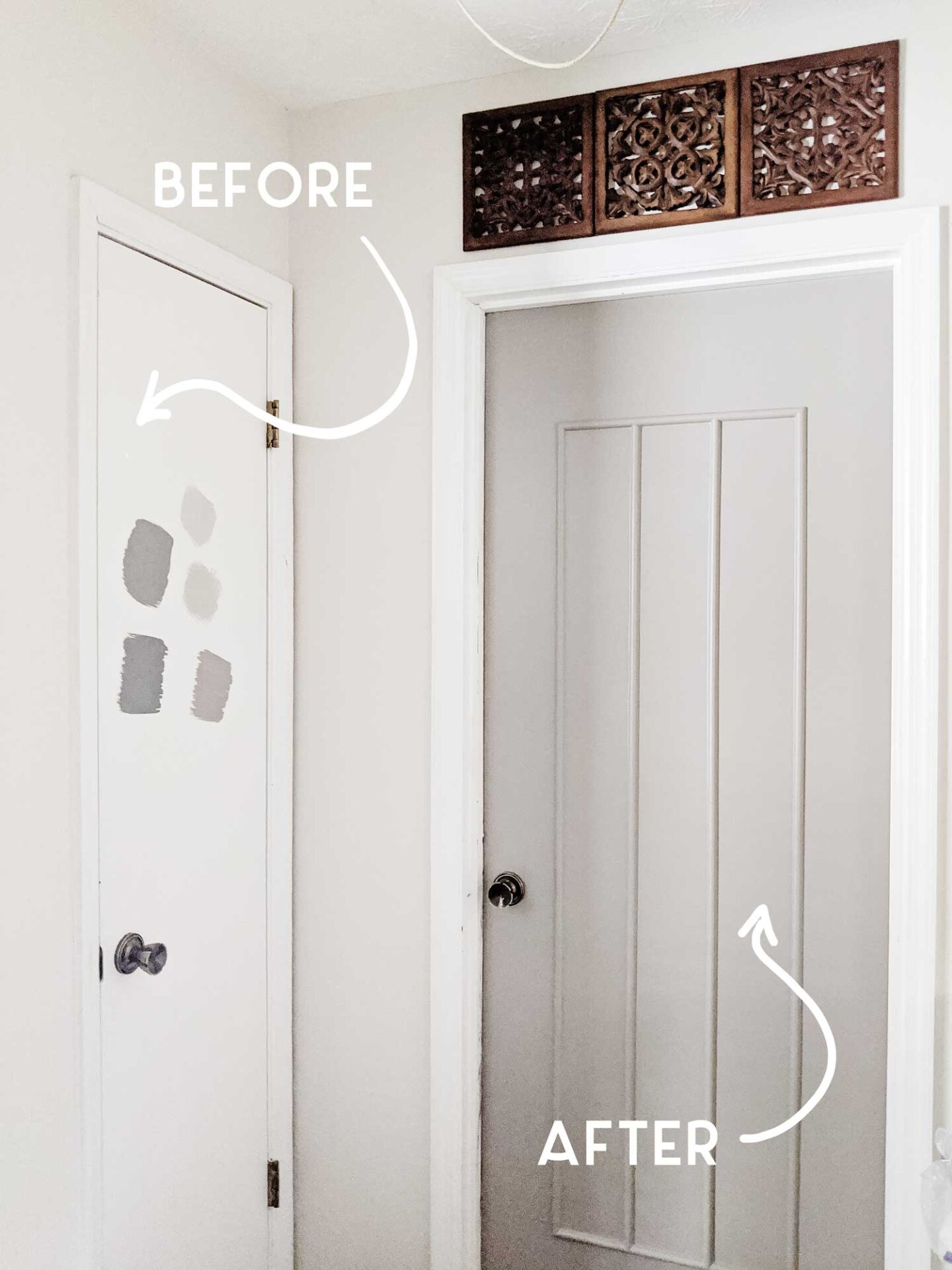 This is one of those projects that causes a sort of domino effect (aka "project creep") since it makes me want to touch up the surrounding door trim everywhere (I suddenly see every ding that has accrued since I originally painted them). It also pushed me to touch up the stairs so the hallway feels more complete when the trim is done. I'm also eyeballing a new set of door handles to really finish things off!
4. Changing Table
Call us crazy, but we decided to build the baby a dresser rather than buy one. K came up with a great design and I can't wait to show it to you! It's meant to be a super swift build, so we already have the pieces cut down and waiting for the nursery drywall to be finished so that we can assemble in the room (we need the space!).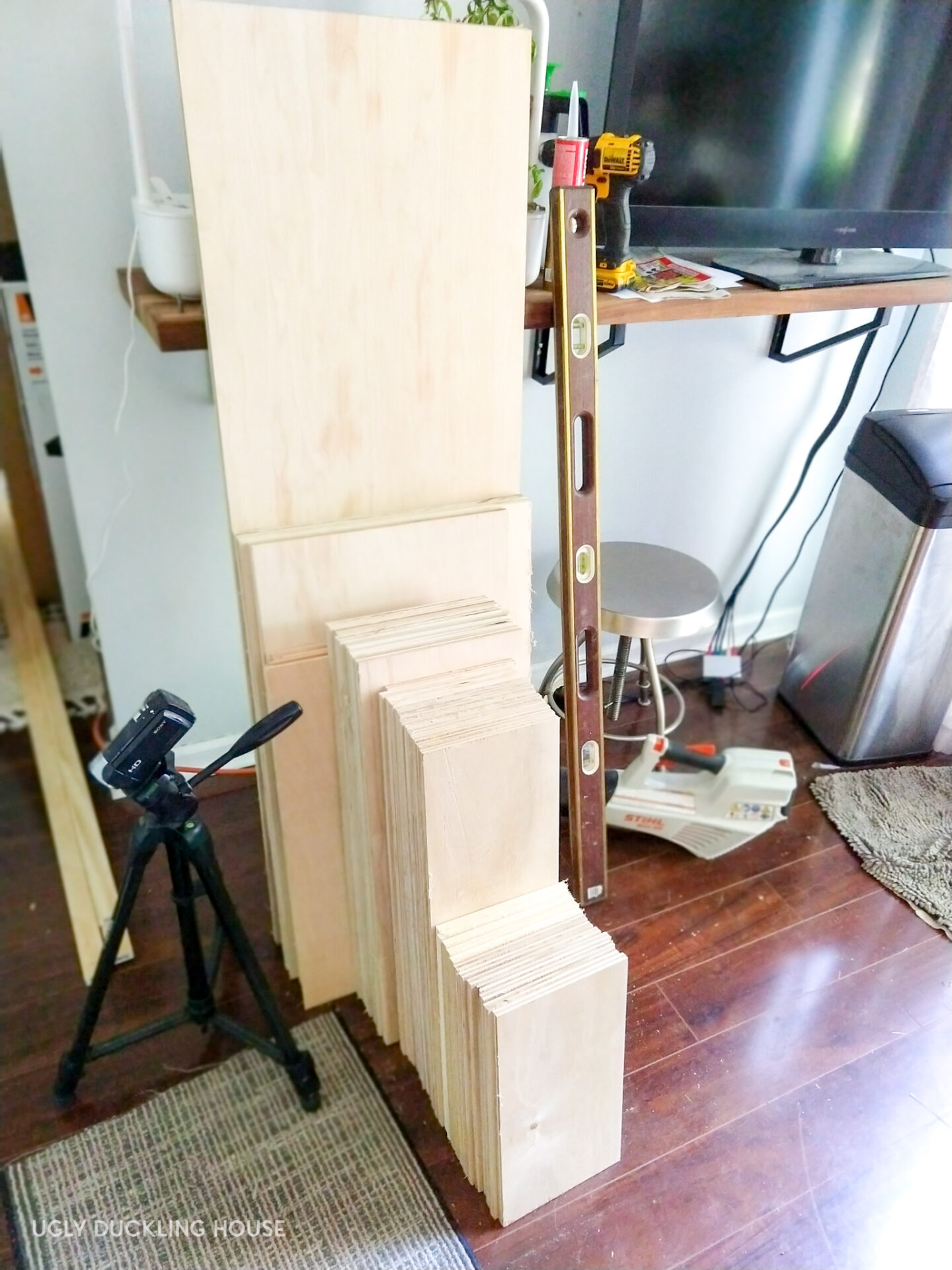 5. Organizing the Dining Room — Now My New Office!
I'm giving up my upstairs office for the baby's nursery, so that means relocating alllllll of my blogging stuff (photography equipment, desk, computer stuff, vlogging equipment, art supplies, books, paperwork, etc.) into a new room.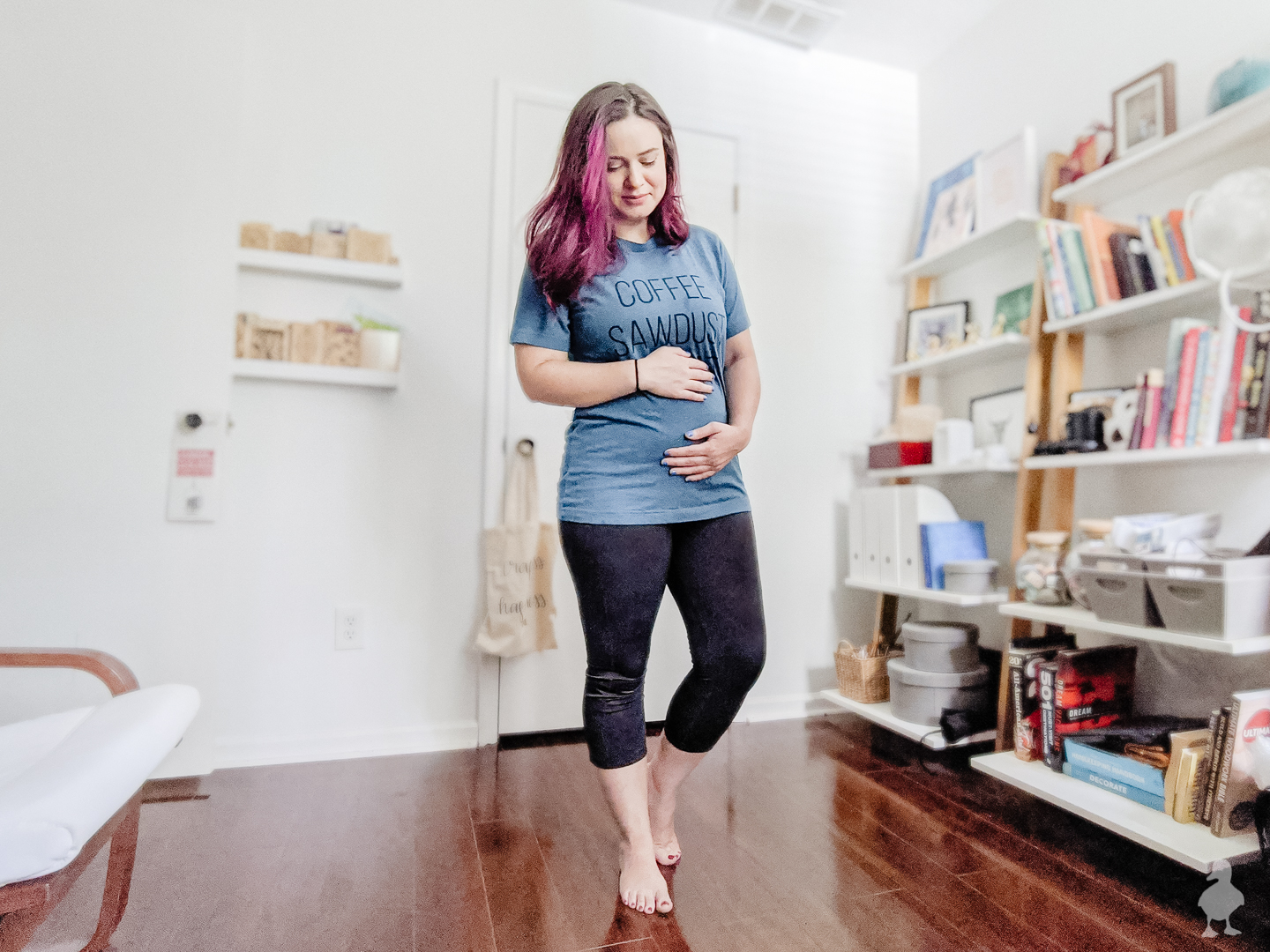 I realized the only true option would be to move into the dining room since it's the least-used room in the house. Plus, there's a big window in there I can really enjoy if I set my desk against the wall. How amazing would a long install of plant shelves be in front?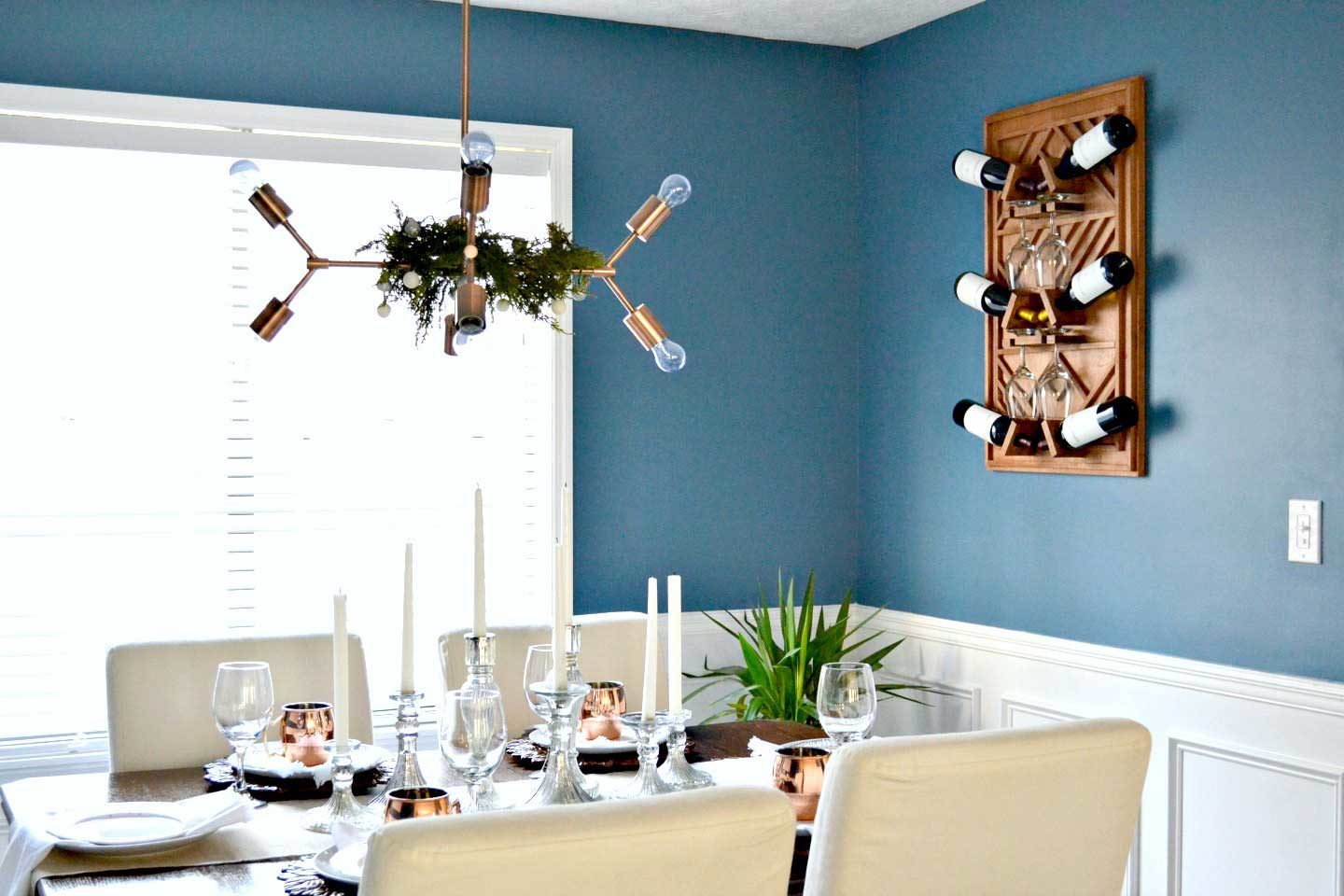 We moved things around pretty hastily, so the dining room now is a total disaster area!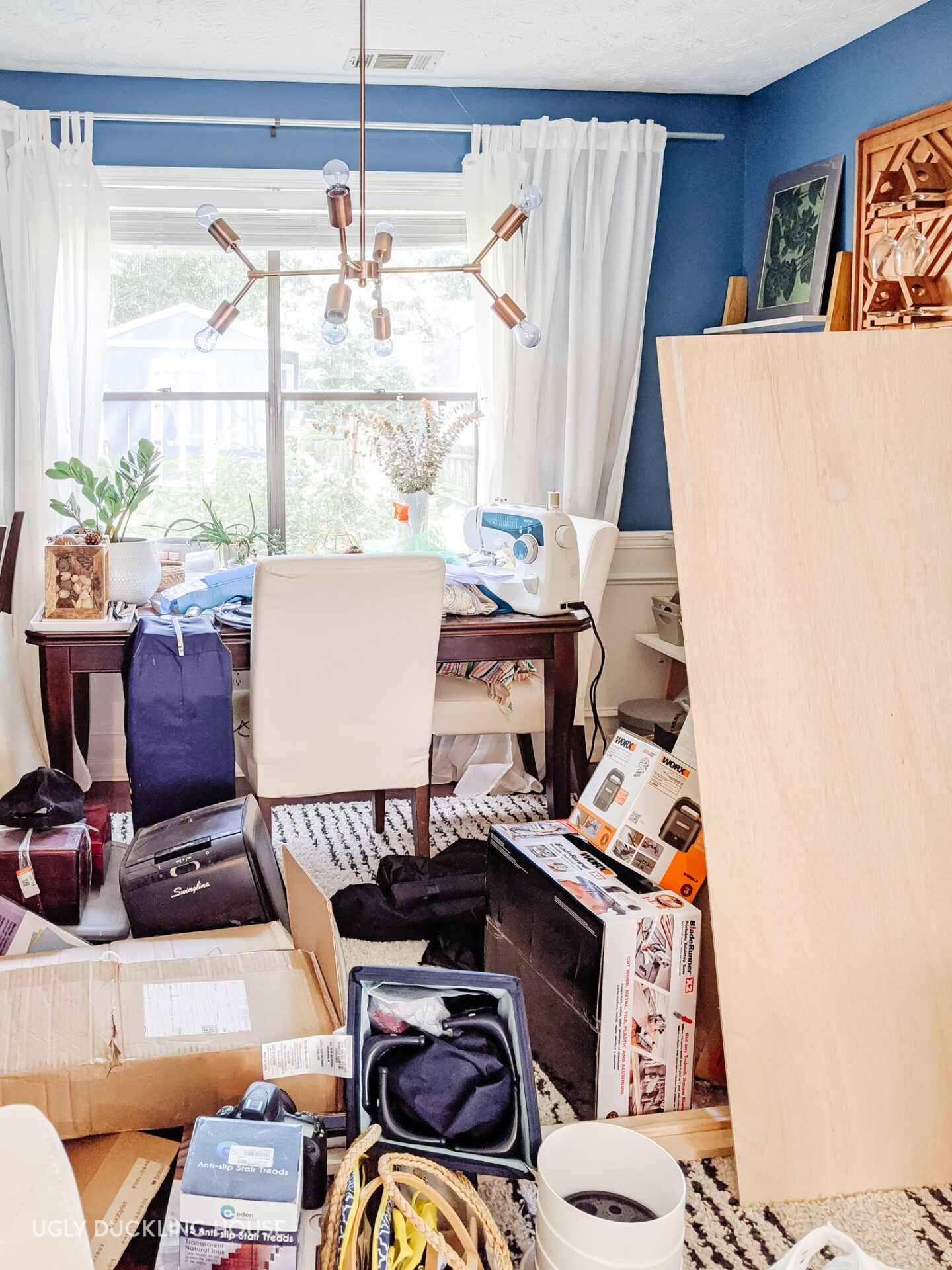 It's just mess. We have the nursery stuff stacked up in here too, waiting for the room to be ready. It feels like a giant task when I look at it, but I already did a quick reorganization this weekend (not pictured), so I should have some good updates once the nursery drywall is done and we can move things around.
6. Bonus: "Maternity Leave" Content
I know, I said "5 projects" — but there's a big one that is less specific to a room or to a build, and is taking up a HUGE chunk of time: holy crap, I'm going to be a MOM!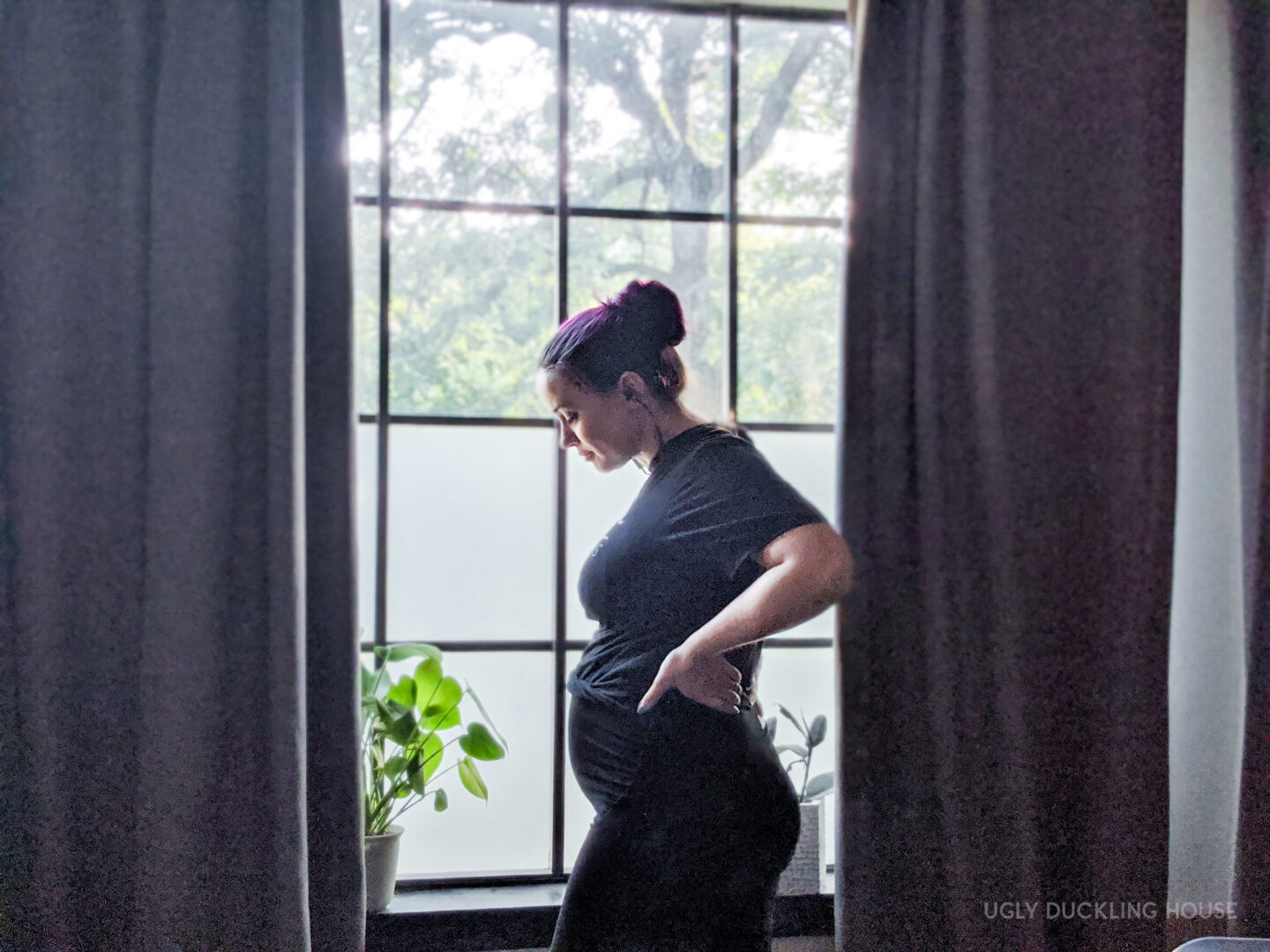 The blog is my business, of course, and I am the sole employee. K is a big help with my larger projects these days, but I don't have virtual assistants or anything like that to take over for me when I'll be away and getting used to motherhood (I'd love to find one who already knows the blog, TBH, but that will take some time to find, I think). I have several videos and posts I'd like to release for those few months (Ruby polishing and demo updates!), brand partnerships I'm working to wrap up so they're not stressing me out, and more. The bottom line is that I know I'll be recovering and step away for a bit, but I'm not sure how much content I'll prepare in time.
The good news is, I sort of planned for this last year. When I created my 25 DIYs of Christmas series over the holidays, I created it knowing there was a good chance I could need to take a break this winter. I expected that to mostly just be a break for the sake of a break, but it just so happens that that's when I'll be adjusting to newborn life. So, I'm working on getting all of those videos to launch on YouTube in a similar blitz as I did on the blog last year. There will be a couple of new projects mixed in, too. I'm also thinking of reposting some of my older content that you may have missed (so many bloggers do that, but I never have!).
Anyway, there you have it. That's all the stuff that's on my mind as I'm also trying to prep for the baby, do all of my doctor's appointments (so. many. appointments… more on that later), get through this pandemic… AAAAAAHHHHH! Your turn: what are YOU working on?