Disclosure: this post may contain affiliate links, which means I may make a commission if you decide to make a purchase through one of my links, at no cost to you.
I've got a new simple cross stitch pattern to add to the leaf series, and some updates on accessing the library — please be patient!
Every month, I'm sharing new cross stitch patterns created by me. As many of you guys already know, I really love plants and have created a cross stitch version that I call my leaf series. This month, I'm sharing a simple palm front as a great addition to other leaf patterns you might already be doing, like my Monstera or Caladium leaves!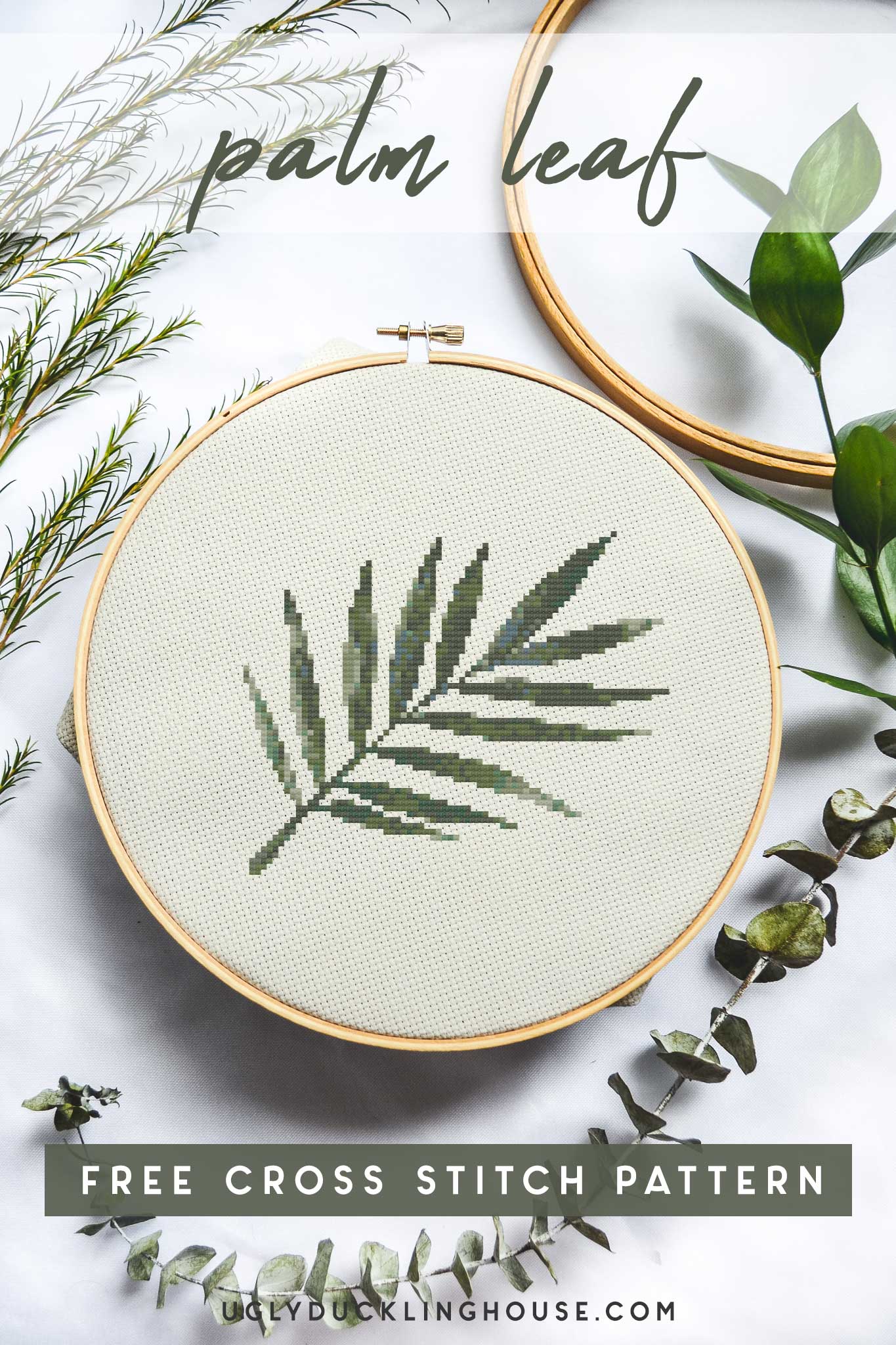 About this Palm Frond Cross Stitch Pattern
Designed for 14 count Aida
Full counted cross stitches only
DMC floss colors: 12
Size: approximately 5.8 in. x 4.4 in.
I started creating cross stitch patterns as a completely random thing a couple of years ago. After seeing folks responding to the first few patterns, I created a free series where I release a new one each month (more are available through my Etsy shop). Month after month, I've seen the little cross stitch library EXPLODE with people who are eager to join. I'm so glad you guys have enjoyed it so much!
However, there have been a few growing pains as the library has gotten bigger. There are reasons I kept it to subscribers only that I don't need to go into (it's not super relevant unless you're running a website, so I won't bore you with that!). But, the time has come that in order to keep this going, I need to switch to a new email provider. The expense has just gotten too high and maintaining it is too much when I'd rather be doing projects! So, I'm in the process of making that switch. It seems simple, but it's not!
What does that mean for you? Hopefully, nothing! But I am having some technical difficulties with making this change, which also impacts other subscribers (like you awesome folks who read my other DIY content, download my woodworking plans, etc.). I've got some help on it, but customer service teams during this pandemic seem to be especially slow and I have to wait on some of that. I'm hoping to get it all running smoothly (and perhaps even easier than before) this month. So, what I'm basically asking of you is that you be patient this month if there's difficulty getting into the library. If you have trouble, I totally understand the frustration. It comes down to exporting the list of people still subscribed and importing it into the new setup, testing to make sure things wind up in inboxes like they're supposed to, and making sure anyone who joined/unsubscribed during that transition is also checked and not spammed. So, there may be a few who sign up and don't get on the new list, or vice versa. Please remember that the intent here is good and I create these patterns for FREE and for FUN… so any emails I get that are the opposite won't be received well (don't forget, I'm also pregnant, and I'm too tired for that!).
Speaking of fun…
I have another something-something I've been working on for the Etsy shop in partnership with a friend of mine. I met Shelby from Little Coffee Fox last year at a conference and she is an AMAZING bullet journal blogger. I can't organize to save my life, but here I go hanging out with someone who exactly the opposite of that 😂. She has these sassy stickers that I can't help but love, and I asked her if she was interested in turning them into some cross stitch patterns as a collab (I'm planning on creating a few under the "NSFW" category). While they won't be made available for free here on the blog, they will be available in the Etsy store for a limited time! I'm in the process of adding them now, starting with this one: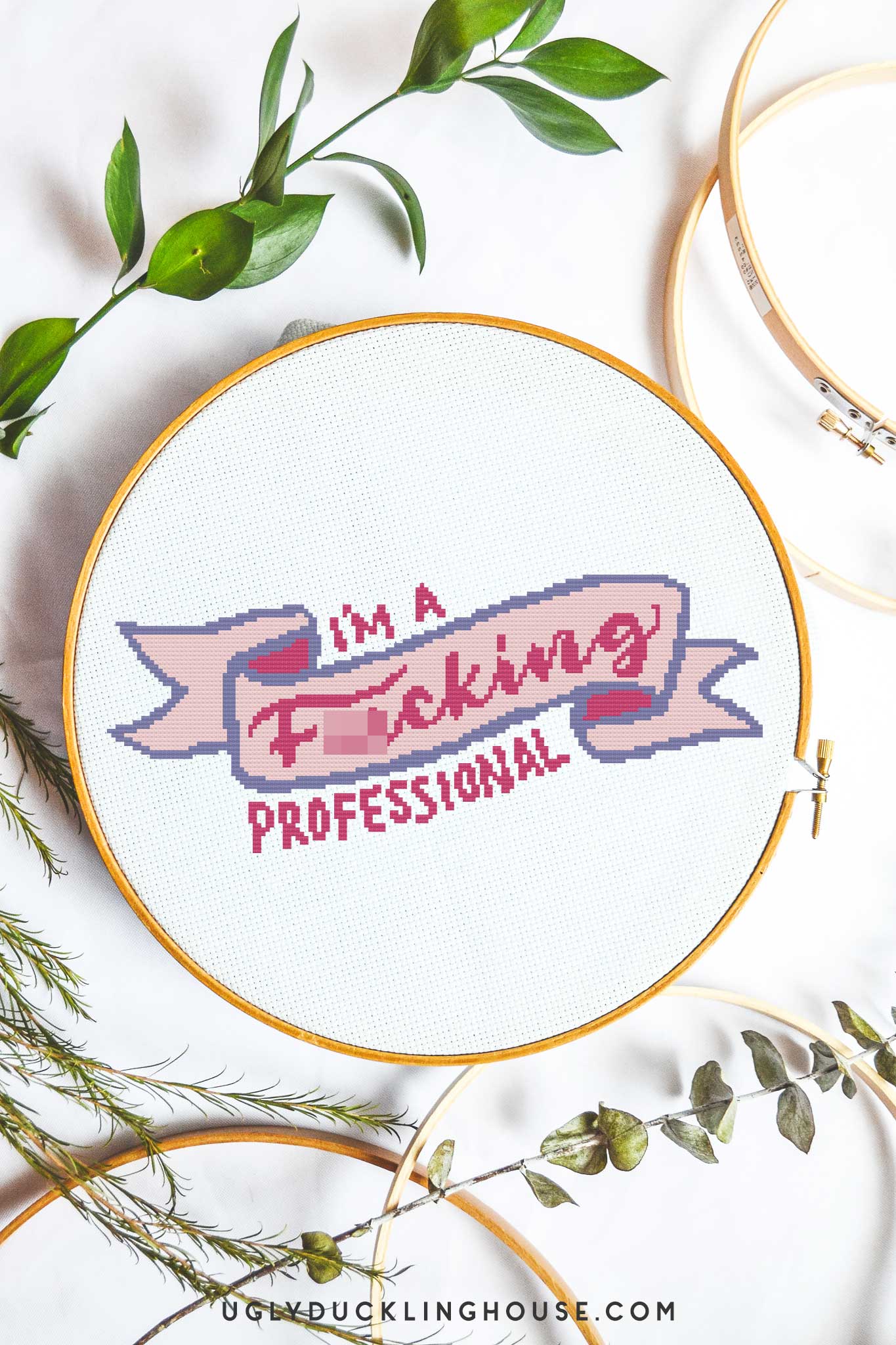 Fun, right?
Don't forget to pin this post if you like it, and feel free to hit up the rest of the cross stitch library to see sneak peeks of all 2020-21 patterns coming up! I'd love to hear suggestions on new patterns that you'd like to see, so you can leave a comment here or on Instagram (be sure to tag me if you create one of my patterns, too!).
pattern time limit
Patterns are available for free for a limited time to make room for new designs. To get access to the entire archive and lots more patterns, check out our membership site, NeedleSpark!
Check out the library to get access to currently available patterns and see previews of future releases!