Disclosure: this post may contain affiliate links, which means I may make a commission if you decide to make a purchase through one of my links, at no cost to you.
We've got some news, friends!
You're reading the title right, and no, this is not a drill! This fall, we'll be welcoming a new member to the UDH crew. And this time, they (presumably) won't have any fur. 😉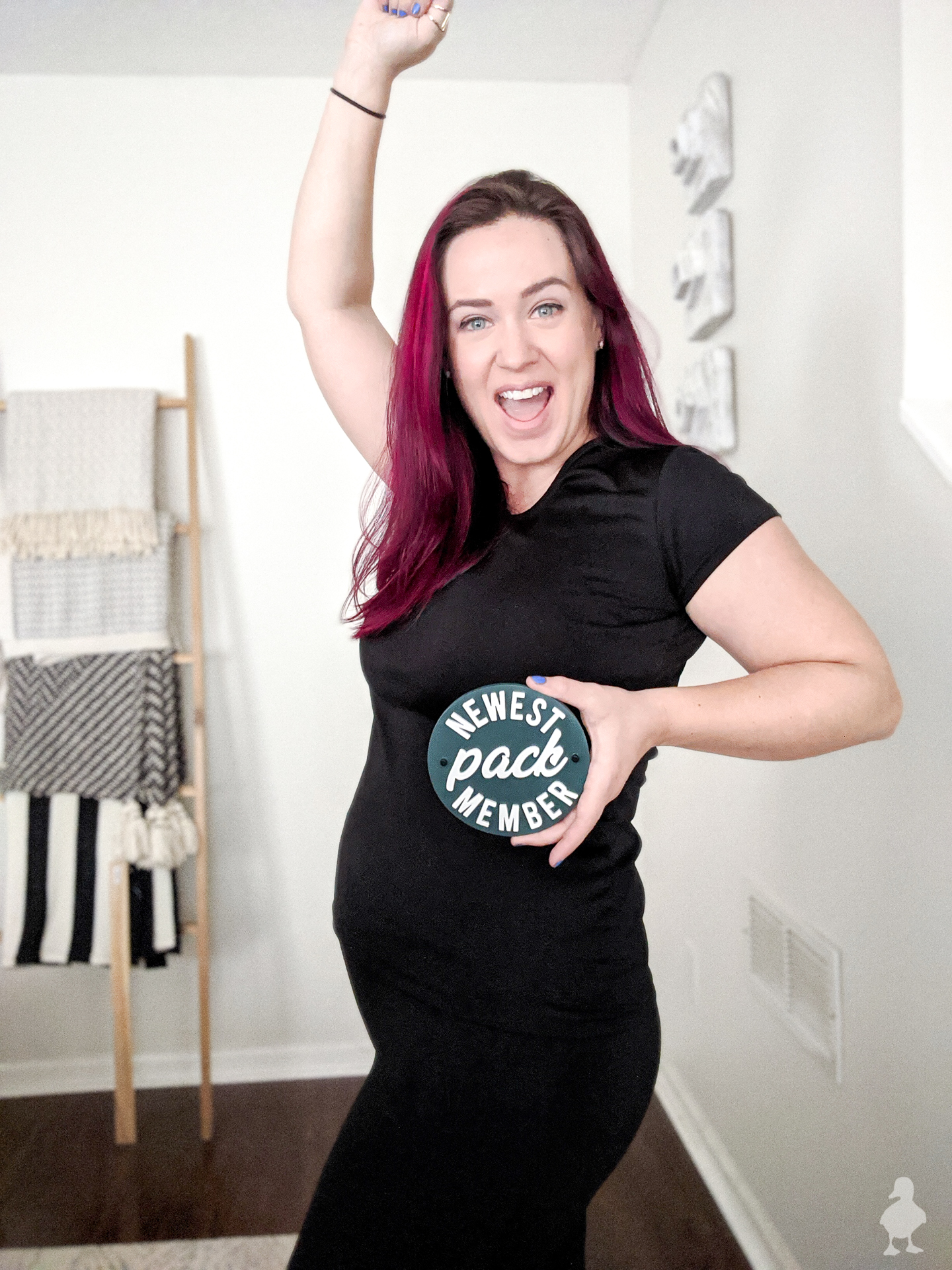 I've had a little time to type out this post, so I thought I'd start with a few questions I've already been asked by friends and family. I'll follow up with another post in the future with more info if I don't address your questions below!
Video: Surprise! Little One On the Way! Telling My Parents
Video notes:
At one point, I had to tell Mom to stop opening her present so fast so Dad could catch up.
Timing a "bleep" is harder than you might think. 😂
My mom choosing to call the baby "he" was not based on anything… she had no idea of the sex (see below in the post on that)
Referring to my parents as "Sausage" and "Cheese" is an inside joke that came from K's parents being called "Mino" and "Pa" by K's niece… I thought it sounded very Southern, so he gave them these monikers because they are from Wisconsin.
Questions (Assuming You Might Want to Know?)
What?!???
Yep, I'M PREGNANT! AND TYPING THAT OUT FOR THE FIRST TIME! Knocked up. With child. Preggers. Bun's in the oven, "in the family way" (I've now learned there are quite a few weird phrases I've never heard before).
When are you due?
Baby Carter is due November 5, 2020.
So that means you're…
21 weeks along. Just a little over half-baked!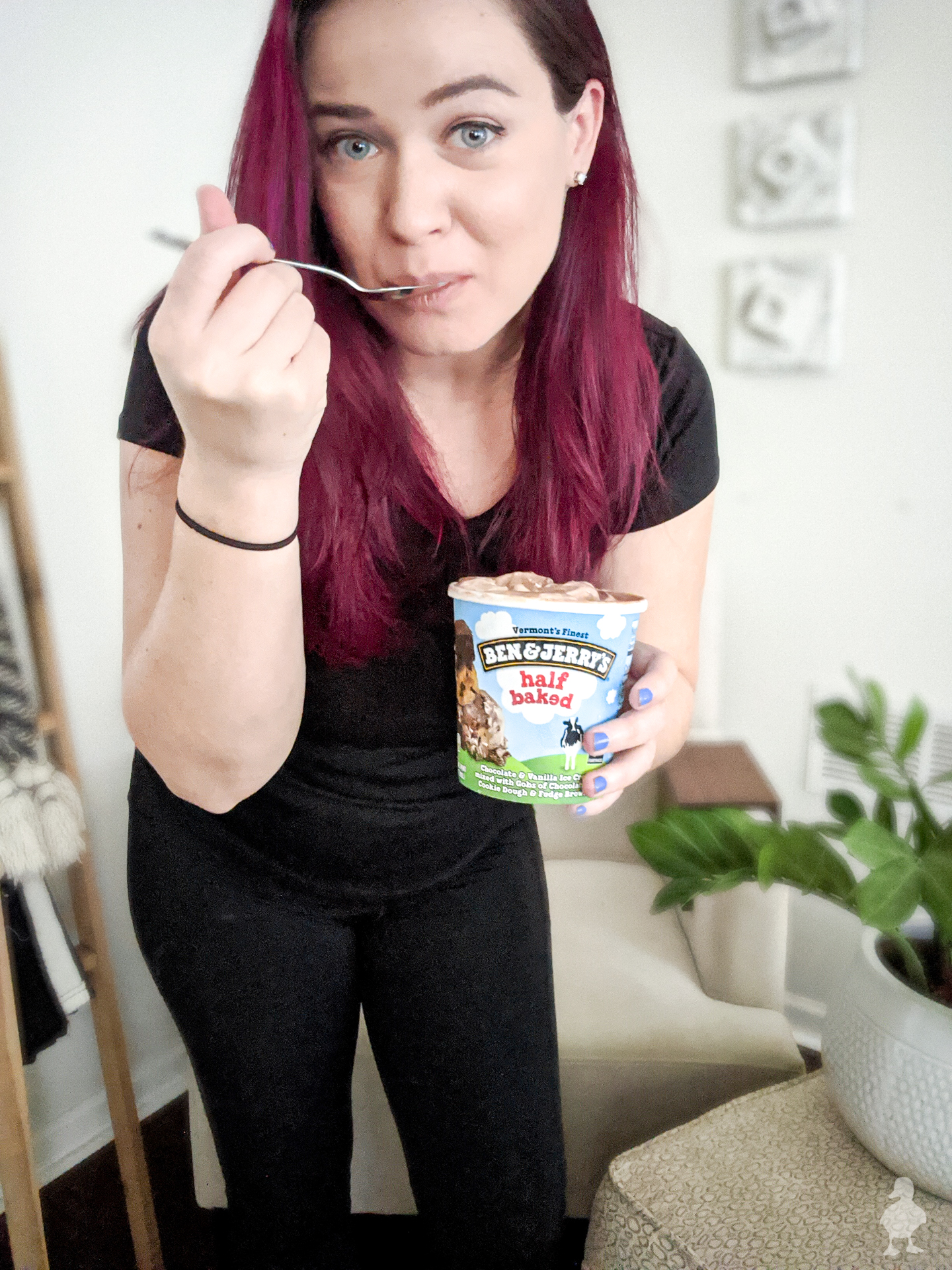 "Baby Carter"?
Carter is K's last name.
Was this a surprise?
No… but also yes. 😂 I'm aware that answering a question like this on the internet is obviously very personal, but because I haven't really spoken publicly about our plans much before, it could very easily be a surprise to anyone that isn't a close friend! But we've been talking about it for quite a while and set an "all systems go" date, so to speak, for my birthday in May.
This next part is something I have some mixed feelings about (and talking about), because it involves my doc (birth control removal, annual checkup, etc.). I could probably go into a longer post about this particular topic alone, but a couple of years ago, I (reluctantly) had to switch insurance because of self-employment. As a result, the doc I'd gone to for a long time and adored was no longer on my plan. I found a new doc I liked ok, but she was a little pushier at the whole urgency-of-baby thing than I was comfortable with. Between her advice (she laid pretty heavily on my age) and a number of friends that have struggled with infertility or miscarriage, I made the assumption it could very well take us a while, too.
I wouldn't say I was overly worried about it, but it was definitely a talk K and I had often. Were we ready? Should we go ahead and try, in case we do have some struggles, and it's a year or two (or more) before we have a baby? We didn't want to inform either of our parents of our plans or get their hopes up prematurely, so I didn't really want to ask our parents beyond what we already knew of their pregnancies and our siblings (we knew of some possible issues there, but not the full details).
We took the "if it happens, it happens" approach leading up to my birthday. I thought that I would start tracking things with more diligence (via a fertility app) and take that data back to my doc in May to start talking about our options (again, because she gave the strong impression that if we did have fertility issues, we wouldn't want to wait long before considering more help… I've come home from my last couple of annual checkups feeling as though you could probably blow dust off my ovaries).
Instead, I found out I was pregnant the week after WorkbenchCon in February — around four months earlier than expected! ❤️🤯 So, there was a little bit of shock involved for K and I. I casually took my first pregnancy test ever expecting it to be negative, and "the stick turned blue" almost immediately. K was traveling for work when I gave him the news (I asked him if he wanted me to plan something more elaborate for if/when he found out and he said no, to tell him the moment I knew!). I suppose nothing truly prepares you, so… a planned surprise?
How did your family react?
I told my sister almost immediately, right after the first ultrasound. I just whipped her a text message and waited for her response (she didn't know we were planning on a baby either). It involved an expletive or two, but it was really fun for her to know and to keep the secret with me for a while. We also told one of K's brothers and his wife (because sharing the news is a really fun high and K wanted a piece of that action).
We wanted to wait until we got most of the genetic testing results back before we announced it to the rest of our families. K is the youngest of four but has one niece, and my mom has been saying for a while now that she didn't expect either of her children have kids (she calls our dogs her "grandpups"). So, this was going to be a huge surprise all around!
I told my parents at 12 weeks on my birthday via video call. A lot of you already know that I share my birthday with my dad, so it was a fun opportunity to "trick" them into finding out the news. I wrapped up two sonogram pics in a frame and put it in a gift bag, which my mom picked up when she dropped off my birthday cake earlier that afternoon (she was pretty bummed we weren't doing our normal joint birthday celebration because of distancing). I had them open one frame each upside down on the call, and Em recorded their reactions for me. My mom was totally shocked, while my dad was more neutral (it's very him). Her first reaction… and the second… and the third… are absolutely priceless. I just wish I could have had a hug at the end is all. So, there are some bittersweet feelings.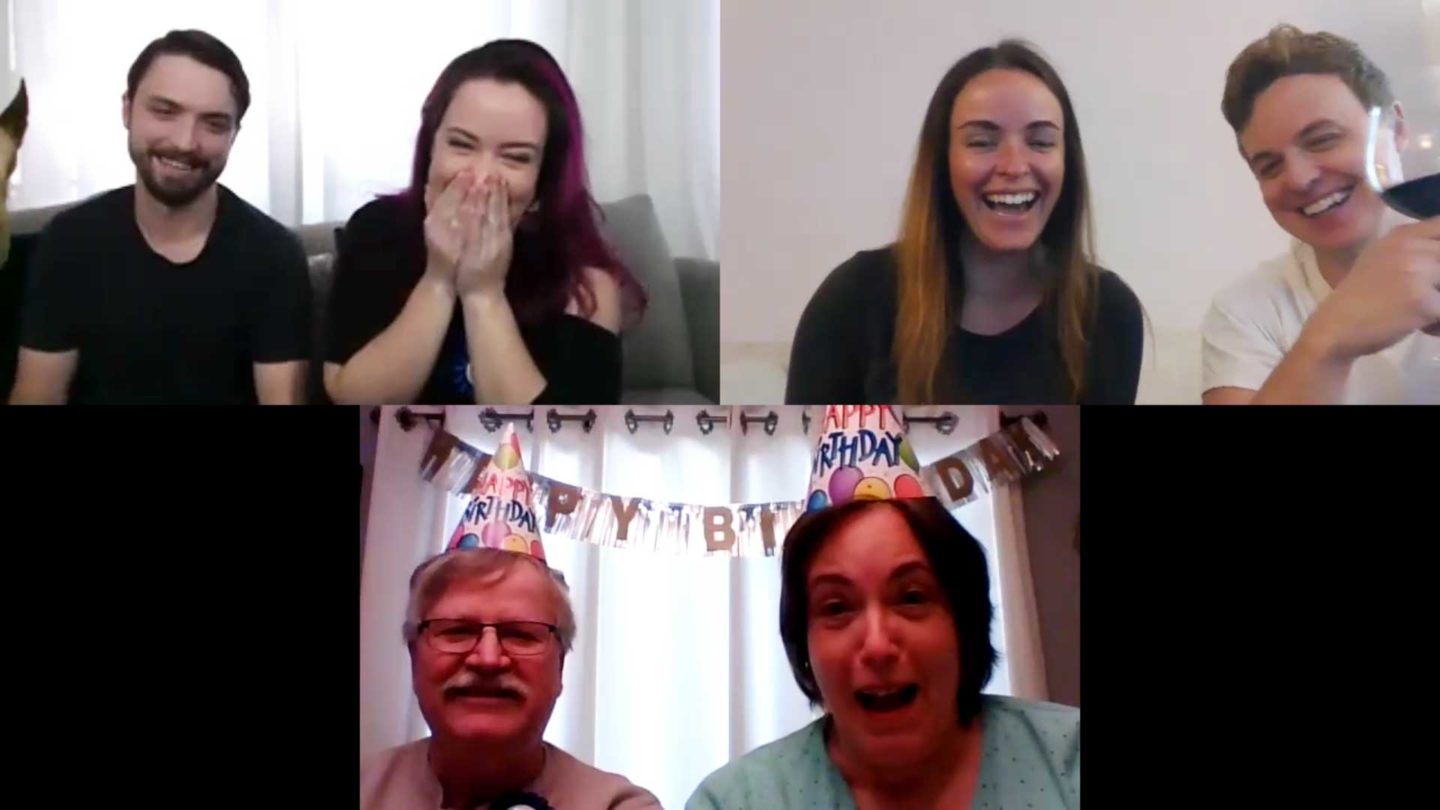 We waited about a month longer to tell K's parents because he really wanted to tell them in person and was willing to wait until social distancing guidelines relaxed a little bit (his mom is immunocompromised, so we wanted to quarantine everyone involved first). Our news unintentionally caused his parents to be so excited that they didn't get a wink of sleep the first night! We told them right as we arrived, which was pretty late at night. We debated waiting until morning, but K and I had already waited so long and wanted to spill the beans! I still feel a little bad though.
Over the next few weeks after that, my mom and dad spread the news to the rest of my family, and K made a few more calls as well.
Waiting so long to tell family is also the reason why I've waited so long to write this post. We couldn't share the news online until the grandparents knew!
Was it hard to keep it a secret?
Yes! Of course. I suck at keeping secrets. I couldn't help but drop hints on Instagram (I shared a version of the duckling clip from the above video on IG stories).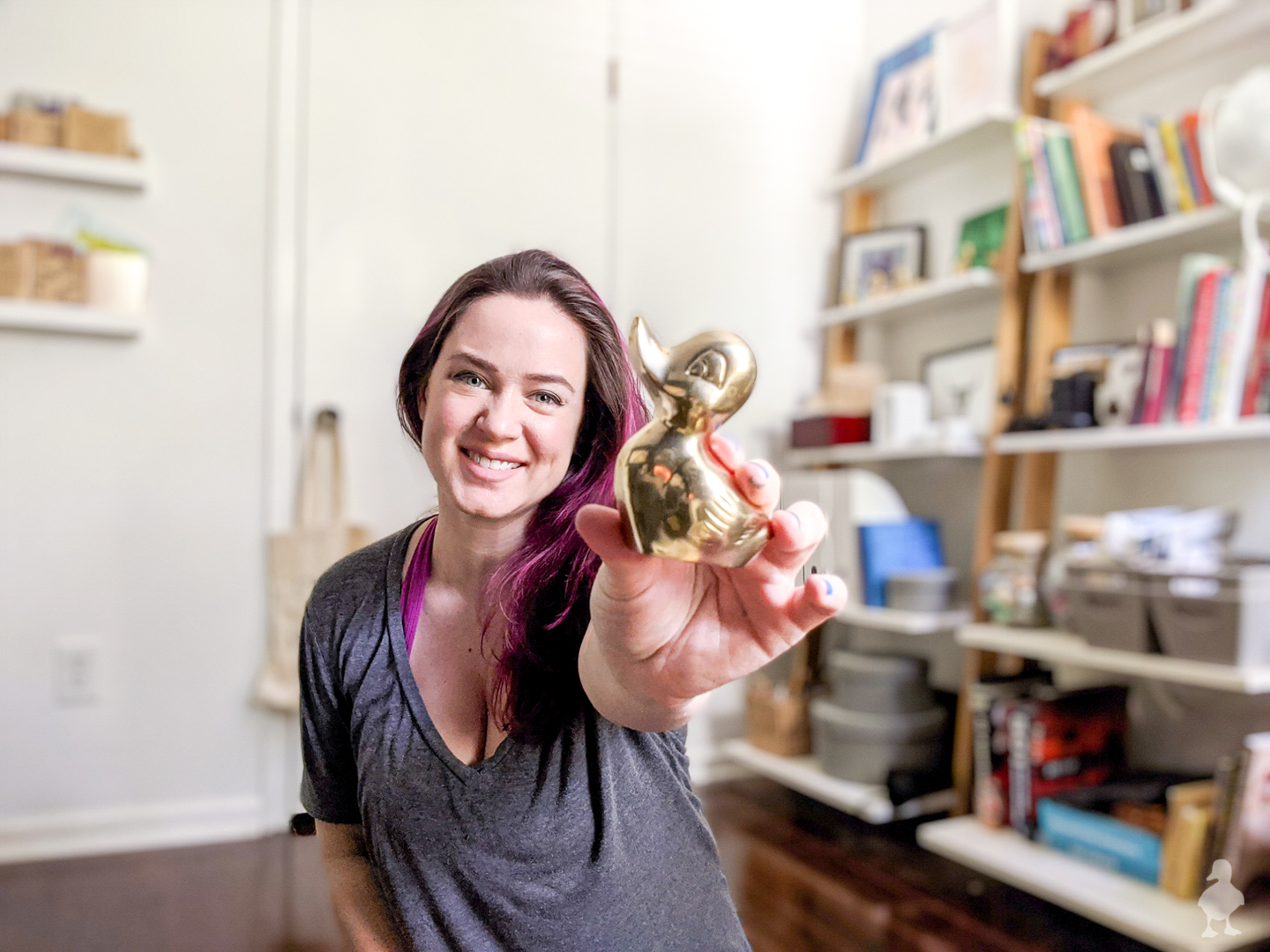 Do you know the sex?
Yes! We found out the sex while we were doing the genetic testing, around 12 weeks. I'd never planned to do a "gender reveal party" but I did have the doc share the info with my sister and her husband before K and I found out the sex. It felt like that was something I could do to make things feel more real/special/involve my sister in the big news, so I let her pick the way to tell us the same video call where K and I told my parents about the pregnancy. I knew my sister would get creative, so that was really fun to see her take the helm and put her spin on things. I'll share that part of the video in a future post.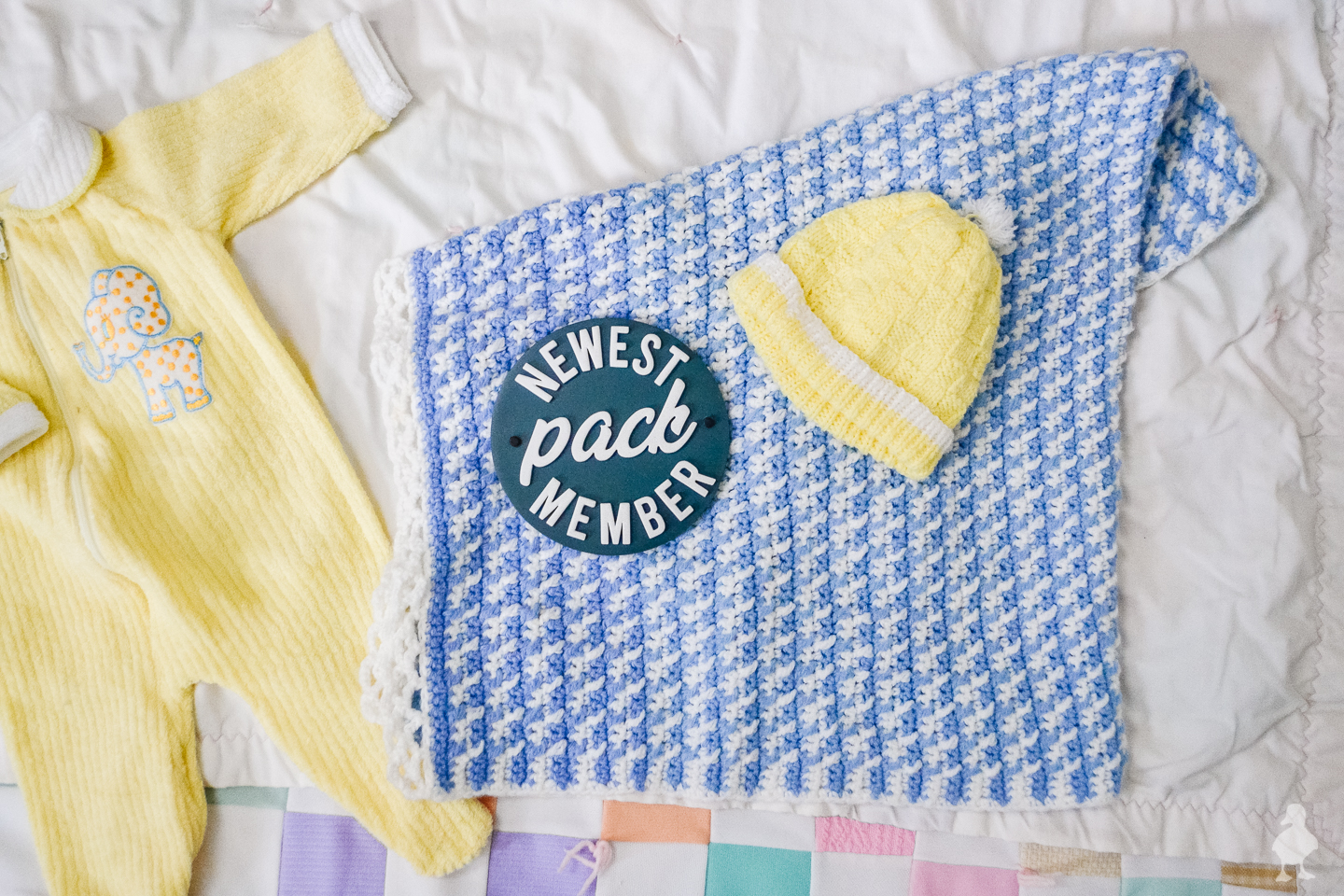 Where are the ultrasound photos?
The short answer is, I'm just not into sharing them online (other than their brief appearance in the above video). It's totally normal for most people to share sonograms on social media to announce one's pregnancy. After all: no baby pics yet exist, the sex is often unknown at the time of the announcement, and you may not have even developed the telltale pregnancy bump or ordered any baby clothes yet. Showing a positive pregnancy test also weirds some people out in a "there's pee on this!" way. So, how exactly else do you capture something that can't really be photographed?
This is one of those "great for you, but not for me" types of things. I once saw a Facebook pregnancy announcement post (friend of a friend, maybe?) where a fraternity brother of the father replied "see the inside of Julie's uterus, check" and it cracked me up. That, in a nutshell, is kind of how I feel about it, too! 😂
There are a million and one decisions to make about what to share and what not to share, and anyone who has ever met me in person knows I'm pretty much an open book. But we each have our own personal weirdness meter, too. This one falls on the "fine to share in person, but don't share on the internet" side. 🤷‍♀️
How has the pandemic impacted your pregnancy?
Ah, yes…
I found out I was pregnant toward the end of February, just as things started locking down, which means I've spent my entire pregnancy with the Coronavirus pandemic in the mix. I've read up a few blog posts about adjusting to pregnancy from when things were "normal" to "pandemic"… but there wasn't really a normal for us to begin with.
On the one hand, social distancing works pretty well if you're newly pregnant and work from home. My fatigue and morning sickness was pretty rough, so with things all around being canceled and everyone staying home, I didn't have much FOMO to deal with. My typical schedule for projects and "Mount Inbox" slowed a bit without requiring disclosure of my absence (because it was happening to everyone), while K set up a home office and made those first couple of months a little easier.
On the other hand, I'm also experiencing lots of new, and many of the warm, fuzzy, "fun" things one might expect with announcing the pregnancy, celebrating with family and friends, etc. has largely been cut out of the equation. Telling family became phone and video calls vs. experiencing those big moments in person. I doubt there will be a shower or celebration of any kind until after the baby is born. Pregnancy is already an adjustment to get used to life "before baby" vs. after, and there are times I feel like the pandemic only compounded how instantaneous that loss of our "old life" was. I try hard to focus on the positive things, but I'll admit I do get very sad about the expectations I had of what this time in my life might be like. Zoom calls exist and that's great and all, but telling my parents in person was something I'd imagined for a long time… and that didn't happen. I also have a ton of anxious questions K and I think and talk about.
Taking one day at a time is easy enough to say, but harder to do in practice in a situation like this, especially with things changing every few weeks. Is there a way for us to have a "babymoon" somewhere safe, with just the two of us? Can we have a maternity photo session and stay safe? Will K even be allowed to be in the delivery room? Will we be able to have newborn pics? So, I'm sad about/have thoughts like that. Where there was no FOMO before, I have a ton of it now.
Also, honestly, I get VERY angry at the lack of consideration I see in others with regard to face masks. Georgia has a large number of cases and a large number of people not giving a shit, and it's really stressful at a time where I'm supposed to focus on reducing stress. Between pregnancy and asthma, I'm immunocompromised — so we are trying to take every precaution we can while still doing my job, his job, etc. But to see others arguing that their comfort is more important as a "freedom" than protecting the elderly (my parents! K's parents!), the disabled, essential workers, folks with vulnerable partners, etc. makes my blood BOIL. It is SO hurtful. I wear a mask all the time in DIY and have for years because of sawdust and solvents and the desire to protect my lungs. It takes some getting used to, but unless it's medically necessary to not wear a mask, I simply don't get why it's too inconvenient to care. It such a small thing, yet this may have huge consequences that I don't think people even think about. And not even with regard to contracting the virus itself, but whether or not hospital policies will allow K to be there before, during, and after birth (I'm scared of being alone at such a crucial moment if something goes wrong or to be separated from the baby for long). It also plays a role in considering what alternatives we have, and what is covered or not covered by insurance in a public health crisis. Let's just say I hate group projects, and this only confirms why!
This pandemic is exactly why I hated group projects in school.

— erin mallory long (@erinmallorylong) June 25, 2020
How are you and K feeling?
Emotionally, most of the time, I don't feel all that different. Kinda neutral, in fact… and sometimes that makes me feel a little weird, like I expected to have more mood swings… or something? I think it's just a mix of emotions where the highs are all mixed in with moments where I feel kind of drained, so the end result is neither. I find myself more worked up about the news than anything else, so I try to stay informed while also giving myself some space since stress management is vitally important during these months. There's a lot to think about with a little one on the way and what parenting will be like so that we raise a kind, compassionate human.
In the first trimester especially, I didn't want to chance anything. Even in a position of not having experienced pregnancy loss, I have enough friends who have, so it's never not been on my mind. I kept feeling like I might jinx myself to buy anything baby-related, or to share the news too much, or even save any baby-related bookmarks on my browser history.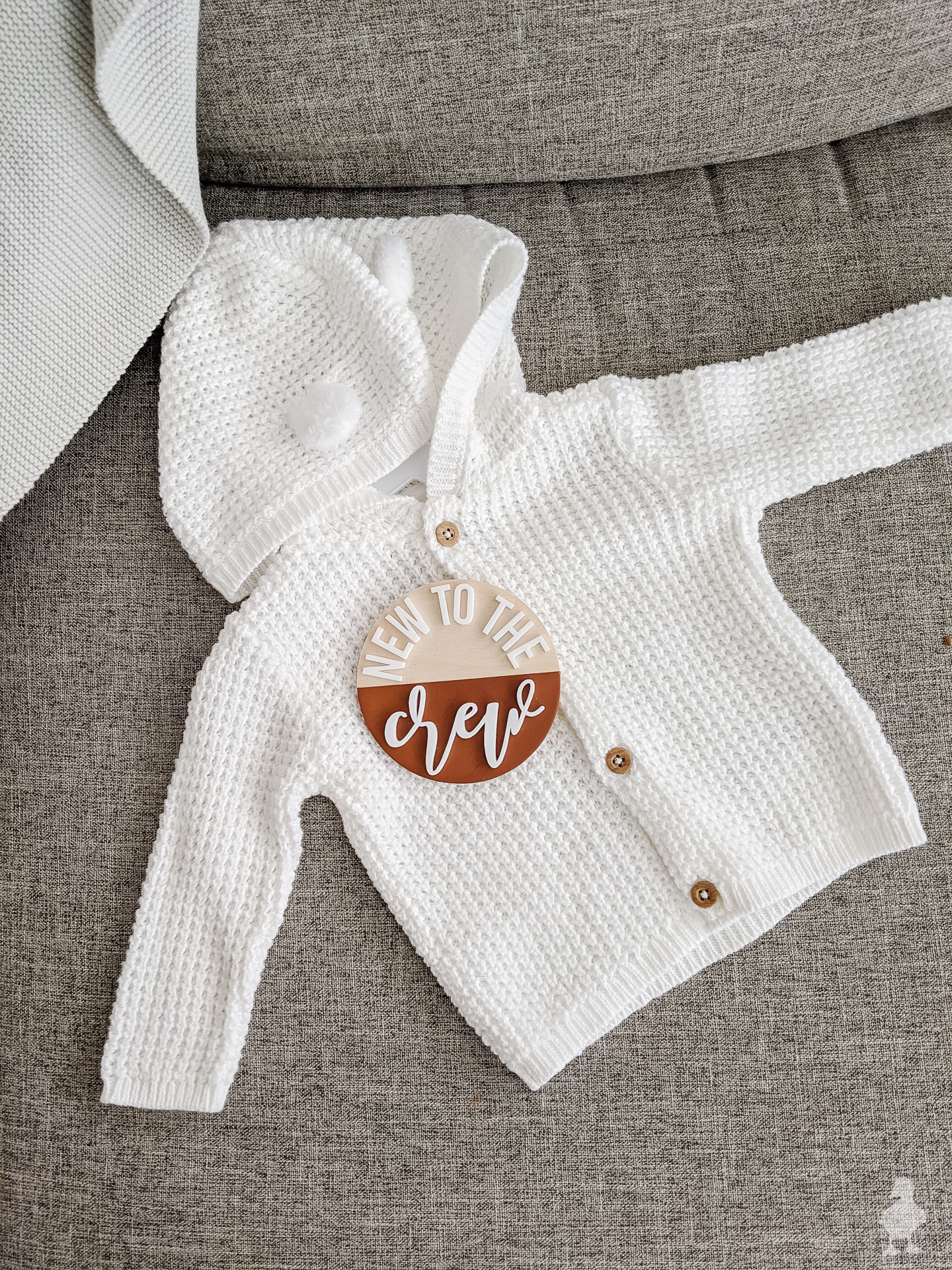 I get worried about making K feel special in all this, too — especially because I feel like Covid is stealing some of this experience from him as well. He's not allowed to come to my ultrasound appointments, and that SUCKS. I completely understand & respect why, but I get anxious about getting bad news alone, and I really wish he could be there to hold my hand. I know he does too. Thankfully they've allowed video calls, but it's not at all the same as having the support directly in the room and feeling more included. Things are still kind of up in the air with what might happen this fall and what that means come delivery time (and things are different by state; someone I know is allowed to bring her husband to appointments), so we're trying not to dwell on it too much but also be prepared for the rules to change a few times before then. Balance is tricky!
Physically, on the other hand, there have been more noticeable ups and downs. The first trimester was pretty rough because of exhaustion and "morning sickness" (P.S., I'd love to send a big box of spiders to the dude who popularized that misnomer), and I've been focusing on catch-up with weight gain in the second. I also HATE my boobs now (I knew they would get bigger, but I already had plenty… come on). No strange cravings yet, but pickles are probably my favorite snack (loved 'em before pregnancy but they taste even better now!). I also developed a constant clicking in my left ear (as though there's water in it) because of pregnancy-related congestion. Most of the other typical things (ligament pain, dizziness, sleep issues, headaches, etc.) are uncomfortable but manageable. I also REALLY miss my craft beer!
All in all, I think I may be just one of those people that isn't crazy about pregnancy (I already have body issues and struggle with that), and I'm learning to accept that not everyone loves being pregnant even when they love the result. So, I just keep thinking about little fingers and toes and remind myself that it's normal to get sick of the taste of prenatals when you've chewed them every day for months. 😉
K doesn't always communicate what he's stressed about, especially if he thinks it will put more stress on me. But it manifests in ways I notice, like his nesting, financial planning, or checking in with me. Where I feel less of a sense of urgency to cross off to-do lists (mostly out of tiredness), he has turned the activity up a notch (especially the guest room — he wants his mom to stay for a little while when the baby comes). He's also doing all of the grocery shopping so I can stay out of public spaces, doing most of the cooking (phew!), and I can really see the effort he's making in this short time-before-baby that we spend together. In general, he's kicking butt. ❤️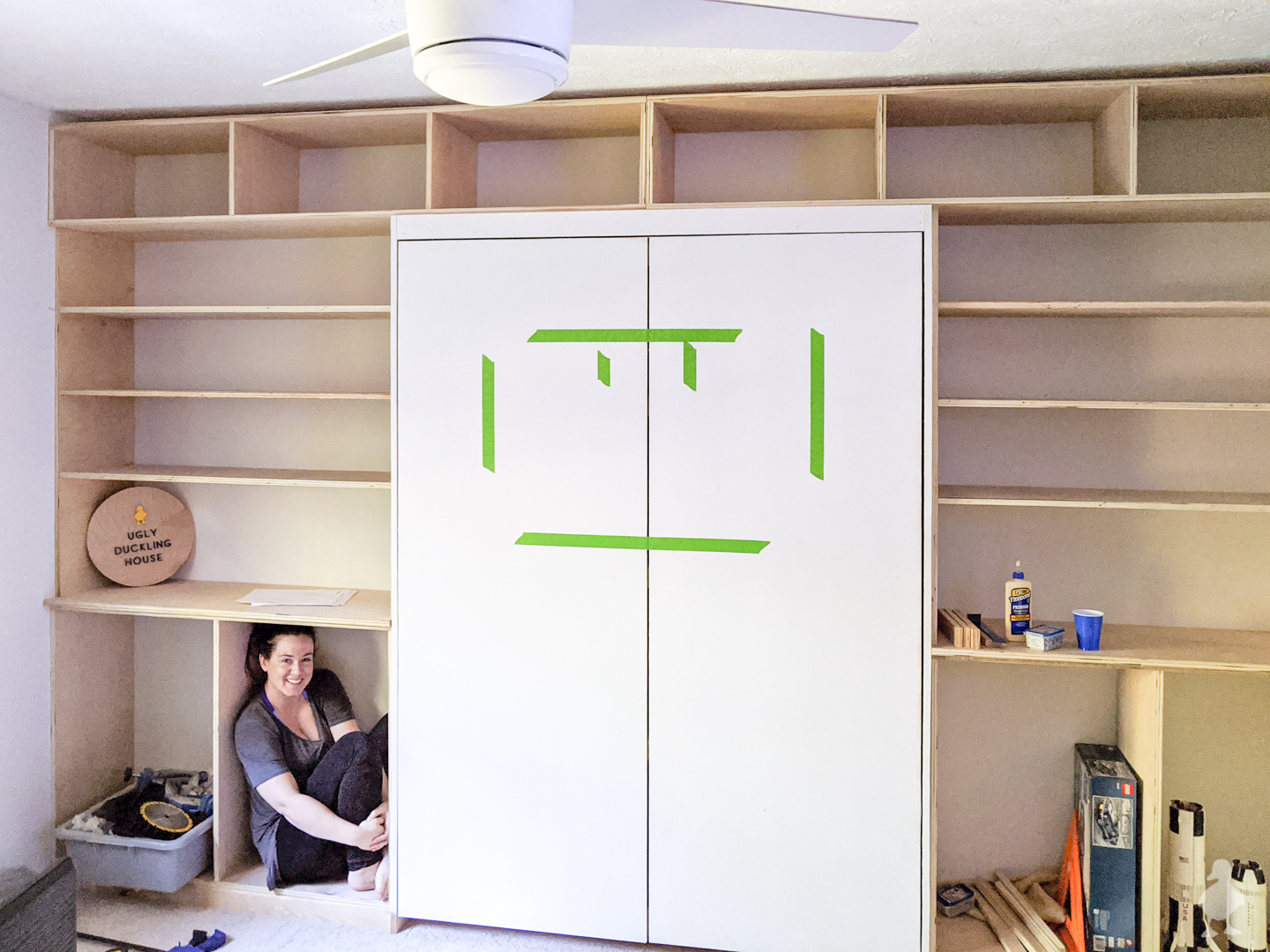 How is the baby doing?
Baby Carter is healthy and developing as expected! This is what I focus on whenever I get down about the Covid stuff, as I KNOW how superficial the rest of the other things I get bummed about are by comparison. We feel extremely lucky to have a healthy kiddo on the way.*
*In other words, even though I'm whining in this post, it's not lost on me to be fully grateful even though my mind sometimes focuses on the negative and worry.
I got my first kick at around 4 AM about three weeks ago; I tried really hard to wake K up to feel it with me, but he was sound asleep. It made everything feel WAY more real and felt my first wave of feel-good hormones. K has since felt a few more thumps and enjoys reading articles to my belly. That part has been really fun and sweet. At the 20-week ultrasound, I was SO relieved to hear all the baby's measurements and see them active.
Have the pups acted any differently?
They cuddle more, so I'm sure they sense a change of… something. K and I have made lots of predictions on how they'll behave once the babe arrives.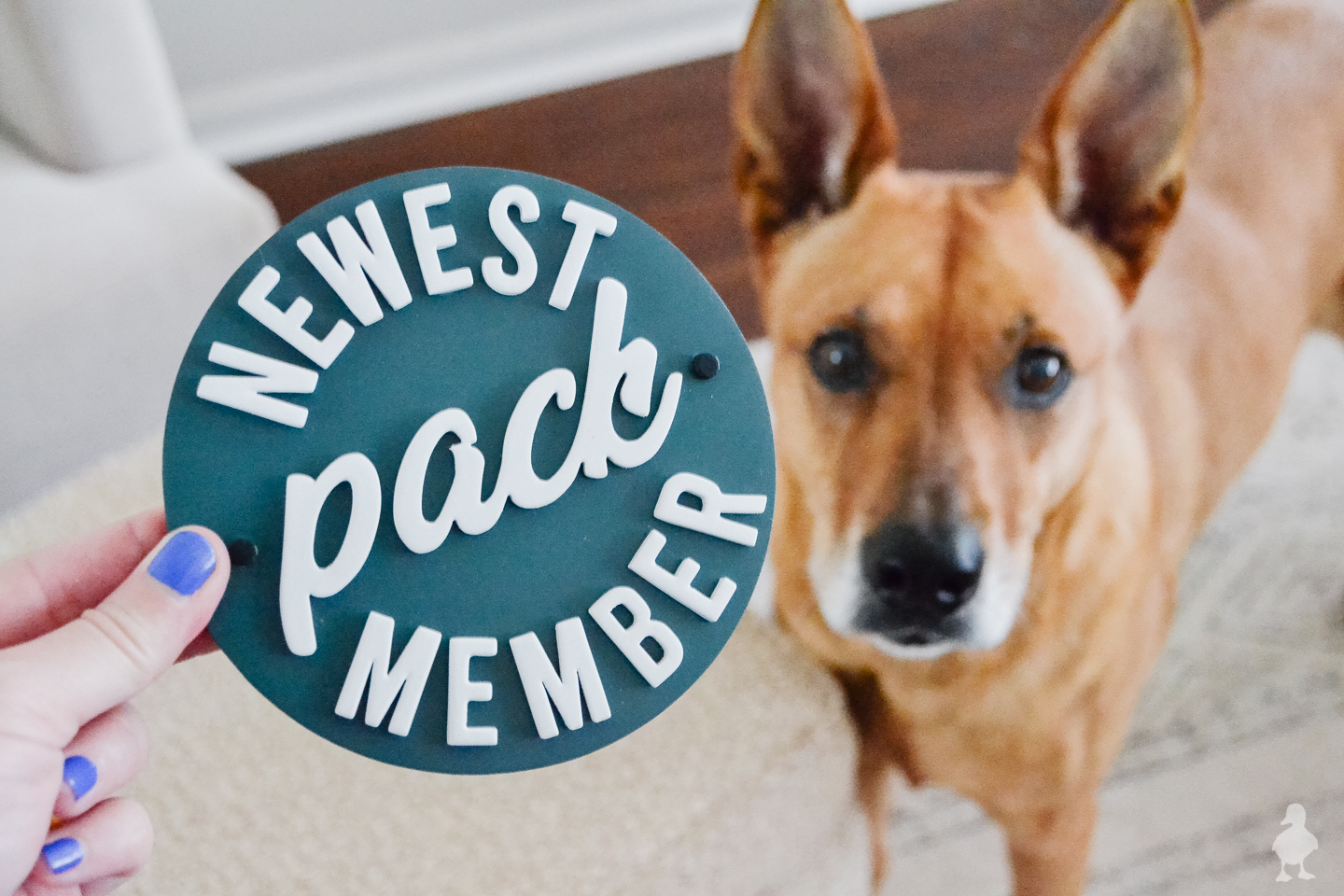 (And, as usual, they've been less than cooperative trying to get an awesome shot with my custom made signs from my friend Lizzy! It's the ONE thing I tried arranging early and had huge expectations for how the photos would go… did not work out as I hoped! 😂)
Do you have a name picked out?
The first name, but not the middle; we'll reveal it when they're born. We have also been calling the baby by all sorts of names we know aren't going to happen purely for our amusement.
What kind of content are you going to share about the baby?
First and foremost, this is a DIY/maker/home improvement blog, and there are zero plans to change that! I've shared about dating life, pupdates, and written other personal posts in the past, and I think things will stay the same in that regard. My "mommy blogging" participation will likely consist of a few sporadic updates about my pregnancy (finding out the sex, a taste test of mocktails and the slew of non-alcoholic spirits that have come out recently, maybe the birth story or items I found helpful during pregnancy/first few weeks?). Nursery-related DIYs are certainly in the realm of possibility, but I'll have a little hesitation to post about builds because people have STRONG opinions on baby projects. But I may just let everyone get over that and post anyway!
I also have some strong feelings about the little one's privacy as they develop, so I'm cautious about over-sharing their details (info about myself, sure, I'm comfortable with being an open book… but in the same way I am with keeping things more private for K, I feel some distance in that regard is healthy).
Where will the nursery go?
My "old" office!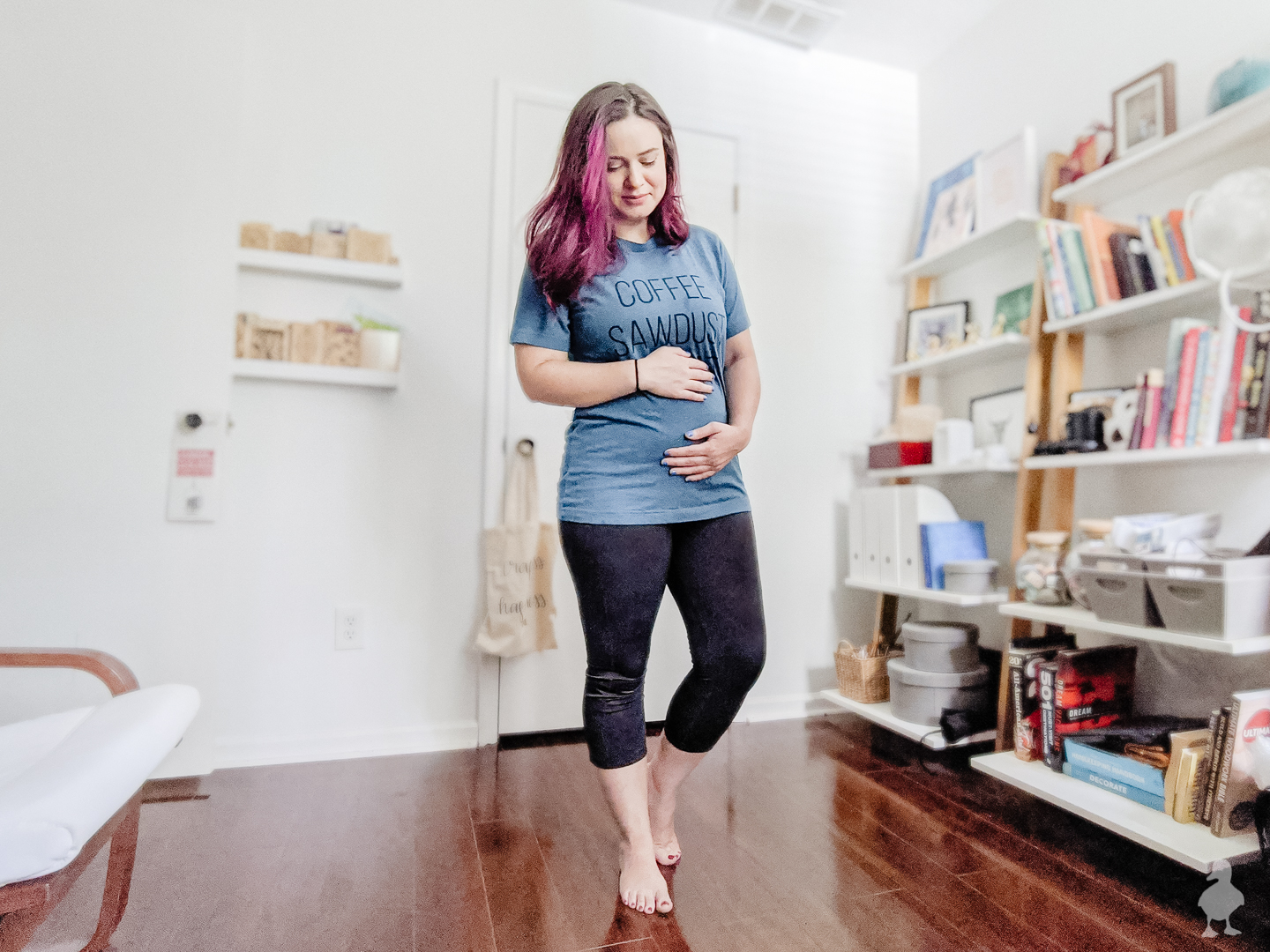 Given that this is a small house, we don't have too many rooms to turn into the nursery. But during the work-from-home Covid adjustment, K took some time to make the guest bedroom into his own space. He even stole one of the desks I built for my office. Update: he's now stolen both!
Consequently, I noticed how little of a distance his door was from my own home office, and I felt totally smothered! So, I moved my computer work downstairs to the dining room and realized 1) how much I love looking out of the big window in there and 2) how little we use that space for dining. It was pretty easy to see that I could make the change permanent and happily make the dining room my new office.
That leaves my old home office primed to turn into a nursery! It's right next to our bedroom. It also sort of domino-effects the plans for other rooms, but I'll get to that later. Update: I've now made my secret nursery Pinterest board public, so you can see some of the rooms I've been inspired by! I started it a while back when I first started thinking about baby decor, but had to keep it mum for a bit so no one caught on too soon! 😉
Can I give you advice?
I'll regret saying "yes," so I'll cautiously say sure — because I already know it will happen anyway! I think getting tips on breastfeeding or ways to relieve aches and pains will all come with the territory. And a lot of it may be awesome and extremely useful because it's nice when someone's gone through it before (such as when I asked two of my friends about picking the right prenatal vitamin).
That being said, expect me to find my own way or to not be too excited about advice unless I'm asking for it. After all, I'm used to doing lots of research to try to figure out how to do something, and learning as I go as well. This is certainly intimidating, because baby. But my approach isn't differing all that much.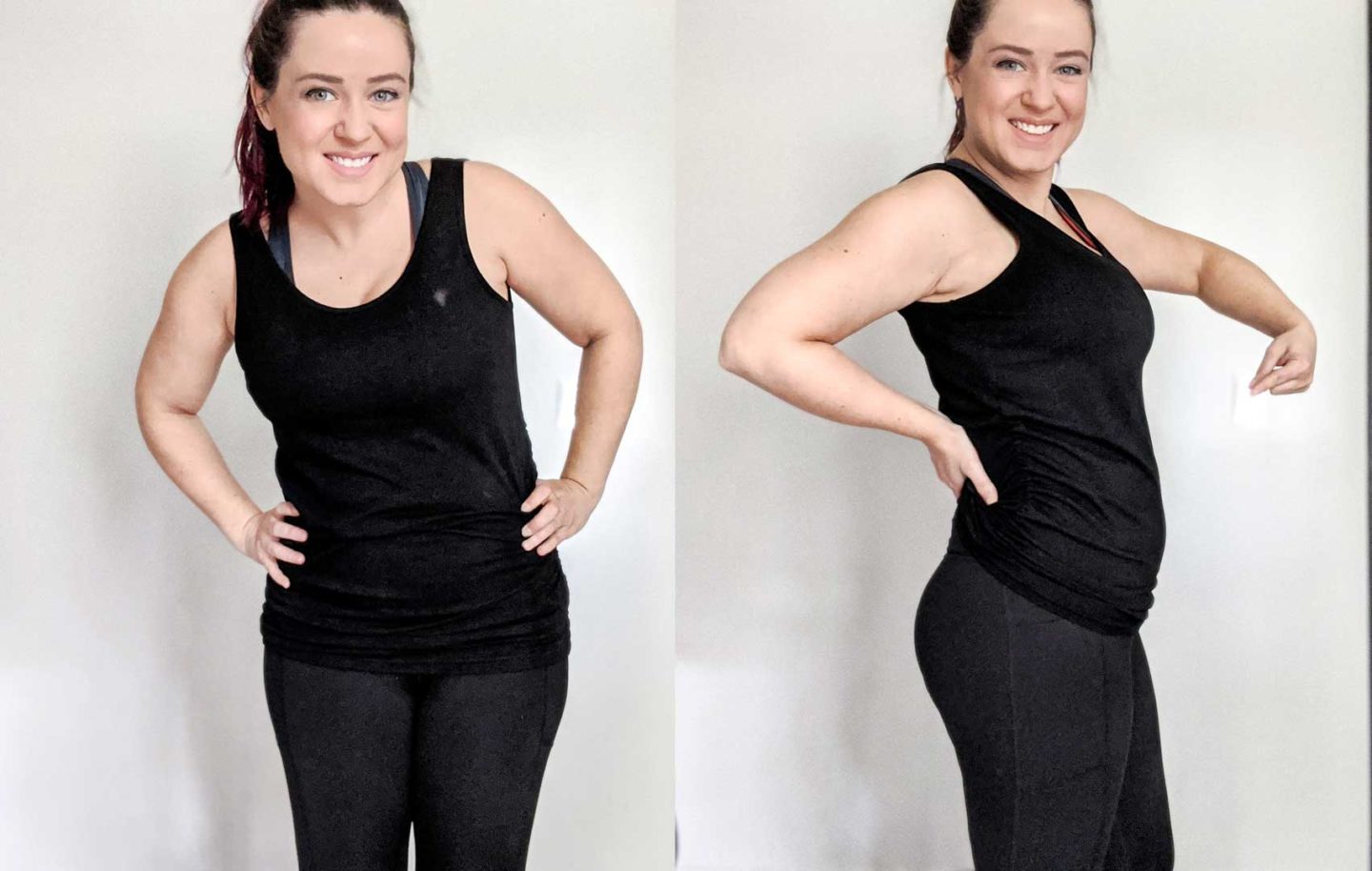 I know there's a lot I don't know — almost to a deliberate level — because there's too much to know and too many conflicting opinions. I'm researching each thing as I go so as to not feel too overwhelmed, and I'm enjoying what I'm learning on my pregnancy apps. Some days I go down long rabbit holes of information seeking, and some days I just want pizza and to watch TV. I'm confident I'll have the support system I need, so that's comforting. Setting expectations is going to be tough because we have so many enthusiastic siblings and family members waiting on this little peanut to make their debut. I'm super grateful for that, but anxious too.
I've also experienced plenty of unsolicited advice and opinions on social media as a DIYer, so I just plain accept the reality that some judgmental negativity or "just you wait!"-type comments will come my way. I'm fully prepared to flex my eye-rolling muscles every time someone wants to tell me how sleep-deprived I'm going to be or how much our lives will change. 😂 I will be sensitive to criticism, even if it's constructive, like most humans in my position would be (I feel like "Are you a doctor? More importantly, are you MY doctor?" will pass through my lips at least once in the next few months).
More Questions!
I haven't really done many Q&A style posts before, but I'm game to give it a try here! Feel free to submit a question in the form below, and I'll work on addressing them in the next baby-related post.
Update: thank you, all, SO MUCH for the love and comments on this post! It means SO MUCH, and I'm so glad we're going to be sharing this with you! Mood boards for the nursery & new office are coming up, as well as some of the other DIYs we've made progress on in the last couple of months but aren't totally finished. It's time for so many changes, and I'm grateful that so many of you are coming along for the ride!