Disclosure: this post may contain affiliate links, which means I may make a commission if you decide to make a purchase through one of my links, at no cost to you.
This rainbow-hued pattern reminds us all that it's important to be kind! Perfect for a nursery. <3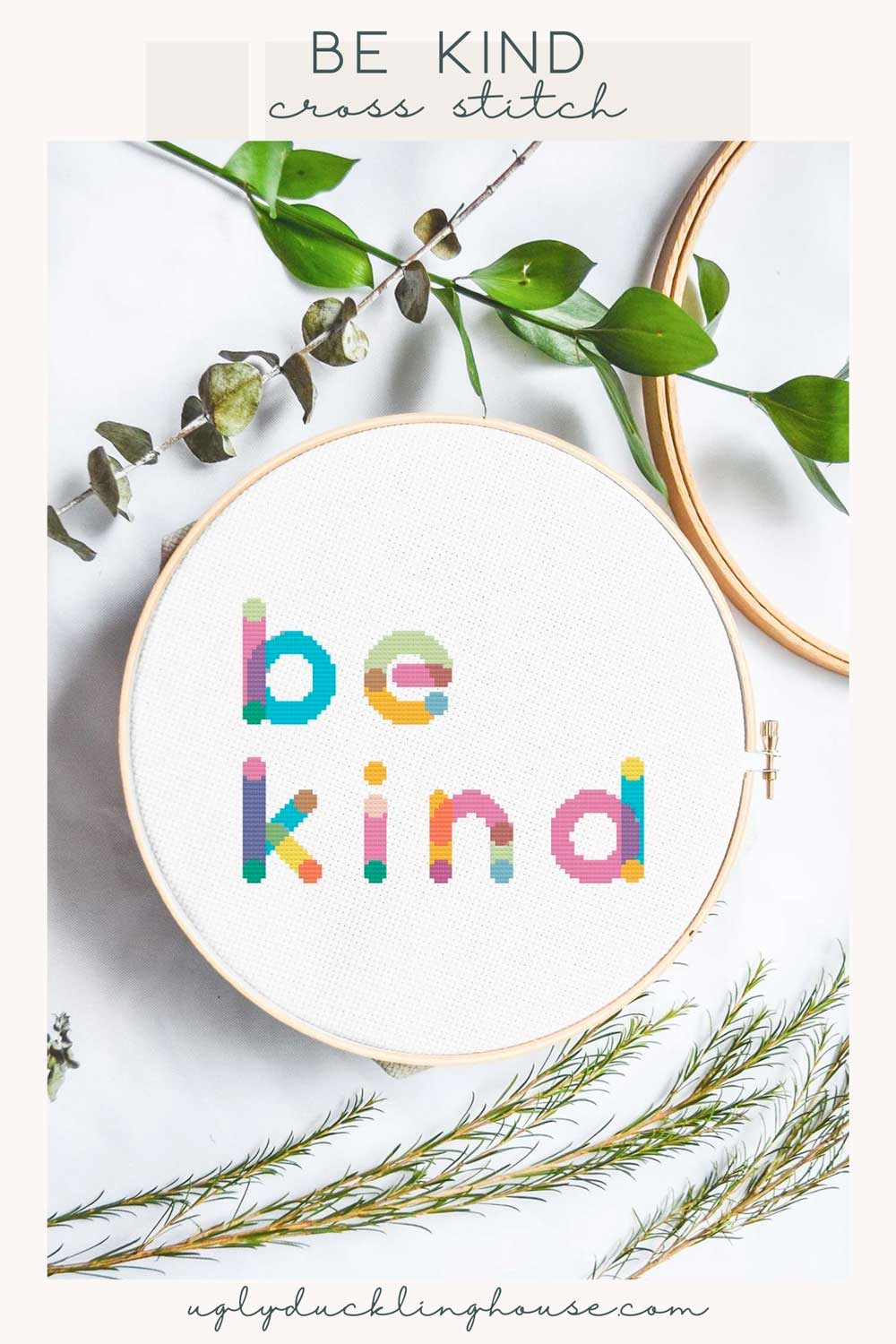 Ellis is getting a little older now (8 months, wow!), and he's starting to recognize words. So, I thought this pattern might be kind of nice, considering that we find "be kind" is a phrase we think we'll be using often (so far, we're using it most often as he learns to pet the dog rather than grab a whole handful of her fur). It will go great in his nursery when I finish stitching it myself. Also, given that it's the beginning of Pride Month, a colorful pattern seemed like a fitting release!
About this Colorful "Be Kind" Cross Stitch Pattern
Designed for 14 count Aida
Full counted cross stitches only
DMC floss colors: 15
2 strands per stitch
Size: approximately 6.6 in. x 4.7 in. (16.7 cm x 12 cm)
92 x 66 stitches
Frequently Used Cross Stitch Supplies

Another update: I have finally, FINALLY, written a quick start guide for beginners to learn how to cross stitch! I've been wanting for the LONGEST time to create a really in-depth guide with videos, launch a fundamentals class, and share all of my tips and tricks. But after months and months of good intentions (and no results), I admitted to myself that it was going to take time that I don't really have for the foreseeable future and I need to be focusing on other projects (so many updates, so little time!). The next best thing I could do right now was to get something, anything, out there for beginners to start with. So, until a more complete guide is written, beginners can start here for the basic-basics and give it a shot. More pictures are being added as I complete new patterns and have the opportunity to take tutorial-style pictures as I work. For now, thanks for your patience, and I hope you find the tutorial helpful!
pattern time limit
Patterns are available for free for a limited time to make room for new designs. To get access to the entire archive and lots more patterns, check out our membership site, NeedleSpark!
Check out the library to get access to currently available patterns and see previews of future releases!