Disclosure: this post may contain affiliate links, which means I may make a commission if you decide to make a purchase through one of my links, at no cost to you.
Inspired by a close family friend's love for peacocks, I created this peacock head cross stitch pattern that would work well as a colorful feature piece!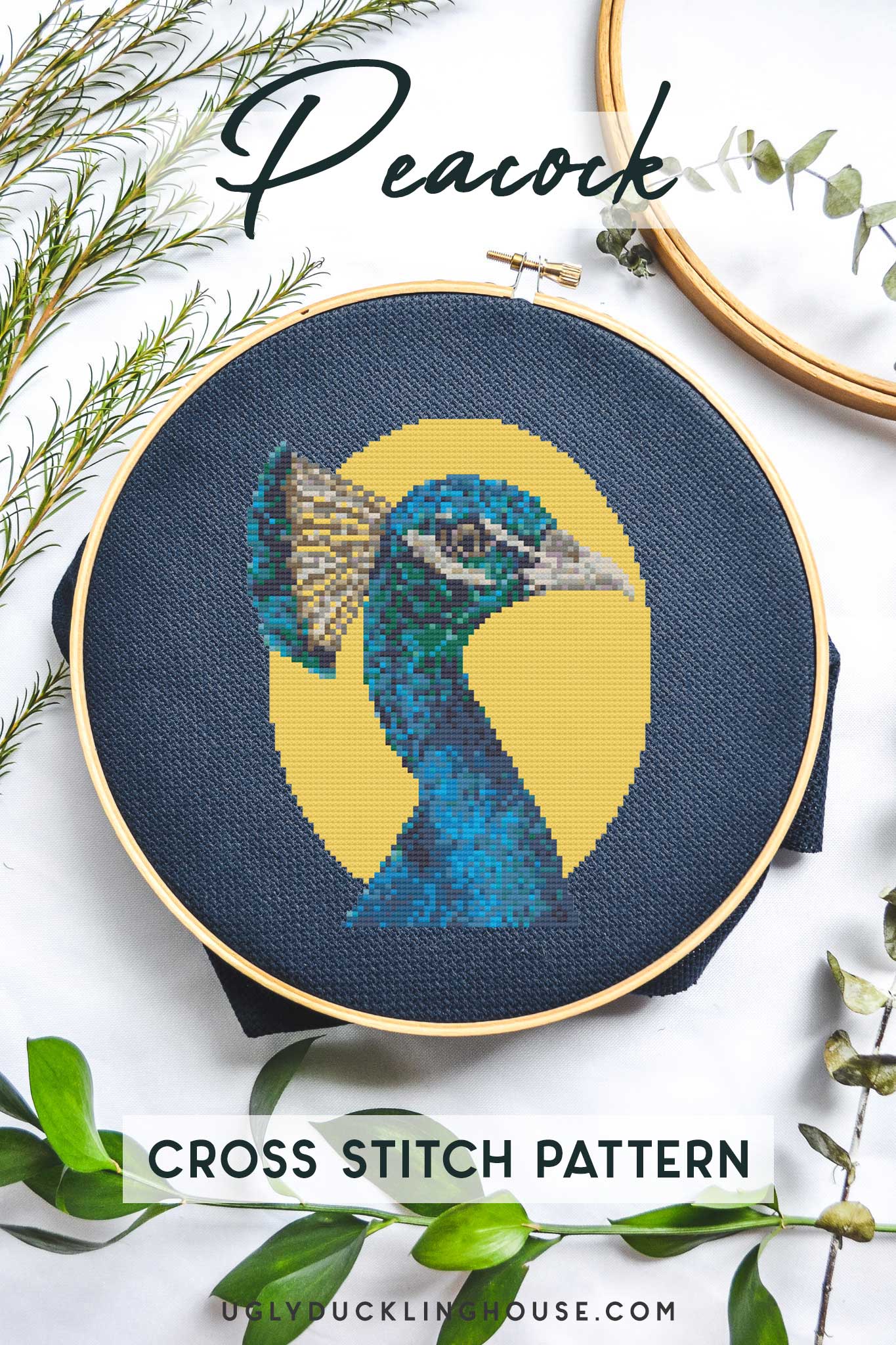 Every month, I'm sharing new cross stitch patterns created by me. Animals have been a fun series to create — especially birds — so I made this peacock head version! For some added color, I put a small oval background in yellow, but you can ABSOLUTELY change this color to match your decor or not use any background at all (it's all the same color, so that should be easy to change or avoid if you choose).
archived
this pattern is now available through our sister site
Become a member today and save 25% with code ARCHIVE25
K's mom's maiden name is Peacock, which is where I got the inspiration (she likes peacocks). She won't know this until I'm finished, but I'll be making this one for her to give her later this year (after stay-at-home orders are over, or perhaps I'll mail it to her if I finish things early). I hope you enjoy!
Since so many of use are spending more time at home lately, I'm working HARD on some roundups of projects you can tackle and a solid cross stitch tutorial for those of you who are new and want to start with the basics. It's taking me a little while to create some good diagrams but I'll be publishing that this month, along with TONS of new projects!
About this Peacock Cross Stitch Pattern
Designed for 14 count Aida
Full counted cross stitches only
DMC floss colors: 19
Size: approximately 5.7 in. x 6.8 in.
Don't forget to pin this if you like it, and feel free to hit up the rest of the cross stitch library to see sneak peeks of all 2020 patterns coming up! I'd love to hear suggestions on new patterns that you'd like to see, so you can leave a comment here or on Instagram (be sure to tag me if you create one of my patterns, too!).
pattern time limit
Patterns are available for free for a limited time to make room for new designs. To get access to the entire archive and lots more patterns, check out our membership site, NeedleSpark!
Check out the library to get access to currently available patterns and see previews of future releases!