Disclosure: this post may contain affiliate links, which means I may make a commission if you decide to make a purchase through one of my links, at no cost to you.
New month, new pattern! This simple and easy color block – done paint-by-numbers-style – cross stitch pattern would look great as a piece of art on any wall!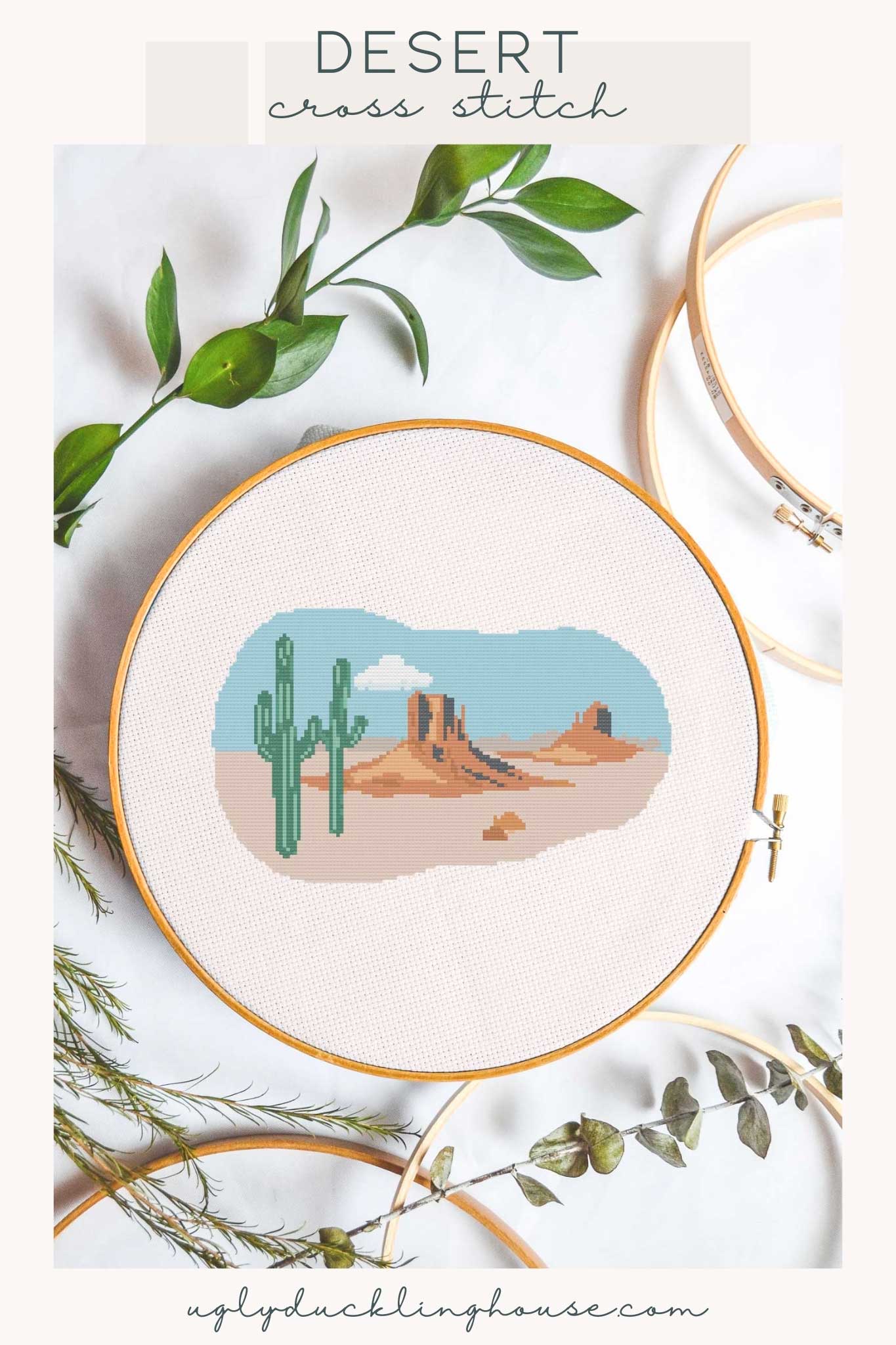 I've done mountains, I've done camp scenes, and now, we have a desert! I am really enjoying that each month, I am able to challenge myself to try out different themes for these cross stitch patterns. This time around, as you can see above, I've got a simple little desert with cactuses (cacti? I'm tired), a blue sky, and all of the relaxation vibes.
And not only that, but as of this past month, I've finally finally (finally!) created a simple beginner guide for how to cross stitch. I wanted to create a flashy tutorial with video, detailed photos, and lots of helpful tips, launch it all over social media, etc. but it was one of those things on my to-do list that kept snowballing. I felt the pressure to do all the things… which meant I kept shoving it to the bottom of my priority list because I didn't have time for all of that. Despite how often I tell myself that "done is better than perfect," I fall into the trap every now and then. So, imperfect as it is, I've now got something to show for all of that intent. I'm calling it my "quick start guide" since "a complete beginner's guide" felt a little more disingenuous (which won't always be the case — I do want to continue to work on that post here and there to add more as I get the opportunity). If you've never done cross stitch before but wanted to give it a try, you can begin right here and give it a shot. Now, onto this month's pattern!
About this Desert Cross Stitch Pattern
Designed for 14 count Aida
Full counted cross stitches only
DMC floss colors: 13
Size: approximately 9.6 in. x 5.7 in. (24.3 cm x 14.5 cm)
134 x 80 stitches
P.S. Speaking of cacti: based on how popular last year's cactus pattern was, I'm also working on a series of patterns with that theme! Much like the donut patterns, botanical line art, and leaf series, I'll likely release one pattern of the set for free, and then the rest will be available as part of my membership program when that launches (update: it's now live! Go check it out.). <sigh> yet another thing I'm trying to get launched! (Gee, I really come up with lots of ideas when I spend all day with a baby and don't have as much time for actual execution, eh?)
pattern time limit
Patterns are available for free for a limited time to make room for new designs. To get access to the entire archive and lots more patterns, check out our membership site, NeedleSpark!
Check out the library to get access to currently available patterns and see previews of future releases!