Disclosure: this post may contain affiliate links, which means I may make a commission if you decide to make a purchase through one of my links, at no cost to you.
This post may contain affiliate links. This won't change your price, but may share some commission. Read my full disclosure here.
Want to decorate for fall, but not big on fall colors? Or maybe you'd prefer to stick to your home's color scheme? I kept my palette neutral for this fall leaf art using my scroll saw, and I couldn't be happier with the muted tones! Plus, I got a chance to try India ink for the first time in a project!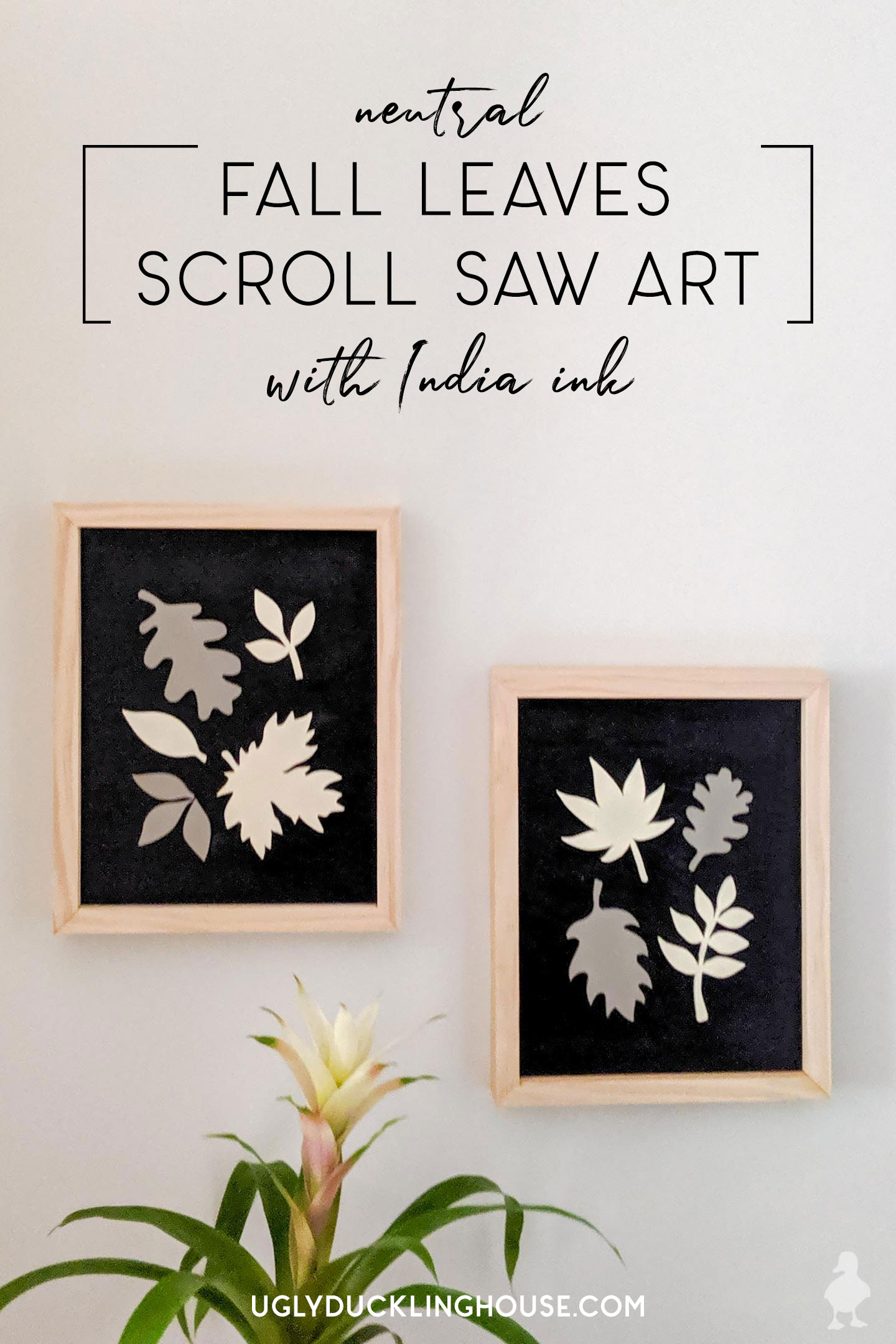 Keep scrolling to read the full tutorial, or check out the DIY video below!
How to make this neutral fall leaf art using a scroll saw and India ink
Materials and tools used:

These scrolled leaves are so fun to create! Draw these leaves free-hand or use my downloadable PDF template for some examples. I especially love that they were made with a neutral palette to fit with the rest of my home decor and the background is stained with India ink!
Draw leaf shapes on 1/4″ MDF

I briefly looked at some free clip art to use as a template, but I found it much easier just to take a pencil and freehand a few leaf shapes on a piece of 1/4″ MDF. I've created a PDF in case you want to use one or don't feel particularly artistic. :)


Cut each shape out on scroll saw

For these intricate cuts, I used an 18.5 skip blade that fit my scroll saw (I use pin blades, but some saws use pinless; make sure you know the right blade for your machine!). I didn't wind up using all of the smaller leaf shapes, but there was enough scrap MDF to cut a few more, just in case.


Cut background plywood

Using a circular saw, I cut some rectangular panels from a scrap of 1/2″ stainable plywood. Important tip: use painter's tape along the cut line to minimize splintering. These two pieces would serve as my canvas for mounting the leaves.

Stain background with India ink

Wearing gloves (trust me on this!), I spread India ink around on teh 1/2″ plywood with a foam brush. I did 2 coats on both sides (I'll explain why later). I also applied Simple Finish to seal once dry.

Spray paint leaves

I sanded down each of my leaves until they were buttery smooth and ready for paint. Outside, I spray painted half of my cut leaves Dover White and the other half River rock (a gray/brown color).

Cut frame

While the leaves were drying, I cut the frame on my miter saw from a piece of 1×2 pine.

Glue on frame & leaves

You might want to watch the video for this part, but I used a few scrap pieces fo the 1/2″ plywood underneath the stained canvases. This lifted the background of my art so I could glue the canvas and float it in the middle of the 1×2 frame, rather than sit flush with the back edge. Later, I'll use the other side (that's also stained with ink) as the background for another cutout this Christmas, and make this art reversible.

As the frame was glued and clamped and curing, I also glued on each of the leaves with super glue.


Hang

I prefer Monkey Hooks for hanging art like this; it's easy and quick and requires no extra tools! (Check out this post for a tutorial on how easy it is to use these.)

Done-done-done! This was a pretty easy set to put together, and cheap enough because I used mostly leftover materials. I don't often decorate for fall because my mind is more focused on Christmas projects (I have SO many projects coming up for you for the holidays!), so I think this neutral palette will allow me to use it for more years than if I went with oranges and yellows or other traditional fall colors (I'm not big on warm colors like that). What colors would you plan to make this with? Do you go for any other non-fall colors too, like maybe purple or blue?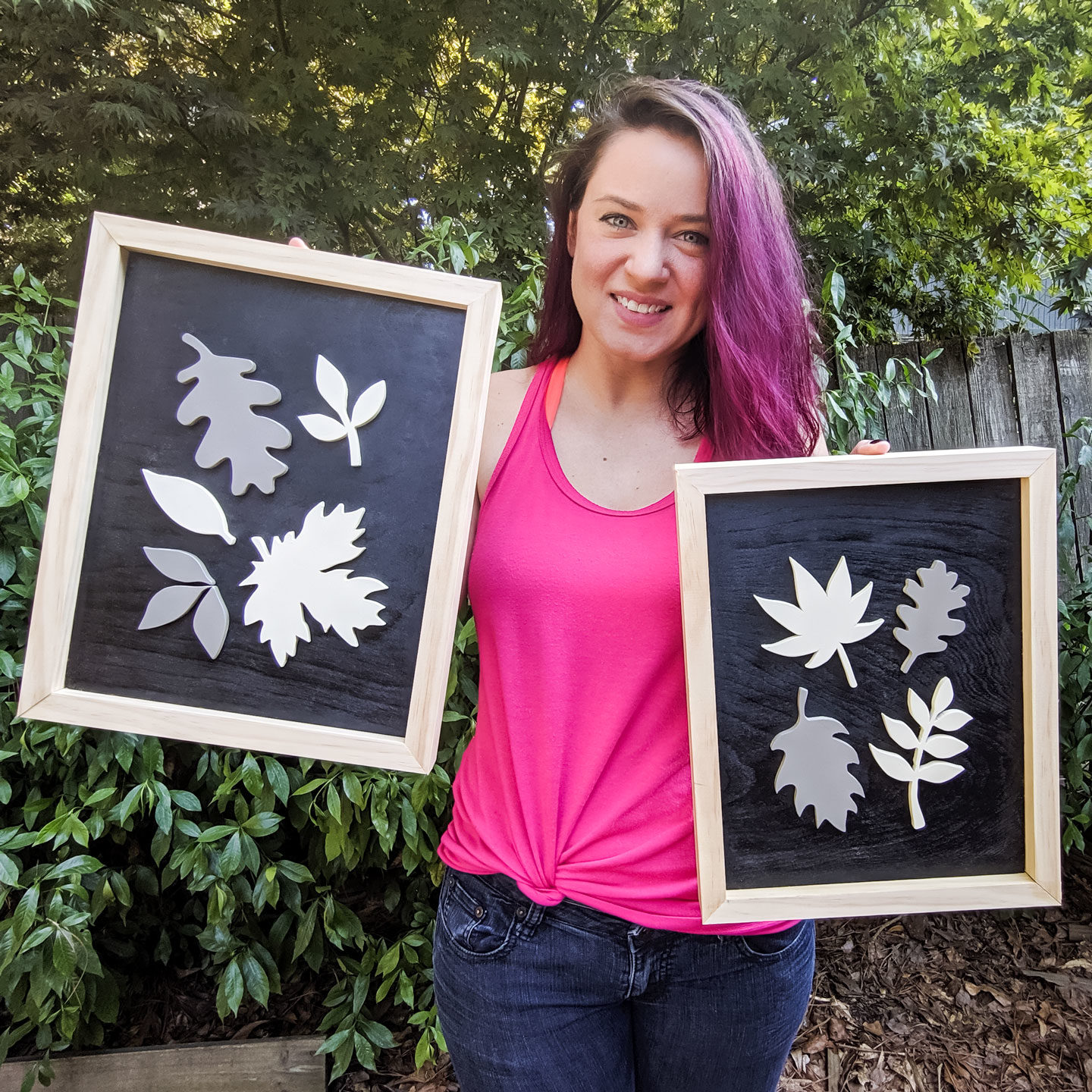 Don't forget to pin it!