Disclosure: this post may contain affiliate links, which means I may make a commission if you decide to make a purchase through one of my links, at no cost to you.
When it comes to termites, they can't and shouldn't be ignored. Living in a cedar-sided home, I would know! They can cause a lot of costly damage that quickly eats away a home renovation budget. For that reason, this is one of those "super useful things you should know" posts you won't want to skip. Below, I've got some must-know details (and video!) about getting a termite inspection, important tips to know as a homeowner, and treating the exterior.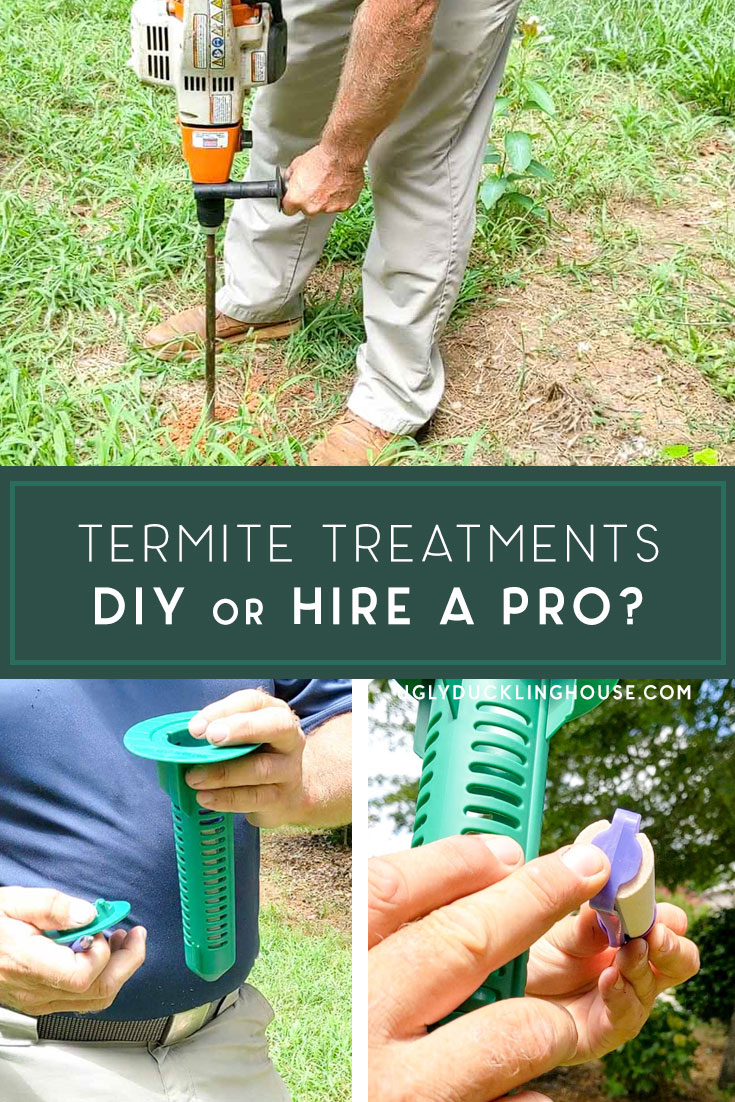 Home DIY isn't necessarily always glamorous. Sure, it's a lot of fun to see (and share!) a beautiful before and after; it's almost like fulfilling my HGTV fantasy as the designer version of "me," who wears expensive designer shoes, can take her hair down from a bun without that weird kink in it, and never has to take 20 35 selfies to figure out her best angle. But part of why I started my blog — and called it an "ugly duckling" house in the first place — was because home improvement isn't always beautiful. Too often, we want to skip that ugly part when it's absolutely essential to knowing what's going on with a huge investment we've put a lot of care into. The stuff hidden in our walls, under our floors, and what we find in the muck of it all is important to our happiness, health, and budget. Having a beautiful home is also about being confident that we are doing our best to keep our homes in check because it can get downright nasty! Moldy. Mucky. Exhausting, Dusty. Forever-taking. And full of BUGS.
Yep, bugs. I've covered the pest topic a few times on this blog and even mentioned that when I bought the UDH (in 2009), my termite inspection (required by my mortgage lender) didn't go so well; I had to get the house treated before I could even buy it (which, thankfully, they haven't been back and I was able to make repairs). But, it's been almost ten years since then (wow, time flies!), and I'm now working with Sentricon as an annual sponsor to keep the house protected. Since I recently had the house inspected and treated, I not only wanted to cover what that inspection/install process is like, but what you should do before a termite inspector comes over to ensure they can get to everything they need to look at. There were also some myth-busting questions I asked about annual termite inspections that I wanted to pass along. There's a video of the Sentricon® system install for ya too! In about a year's time, I'll have another post for you to share the results of this first year of treatment as well.
First, I'll need to introduce you to David, who is who you'll see in my video. He's from American Pest Control (if you're local, highly recommended — he was awesome!). Sentricon put me in contact with him directly, and we scheduled a time for him to come out and take a look at the house. He gave me the lowdown on every step he was making, what he was looking for, and answered all my questions.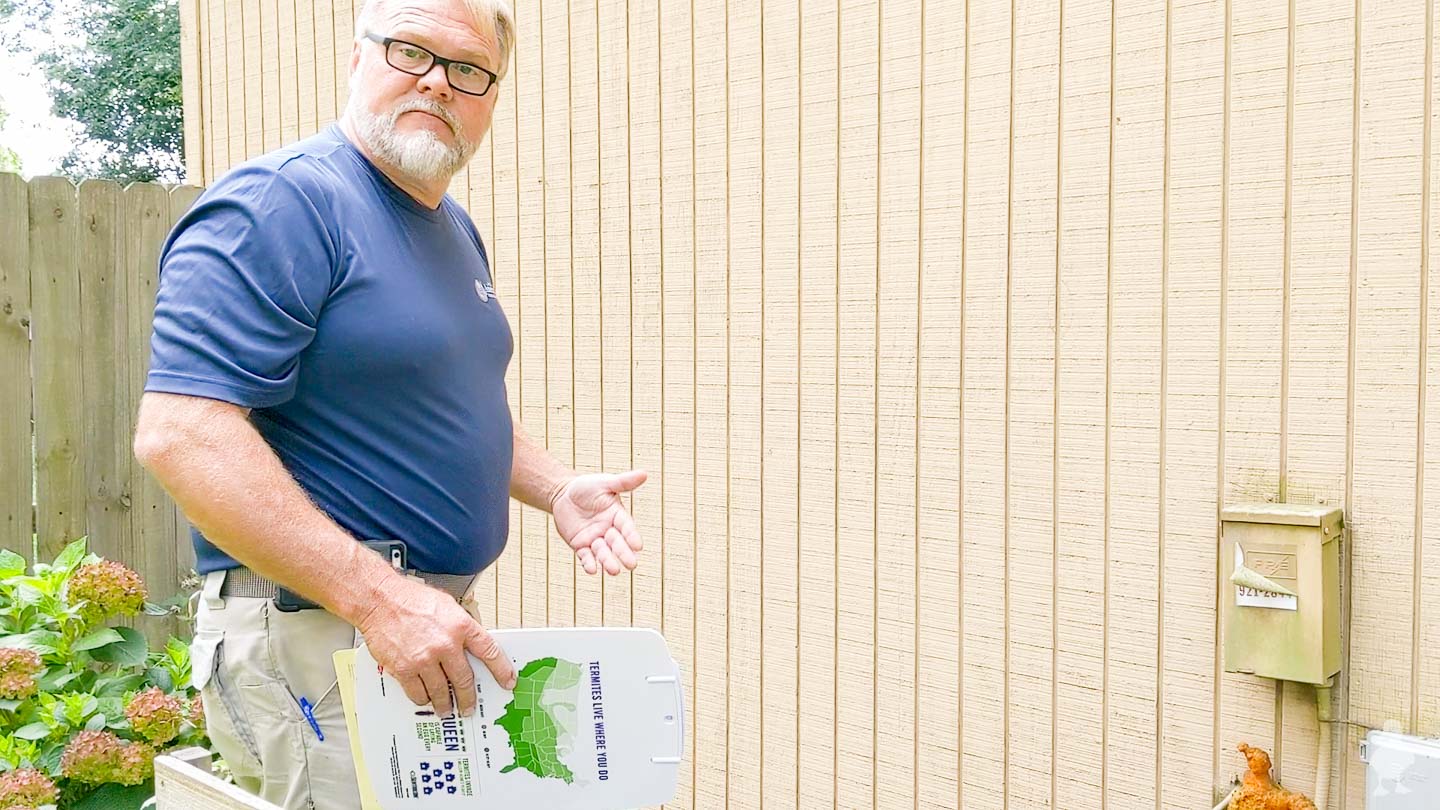 Are all termites in the U.S. the same?
Nope. There are about 45 different species in different parts of the U.S., but they generally break down into 3 different types: drywood, dampwood, and subterranean (the most common). In Georgia, an inspector is looking for that last type. They are social insects that live in nests or colonies in the soil, hence their name "subterranean." Similar to how you might think of bees and ants, termites inside a colony have different jobs. The soldiers are the ones that forage out into the soil looking for your home as their next meal. The queen can lay about 150 eggs PER DAY.
Subterranean termites are also the most wood-destructive insect pests in the United States, causing more than $2-5 billion in damage each year. And, unfortunately, this damage is often not covered by homeowner's insurance, which is why it's so important to get it caught and dealt with early!
Are termite inspections required?
The short answer is (and I always hate this answer!): it depends. Your state, type of home loan, lender, and home insurance can all dictate whether or not they want a termite inspection before you are allowed to buy a home. Most of the time though, the answer on at least one of those is "yes." When I bought my house in Georgia, it was required that I get what's called a "termite report" to indicate whether or not there was a termite infestation and the known damage to the home. Since termites were found, they had to be treated before I could buy (have the loan, get the house insured, etc.).
How To Prepare for a Termite Inspection & What Inspectors Look For
The number one thing to keep in mind before getting a termite inspection is that an inspection is only as good as what can be inspected. That means, if you have crap in the inspector's way, you are basically paying for services they can only deliver partway!
Outside the home
A termite inspection will largely involve looking at the home's entire foundation. Since my home is built on a concrete slab, this is where they might be able to see evidence of active infestation — tunnels that termites build from the ground (called mud tubes), over the foundation, and up to the siding. These tunnels are roughly 1/8″ (so easy to miss!) and are made to protect the termites from ant attacks (crazy right?).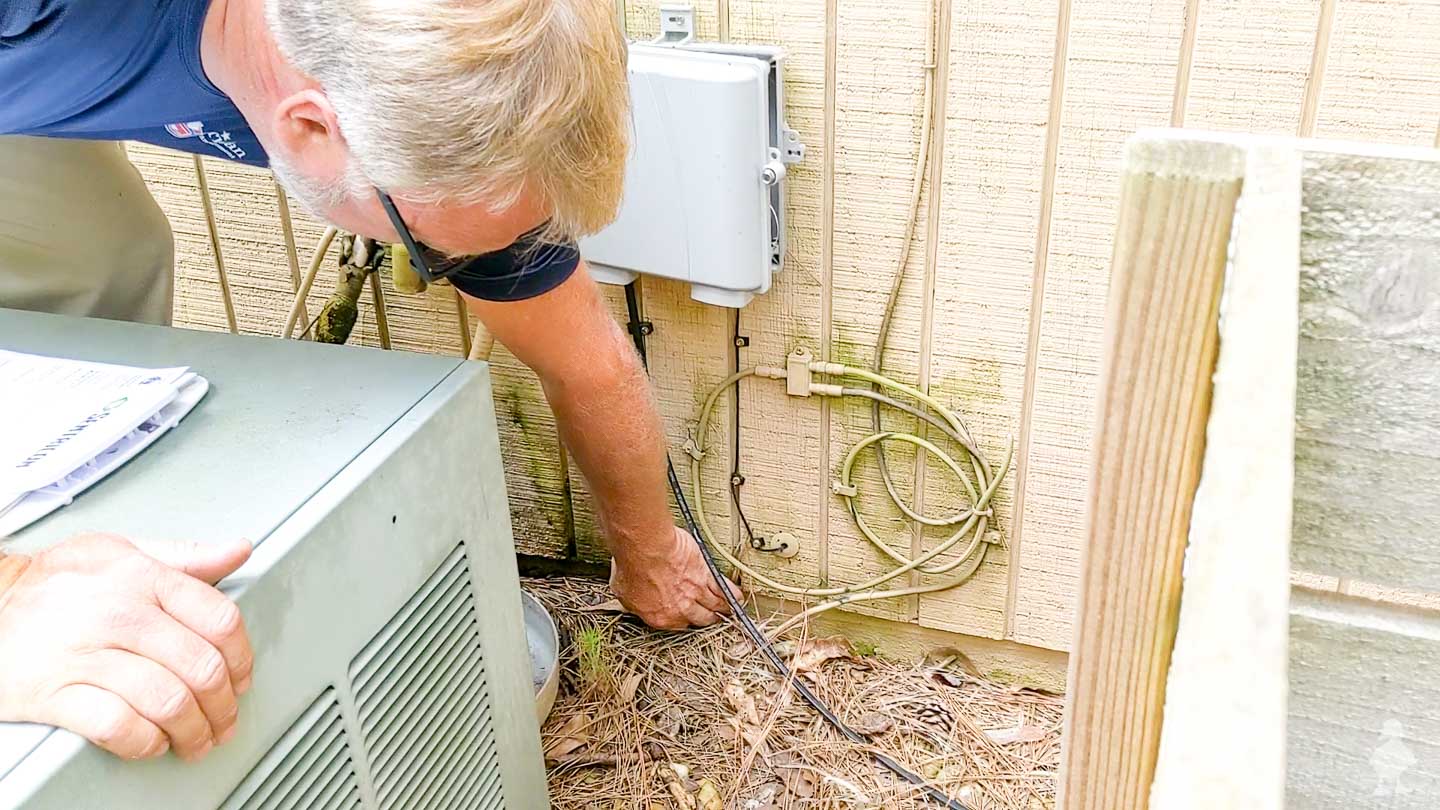 Therefore, dogs in the back yard, plants that haven't been trimmed back, or big piles of debris in the way along your home's foundation can prevent them from catching these visible signs of termites. It goes a long way to walk around your home before scheduling your appointment to see if there is anything in the way that can prevent them from doing the job. Can you see the gap along the bottom of our house, all the way around, with nothing in the way? If the answer is no, remedy that before they come over. And don't forget to put the pups away where the inspector won't need to be (I put Charlie and Stella up on the second floor since he mostly needed to look around the foundation inside & out).
As the inspection goes on, the inspector will also indicate to you areas of concern, such as "wood-to-earth contact" — spots where termites can bridge the gap from the ground to your home. These are often things like fence posts attached to siding or other wooden structures directly connected (which is also why it's so important that exterior items are built using pressure-treated or naturally-resistant woods — but even so, with age, they can still become vulnerable to rot/dry rot and easy targets for a meal).
Other pest-related risks
Termite inspectors spend a lot of time outside seeing potential risks for other pests besides termites! Even though they might not be there specifically for bats, squirrels, or other things that might target your house, they can still give you a head's up, which can be very valuable with other preventative measures before they cause wood damage. For example, David pointed to a few places along my roof where I might want to add some metal screening (similar to how I did here).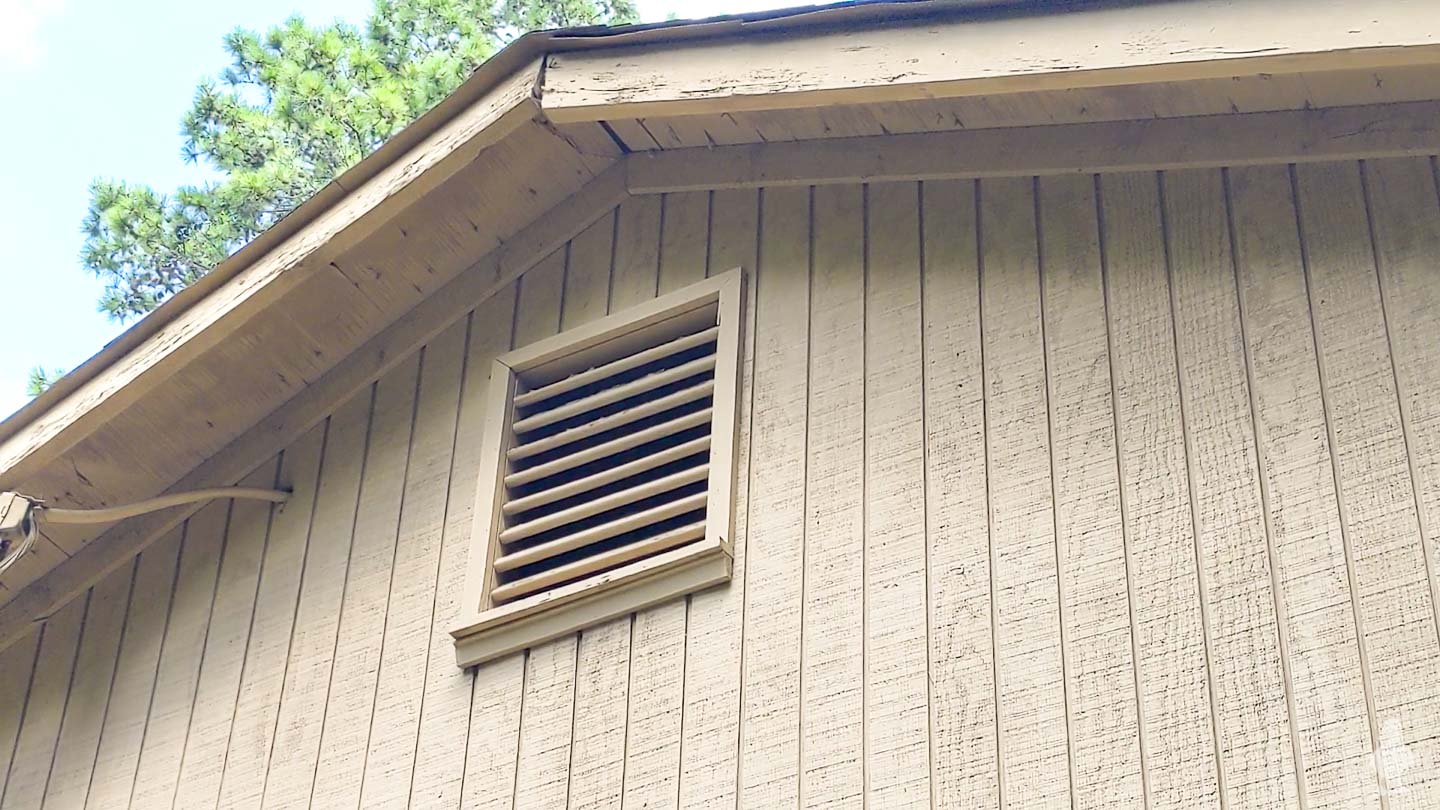 Inside the home
Similar to the exterior, termites can show signs of an interior infestation that home inspectors look for with keen eyes and a flashlight, so it's important that these areas be accessible. Termites can come up through cracks in the foundation and eat your flooring, even if it isn't hardwood or has a moisture barrier! And they only need crevices the width of a credit card to get in your house. They are determined little creatures!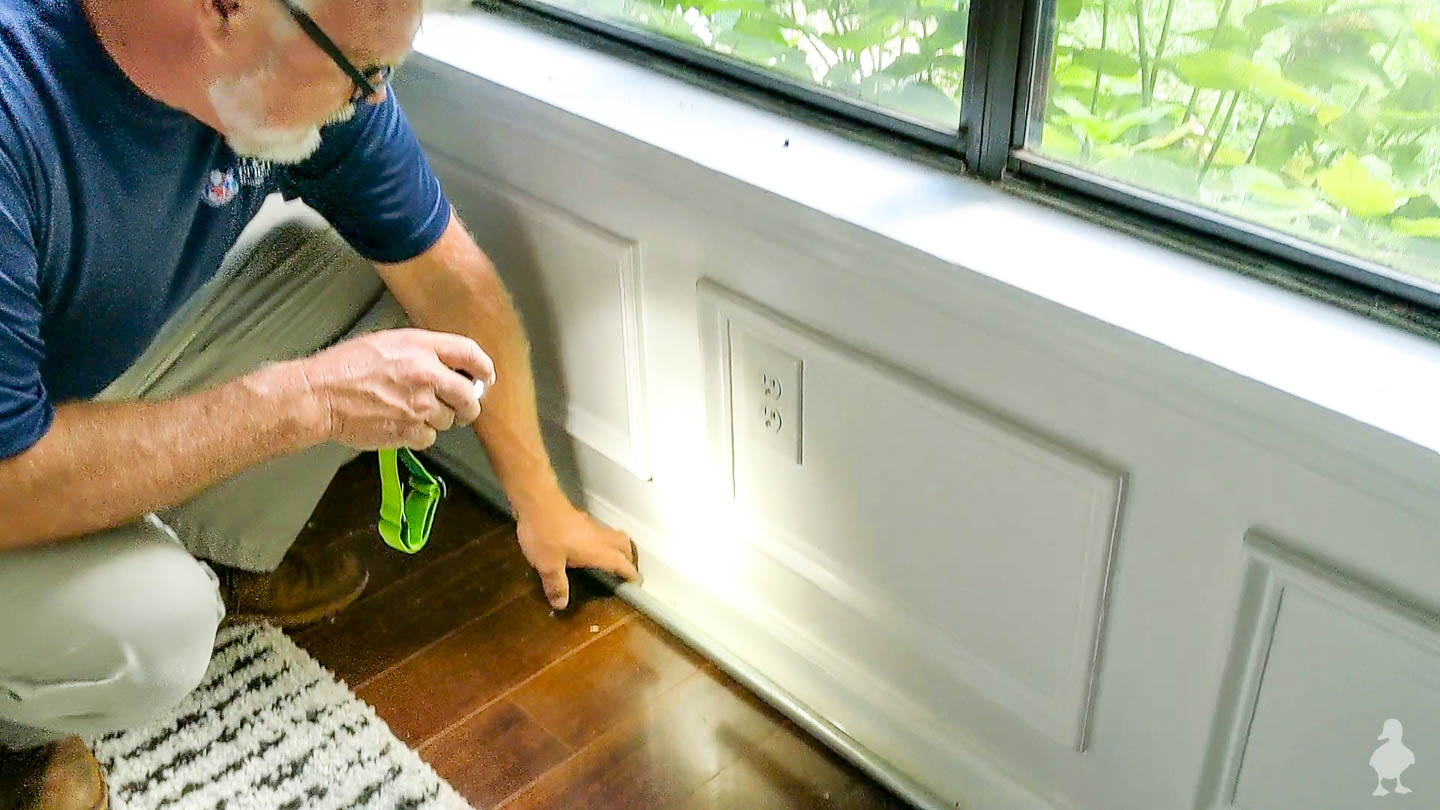 They can also eat/show signs of infestation along windowsills or eat the cellulose in your drywall (!). In the spring, subterranean nests produce swarms of winged adults that will fly off to start their own journeys of mass destruction (d'aww).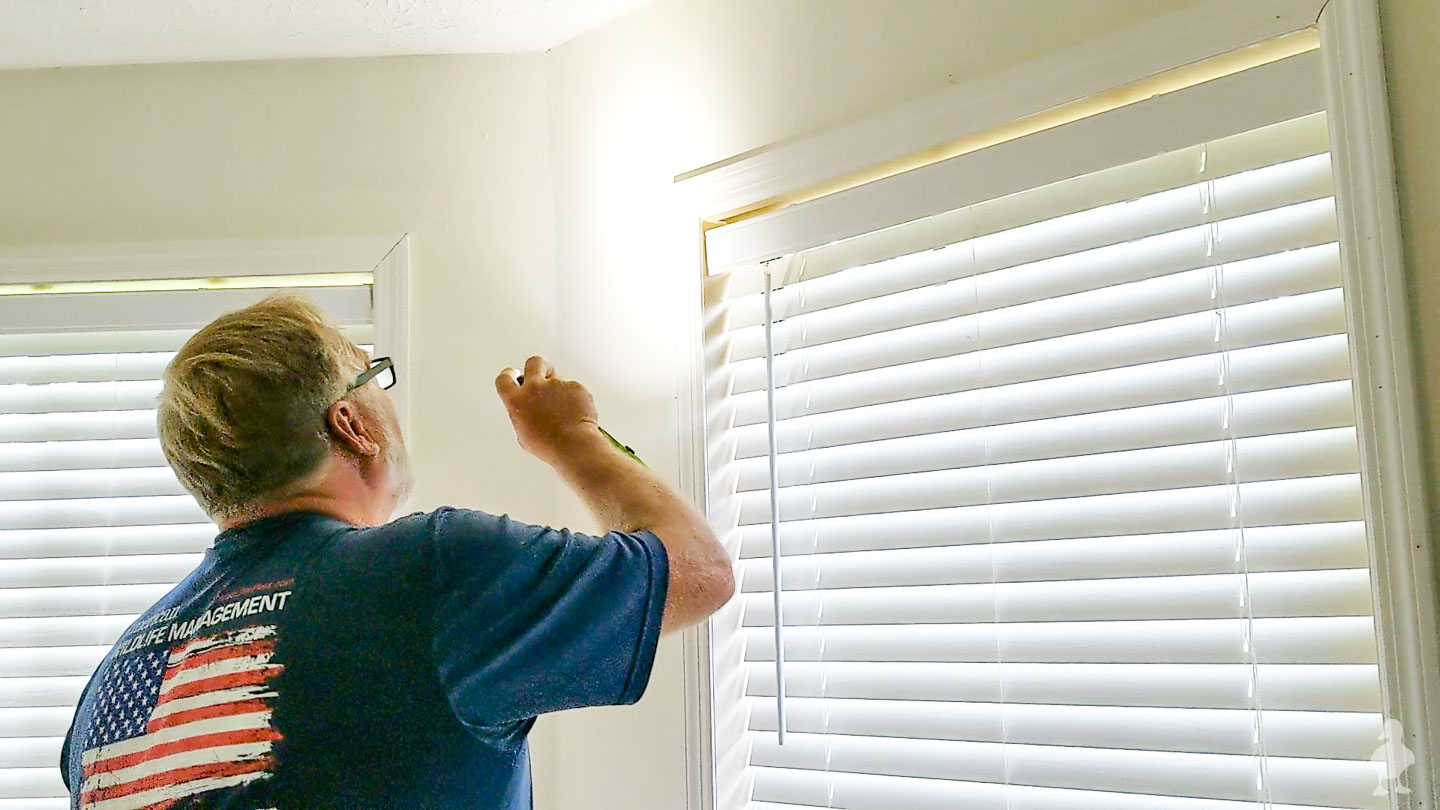 Years ago, I remember how difficult (and therefore embarrassing) it was for the inspector to get around my clutter-packed garage, where he wanted to look all around the floor for any signs of termites. So, let this be a warning on my behalf so you don't run into the same issue! If there are crawl spaces, make sure nothing is blocking the door to it. They'll want to look around the perimeter at the flooring and windows inside- that means closets, basement, attic, bathrooms, etc. Evidence of termites might be hidden so don't be surprised if your pro takes a probe to windowsills, door frames and under sinks , too. Go around your house in advance to move around things that might be in the way of access points.
Termite tips that might surprise you
I took notes as David was telling me a LOT of interesting tips, some of which totally surprised me!
Good spaces make good fences
If you didn't already know this, get your fence panels OFF the ground! You saw me trim up my fence gate once back here, but it's good for more than just your gate. Having space at the bottom between the fence panel and the ground prevents a direct connection for termites to crawl up, not to mention helps keep moisture from wicking up and rotting panels (which make it a more likely target for any insects or wood-destroying organisms that bore into the wood).
Myth: don't use mulch near the house
I personally hate pine straw mulch (just my preference). But, I thought for sure that having dyed wood mulch near the bottom of my home's foundation was a big no-no with my cedar siding. Per David, not the case! I got the all-clear from him that having wood mulch is ok as long as it's not so tall that it covers the foundation gap I mentioned earlier (double-check with your homeowner's insurance policy though, because they sometimes have rules on this too).
Myth: gravel is better than mulch
I also thought gravel might be a better groundcover option in some areas because of my above assumption about mulch. Not true! It really doesn't seem to make much of a difference if soil is still all around, and you'd have to dig the gravel down pretty far, like a trench. In hard Georgia clay, that is a LOT of work! He actually mentioned that gravel can big a big pain when it comes to installing termite stations around the perimeter since they have to be dug in (watch the video to see that installation!).
Termite Treatment Installation: Sentricon Review
I recorded a lot of both the inspection and the installation of the Sentricon system to create a whole-house barrier. Every 12 feet or so and about 2-3 feet from my home's foundation, David used an auger to create a hole and inserted a termite bait station. Inside, the stations each contain a material that termites discover while foraging for food. They then take it back to the colony to share and eat. When they eat it, they can't molt — and if they can't molt, they die! Each station has markings to measure the amount consumed when it is re-inspected. While this material is toxic to termites, it is not harmful to people, pets, or plants.
Watch the install video:
Next year, they'll return to check out how much of the interior bait has been consumed, which will determine when they'll need to be replaced.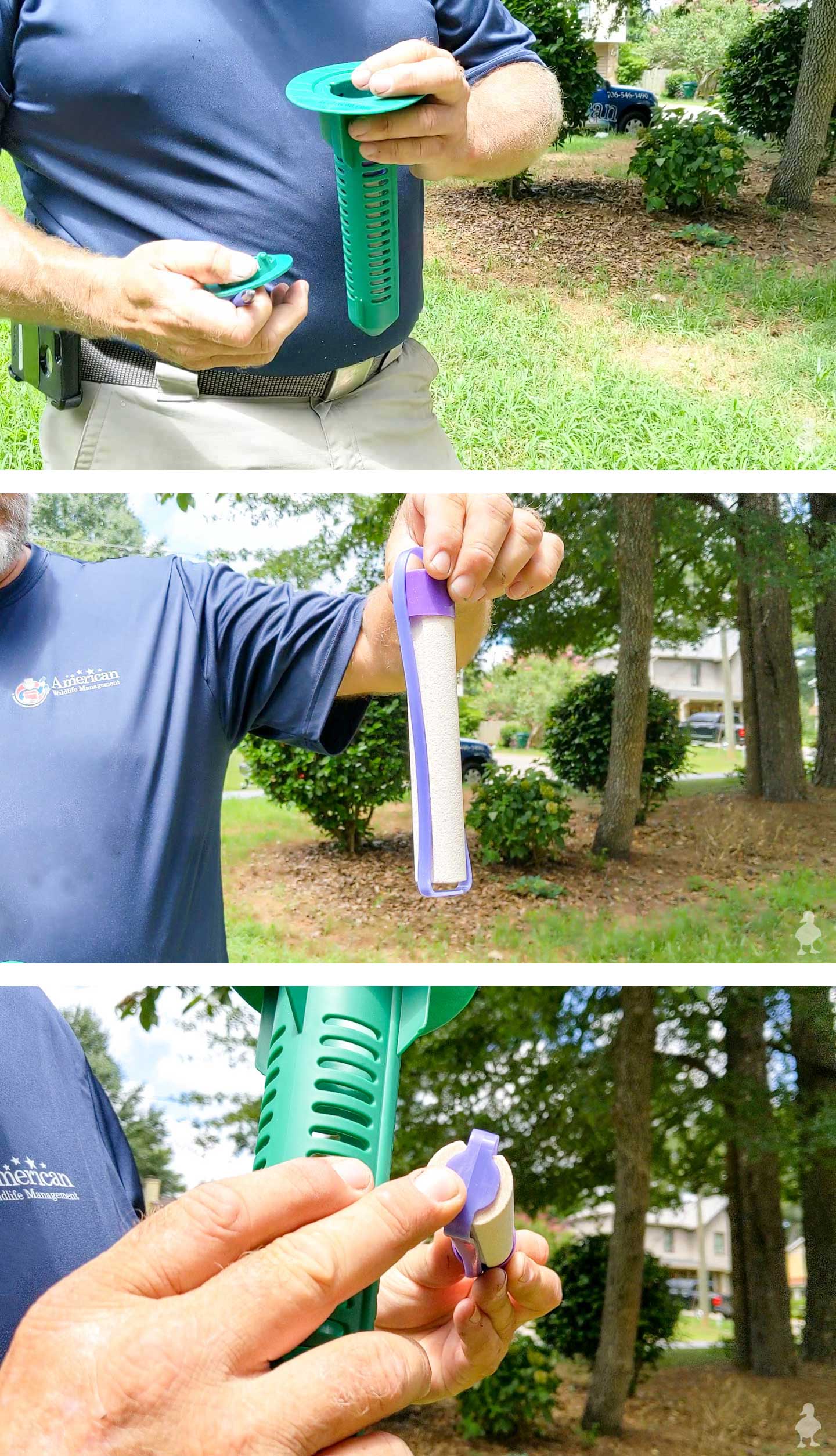 Since the stations are so easy to pop in and out, they can be easily be removed if/when I do more landscaping work around the exterior. David's suggestion was just to pop them out, do the work I needed to get done, and give them a call to come by the house and re-install. It's important that they be right at the ground level and not get buried from gardening work so that they can be inspected again next year (and to do that, they have to be easy to find).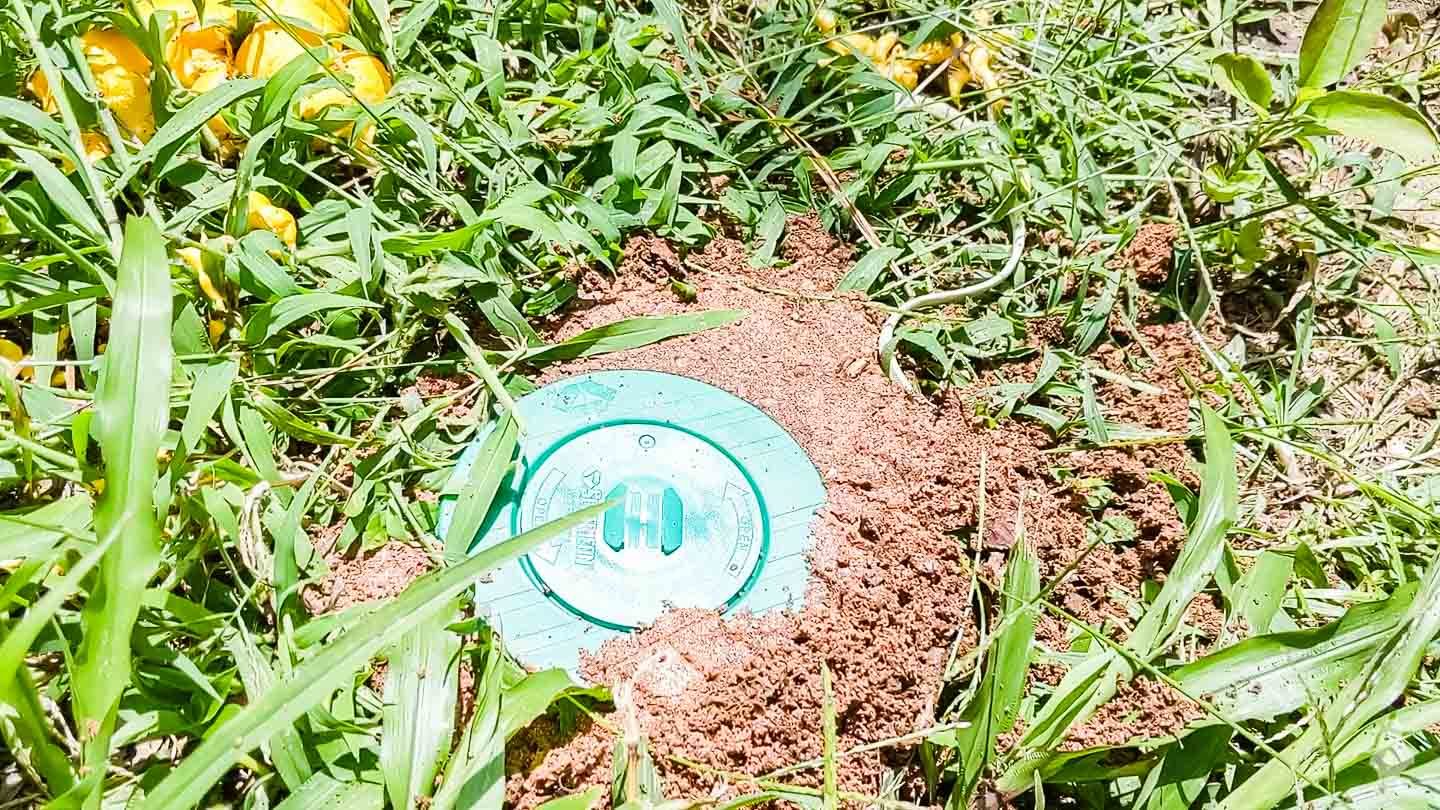 They even added bait stations around the new shed as well.
What about DIY termite treatment? Should you hire a pro?
Being a HUGE advocate for DIYing whenever possible, this was one of my biggest questions for Sentricon and American Pest Control both (I am, after all, a third-generation diehard DIYer and my father's daughter). I also don't like fear-based arguments when the bottom line is really "you CAN, but… do you really want to?" The answer (for me) boiled down to similar arguments of most pro vs. DIY considerations: time, effectiveness, and peace of mind.
I'm all for DIYing if it can provide significant enough cost savings to take on the extra work. However, there is always a tradeoff, and I think it's important to really consider each part of those tradeoffs. Successful termite baiting requires diligent installation, monitoring (expertise), and bait replenishment. So, let's look at it from those three points.
Inspection and installation
Looking at how David examined the exterior and interior of my home, and listening to what he said he was looking for, I can say that yes, knowing what I know now, I certainly feel capable of walking around my home and looking around its foundation. That sounds DIY-friendly for the most part, with the exception that you really need to know what you're looking for, and I certainly wouldn't have without a pro giving me pointers (i.e. "is that a fly's wing or a termite wings?" along my windowsill. "Is that dirt or termite droppings?"). David mentioned that a visual inspection of the home really only accounts for about half of the assuredness of whether or not termites are in your home (because they could be coming up from other areas like the interior floors and other unseen spots). So, while you don't need a license to inspect your own home and it sounds like it could be doable on your own, you do need to spend the time educating yourself (beyond this one blog post, obviously) and knowing what to look for… which can take a lot of time in and of itself. The installation process seemed pretty straightforward too. That leads to my next big "but" though…
Monitoring and effectiveness
One of the biggest standouts for me was that the installation was quick and easy, but most pest control companies won't need to come back for a year. When I read up on DIY versions, they generally use far less material (and I'm not sure about potency either?), which means more frequent monitoring and replacement. In fact, many DIY kits require inspection every 2 to 3 months and can require replacement within 6-9 months! That eats into both time and the cost savings from the initial investment when a full re-installation has to be done that often (or if it's not as effective, you wind up using a lot more stations and eating into the cost that way, too).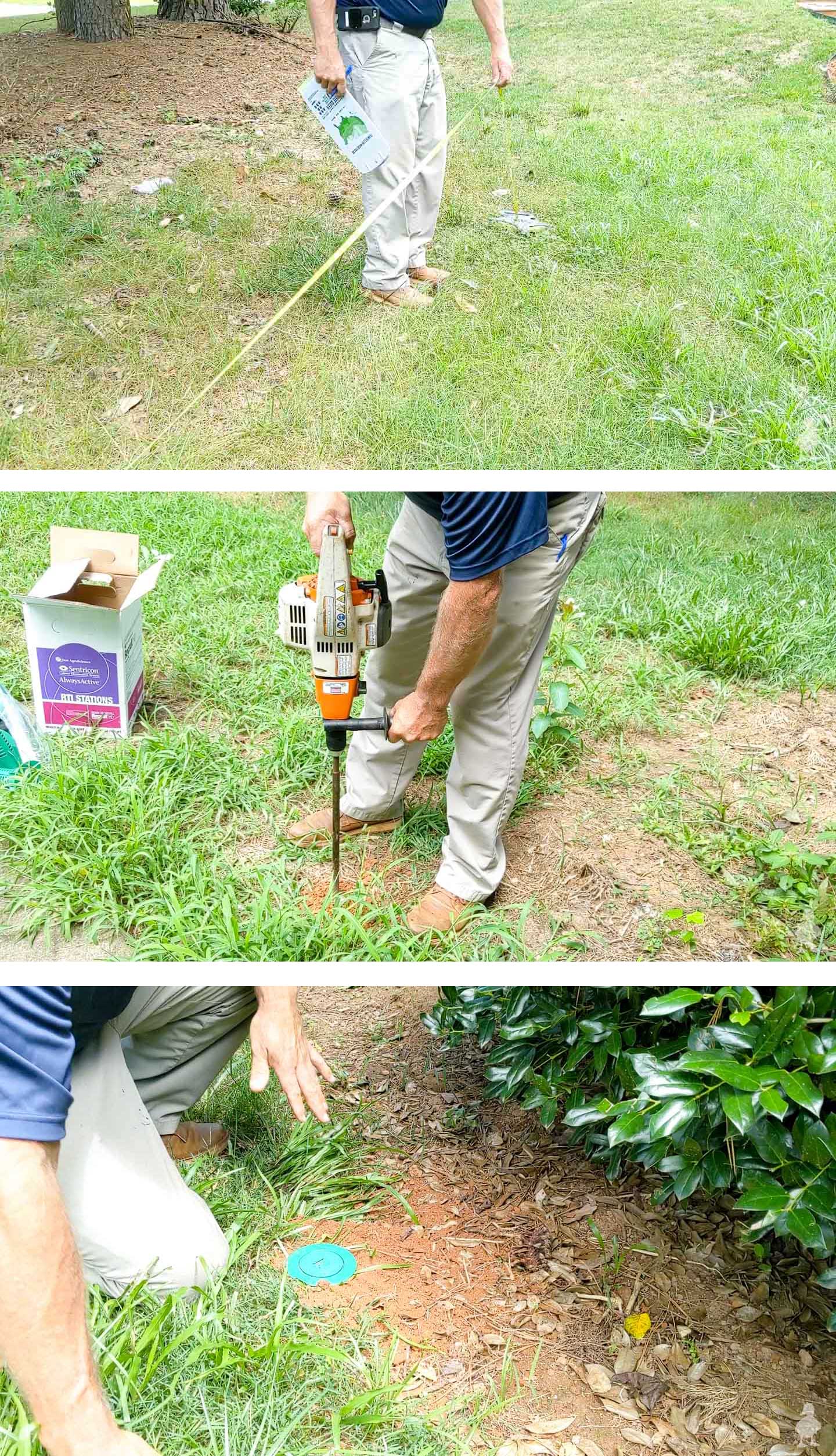 Remembering to check a bunch of baits around the exterior is something I can easily see myself forgetting about and voiding any warranty there might be. Which happens to be my other issue: many of these kits have questionable warranties (that you may just get your money back, or it's not going to cover a professional treatment or damage if you get infested later on, etc.). Some of the labeling warns that it's not meant as sole protection against termites, even going so far as to recommend an inspection and treatment by a professional if an active infestation is found. Hmm.
To that, I say: have you ever tried bleaching your own hair? I have, and I was left with a pile of scorched, orange straw that I still had to spend more at the salon as they pitifully tried to undo the damage I'd done on my own. I was not only left without the look I was going for, but it became an even uglier brown color than I'd started with, I spent more out of pocket, and it took AGES to return to anything normal.
Peace of mind
My point is, I ponder certain "when to hire a pro" moments with the same risk vs. reward assessment: if MY expertise and time management is not what I want to gamble my money on, I think the extra help is worth it. A house getting eaten won't grow back like my hair, and it will cost a lot more of my savings to get it wrong. Having already been through that nightmare once before and fixing some damage myself, I personally don't want to go through that again. I find this is one situation where experts are likely to say that even if you are comfortable with other types of DIY pest control (fleas, mosquitoes, squirrels, etc.), termites aren't one to include in the DIY category.
That's not to say that you shouldn't take many of the DIY termite prevention tips you might find online to heart. I think many of these steps for avoiding termites are good best practices for other household pests, too:
trading cardboard boxes in your storage areas for plastic containers (cockroaches and other insects love cardboard)
spraying around your outdoor firewood pile and wood debris (to keep away carpenter ants, wood-boring beetles, and other insects too!)
using gravel where wood contacts the ground (helps prevent rot)
making sure gutters and A/C water drainage runs away from the foundation and isn't a water source to insects (cough cough, mosquitoes)
To me, I think of them as an "and", rather than "or" — it's really best to do this and these other things, not choose between them and assume you're protected.
Alrighty, I think that's enough bug talk for today! I hope it gave you some food for thought and I'd love to hear your thoughts on the matter. Catch the video above and I'll be back in a year to add to this chapter! Special thanks to Sentricon for sponsoring and thank you to the American Pest Control team (local readers, you can find their info here). You can also click here to find a local pro.
Don't forget to pin!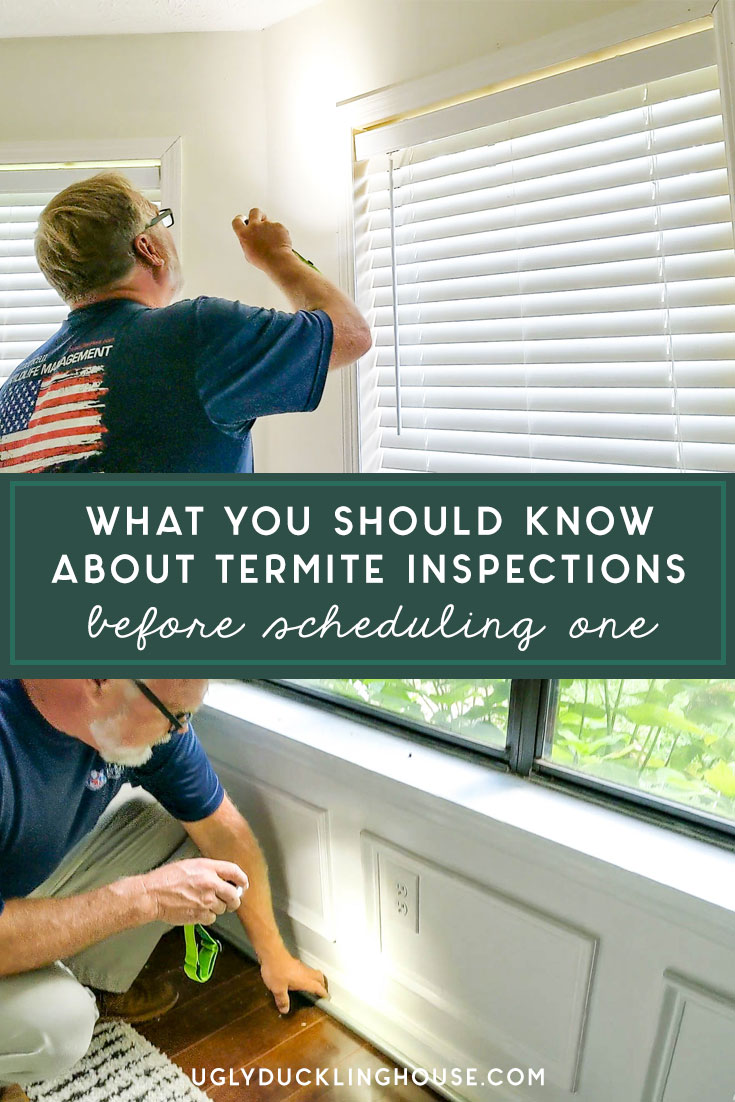 P.S. Want to know about other pests? I have articles for those here, including a post about another cedar-sided home nemesis: carpenter bees!