Disclosure: this post may contain affiliate links, which means I may make a commission if you decide to make a purchase through one of my links, at no cost to you.
As I've mentioned a number of times (uh, every post?) on this blog, I tend to stay a little busy these days. But earlier last month, I was asked to drop what I was doing and head up to New York for a quick tour of the Good Housekeeping Research Institute.* As in the New York – which I've never visited before (and in my heart, I knew I'd possibly love so much I'd never want to come home). So as you can imagine, I immediately put the paint brush down and packed a bag. Because New York.
I also mentioned briefly a couple of weeks ago that I wound up staying with Carrie from Brick City Love, and she showed me around the city a bit before I had to hop back on the plane for Atlanta. But the main reason I was there was to find out how products receive the Good Housekeeping seal (and more specifically, the kind of rigorous testing that Olympic paint and stain products go through to earn it). Truth be told, before this trip, I'd never really given this little seal much thought. I'd always known about the seal and seen it on some of the products I'd purchased in the past, but never really understood its significance. I had never purchased a product because of a Good Housekeeping seal. But I can honestly say that after this trip, that's no longer the case.
First off, the Good Housekeeping Research Institute is located in Hearst Tower. Just look at this building's amazing architecture. Both outside…
And then when you've entered. Swoon. If I have ever daydreamed about being some big shot exec in New York, it's been in a building like this.
After connecting with our hosts and a handful of other bloggers who were also recruited to take the tour, we had a little breakfast and a lot of background about the building, the changes it has undergone over time (100+ years in New York will definitely do that to ya), and the staff at the Good Housekeeping lab. It's chock full of scientists, chemists, electrical engineers, chefs, nutritionists, and other experts – who are all extremely dedicated and committed to the jobs they do. This also included our well-prepared guide, Sakinah. This girl knows her stuff!
Throughout the tour, we were taken to different labs to see what the review & testing processes are like for products. From the thread count of sheets to the performance of the latest wrinkle fighter to the way dishwashers remove milk stains, these experts make sure that the claims on the packaging actually deliver.
That also means that not all of them do. In the front entry area and throughout the facility, they have display cases of several products that didn't pass muster (this part was my favorite).
Second favorite: the display of old tools used to test products back in the day.
Yet another favorite: this building has quite the view.
There wasn't a single person we walked by in each lab that wasn't completely engrossed in their work. The grad school student in me was pretty impressed about all of this; not only for the ever-changing, nerdy-science part (how fun would it be to have today's work tasks include 3-D printing a pair of sunglasses, and tomorrow's include setting a Halloween costume on fire to test its safety for kids?).
But for me, that kind of dedication toward the same goal isn't something that happens a lot. These people truly believe in the importance of consumer advocacy (and not a single one of them had to say that openly for it to be plainly seen). In fact, Good Housekeeping's seal represents a 2-year warranty; if you purchase a product bearing the seal, and it doesn't live up to its claims, you can contact them and they will look into it for you. They'll even replace/repair/refund it if they determine it's defective.**
After this trip, I started following Good Housekeeping on Twitter & have been reading some of their other product reviews as they pop up. I'm a bit of a skincare junkie, so after reading testimonials from actual people about products that live up to the hype (they have people test out certain products either in the lab itself or over a period of time at home, then survey the results over and over… and over), I went out and bought myself some new anti-aging moisturizer that they called their "Gold winner". I'm already a huge review-reader before I buy something, and this one is guaranteed. I'm now a total convert to the power of the seal ;)
Over the next few months, I've been asked to try out Olympic One Interior Paint (available at Lowe's btw) – which by the end of this post, you've probably already figured out has received the Good Housekeeping seal. During the tour, they mentioned how paint earns the seal through several rounds of review: coverage (such as with red or black paint, which are often the most difficult), abrasion (aka everyday wear & tear from being in a house like mine), UV-testing, etc. So now that I'm getting my hands on it, I'll be doing some of my own evaluating. Along with these other bloggers (it was SO nice seeing Jacque and Matt again… and they brought their little one, so I got some baby snuggles in the process!).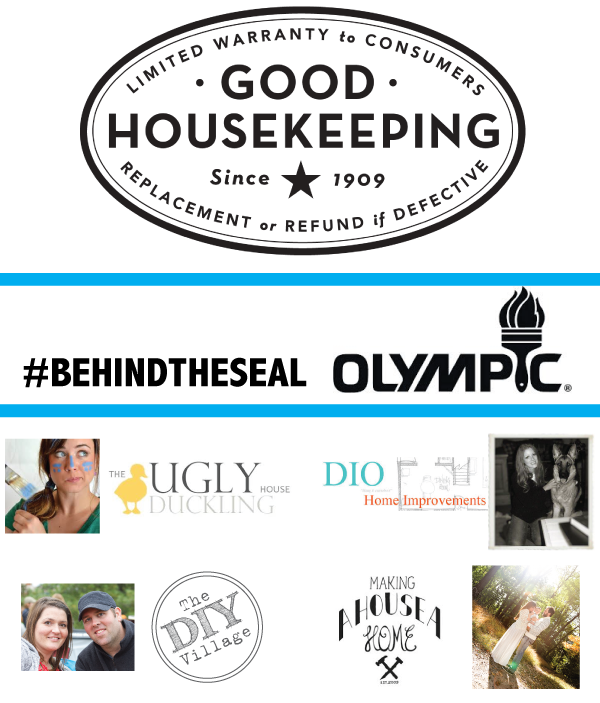 Be sure to follow along with us, and feel free to check out Instagram for#BehindtheSeal posts for more tour photos that we took while in New York. I'm back home and picking up the paint brush once again, so be sure to check back in to see the colors I chose and how everything turns out.
*Disclaimer: Big thanks to Good Housekeeping and Olympic paint for sponsoring these posts (and my first-ever taste of New York… can't wait to go back!). And while I have been compensated for my time and effort for this review, words and opinions expressed here are, as always, 100% my own.
** The limited warranty reflected by the Good Housekeeping Seal means that if a product bearing the Seal is defective within the first two years of purchase, Good Housekeeping will replace the product or refund the purchase price.