Disclosure: this post may contain affiliate links, which means I may make a commission if you decide to make a purchase through one of my links, at no cost to you.
My oh my, it seems that everything comes in a variety of options… including the kitchen sink!
…or bathroom sink, for that matter, which is what prompted my research for selecting a faucet… and our next installment of Lingo Lessons! If you didn't catch the first one, Lingo Lessons are periodic posts in which I impart vocabulary wisdom to the DIY blog world. If you've ever been at Lowe's or Home Depot and struggled to get your point across to the rep, then these lessons are for you!
Selecting a faucet seems pretty simple at first: see a faucet, like a faucet, buy a faucet. But, when it comes to installing that faucet, it turns out that they aren't all created equal. If you're installing custom countertops, you can get the faucet holes drilled to match your new purchase, but if you're replacing an existing faucet, it has to fit the pre-drilled holes in your sink which can get a little tricky. To save yourself the aggravation (and a few trips back to the improvement store), review these little faucet differences before you go shopping.
Generally, you will see one to three pre-drilled holes where the faucet should go – either on the sink, countertop, or wall. These holes will determine the faucet type you should buy:
If you see only one hole, these faucets are known as Single Hole (pretty self-explanatory, don'cha think?). Below are some examples of this style:
If you see three holes, you will need to measure the distance between the leftmost and rightmost holes to get the appropriate faucet fixture.
A 4″ measurement means you should look for a 4″ Center set faucet or 4″ Mini spread faucet. An 8″ measurement means you should look for an 8″ Widespread faucet.
4″ Center set faucets are compact and join the three hole openings above the sink or countertop. In other words, the spout and handles are all attached together into one unit. Center set styles may come in two-handled or single-handled designs as you can see in the examples below.
4″ Minispread faucets are still compact like the center set style (above), but the spout is not visibly attached to the hot and cold handles on either side, giving it the look and feel of a larger widespread model.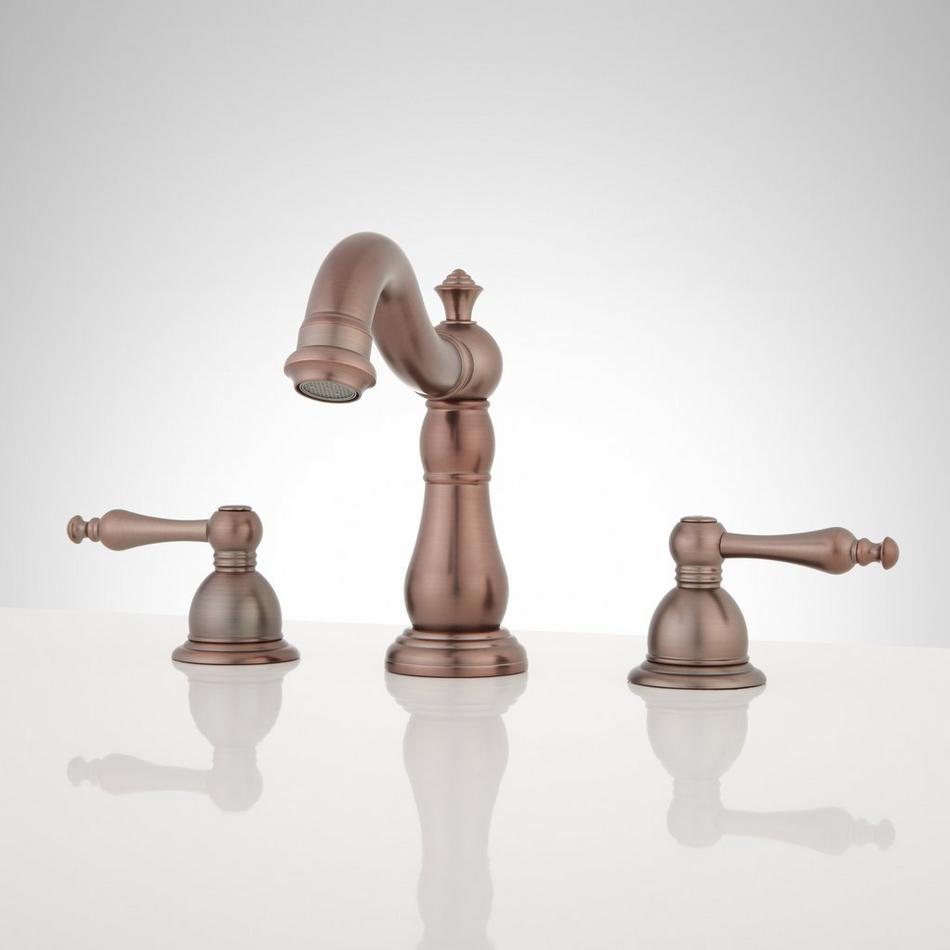 Like it?
Find it
.
If the holes in the sink or countertop measure 8″ apart, then you will need to replace the old faucet with an 8″ Widespread model. As indicated by the name, these faucets are spread apart wider than the single hole and 4″ faucet types, and are ideal when you have a larger sink area. A 4″ model could easily get lost in a large bathroom, so scale is important here. Also, when it comes to cost, widespread faucets are generally more costly than their narrower counterparts.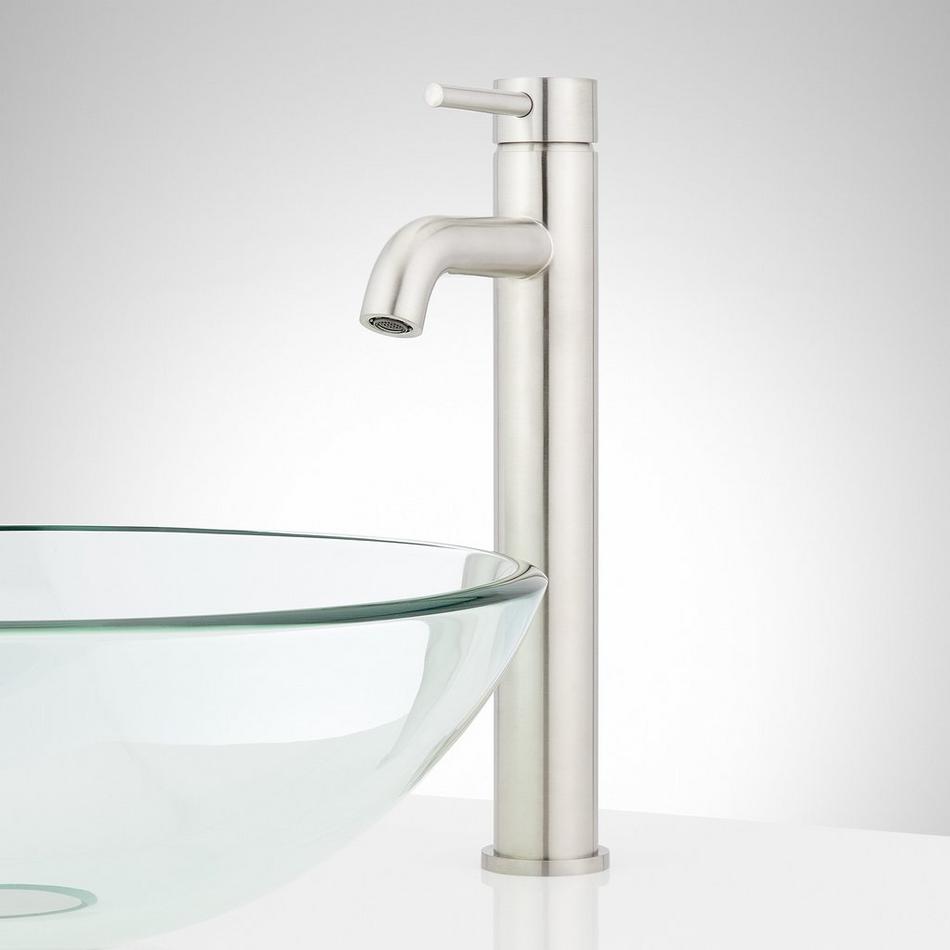 Like this faucet? Find it
here
.
Vessel filler faucets have become more popular in recent years, and are used specifically for vessel-style sinks. The spouts on vessel designs are generally taller so that it can reach over the sides of the vessel sink. Of course, this means that you will need to know the measurement of the sink to ensure proper placement of the spout. The height of the spout should clear the rim of the sink by about 3 – 5 inches, and should hang about 2-1/2 inches from the edge (to save yourself splash cleanup).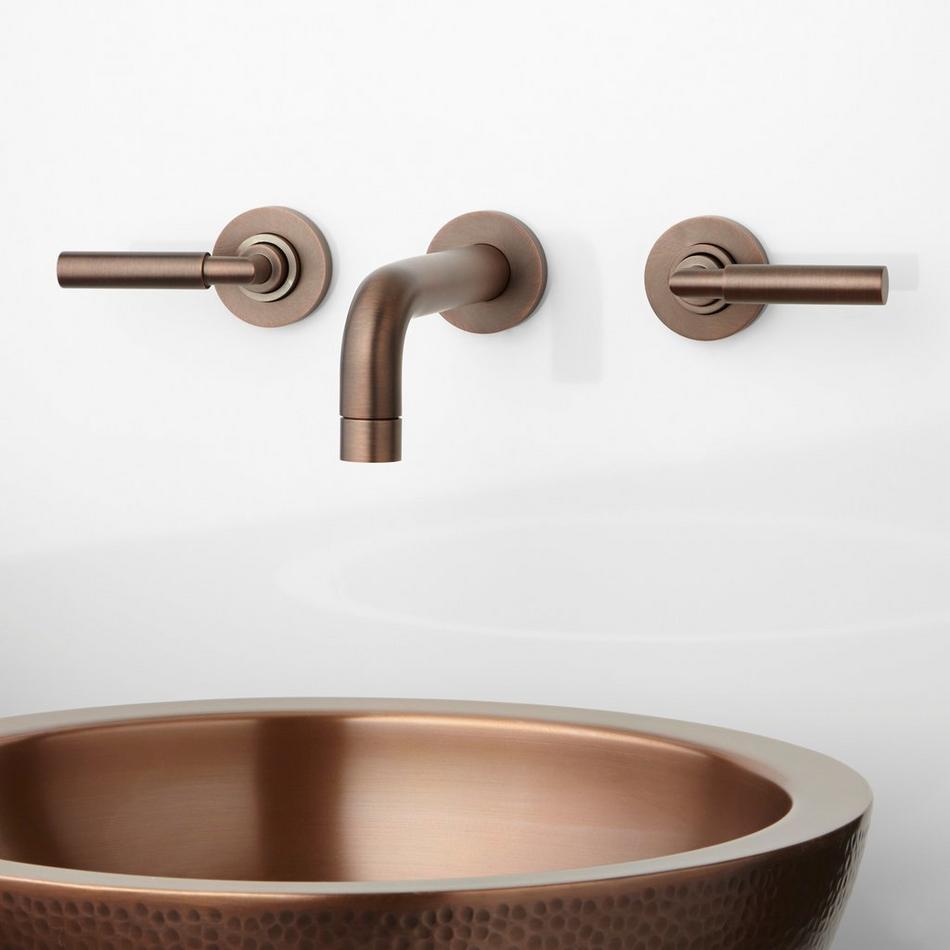 Find faucets like this
here
.
Wall mount faucets connect to the wall rather than to the countertop and can even work for vessel sinks. To install this faucet type, be sure that the spout extends to the center of the sink basin and that your water supply runs behind the wall instead of out in the open. If you don't already have a wall mount setup, this faucet type is probably not your best (or cheapest) option since you'll probably have to get professional help to reconfigure the plumbing.
Ok, have I used the words faucet and hole enough for one blog post? I hope this helps your next faucet purchase. Got any tips of your own to add? Please share!