Disclosure: this post may contain affiliate links, which means I may make a commission if you decide to make a purchase through one of my links, at no cost to you.
Two duvets for a single bed: weird or genius?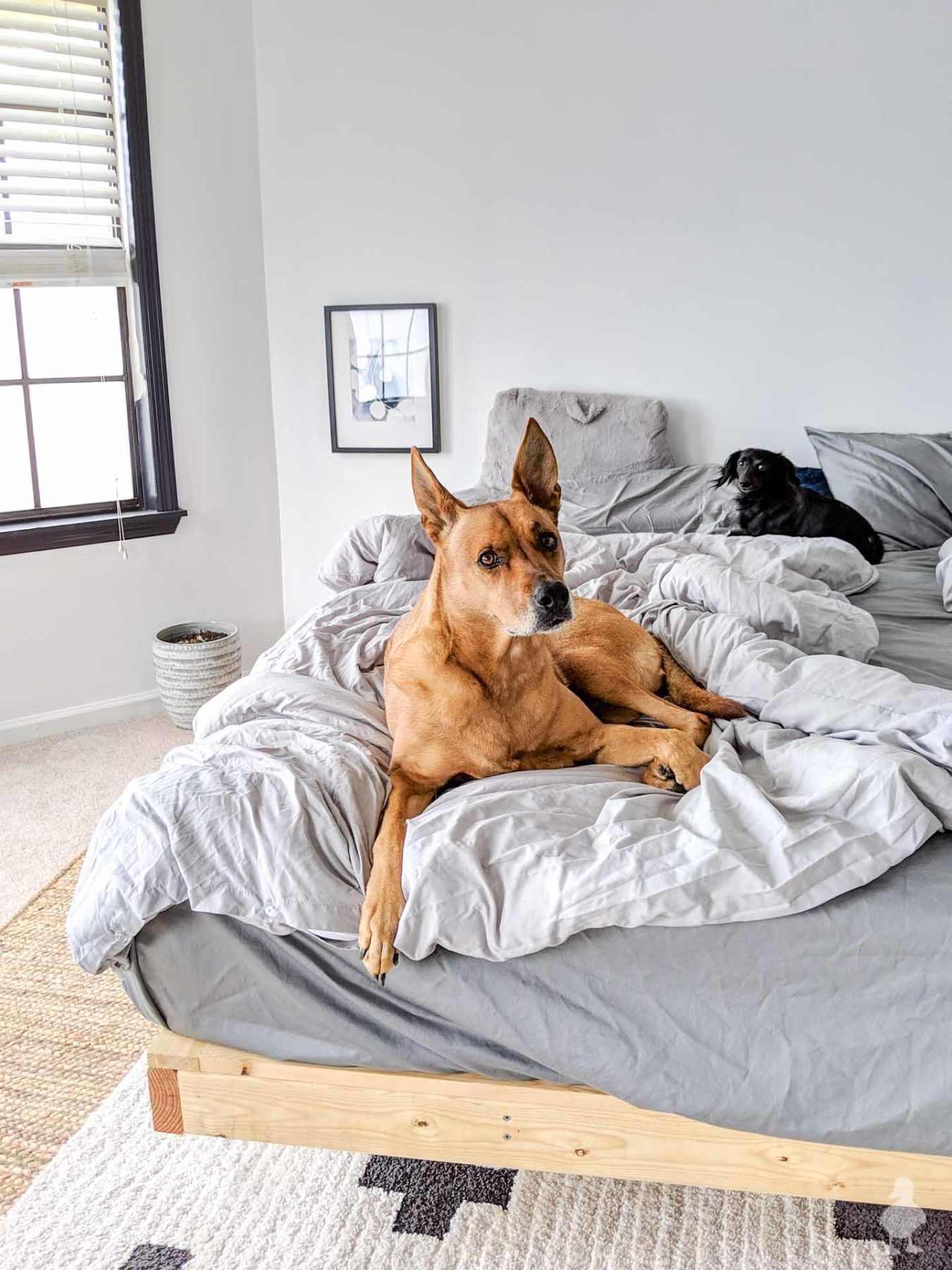 This post is going to be a short one for a change, but I thought to post it here after I got some comments about it on Instagram: Have you ever slept in a bed that had designated blankets for each person?
I ask because I shared a cropped version of this pic yesterday, where I revealed that K and I have recently upgraded some of our bedding but have continued to use two separate (twin) comforters on top of our DIY king bed. Since the duvet for a king size bed is roughly the same size as two twin comforters put together, it just makes the both of us a lot more comfortable to not have to pull or fight for the covers. It also helps because both of the dogs like to sleep on the bed for part of the night, and it's hard enough as it is with these two cover hogs!
According to the comments the post received, this is actually a pretty common practice in Europe (perhaps I've unwittingly taken #scandiboho style into my very core?). I honestly had never heard of it before and thought we'd come up with a cool problem-solving hack, but we were clearly beaten to the punch on that (also, a simple Google search would have exposed our lack of originality, too!). For several people in the U.S. though, it was either unheard of or some couples do it in secret. Neat, huh?
As for us, it's definitely a no-secret-shame situation. I like my space when I sleep and K does too. Why not be comfortable, right? Well… as much as one can with a 50-lb dog hogging up foot space…
The only exception is when I'm making the bed or styling for photos. I haven't really nailed the two-comforter look to my satisfaction (if you look back at the DIY floating king bed photos such as the one below, that was them!), so I'm choosing to layer another duvet on top that has a pattern I really like. It has a slight lump in the middle because of the overlap, but that doesn't really bother me since I also drape a blanket across the end of the bed.
How to Make a Bed with Two Duvets (Scandinavian Style)
This European method ensures each person sleeping can customize layers exactly as they see fit!
Fitted Sheet

Add one fitted sheet (same size as your mattress) as usual.

No Flat Sheet

Ditch the flat sheet entirely (it just gets bunched up at our feet anyway).

Add two duvets

Fold each duvet in half (or in thirds, if it's large) lengthwise and place one on each side of the bed. You can also layer them without folding and overlap them in the middle (as some of these pictures show), but it will create a small lump at the overlap (it's up to you if you like that look).

Add pillows

Place the sleeping pillows adjacent to the headboard or up against the wall. Pile the decorative shams (three for our DIY king bed) and pillows on top.

Optional: Add another blanket

I'll admit, I'm still getting used to the double duvet look, so it helps me (visually) to drape one additional blanket across the foot of the bed (to erase the line down the middle or minimize the lump). It also helps to choose duvets that are heavily textured or have a bold pattern to blur where one ends and the other begins.
Our bedding:

The gray twin sizes are far more practical with the dog hair, too, but I also LOVE this black and white one, so it goes on top now. I'm currently editing some new photos with this and more bedroom-related changes for another post (and updating the House Tour page!! that's always a satisfying moment), so be on the lookout for that (update: linked!).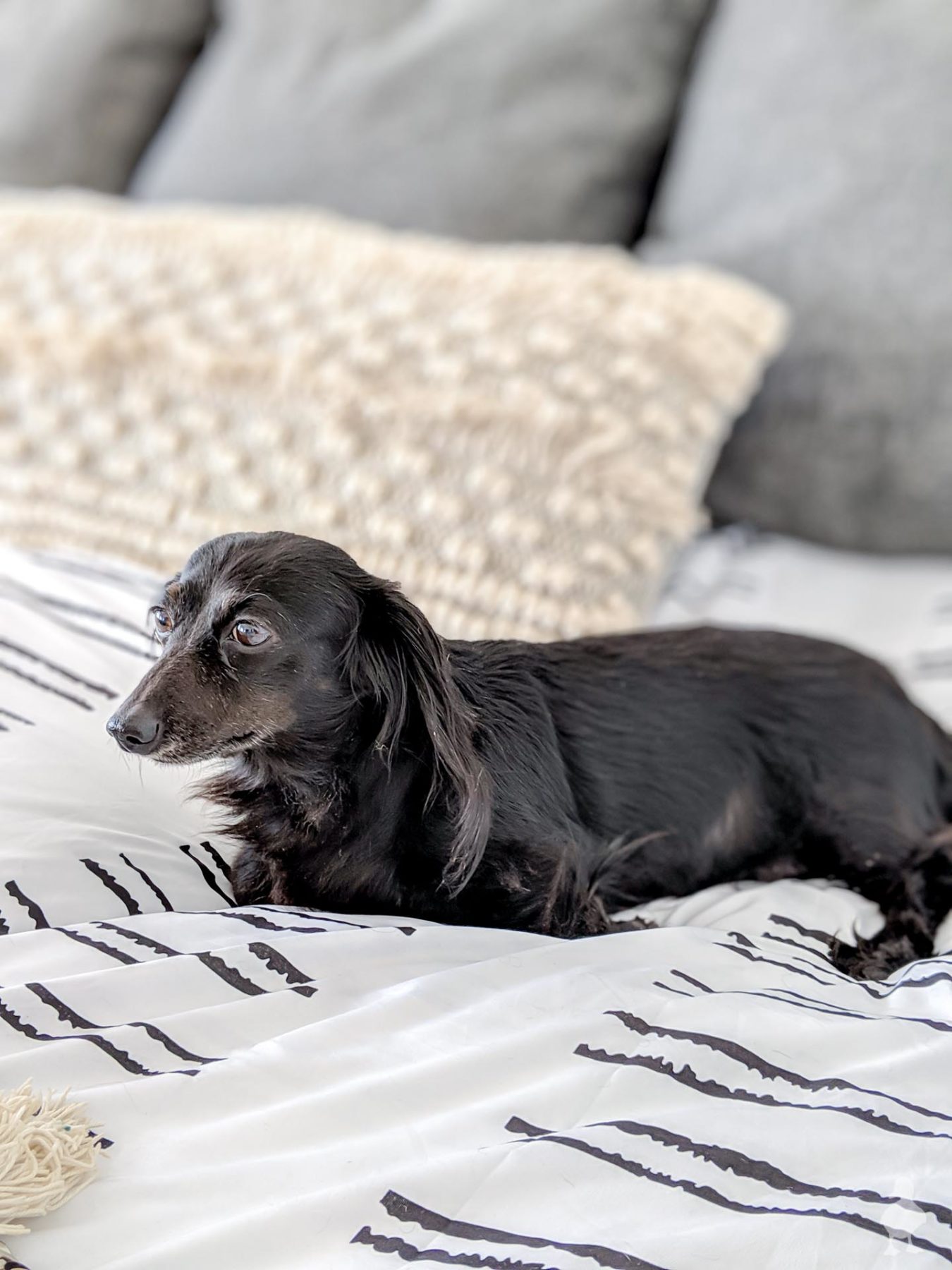 So, what do you think? Is this something you knew about already, or have you never thought to try it? If you've done the two-blanket method before, did you switch back to one at a certain point? Is anyone going to come over to the two-duvet side?