Disclosure: this post may contain affiliate links, which means I may make a commission if you decide to make a purchase through one of my links, at no cost to you.
If you have a bathroom with NO windows, you may be looking for a few tricks to make it feel clean and refreshing. After several years of looking at my drab guest bathroom, new paint created an opportunity for just that!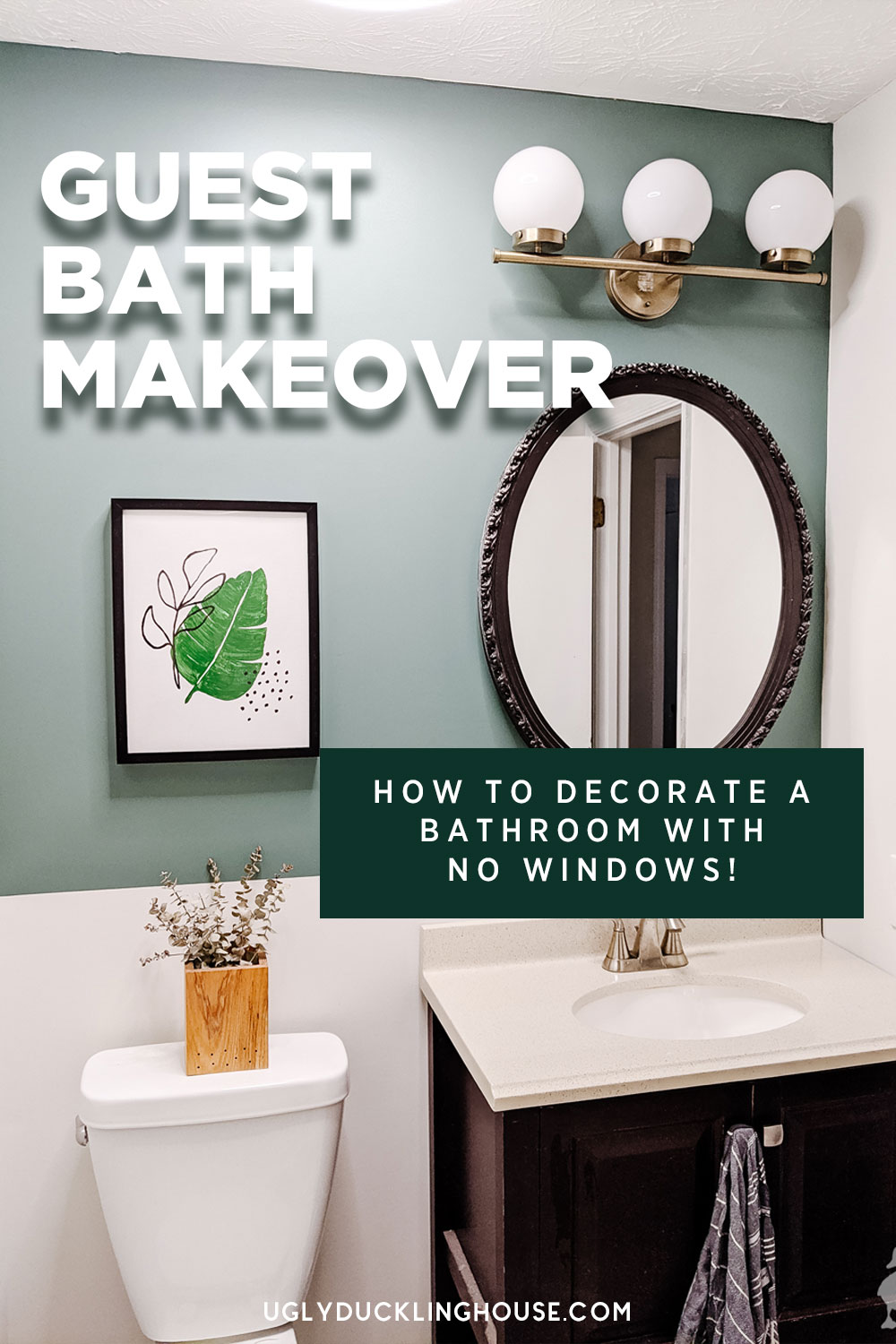 Almost every room in my house has at least some source of natural light. But two rooms — two small, windowless bathrooms — have proven especially tricky to redesign. My guest bathroom, for example, is perfectly functional; but due to the way it's closed off, I just don't like being in there. And if I ever have a guest over ever again, they probably won't either. I suppose it could be part of dealing with quarantine, but I got fed up and wanted to solve this dilemma once and for all.
This post is sponsored by Ace Hardware. All opinions, terrible puns, and other words written here — for better or worse — are 100% my own. 😉
How to Decorate a Small Bathroom with No Natural Light
It took some trial and error, but thanks to some inspiration from the Clark+Kensington 2020 Color Trends palette, I think I've finally got it! If you find yourself facing a similar problem (perhaps a jack-and-jill bath or basement bathroom), consider these as tips on both solving the no-natural-light problem as well as shortcuts for getting a clean, professional paint finish. The post with more detail is below, but you can also see the transformation in the video:
1. Consider the Lighting
One of the first things you might notice from the "before" photos is how yellow the bathroom looked. Soft white light bulbs are commonplace, of course, but when there is no window in the room, you're left with relying on hues cast from lightbulbs. In this room, soft white just didn't work and left a hint of yellow in everything. I hated how every time I picked something out (like the vanity I waited patiently to install), the lighting would find a way to mess it up.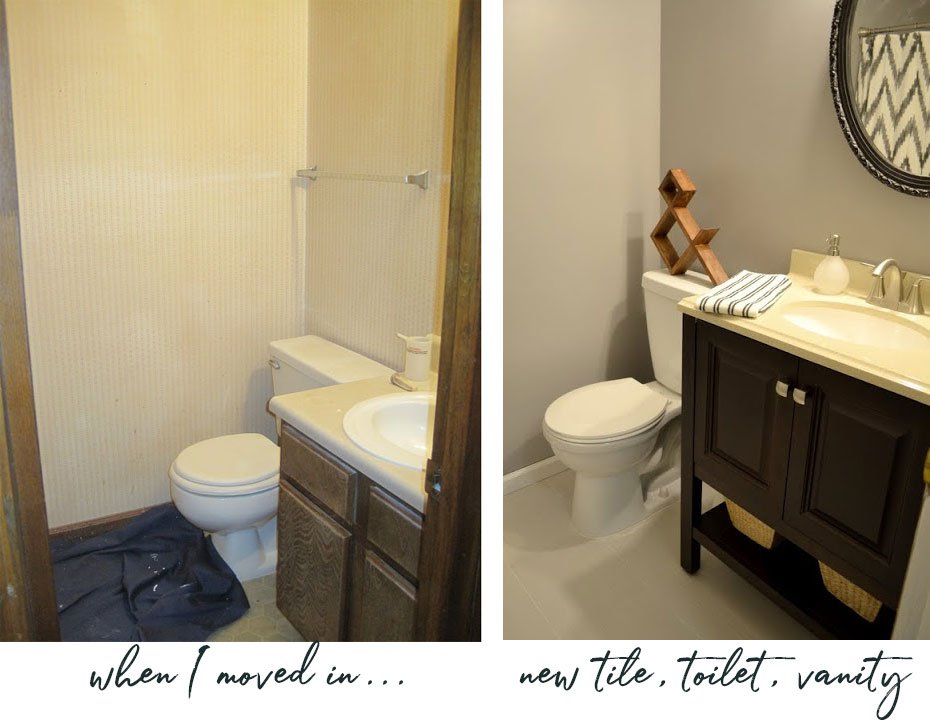 I'm sure you might be thinking, "why not just change the light bulbs to a daylight or bright white instead? I would — except I made the equally unfortunate choice of picking a light fixture that doesn't use standard bulbs. They've gotten harder and harder to find, and I decided enough was enough! Not only did I need new paint, but I wasn't going to spend another dime on specialty bulbs. I love picking out new fixtures, so this was hardly a twist of the arm.
A few years ago, I also installed a Bluetooth-enabled bath fan that has an LED light. It casts a bluer hue than I prefer — not quite daylight — but it's a step in the right direction and without interference from the soft white bulbs. I used this light to make my paint selections. See the difference in just the light change? I like it better already. 😊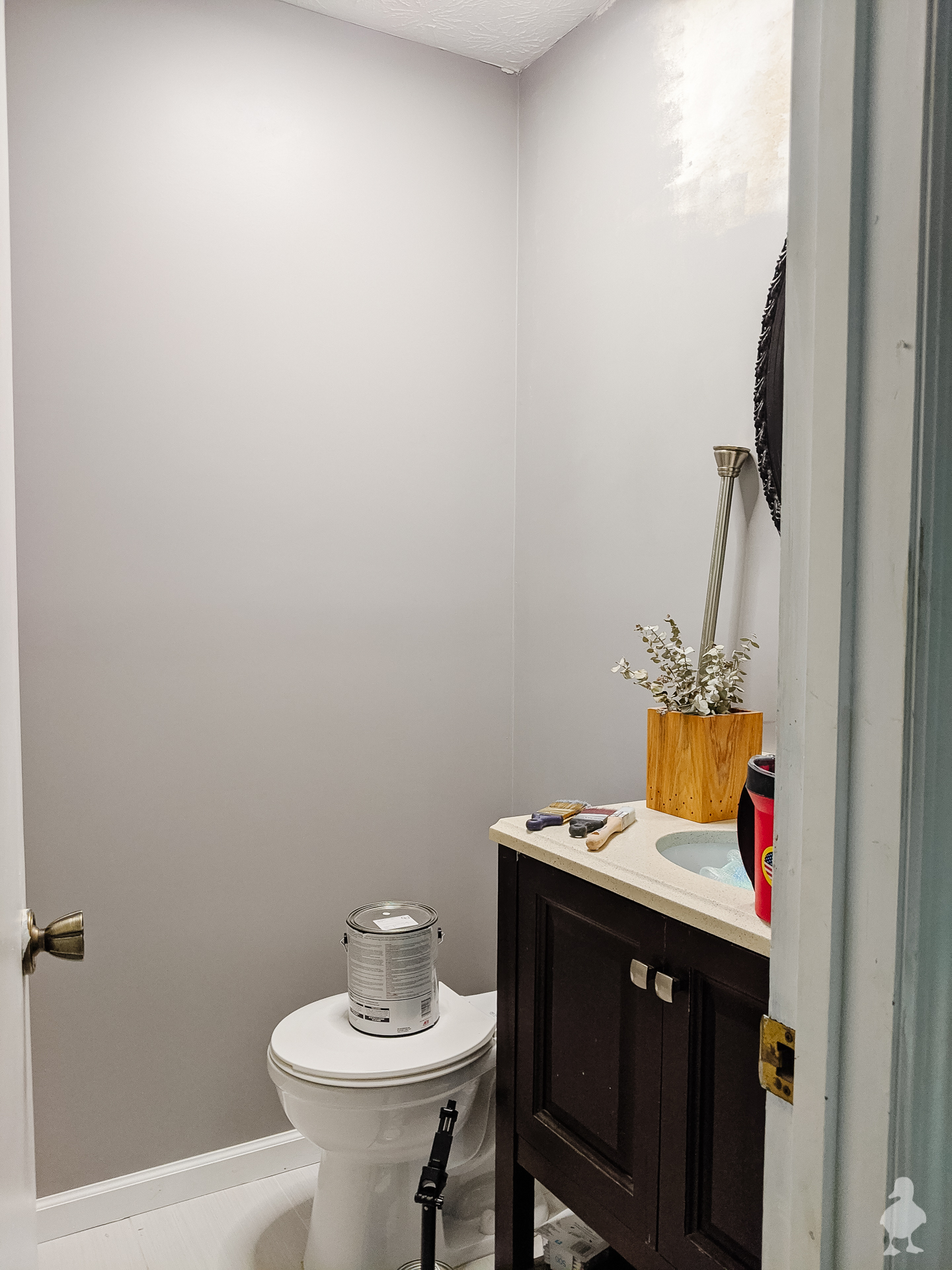 The existing walls were partially covered in a mauvey gray-purple. It's actually a really pretty color on its own… in the right room. But over time, I realized that it was completely the WRONG color for this bathroom. The lighting, countertop, and tile just didn't play nice with the undertones, leaving everything looking sickly and drab. It's kind of amazing how MUCH paint impacts a room. I stalled out on making any additional creative progress on the design once I added this paint color!
I say it's "partially covered" because I also failed to finish the first paint job. I had a little bit more patching to do up near the old light fixture after removing all the wallpaper in here and repairing the drywall. I painted most of the room and finished the patch job, but kept procrastinating. A word to the wise: if you're covering joint compound like this, be sure to seal it with a primer before painting — even if the new paint has primer in it, like the Clark+Kensington line does. The main reason is because of a phenomenon called flashing. A patched area of the wall like this is more porous than a finished or previously-painted wall, so there's a chance the paint will be absorbed and will interrupt the uniform look of the sheen when the light hits the wall (one spot looks duller than the rest, or just really patchy). It can also require more coats for uniform coverage, so primer is your best bet to avoid it and cheaper than buying more paint to do another coat!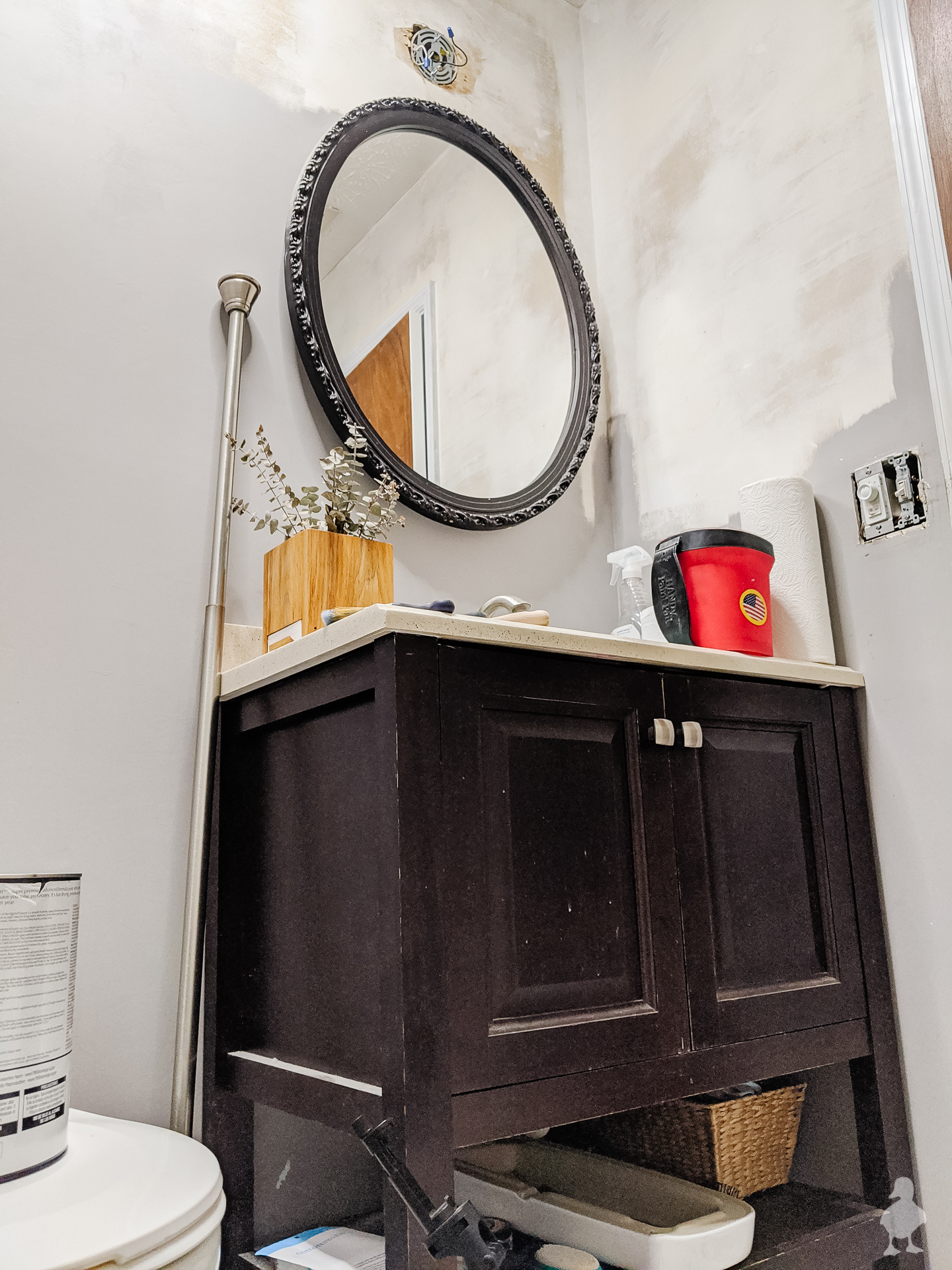 2. Choose your Paint Colors Wisely
Ace Hardware sent me a care package earlier this year as inspiration, full of sustainable natural products (many of which I'd never used before and am excited to try out). They also sent a paint sample and info on the Clark+Kensington 2020 Color Trends picks.

Looking at these nature-inspired hues, I knew it would be a great opportunity to revisit, as K put it, "the bathroom where inspiration goes to die." 😂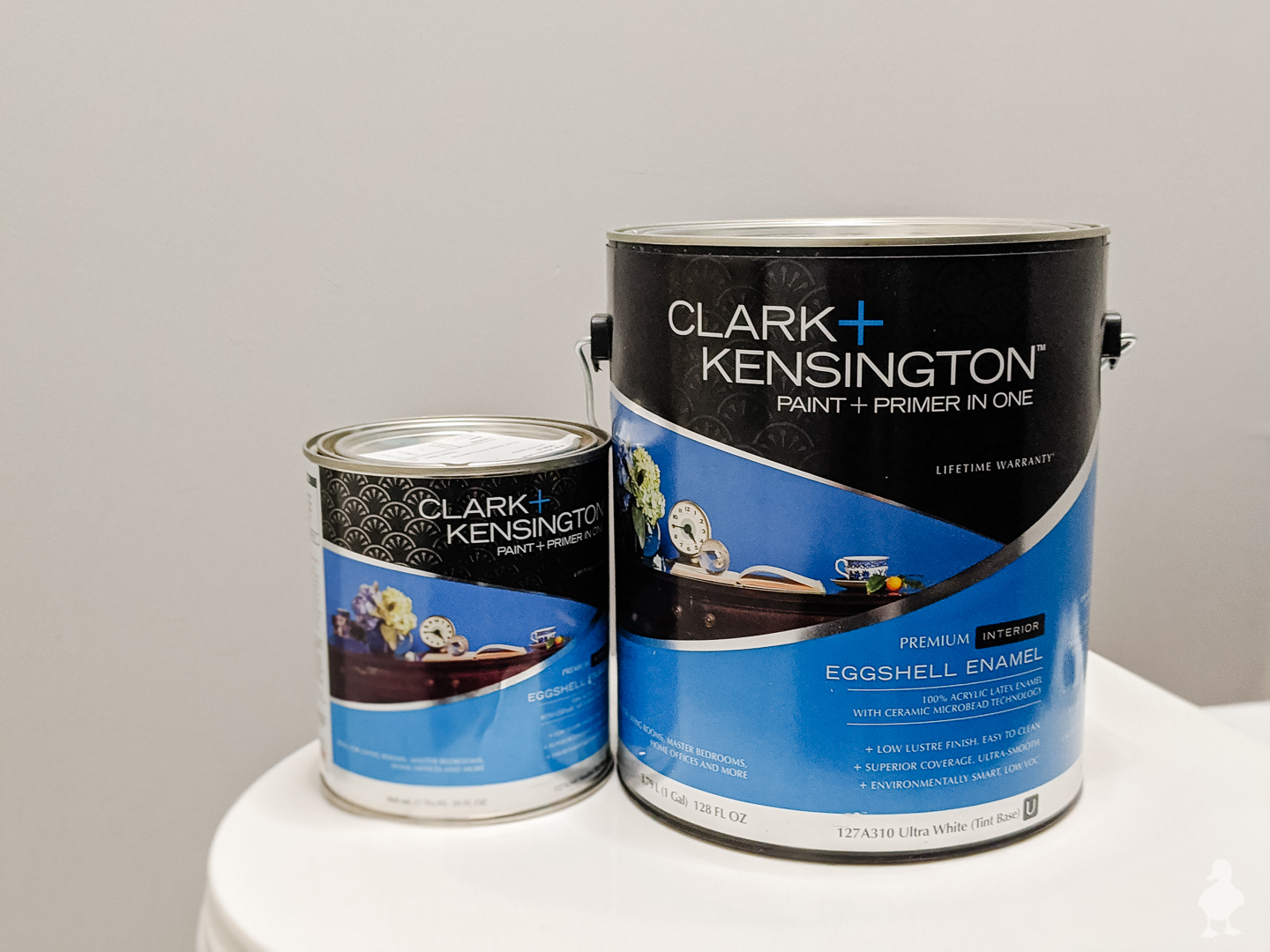 Let's also address the paint, specifically: it's probably no surprise that as a home improvement blogger, I've painted my fair share of walls. A lot of them. I've also experimented a few times with different brands and paint lines (sometimes it's the same brand, but a different type of paint). And despite most brands having paint and primer combined these days, I've yet to find one that can do a single coat, with no flashing or touch-ups, when there's a significant color change (such as going from this darker mauve to a much lighter creamy white). I expected two coats, and it did indeed need two. But, not bad coverage after only one, either: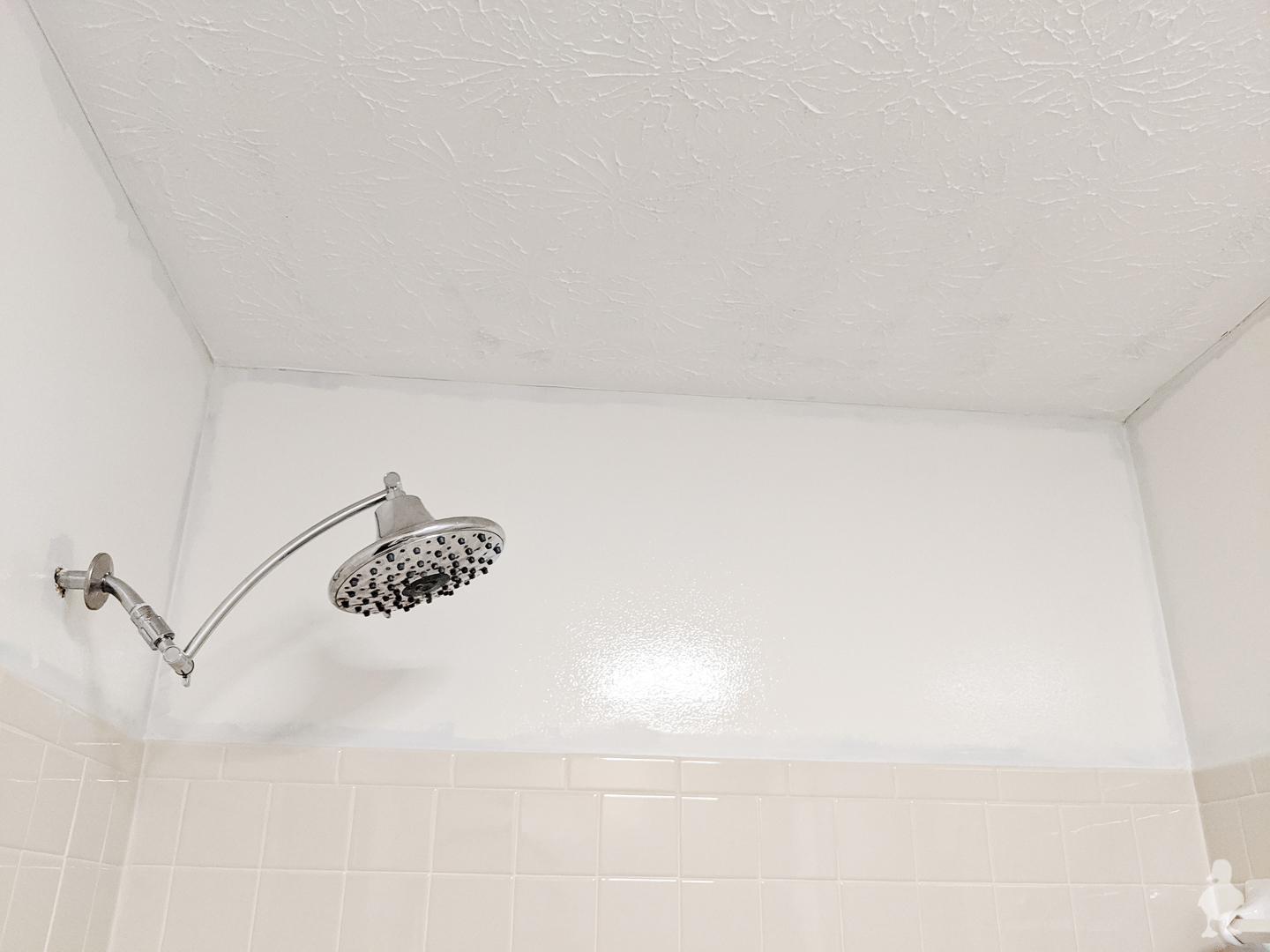 After the second coat was dry, I took a step back and closely inspected the finish. The main thing I noted about this particular line: there is a significant difference in the texture of the Clark+Kensington paint finish from other brands I've used in my bathrooms before. I can't really explain the difference exactly, but it's… buttery? Velvety? Really really good, let's just say that!
Typically, it's recommended to use a satin or higher sheen in a bathroom. But since I'd worked so hard on repairing the old drywall, I didn't want to have too high of a sheen where I would see every minor flaw on the wall (it would be too defeating). Instead, I went with an eggshell finish; it's flatter than satin, but still washable enough for this room (I explain the trade-off between sheen and other benefits in this post if you'd like a little more info!). This was a perfect balance. Hopefully, you can sort of see the great texture it left on the walls in the "after" pics further in this post!
Using Nature as Inspiration
I started by painting the whole room in White Opal. I LOVE THIS COLOR! I bought a gallon of it with the Ace Hardware gift card they sent me, but I needed less than half to do two coats in the room. So, I am certain I have enough to also paint the primary bath with it (after retiling the shower in there, I'd never gotten back around to finishing the final paint job… guess procrastination paid off, ha!). I've compared the color in the guest bath (with no windows) to the one one with natural light (in the primary), and it looks great in both conditions. Highly recommended, especially since it's tough to find a nice balance in white wall colors (I don't like overly yellow "warm" whites, and this also isn't too pure white to feel sterile and hospital-like). It's a nice, simple white that is still warm enough to play off the cooler green in the accent part of the wall and not pick up any blue, green, or purple in the process.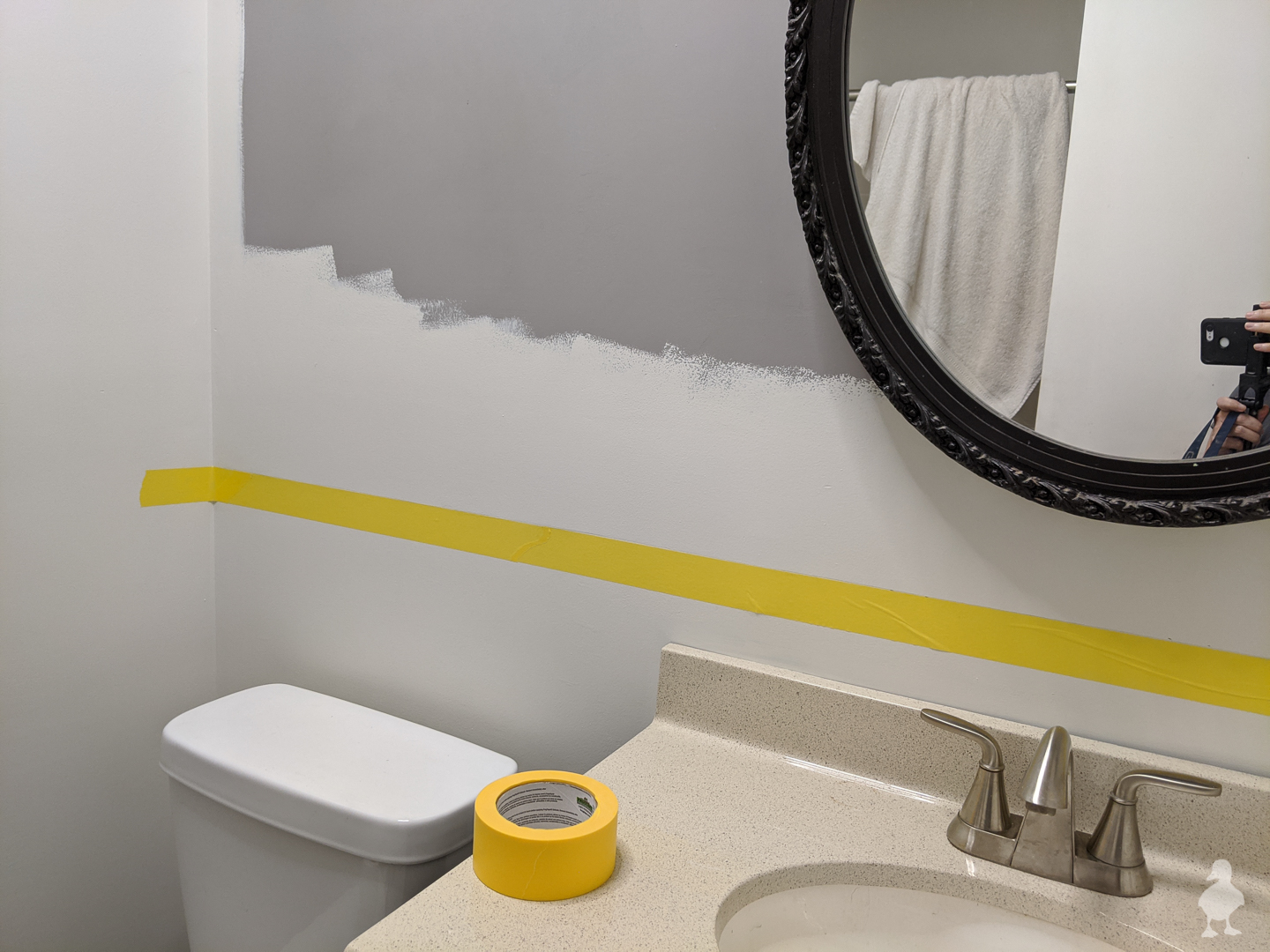 3. Try a Paint Feature
I also used the rest of the Natural Home palette as inspiration for picking a color to make a small accent wall. Despite my fears that this room was possibly too small to work in a paint feature like this, I'm glad I went with my gut and did it anyway. The greens, blues, and grays in the Color Trends palette led me to Far Away Land, which is a sort of soft, darker green with the tiniest touch of blue and lots of gray.
After the White Opal paint was dry, I measured out and taped off a section of the back wall with tape for newly-painted surfaces. I'm not planning on keeping the mirror (dust gets in all those little ornate parts of the frame, ugh), but it has a medicine cabinet attached, so I'm still on the hunt for a replacement. Since I am keeping the vanity, I measured out 4″ from the top to create my paint line. There was no specific logic in this; I just thought the spacing worked.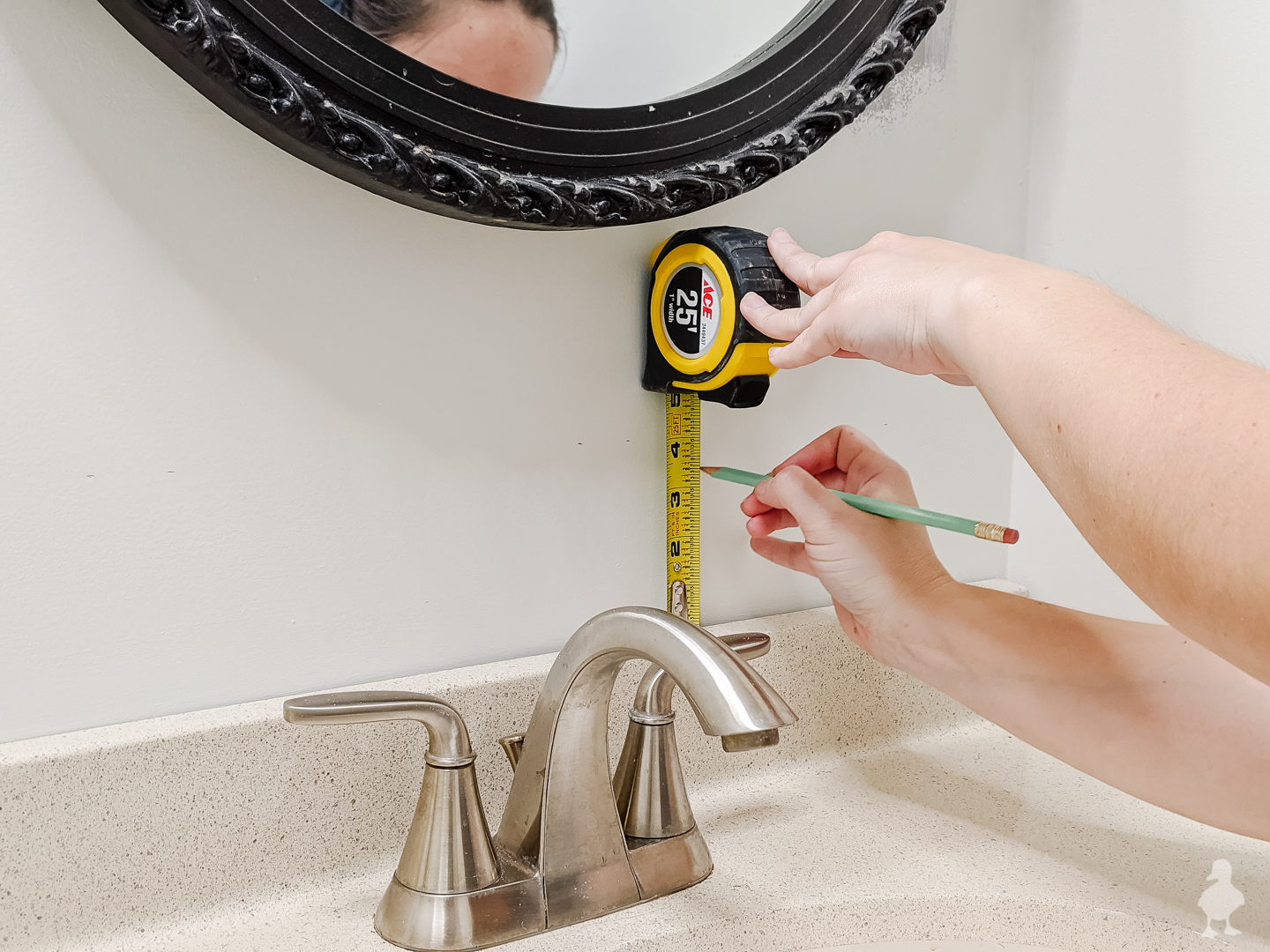 Regular painter's tape runs a risk of peeling new wall paint back off the wall, especially within the first few days (cure time can be up to a week as paint hardens, and I noticed that in this case, I could scratch it with my fingernail if I wasn't careful enough), so definitely use tape that's made for freshly painted surfaces!
4. Add Some No-Cost Art
I wanted to keep this refresh budget-friendly, so I only really invested in new paint and a new light fixture. Using a paint sample from my Ace Hardware care package (Clark+Kensington On the Green), I was also able to add some DIY art. I sketched out a leaf pattern that I thought would add a calming vibe to the room and work with the faux plants I'll be adding at a later date.
If I'm honest with myself, I'm not super proud of my art and may redo it in the future once I add more accessories. For now, it's nice to add a little color though. I think some new shelves and faux plants will achieve that green-on-green nature look I'm going for too, and make the room look even more refreshing for guests. I'm also thinking about swapping out the faucet and showerhead (perhaps once I actually tackle the old shower tile as I did in the primary bath; not anytime soon!). It's a far cry from where I started though, and almost ALL of this change came from paint. I love how that happens! I finally feel a sense of direction in this room again, and I'm looking forward to tweaking some more.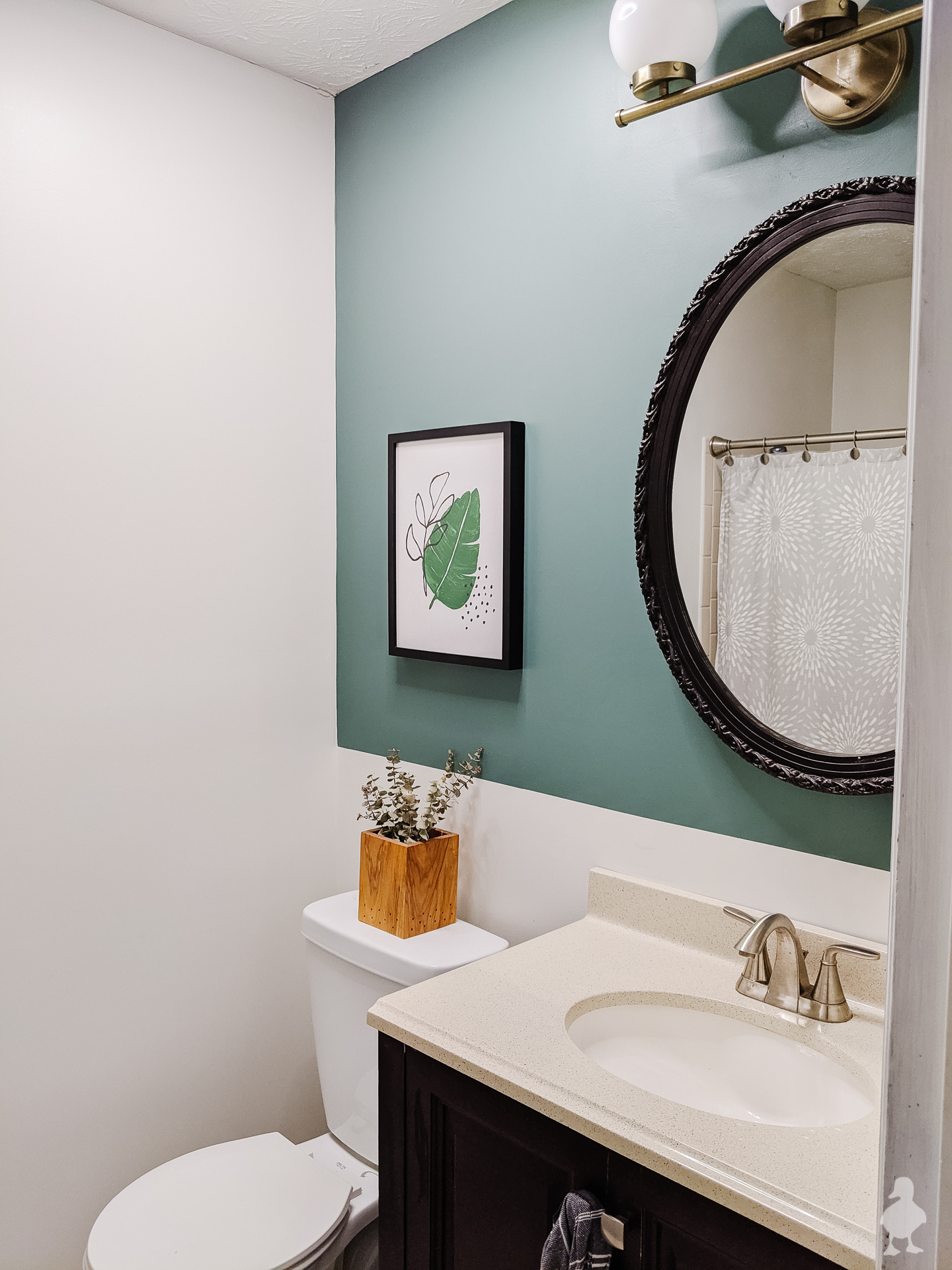 So, there you have it: not bad for a weekend and a bathroom that really wasn't doing me any favors. Some rooms take more time than others to find their way, and that's ok. It even makes my bathroom deodorizer fit the room better!
P.S. To find your local Ace Hardware, you can hit up this link.