Disclosure: this post may contain affiliate links, which means I may make a commission if you decide to make a purchase through one of my links, at no cost to you.
A couple of weeks ago, I mentioned that our primary bedroom lacked some serious storage space.
While we have plenty of hanging room and a few new drawers thanks to our primary closet redo, I still have far too many clothes to share a closet with another person without completely taking over his side. As a peace offering, I've recently purchased a new addition to our primary bedroom, courtesy of Craigslist:
Gorgeous, right? At first, I went shopping intending to find a cheap-o dresser that I could slap a coat of paint on and fix up with some new hardware. But when I came across this pale gray beauty, I couldn't refuse! And as an added bonus, the seller turned out to be Kathleen from Between Blue and Yellow. It's kinda crazy to meet a fellow blogger face to face – and then realize you're only one street away! If you haven't been to her blog yet, Kathleen is starting up a furniture refinishing business from diamond-in-the-rough Craigslist, estate sale, and thrift store finds. I was her second customer! I am quite jealous of her new business endeavor. Painting old pieces of furniture for a living sounds so fun and rewarding. Kathleen, if you ever need a hand, sign me up!
Anywho, back to the piece I purchased. Let's get a close-up of my new dresser (Sorry if some of these photos are a bit shadowy – we've had some rainy days here in Georgia and the sun was shy while I was taking pictures.):
Aren't these pulls cute? They are really similar to the ones I was eyeing at Anthropologie: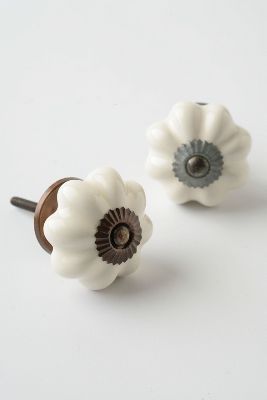 The four bottom drawers of the dresser have old iron handles, which aren't quite my style, but I'll give them a little time to grow on me. They seem like a natural fit for the dresser, so I see no reason to make any changes for now.
I think I'd like to try to find some interesting paper to line the drawers with and give the inside a few surprises with color. I'm not sure what kind of paper I'll be using yet, but I'll keep you posted.
Kathleen was kind enough to give me the leftover paint from her dresser project in case I ever need to touch it up. Gifts with purchase (and simply knowing the paint color used) are always welcome. :)
I hate the way our TV takes up most of the space on the top of the dresser, but it's only temporary. Scott and I are planning on making a few technological updates some time around Black Friday. To the left of the TV, I placed a newly purchased ceramic piece that I simply couldn't leave Homegoods without.
What do you think? I'm totally in love with my new dresser, and I'm glad I didn't have to bother with painting a piece of furniture while the rest of my house is in chaos (but stay tuned – not all of my Craigslist pieces are escaping the paint brush). I just hope it's got enough room for all my clothes!
Linking to: Southern Hospitality Weekly Treasures, Coastal Charm Nifty Thrifty Tuesdays, Shabby Nest Frugal Friday, Finding Fabulous Frugalicious Friday, Show and Tell Friday at My Romantic Home