This post may contain affiliate links. This won't change your price, but may share some commission. Read my full disclosure here.
A little over a week ago, I asked you for your opinions on my bathroom design. Out of the two options, the biggest difference was the vanity.
Only then, I noticed that Lowes was doing wacky vanity hybrid experiments. And my two vanity choices became one.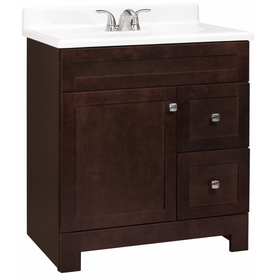 So if the world doesn't end tonight at 6 PM, I'll probably wind up at the store this weekend picking one up.
While every effort has been made to ensure the accuracy & effectiveness of the information displayed on this website, The Ugly Duckling House is for entertainment purposes only. All tutorials and demonstrations are not intended to be professional advice (nor substitute as such), and I make no guarantees as to the procedures and information here. Creating with my suggested methods, materials, and tools is under your own risk. Please ensure you are following proper guidelines with anything used, and seek professional advice if you don't know how to do something! Read my complete disclosure here.