Disclosure: this post may contain affiliate links, which means I may make a commission if you decide to make a purchase through one of my links, at no cost to you.
Often my favorite thing about Thanksgiving turkey, these croquettes are the PERFECT recipe to try with leftovers from other meals! It works great with leftover chicken (or those rotisserie chickens from the grocery store).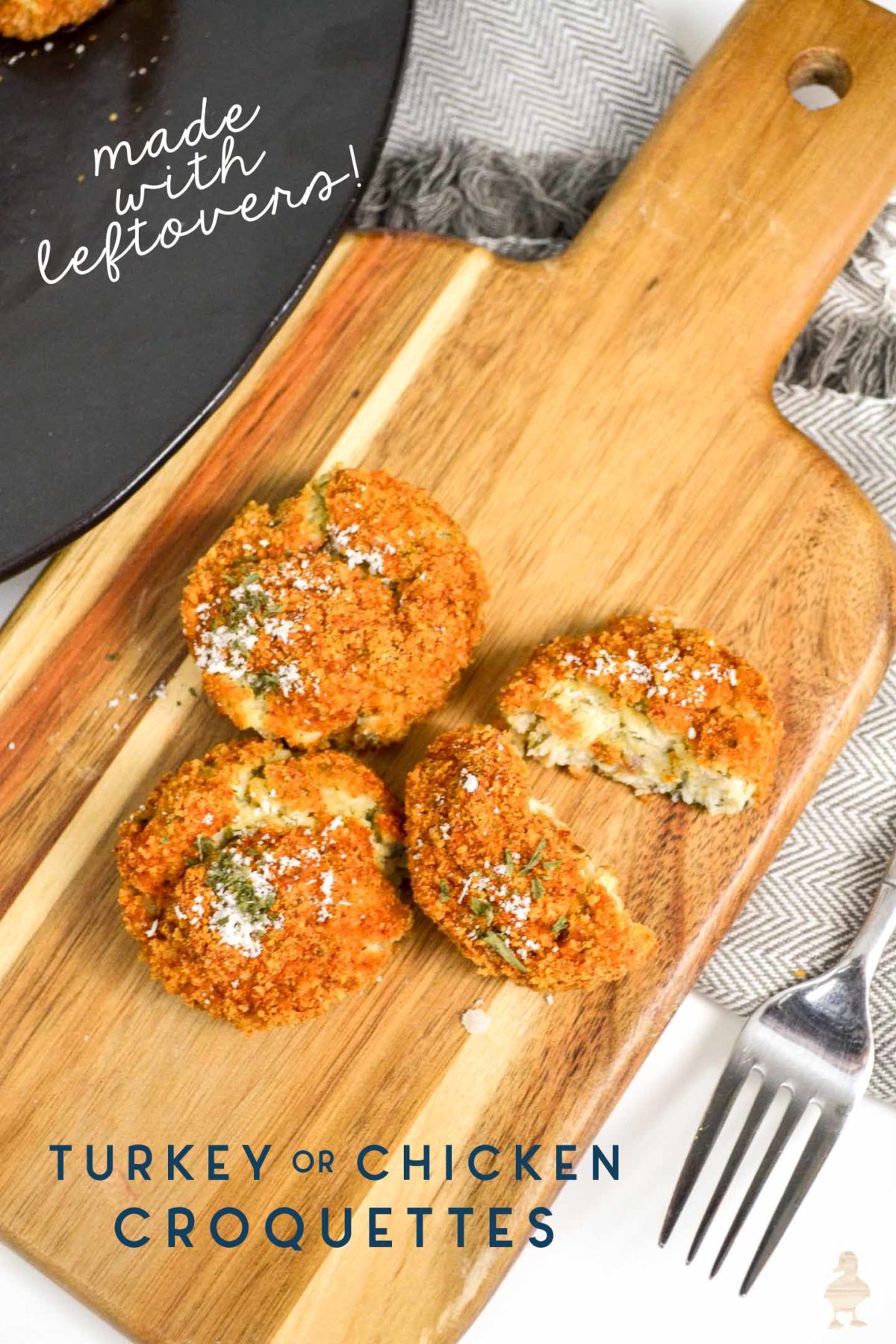 One of my goals from the new year has been to eat more at home. So often, I spend the day working on DIY projects but get too distracted to eat until too late, which results in me ordering out again. It's an expensive habit that my wallet would love for me to break! So, I'm starting this year with a few classics that are quick and easy to make, can be frozen, and require ingredients I can keep well stocked. For example, this leftover croquette recipe made with either turkey or chicken that you can bake in the oven.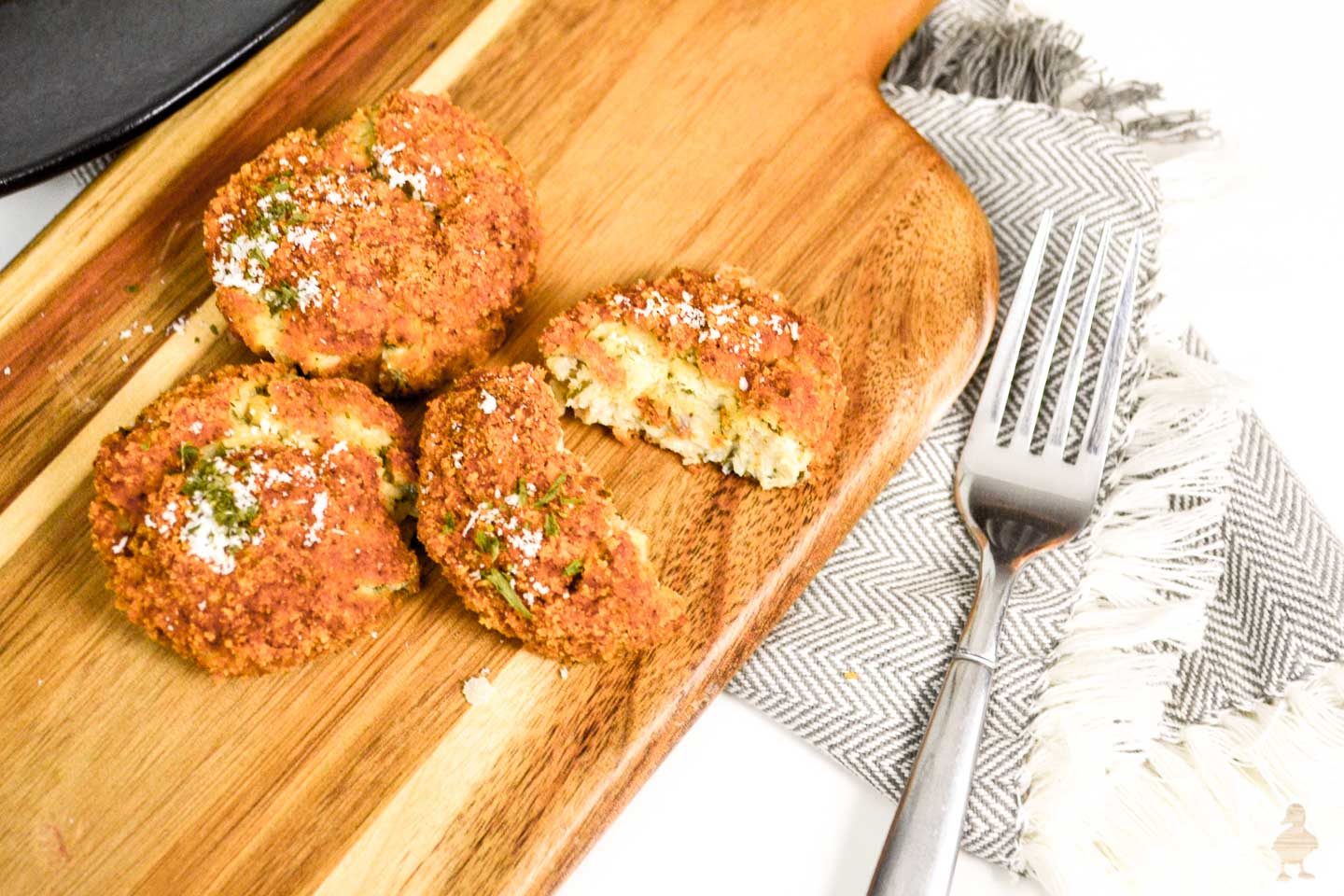 In our house, this recipe usually makes an appearance right after Thanksgiving or Christmas, but it's honestly great to make any time of year. It goes great with all the other Thanksgiving leftovers like gravy and mashed potatoes too (or even cranberry sauce, if you like a sweet taste on top of the savory). I prefer them plain or with a little Parmesan cheese or green onions sprinkled on top; as a kid, I would tear them open and eat the mixture inside and skip the breadcrumb shell.
Print
Easy Leftover Turkey / Baked Chicken Croquettes
Often my favorite thing about Thanksgiving turkey, these oven baked croquettes are the PERFECT simple and basic recipe to try with leftovers from other meals! Also works great with chicken.
Author:
Prep Time:

1 hour

Total Time:

1 hour

Yield:

8

1

x
3 tablespoon

butter

4 tablespoon

all-purpose flour

½ cup

milk

½ cup

chicken broth

½ teaspoon

salt & black pepper

½ teaspoon

onion powder

2 tablespoon

fresh chopped parsley

1

egg, beaten

2 cups

cooked chicken or turkey, grated fine (chop in food processor)
Shake & Bake coating mix or panko breadcrumbs
Instructions
Melt butter in a medium saucepan over medium heat. Stir in flour until it makes a smooth paste. Add milk and chicken broth and cook until very thick.
Add salt, pepper, onion powder and the beaten egg. Blend well and let cool a little.
In a large bowl, combine chicken or turkey with a little salt & pepper and add the fresh parsley.
Add the cream mixture to the chicken/turkey mixture and combine well. Cover with plastic wrap and chill in the refrigerator until cold.
Remove from refrigerator and roll croquettes into desired shape (usually round, cone, or oval shapes) using a cookie scoop as your size guide (around 2-inch balls). Once shaped, dip into a beaten egg (or coat as an egg wash) and then roll into the bread crumb mixture real well.
Place croquettes in greased baking dish or on a baking sheet with parchment paper and bake 350º until golden brown.
Create your own white gravy or use leftover turkey gravy and serve with mashed potatoes, fresh salad, or a simple vegetable side dish (suggestions below).
Notes
You can also fry these in a large skillet with a little olive oil or air fryer, but we traditionally bake them in the oven to avoid the extra calories.
You can also substitute ground chicken or turkey, but since we usually make these with Thanksgiving leftovers, the food processor is our go-to.
Swiss cheese is a great melt on top, but I prefer without.
Store in an airtight container in the fridge or freeze for future meals.
Since the initial posting of this recipe, I've gotten comments that people often associate this recipe with salmon croquettes! I also didn't realize these were considered a Southern classic since my whole family is from up north. I suppose since two of our family recipe makers weren't big on seafood, they pivoted to chicken, turkey, and ham croquettes instead (especially since this was primarily a leftover-based dish and the only seafood we eat around the holidays are crab legs… which would possibly also work but would be more like a version of mini crab cakes?). These could serve as nice appetizers at a larger get together if you have hungry guests, too. But if you're looking to make this into a meal like we do, how about some side dish suggestions?
What to Serve with Croquettes
This is just a quick list of suggestions, some of which I'll add links to when I post the recipes here on the blog! But since the main dish is so simple, I figured the side dishes should be equally easy and quick to make on a busy night.
Cucumber salad
Bell pepper salad or roasted red peppers
Green bean casserole or air fryer green bean fries
Leftover mashed potatoes and gravy
Instant pot broccoli
Roasted potatoes and broccoli
Don't forget to pin!