Disclosure: this post may contain affiliate links, which means I may make a commission if you decide to make a purchase through one of my links, at no cost to you.
Paint-by-numbers designs seem to be having a moment right now. So, I turned a pic of a mountain hillside into a pattern! I recommend stitching this one and leaving it right in the hoop for automatic framing.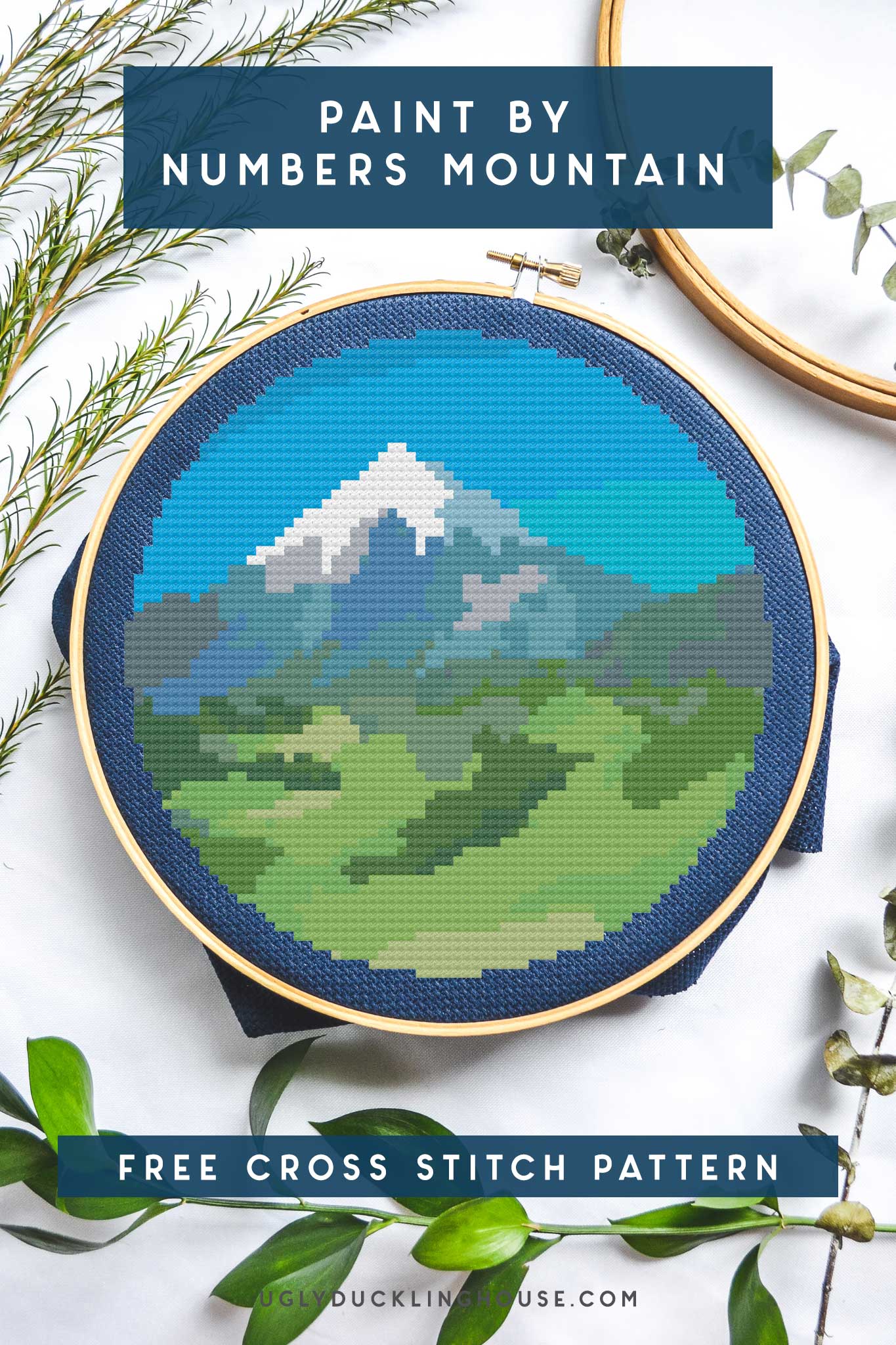 Alright stitching friends! It's that time of the month again — a FREE cross stitch pattern with that new car smell. This time around, I felt like we were due a calming, scenic view before fall comes rushing in! This mountain scene is done in large blocks of color, sort of like the paint-by-numbers-inspired walls I've been seeing on Pinterest lately. Get the pattern below by clicking on the button or hop over to the patterns library.
archived
this pattern is now available through our sister site
Become a member today and save 25% with code ARCHIVE25
About this Paint-by-Numbers Mountain Cross Stitch Pattern
Designed for 14 count Aida
Full counted cross stitches only
DMC floss colors: 19
Size: approximately 5 in. x 5 in.
How to use the library for free:
If you're an existing email subscriber, type in your name and the email address you subscribed with in the box on the library homepage, and it will pass you through to download all available free patterns. If you are new to subscribing, click on the button or link above and then type in your info. Once you've confirmed your subscription (check your spam folder if you don't get that email), come back to the same library page and enter your info again. This time, it will pass you through to all of my cross stitch pattern thumbnails.
Also, new policy this month — the more popular this library grows (which is so awesome; I love that so many of you are enjoying it!), the more emails I get about not being able to access the library. That isn't a problem by itself, but I've been experiencing more rudeness than I'd like. First: follow all the instructions on the library page. If you have trouble, re-read them and check your steps (usually it's from not confirming or not re-entering the info used to subscribe). If you are rude — and I really shouldn't have to say it, buuuuut — I will remove you from the access list permanently. I do this for fun, and I make this available for free. Emailing me something rude after that is like coming to my party and farting on the cake.
Enjoy!
pattern time limit
Patterns are available for free for a limited time to make room for new designs. To get access to the entire archive and lots more patterns, check out our membership site, NeedleSpark!
Check out the library to get access to currently available patterns and see previews of future releases!