Disclosure: this post may contain affiliate links, which means I may make a commission if you decide to make a purchase through one of my links, at no cost to you.
Every now and then, I get an email that seems more suited for answering as a blog post (especially if I've asked the same question at some point in this DIY process myself). This time, it's all about lighting:
Hi Sarah,

Your blog is great, very funny. … I was wondering if you had any good ideas about a really cheap way to build a really nice front door/entry chandelier? Where would you find the stuff to build it really cheap?

Thanks, John
Hi John!
Unfortunately, my house really hasn't had much of a need for a chandelier. It's "builder's basic", so-to-speak, so the only room that's really had the opportunity for a light fixture as grand as a chandelier is the dining room – which as you might have seen, isn't exactly finished yet (but not to worry, the last wall and a new project will be shown later this week!).
BUT, that doesn't mean I don't like to tuck away those awesome DIY lighting ideas whenever I spot them (either from other DIYers, on Pinterest, or just a neat fixture in a store that looks DIY-able).
Truth be told, most of the DIY lighting projects I see are not my favorite. The whole point of DIY projects is to fake a professional look, and most of the time, DIY light fixtures look a little (okay, sometimes a lot) like a child's craft project – aka, the really bad kind of "cheap". I think the way to avoid this mistake is simple – just follow a few universal do-it-yourself tips (which can obviously be applied to more than just lighting):
Stick to the clean lines. Simple can be chic.
Don't think that it will look less cheap by adding more of the same cheap materials…

that

hardly ever works, and more often looks like a mess.
Don't underestimate the power of combining a simple, pre-made option, but adding your own flourishes to look more high-end (like a richer stain, changing the color, or adding more elegant-looking bulbs).
I prefer light fixtures with sculpted or modern lines – so while these ideas below may not be the conventional grand chandelier, they certainly create the wow factor your entryway might need. My favorites are listed below. Good luck, and I'd love to see photos once you've completed your entryway!
My Favorite DIY Lighting Project Ideas
Kelly from View Along the Way has two of my favorite pendant light projects that I've ever seen. First, there's this dodecahedron project made from a series of carefully cut wooden pieces. I wouldn't necessarily call this one an easy DIY; the math and precision required to get everything to fit just right would likely make me throw a tool across the room at least once. But if you have more time than funds, or if you're a glutton for punishment mathematical challenges, the look is pretty incredible, especially when the light filters through (and you can adjust the overall size by making each piece longer… and possibly a little more math).
Kelly's other project would have cost her a whopping $549 retail, but thanks to a little ingenuity, she managed to turn a $59 tealight holder into an amazing fixture for her office. With a little careful eyeballing at discount stores, you could stumble onto the same little deal… but this project requires quite a bit of luck and patience.
Another favorite of mine is from Brooklyn Limestone. This was a piece she had custom built by an expert, but you could attempt the same with a steady hand and jigsaw. Just like Kellly's wood project above, it takes precision. And either a lot of patience, or a lot of beer to quell the frustration.
This Brass Chandelier DIY might be my absolute favorite. So much so that I've earmarked for my own dining room. Per the tutorial, the hardest part is ordering everything, but since I've never done any wiring projects, I think my own experiences might be a little different.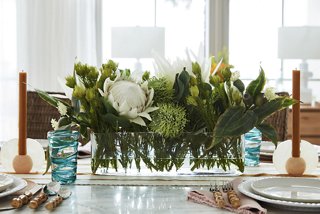 The above chandelier was adapted from this original DIY project from Lindsey Adelman – another project I've earmarked for my house (this one would be perfect for the upstairs office).
It's been so popular, there's even a kit now for getting everything you need to create it yourself (and there are some really neat adaptations such as this one done by other DIYers, so I'd suggest looking through the flipbook on her site for more ideas).
Finally, there's this piece of magic from Sarah M. Dorsey. Maybe it's the name that has me biased; maybe it's the fact that unlike the rest of these tutorials, she used completely unconventional materials to create something more amazing than I thought possible. The only thing I'd probably want to do differently is the color (I'd go with something more neutral and leave the brass/metal pieces as-is for a mixed metal look).
So John, there you have it. My recommendations for some great DIY lighting fixtures. Readers: do you have any of your own to share?