Disclosure: this post may contain affiliate links, which means I may make a commission if you decide to make a purchase through one of my links, at no cost to you.
In case you missed it: my boyfriend and I are tackling the remodel of a 1946 Spartan Manor vintage travel trailer. It's going to be a long project, but first, we needed to get it moving from the family home, where it's been sitting since 1987!!! In today's post, I'm covering the not-so-simple tire removal, what we discovered, getting the camper out of the wooded lot, our first road trip, and RUBY'S NEW SPOT near the house!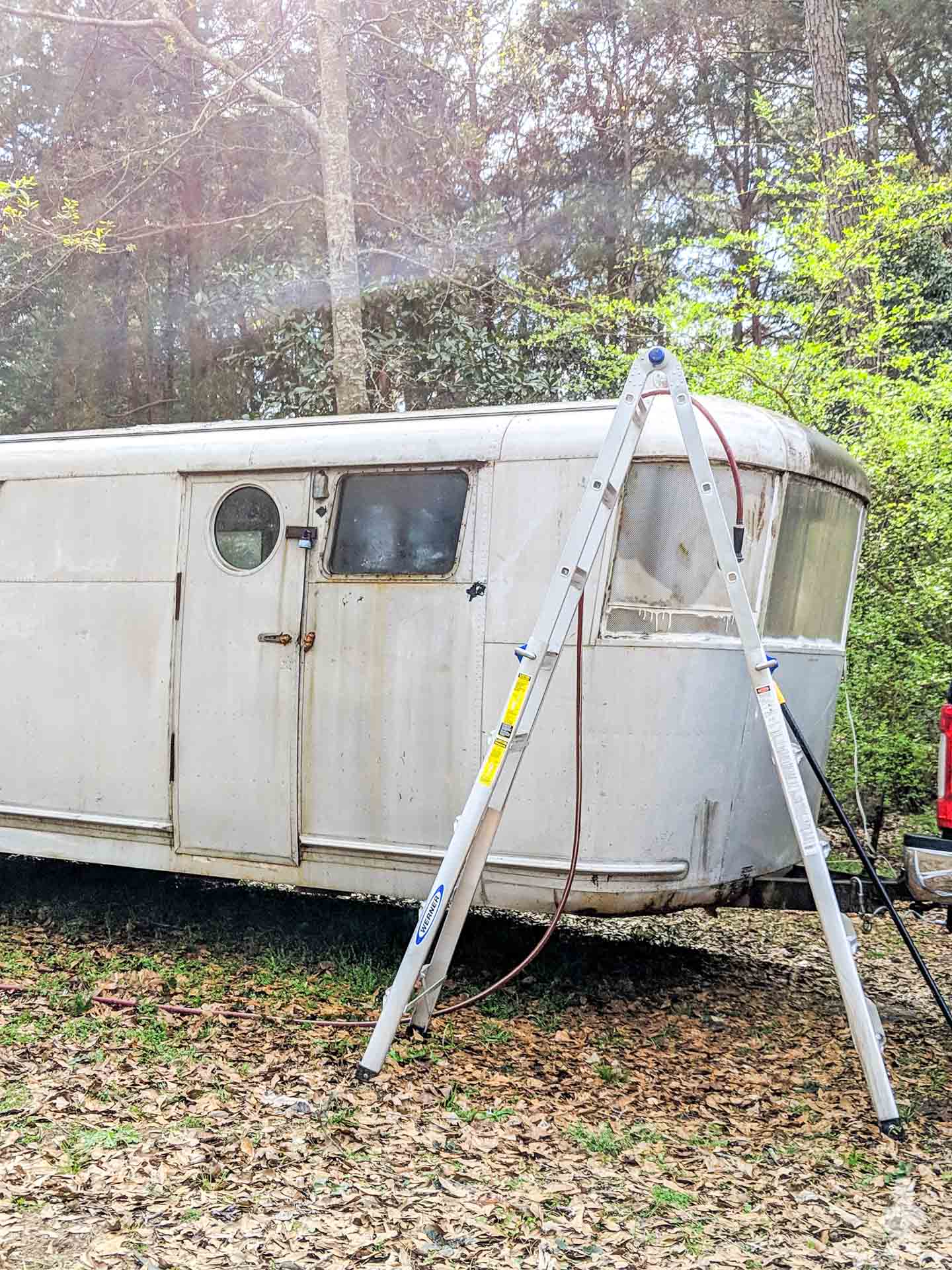 When I last left off after Ruby got her first good scrub, I mentioned that I would next recap how we got the tires moving. But, it's been quite a while since I've been able to sit down and write this chapter, edit the footage, etc. Part of that is because it's been a busy summer of other DIYs at home. Still, many of you guys have been very eager for more since the last update, so I'm going to do more than what I originally promised. What was intended to be episodes 3 and 4 is now a longer single episode. Buckle up, because this post is L-O-N-G!
Ruby's Revival, Episode 3: Getting the Camper Out of the Woods & First Road Trip!
This video was a real bear to cut down. So, for that reason alone, I want you to watch it because it was such a challenge to make! But, probably the thing I should emphasize instead is how it will benefit you, which is to say that a lot of the nail-biting and satisfying parts are BEST captured on video. You can also watch it on YouTube by clicking here.
Ruby Gets Relocated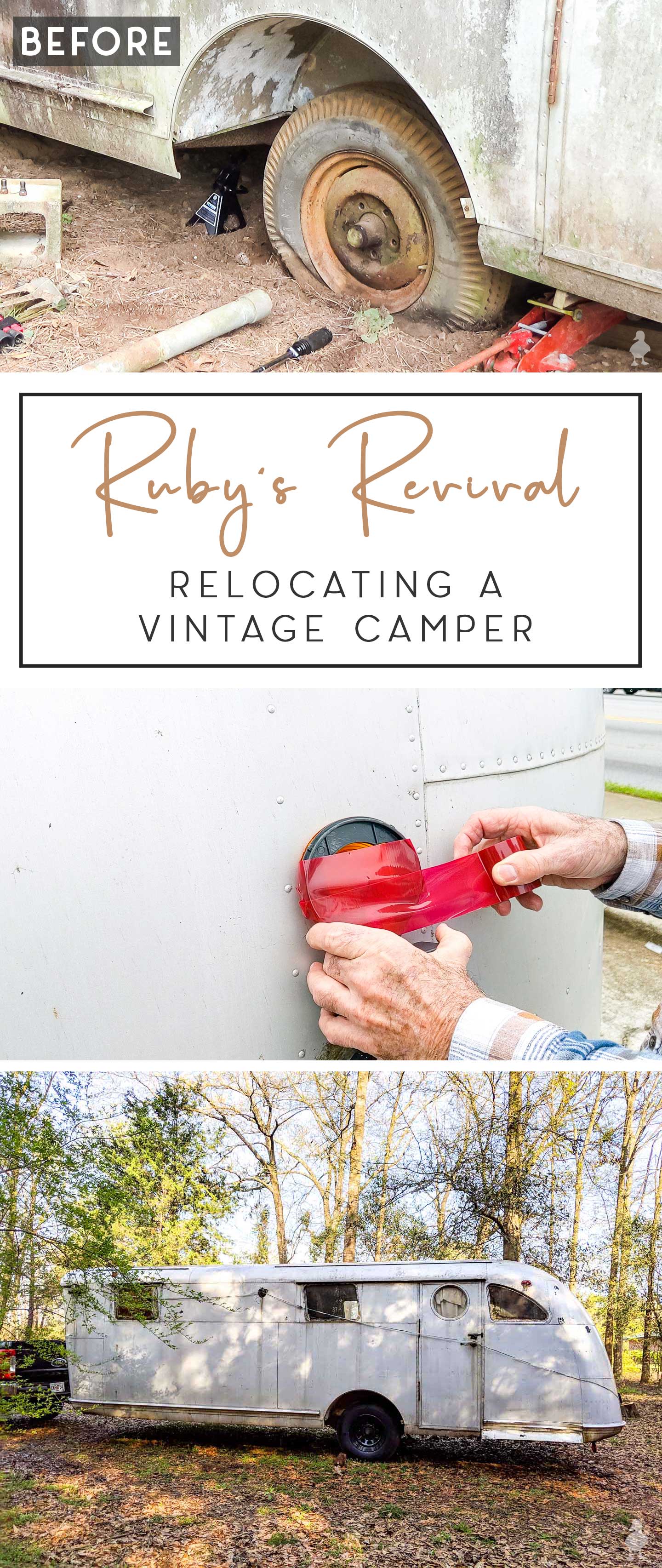 We have a lot more coming up verrrry soon, too (and some new sponsors that can help move this particular project along since it's going to be such a budget-hog), so I need to get this chapter DONE before I can move on to all the stuff that's coming next!
A change in the schedule
To recap (and for those of you just now finding this post but don't know the history), our 1946 Spartan Manor travel trailer has been part of my boyfriend's family for three generations. It's been used as a workshop that whole time, so it is a MESS. See the original tour here. Kyle's dad turned over ownership to us, but it's a BIG project. Our goal is to turn it into a living space we can take on the road, but it's been sitting with flat tires in a wooded lot for more than 30 years. Miraculously, it escaped a few fallen trees that very nearly ended our project before it began when a hurricane hit Georgia last year. We knew we needed to get Ruby moving to a more appropriate spot where we could work on it (and that wasn't 4 hours away from the UDH), but we weren't quite prepared for how soon that really had to be!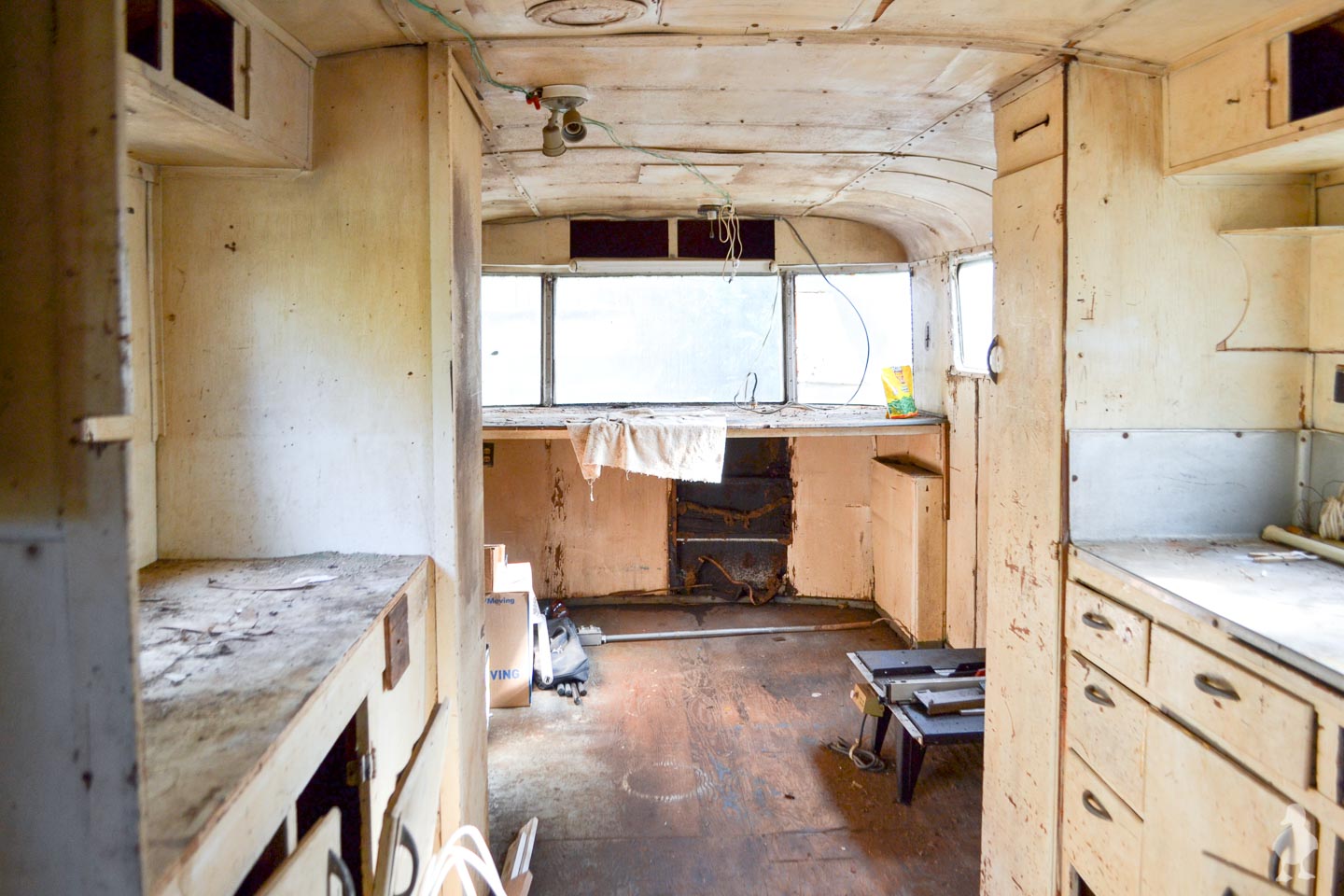 Kyle and I got the news that his childhood home got an offer and that his parents were going to accept on the same weekend we gave Ruby her first wash. So, as tired as we were and as much as we had things to do back home, we needed to get Ruby moving fast. We came up with a game plan to return just a few weeks later with new tires and rent a truck that was capable of towing Ruby to her new home (which we also had to quickly find!).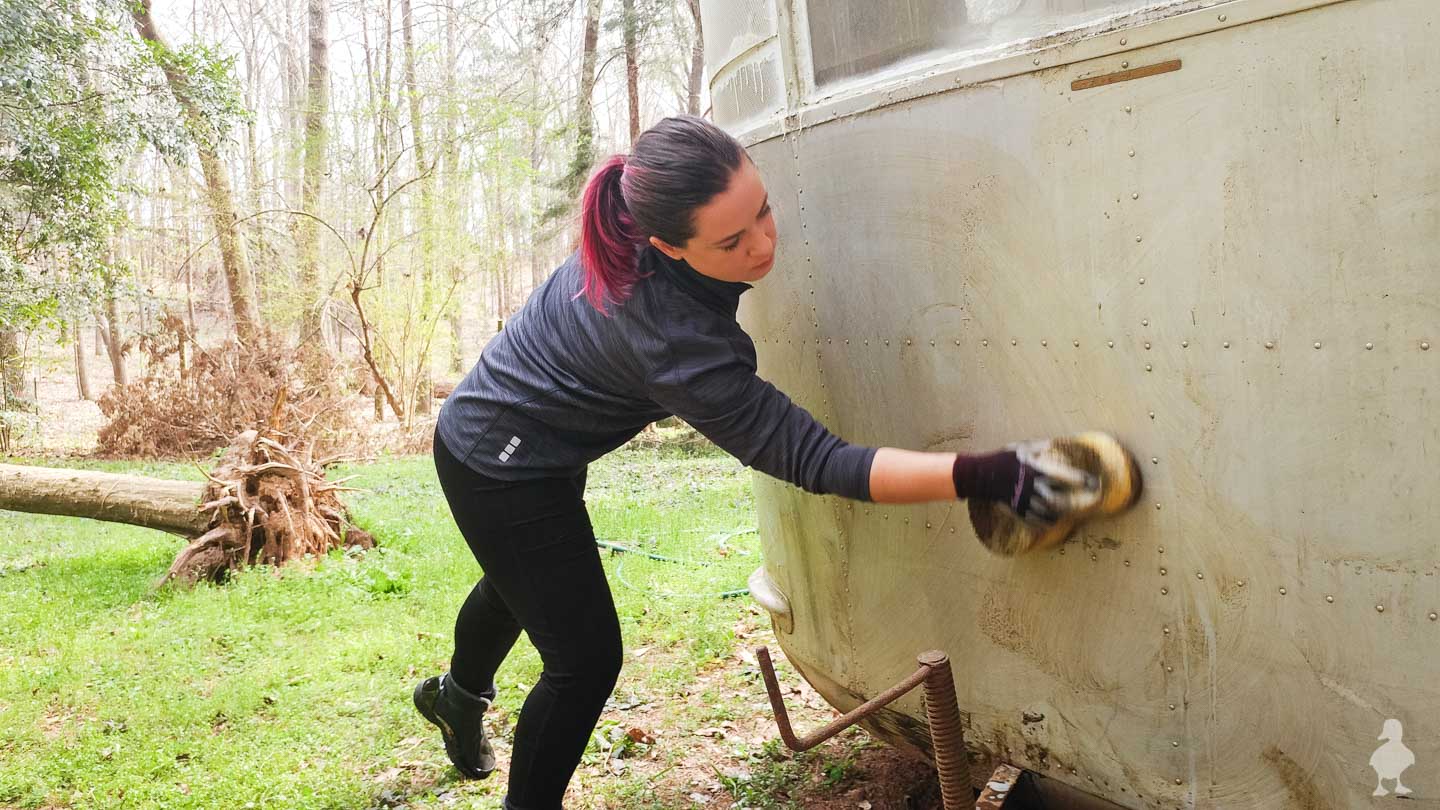 Sidenote: the truck thing is part of our current issue with doing updates. We need to be able to tow this thing back and forth, and neither of our everyday vehicles can handle it. So, if we have to move it, we have to either borrow a truck from family/friends or rent one, which forces us to have a more formal plan and eat up an entire weekend so we use the money and time wisely. Towing capacity for a 1946 travel trailer wasn't exactly on my radar when I bought my Jeep (which, P.S., is in the shop AGAIN after breaking down this summer). We hope to remedy this situation sometime soon!
Thanks to Kyle's quick sleuthing, we found an RV/boat storage place with an open lot for Ruby for around $70 per month. Best of all: it was a short 15-minute drive from the UDH! If we could drive it the four hours home and get it to the lot in one piece, it meant no more several-hour-round-trip weekends away and no scary trees to fall and flatten our project. This would make things a lot easier on us to work on Ruby periodically, but we had one major hurdle first: the tires.
Getting the old tires off
Ruby's original tires had been sitting with Ruby for the same 30+ years it had been sitting on the lot. With nothing to protect them from the elements, all they could do was rot. That meant we had to get those off and new ones on. As you may have spied in Episode 2, Kyle had successfully removed both tires and rims as I was hand washing the sides (I got a few comments wondering why the camper was heaving up and down as I was working on it… that was Kyle working the jack on each side).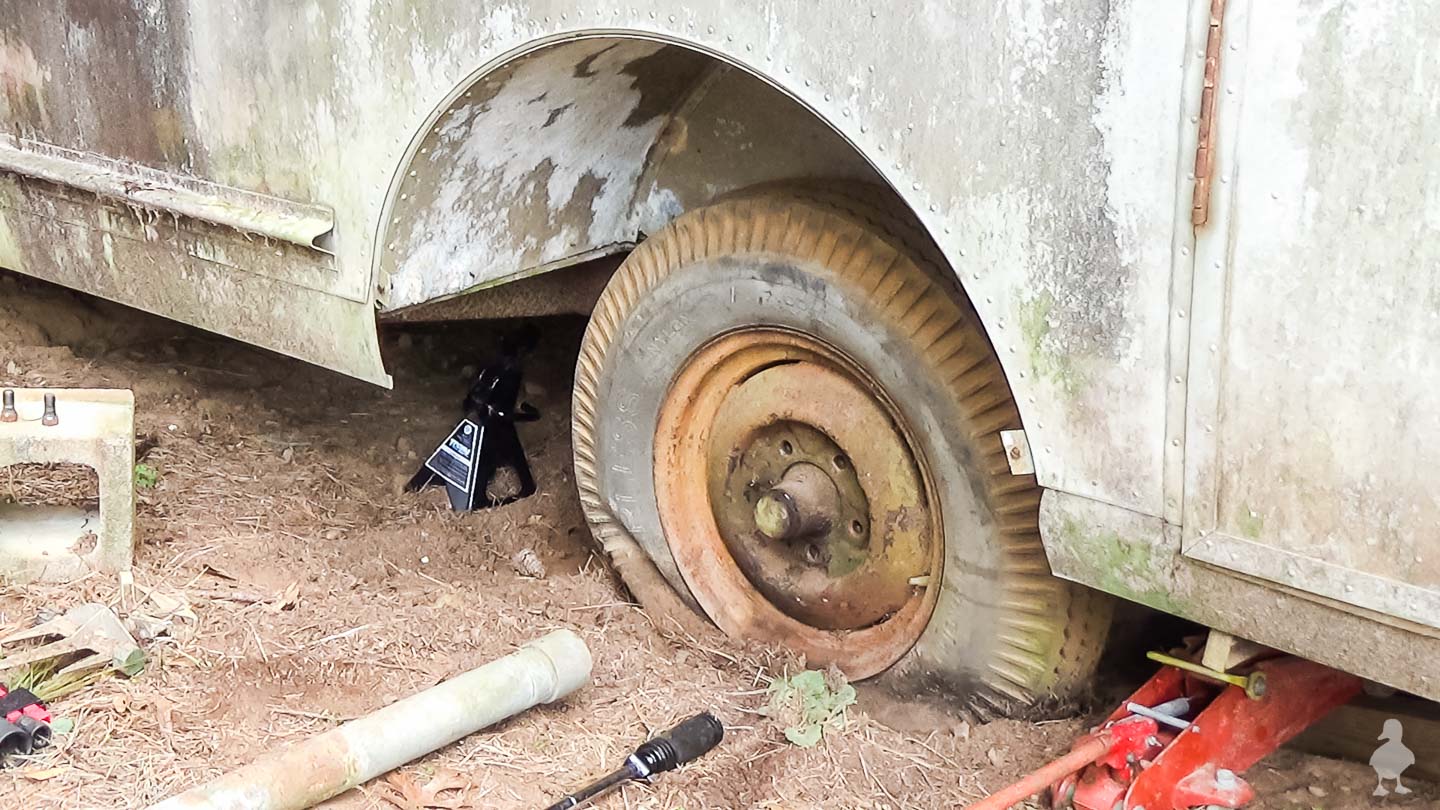 It took some elbow grease, but Kyle got them off after about an hour. A good sign — it meant the studs holding the tire on weren't rusted into place, and the rims weren't rusted on the axle (you can imagine this is me parroting what Kyle said was good news… I'm entirely lost about the auto-related side of this project). Aside from the tires themselves, the other concern was whether the axle had rusted to the point where it could no longer rotate. With the tires finally off, Kyle got his second bit of good news: the axle was well-greased, which meant that Ruby could MOVE!
That would be our last bit of good news for a little while…
Ordering new tires
We took the tires home with us and ordered a new set that was supposed to fit on the existing rims. An unexpected oddity: the old tires were in imperial measurements, while the new tires had to be in metric. Kyle tried to clean up the rims a little bit with an angle grinder, and then he took them to a tire shop to have the new tires installed. Dun dun dun…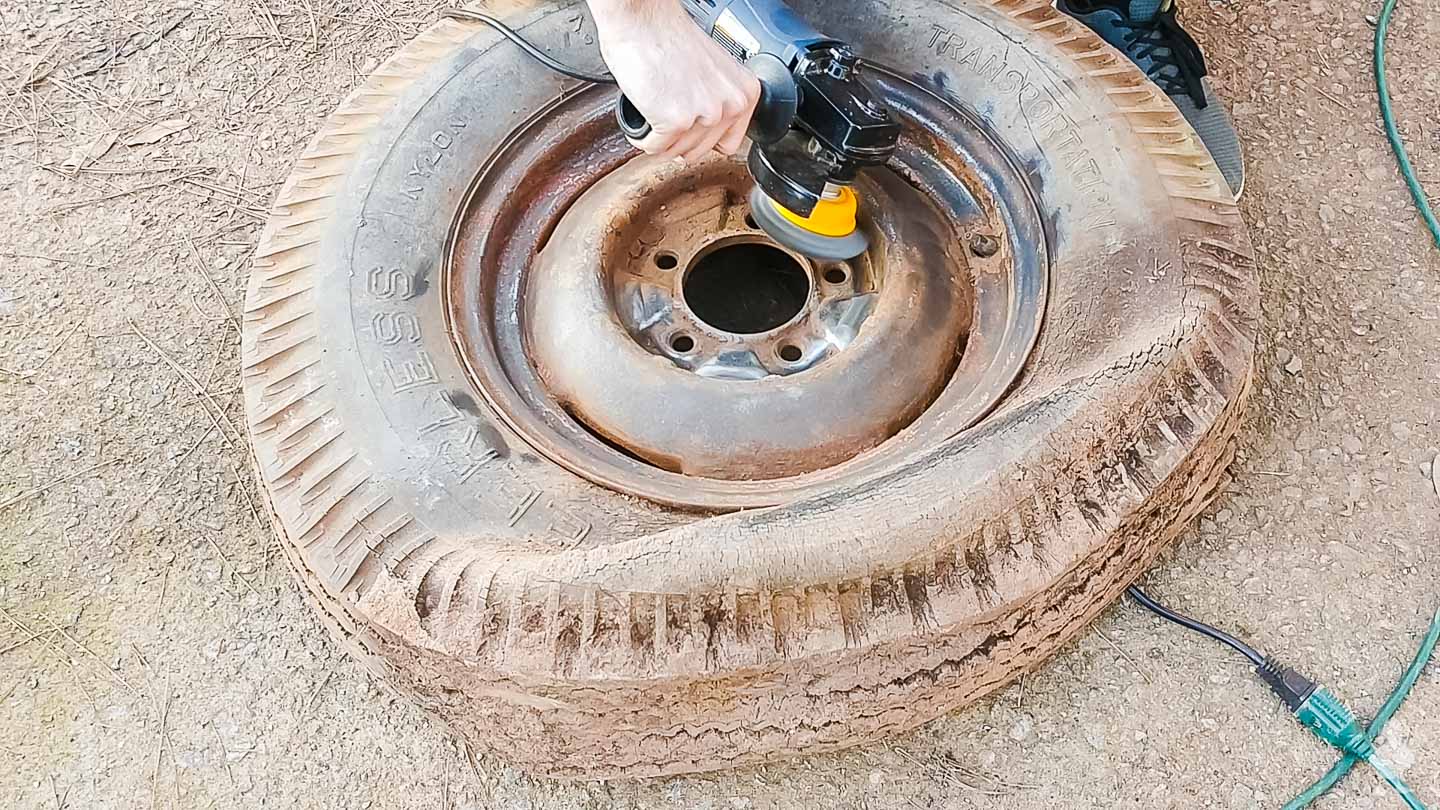 The old tires came off, but the tire shop wasn't able to install the new ones! Unfortunately, they said, the rims were just too far rusted and would not create a seal to keep the tires inflated. He took them to a second tire shop to confirm the findings: we didn't just need new tires; we needed to buy new rims. $$$
Considering that we were on a tight time frame to get back down to the property and retrieve our camper, we were pretty disappointed at this little snafu. It meant we had to place a rush order (+ $$!) on new rims and pray that they would fit.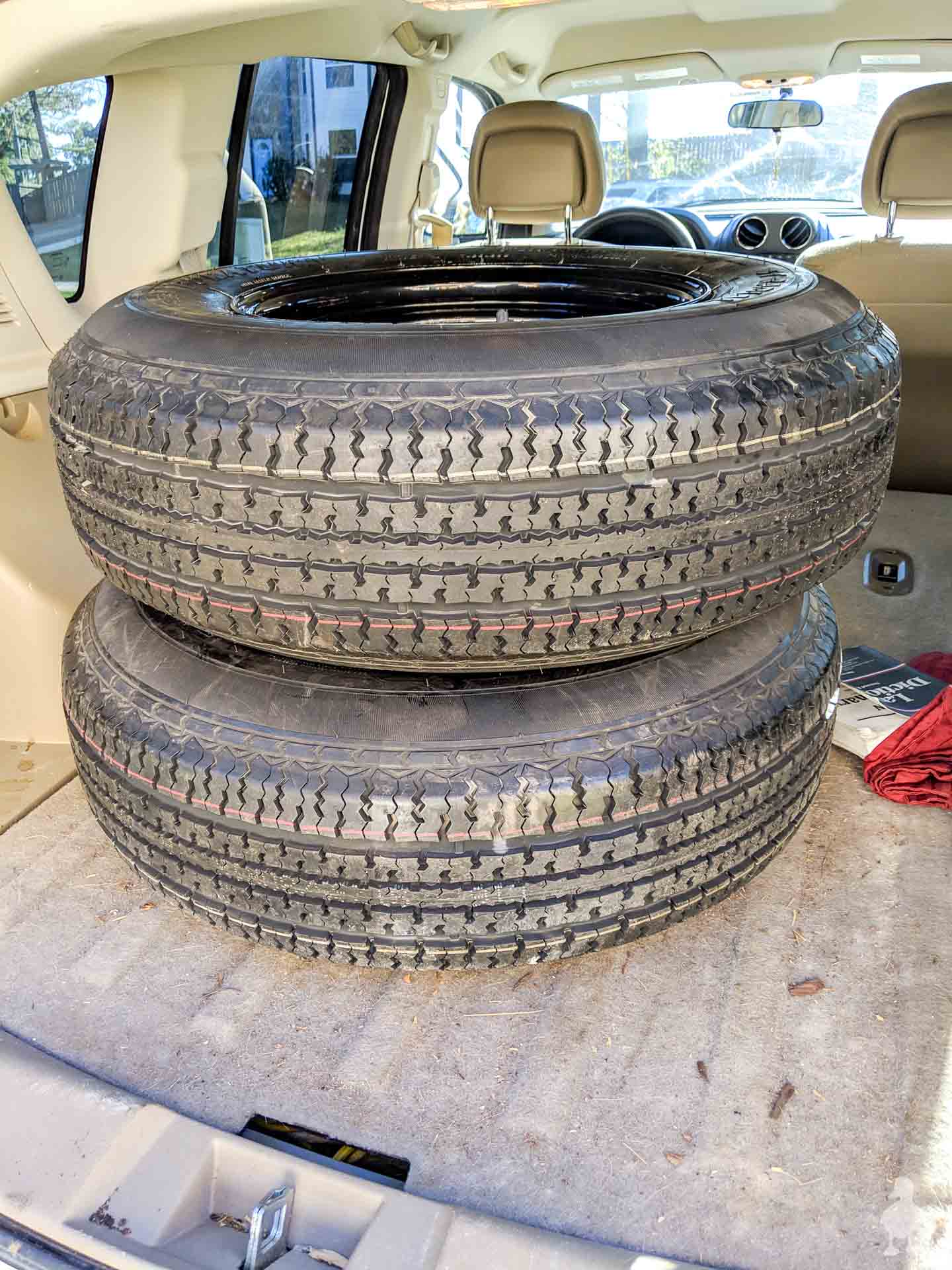 Just to give you an idea of how needle-in-a-haystack this particular search was: in an online warehouse that sells thousands of different types of rims, only TWO had the bolt pattern we needed to fit back on the camper. We don't particularly like their style, either: we want to keep as much of the original charm as we can (even though a lot of the camper has to be gutted, of course), so we will probably wind up re-investing in new rims in the future that better match the originals. When in a hurry…
Putting the new tires on
With our expensive AF new rims and tires, we headed back down on a Friday evening to Americus, GA to say goodbye to the family home and give Ruby her new slippers.
Luckily for me, I got to stay out of this part; the tires went on smoothly while I was still sleeping and then stuffing my face with pancakes made by Kyle's mom the following morning. Kyle and his dad went out, set up the camera, and got to work. It's a bigger challenge than you might think to not accidentally jump in front of the camera while your focus is elsewhere (especially when you're still relatively new to this whole Sarah-films-and-takes-photos-of-everything-for-work thing PLUS minding his dad from stepping in front of the camera too), but thankfully, Kyle was on it and did a great job.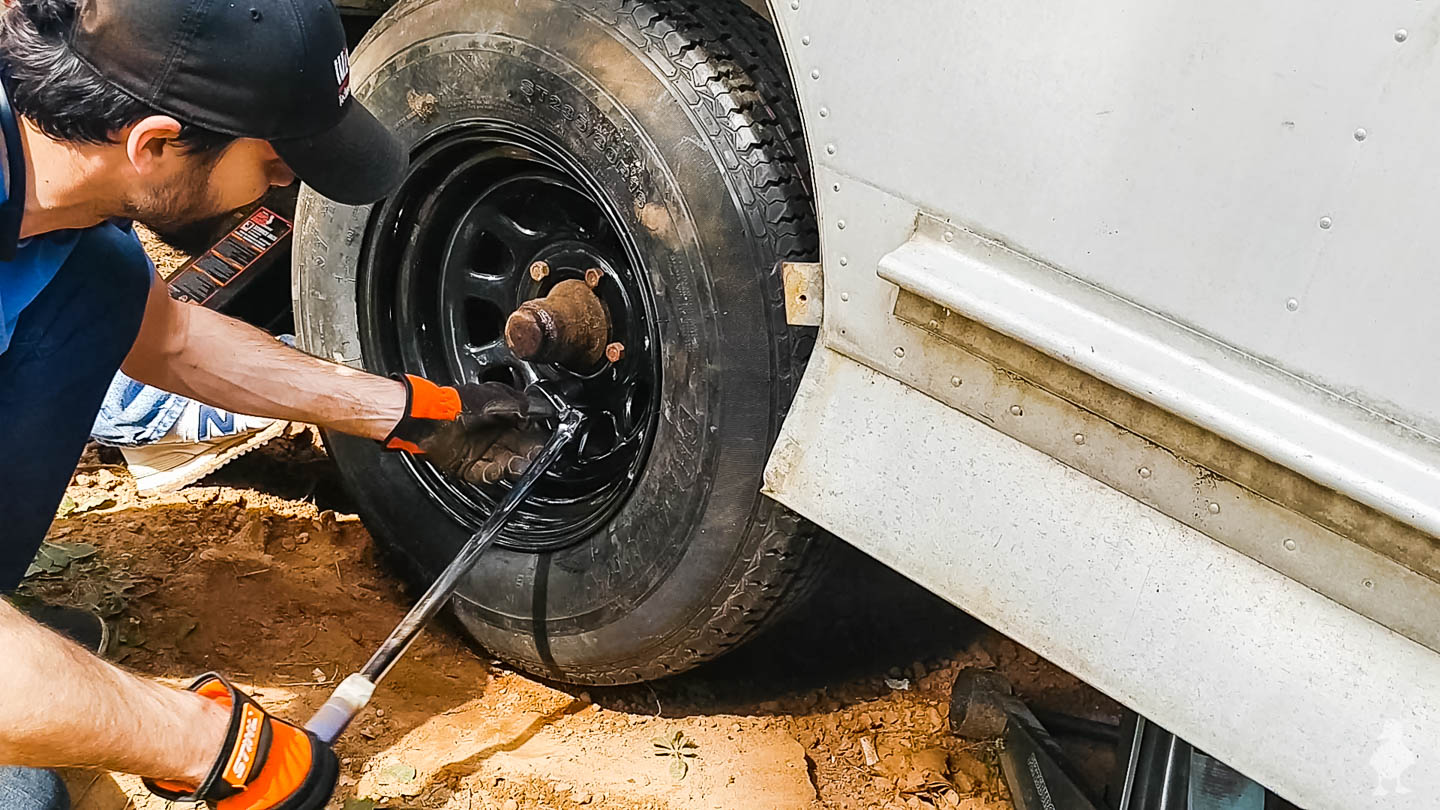 Moving the camper
And now, we get to the nail-biter part! As I've mentioned, the property was now sold and we needed to move the camper out without damaging it. This proved to be quite the challenge given how long the camper has been sitting in this spot and letting all the trees grow in around it! 30-plus years ago, it was a tiny Christmas tree farm, and Kyle's Dad simply drove it into place. Now, we had an obstacle at every access point but one. And that was still next to a stump.
To get our truck into place and the camper out, we would have to spin the trailer completely around, about 180 degrees. We also knew that dogs and armadillos had likely dug holes under the camper at various parts in our timeline, so the chance of hitting a hole or uneven spot in the dirt was high. The bottom of the camper is outfitted with an aluminum skirt that conceals the frame; if we were to simply drag it, it would rip the skirt off and damage the lower paneling. We would have to find a way to elevate the tongue (and the heaviest part of the trailer) while keeping the entire frame off the ground.
Are you tense yet? Yeah. Us too.
On our team, however, was Kyle's ingenious dad, who came up with our kooky plan:
One pair of 2x10s. Two 3-ton jacks. And a pair of chains linked together.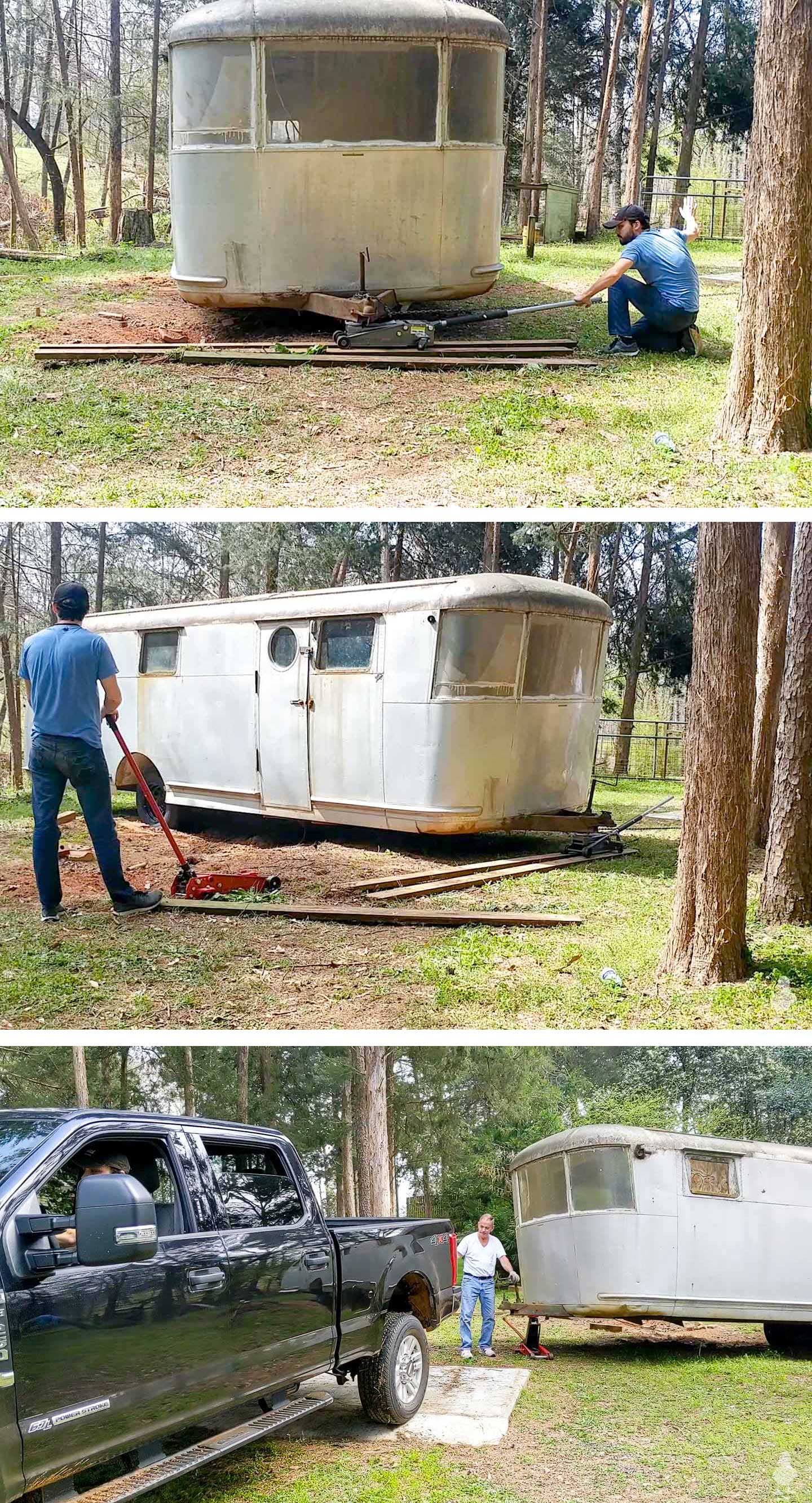 The first jack raised the tongue of the trailer and rested on the 2x10s, which Kyle would then pull. But, since this is obviously not what the jack was designed for, it would slip. The second jack would raise the tongue back up and into place to be moved again. Inch by inch (literally), the camper began to move out of its decades-old home. If this makes no sense in your mind (and I wouldn't blame you if that's the case!), you should check out the video. I sped things up to save your sanity, but it was pretty darn nerve-wracking for all four of us involved (me, Kyle, and both of his parents).
I can't tell you how relieved we all were to see the camper finally drop onto the truck hitch! Once connected, Kyle drove it into the field nearby to test it in forward and reverse before we took it out on the road (to listen for any squealing, grinding, etc. that could indicate an axle issue). It was a pretty satisfying moment to see her move!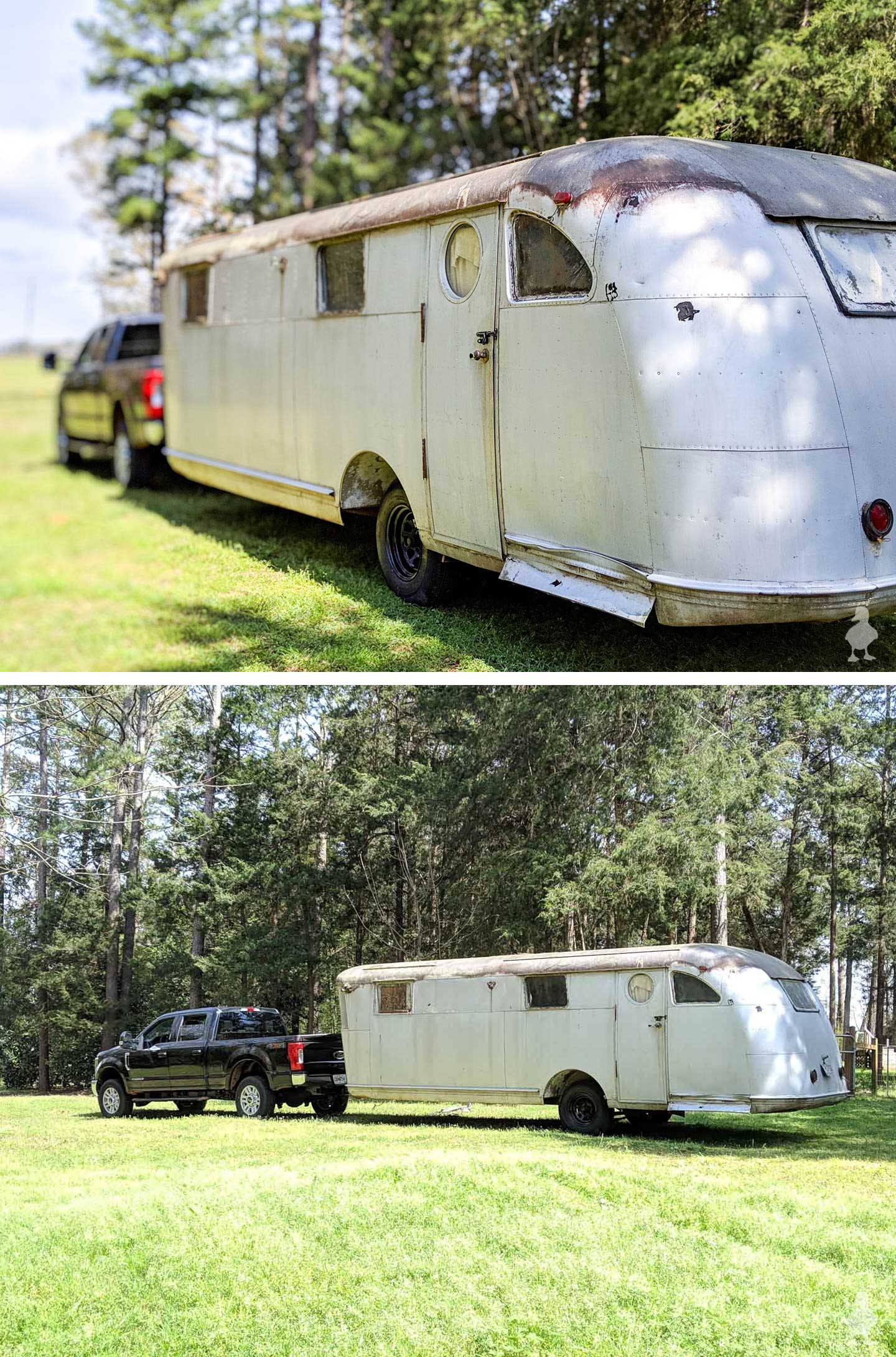 When the camper began to spin around, it also exposed one of those armadillo holes I mentioned! Crazy, right?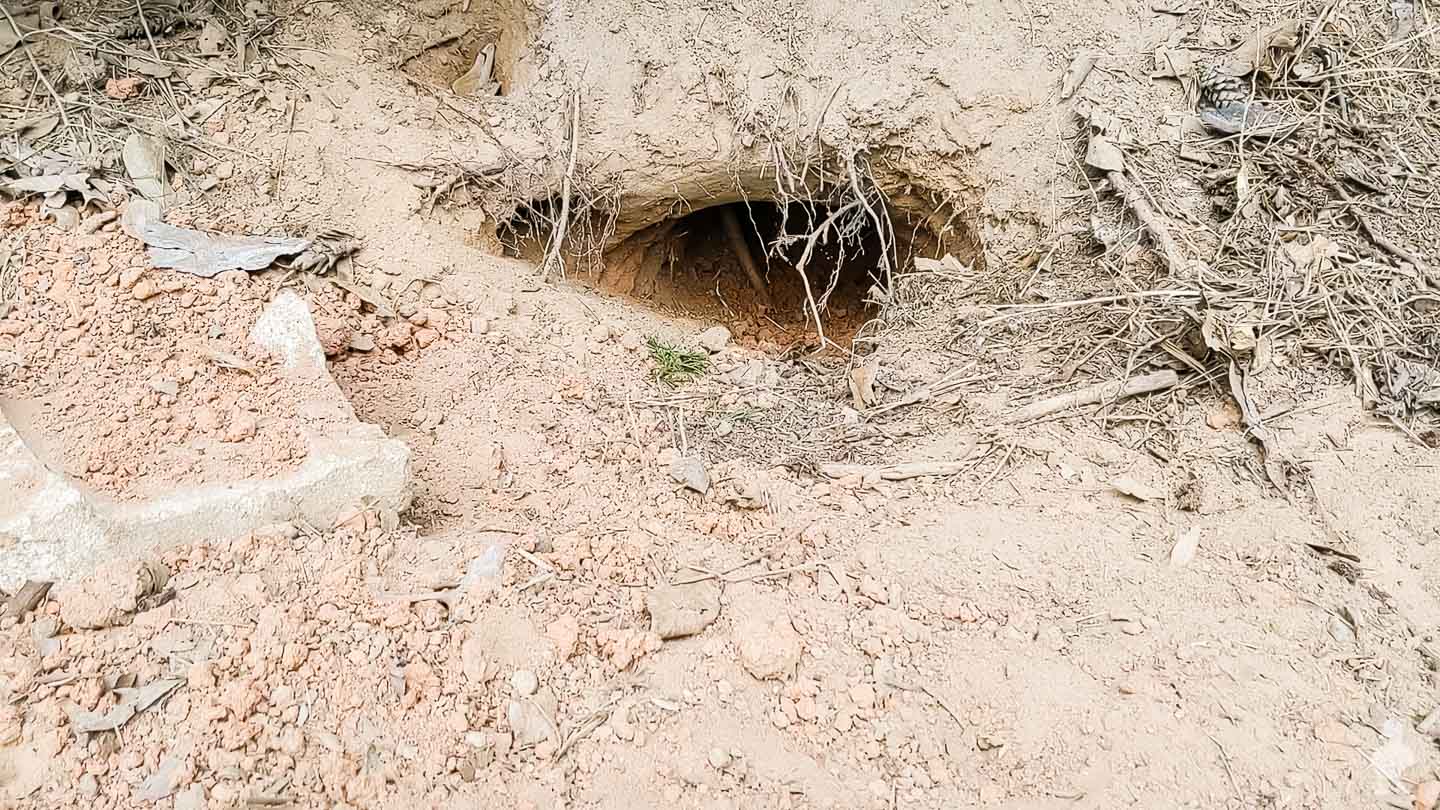 Friends: this is is where I originally intended on ending this post. But since this is a double episode, I'm pausing for a second to remind you to run to the bathroom and grab some coffee before diving into the rest!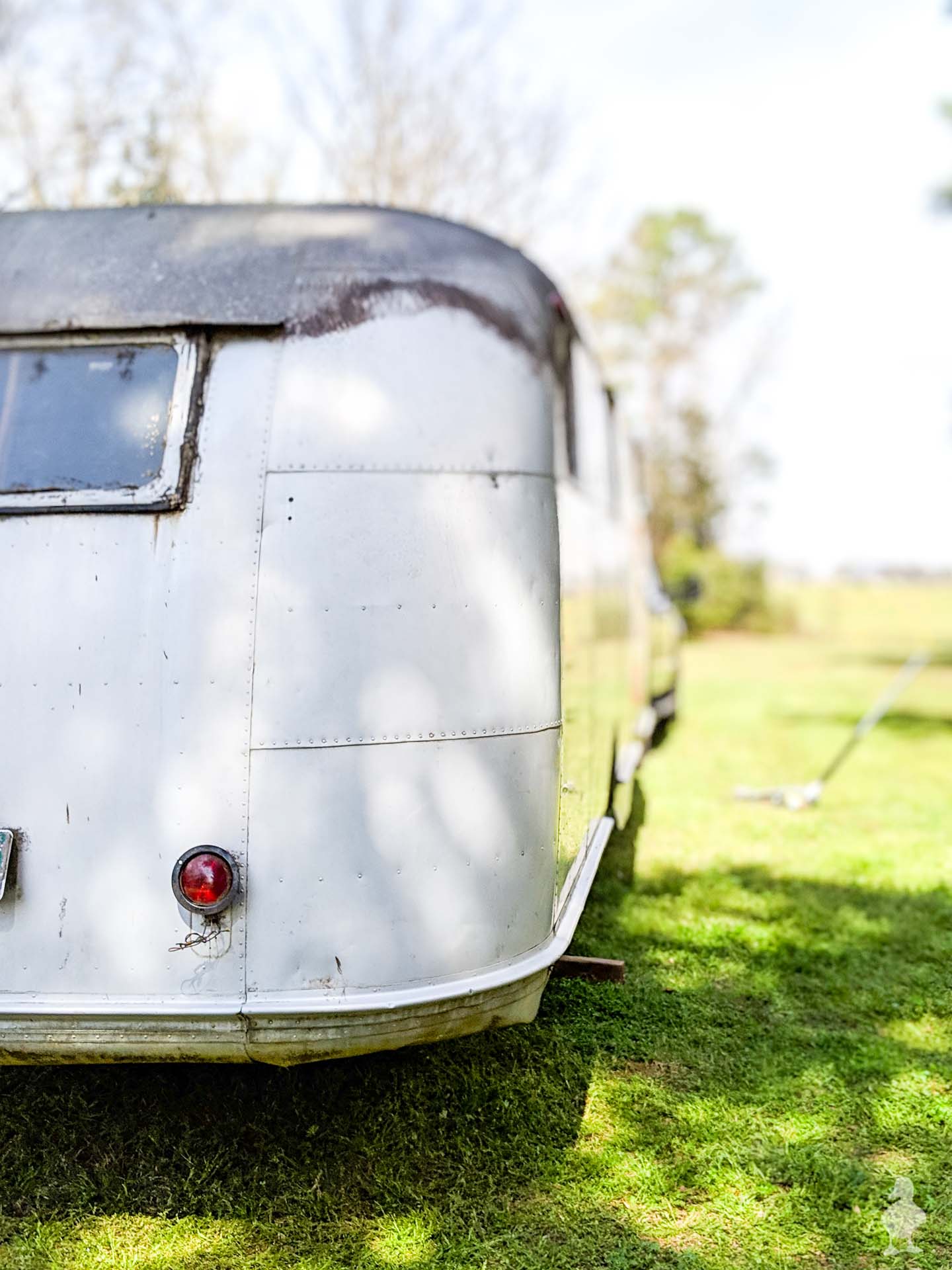 The roof scrub
With that, we needed to outfit the camper for road signaling and scrub the roof (now that it could be driven closer to an access point for a hose, I could bring out the ladder and scrub down the top). Kyle re-positioned the camper to a temporary parking spot for me to get at the roof. Then, he and his dad went to take a well-deserved nap.
It was really calming to get the rest of the initial grime off of the top. Since I couldn't reach it originally, I didn't know what I might find. But as I scrubbed, I found lots of old tar on the roof and what looked to be filled-in areas. Perhaps originally, Ruby did have air vents and was later converted to a workshop? The whole time, we had only known it to be a workshop, so this was a surprise. This meant that we might now have markers for new air vents.
I also found what looked to be old stripes of dark green paint along the drip rails (the ridges above the windows that divert water)! I think this might be the original accent color. How cool is that?!?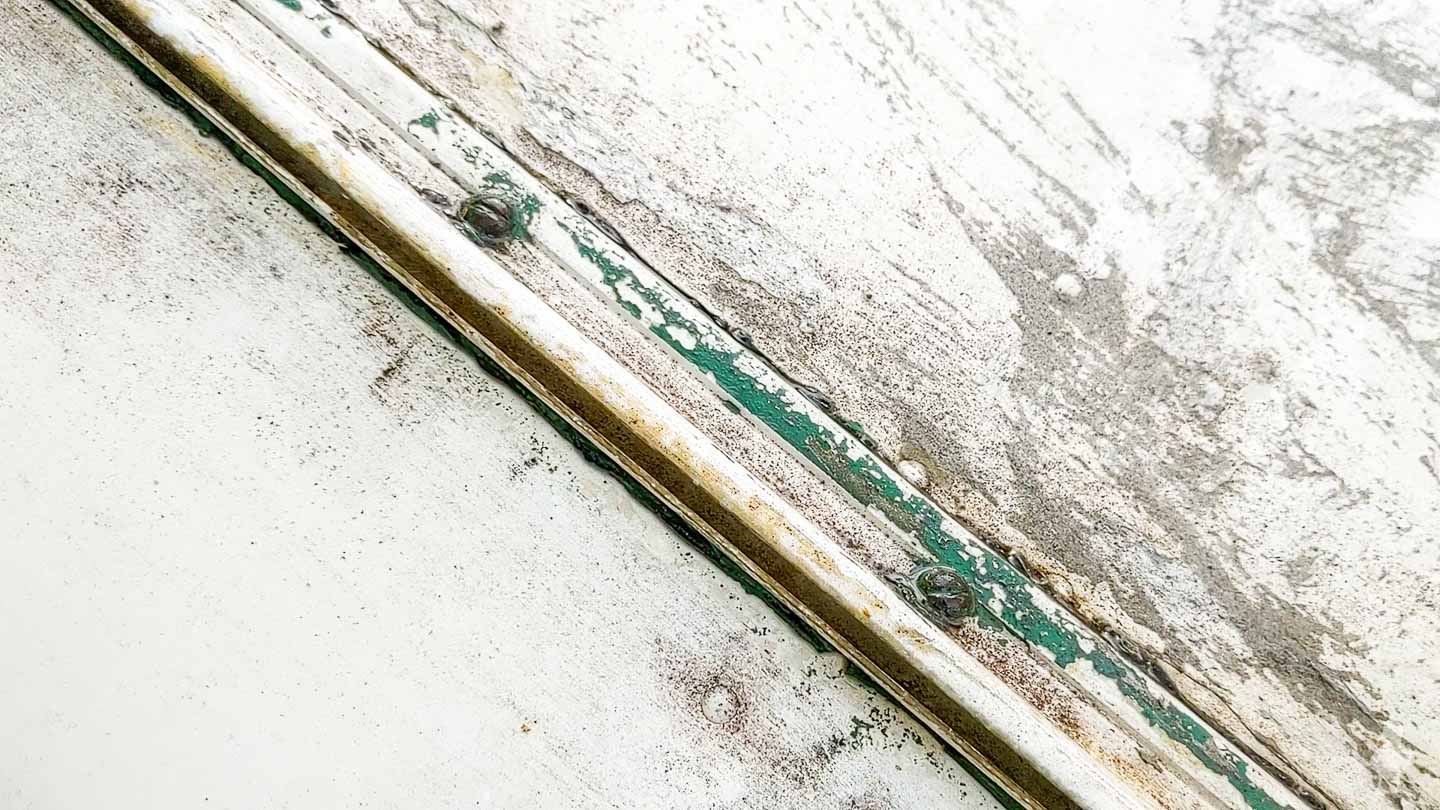 After telling Kyle about my find, he casually mentioned he found green paint inside the original wheels when he tried to clean them off — but dismissed it, thinking it was added sometime later.
New Number, Who Dis?
Before we took this trip down, Kyle went to the DMV to ask them what we needed to do short- and long-term (temporary permits, bill of sale, a new tag, etc.). They basically told us that due to the camper's age (and even the prior tag's age — there's kind of a cutoff point right there on trailer record requirements), we first needed to find the VIN and keep the bill of sale with us on the ride up. We really wanted to find a VIN if we could, because if we couldn't, we would have to go through the process of registering a new one and it would be a little more complex (lots more forms, have someone come out to confirm our claim that we can't find it, take it back to the DMV for assigning a new one… Kyle explains it a little more in the video. Like I said, I'm relying on him for the vehicle side of research!).
We found clues online for where to look: handwritten under one of the original cabinet drawers; inside the front door frame; and along the front tongue. We managed 2 out of 3: there's a standard 8-digit number (length-year-production #), but the drawer had only the last 4, so we almost thought we got it wrong! We confirmed using the number inside the door (we didn't find it the first time we looked, but once we found the drawer one, we went back and spotted it after a more thorough search). Note: from what I've read online, there doesn't seem to be much risk in sharing the actual numbers, but I'm just going to blur these for now.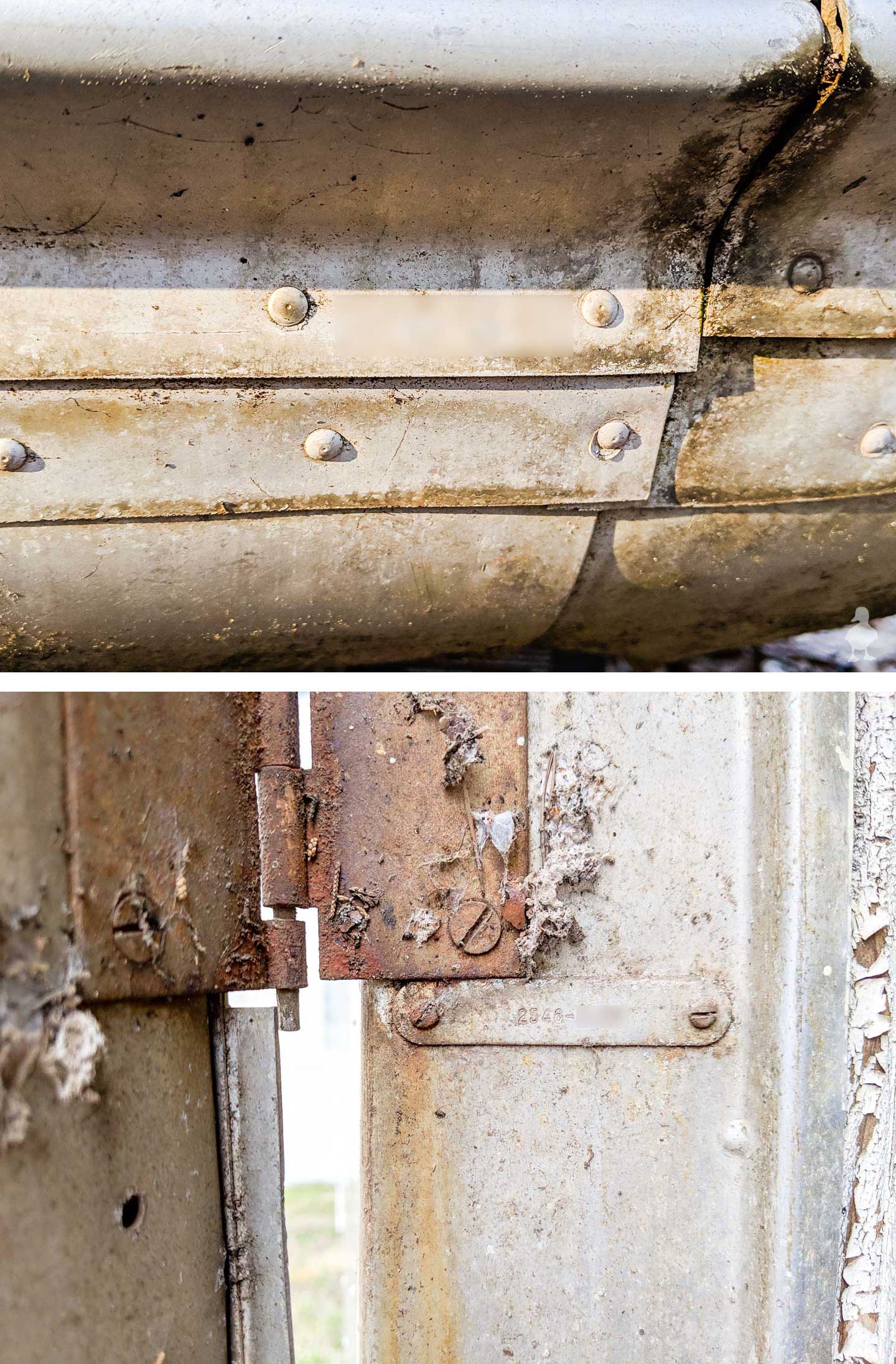 We also found a new registered VIN as a "homemade trailer" near the skirt in the back!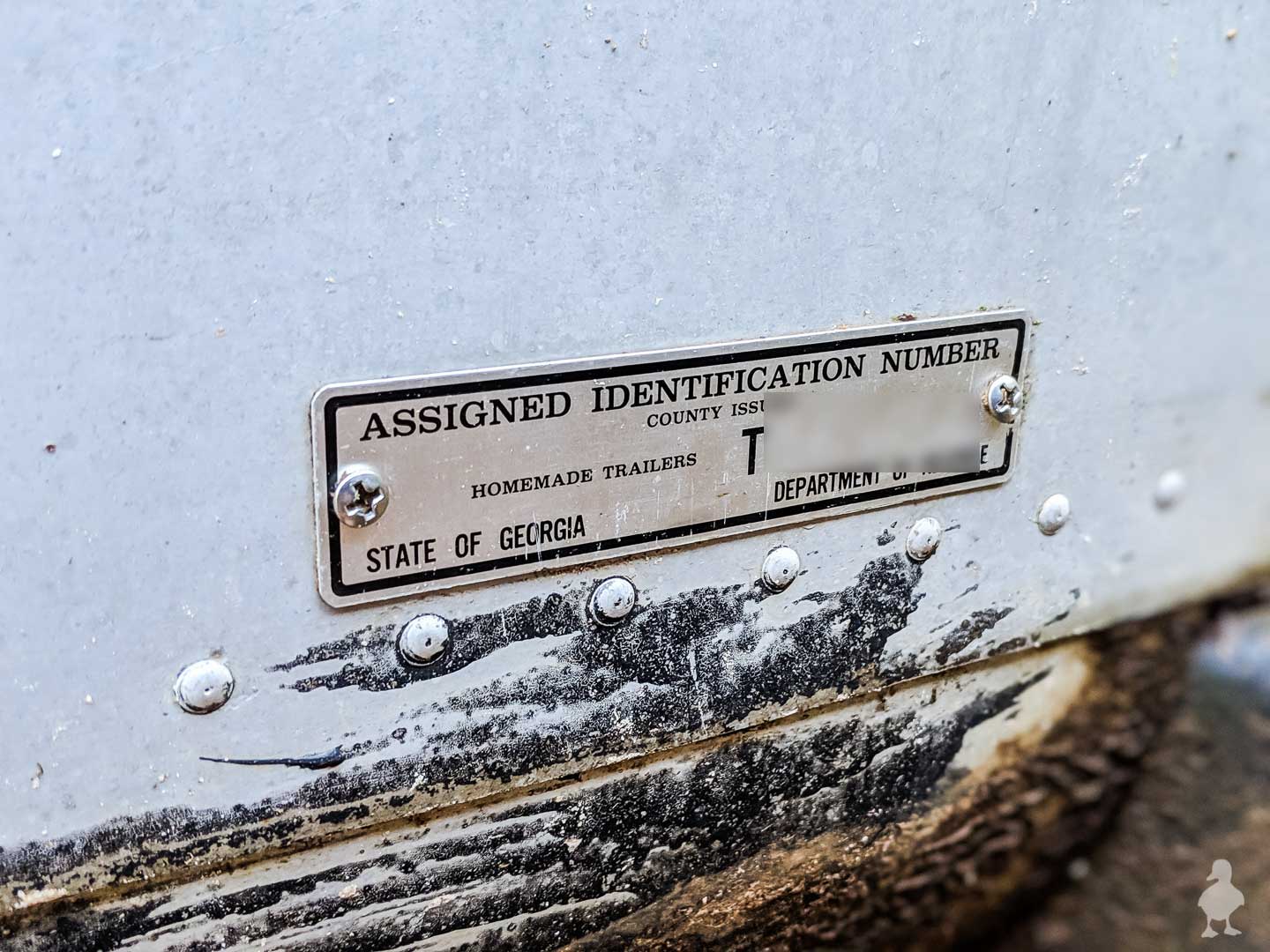 Next, we had to find a way to get some brake lights working to take it on the road. Kyle ordered temporary magnetic lights, but since it's an aluminum-bodied camper, we had to stick them under the camper and attach them to the steel frame. This also meant we had to be very careful while driving and avoid steep bumps — which we unfortunately wound up doing frequently until we got to the interstate!
But, that's jumping ahead a little. Wiring the brakes to the rental truck and taping all the extra wire down and worrying about hitting bumps and whether or not we should take back roads in case something went wrong or a million other worries had to be discussed first.
Did I mention we were all exhausted? And Kyle's parents were also trying to move their last few items out of the house on that same weekend? It was a LOT. And a little bittersweet for them. I snagged some chunks of cedar from around the property in the hope to turn that into a project in the future (maybe a carving?). I mean, we had the truck, so why not try to take a memento for Kyle to have with us in our home, right? Other than the trailer, that is.
I made a mental note that this is the last time the trailer would be on this property and, despite the fact that it was spring, it almost looks like fall to me.

Fitting that I'm sharing this post in September now that we have these photos to share!

Hitting the Road
PINS. AND. NEEDLES. That's how I felt when we pulled away from the Americus property.
We hit the road the first thing the following morning. Even though the purpose was only to move it from one parking spot to another (four hours away), it felt really special as Ruby's first "official" road trip. If you think about it, this trailer had been in the same spot for nearly Kyle's entire life. He has no memory of it ever moving. He'd always wanted to take a trip with this thing. So, just to see it moving behind us, he was ECSTATIC. Equally as nervous, but excited too.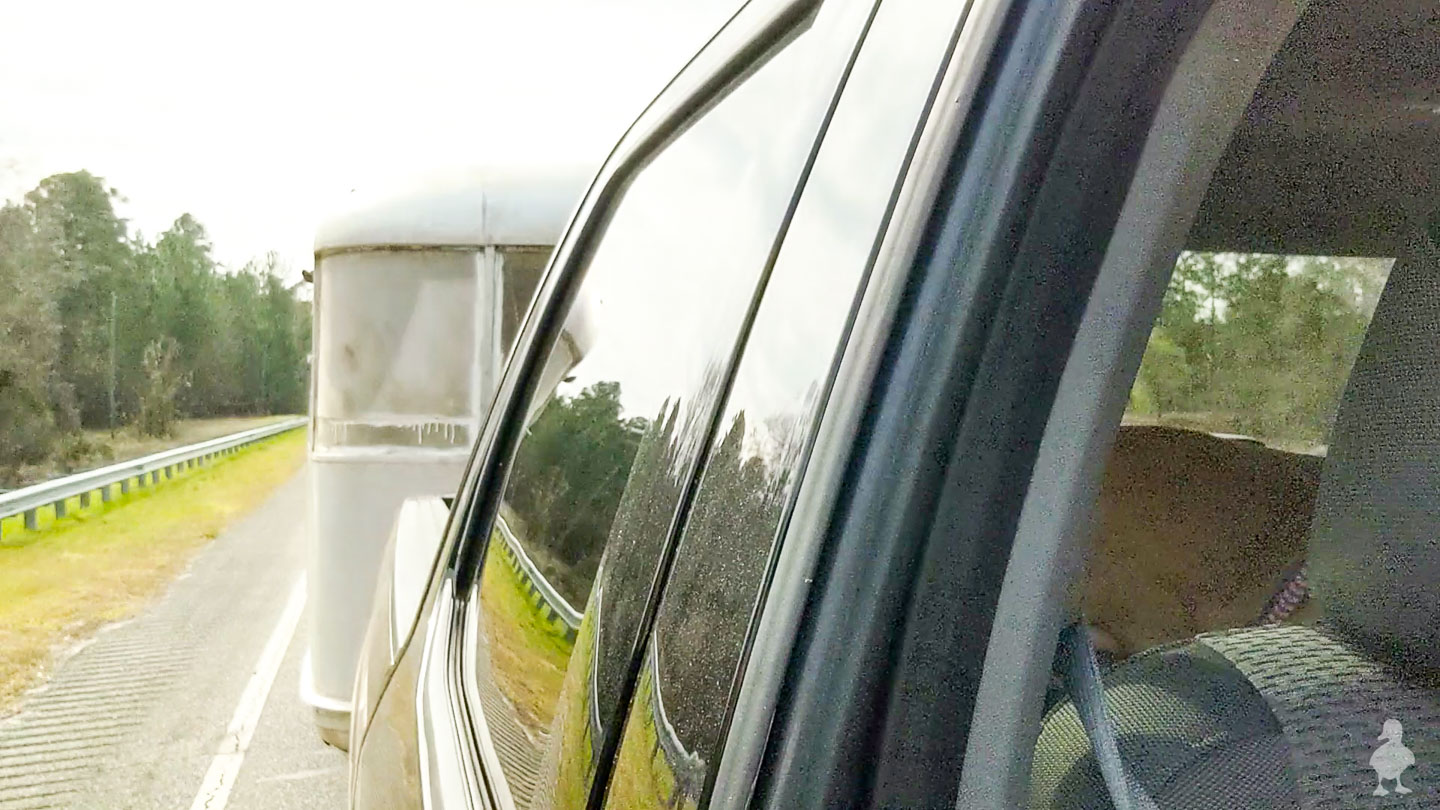 That's not to say we didn't have a lot of bumpy moments on that trip — literally. We busted the magnetic brake lights twice and had to pull over to an auto parts store about halfway through the trip, just as we were hitting outside of metro Atlanta. The magnets didn't hold up, so we wound up taping everything to the back (we'll obviously figure out a better solution in the future!).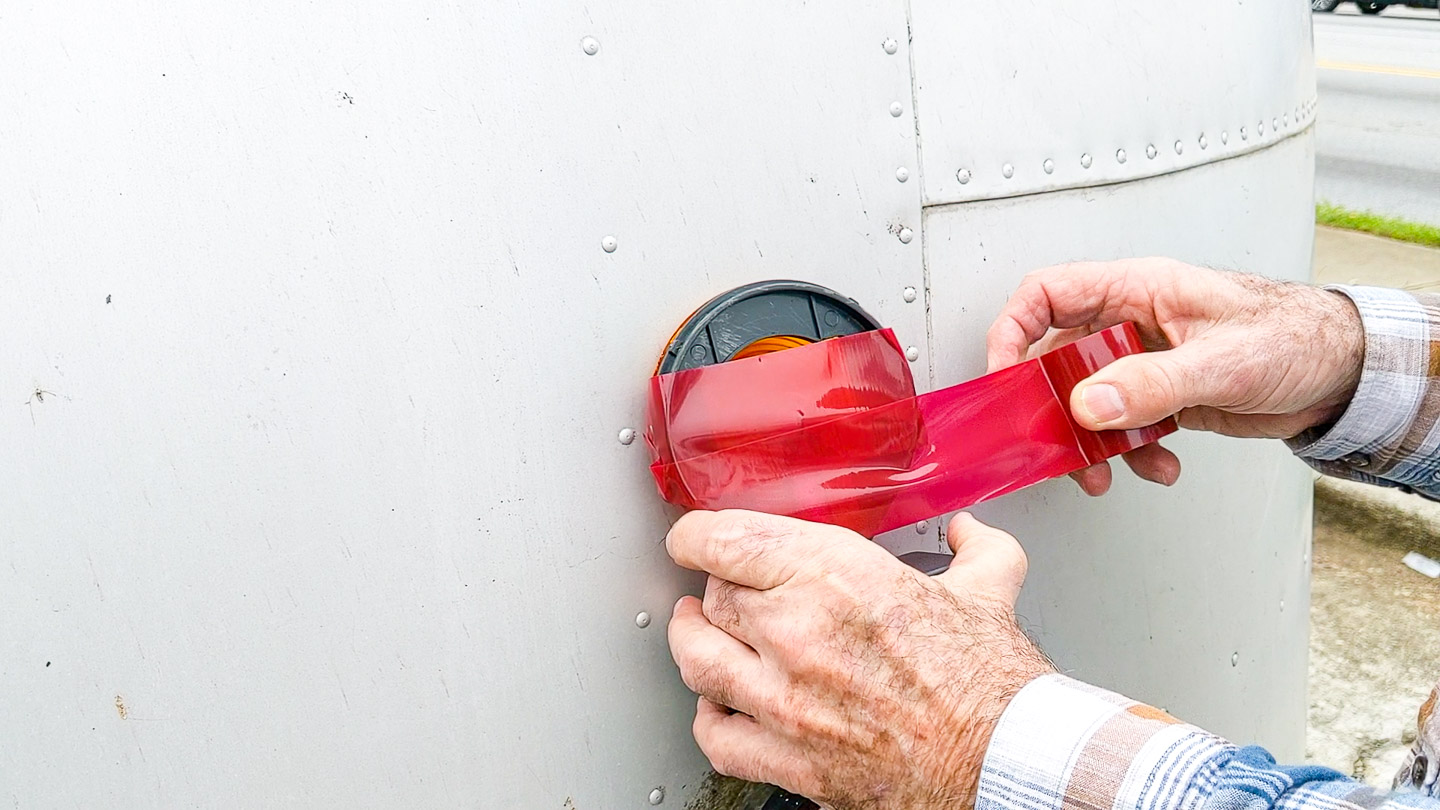 But, we had snacks, music, the pups had blankets, and Kyle's parents followed us up to Atlanta until we had to part ways (they continued on to their new home in Tennessee).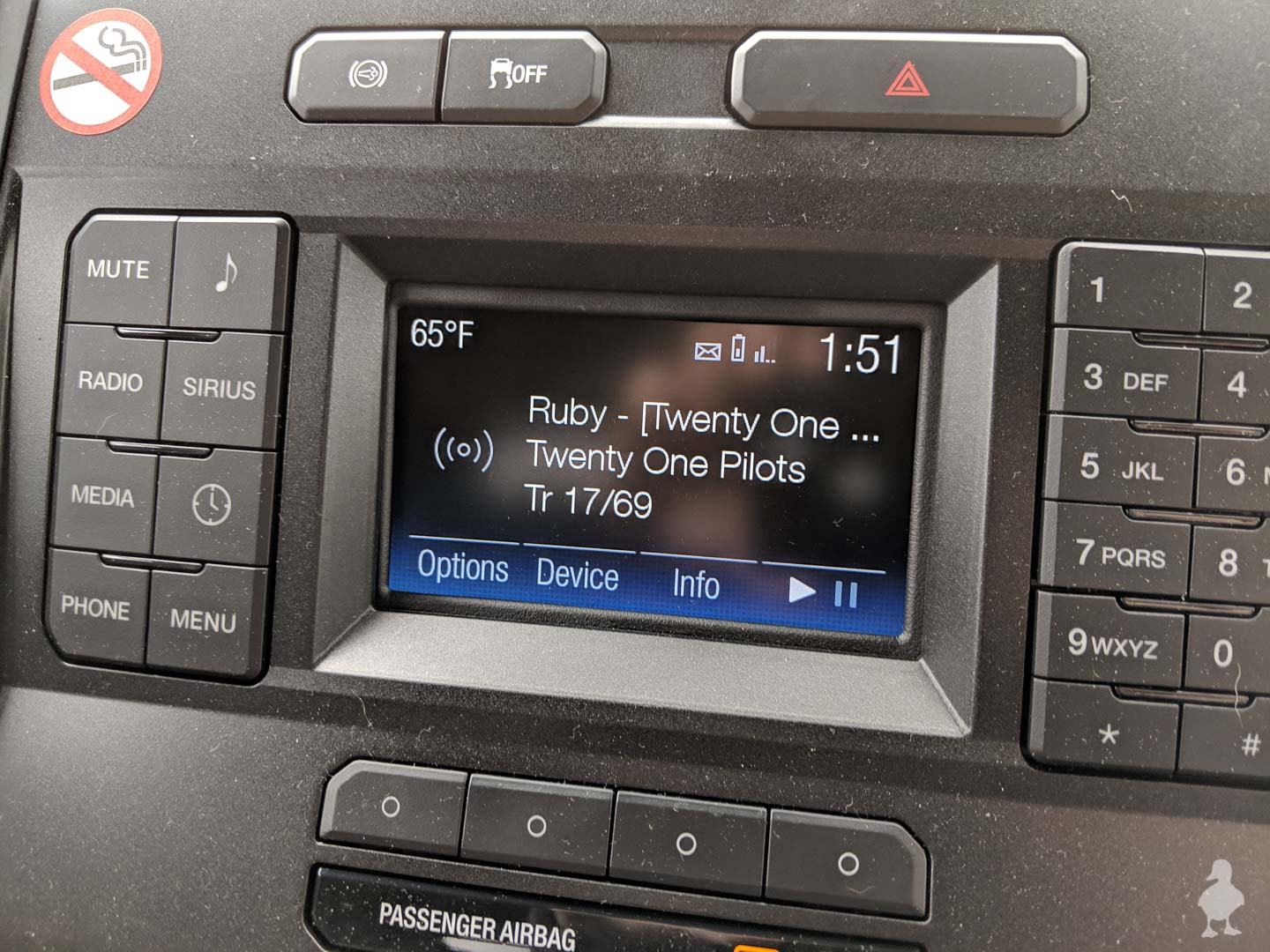 We found the yard of the new lot relatively easily, but finding which spot in the yard to park Ruby was a little tricky.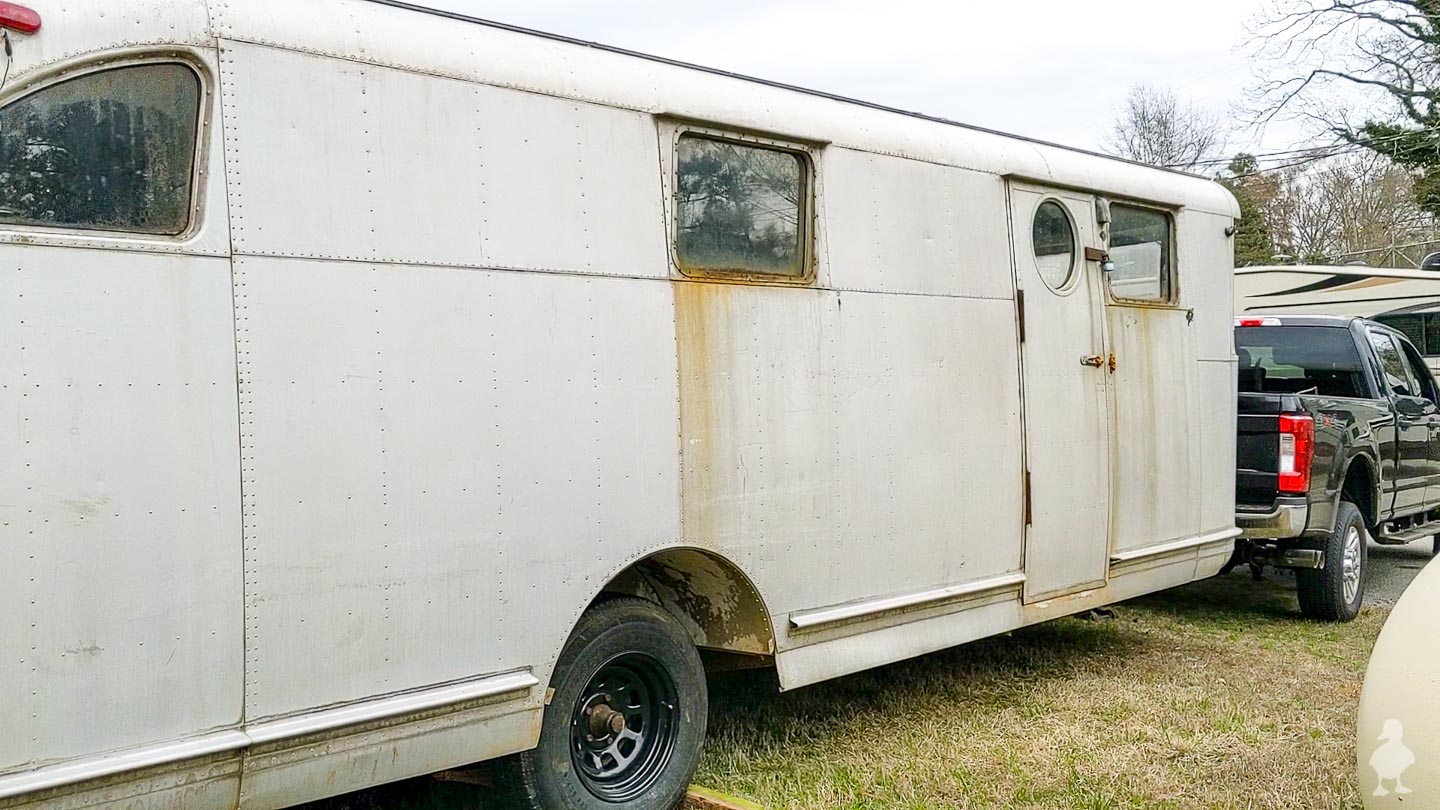 Still, all in all, we got her in place. And that's where she's been as of today!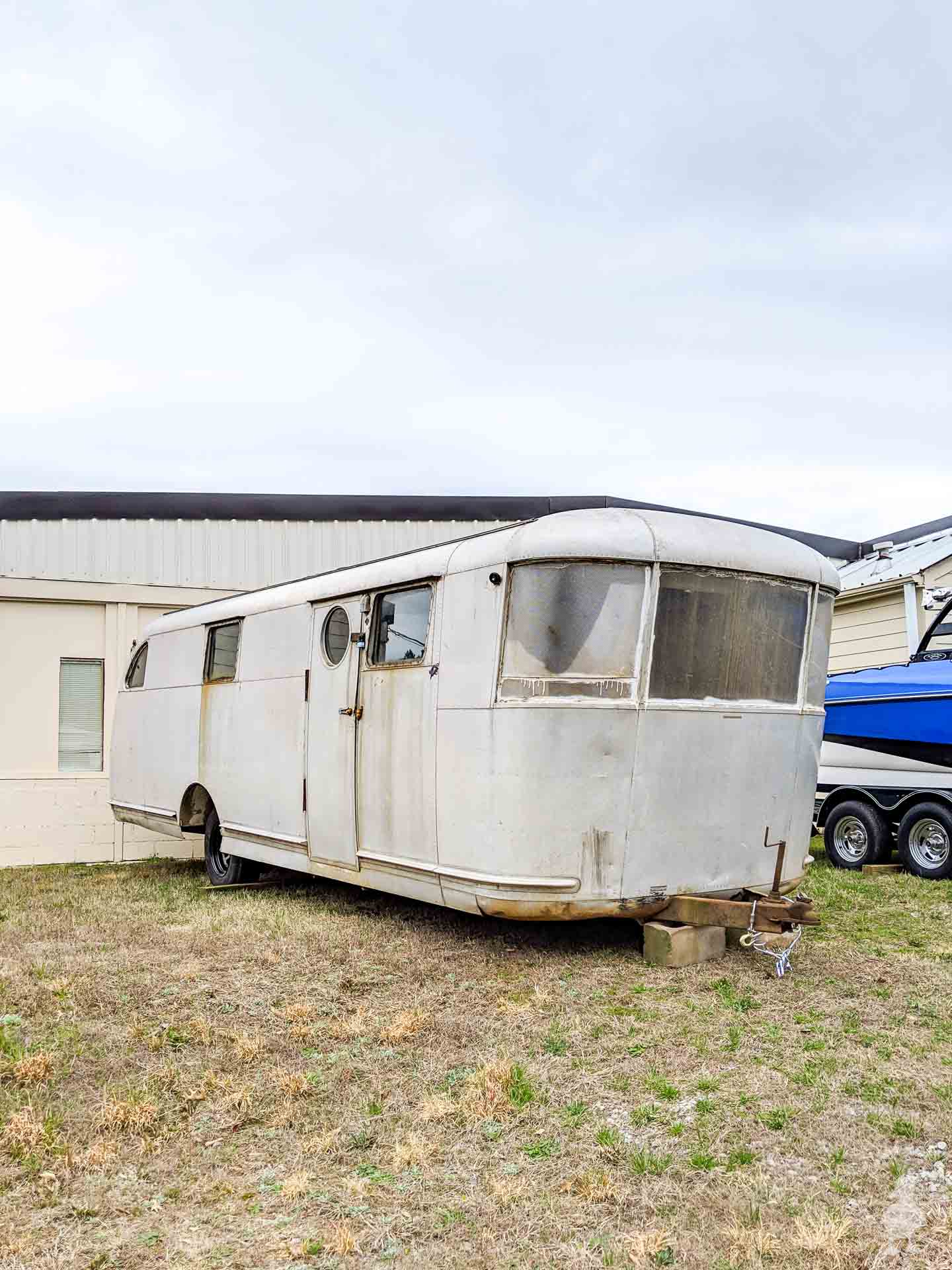 We've been checking in, but our next big step will be to rent a truck again this weekend (!!) and pressure wash and deep clean the aluminum (still researching how we are going to polish it). Ruby hasn't been much of a priority this summer, but I think we're going to be changing that very soon. We've got two new sponsors for the project and there has been SUCH a positive response that I can't help but get swept up in it myself.
My Thanks
I just want to say, on a personal note, it's meant a lot that there have been so many folks asking about Ruby and how it's going. I hope you guys have enjoyed this extra-long chapter and check in again next month. We have a deadline for more progress this time, so we plan to stick to it!
P.S. Kyle and I have been talking a lot about him joining the video process in helping the voiceover/intro/outro parts, especially since 100% of the backstory is his family's, and I think it's only right that he tell those parts from his own POV (for the sake of future story-keeping, too). We attempted it on this episode, but we only got as far as him recording the intro/outro and the middle seemed odd without him helping with the voiceover, so I decided we'll re-attempt with the next big chapter. So, you'll likely see him join on future episodes and introduce himself! Until then, you can find additional in-between updates by following the #RubysRevival hashtag on Instagram.
P.P.S. In case you are new and haven't had the opportunity to read the prior episodes, I've turned the installments into a video series on YouTube HERE. Blog posts to catch you up are linked below!
We're restoring a 1946 vintage camper called a Spartan Manor. It belonged to K's grandfather and has been sitting in the woods untouched for more than 30 years. Can we bring her back to life? Check out the video series and see for yourself!