Disclosure: this post may contain affiliate links, which means I may make a commission if you decide to make a purchase through one of my links, at no cost to you.
Hi folks! I'm still working on my enormous to-do list for selling the house and skipping from room to room, so not much project-wise to show you just yet (I took a vacation over this past weekend for my birthday, so I am doing some catching up for next week).
BUT, good news: my new season on SheKnows TV's Homestretch is now live! I mentioned it back in March after my last trip to Arizona, and unlike my last season, I'm actually writing up a full recap and trying to have that ready for next week as well (along with a recap of my first experience as a TV designer on season 7 to catch you up on both!).
Seriously. So. much. post. writing. I'm feeling behind.
But first, I want to let you know some of the bigger details:
The room: GIANT living room
The couple: Candice and Jason (and their super sweet & adorable baby, Maddox – this kid steals the show)
The budget: $2,000
The time limit: 2 days
The problem: The room is huge, with a massive TV and giant window (hello, glare!), a dog that has jumped through the window before (so need to find something to block it), not really yet ready for when baby starts moving around, and oh yeah – tiny budget to fix all of that. Not all of this is covered in the episodes in much detail (simply too much to cram into those videos), so I'll go over more behind-the-scenes info in my post.
My competition: Dani Fiori from Sweet Dani B (which is totally going to throw you off. Her blog is about cookies. But don't let that fool you; she's got a freaking Emmy from working as a set stylist on The Martha Stewart Show.)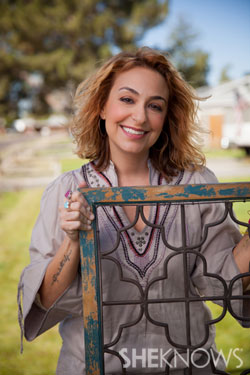 It was definitely exhausting to do another room in such a short period of time, but it was also a blast, and the crew was just as amazing as the first time around. The first episode of season 9 starts right here, and I hope you all enjoy! Just like last time, the episodes are short, therefore easy to watch on your bathroom break at the office ;) Oh, and of course, I'd love it if you could once again vote for your favorite room makeover (who knows, maybe I'll get asked back again!). I hope it's mine!