Disclosure: this post may contain affiliate links, which means I may make a commission if you decide to make a purchase through one of my links, at no cost to you.
In a pinch, you can probably make this centerpiece for a holiday table. It uses just a few elements that can easily be swapped with what you have in the house already (or if not, the dollar store!).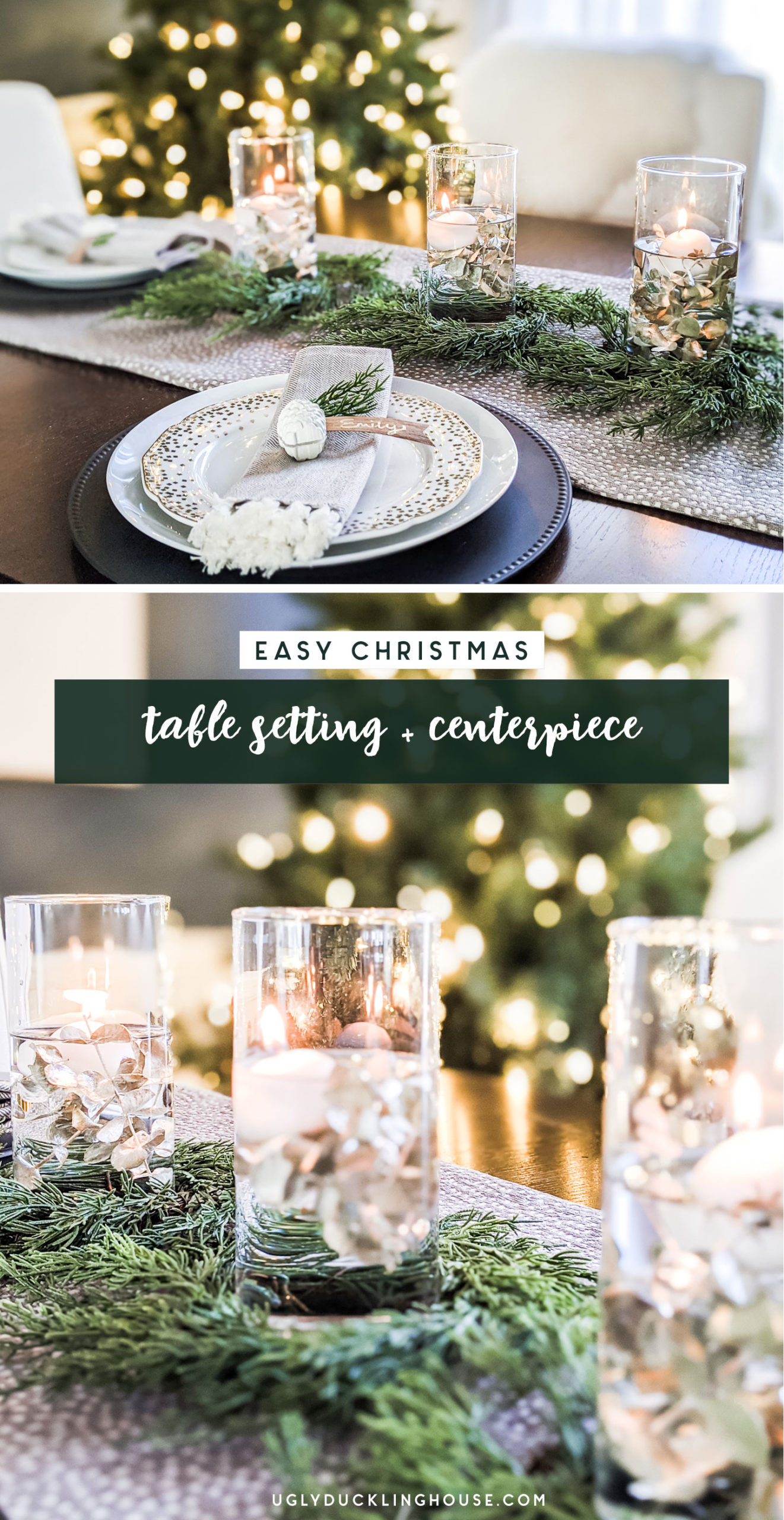 This year, K and I are house-hopping between our parents' homes rather than hosting (we have hosted Christmas dinner before with my family, but this just wasn't the right year to take that on). So, even though I felt like dressing a table for the holidays because of my DIY series, I opted to keep things simple. Using a number of items I already had, I came up with this holiday centerpiece rather than running out and getting fresh greenery (which would also be lovely, but I didn't care to add an errand to my to-do list).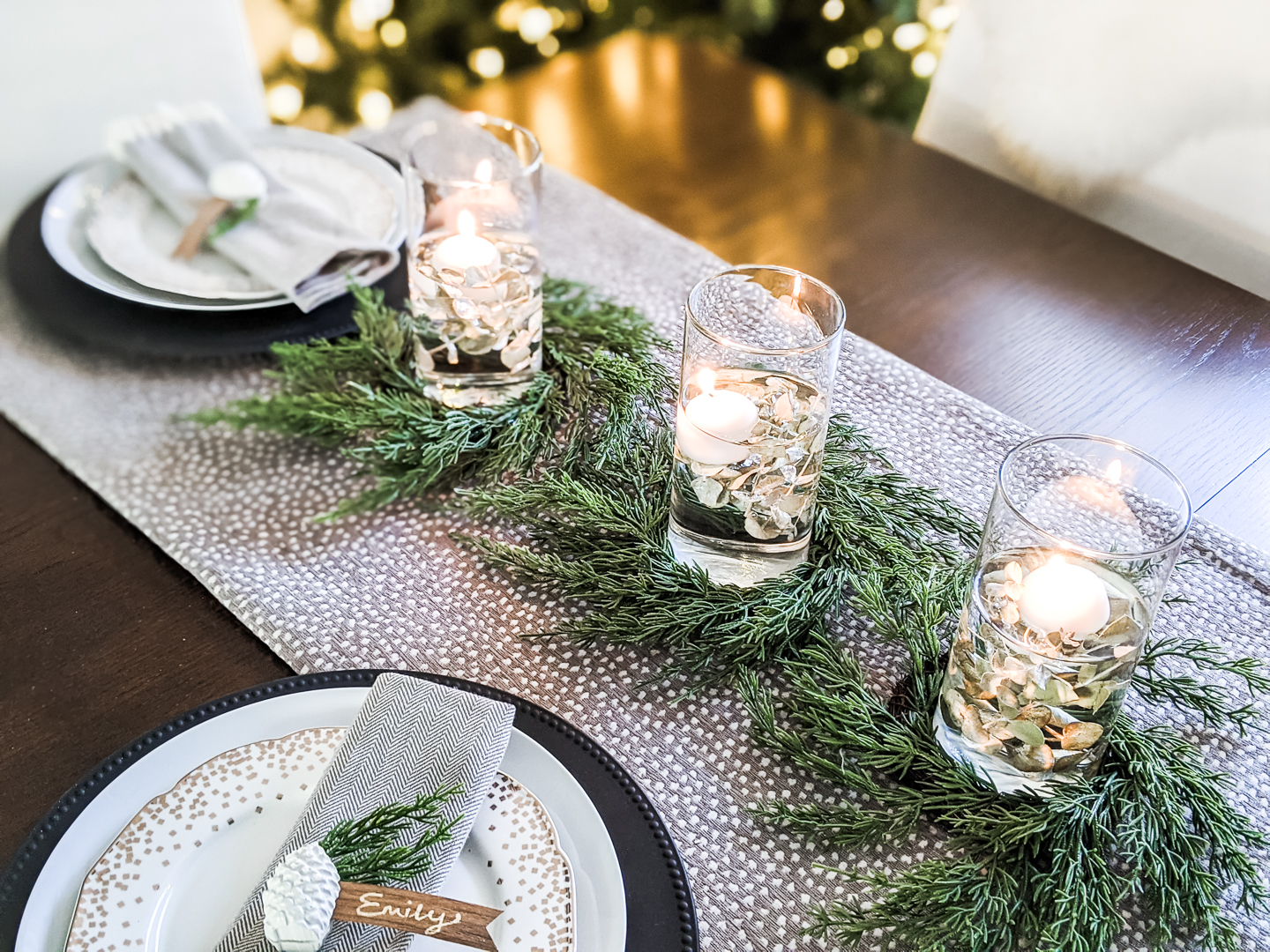 I dressed two places for K and I to have dinner and gave the center area some Christmassy glow next the dining room tree (oh, did I not mention that? I have THREE TREES this year! I'll be sharing the decor of the living room and dining room ones in just a few days). Even though it's not flashy, I still think it's cozy enough to share, especially now that I added some fun little pinecone markers. If you're looking for a last-minute way to bring a table together, I think this did the trick!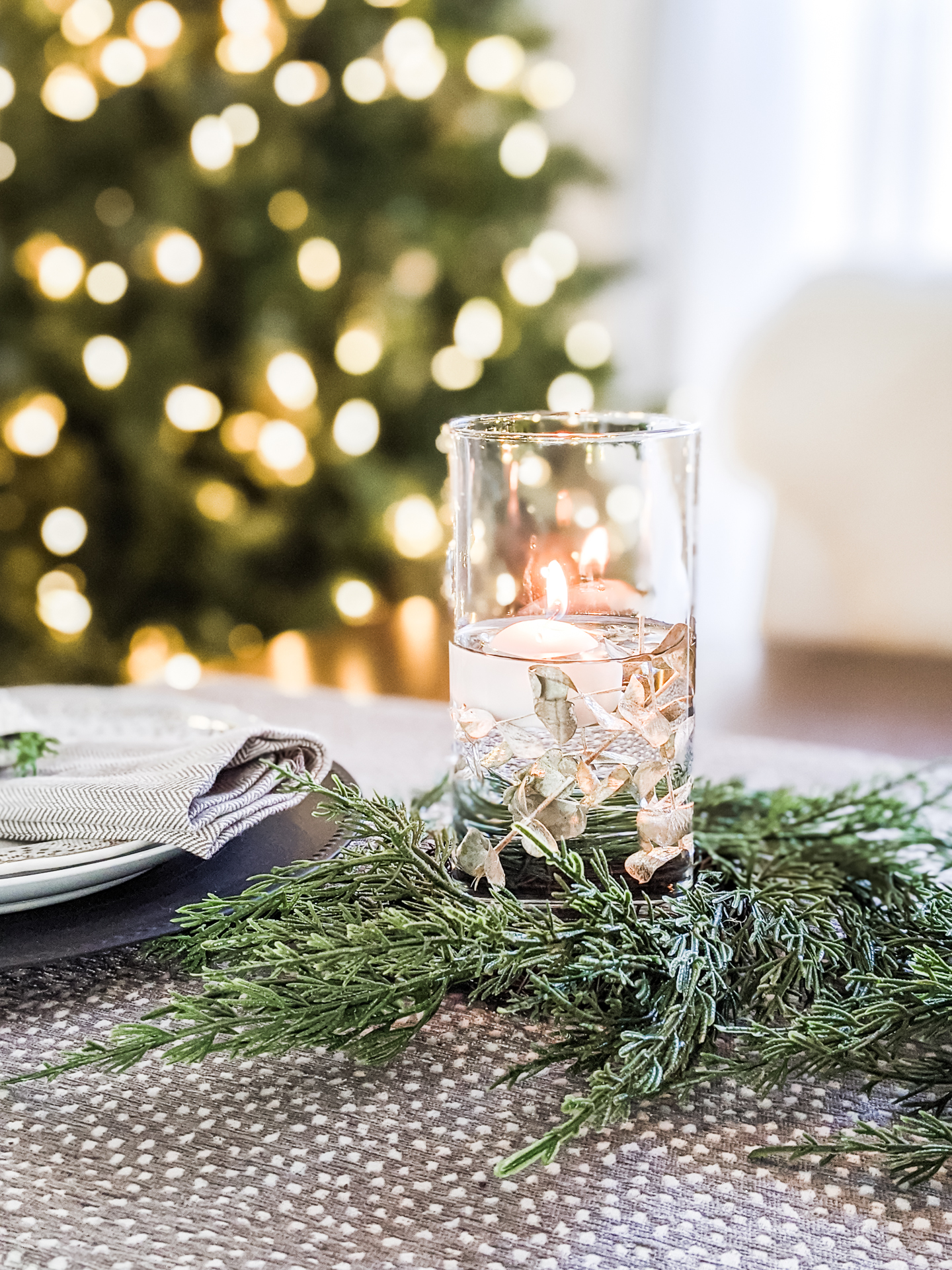 I always like to see things like this broken down into simplified parts so I can better understand how to recreate them. Or, ways to look at things I already have around the house. So, that's what I'm doing here today. Just a simple breakdown of each element to (hopefully) help you see your existing table setting materials as possibilities for holiday decorating. Things don't have to specifically be from the Christmas aisle to fit your holiday theme!
First, let's start with the place setting: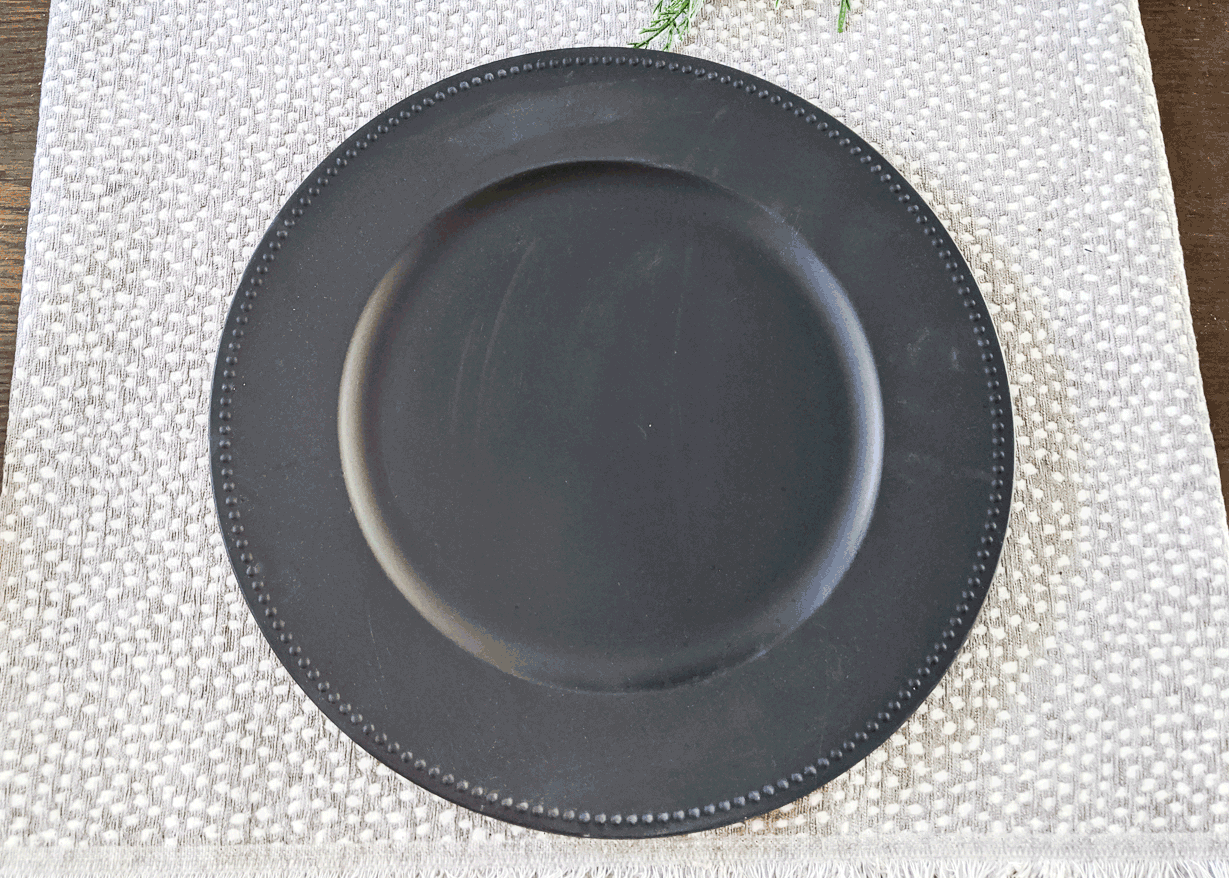 Then, the centerpiece: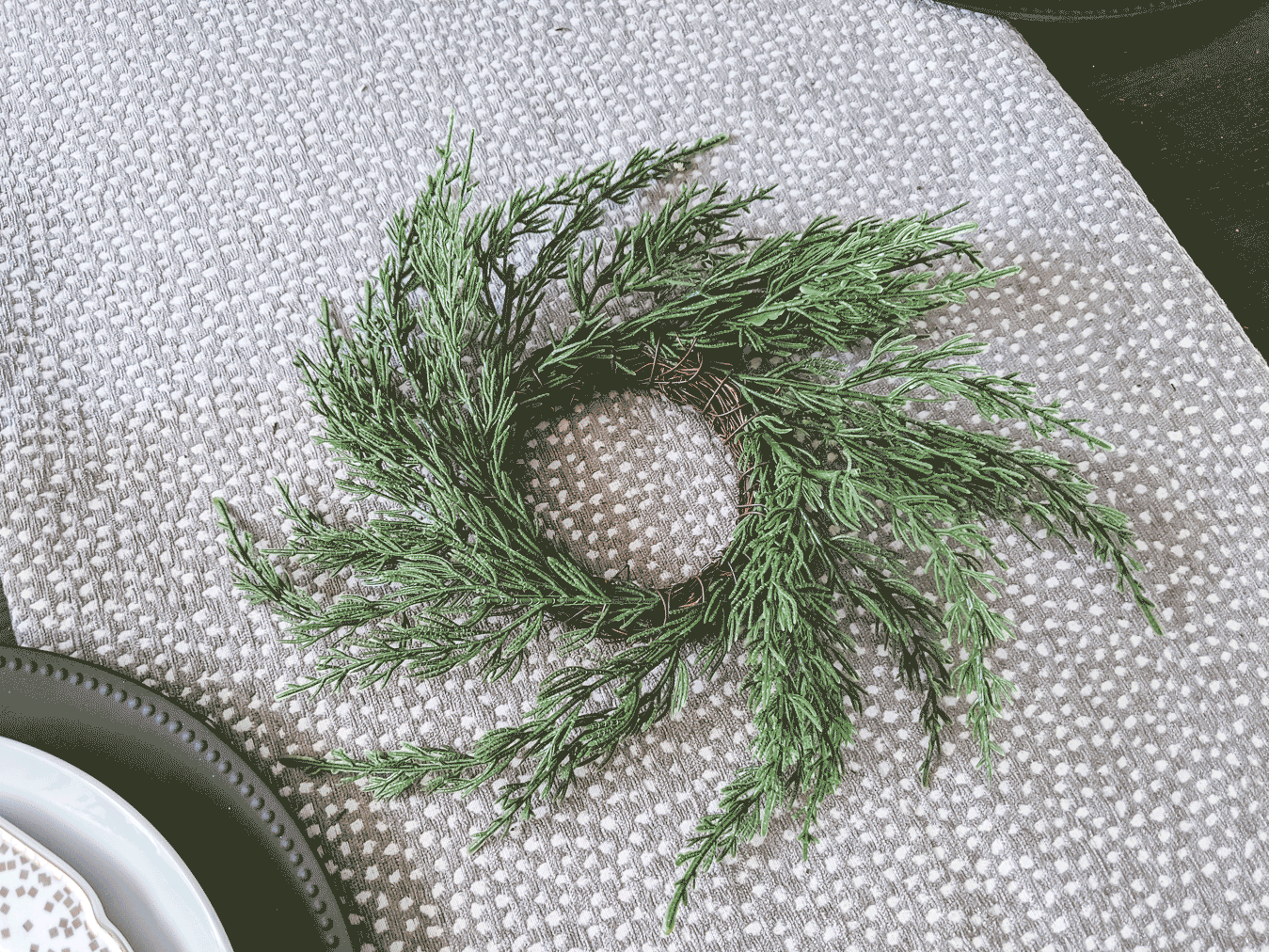 8″ cypress wreaths — faux (because I don't have time for dried-out garland); I got these 60-70% off at Joann's (they have killer sales just after Halloween and I like to scoop up stuff like this early and then scour the store again after Christmas is over.)
glass vase — dollar store; always good to have these on hand because they are SO versatile
dried eucalyptus — Trader Joe's is my favorite spot to get greenery, but this is dried stuff that I actually used in my Christmas tree last year! I'll show more about that in an upcoming post
water — I filled each vase about halfway
floating candle — they are pretty much available everywhere, but here's a link
The best part is that this can be expanded to whatever length of a table is needed (in our case, pretty short, but you get the idea). Inexpensive + quick + easy! And once the candles are lit, it's a great fit for 2 this Christmas once we're finally home and done visiting family.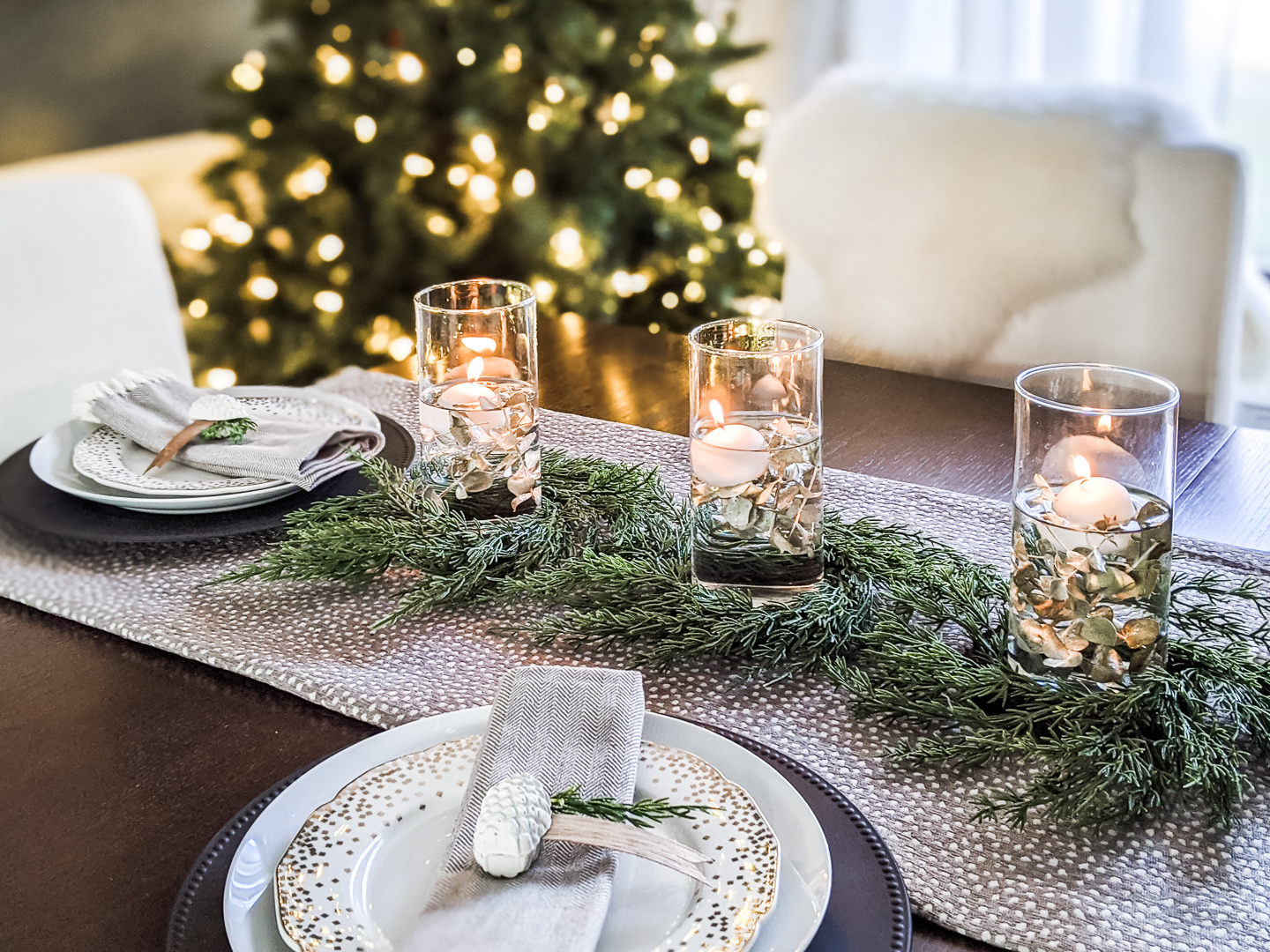 Easy to clean up, too. Which will probably be its own little perk at that point when we're ready to have a quiet dinner and crash. :)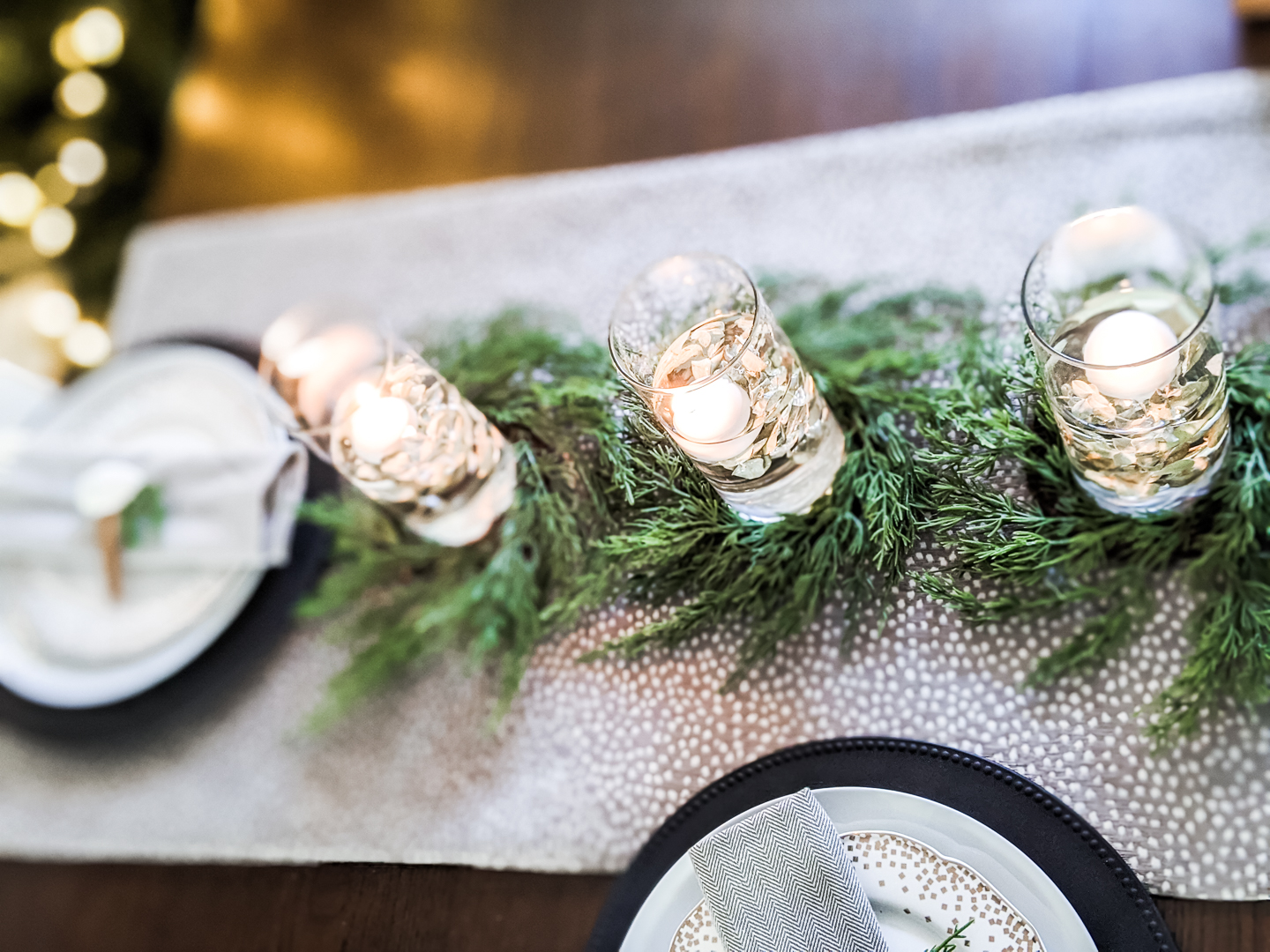 More DIY coming at ya VERY soon! In fact, it's so close to Christmas that you're going to see a new idea pretty much every day if I can help it! In case you've missed any of my holiday projects so far this year, I've listed them below, along with a few fun ones from years past. Enjoy & come back tomorrow for more.
This project is part of a series of DIY gifts, decor, and other fun inspiration that I'm calling my "25 DIYs of Christmas"! Check out the list below to see each post (step by step tutorials, recipes, videos, free patterns, and woodworking plans available for each (where applicable). Lots of these ideas have multiple versions to show you the possibilities of each DIY. Even better, you can subscribe to make sure you don't miss a single post!