Disclosure: this post may contain affiliate links, which means I may make a commission if you decide to make a purchase through one of my links, at no cost to you.
These white concrete pine cone place card holders make a great addition to fall, holiday, or winter table settings! Super easy to make, too!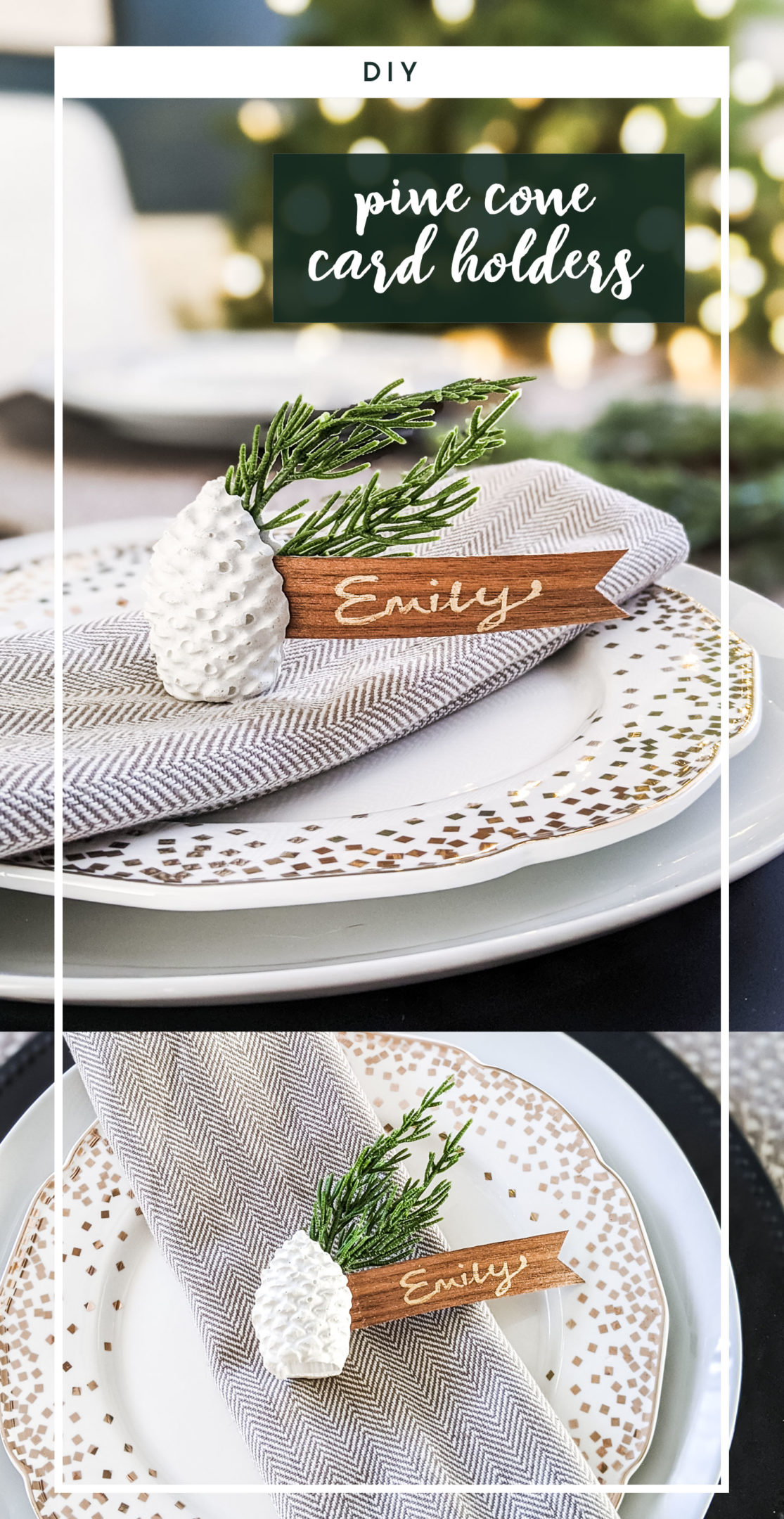 If you are new here, welcome! If you aren't: you know the drill. I'm sharing a truckload of DIY holiday ideas and I'm continuing this month's series with another concrete project: these sweet little pine cone table setting card holders.
Now, to be honest, I am WAY too busy this month with all this DIY going on to actually host Christmas this year. But, it was a lot of fun to make, and I know I can use these again and again. I keep telling myself that since I have ALWAYS wanted to create a huge list of Christmas decor ideas, it's ok to prioritize this one part of the holiday season (the making and the glitter and the decor) and nix the other plans. I'll let everyone else host this year and be WELL prepared for next!
Materials & Tools
for the magnetic holder
for the labels
poly / finishing oil
scissors
How to make these magnetic name card holders
Time needed: 1 day.
These magnetic concrete place card holders are so cute! These little pinecones can also be used as cheese markers with a piece of paper or scrap wood.
Mix white concrete

Be sure to wear safety glasses, a breathing mask, and gloves when mixing! The powder is super fine and will float up into the air. Add water and mix to a pancake batter consistency before scooping into the mold. I did this in my garage and poured it inside the house on a makeshift craft area so I didn't have to worry about curing temperature being too cold.

Shake and tap out air bubbles

I shook and tapped the mold against the table to help push out air bubbles. I also tried putting an orbital sander against the table (no sandpaper attached) to create vibration. Both worked ok. Still some bubbles, so I think I might have tried to mix in more water, perhaps? I still liked the imperfect results. I also tried some air-dry clay (my original plan, actually) but didn't like the extra cure time and getting into all the little parts of the mold was harder. Concrete, it is!

De-mold after letting it cure

With everything now dry, I carefully removed the pinecones from the mold. Since the plastic mold has no real flex to it, it's not as easy to de-mold as silicone. For the first round (I used the mold twice), I tried cooking spray to see if it would make the release easier. I noticed that while the cooking spray DID help release the pine cones from the mold with ease, it also left tiny surface air bubbles that I would rather do without. So, I took the advice of my new blog contributor Ellen and used HEAT to help remove them in round 2! If you're reading this, thanks SO MUCH for that tip!

Sand, fill, paint (if necessary)

I chose not to fill the extra little air bubbles, but I did sand the backs of the pine cones to be flatter and smooth any sharp spots. I left them plain, but if adding some paint or shimmer sounds right to you, go for it! I considered adding some really subtle white glitter in a few spots and may go back to add it later (I can't help it, I genuinely love glitter at Christmas despite its awfulness-slash-magic of clinging to every surface).

Add magnets

I tried adding the magnets to the concrete as it was drying, but I found that the teeny magnets I used just weren't strong enough (there is a chance they sink into the concrete even after tapping the bubbles out). So, I had no choice but to glue them on the back after they had cured. In hindsight, I might suggest using stronger magnets so they can still have a strong pull and eliminate the spacing in the middle that the magnets add. In my case, at least, the thickness of the greenery I used to pair with the name tag made a gap anyway, so in the end, it didn't make a difference; but in my head, I originally pictured zero visible space between each half.

Cut out names or cut name tags

You can, of course, use your standard paper for name cards, but I wanted to bump things up a little with a wooden tag, so I used some wood veneer that I had left over from this jewelry organizer project. I sealed it with Maker Brand finish and then drew names on them with a gold leaf paint pen (unfortunately, it wasn't a thin tip, so it looks a little clumsy with my handwriting, but with a better pen, it would look gorgeous!). Tip: since some of the veneer will be on the inside of the pine cone and hidden, take this into account for "centering" the name.

Use a name other than "Emily"

Kidding. It's my sister's name and it was the first to come to mind for something scripty. I didn't really feel like making a dozen names for a table I'm not actually serving dinner for, especially when I used the paint pen and was less than impressed with the results (and going to buy a new paint pen just seems silly under the circumstances). I assume I'll come up with more names when the time comes ?.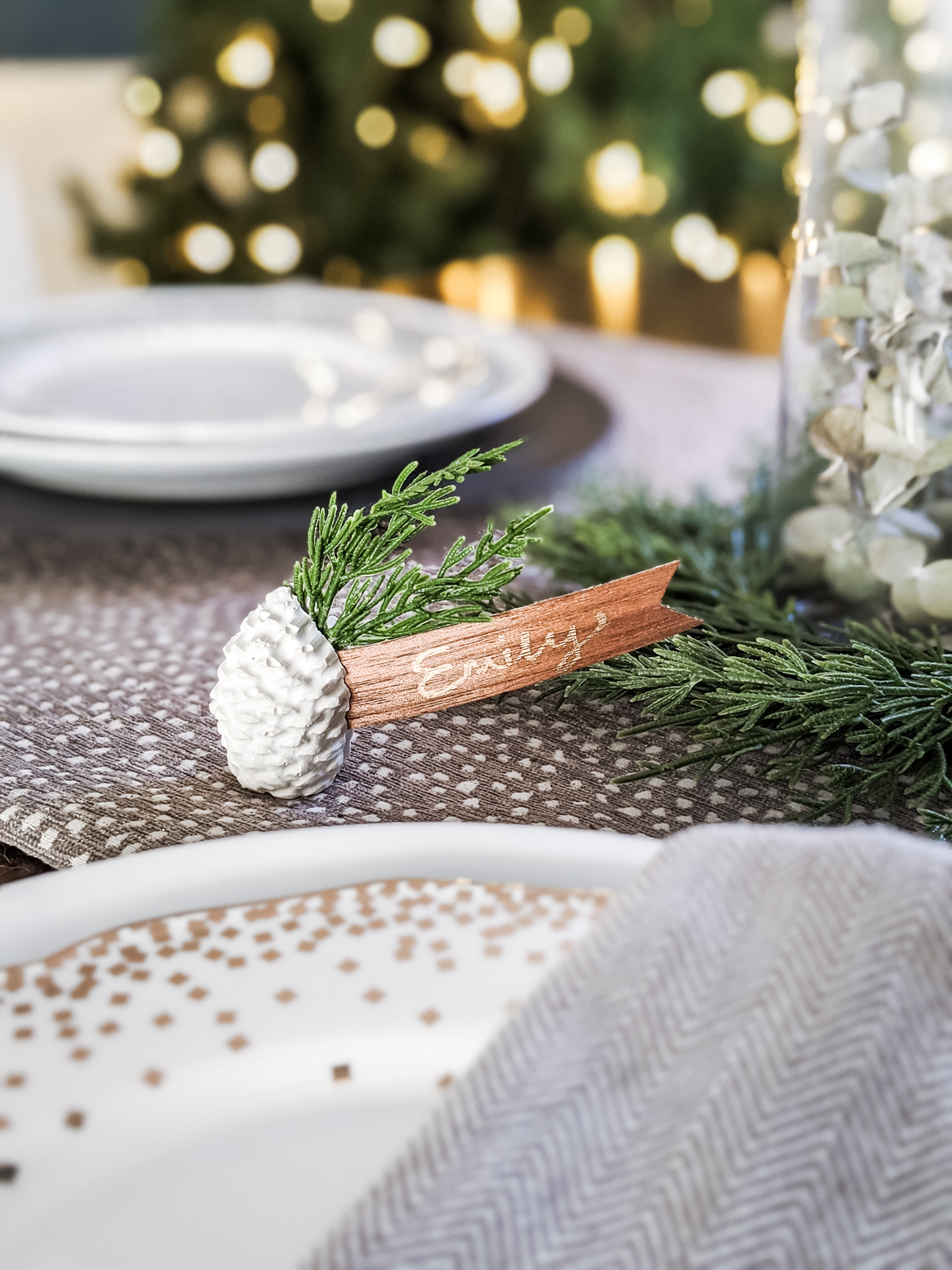 By making them magnetic, the two sides of the pine cone allow the place card to stand upright on the table. But if magnets aren't your thing, you can skip the magnet gluing part and use one half like a paperweight to rest on top of the card as it lays flat (such as on a napkin).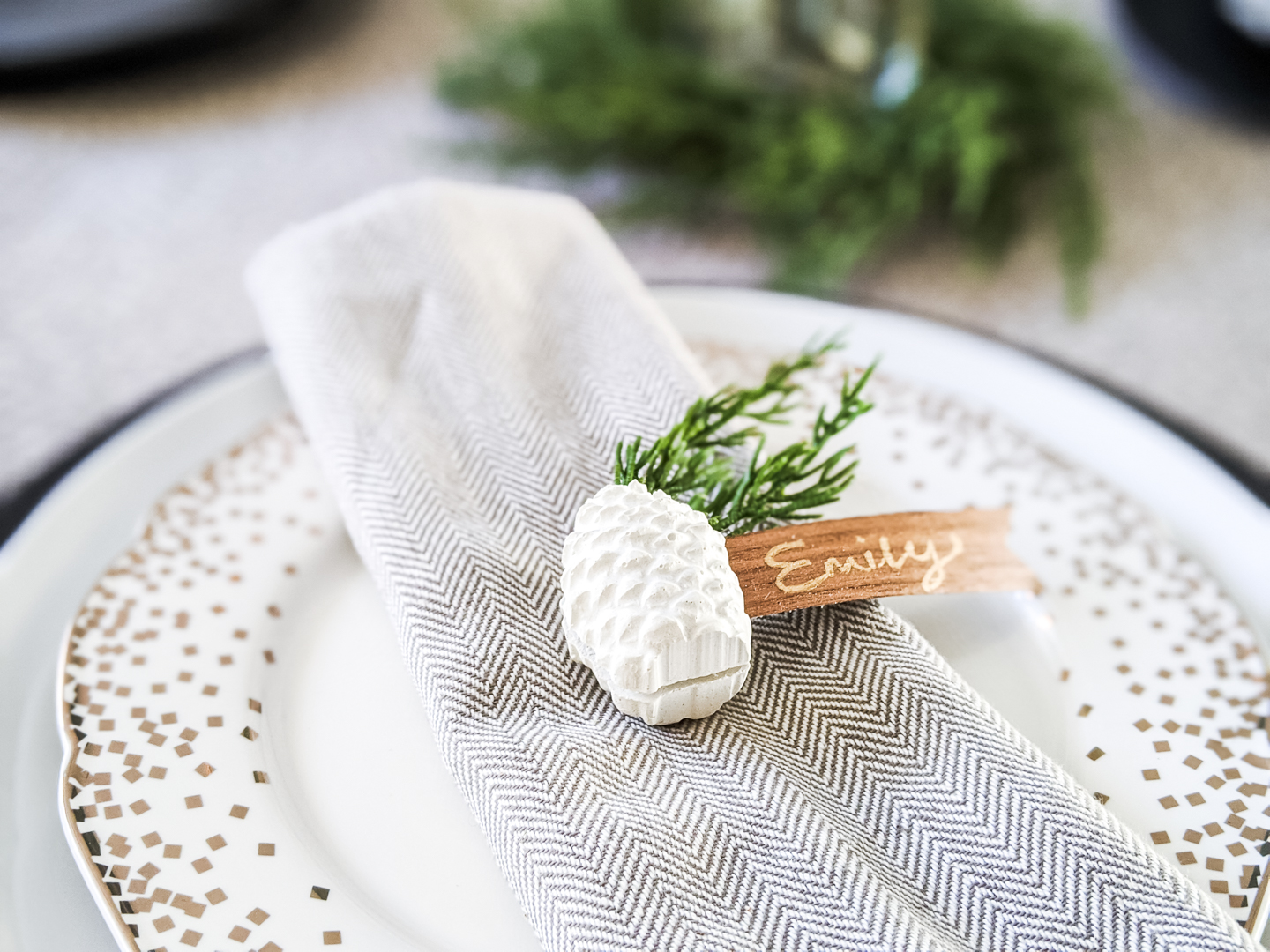 Since the mold effectively makes 8 pine cone halves, that means either 4 magnetic markers or 8 paperweight ones. Note: the bottom of the pine cone mold is also not perfectly flat, so you might want to sand the bottom down if you have trouble with it standing up (napkins are generally an unstable surface as it is, so consider that if you are having an issue!).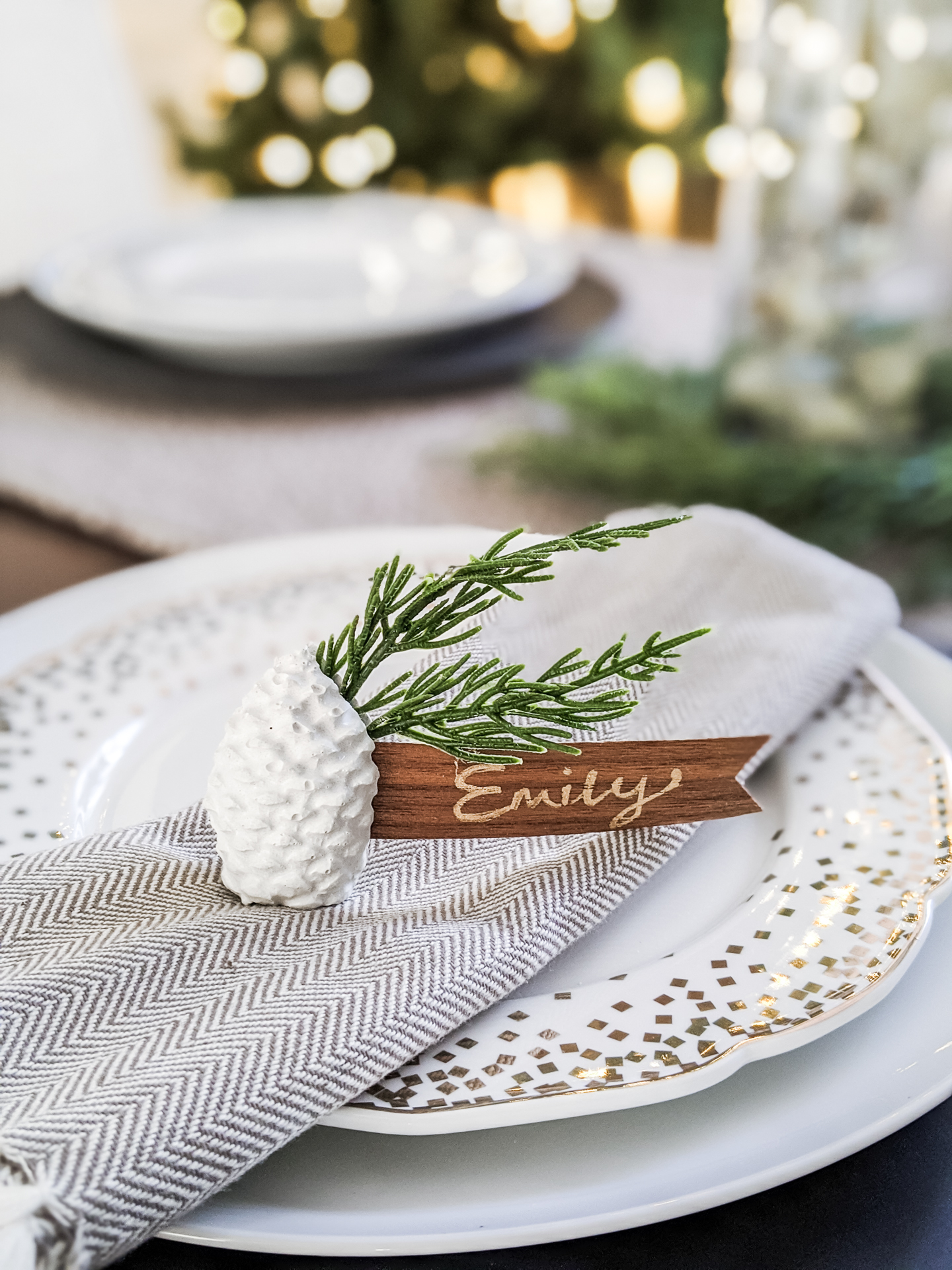 P.S. Did you spy the hints of the centerpiece in the pics above? That post is coming up next, and it's a QUICK way to add a festive look to a holiday table!
Don't forget to pin!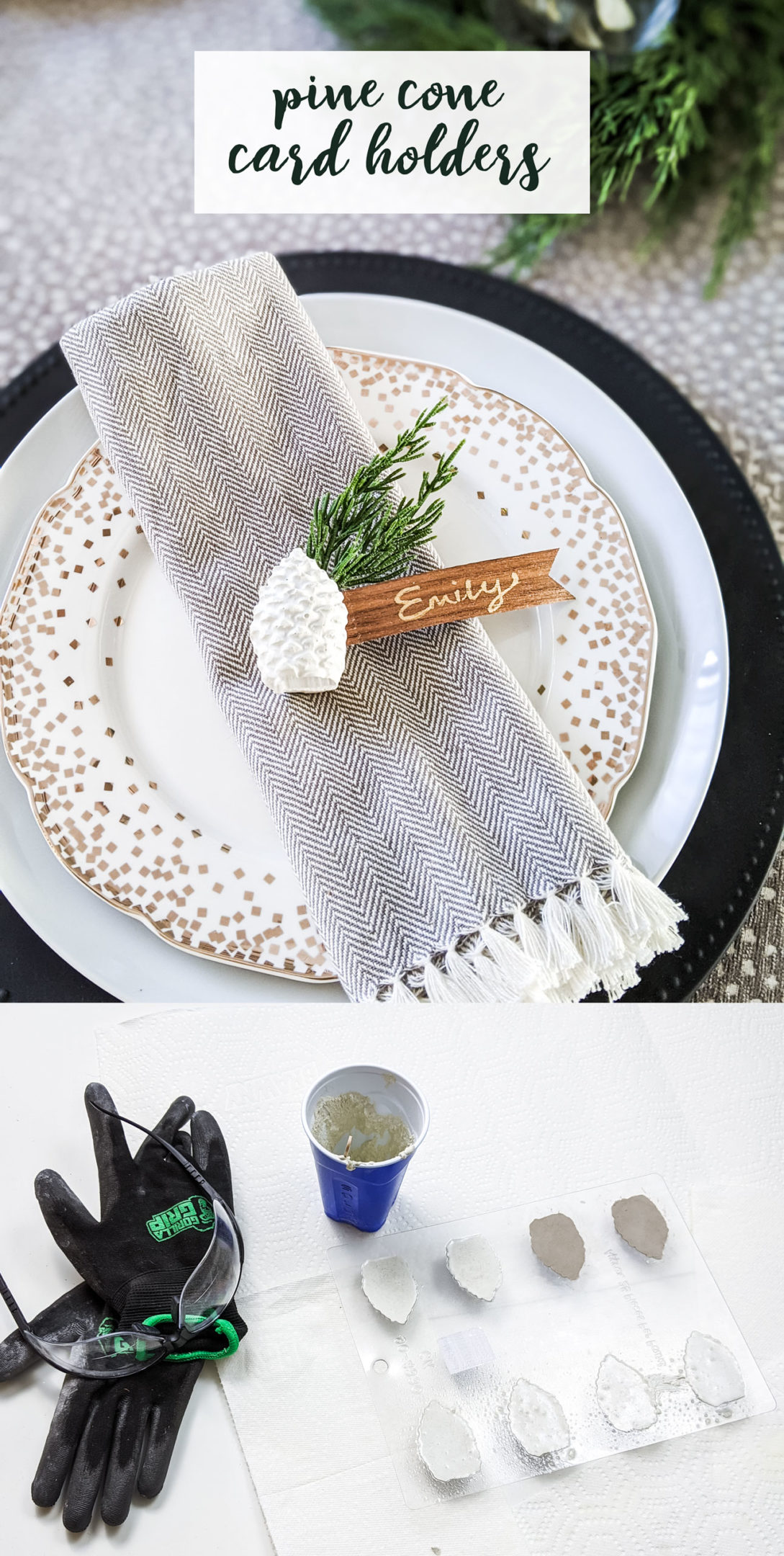 This project is part of a series of DIY gifts, decor, and other fun inspiration that I'm calling my "25 DIYs of Christmas"! Check out the list below to see each post (step by step tutorials, recipes, videos, free patterns, and woodworking plans available for each (where applicable). Lots of these ideas have multiple versions to show you the possibilities of each DIY. Even better, you can subscribe to make sure you don't miss a single post!