Disclosure: this post may contain affiliate links, which means I may make a commission if you decide to make a purchase through one of my links, at no cost to you.
It feels incredible to write that sentence — celebrating a decade of DIY with Ugly Duckling House!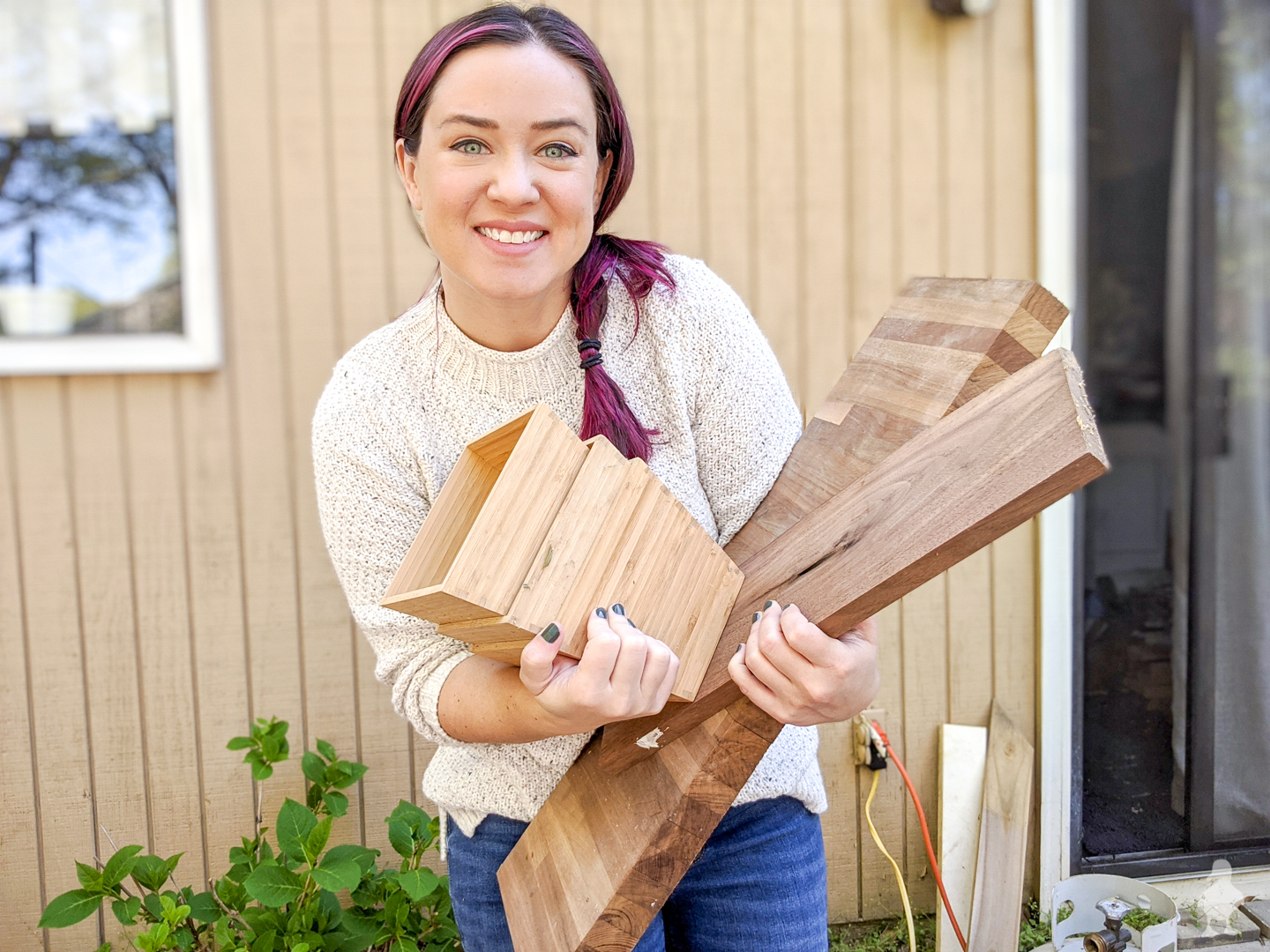 On April 1, 2010, I started the Ugly Duckling House. Why I picked April Fool's Day, I couldn't say; but I can tell you that this journey has been much more FUN than fool. It's grown into my own small business, and for that, I am incredibly grateful!
First thing's first: I am so very, very thankful for all of you guys who have followed along. I never would have grown without dedicated readers and peers to learn from. Some of you have followed from the very beginning (hi Mom!) and some of you are much newer to my somewhat snarky, paint-in-my-hair, let's-figure-this-out-together approach that I've always had on this blog. I am SO thankful for all the winding parts of these last 10 years. Even the moments of throwing tools and throwing tantrums on the floor. This has been a decade of learning how to DIY, and how to DIY better!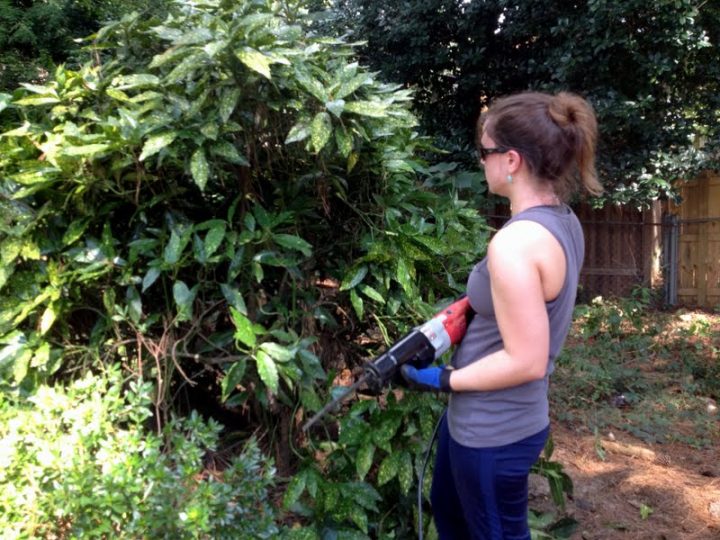 I thought it would be appropriate to take a short look back at some of my favorite projects (listed below) and to talk about the things coming this year (listed further below that). But, I would be remiss to to not acknowledge the awkwardness of what I envisioned for this milestone versus the current circumstances. I know you all know what I'm talking about, but I'm deliberately not saying the words because I've been hearing that using certain terms might make fewer of you see this post (or possibly cause fewer of my ads to run, which is looking like it may be a bit of a rough summer for some of your favorite blogs… I'll mention a little more of that in the bottom of this post on how you can help, but this is a good post on it too).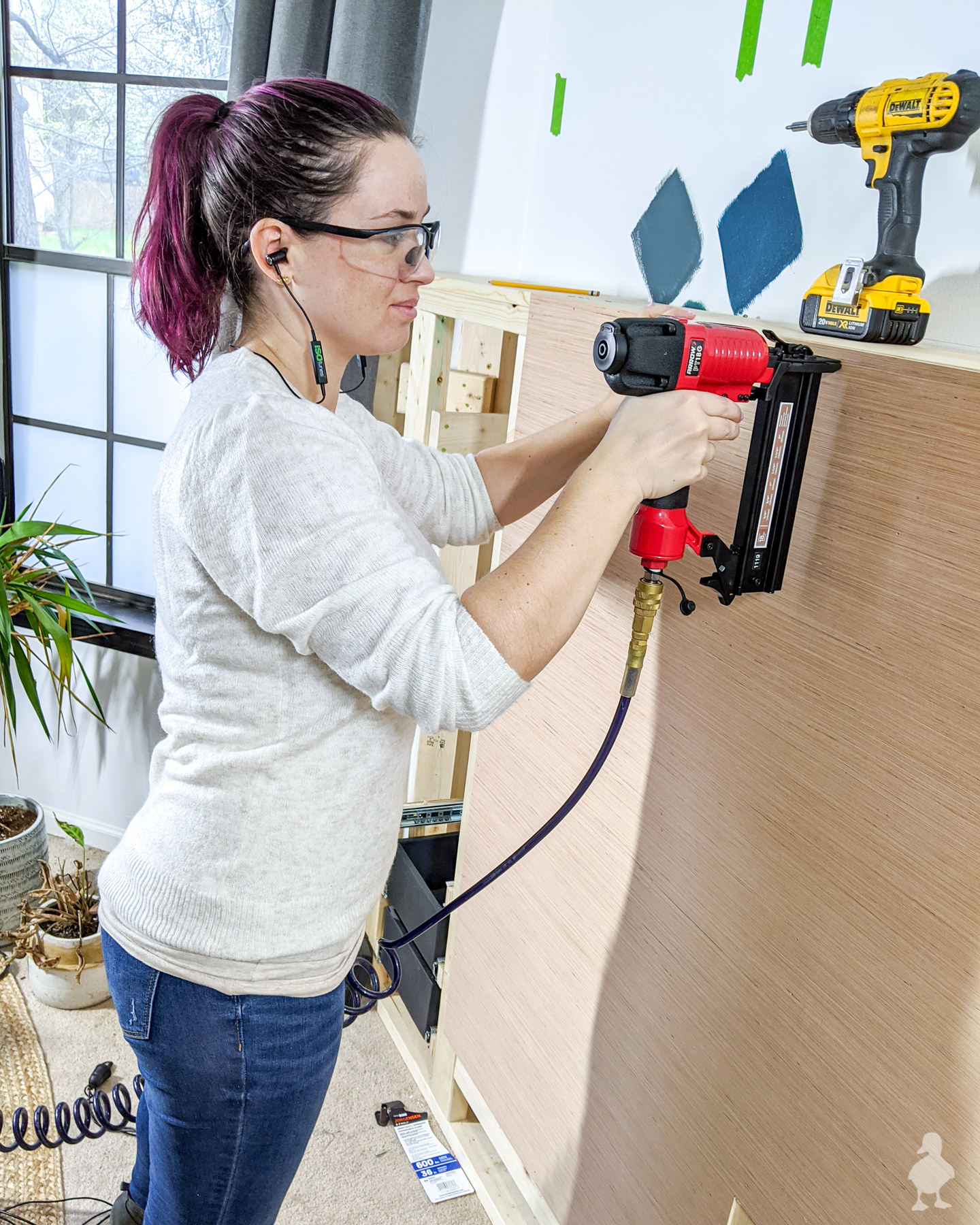 Truth be told, it doesn't feel like the "right time" to celebrate anything. For most of March, I felt pretty fatigued and overwhelmed by all of the new information and needed a breather. I actually have a few announcements coming up that were slated for this summer and fall, and they ALL feel this way right now — too soon or inappropriate. But, a WHOLE DECADE is also a milestone I've been looking forward to for a while, so I thought I might address them as the way I expected things vs. the adjustments as a result. It's not my intent to whine (not at all), but rather acknowledge and move past these things. I consider myself very lucky if my family and friends stay home and safe.
The plan was to pick up a cute little cake with candles and have a photo of that for this post. But since we're trying to keep the store trips to a minimum, I'll pick up some cake mix in the next few weeks and make one then. Someday, I hope K and I can go out for a celebratory dinner.
I also planned to buy myself a piece of jewelry — a ring or necklace — to mark the occasion as a way to celebrate my small business and have a reminder of that accomplishment. Instead, I'm planning to donate the money I earmarked for this purchase to two nonprofits; one is specific to the current crisis, and one is for Alzheimer's research for my Granny. I've been reading that since a lot of fundraising events have been canceled, the money non-profits rely on have been hit as well, so I figure that is probably the best option to do both. If I can, I'll save up a little again and maybe buy something for myself later this year if things improve.
Given that so much is up in the air right now for this year, I mainly just hope we all stay safe. The goal with this blog has always been to help with DIY and stay on budget, so I plan to continue with stay-home project ideas and help you dwindle down that scrap wood pile I know you've been hoarding so that we're not all just obsessing and spiraling. This month, I'm going to share a few of those ideas in some roundups and recaps to help you fill your to-do lists and talk about some MAJOR overhauling for the house exterior. But first…
A look back at some of my favorite projects and posts!
Removing Wallpaper and Skim Coating Walls
While these weren't my favorite projects to actually do on the blog, they were some of my first big tutorials that really helped me establish what my blog is all about: how I write my tutorials, the things I learn that help others by sharing, etc.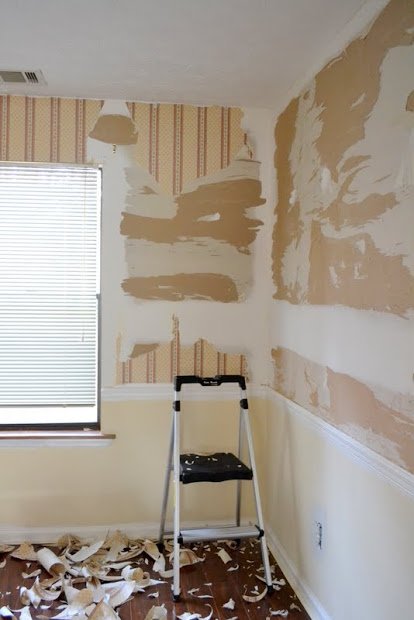 Related Posts: How to Remove Wallpaper // How to Fix and Skim Coat Damaged Walls // More Skim Coating Tips // How to Paint Walls After Drywall Repair
The Kitchen
The kitchen was a long project (ahem, like most of my projects) but well worth the effort. I still love the white uppers and gray lowers, though if I had to pick again, I might have gone with black lower cabinets! I still love them though and it really proves the power of a couple of cans of paint. This year, I'm thinking of repainting the walls (oof, what a labor that was to get all that wallpaper removed) for a more neutral color and warm up from the pale blue.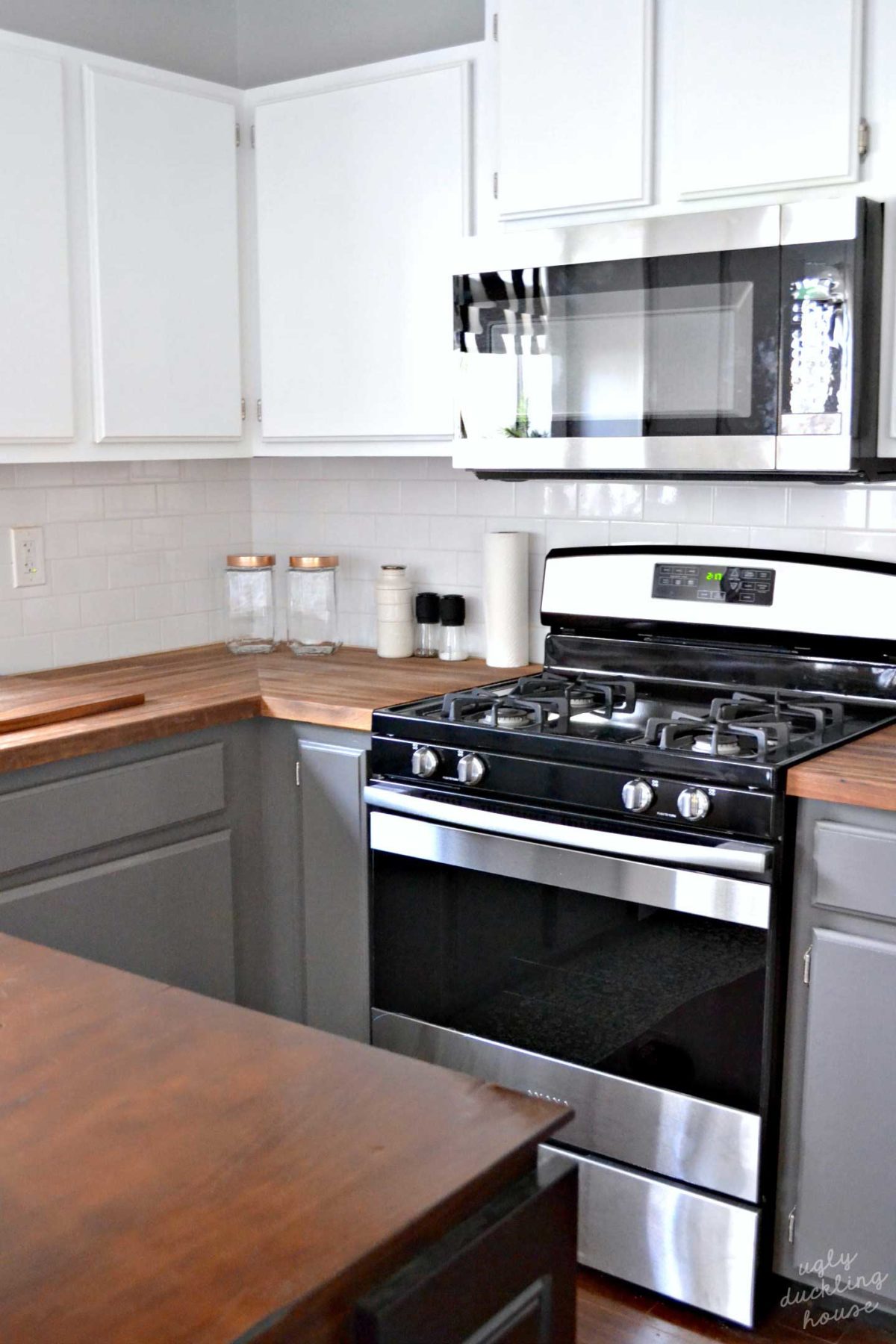 Related Posts: How to Paint Cabinets Without Sanding // How to Tile a Backsplash // How to Make a No-Sew Faux Roman Shade
Coming Soon: DIY Microwave Fixes and Maintenance
The Laundry Room
This room was nasty when I moved in, but that all got fixed! New floor (in which I needed far longer arms than I have), new appliances, and re-configuring the awkward back shelf and adding some more storage with floating shelves. The finishing touches in this room were some of the fastest I've ever done thanks to a sponsor giving me a 48-hour deadline. Truth be told, I pretty much love sponsors for keeping me focused on a project. I need that sometimes!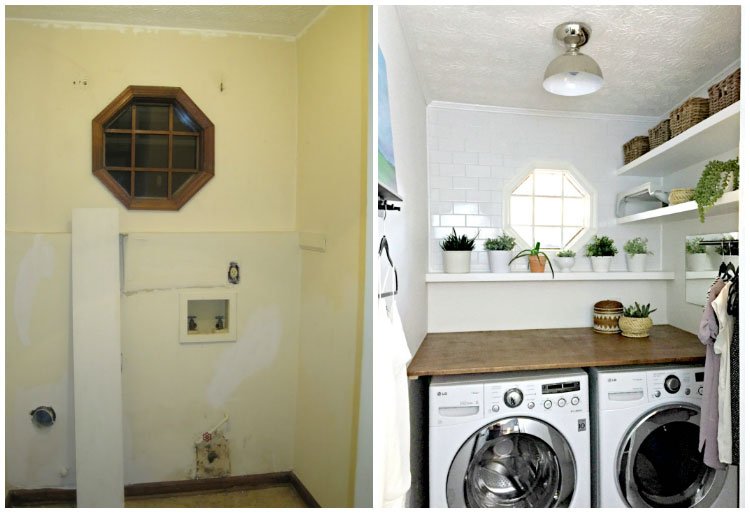 Related Posts: How to Tile a Floor with an Awkward Layout // Laundry Room Tile Backsplash // Laundry Room Reveal // DIY Plywood Countertop
Wall Carving
I discovered something new about myself with this project: I LOVE wood carving! I have already done a few more of these types of carving projects that I'll be sharing soon.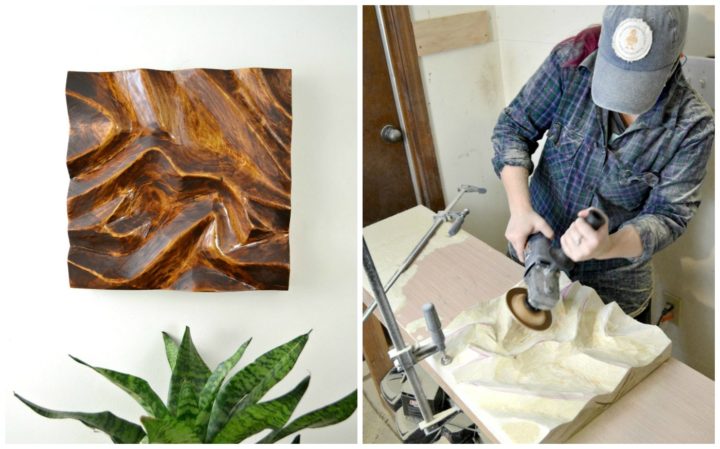 Coming Soon: Carved Planters // Carved Headboard
Floating Deck
A few summers ago, I was determined to build a deck off of the concrete patio and give us more entertaining space in the back yard. And I did it!! This one has been a big hit on the blog and my YouTube channel and I'm so glad so many people have found it helpful!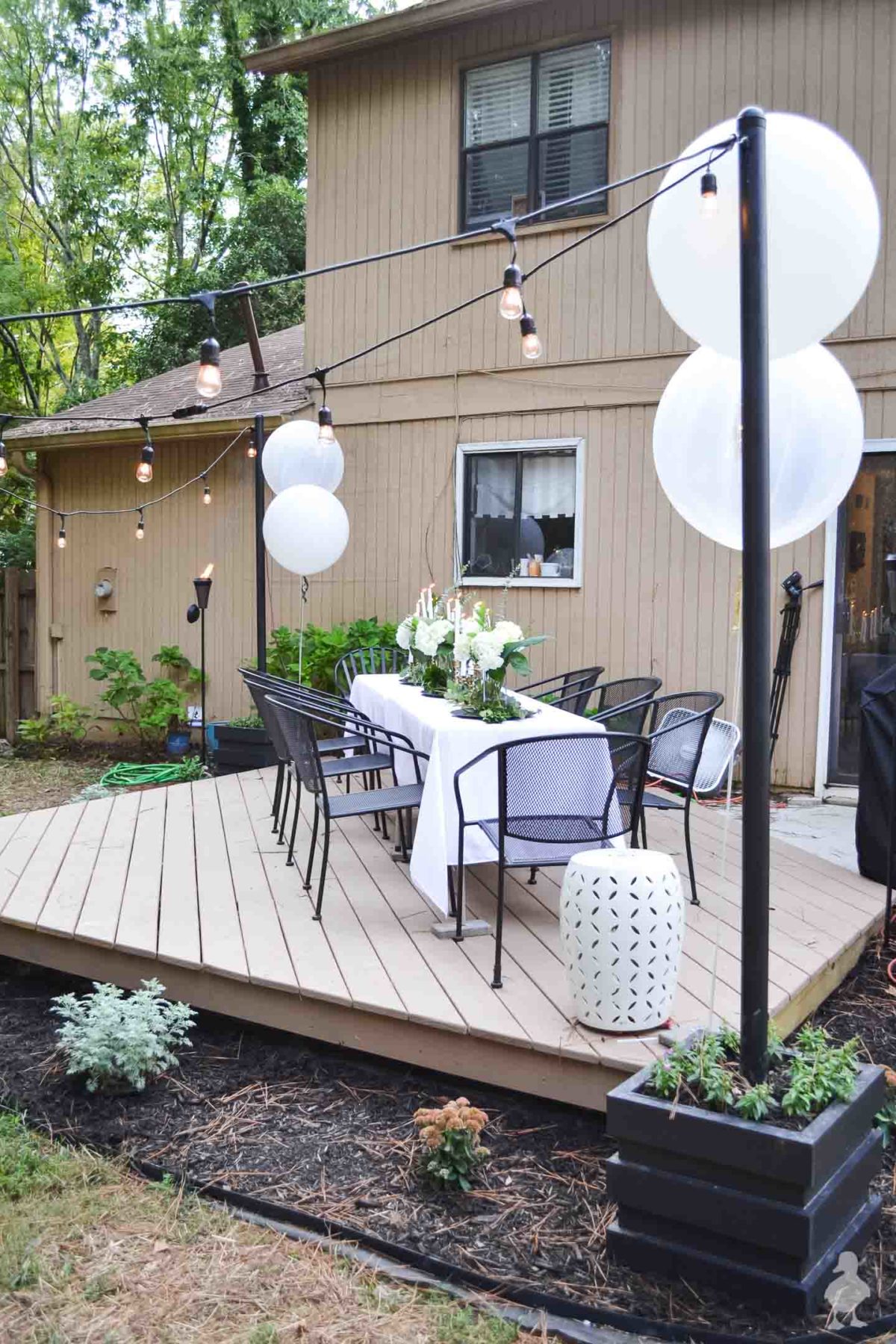 Related Posts: Floating Deck Planning // Building the Frame and Waterproofing // Installing Angled Deck Boards // Trim // Finishing
*I'm actually STILL working on the shed series that I also built during this same summer. It's so much footage when I was trying to come up with new projects that I've since handed it over to K to pick up where I left off, so it's been nice collaborating with him and teaching him how a lot of the blog works!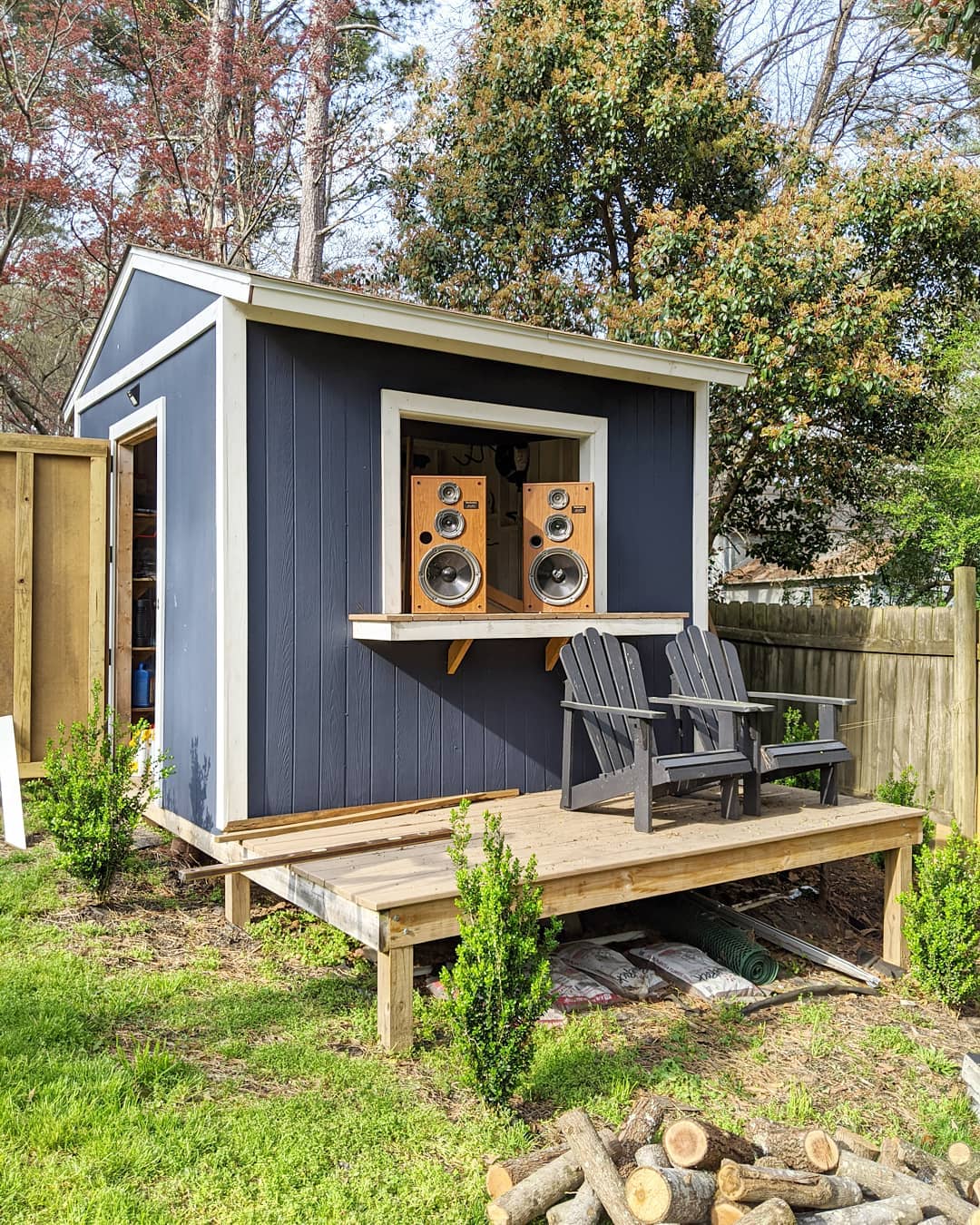 The Black and White Stair Makeover
I simply loved this project because it involved so much shit-talking with my friend Kit. Truly, starting this blog led to some friendships I cherish so much!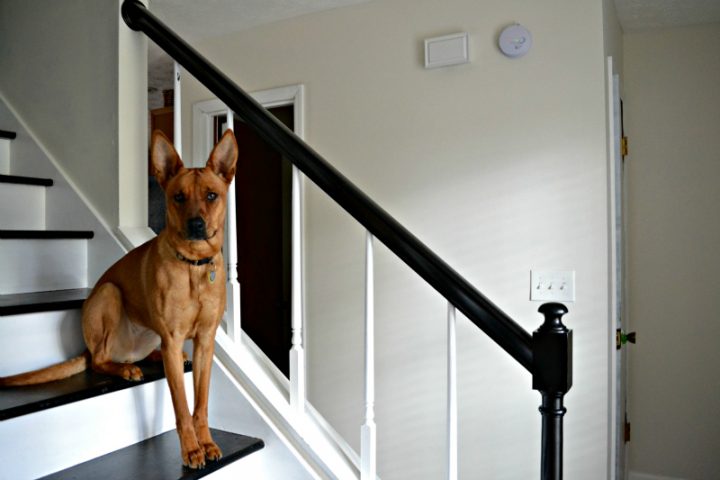 Starting my Cross Stitch Series
My first cross stitch pattern that I shared a few years ago took a real turn in a way I did not expect. I thought it would be a random post, but then it got some attention, so I turned it into a monthly series with SO MANY people downloading my patterns, it's crazy! It's been such a surprise success and I have SO many pattern ideas that I've been contemplating a membership program for extra patterns and early access. It will take a little time to ramp up, but I'm also working on a beginner's post and video so I can teach you the basics (it will be a free tutorial, not a workshop or anything like that).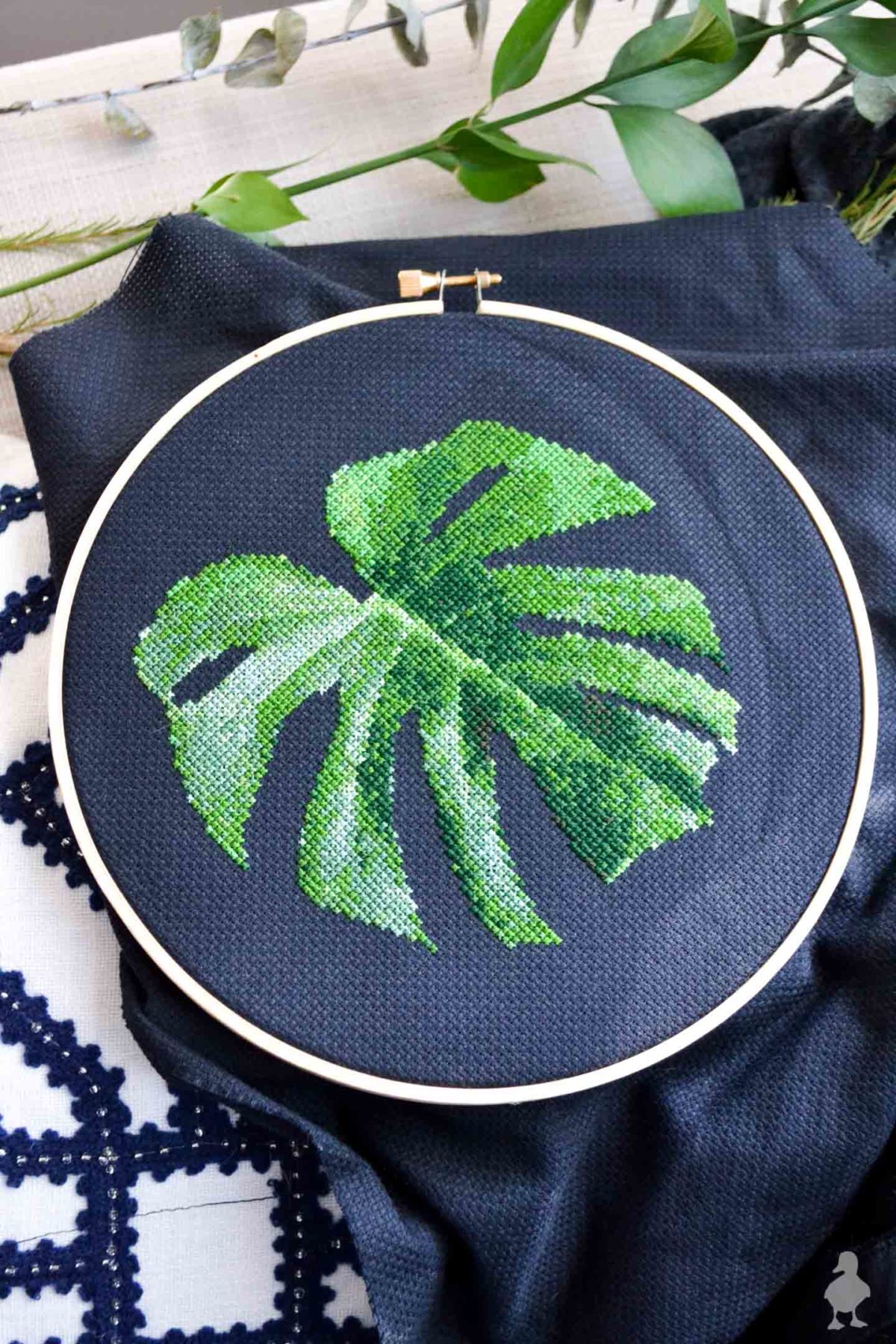 Related Posts: Fall Tree // Monstera Leaf // Dragonfly // Pink Goldfish // Paint-By-Numbers Mountain // Cross Stitch Library
Coming Soon: Beginner Guide to Cross Stitch
Ruby's Revival!!!
I can't leave her out, can I? Our 1946 Spartan Manor vintage camper!! We've been making some great progress on Ruby these past couple of months with demo and polishing, so I'll have some mini updates on the demo and hopefully complete that first polishing video for you guys to see her transformation (K has already moved on to phase 2, which is sanding some of the scratches out and figuring out his game plan for a more elaborate polishing effort).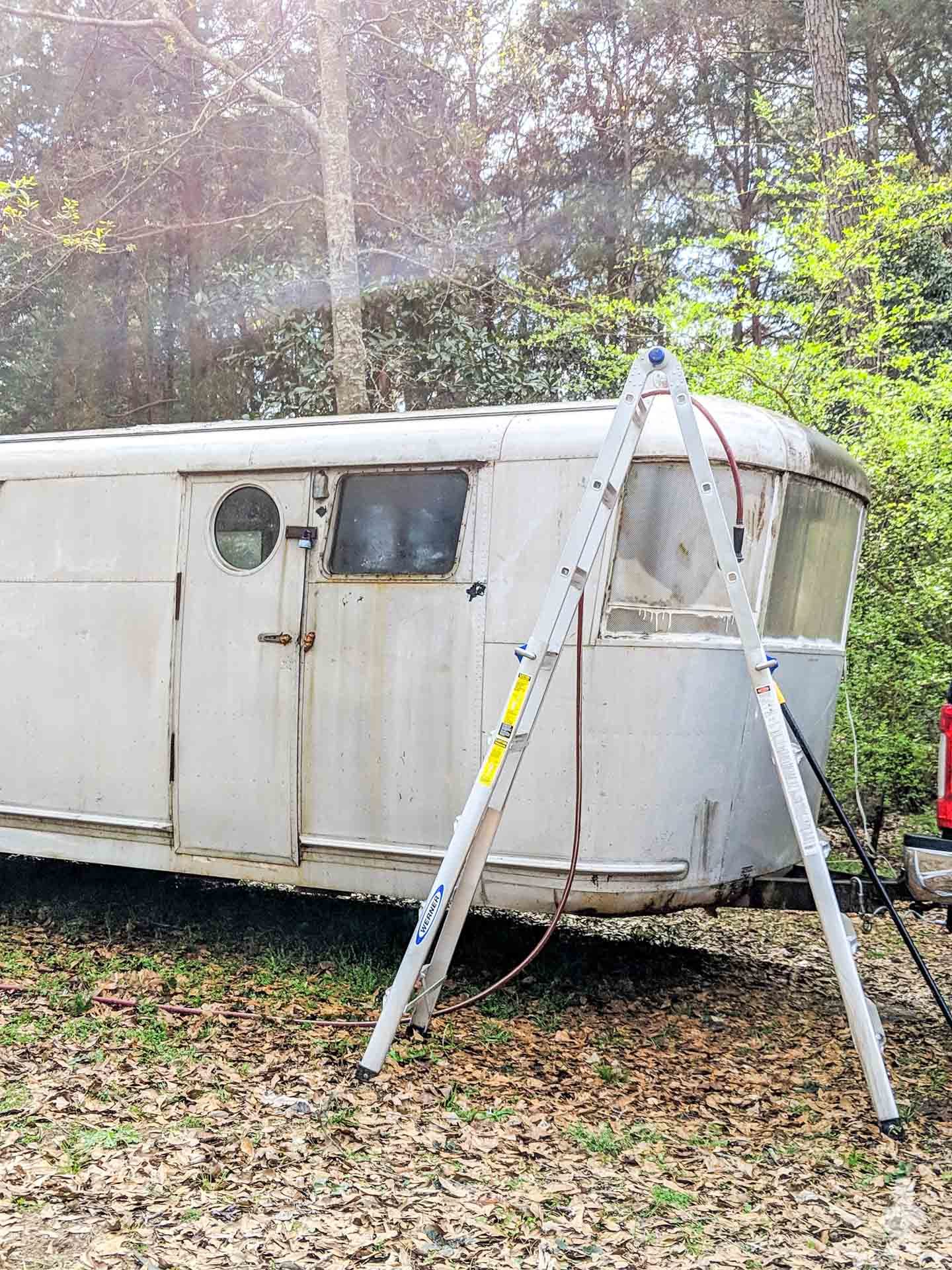 Related Posts: Ruby "Before" Tour // Washing Off 30 Years of Neglect // Getting the Camper Out of the Woods // Pressure Washing // Demo Begins
Coming Soon: Demo Update // Aluminum Polishing (Episode 05)
Squirrels are Assholes.
This post is one of my favorites simply because sometimes, houses make you a little crazy. Especially when they have uninvited guests.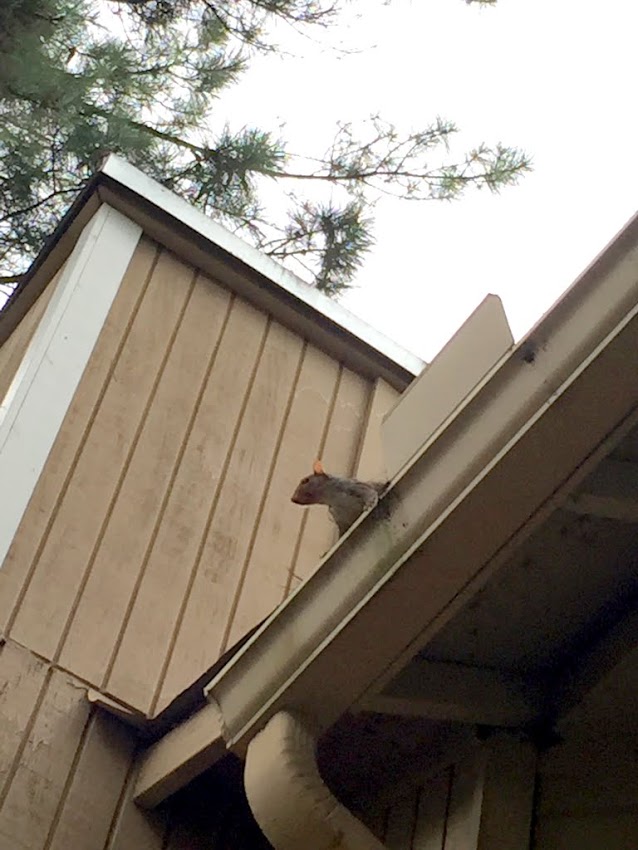 So many, many more projects! All right here in my archives if you ever feel like you can read ten years worth of blog posts!
What's to Come
For a LONG time on this blog, I was DIYing solo. I wanted to show all the single ladies (and dudes) out there that owning a house and figuring things out is something all beginners can tackle, even if they don't have help. I could be a support system of sorts and offer encouragement. I shared some of my personal ups and downs and I was pretty satisfied with the way things grew in my little corner of the internet.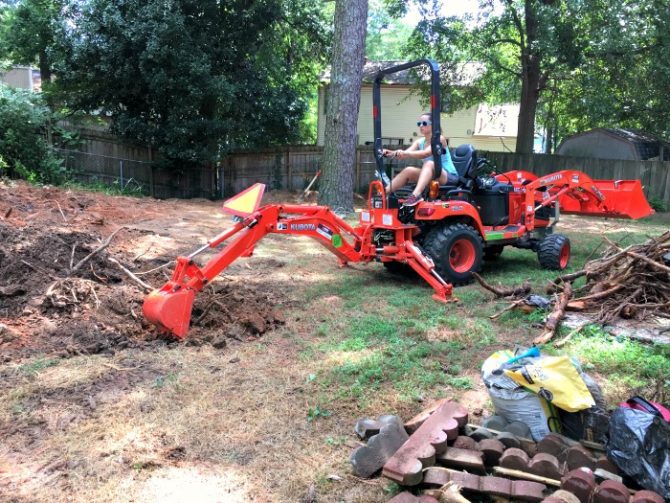 A few years ago, I met Kyle, who I pretty much always refer to as "K" just for the sake of allowing him to be separated from the blog to a certain degree. He has a full-time job as an engineer that he loves, but we also really enjoy doing projects together, and he brought along his adorable furball Stella. When he moved in, we took on a few more big projects.
I'm bringing him up again now because the rest of 2020 is going to involve him as well! More Ruby (which belonged to his grandfather), some fun outdoor builds, finishing his office/guest bedroom (especially now as he's working from home for the foreseeable future!), and a few other projects and surprises. I know it's cheesy to say, but I found a great dude who makes me laugh and I plan on him sticking around, so thank you for welcoming him and getting to know him a little through the Ruby videos we do together.
The Primary Bedroom Feature Wall
This is one I can't wait to share, but we need a few more supplies before it can be fully completed. This is a sneak peek!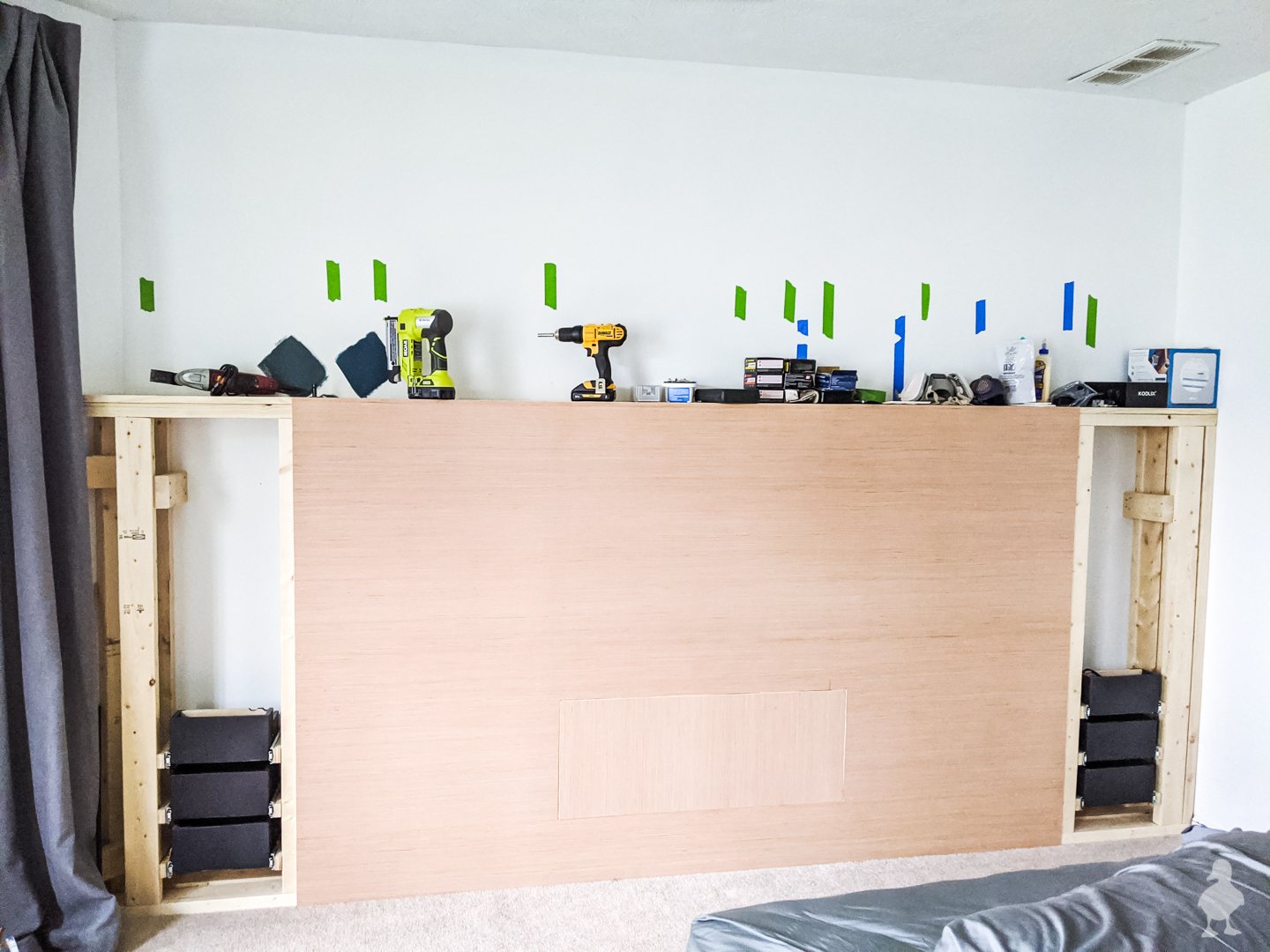 The Dining Room Becomes the Office
Being at home has made me realize: WE DON'T USE THE DINING ROOM. And it's got a big window that I enjoy looking out of. So, pretty soon, I'll be converting this room into my office. It gives us some nice space between Kyle's conference calls upstairs in the guest bedroom (which also needs to be finished) and doesn't keep me cooped up upstairs.
More Ruby (K is SO EAGER these days to work on it!), more garage workshop updates, more pupdates… can't wait!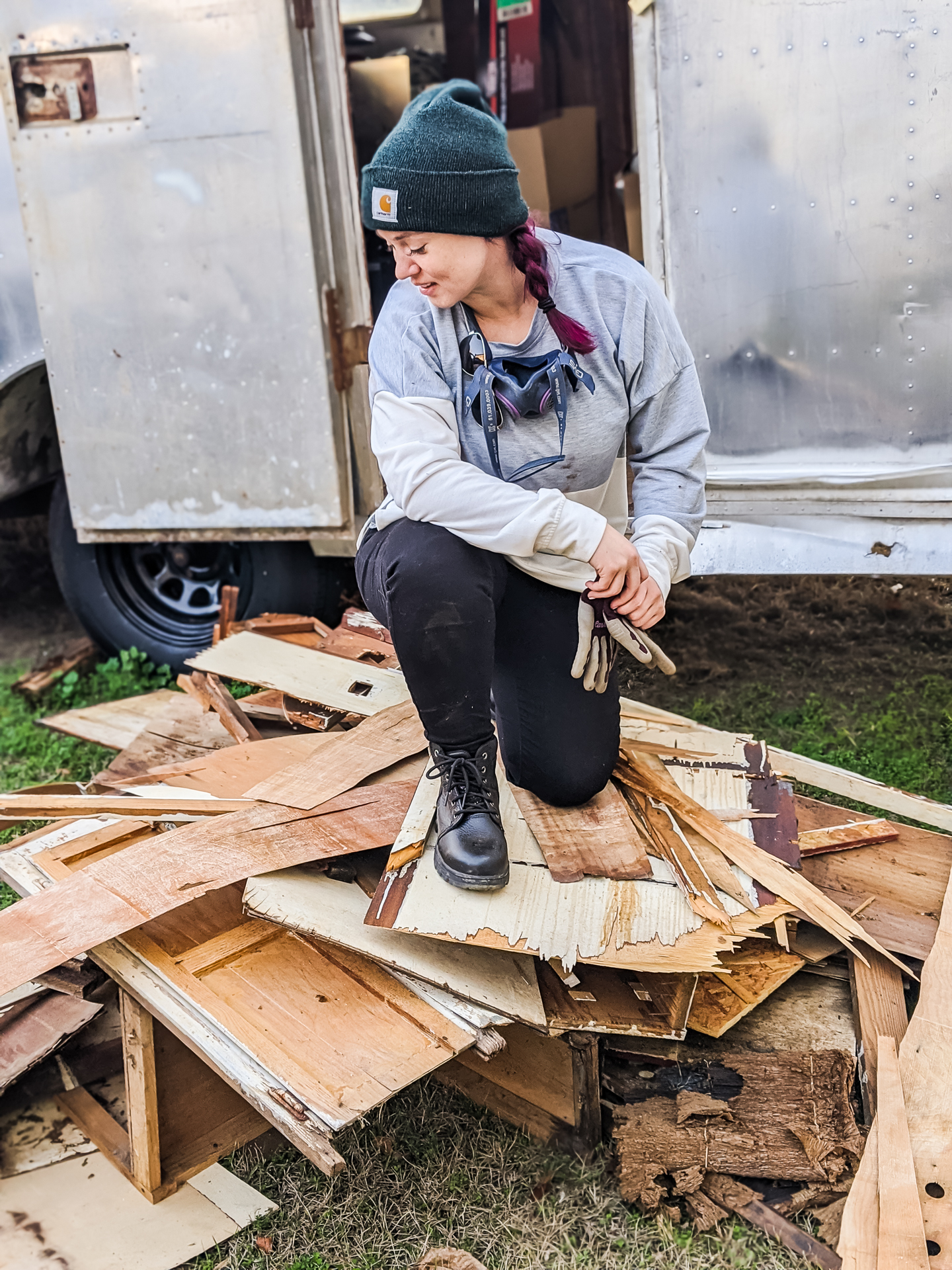 Some words about blogs & other content creators you may be watching right now:
Hopefully this small note doesn't get too long! It's no secret that folks like me earn income from advertisers (like the ads you see in the sidebar and such), sponsors on specific projects, and commissions from things we recommend. I always think it's best to be transparent about that, even though it's a risk to even bring it up (I've already seen folks who have been accused of a "money grab" to call attention to it, which is weird to me since everyone is talking about how things are impacting businesses in different ways). Bloggers (and "content creators" as they're often called now since it includes YouTube and Instagram) are typically small businesses of one or a handful of people. In my case, it's just me, but I hire other small businesses for specific tasks such as accounting and web maintenance.
Word from industry experts say that many advertisers are likely to cut their budgets (which is understandable), even when blogs themselves could possibly see more visitors from more folks being at home and wanting more content (I sure hope that's the case because I'm glad to provide that feeling of familiarity and DIY ideas!). I've already heard of one major retailer dropping their contracts for the year, and some affiliate programs have been put on indefinite hold. It kind of reminds me of the early days of blogging of everyone trying to figure things out on the fly, so I'm not panicking… just trying to pay attention and be smart.
I bring it up myself because I think it's worth mentioning to give the favorite folks you follow some grace (within reason — if they are doing something selfish and putting other people at risk as I've seen in recent days, I feel your frustration!). Word around the online water cooler (ha!) is that some feel awkward to "pretend like things are normal" and make their regular content or try to "be productive" when they may need to step back. There are many ways to support them for free — visit blogs directly instead of a feed reader, subscribe, follow, watch their videos on YouTube, share their account on your Instagram stories and tag them, leave supportive comments (it makes their day!), use their swipe-ups if you are shopping, turn off ad blockers, mention us to your friend & more — Chris Loves Julia has a great post about it and why these help). I would also be willing to bet that in the coming months, we're all going to see some strange ads on otherwise reputable sites. My logic there is that if the major retailers advertise less, it gives other brands the opportunity to slip in and experiment with some weirder ads. Try to have patience with the websites you're visiting if you see that kind of thing — I'm betting it's not done on purpose — just an ad space to fill that otherwise was never available.
So, there you have it. I WISH I could shout some of the upcoming news from the rooftops, and I hate to be this vague because I also suck at keeping secrets, but stay tuned, friends. MORE than that, I hope that you are staying safe, your families are safe, and that every person out there who is working so hard to keep us safe knows how much I appreciate them. Some of you reading this are those folks (doctors, nurses, grocery store & liquor store employees, sanitation workers, delivery service people, and so many more): THANK YOU isn't enough, but please know I'm going to bed every night thinking it and hugging you from a social distance. ❤️
P.S. I read this rambling post to K before I hit publish since there are obviously a lot of different thoughts going on in my head right now. His feedback was that I needed to add more about how awesome he is. So, there's that. 😂