Disclosure: this post may contain affiliate links, which means I may make a commission if you decide to make a purchase through one of my links, at no cost to you.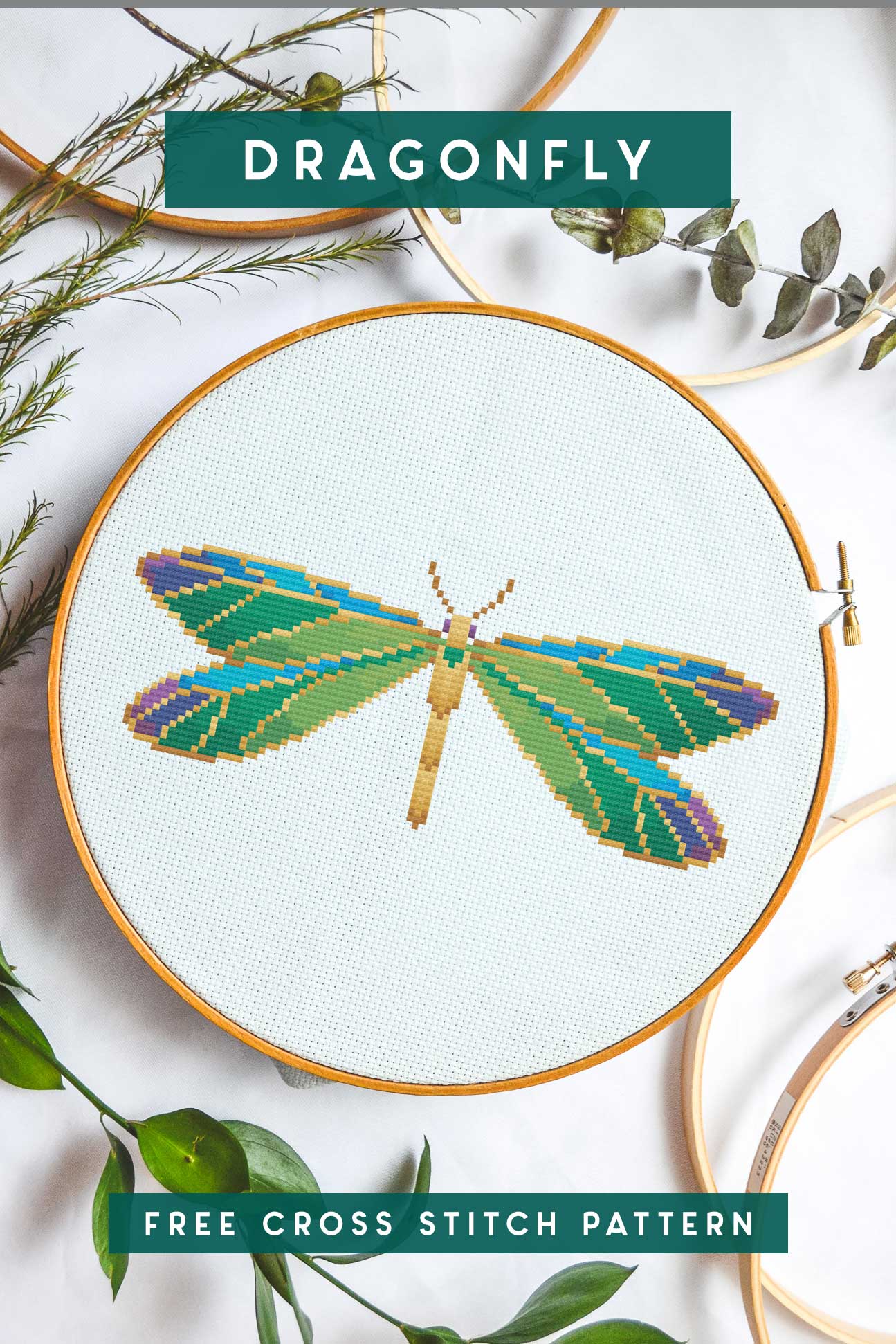 It's the first of the month, so you know what that means: another free cross stitch pattern in my free monthly series!
About this Dragonfly Cross Stitch Pattern
It's my birthday month! In fact, it's my birthday TODAY! And, I LOVE vivid greens and blues. These deep, jeweled tones are my favorite. So, I adapted a picture of a dragonfly into a much more colorful pattern to look kind of like a jeweled broach.
Usually, I create these patterns for those of you who like to stitch along with me. But to be honest, I don't care if I'm the only one who likes this one — I made it for me! It's my favorite so far in my entire free monthly series.
And surprise… there are 2 versions!
archived
this pattern is now available through our sister site
Become a member today and save 25% with code ARCHIVE25
Outlined "Jeweled" Dragonfly
Designed for 14 count Aida
Full counted cross stitches only
DMC floss colors: 16
Size: approximately 7.1 in. x 3.4 in.
Simpler Version of the Dragonfly Pattern
The version above is actually the second draft of my dragonfly design. The more photo-realistic something gets, the more colors involved and the more time it takes, so I try to first aim for minimalism with colors to make it easy on beginners. I decided to save this first version as a separate design just for fun, so you now have two options to choose from: one that looks more like a jeweled piece (above, and my personal favorite), and one that's probably much faster to complete, below!
Designed for 14 count Aida
Full counted cross stitches only
DMC floss colors: 12
Size: approximately 7.1 in. x 3.4 in.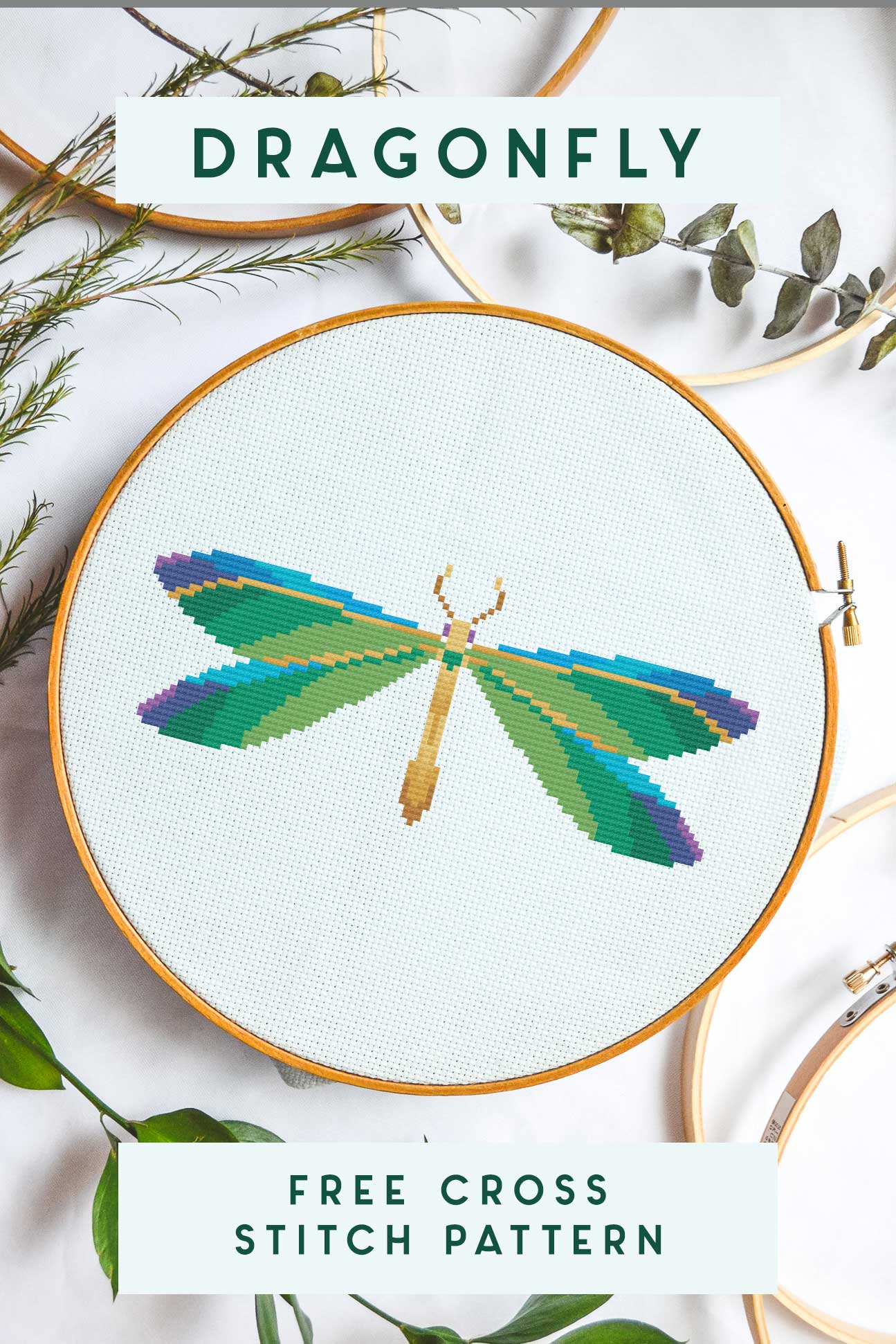 You can find BOTH versions in each of their own downloadable PDFs in my Cross Stitch Library. Hit the button to hop over and grab your favorite.
How to use the library:
Just type in your name and the email address you subscribed with in the box on the library homepage, and it will pass you through to the library of all other free patterns. If you are new to subscribing or haven't been able to get access, it's likely because you still need to confirm your subscription (every signup has a confirmation email and it's REQUIRED you confirm to add you to my list… if you haven't seen it, check your spam folder!).
Don't forget to pin, and if you complete one of my patterns, please tag me @uglyducklingDIY on Instagram so I can see your finished work! I love seeing more and more of you getting into cross stitch (it's so relaxing, isn't it?). If you have an idea for a new pattern that you think would be fun to see, leave a comment below and I'll add it to my queue. I've got lots of patterns in the works already, so you can find sneak peeks by clicking over to the library too (future months aren't yet linked for download, of course, but image thumbnails and the names of the future patterns are visible for the rest of 2019!).
pattern time limit
Patterns are available for free for a limited time to make room for new designs. To get access to the entire archive and lots more patterns, check out our membership site, NeedleSpark!
Check out the library to get access to currently available patterns and see previews of future releases!