Disclosure: this post may contain affiliate links, which means I may make a commission if you decide to make a purchase through one of my links, at no cost to you.
This mod and mega-colorful "tree" pattern is just the ticket for this month's cross stitch pattern, and continuing this month of tons of Christmas DIYs for #25DIYsofChristmas!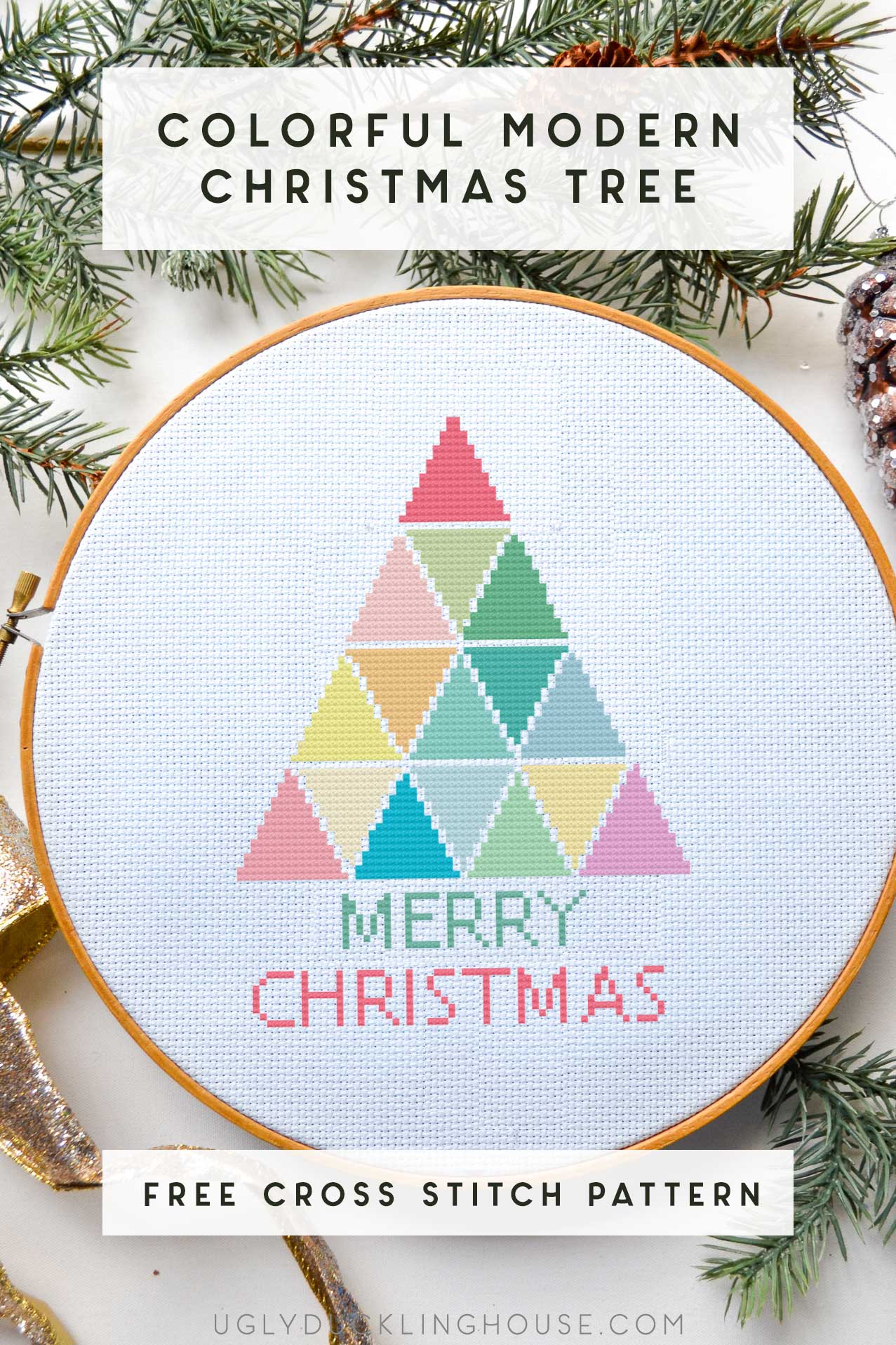 Happy first of the month! As usual, I've got a NEW pattern as part of my monthly pattern release to share with you today. It's also post #4 in my "25 DIYs of Christmas" series!
If you're new here, I've been brainstorming a TON of Christmas ideas for months — gift ideas, crafts, and simple DIY projects will be going live every few days (some even daily) as we count down to Christmas. I'm also including how-to videos to show you how I made each one. I would LOVE to see you guys complete some of them this month if you're up for it! It would also mean a lot to show your support on this series by subscribing to BOTH my blog posts and YouTube channel if you like both (not everyone does, of course, so I'm striving HARD to do both so you can pick the content however you like; believe me that when this series is over, the very last post will be a cocktail recipe, and it will be well-earned).
This is also the first video I've been able to create in a timelapse for a cross stitch pattern. Let's talk about that for a second…
Cross stitch is kind of a close-up thing, and often something I do to wind down at night. But to make a video of this pattern was a whole new challenge (filming over my shoulder, not accidentally drifting out of camera view, etc.). It's by no means perfect, but considering the circumstances, I'm really glad I saw it through. I'll be able to re-use this video when I create the cross stitch guide (a few of you have asked I create one for those who want to try cross stitch for the first time, so I'm working on that!). Enjoy:
About this Modern and Colorful Christmas Tree Cross Stitch Pattern
This rainbow-themed tree pattern would make an excellent gift for DIY friends who have been wanting to try cross stitch. Since the stitches are mostly the same triangular shape, it is simple enough for a beginner to complete while colorful enough to keep one's interest!
Designed for 14 count Aida
Full counted cross stitches only
DMC floss colors: 17
Size: approximately 5.6 in. x 7.3 in.
archived
this pattern is now available through our sister site
Become a member today and save 25% with code ARCHIVE25
How to make this simple Christmas tree cross stitch pattern into a gift:
Subscribe to my email list to get access to the library. Print out this pattern (in color), including the DMC floss list and color map.
Purchase the cross stitch fabric, DMC floss colors, embroidery hoop and needles. Since this one is colorful, I would recommend a white or black Aida fabric color to stitch onto (the contrast will make it pop).
Bundle the pattern and supplies to complete the project into a gift bag or box and tie with beautiful ribbon.
OR
Subscribe to my library, print it out, buy the supplies, and complete the pattern yourself.
Frame the finished pattern and gift that instead!

FAQ: Can you substitute with different colors than what's shown?
Yes, of course! This pattern would also probably look great if you picked a series of greens, matched it to your Christmas tree's color palette, a favorite team's colors (if a gift), — the possibilities truly are endless. Just be sure to assign one of the symbols to one of the colors you pick and remember which is which (mark the change on the printed color chart to keep track).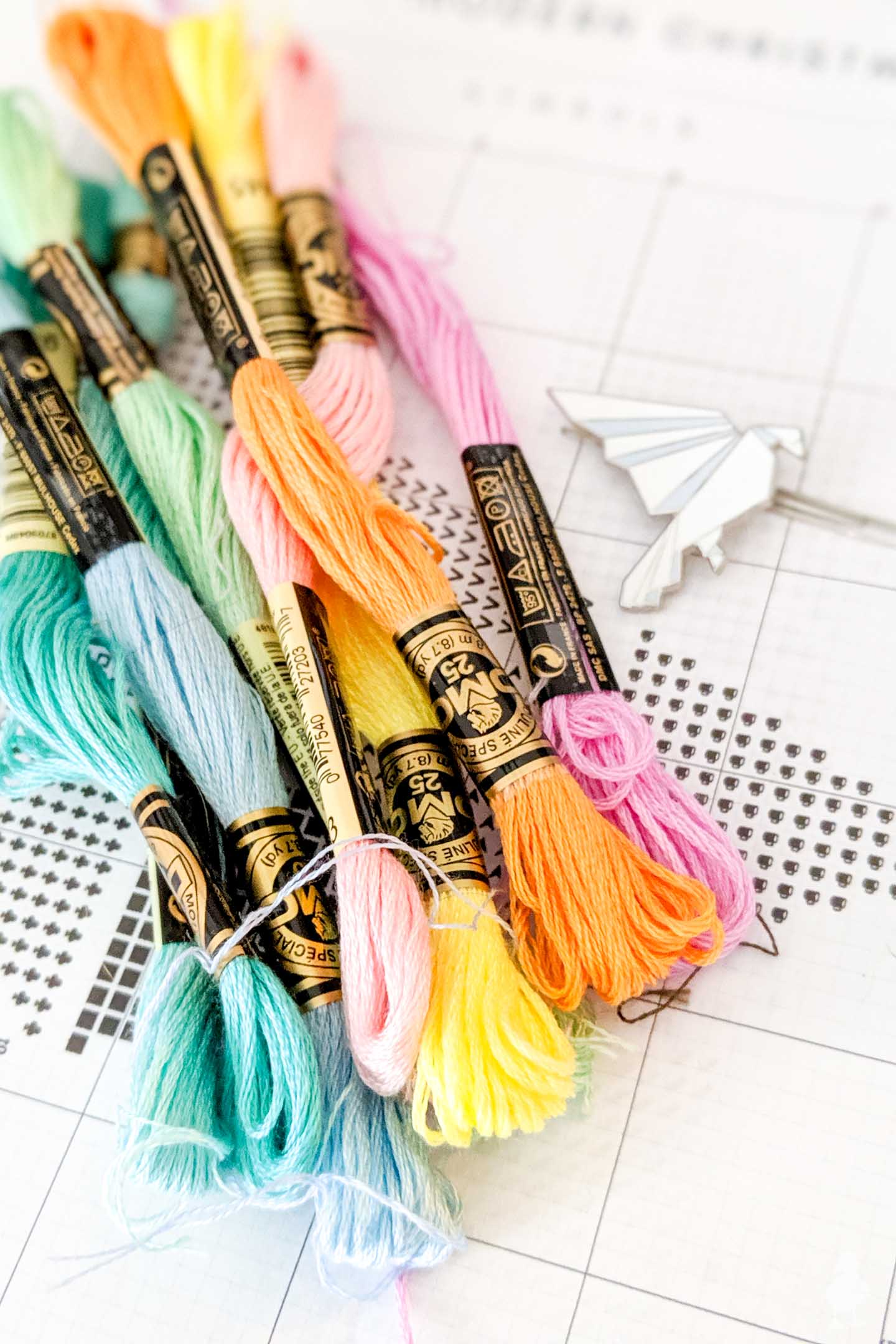 How to use the library:
Just type in your name and the email address you subscribed with in the box on the library homepage, and it will pass you through to the library of this pattern and all other free patterns I've shared on the blog before. If you are new to subscribing or haven't been able to get access, it's likely because you still need to confirm your subscription (every signup has a confirmation email and it's REQUIRED you confirm to add you to my list… if you haven't seen it, check your spam folder!).
As with all of my patterns, if you complete one, please do me a favor and tag me on Instagram so I can see your finished piece! I truly love it when I see someone make one of my original patterns.
This project is part of a series of DIY gifts, decor, and other fun inspiration that I'm calling my "25 DIYs of Christmas"! Check out the list below to see each post (step by step tutorials, recipes, videos, free patterns, and woodworking plans available for each (where applicable). Lots of these ideas have multiple versions to show you the possibilities of each DIY. Even better, you can subscribe to make sure you don't miss a single post!