This post may contain affiliate links. This won't change your price, but may share some commission. Read my full disclosure here.
1 day. 1 truck. 2 helpful (and patient) parents. NINE pieces of furniture purchased. And, I found the light fixture to go in my kitchen over the as-yet-to-be-found island.
I. Scored. BIG.
While I'm tempted to indulge in my excitement and throw my sale frenzy all over this blog, I've decided to show some restraint and reveal each lucky find in easy-to-digest bites. It's merely coincidental that I'm also simply too lazy to spend all night working on one very loooooong post that you'll stop reading halfway through. Surely you find furniture purchases just as fascinating as I do, right? No? Well then, I guess I was right to split the story up. Let's start with the first two.
I found this storage bench at Homegoods for less than $50 in the clearance section. It's not big enough to use as my previously desired dining room bench, but it will be great in the living room for storing Colby's toys or extra blankets. It will also come in handy in November for our housewarming as a spot for one extra seat.
You may recognize this next find from my shopping list on Friday. The background of the story goes like this:
Scott wants a recliner. I don't. Scott says please. I still don't wanna. Scott single-handedly installs my beautiful laminate flooring throughout (almost!) the entire first floor of the house. I begrudgingly agree to find him a recliner while he goes out of town for football.
Don't get me wrong, I know how comfortable recliners are and I completely understand why Scott wants one. But it seems that this heavenly comfort can only come from chairs that look like what happens when you put a marshmallow in the microwave… and then cover it in sharpei pelts.
But this chair is what I would call a noncliner. It's like a simple upholstered chair that has secret reclining powers. Very stealth.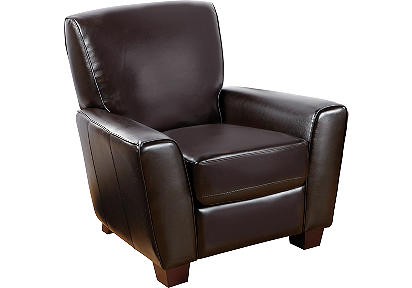 Scott gave it the thumbs up after a test drive in the store, so all I had to do was purchase it and take it home… or so I thought. As it turns out, furniture stores like Rooms to Go don't have pieces available onsite. This meant that my choices were either paying the $39 delivery fee (and then being available between the hours of 9ish to 5ish, give or take three days) or going up to the nearest warehouse and loading it via customer pickup. Since patience isn't my strong suit, I chose the latter.
I'm sure that all warehouses are not created equal, but it was clear when I showed up that this particular pickup site didn't exactly have speedy customer checkout in mind. We were told that the wait would be twenty minutes. Over an hour and twenty minutes later (I suppose it's possible I didn't hear the hour part), we left with Scott's new chair. In pieces.
Yup, this particular recliner came assembly required. Once my parents and I got it home, it took less than ten minutes to put together. Easy peasy. A few floor protection stickies on each leg, and the chair is ready for long naps and ESPN.
The total cost of my first two finds? $350, and that includes the three-year warranty and leather treatment for the recliner. I think both pieces are proportional to the size of the room and pair well with the couch without being too matchy-matchy. The fact that I spent so little on the bench means I can easily recover the fabric without feeling like I wasted my investment, and the light color will blend well in other rooms of the house should we decide to use it elsewhere.
What do you guys think of my Scott's noncliner and new ottoman? Have you had any recent shopping scores lately? I'd love to hear your thoughts!
Marshmallow image from here.
While every effort has been made to ensure the accuracy & effectiveness of the information displayed on this website, The Ugly Duckling House is for entertainment purposes only. All tutorials and demonstrations are not intended to be professional advice (nor substitute as such), and I make no guarantees as to the procedures and information here. Creating with my suggested methods, materials, and tools is under your own risk. Please ensure you are following proper guidelines with anything used, and seek professional advice if you don't know how to do something! Read my complete disclosure here.