Disclosure: this post may contain affiliate links, which means I may make a commission if you decide to make a purchase through one of my links, at no cost to you.
This cookie dough rolls out nice and smooth and keeps its shape after baking, making it perfect for detailed Christmas cookie decorating!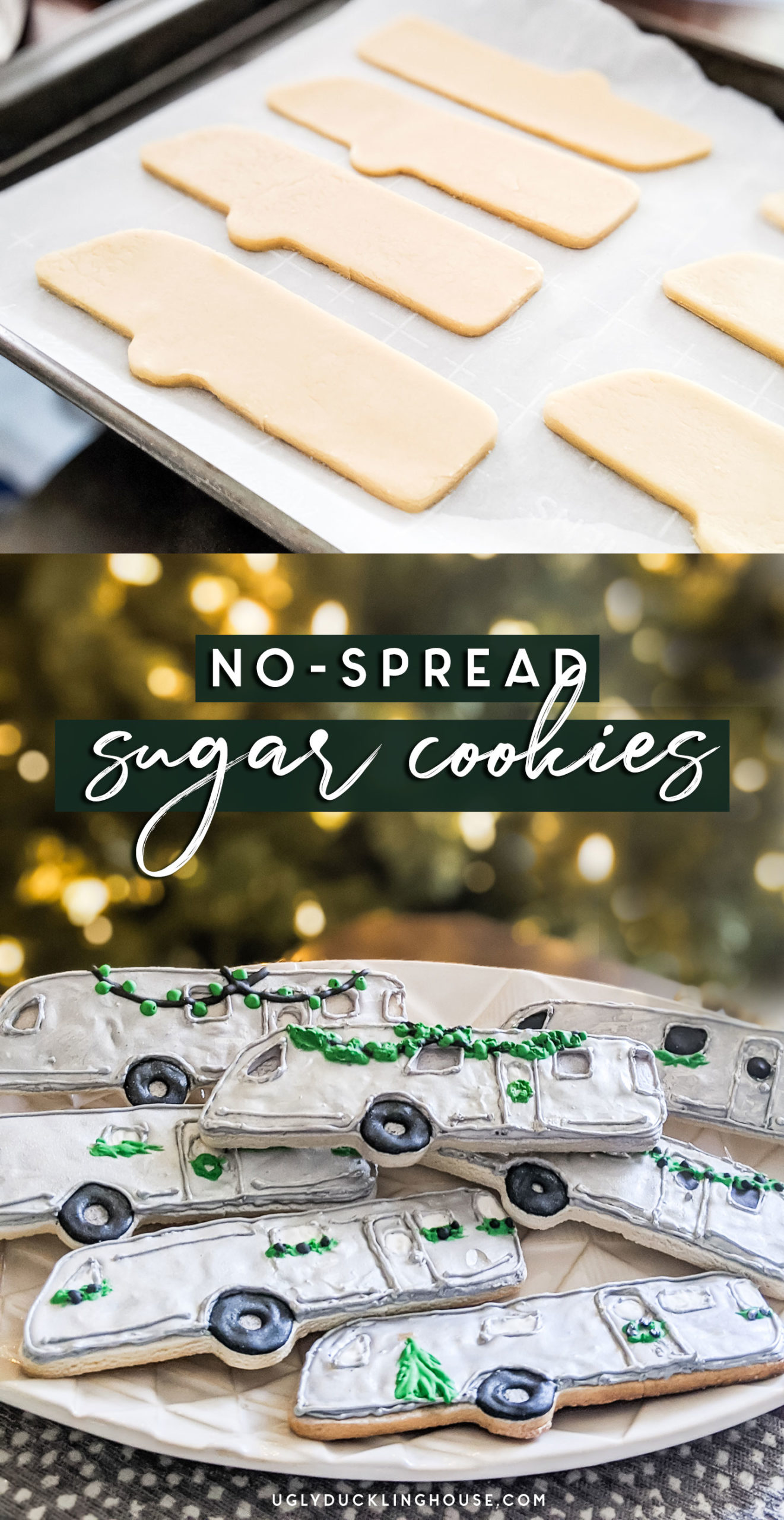 I promised you the recipe in my last post with these DIY cookie cutters, so I'm back today to share it!
My favorite cookies during the Christmas season are these, HANDS DOWN. They use hard-boiled egg yolks to make them buttery and sweet and fluffy and almost cake-like, and I love how soft they are! I can eat WAY too many in a single sitting. However, the recipe uses baking powder, which means they puff up in the oven and don't keep a perfect, crisp shape when baking. While I normally don't care about that at all when the main goal is getting them from the oven into my belly, decorating cookies with icing work is a different story.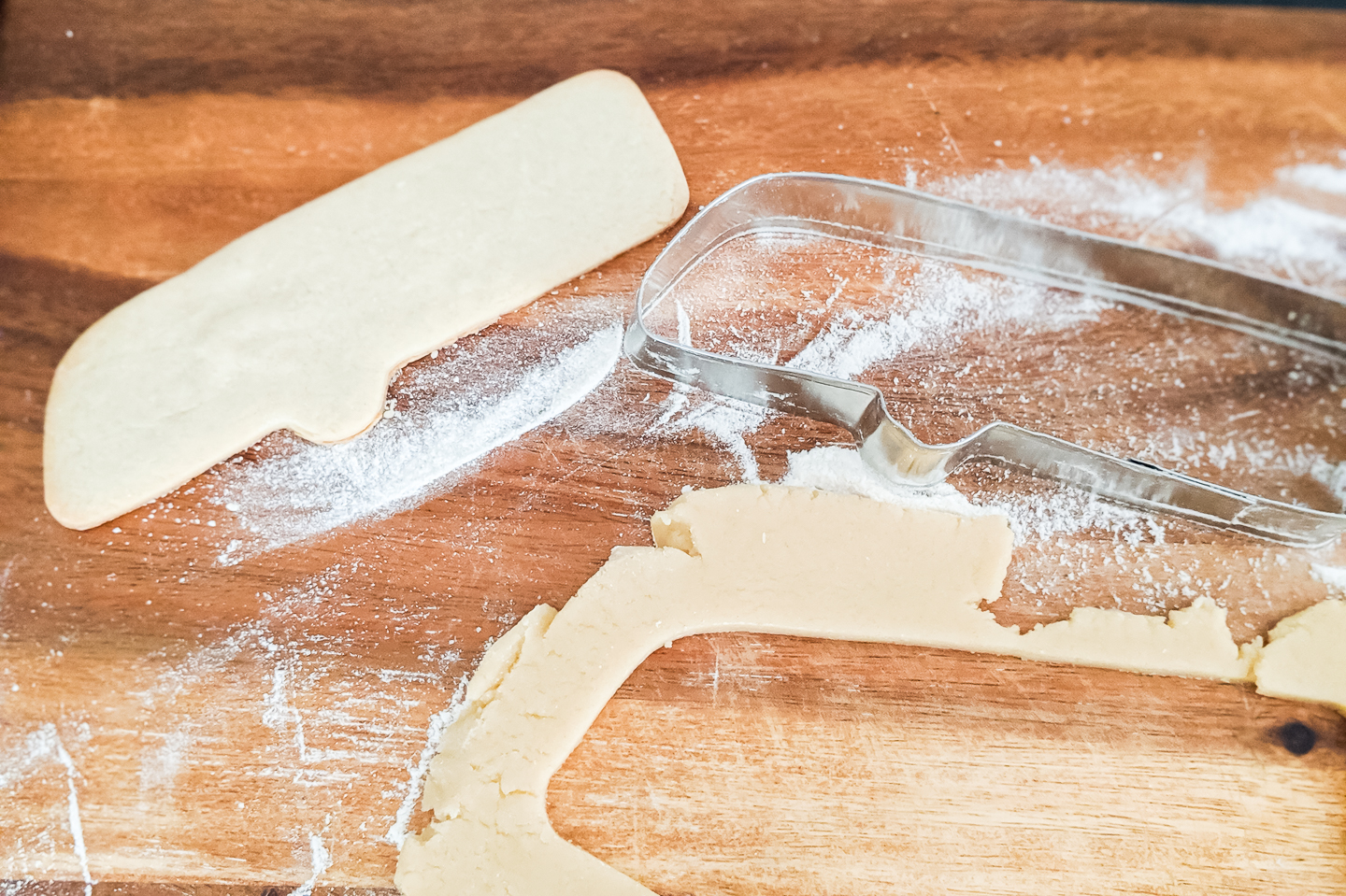 I asked my mom for help on this, and we decided to do a little experimenting to compare recipes on what would make a better cookie precisely for decorating with a lot of detailed icing (like my Ruby cookies!).
She did some of her own tweaking, and sent me the below. If the goal is to have a nice solid, sharp-edged cookie that's easy to decorate and look picture-perfect, these came out WAY better. They can also be baked to be nice and strong, so they don't split in half under the weight of the icing (this happened to me when underbaking or baking the soft HBE cookies). They also taste pretty good! Enjoy!
Print
Perfect Sugar Cookies for Decorating
These sugar cookies keep their shape and make nice crisp lines, making them perfect for cookie decorating with lots of icing!
Author:
Prep Time:

1 hr

Cook Time:

12 minutes

Total Time:

1 hr 12 mins
480 grams

flour

1

c. sugar (

200g

)

60 grams

cornstarch

3/4 tsp

. salt

2

eggs at room temp

2 tsp

. vanilla extract

1 cup

room temp unsalted butter (

226g

)
Instructions
Sift flour, cornstarch, salt. Wisk together.
Cream butter and sugar until light and fluffy.
Add one egg at a time.
Add vanilla.
Add all the flour mixture.
Roll out the dough on plastic wrap 1/4-1/8 inch thick and chill for 20 minutes before cutting.
Chill again for 10-15 minutes after cutting out cookies before baking.
Bake 375° for 12(ish) minutes (will depend on your oven and thickness)
Notes
Be sure to chill them before cutting or baking to help them keep their shape!
Keywords: sugar cookies, cookie decorating
Icing
I'm still learning a LOT about cookie decorating, but luckily, my mom has a ton of cake decorating tools (she is a Pinterest-inspired baking fanatic). The list below are roughly the elements I used to make my cookies:
There are two different icing consistencies with cookie decorating, but both are made with the same recipe called royal icing. It's what gives cookies that really smooth, professional look. It's not necessarily the tastiest icing around, but it does LOOK really good (when you know what you're doing, that is). Essentially, you make the icing, divide it into colors, and then divide it again into two separate consistencies. The thicker consistency is used for outlining; the thinner consistency is called "flooding" icing, and it's made simply by mixing water into the icing to thin it out (that's why you make it and divide and then add water so the colors match). The flooding icing is what fills in the outlines and can get VERY messy! It's helpful to have a little tool with a sharp end on it (like a metal toothpick) to help push the icing around and get it to flatten out. It's definitely an art to get it to be the right consistencies and to smooth out!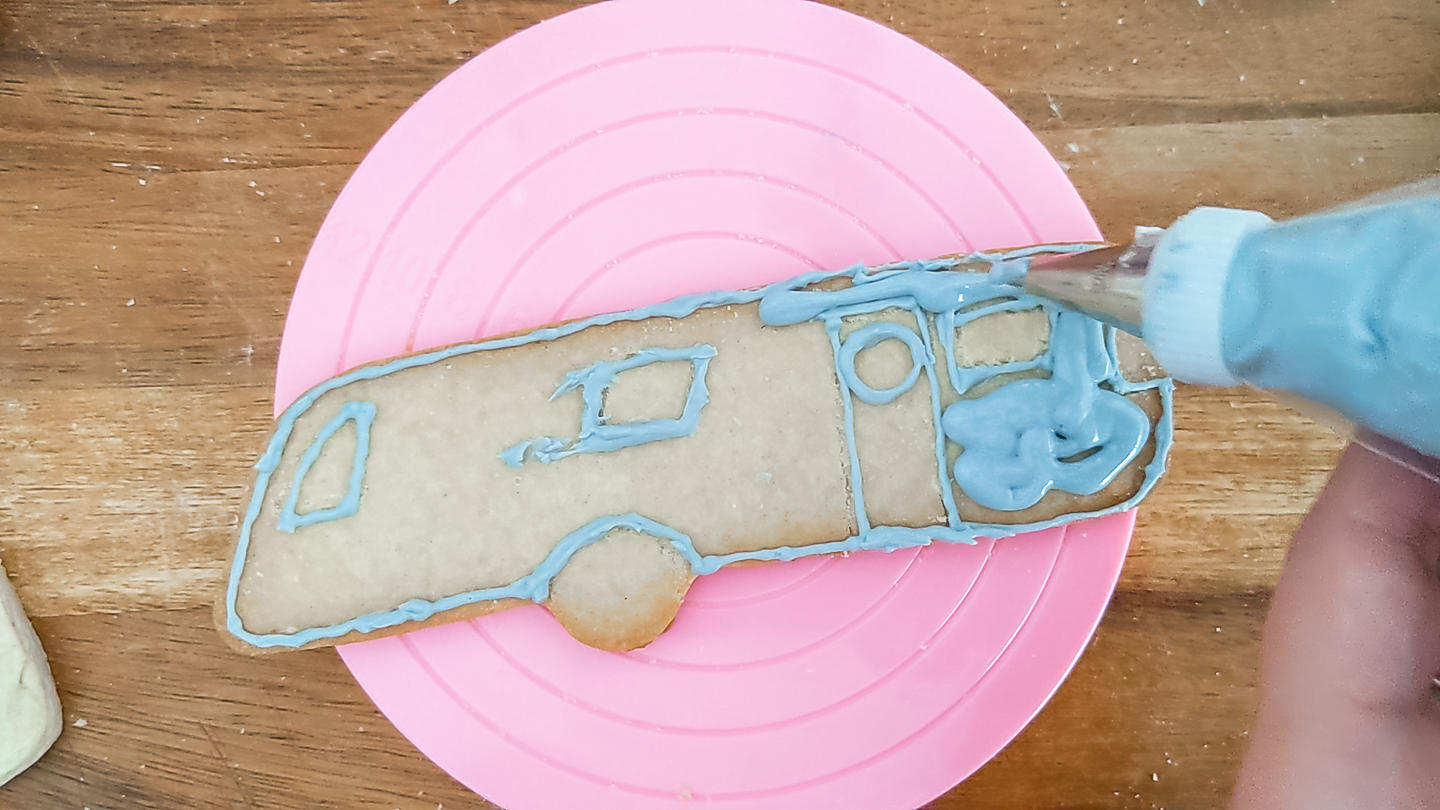 I wanted to see if I could "fake" my way to royal icing by using some premade stuff and adding powdered sugar, but I think using meringue powder and powdered sugar is the better way to go (a great tutorial is here). The next time I decorate cookies, that will definitely be the way I make it.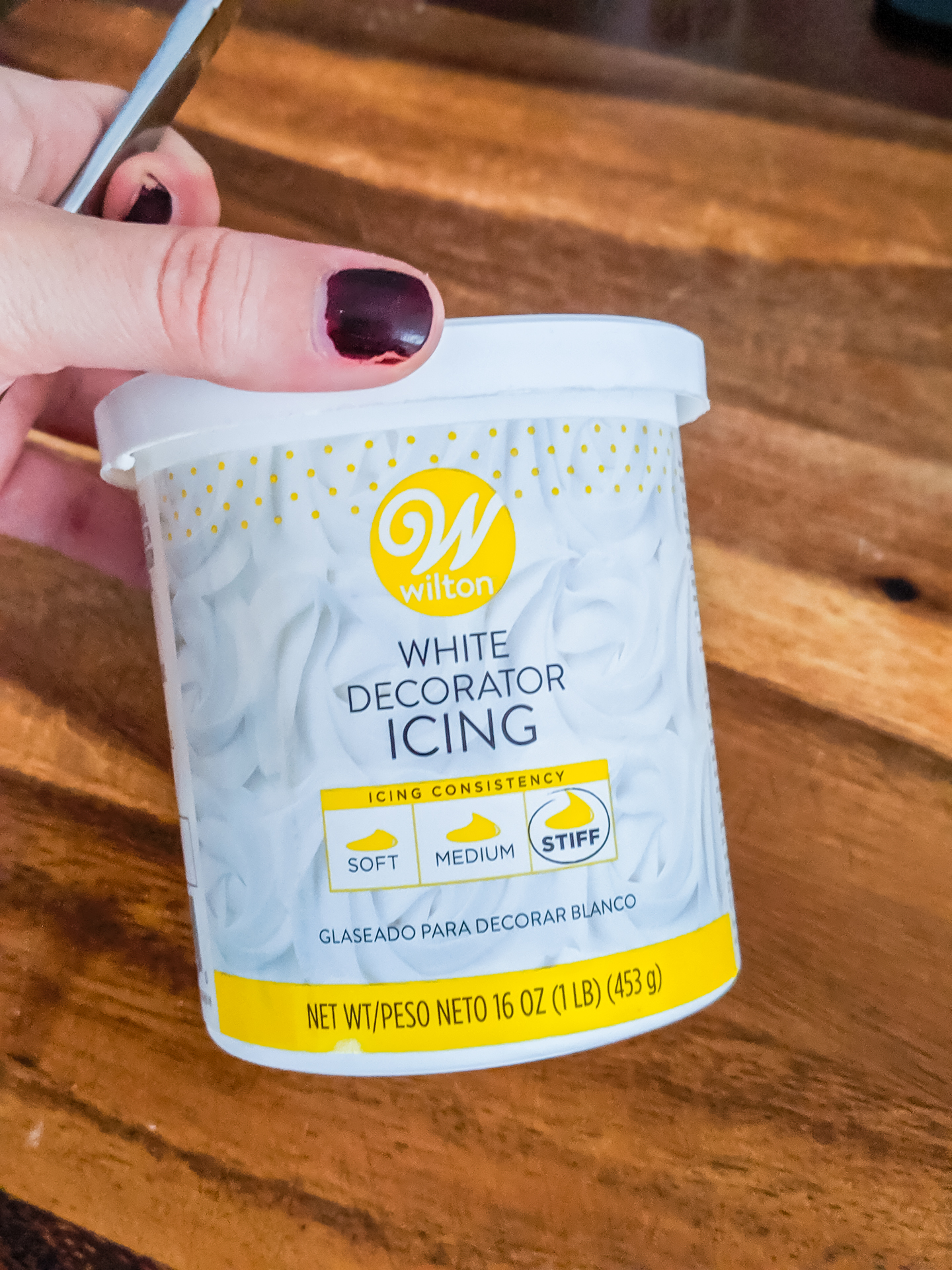 Chilling
These cookies keep really well in the fridge. However, I learned that if you're using edible metallic paint, the sheen can dull a little, so just a head's up!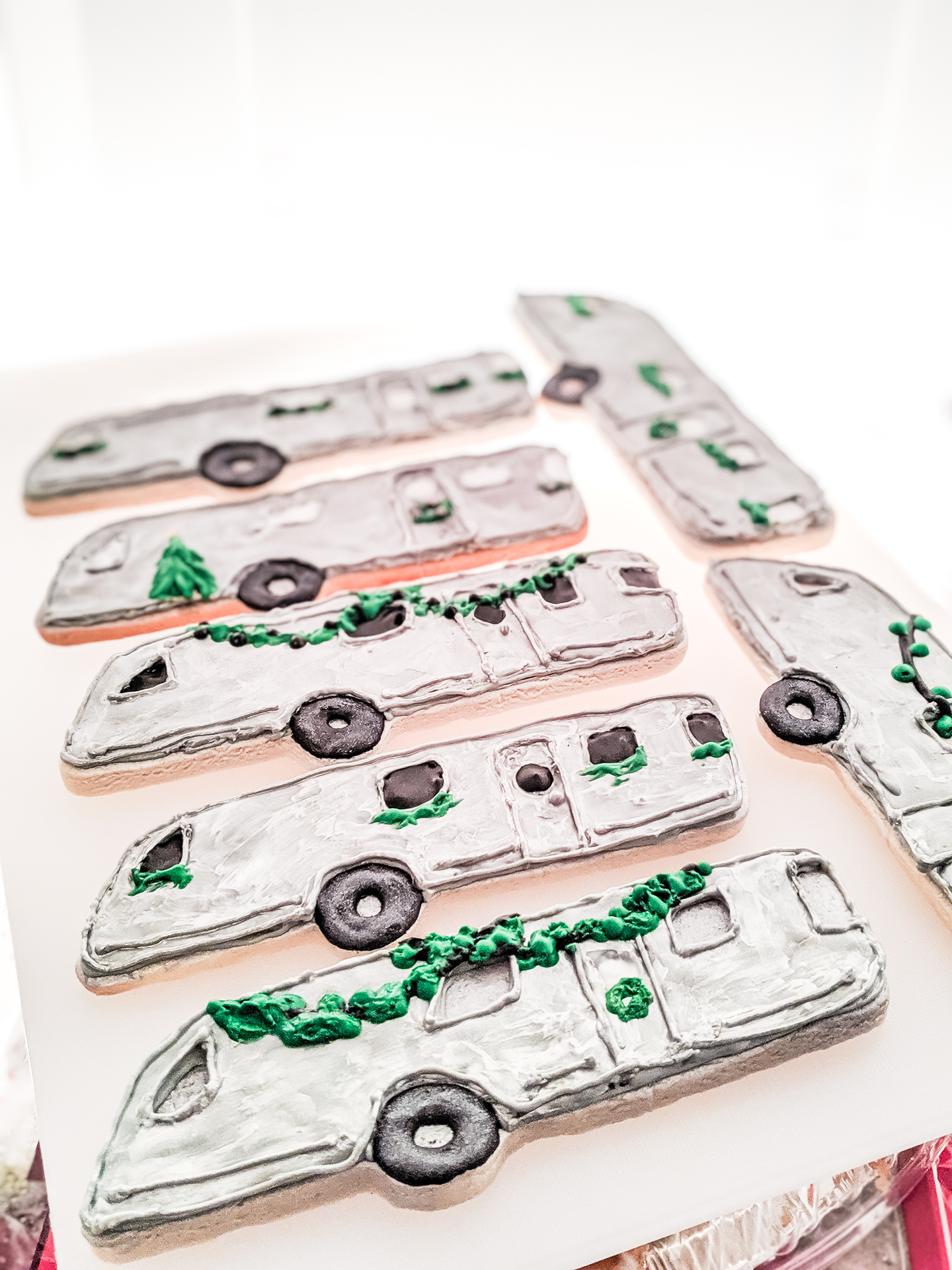 In all honesty, I wound up liking these cookies a lot — even with my amateurish flooding! Since Ruby is still in the process of being remodeled, the way the cookies turned out seems even more true to life right now with us working on polishing the exterior! Kinda pretty, kinda shabby, but lots of fun.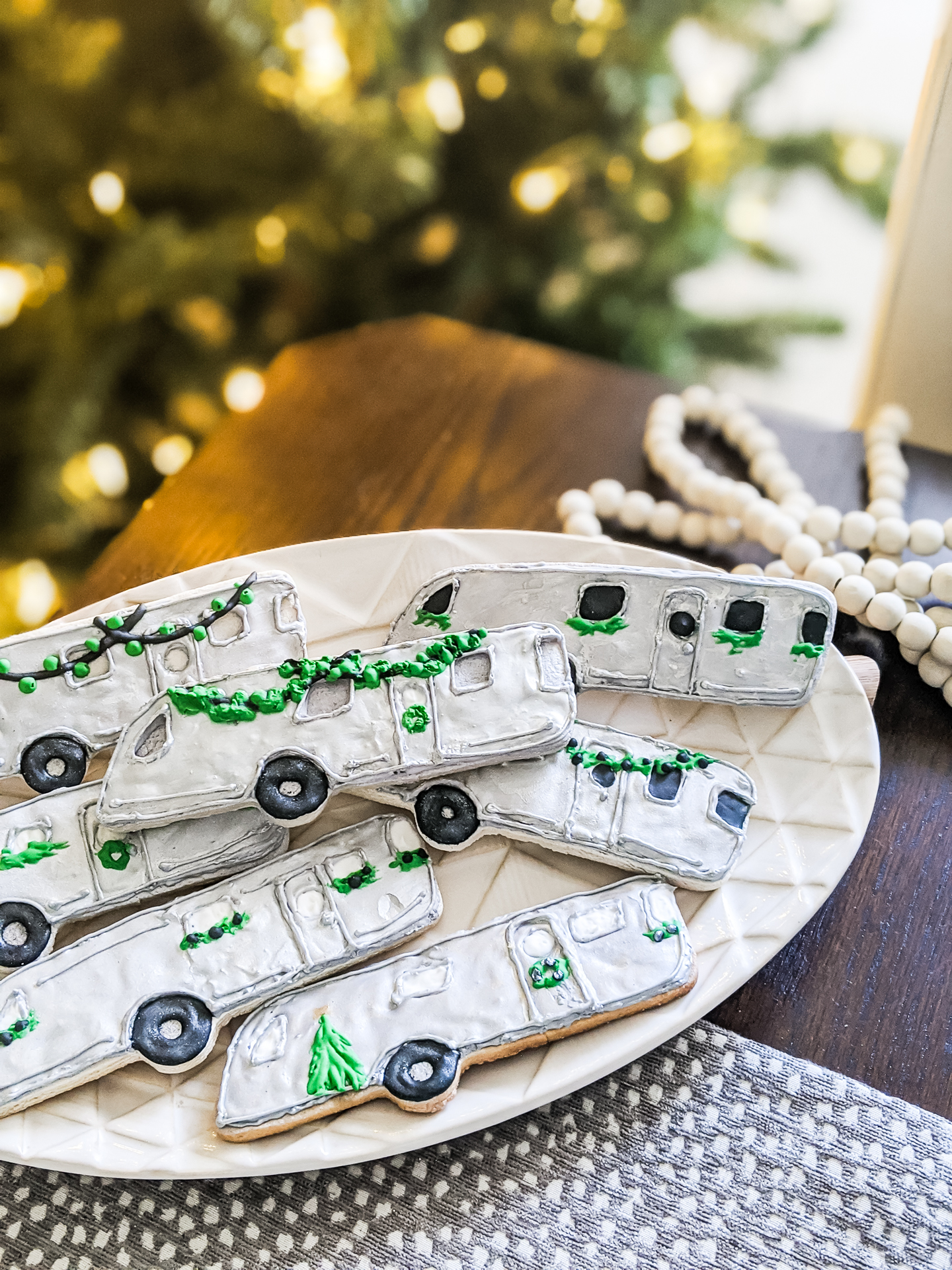 That's all for this post, but there's more to come, including one more recipe! In case you missed any of the other posts in this series, you can check out ALL of them below. And don't forget to pin your favorites!
This project is part of a series of DIY gifts, decor, and other fun inspiration that I'm calling my "25 DIYs of Christmas"! Check out the list below to see each post (step by step tutorials, recipes, videos, free patterns, and woodworking plans available for each (where applicable). Lots of these ideas have multiple versions to show you the possibilities of each DIY. Even better, you can subscribe to make sure you don't miss a single post!