Disclosure: this post may contain affiliate links, which means I may make a commission if you decide to make a purchase through one of my links, at no cost to you.
While Kyle worked on polishing more of the exterior, I spent part of last weekend making a huge mess and demo'd part of the vintage camper!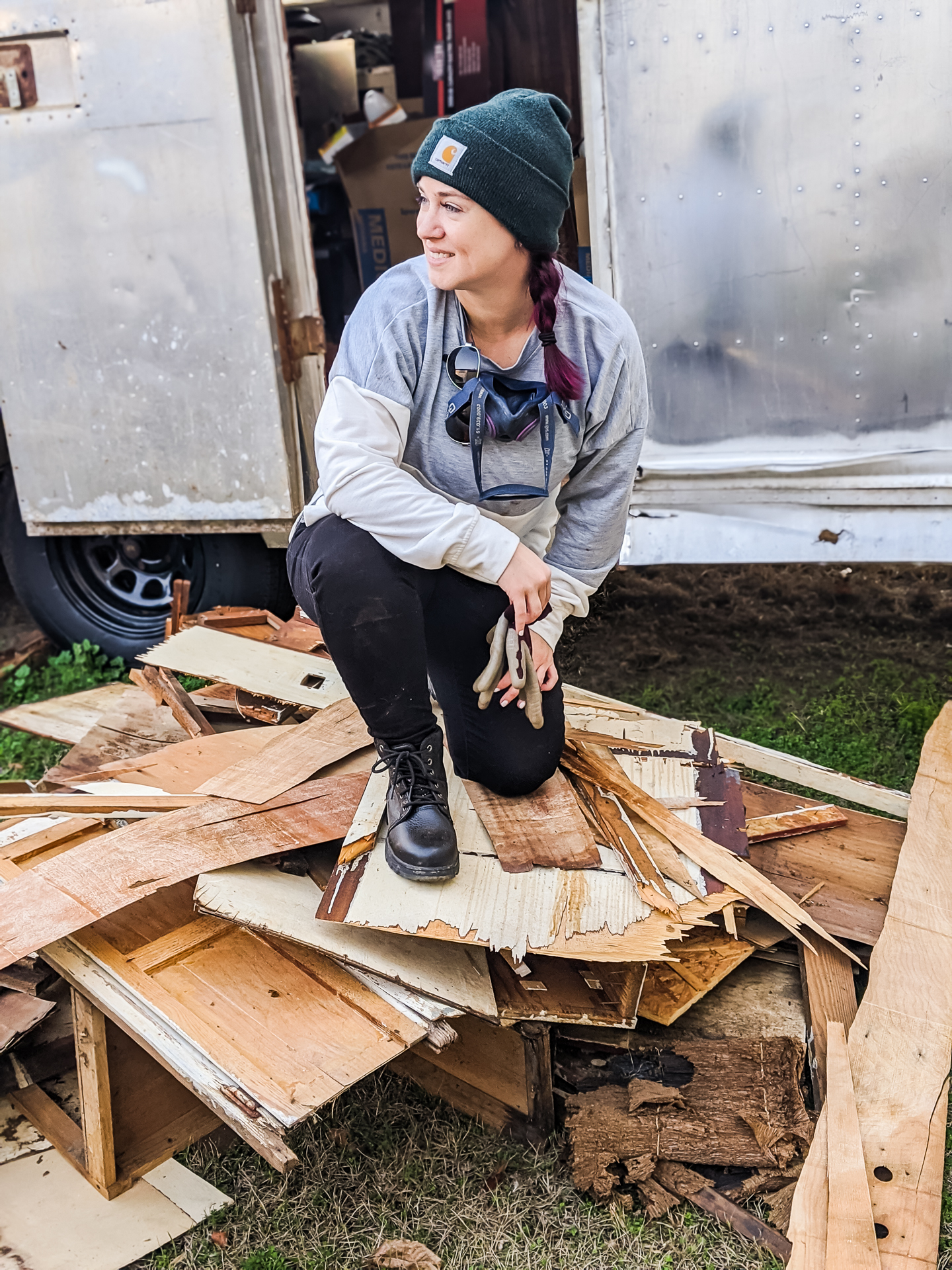 In case you missed it, my boyfriend and I are working on the remodel of a 1946 Spartan Manor travel trailer we call Ruby's Revival. It's a side project in addition to my house updates, so I hope you'll have fun following along!
Hi, friends! How are you? I feel like it's been a long time since I've done a "mini" update on Ruby. I wanted to create a solid series out of this makeover project, and I quickly realized how much harder it is to do smaller updates in addition to the longer post/video combos (or to quickly feel like they weren't of value until I had something complete to share, a larger lesson to provide instruction, etc.). This year, I want to find more balance between the bigger tutorials and the "lesser" updates, simply because they make me feel more of a connection to a lot of you who enjoy seeing little bits of progress as they happen. If they don't mean much to you, that's ok; you can wait for what I'll refer to as my "episode" updates, where they will be divided more neatly. Stuff like:
Episode 5: Replacing the trailer tongue jack
Episode 6: The FULL first polish
Episode 7(?): The FULL demo
& so on
Last weekend, K and I took a trip back out to Ruby in her new spot on the rented lot where we store it (if you missed the nail-biting episode where we had to move it, you should check that out here!).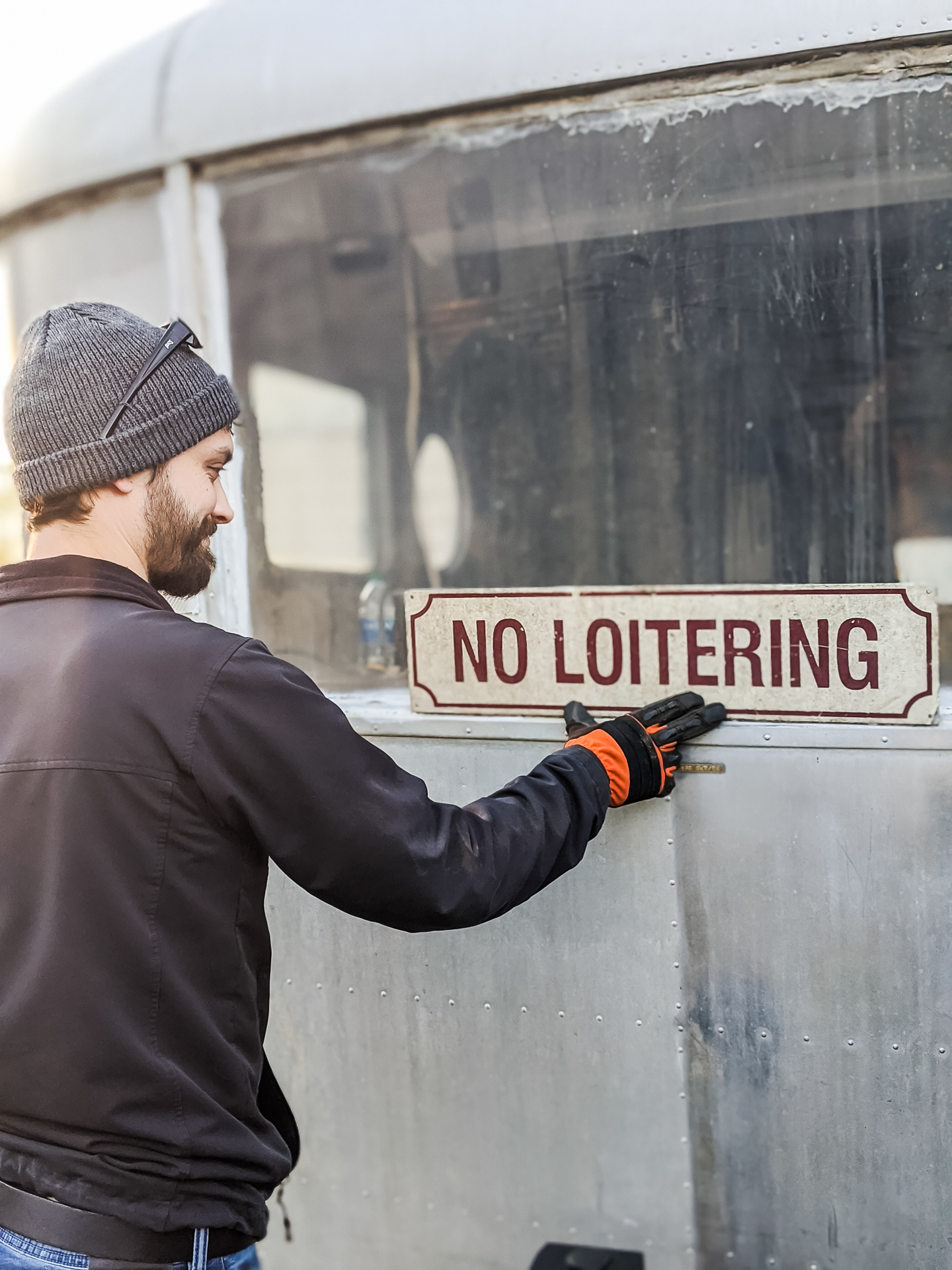 This month, I have been in a FUNK. I suppose it's pretty typical for me in January, but it's probably also due to the flurry of holiday projects in December and just needing to recharge my batteries.
While I do have lots of home projects I'm eager to start (one is starting this weekend in the primary bedroom!), the top of my to-list has been demoing Ruby. I've been fine with putting it off for a long time, but the idea just sunk into my mind this month and would NOT let go! I figure it's a good thing though, because sitting idle for too long is just not my style. So, when K suggested we go back out to Ruby to get some more polishing done, I suggested we split our efforts and try to film both more progress on the exterior and the interior while I started on removing one side of cabinets.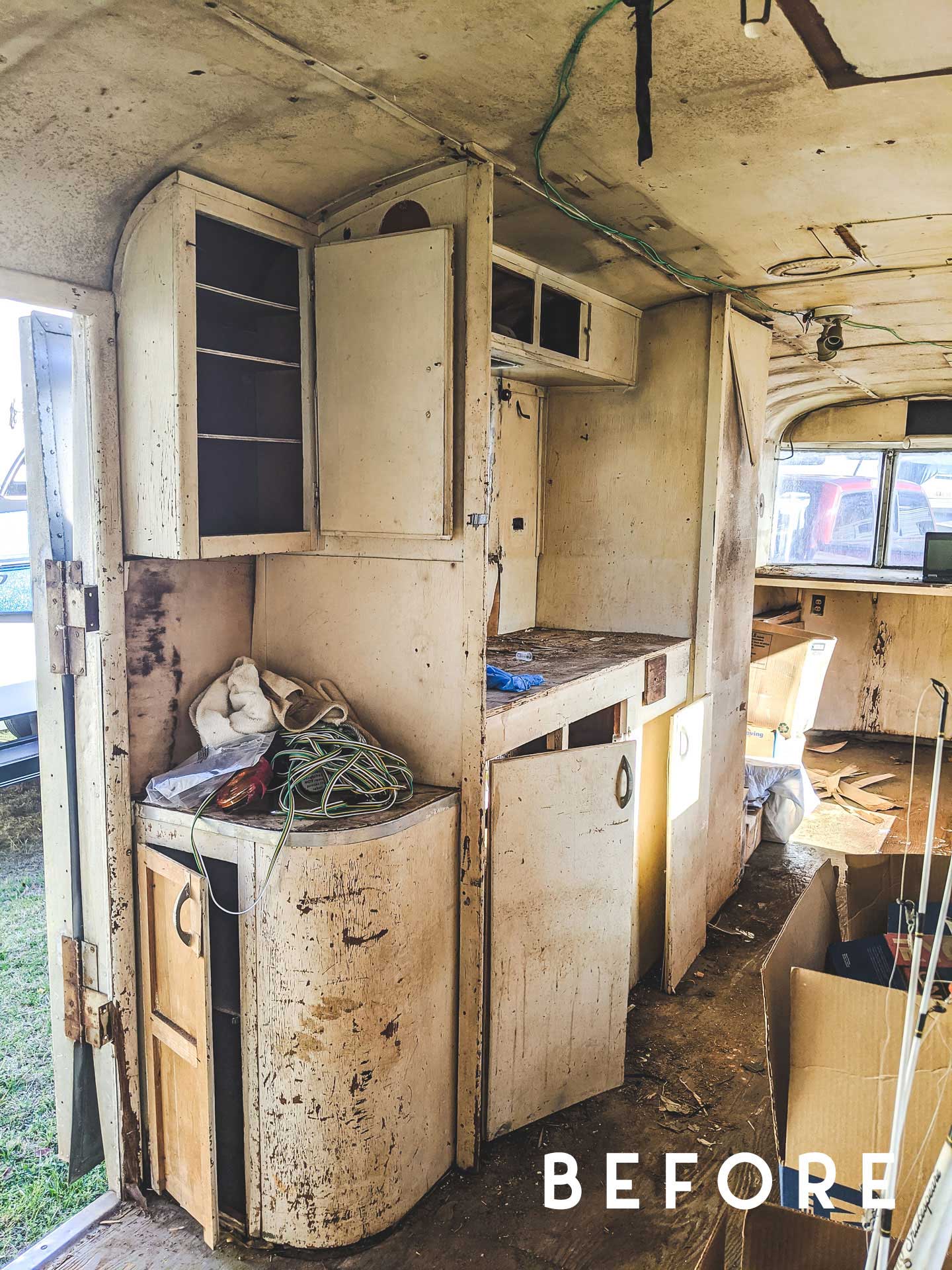 These cabinets are original to the camper, but there are layers of paint, lots of splintering, water damage, rot, etc. There really isn't anything worth keeping aside from a few sentimental pieces (there's a handwritten spot K wants to keep, etc.). Now that we've had a chance to move more of the contents out (there were a lot of things his parents left in to give to him or to simply get rid of if he didn't want them), I took new pictures of some of the truly cringey areas!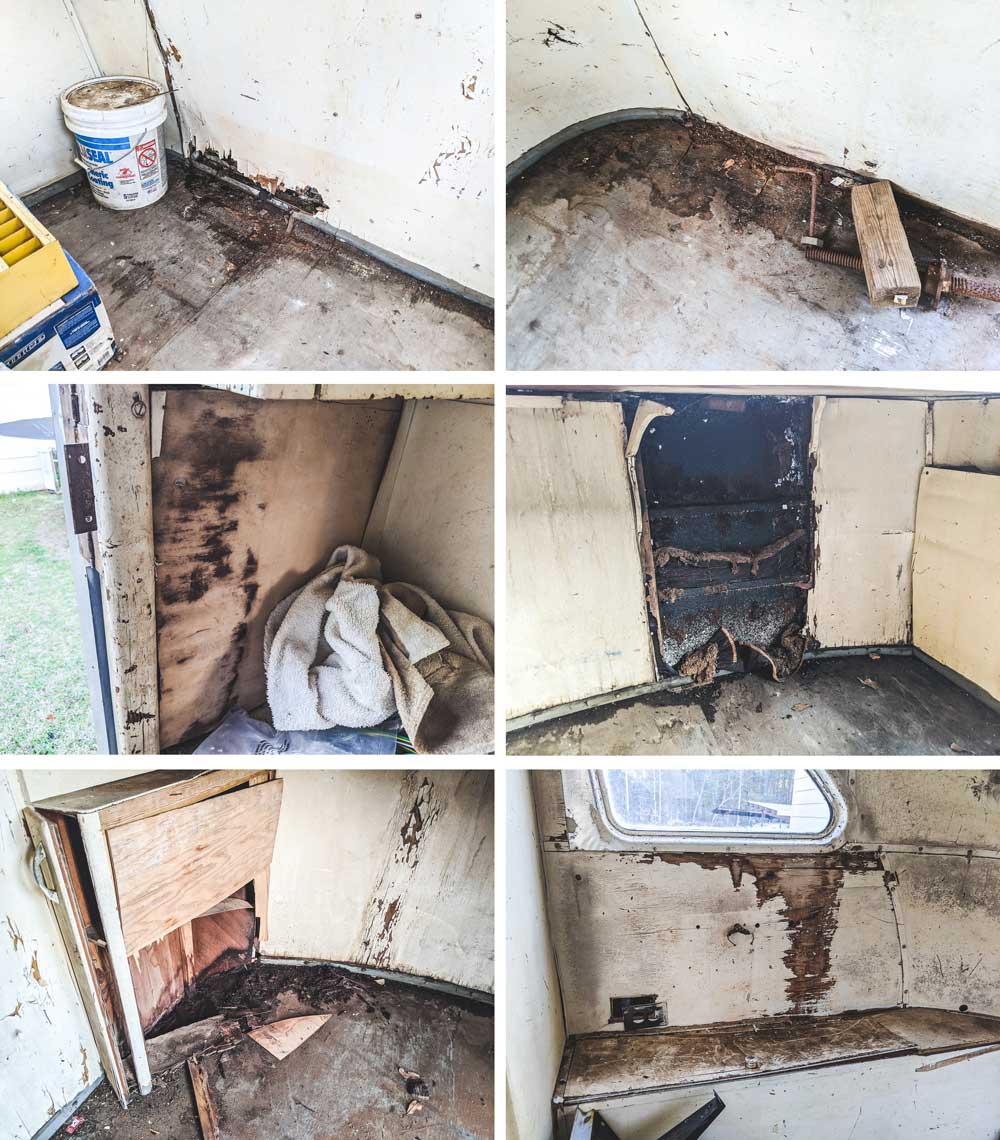 I did film a little of what will be the future demo video, so I have that for you below if you want to see it all in action. Things I learned: keeping a camera steady is quite a challenge in a tight space while doing demo and while the exterior being pushed on (because of polishing)! I wound up moving the camera around a bunch. You do get to see me hanging from the upper cabinet for a moment trying to (unsuccessfully) use my body weight to pull them down, though. 😉
I first tried a more gingerly approach by trying to unscrew sections and take them out in pieces, but a lot of the wood had deteriorated to the point of the screws not catching enough to come out. The mallet made it a much quicker job, but I also wish I had a reciprocating saw (I will next time).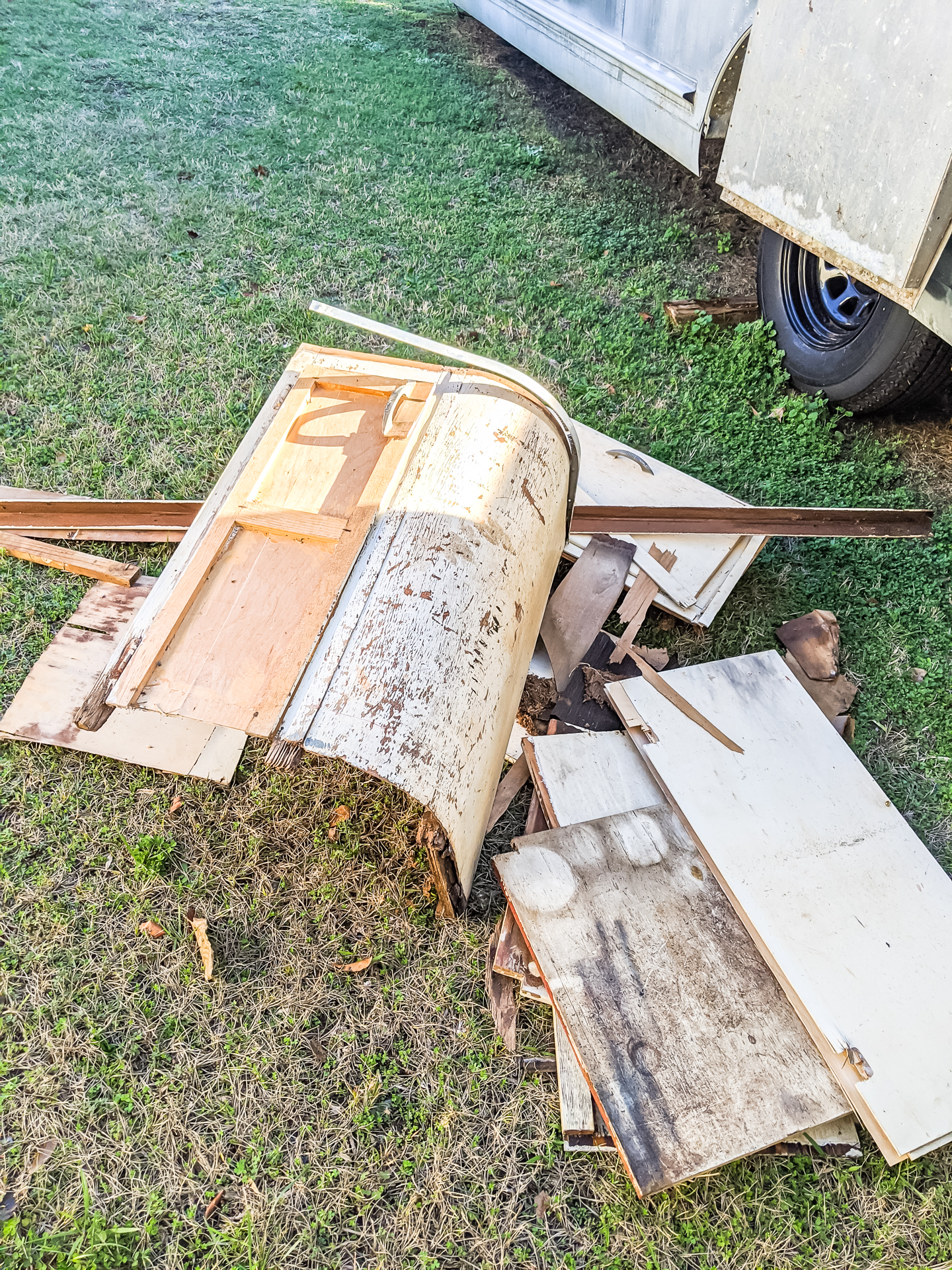 I got stuck on the very last piece of the demo because it wound up being attached in a way I wasn't expecting. It wasn't until I peeled back some of the wall paneling that I realized there was a stud behind the paneling (everything else was surface-mounted) and bolted into some of the metal framing! K and I rocked it back and forth for a bit, but we'll get at it again when we return this Sunday for more (weather permitting!).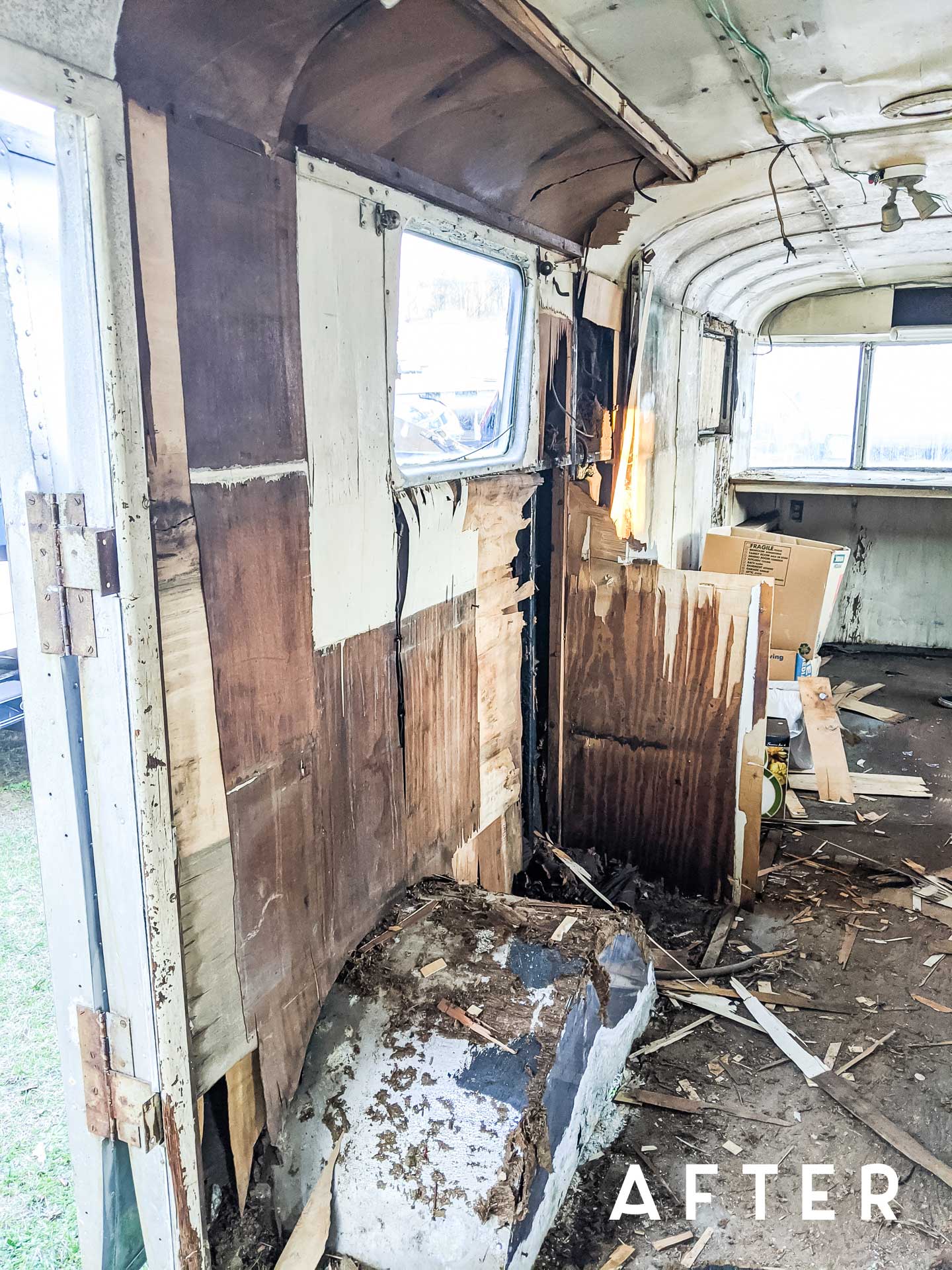 It was so FUN to get a huge pile of this project loaded into the truck and thrown away. We thought it best to hold on to some of the curved pieces so that we can use them as templates if we need it in the future. Better to have and not need them than the reverse!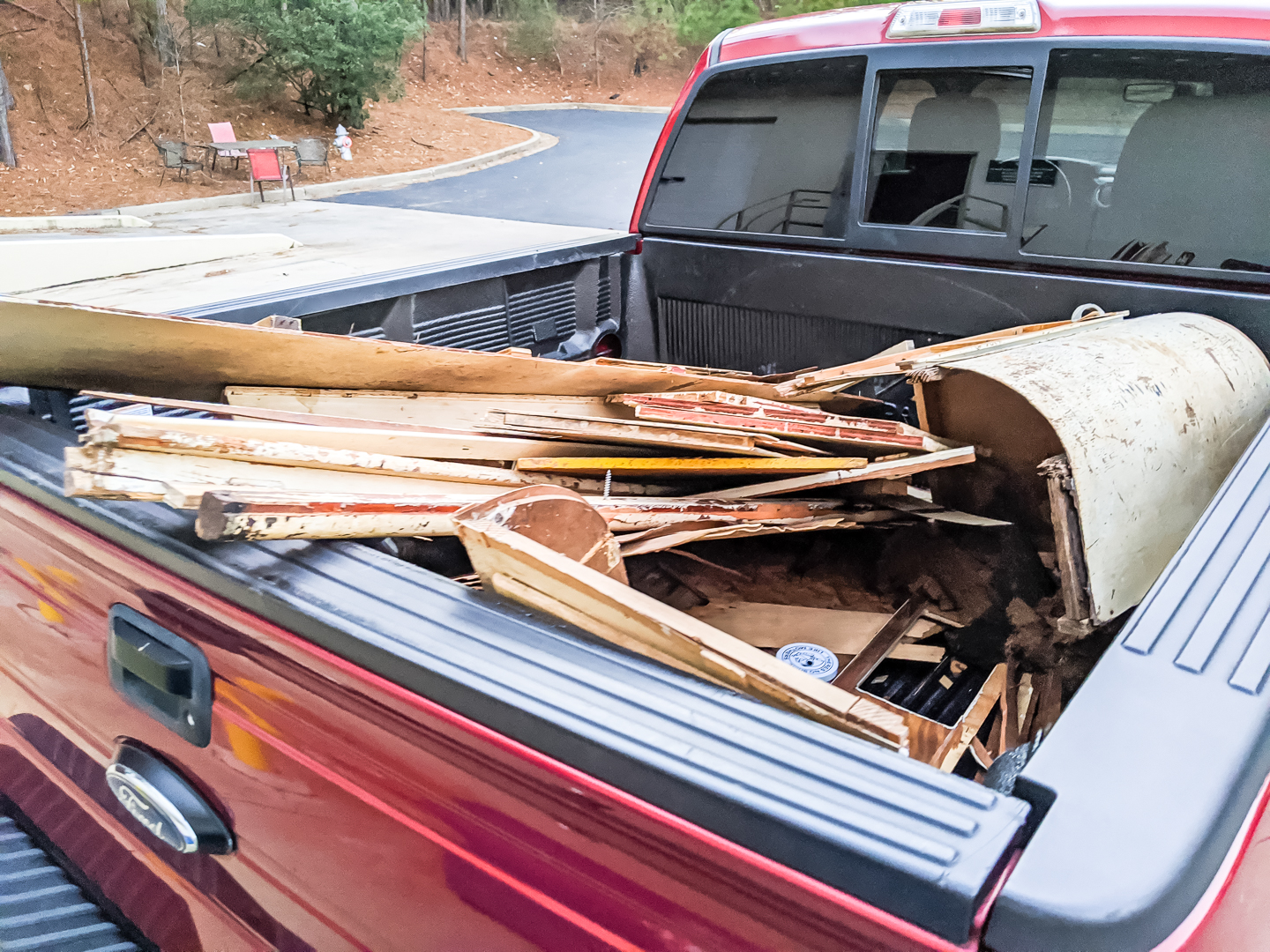 Oh, and that red thing? It's our NEW (to us) TRUCK! I meant to do a post about that too this winter… but we ran into a lot of car problems in 2019 (starting in June when my Jeep's transmission failed) and it's just one of those things that feels exhausting to even talk about. However, this truck is awesome and has a lot of the features we need to haul Ruby around (and fitting that it's red, right?), so I'm thrilled it's part of the UDH family (no name for it yet, but it has the backup camera, trailer hookups, etc. we were looking for so we could stop renting). It also has a rear window for Charlie to peek her head out, which I'll admit was a selling point for me. She's so happy with the new ride!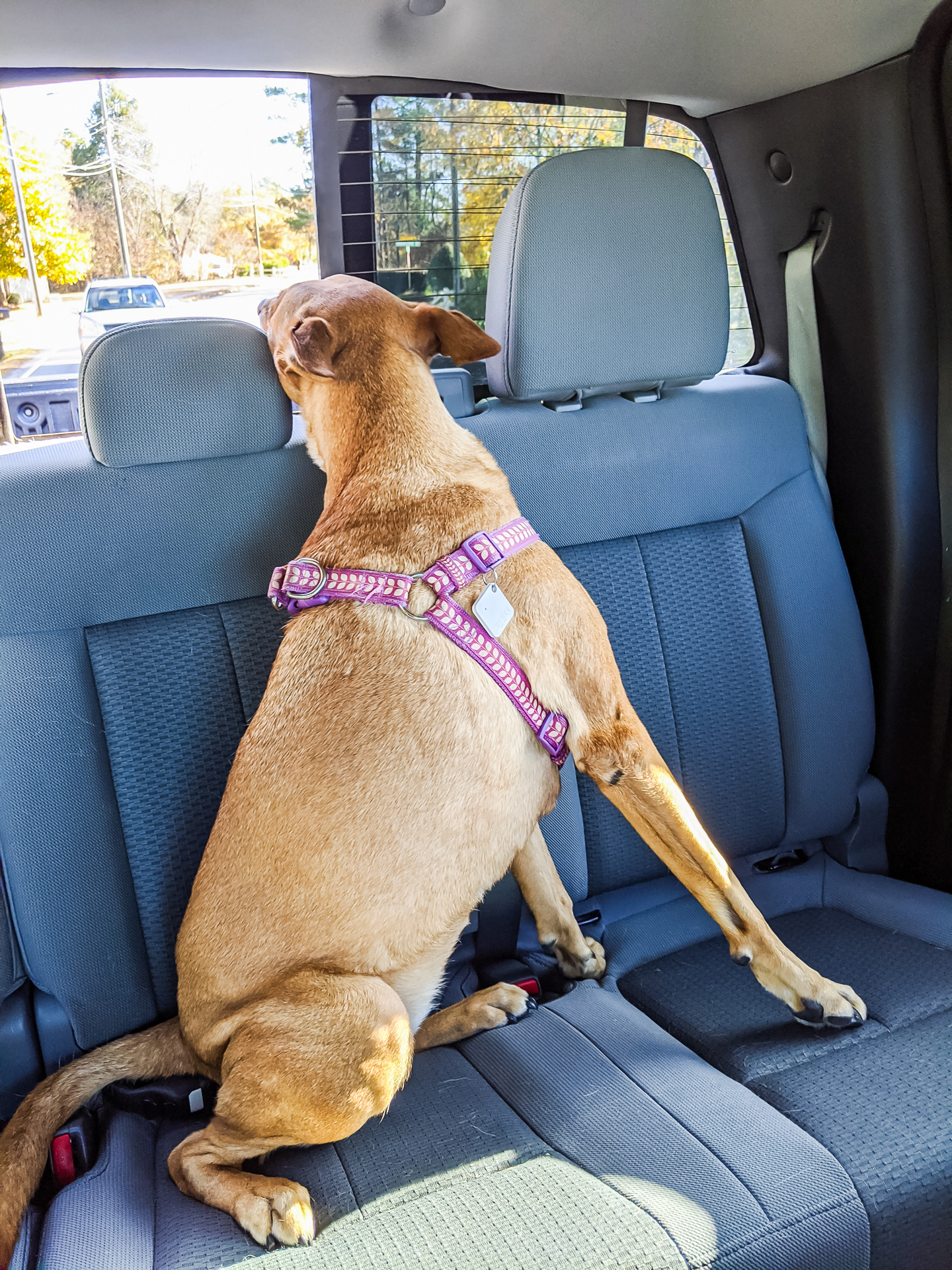 This coming weekend, we're hoping for both more polishing (K wants to do a second coat on the side he was working on — you can see how the back panel we completed during our test is slightly shinier in the below photo than the rest because of 2 polishes vs. 1) and demo of the cabinets on the right side. It's been suggested we hang on to the handles and hardware if we can, even if we don't use it ourselves, just in case someone is looking for them on a restoration project. So that's what we'll do!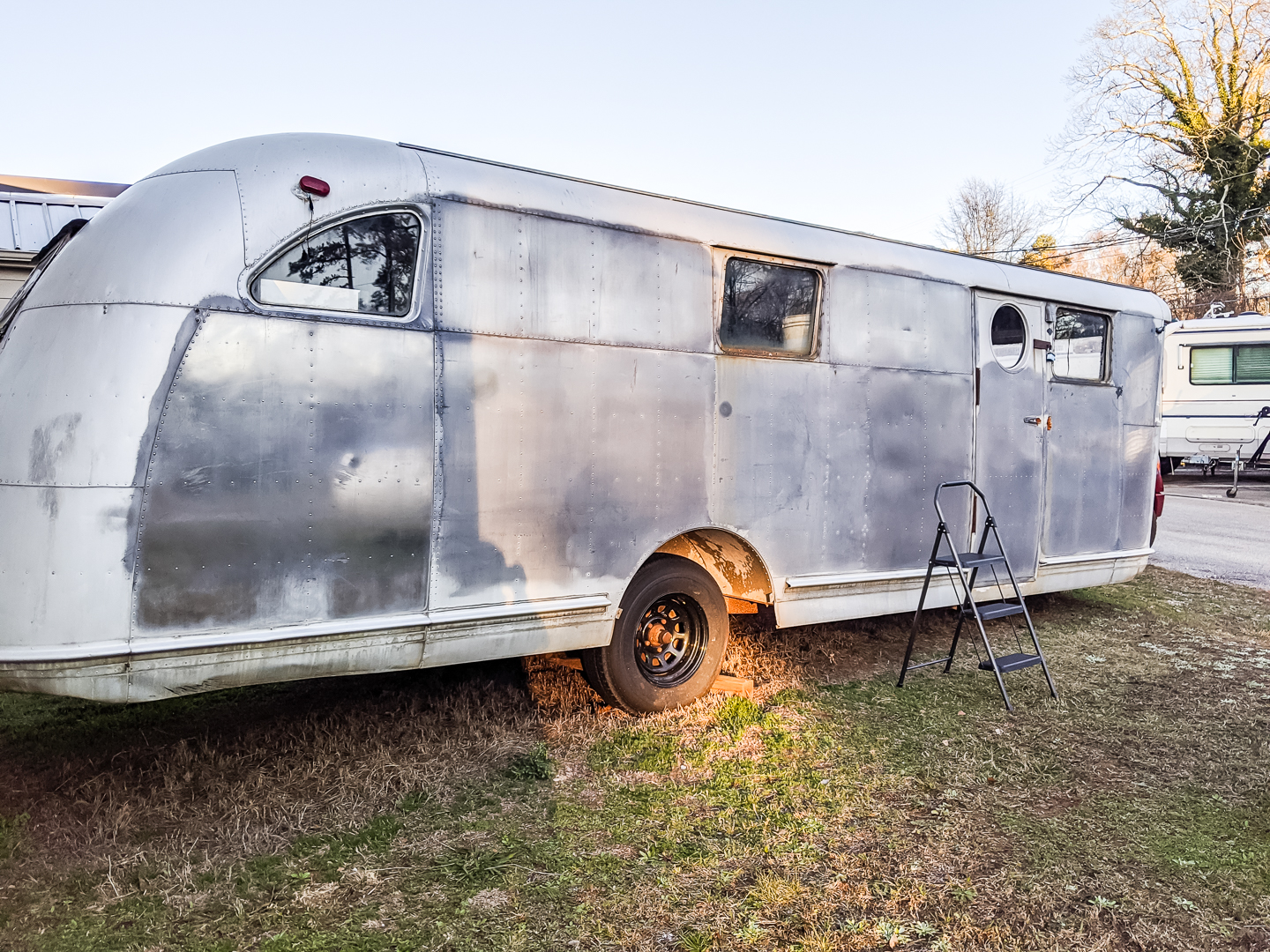 Hope you guys enjoyed this smaller update and are having a great new year! I have a new tutorial and plans scheduled for Monday, but in between I hope to share a post about the things I'm using this year to get better organized. We also had a crazy disaster happen in the front yard and a few other things I want to publish about ASAP, so that should all be coming soon!
P.S. Balancing on a pile of unstable debris for a photo is not recommended. 😅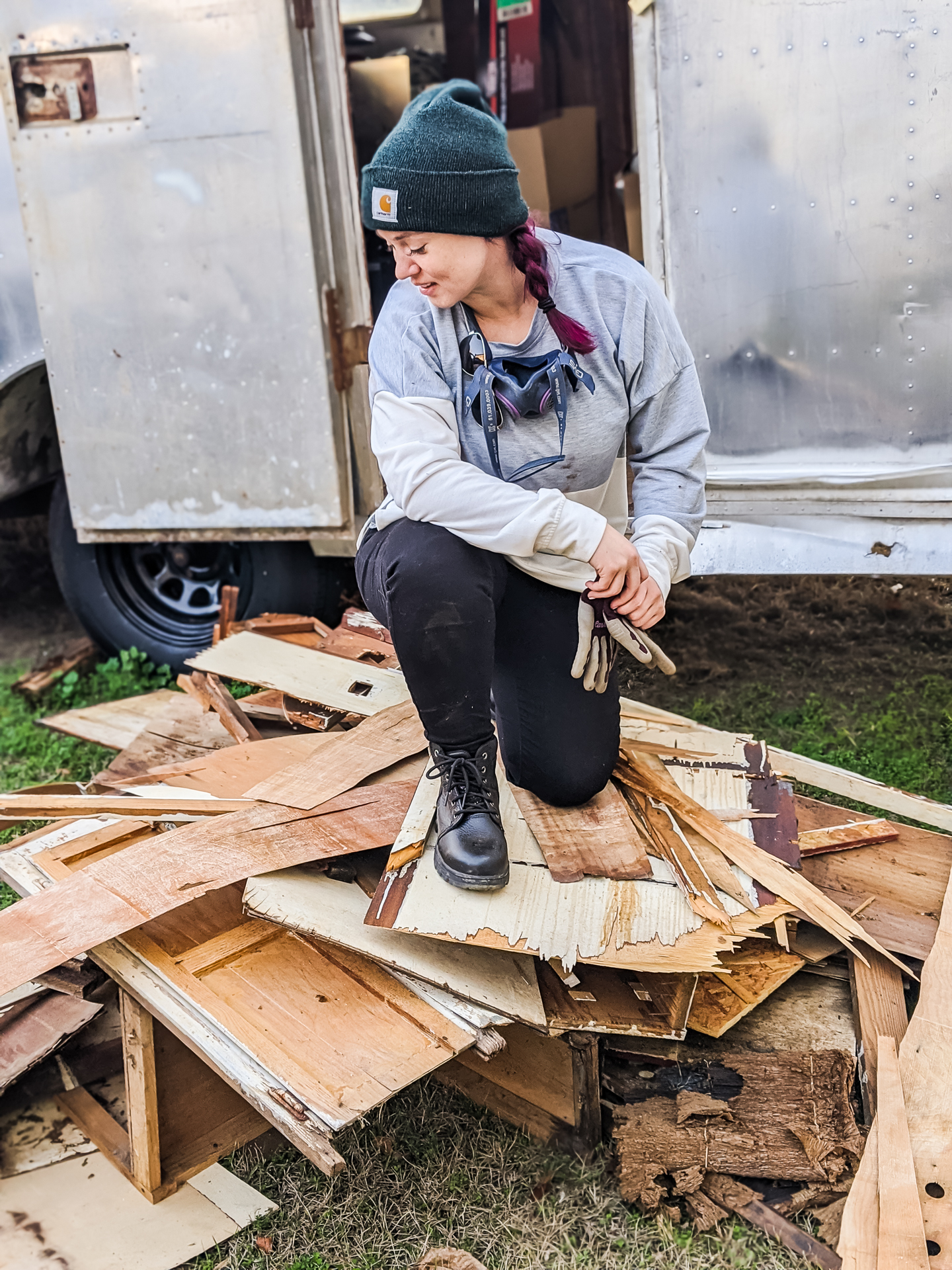 We're restoring a 1946 vintage camper called a Spartan Manor. It belonged to K's grandfather and has been sitting in the woods untouched for more than 30 years. Can we bring her back to life? Check out the video series and see for yourself!